I now pronounce you, coconut basil sauce and wife.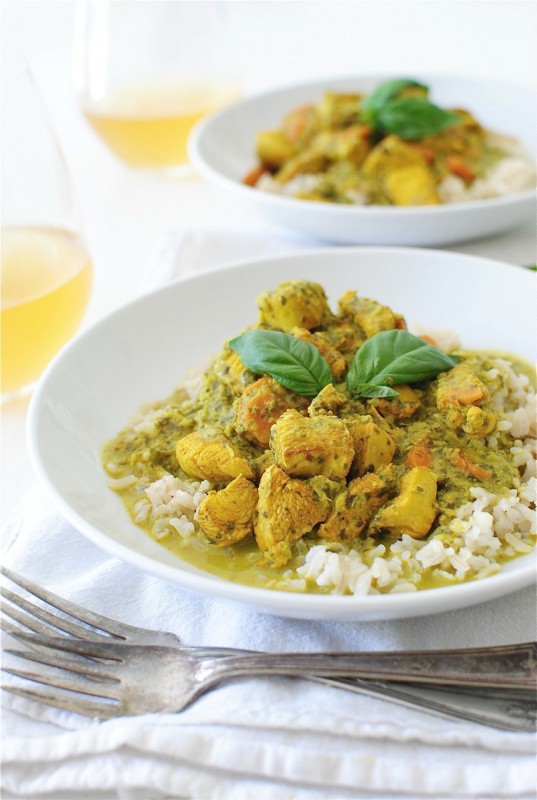 I can't stop with the sauces. Nor would I ever want to. Nor could I ever want to. Nor should I ever want to.
I'm a loner, Dottie. A rebel – geeeetting off track.
This sauce is all about the basil. Four cups of it. More if you have it! Just go out to your garden and get all Basil Scissorhands on it.
But this wouldn't be BEVCOOKSDOTCOM if there wasn't coconut milk somewhere. Let me put your mind at ease. It's here. It's in the sauce. Now we can rejoice like little angel tree babies that drink the morning dew.
(don't ask)
The chicken is dusted with a mix of curry-type spices and lime juice before hitting a hot pan with diced carrots. The carrots tenderize, the chicken browns, you do the Macarena.
Then comes the sauce. Good glory bedazzlefrass, the sauce. It's a quick blitz in the food processor of coconut milk (!!!!), 88 truckloads of floral basil, fresh ginger, garlic, more lime juice and a little salt. Once it's added to the pan, the turmeric from the chicken gives it this glorious yellow color to the entire dish (and frankly, a @#($@*#$ yellow color to my spoon, clothes, counter, face and entire life).
This meal. I almost can't deal with it. Top just a small amount of rice with it, so that the sauce gets everything nice and juicy.
Serve it with more basil! And lime wedges, natch.
Actually, go ahead and set up a crane in your mouth so you can just haul it straight up in.
I think we'll be very happy together.
Coconut Chicken with Brown Rice:
What it took for 4:
* 1 tsp each: turmeric, cumin, garlic powder
* 1/2 tsp each: coarse salt and cinnamon
* 1 pound chicken breast, cut into 1-inch cubes
* 2 (13.5 oz) cans coconut milk
* 2 limes
* 1 Tbs. fresh ginger root, roughly chopped
* 3 cloves garlic, roughly chopped
* 4 cups basil leaves
* pinch of salt
* 2 carrots, diced
* 1 cup uncooked brown rice
In a small cup, combine the turmeric, cumin, garlic powder, salt and cinnamon. Sprinkle the chicken all over and squeeze half of one of the limes over it. Marinate as long as you want.
In a food processor, combine 1 can of coconut milk, juice from one lime, ginger, garlic, basil, and a pinch of salt. Puree until nice and smooth. Taste it. Need more salt or lime? Go right ahead.
Heat a Tbs. olive oil in a large sauté pan. Add the carrots and sauté for about 5 minutes. Add the chicken and sear on both sides, until you see a little color and the chicken is cooked through. Add the coconut basil sauce and let simmer for about 10 minutes.
In the meantime, combine the rice and the remaining can of coconut milk in a rice cooker and press "on." That was so hard, right?
Taste that chicken in its sauce. Gosh. If it needs adjusting, add more salt or lime juice.
Serve chicken over rice and garnish with more basil and lime wedges!
*you could add some frozen peas, too for more happiness.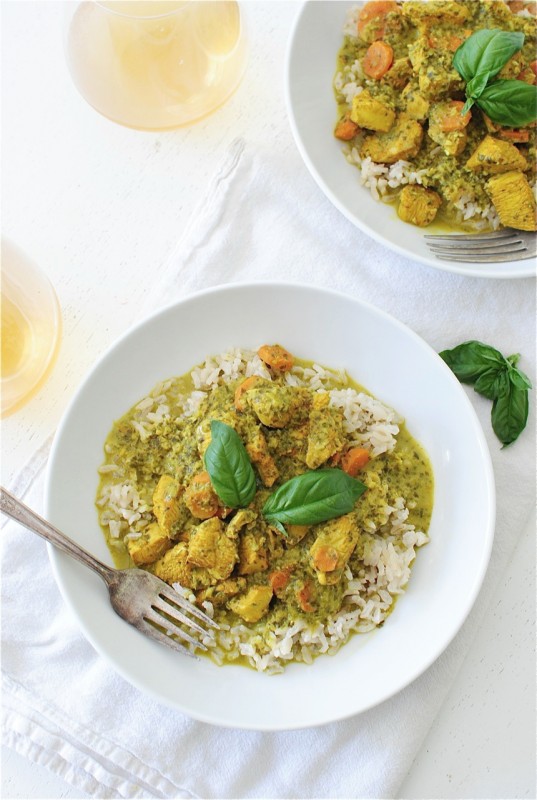 Then eat some ice cream.