Okay so, what's the difference between a chowder and a soup?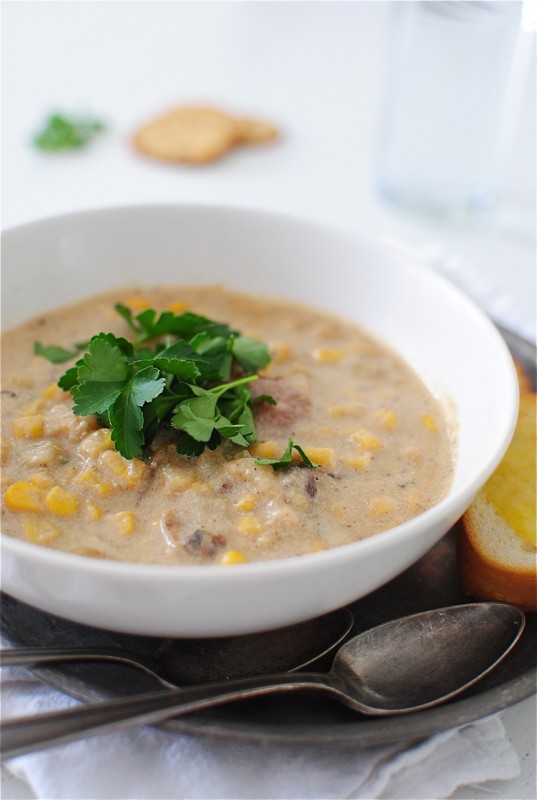 No, no. I'm actually asking. My fingers are too lazy to ask Dr. Google, so I'm asking you. I'm calling this a chowder since it has corn in it. And cream and potatoes.
Okay I just looked it up. I'm basically right! Chowders are typically cream or milk based, and most of them have seafood in them. This one doesn't, so is it just a chow?
You're like, DER!
(get it?)
(don't hate me.)
(chow. . .der – right, okay you got it.)
This is so easy it's almost stupid. And it has bacon in it, so you can just call today a win.
Render it up, then add some veggies, then some cream, then some corn, then more bacon, then your head.
I have to go now because I have two babies climbing up the inside of my fireplace.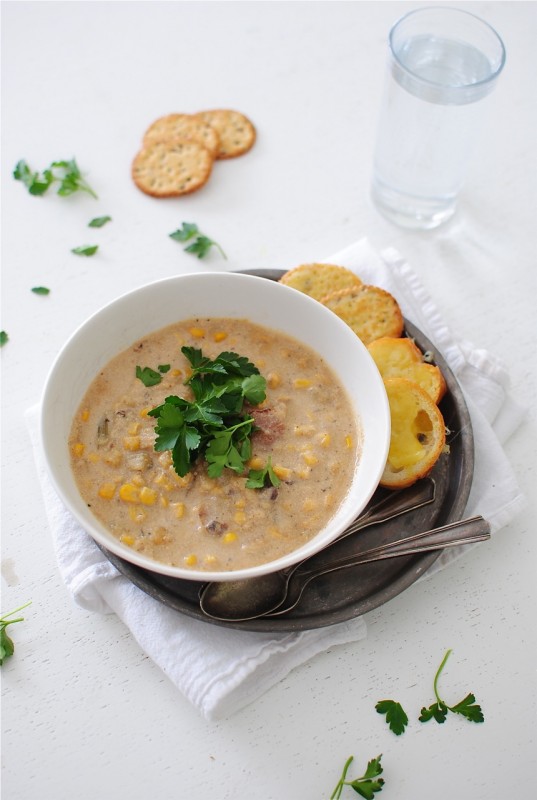 Get chowed! (der.)
(sorry)
Simple Corn Chowder:
What it took for 4:
* 3 to 4 slices bacon
* 1 white onion, diced
* 2 cloves garlic, minced
* 2 stalks celery, chopped
* 2 russet potatoes, cut into 1″ cubes
* 1 cup chicken stock
* 1 cup heavy cream
* 2 cups milk
* 2 cups frozen corn
* salt and pepper to taste
Render your bacon until nice and crisp. Remove from the pan, set aside and crumble.
To the bacon fat, add the diced onions, garlic and celery. Sauté until the veggies start to sweat, 5 minutes. Add the potatoes and sauté another 3 or 4 minutes. Stir in the stock, cream and milk. Simmer on medium-high for about 20 minutes, or until the potatoes are tender. Add the frozen corn and cook a minute or two, until warm.
Taste it. Throw some salt and pepper in that thing. Taste it again. Want to punch yourself, right?
Serve with fresh parsley, reserved bacon crumbles and cheese toasts!
Hashtag cheesetoastsforpresident