Mooooore pancakes! (but you have to say it like, "Heeeeeeere's Johnny!")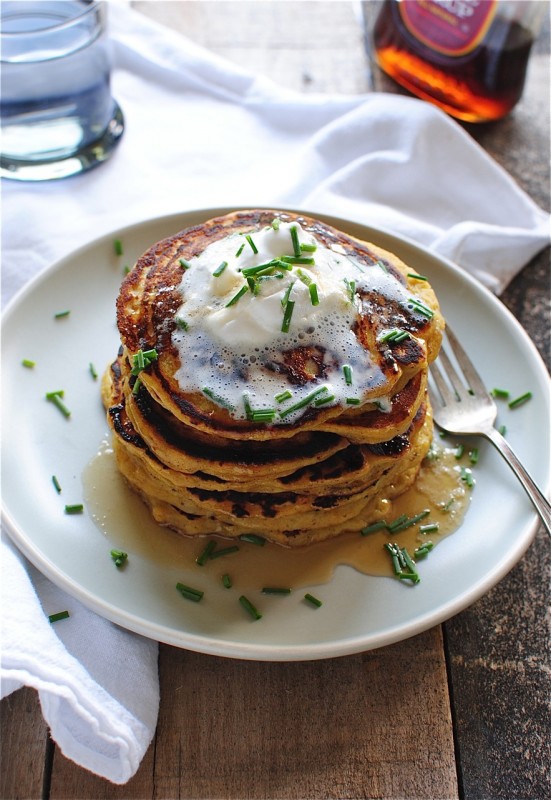 Not the Shining one. The Johnny Carson one.
OMG, speaking OF: now that it's October, Aaron and I are starting to put together a scary movie list to go through this month leading up to Halloween. It's our annual Weidner tradition. No one can stop us. Not even Jack Torrance. (read: except for Jack Torrance)
What should we add to the list this year? What are your all-time favorite scary movies ever ever ever? Old and classic, new and weird, anything goes.
Wait. You don't think my scared and frazzled nerves will transmit to the babies, do you? Should we skip it this year? Will I turn them into little nervous nilly willy hoodlums tearing the streets apart by the time they're five? Well, I mean like, even more hoodlumy?
I'm sure it's fine. Right? Great. Now I'm worried. I'm sure this isn't helping either. UGH.
What was I saying?
Oh yeah! MOOOOOORE PANCAKES. (the Johnny Carson one)
Except these are actually savory. With sautéed shallots in them. And roasted acorn squash. And a little cinnamon and nutmeg. And whipped cream on top because pregnancy.
Make it happen because I cried a lake when I ate these. A frickin' lake. All over my very important black tank top that's embarrassingly too tight now.
Roasted. Acorn. Squash. Pancakes. You. Guys.
(If the link doesn't work, I'm sorry. They were undergoing some maintenance yesterday and I still seem to be having trouble. Maybe it will work for you. Maybe it won't. Maybe Jack Torrance is behind this whole thing.)