I've been waiting 259,217 entire seconds to show you this.
What, I DID THE MATH.
But first: what did you think of the season premiere of New Girl? I give it a B. I mean I LIKED it, but I wasn't howling and licking the screen like usual. Don't wooooorry, I Windex the screen before licking it, you guyyyyys. (<— no z. Am I growing up? This is sad.)
And The Mindy Project? Did you watch? I give it a B, too. She needs to grow her hair out. And be with Danny. The end.
But ooooohhhh PARENTHOOD comes back next week and I've already starting sewing little tissues into my lower eyelids. I'm so dying. I can't wait. I mean, my Lord. That show + pregnancy hormones + chocolate chip cookies + belly wedge pillows = a hot mess o' Bev.
Now I've waited 259,397 seconds to show you this.
THIS.MEAL. Pull your chair up. Grab a bib. Write a letter to the city. Get ready to hit print, because your entire life is about to go whirl whirl whirl all around your face and things are going to get blurry and sweaty and confusing and you may need to spike your coffee. Just to save yourself, ya know?
First can I just tell you about the sauce? Because h.a.v.e.m.e.r.c.y. What you do is roast up some simple green bell peppers. All charred up like a good girl. (whatever that means) Then process them with some heavy cream and lime juice. Nope, not even going to shut the front door.
For real, that sauce is going to make you a better person, wife, mother, and you may even be able to finally play the violin after making it.
After sautéing a few more green pepper chunks and chicken sausages, you pour the sauce into the skillet and stand back and cry.
And then you add cooked pasta. And crumble to a new level.
And then you sprinkle on some shredded mozzarella. And sing a version of "Don't Rain on My Parade" that's pretty hideous but who cares.
And then you pop it back under the broiler for a nano.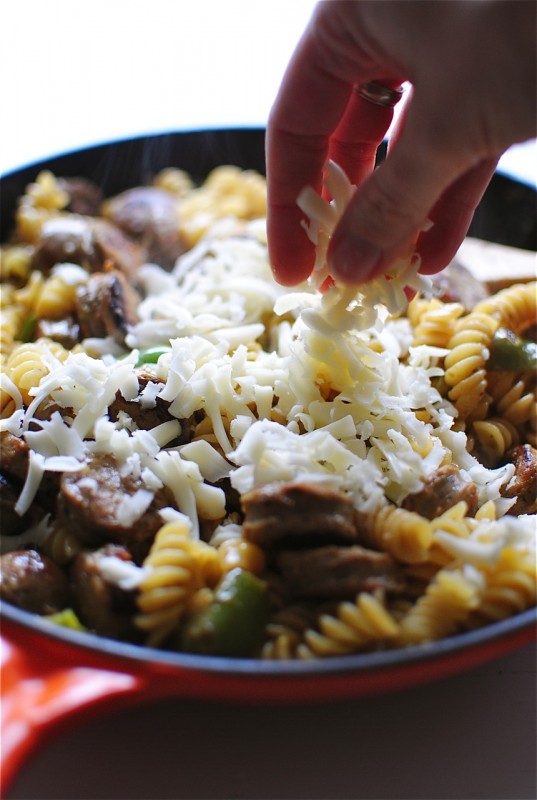 Everything melds together. Everything becomes one. You swat little eager hands left and right because you need to Instagram it first.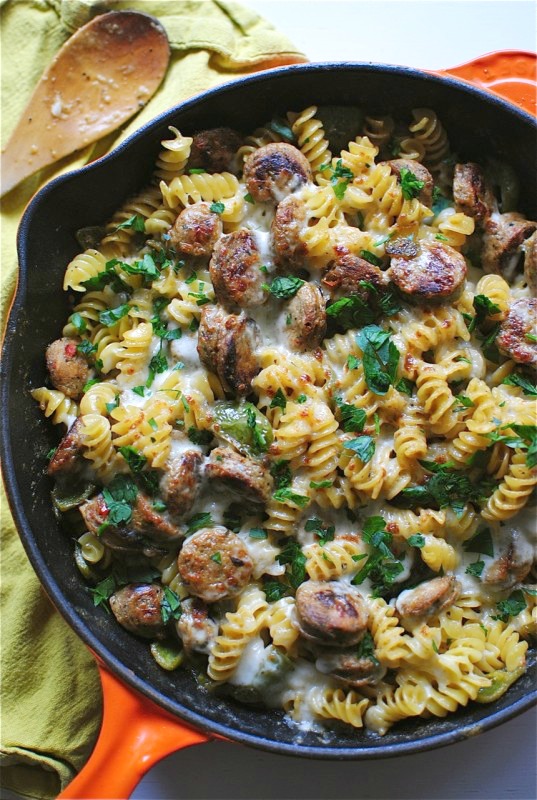 And then you die.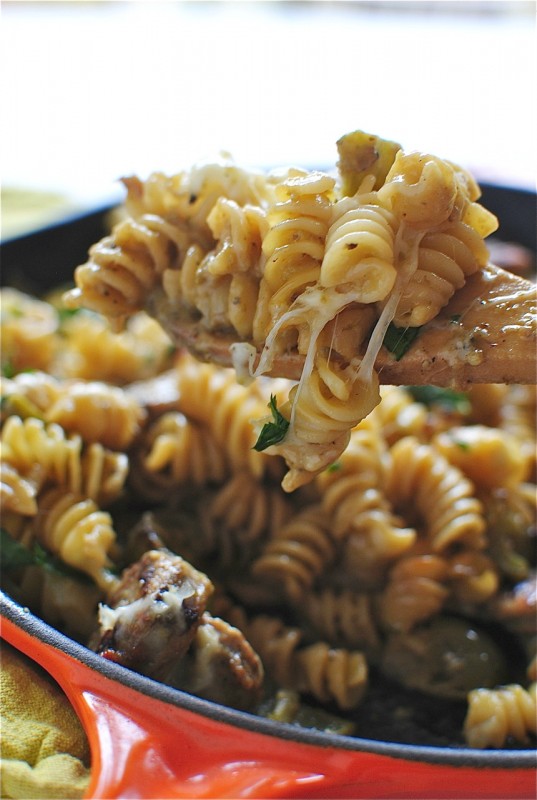 God bless your soul.
Skillet Pasta with Chicken Sausages and a Creamy Roasted Green Pepper Sauce:
What it took for 4:
* 3 green bell peppers, one diced
* 1 cup heavy cream
* 1 lime
* 1 package (of 4) chicken sausages (flavor up to you!), cut into 1/2 inch slices
* 1/2 pound rotini pasta
* 1 1/2 cup shredded mozzarella cheese
* coarse salt and freshly ground pepper
Place two peppers on a small baking sheet and broil until charred and black all over, rotating for even roasting. Place in a plastic bag and let steam for 10 minutes. Remove the skins, stem and seeds.
Place roasted peppers in a food processor along with the heavy cream and a good squeeze of lime juice, a pinch of salt and pepper. Blend until smooth and combined and you want to punch it.
Cook the pasta in a large pot of salted boiling water until al dente. Drain.
Sauté the chicken sausages in a large skillet over medium-high, until browned all over. Add the diced peppers and sauté another minute.
Add the cream sauce and simmer on low for a couple of minutes.
Add the cooked pasta to the skillet and toss to combine. Sprinkle the mozzarella on top and slide the skillet back under the broiler until the cheese is browned and bubbly, maybe 4 minutes. DON'T LEAVE IT. Sorry to scream.
Garnish with chopped parsley and giiiiiiiiiirl.
*it's not spicy at all since it's just green bells, so your littles will love it! Ha-biggity. 
*sub greek yogurt for the heavy cream if ya wish! Ha-boom.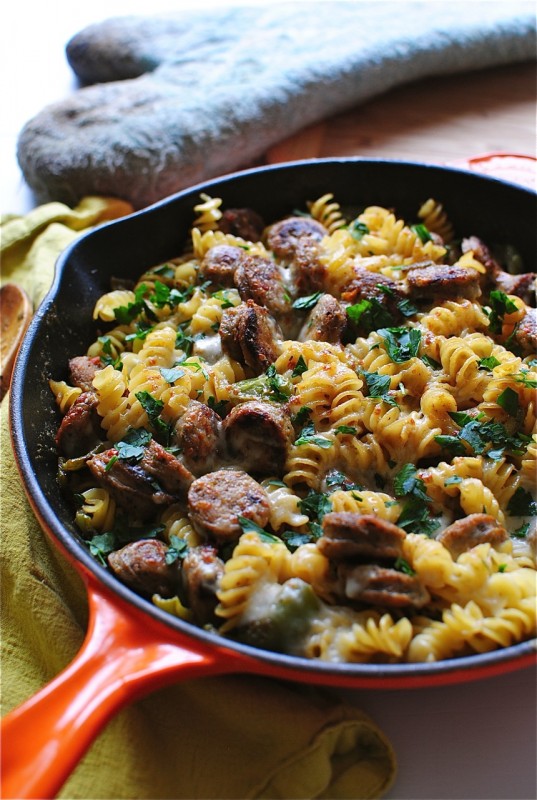 I still can't feel my torso.