We 'bout ta be so all ovah these satay lettuce wrappies, but first, a quick message from my sponsor (me):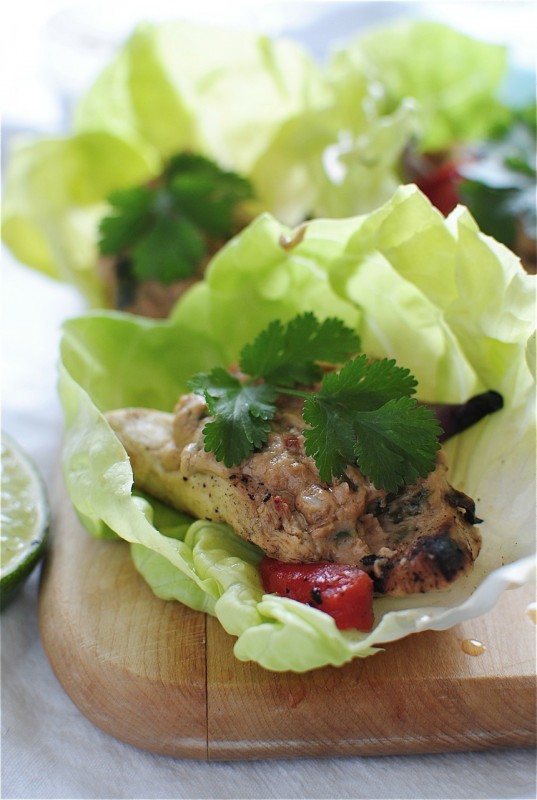 OOOOOOmmmmmg. I can't thank you ENOUGH for your incredible response to my little video. You've made my head swim, my heart swell, and my armpits sweaty. No like, in a good way. If you've not seen it yet, you can peep it rawt har! It's also permanently on my "About Me" page, which I need to update, now that I've looked at it. So yes, thank you. Thank you. Thank you. You're hearted, in a major, major way. (doesn't that last part kind of remind you of the old Fruity Pebbles commercial theme song? Never mind.)
Okay so who wants to look at a photo of raw chicken in a marinade!? Ugh, why do I do this to you? Thing is, this is such a quick meal, there was very little to shoot in the way of prepping. I guess I could have shown you the actual ingredients that went into the marinade, but that would have made sense. Plus it was cloudy outside with rain on the way and we had just put grass seed down in the front yard so you can clearly see where my mind was.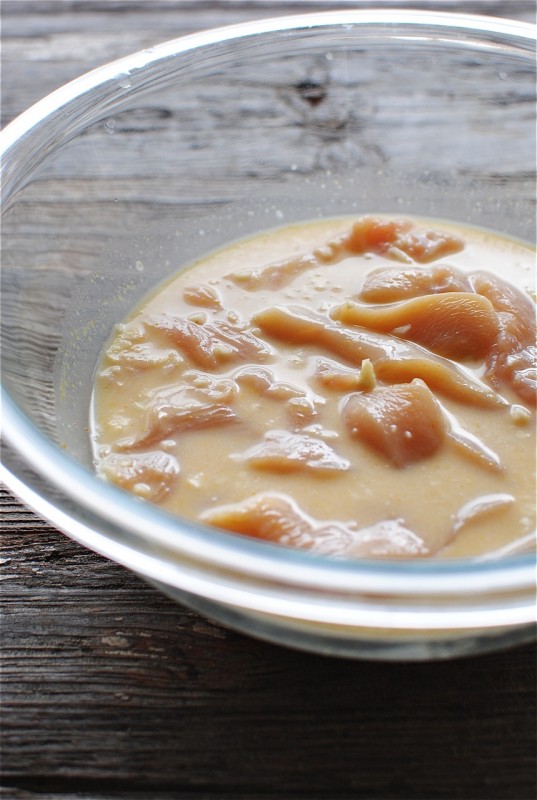 Okay so who wants to look at a photo of chicken satays on the grill? Hmmmm mmmmm, gurl. 'Smore like it. Oh, s'mores! What I wouldn't do for one of those right now.
Getting off track, Bev.
You should also know something. While you're grilling these chicken skewers, red bell peppers and onions, guess what you have lightly simmering inside? Just guess. Okay I'll tell you. A stupid delicious mix of chunky peanut butter, coconut milk, lime juice, scallions, a little fish sauce (dun be skeered), a jalapeno pepper, and a few other things that will have Mary basically hailing herself.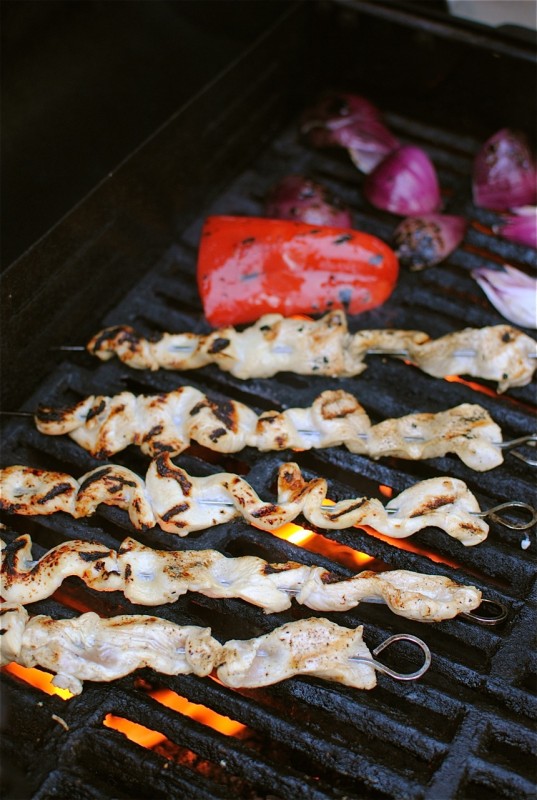 Then you nestle the chicken and vegetables inside a stack of tender butter lettuce leaves. And then dollop about 45 tablespoons of that peanut sauce right on top of everything. Garnish each cuppie with a sprig of cilantro. Spritz each thingie with some fresh lime juice.
My name isn't Bev Cooks if these canoes of splendor don't make you want to slap someone's face.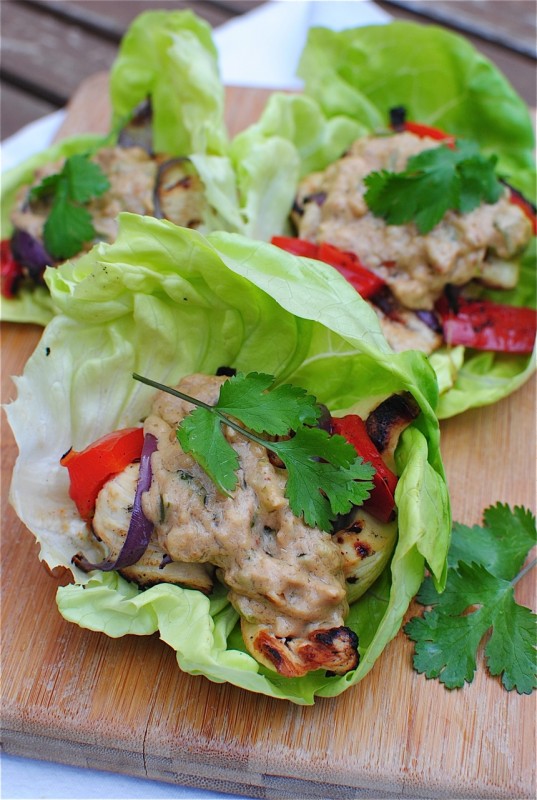 Your grill just put on giddy pants.
Peanut Chicken Satay Lettuce Wraps:
(adapted from Steven Raichlen)
What it took for 6 – 8 lettuce wraps:
for the chicken and marinade:
* 1 pound boneless skinless chicken breasts, cut into thin strips
* 1/4 cup coconut milk (from a 15 oz can)
* 2 Tbs. fish sauce (or a little less if it's too potent for you)
* 2 Tbs. fresh lime juice
* 2 tsp honey (or brown sugar)
* 2 cloves garlic, minced
* 1/2 tsp ground turmeric
for the peanut sauce:
* 1/3 cup chunky peanut butter
* 1/3 cup coconut milk
* 1-inch piece fresh ginger, minced
* 1 large jalapeno pepper, minced (remove the seeds for less spice)
* 1 large clove garlic, minced
* 2 scallions, finely sliced (both white and green parts)
* 2 tsp fish sauce
* 2 tsp honey (or brown sugar)
* 1/4 cup freshly chopped cilantro, plus more for garnish
the rest:
* 1 red onion, cut into thick strips (that will easily fit on a grill)
* 1 red bell pepper, seeded and cut into large strips
* 1 head butter or Boston lettuce, rinsed and leaves separated
Combine the marinade ingredients in a large bowl. Whisk to fully combine. Add the chicken strips, cover and let it sit in the fridge for 30 minutes and up to two hours.
Preheat an indoor or outdoor grill. Skewer the chicken onto metal or wooden skewers. (if using wood, let them sit in water for 30 minutes before skewing, to avoid catching fire on the grill.)
Place the onions, peppers and chicken satays on the grill. Grill the chicken for 2-3 minutes per side. Grill the peppers and onions until tender, anywhere from 5 to 10 minutes.
In the meantime, add the peanut sauce ingredients to a small bowl and simmer on low for about 10 minutes (while the food grills.) Stir often.
Off the grill, cut the peppers into smaller strips. Pull the chicken off the skewers and place them in the lettuce leaves. Add the onions and peppers to the lettuce cups. Top with a good dollop of the peanut sauce. Garnish with cilantro and more lime juice. Ohhhh you don't even KNOW.