This is so easy it's almost a frickin' joke.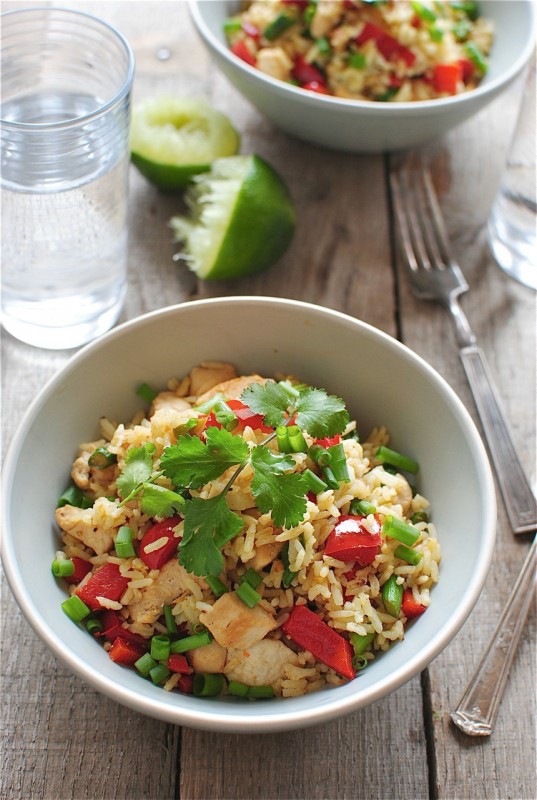 Especially if you use a rice cooker like these lazy pants. (I'm pointing to myself right now. And I'm crinkling up my lips to show sass.)
So this is what happens. Are you ready? Don't look at the next two photos because I want to tell you about it first! You already looked. I can sense it. I guess I just enjoy setting myself up to fail. I wish I knew what that even meant.
FOCUS, BEV.
Okay, you're going to seriously flip all of the lids. Take some curry paste, green, red, purple, what have you, and whisk it with some coconut milk and water in a bowl. Right? Okay, then pour it over your rice in a rice cooker and that.is.it.
Well, I mean you have to turn the rice cooker on.
Dudes (can I call you dudes?), it's straight up infusion-ville in there! All that rice just soaks up that incredible flavuh flave and you didn't have to do diddly squat!
I like diddly squat cooking. It's my groove. I have a diddly squat groove in case you didn't know.
So while the rice cooks, you just chop up some chicken and sear sear sear.
You'll also dice up some asparagus, red bell pepper, a little garlic and sauté sauté sauté. (that word is a pain to type three times in a row. because you have to do the accent part and it's like, really? ugh.)
By the way, those two steps still fall in line with the diddly squat groove.
Okay, a few important things to know:
1) Take e'rthang and toss it all together in a big bowl, so that it becomes one enormo happy family.
2) Squeeze a ridicu-ton of lime juice all in it to create the illusion that there's a sauce. HAHA, TRICKED!
3) Don't skimp on the scallions and ceelayantro, yo. If you don't add them your house will be haunted with the ghost of Sammy Davis Jr. for the rest of eternity! (I picked a fun ghost just in case.)
4) I'm having a good hair day.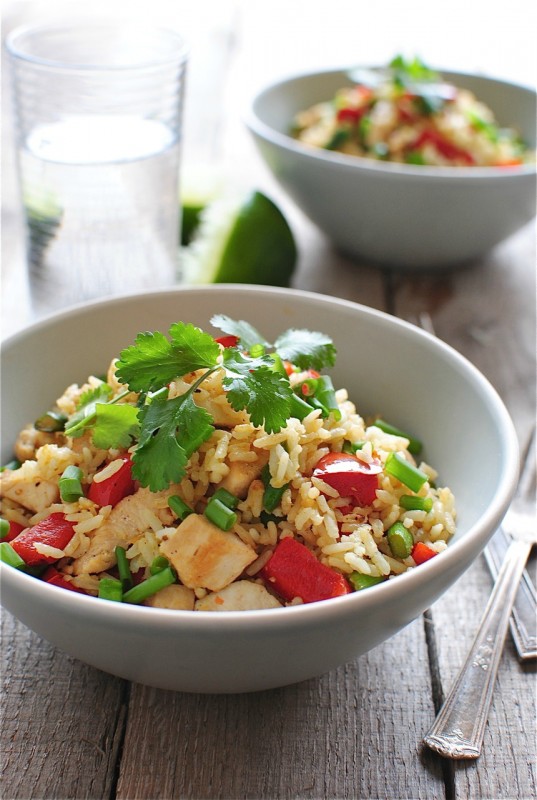 Dinner this weekend? Yep.
Easy Chicken and Vegetable Curry:
What it took for 4:
* 1 cup uncooked white rice (jasmine or basmati is fine)
* 1 1/2 Tbs. green curry paste
* 1 cup coconut milk
* 1 cup water
* 2 Tbs. extra-virgin olive oil
* 1 pound chicken breast, cut into a small dice
* 3 cloves garlic, minced
* 1/2 bunch asparagus, ends trimmed and cut into 1/2-inch pieces
* 1 red bell pepper, seeded and diced
* 2 scallions, sliced
* 1/4 cup cilantro leaves, for garnish
* 1 lime, plus a few more wedges for garnish
* coarse salt and freshly ground pepper
In a medium bowl, whisk together the curry paste, coconut milk and water. Place the rice in a medium pot or rice cooker, and pour the coconut milk mixture over the rice. Cook the rice in the cooker until done. (or use your favorite stovetop method!)
In a large sauté pan, bring the oil to a medium-high heat. Season the chicken with salt and pepper, and sauté until cooked through and browned on all sides, maybe 6 minutes total. Remove from pan and place in a large bowl.
Back in the pan, add the asparagus and red bell pepper; sauté for 3 minutes. Add the garlic and sauté one more minute. Season with salt and pepper.
Add the rice and vegetables to the bowl with the chicken, and toss it all up! Juice an entire lime into that mess. Toss, toss.
Serve garnished with scallions, cilantro and more lime if needed!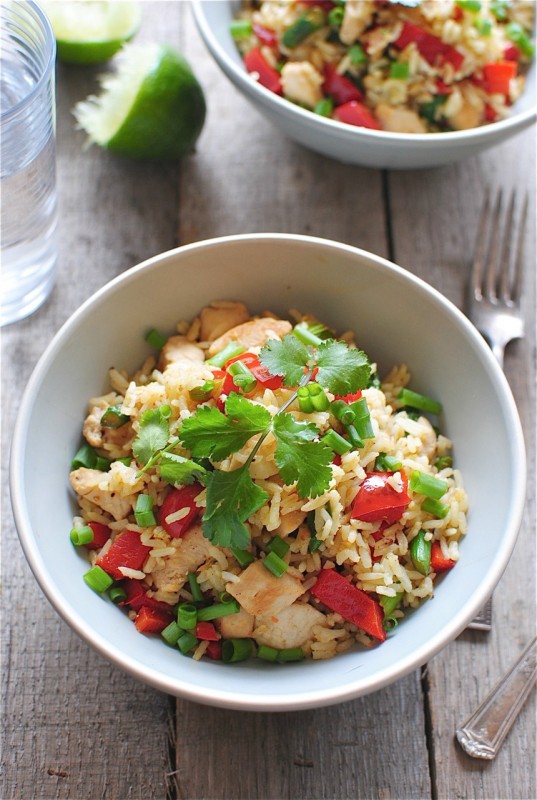 Climb on in.