Didn't see this comin', did ya?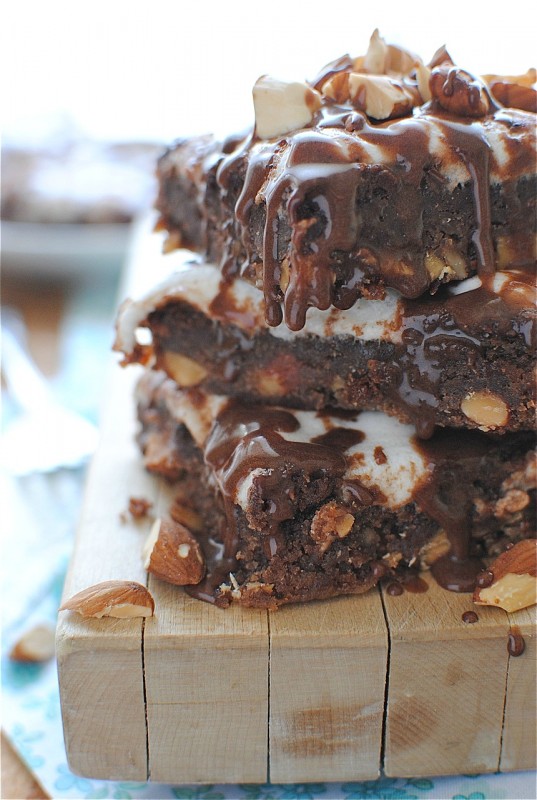 I can give you a moment to let it sink in if needed. And so that you can locate your eyeballs that have probably fainted right out of their sockets and are rolling around under your kitchen table right now with the dust bunnies.
OMG was that too much? Beaches make me say weird things. Because normally everything I say is based on deep-rooted grounds of maturity, poise and sophistica – HAHAH AHAHA HA HAH.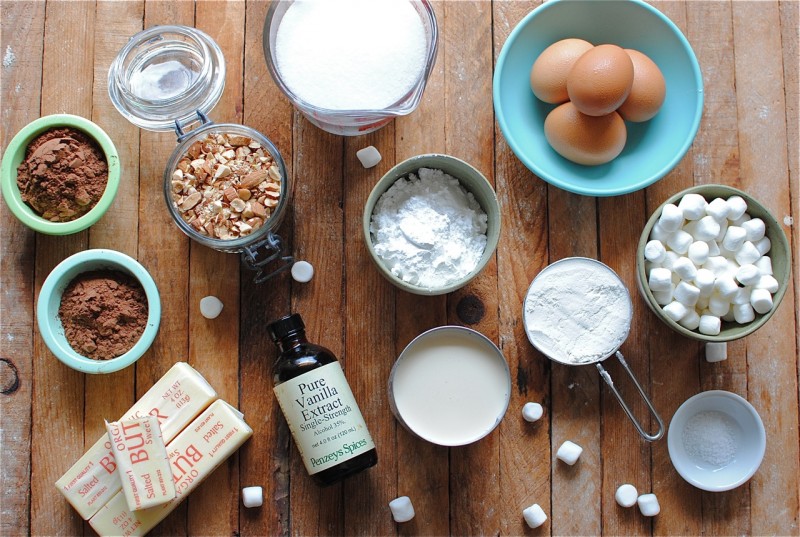 Okay so one thing I learned during this dessert baking monkey business: a lot of pictures are taken. Because hello, you have dry ingredients, wet ingredients, the ingredients for the topping, the mixing of the ingredients, the beating, the stirring, the licking, the pouring, the whisking, the marshmallow ping pong tournament, the licking again, the baking, the sticking of the toothpick in, in order to determine whether or not it looks WET or CLEAN or DIRTY. Seriously, the toothpick thing is really hard because sometimes you can barely TELL if it's even done or not. And then you have disturbing half clean/half dirty toothpick nightmares and frankly it's good for no one.
Do you like my action shot? You guys that's called CREAMING THE BUTTER AND SUGAR.
Oh you knew that. Oh.
Jerst lerk at that thar batter.
As I was spreading the batter into the pan I pretended to be a famous little baker in my little bakery wowing my little customers with the every smooth turn of my spatula. And then I looked up and noticed my living room was dirty.
And then of course as it bakes you make this glaze-like topping spread mixture stuff. What you can't see with the naked eye is my ego being whisked into that chocolate sauce.
AH. MADE. DESSERT.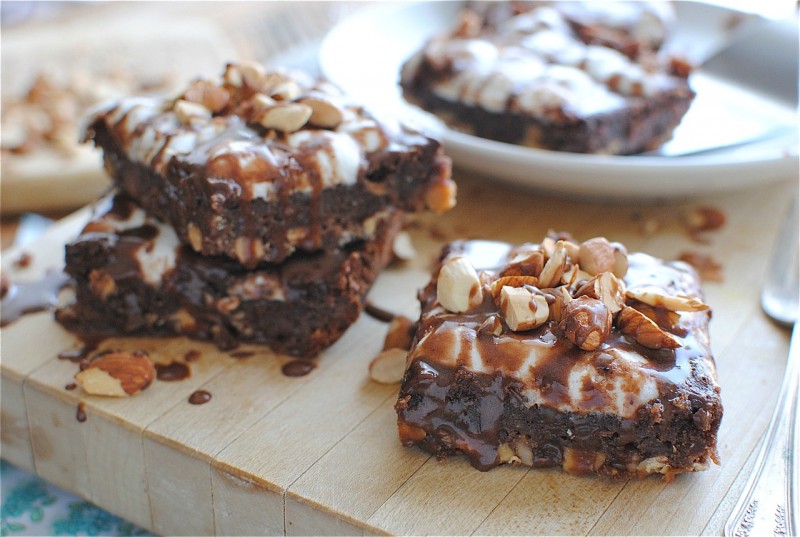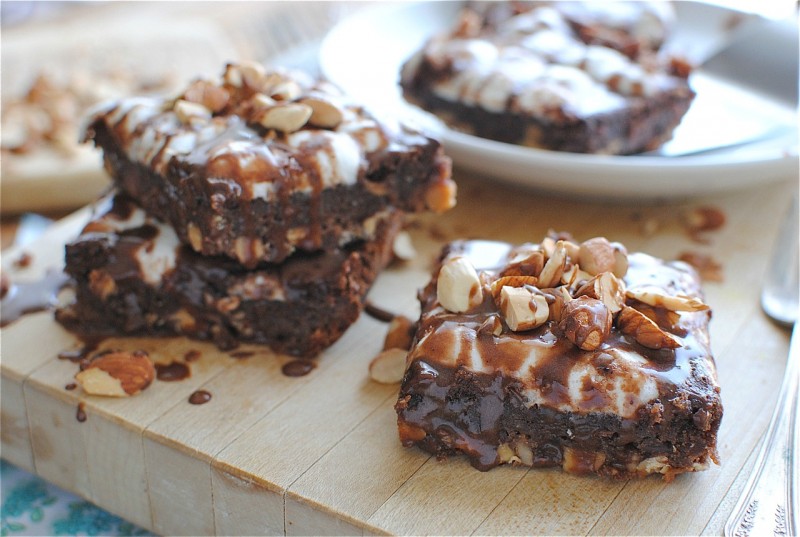 And I'm surprised to report in embarrassing jubilance that my tongue had a revelation and might….MIGHT be on board with dessert consumption.
Okay it totally is.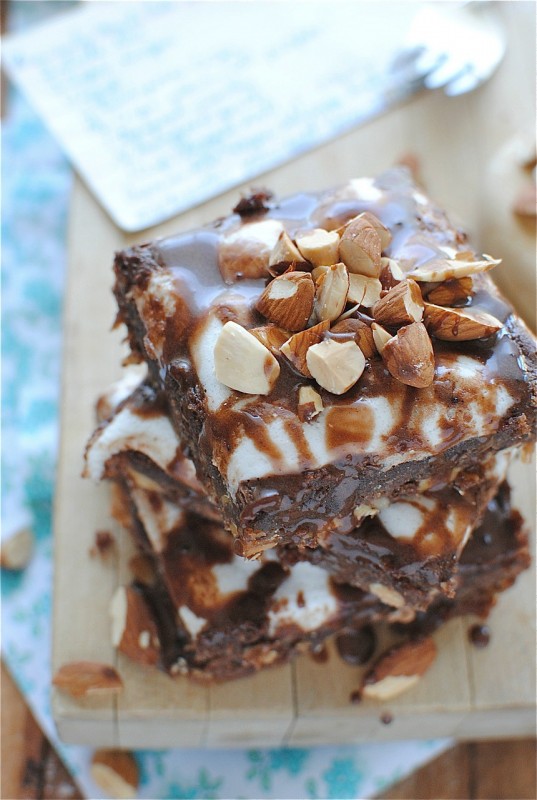 Get these in your mouth.
Mississippi Mud Brownies:
What it took for 12 servings:
for the brownies:
* 2 sticks butter
* 2 cups sugar
* 4 eggs
* 4 Tbs. cocoa
* 1/2 cup all-purpose flour
* 1 tsp vanilla extract
* 1/4 tsp salt
* 1 cup chopped almonds, plus more for garnish
* 1 cup marshmallows
for the sauce:
* 3/4 cup powdered sugar
* 1/2 stick butter, room temp
* 3 Tbs. cocoa
* 1 tsp vanilla
* 1/4 cup evaporated milk
Preheat oven to 350.
In a standing mixer, cream the butter and sugar together. Add one egg to the mixture at a time, beating after each one.
In a bowl, mix together the flour, salt and cocoa. Stir into butter mixture and combine well.
Add the vanilla and chopped almonds to the mixture. Stir to combine.
Lightly grease and flour a 9 x 13 baking dish. Pour brownie mixture into pan and bake 40-45 minutes,  or until a toothpick comes out clean. Bring out of the oven, sprinkle the marshmallows over the top, and stick back in the oven for 5 minutes. You don't want the mallows to brown, just starting to soften.
While it's baking, whisk together the powdered sugar, butter, cocoa and vanilla in a bowl. Add the evaporated milk to create a wonderful chocolate sauce. If you need to add more, go for it.
Drizzle the chocolate sauce over the brownies, let cool at room temperature for at least an hour (THE PAIN, I KNOW), slice and inhale!
Oh! Garnish with more chopped almonds if so desired. Which you should probably so desire.
*This recipe comes from my late Memaw's handwritten index cards. It's not the healthiest, so don't freak. But the taste will basically rock your whole entire life and world and beyond.