Welcome to the truest love of all.
It all started one evening as I was peacefully meditating in lotus pose on the veranda as the sunset cast its warmth on my body and the breeze blew through my golden locks, so carefree and whimsical.
Ooooor not.
Truth be told, I was actually seated in the sweaty Sally pose on my couch watching Master Chef and completely falling apart by the second because I just do NOT know how they cook all that stuff under such intense pressure. Do you watch that show? It's my jam. It's like the NBA finals for me. I scream, jump up and down, do the pee pee dance.
Aaron thinks it's adorable!
I could never ever ever EVAR be on that show. I'd be the girl who A) ugly cried non-stop. B) uncomfortably stared at Joe Bastianich's sexiness in his posh suits (Um, you know he lost like, 50 pounds. I know this because I'm old and watch PBS 10 hours a day and am obsessed with his mom Lidia and her show and back in the day he used to be on it helping her and he was a chub-a-rub. And I should probably not say chub-a-rub. Ever again.)
And C) only presented chicken taco pasta at every single challenge because, oh let's see, it's CHICKEN TACO PASTA.
They might send me home. But my marbles noggin has a feeling you wouldn't.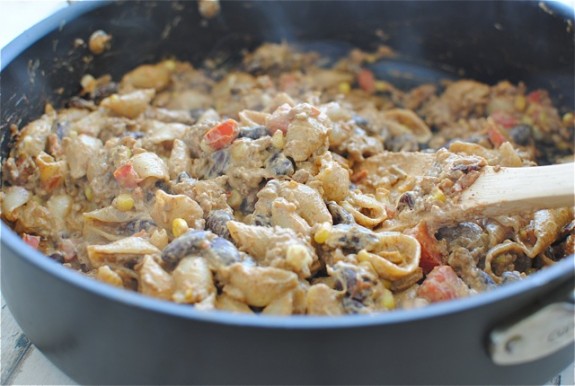 I don't think you heard me the first time. Chicken. Taco. Pasta.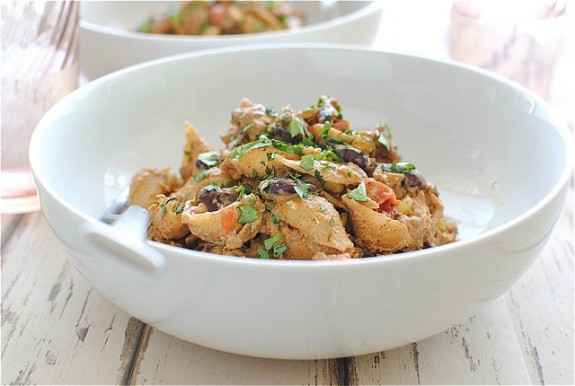 CHICKEN. TA – – okay.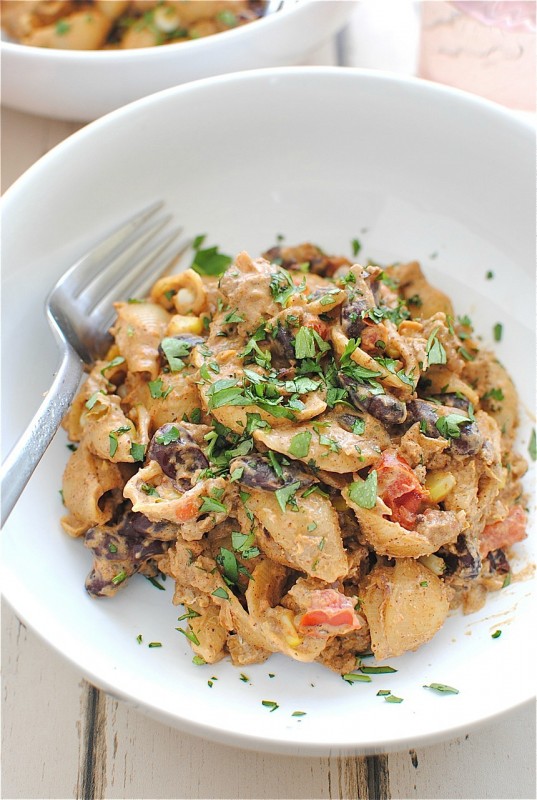 It's the only real thing we can know in this life.
Chicken Taco Pasta:
What it took for 4:
* 1 pound organic ground chicken
* 1/2 medium red onion, finely chopped
* 3 cloves garlic, minced
* 3 Tbs. favorite taco seasoning
* 1 (14.5 oz) can drained and rinsed kidney beans (or black)
* 1 (4 oz) can diced green chiles
* 1 ear fresh corn
* 1 roma tomato, diced
* 2 cups pasta shells
* 4 oz (half a block) cream cheese
* 2 Tbs. greek yogurt
* 1/2 cup freshly chopped cilantro
* coarse salt and pepper
Heat a medium skillet over medium-high. Add the chicken and cook until browned all over, about 6 minutes. Add the onion, garlic and taco seasoning. Sauté 4 minutes. Season with salt and pepper.
Add the beans, corn and diced green chiles. Toss to combine and continue to cook another 5 minutes. Taste it. Need a little more salt? Maybe?
Add the diced tomato and toss to combine.
In the meantime, cook your pasta shells until al dente. Reserve about 1/3 cup pasta water and drain the rest. Add the shells, cream cheese and yogurt to the skillet. Toss to combine.
Add some of the pasta water to thin out the sauce if it's a little too thick for your taste. Taste one more time and season accordingly.
Serve with lots of fresh cilantro! Your soul is going to flip.