"She's going out to eat some lentils. Who's that girl, it's Bev!"(lyrics have been changed to protect the innocent)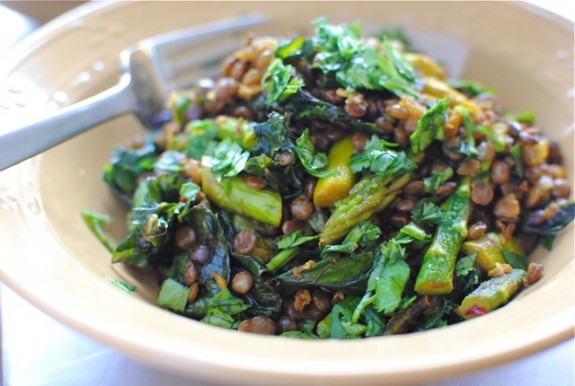 Ugh. I can't get it out of my head. See, I started watching New Girl from the beginning again because there are a bunch of episodes in the middle that I missed and I'm trying to find them online to stream for free. Which I should probably just Hulu + it already and stop complaining my life awaaaayaaaaa.
But where's the fun in that?
It's not like I don't sing to myself ALREADY and make up the most awesome, ridiculous (and award winning I'm sure like maybe in Zimbabwe) tunes to carry me through the days. That's given town. But it's THAT SPECIFIC melody that won't move out of the marbles. It's bouncing around in there like a pinball and I'm this close to cutting BANGS, you guys. Bangs.
Now I kind of want to cut bangs.
While I've royally screwed myself by even mentioning the bangs idea which will result in 36 hours of Google imaging celebrity bangs, GREAT, let me go ahead and show you this here quick Indian lentil saute.
"She's gonna show you this here saute. Who's that girl, it's Bev!"
Seriously? Okay, I can't even do it. If I even TRY it will result in, "she's gonna go and bloom that garlic, who's that gilrslkdfjslkfdjs" SOMEONE GIVE ME A LOBOTOMY.
Just make it. It's really good. I can't tell you. I'll sing. I can't. It's hurting. It's happening. Just look away.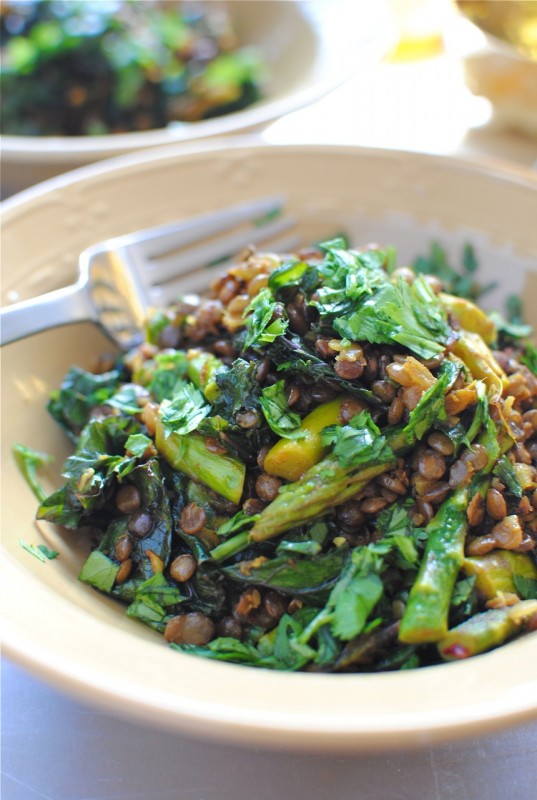 I'm definitely cutting bangs.
Indian Lentil Saute with Kale and Asparagus:
 What it took for 4 servings:
* 1 cup green lentils
* 2 Tbs. extra-virgin olive oil
* 1/2 medium yellow onion, finely chopped
* 3 cloves garlic, minced
* 1 Tbs. freshly minced fresh ginger
* 1 Tbs (or more!) Indian curry powder (I used Maharajah)
* 1/2 bunch asparagus, sliced into 1-inch pieces
* 1 bunch kale, chopped
* 1/4 cup chopped cilantro
* 1 lemon
* coarse salt and freshly ground pepper
Bring a pot of salted water to a boil. Add the lentils and cook until tender, about 25 minutes.
Heat the oil in a medium skillet over medium high. Add the onion and saute until it starts to soften, 5 minutes. Add the garlic and ginger and bloom 30 seconds. Add the curry powder and a pinch of salt and pepper. Continue to bloom the spices for another 30 seconds, or until fragrant.
Add the asparagus and saute until bright green, 2 minutes. Add the kale and continue to saute until wilted, another 2 minutes.
Drain the lentils and add them to the kale mixture. Toss to combine. Sprinkle with lots of cilantro and a good squeeze of the lemon juice. Maybe another pinch of salt? Taste it. I think so.
Serve with more cilantro and lemon juice!