Let's start here.
While this isn't the sexiest thing you might ever look at, once you taste it, you're going to shed your earthly skin and become a new angelic force fiercely whipping through layers of psychedelic taste bud clouds, proclaiming victory at every turn.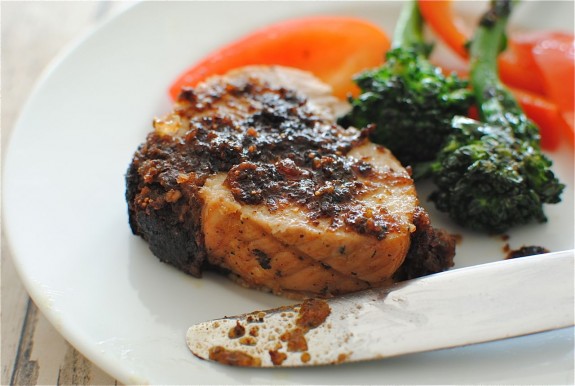 See the below ingredients? I almost can't believe I'm about to release upon you the secret magic and glory of what happens with them. Let me spell it out for you, because I like spelling things out:
FIG + SAGE + PROSCIUTTO + GARLIC + BUTTER =POWBANGRIGHTINTHEKISSER.
(if you get that reference, please tell me so I don't feel so old and alone in reference world.)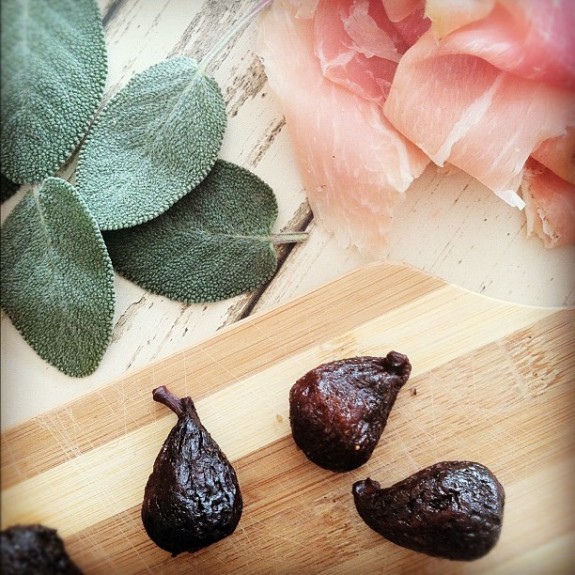 I want to frame these pictures, hang them in my kitchen and lick them daily.
And then cuddle and pet my food processor.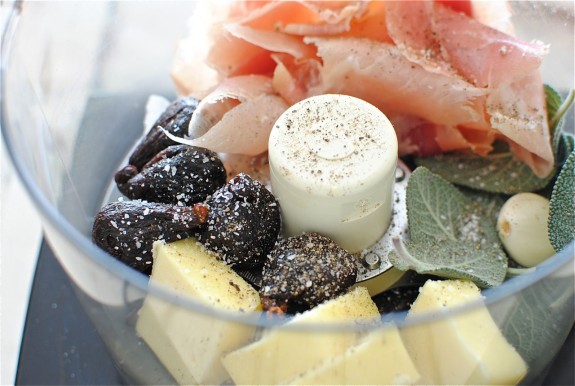 I'm sorry but if you can resist licking this WONDER BUTTER straight off the knife until nothing is left but a sobbing woman in yoga pants on the floor in the corner of her kitchen, then whaaaaateva. Kudos to you.
This is where it gets *OOC. You take a pork tenderloin and slice it right down the center.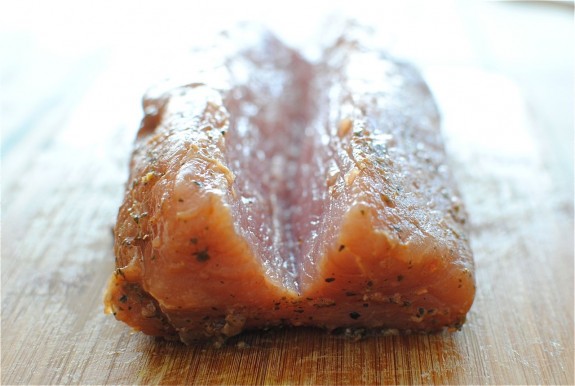 Then you overstuff it (oopsie) with the omggetbackinmymouth butter.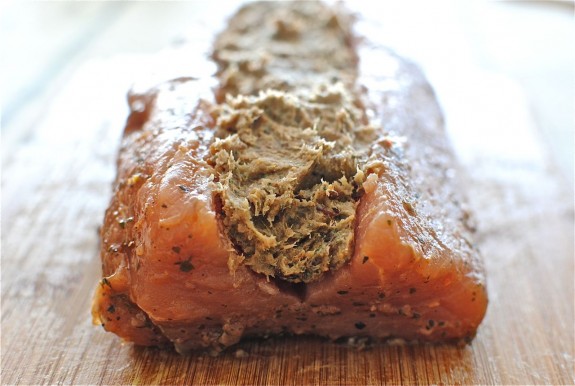 Tie her up with string and laugh at how you seriously overstuffed the ish out of this. And then think to yourself, "just tell them you PLANNED IT THIS WAY. They'll never know." And then type it out on the blog negating the entire dang plan.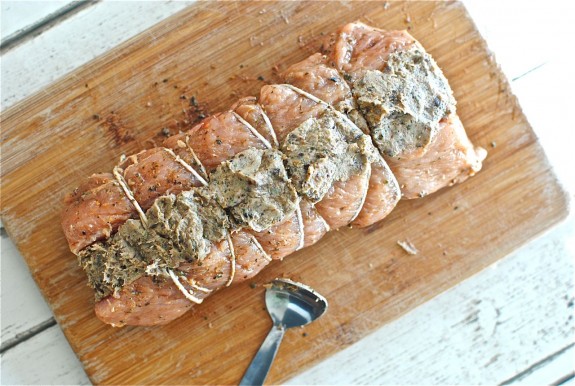 I served some green and red stuff along side, so to avoid "pork coma."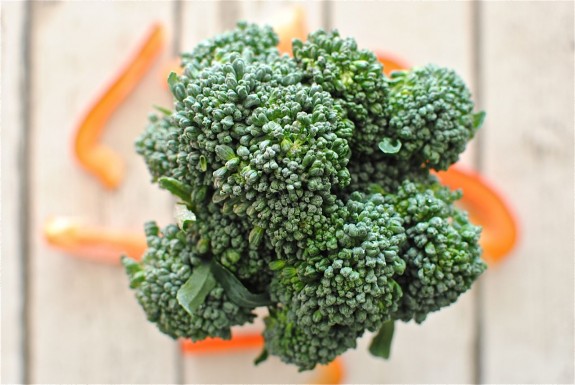 Okay. Oh my lands. UHMUGUSH.
I'm having heart palpitations right now. See that little hole in the butter? That's where I stuck my finger in it to taste it and then withered away to nothing but a memory of a woman who once loved fig butter.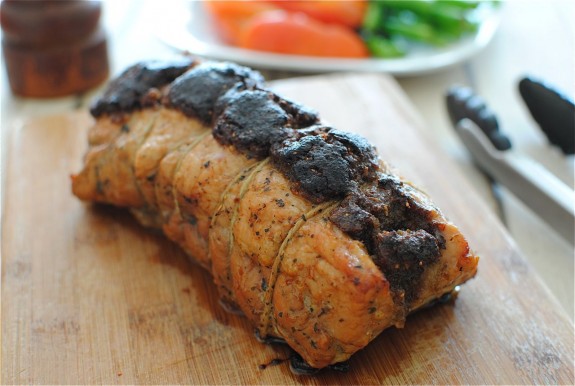 You're going to want to slam your face right into this and I'm soooo serious.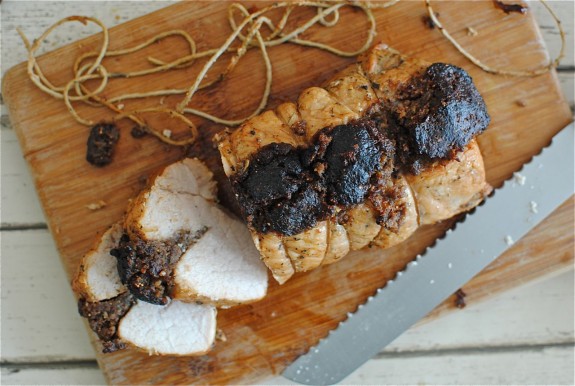 CAN'T. BREATHE.
I want to take a fig butter shower.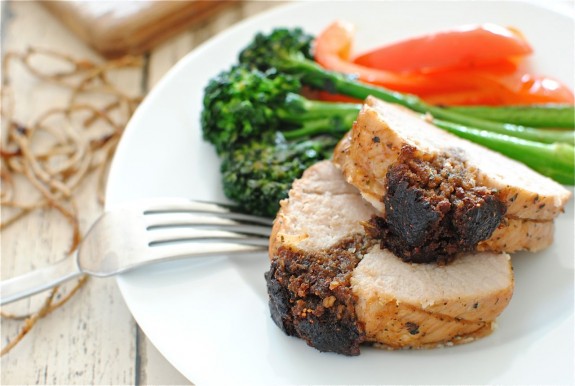 Now, scroll back up and see the top picture with the fig butter spread all over the pork? That's what you must do. If you don't accomplish anything else in this day and/or life, spread that fig butter. Spread it.
p.s. Recipe adapted from this book. Dang that fiction chef can COOK, y'all.
p.s.s. *out.of.control.
Roasted Pork Tenderloin with a Fig, Prosciutto and Sage Butter Stuffing:
What it took for 4:
* 1 (1.5 pound) sun-dried tomato pork tenderloin (or your favorite flavor, or plain)
* 4 Tbs. butter
* 6 black mission figs
* 3 oz thinly sliced prosciutto
* 2 cloves garlic
* 8 fresh sage leaves
* pinch of salt and pepper
* 1 tsp extra-virgin olive oil
Preheat oven to 350.
In a food processor, toss in the butter, figs, prosciutto, garlic, sage and a pinch of salt and pepper. Blitz, blitz, blitz until it becomes a paste.
Take your knife and cut a large slit through the pork lengthwise. Spoon the paste into the slit. I shoved probably too much into mine, but these things happen.
Tie the tenderloin up with string.
Rub a little bit of oil on a baking sheet, place the loin on it and roast for 1 hour.
Let rest for about 5 minutes. Slice into the roasted perfection and serve with a salad or your favorite veggies.
* If you don't use a flavored tenderloin, be sure and sprinkle the top with some coarse salt and freshly ground pepper. You could even glaze the thing with honey and mustard. Or olive oil. Go ahead and get CRAZY WIT IT.