You know how they say a picture is worth a thousand words? Well, today I'm showing you 10 pictures. You guys, that's 10 thousand words.
(apparently I think you're lame at math.)
Lucky for you I'm not going to get all "Tina the Alamo tour guide from Pee Wee's Big Adventure" on you and describe the thousands and thousands of ways I feel about pizza when I eat it, right naiyow.
Unless you want me to.
If you did in fact want me to, it would sound like something like this.
"omgmmm…mmm…goodGRIEF…mmmm…omg….needmore….mmmmm…nomnomnom…..
omg….anotherpiece….mmmmm…gaaahh….hmmmMMMM….dearwondersoftheearth…..
mmmmm…..Ican'tfeelmyface…."
For 29 hours straight.
For this here pizza, I went with a pre-made crust, because…well, it was a weeknight and I was feeling lazy. I actually forgot about a sauce for the pie, but remembered some spinach in ze fridge, so..ba da da DAAAA, spinach pesto! Added some sausage and red bell pepper, set up a sleeping bag under a layer of cheese and camped out overnight.
Best sleep I've ever had.
At this time, I'd like to conclude my post and I mean it, y'all have been one of the greatest groups I have ever worked with, really. Eh heh!
Sausage, Red Bell Pepper and Spinach Pesto Pizza: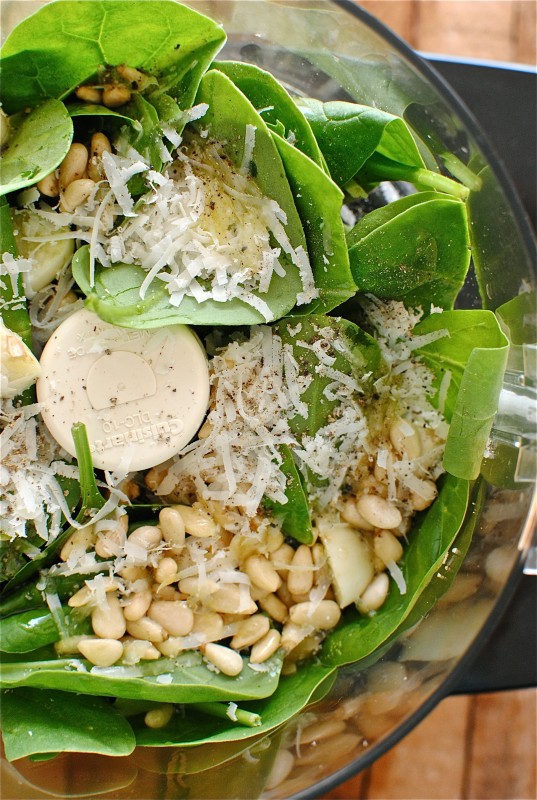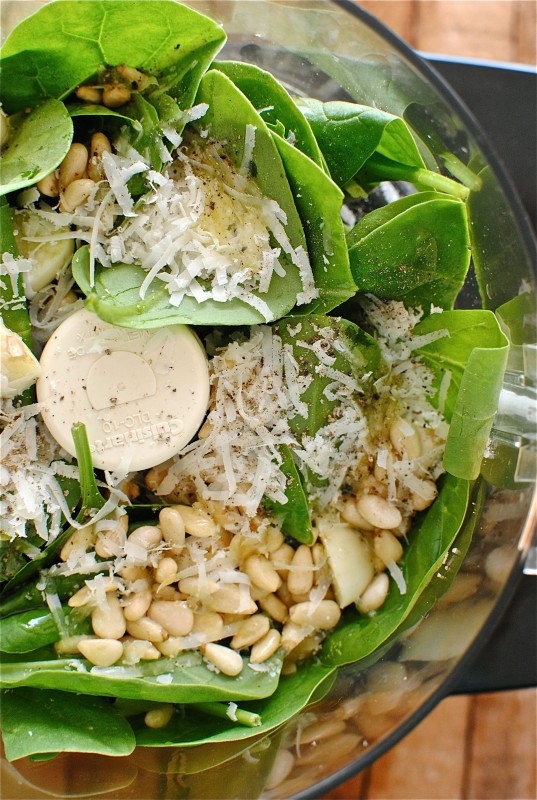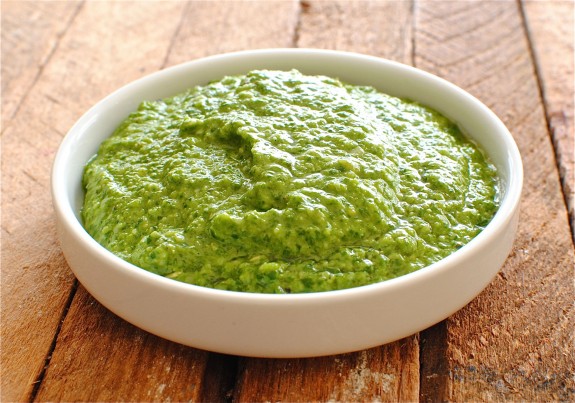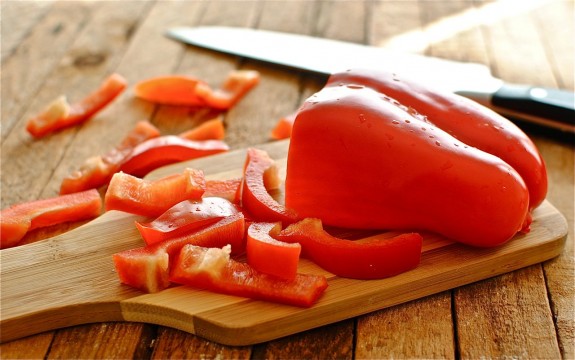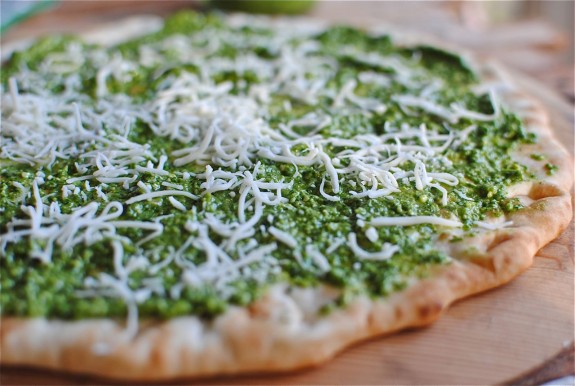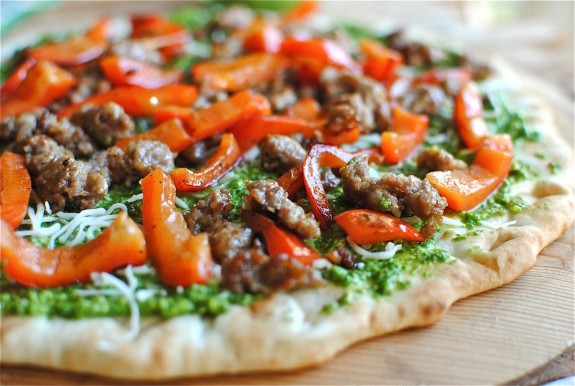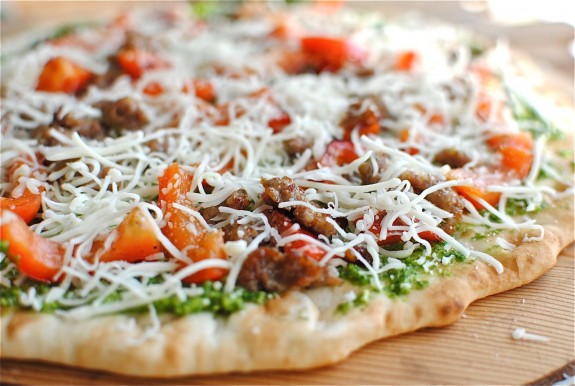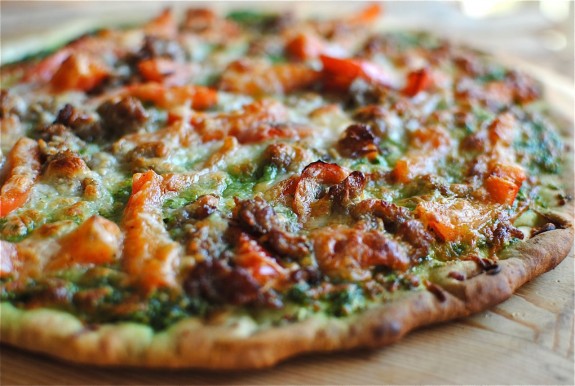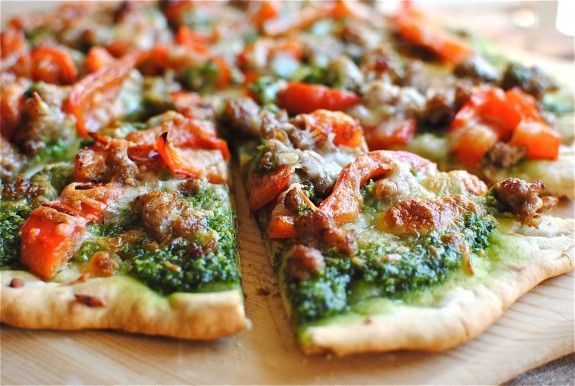 What it took for 1 12-inch pizza:
* 2 cups baby spinach
* 3 cloves garlic, chopped
* 1/4 cup grated parmesan
* 1/4 pine nuts, toasted
* 1/2 cup extra-virgin olive oil, plus 1 Tbs
* 1 Italian sausage, casing removed
*1/2 red bell pepper, cut into thin sticks
* 1 cup shredded mozzarella
* 1 pre-made 12-inch thin pizza crust
* coarse salt and freshly ground pepper
In a food processor, blitz the spinach, garlic, parmesan, pine nuts, and a good pinch of salt and pepper. With the motor running, add the oil in a thin stream until pesto-y. Set aside.
Heat the remaining Tbs oil in a medium skillet and add the sausage. Break up with a wooden spoon and cook until browned, about 5 minutes. Set aside.
To the pan, add the red pepper. Add a little more oil if needed. Throw a teeny dash of salt in there.
Grab your crust and evenly spoon the pesto over it. Sprinkle a little cheese on top. Then add some sausage. Then some cheese. Then some peppers. Then more cheese. Mommy.
Bake according to package directions, (around 10 minutes) slice her up and eat the WHOLE THING.
Oh I'm kidding!
Not really.