Mission accomplished! We successfully managed to scrounge up whatever was left in the fridge, pantry and garden for a quick "gettin'-out-of-town-for-a-few-days" dinner. Well, when I say "we," I actually mean Aaron.
You see, all day long yesterday I felt completely dried up on dinner ideas. (After my delicious lunch that is.) On the verge of a pathetic and unnecessary mental breakdown, I decided to wait until Aaron got home and let him take the reins. I was finished. Done. Couldn't think any longer. Had the pool, hot dogs and fireworks on the brain. So, I sat down to watch bad Thursday night TV while he scurried about in the kitchen.
….the scents that blew through the living room….oh my stars…
….the apron-wearing husband with a skip in his step…raaawr…
….dinner made for me…..bliss.
I was able to get a few details from him on this dish, but not many, as I was busy shoving my face while blinking back the tears.
Have a wonderful long weekend, folks!
Go America!
(?)
Grilled Salmon with Roasted Sweet Potatoes and Garden Wild Rice: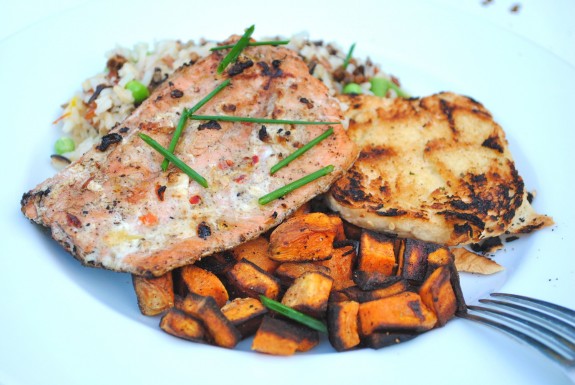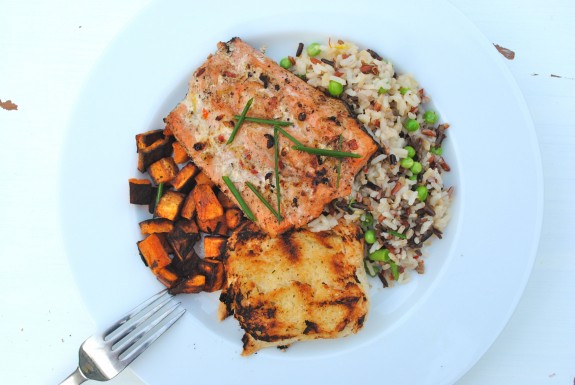 What it took for 2:
* 2 salmon fillets
* 2 Tbs. roasted garlic butter
* sprinkle of crushed red pepper
* 1 cup wild rice
* 1/2 cup peas
* 1/2 cup green beans, cut into 1-inch pieces
* 1 sweet potato, cut into 1-inch chunks
* 2 Tbs. extra-virgin olive oil
* coarse salt and freshly ground pepper
Preheat the oven to 450.  Drizzle the sweet potatoes with oil, and sprinkle with salt and pepper. Roast for 20 minutes.
Boil the rice in 2 cups of water for about 20 minutes. Right at the end throw in the peas and beans. Cover and let finish cooking. Toss in a little butter, salt and pepper.
Preheat grill to medium-high. Dollop each salmon fillet with a Tbs of the roasted garlic butter, and sprinkle with a pinch of crushed red pepper. Season with salt and pepper as well. Grill until salmon is done, about 7 minutes total.
Serve with garlic toast, if desired!