For the last couple of Christmases, my sweet memaw has gifted me with a subscription to Southern Living magazine.
You see, I'm actually from the south, and I do in fact have a memaw. Oh I'm not even kidding. She even starts every sentence with, "Wayell daaaarlin'!" I love her. A lot.
To my surprise, I actually get excited when the magazine appears in my mailbox. There's something so cozy about the breezy photos and casual descriptions of southern culture and lifestyle. But being the food-crazed lunatic that I am, I always flip to the food section as soon as the magazine is in my grip.
This month, in true southern form, there was a most beautiful ode to the peach. I've never been a peach person. Now a peachY person, that I have covered. (Sorry. I had to. If I ignored that joke, I would be betraying myself. And you.)
But, one particular peach-showcased recipe shook my soul innards violently as oozy, stinky, worth-dying-for gorgonzola cheese melted all over grilled peach halves, and topped a bed of crisp arugula.
Hello?
Wait, did you leave?
Ohhhh, you had to get some towels to wipe the drool.
I know. I know.
Grilled Peach Salad: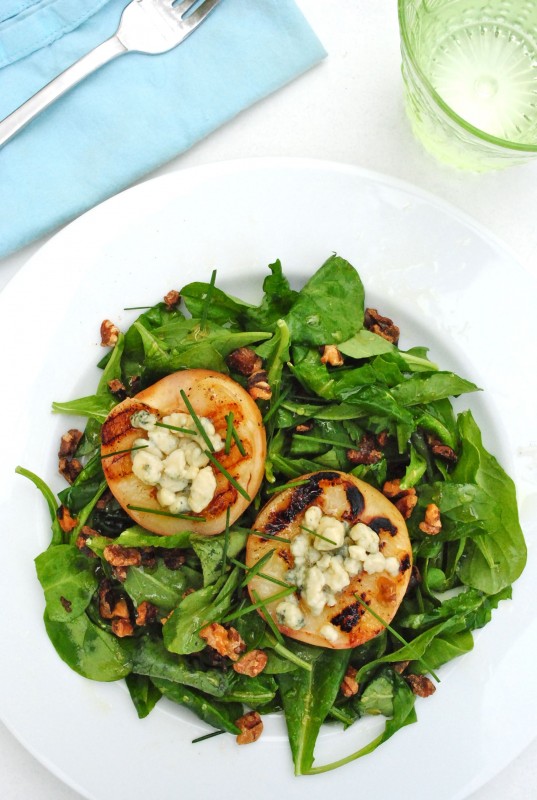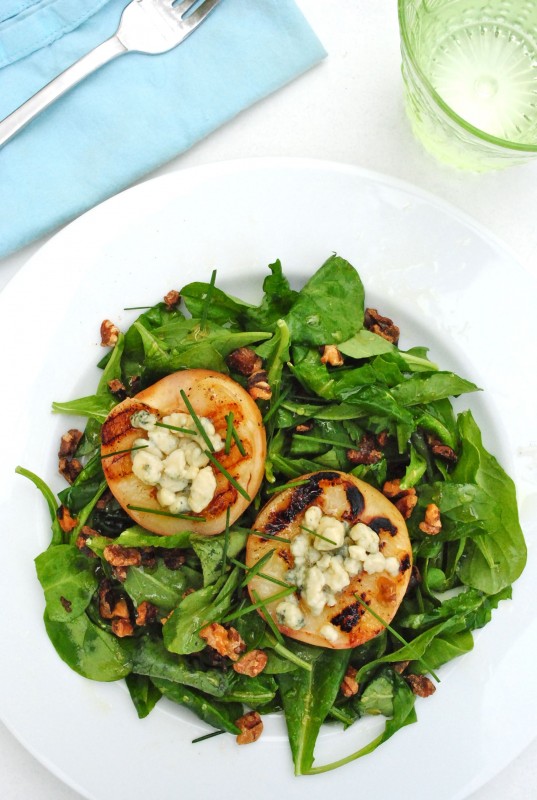 A little closer.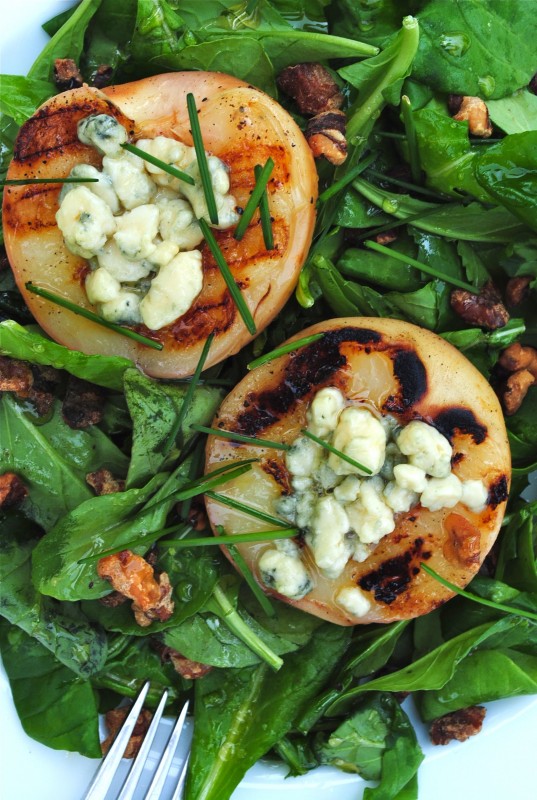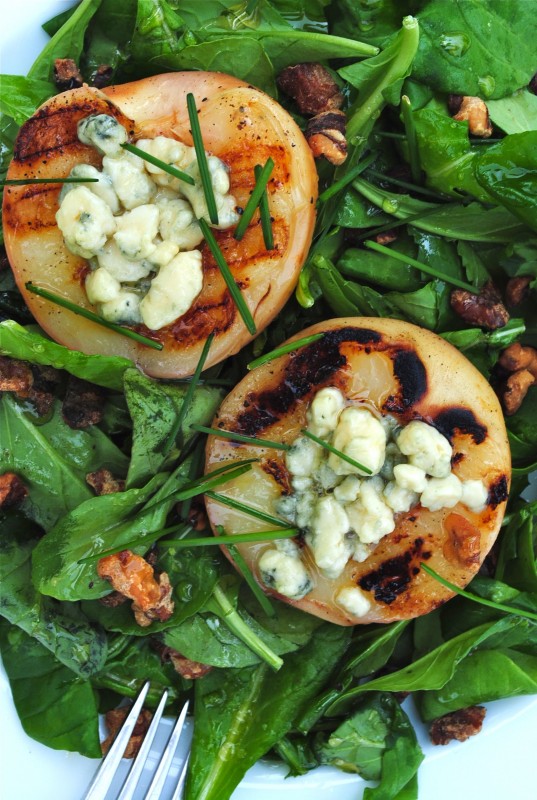 STICK YOUR FACE IN THE PEACH.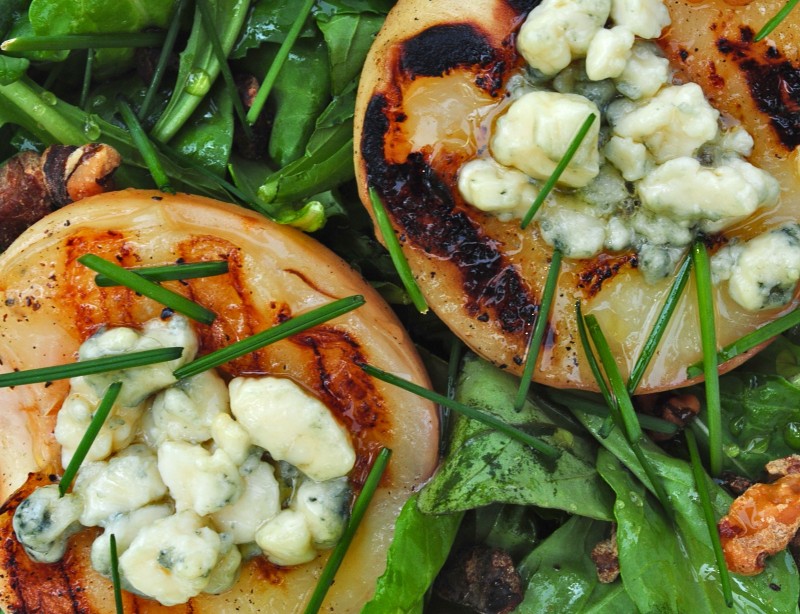 Sorry.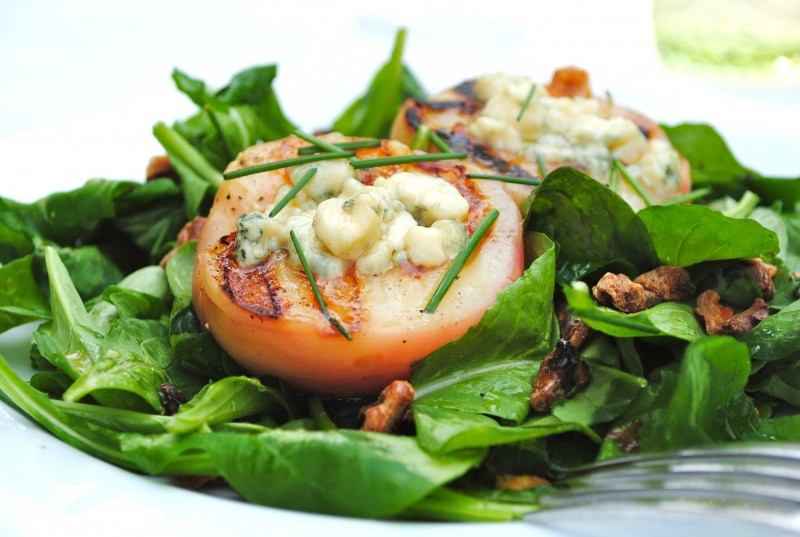 What it took for 1:
* 2 cups arugula
* 1 peach, halved and pit removed
* 1/4 cup walnut pieces, toasted
* 2 Tbs. crumbled gorgonzola cheese
* 2 Tbs. extra-virgin olive oil, divided
* 1 Tbs. honey
* 2 chives, cut into 1/2-inch pieces
* coarse salt and freshly ground pepper
Heat your outdoor grill or grill pan over medium-high. Rub a little oil over the grates.
In a small bowl, toss the peach halves with 1 Tbs. oil, and a pinch of salt and pepper.
Place each peach cut-side down on the grill. Cover with lid and grill 3 minutes. Flip and spoon a Tbs of cheese into each pit hole (gross?) and cover for 3 more minutes of grilling.
Toss the remaining oil with the arugula. Top with grilled peaches, the toasted walnuts, a good drizzle of honey and the chives.
Aaaah, the south!