Plums remind me of summer. Specifically, when I was a kiddo and visiting my grandparents in south Arkansas. They always seemed to have plums for some reason. They also had an old white truck that my sister and I would BEG to take rides in through the countryside. We'd ride in the open back bed, the muggy air tickling our youthful faces, rocking our mid-80s jams shorts, giggling and pointing at the horses galloping in the meadows in the distance. And we ate plums. Lots and lots of plums.
The old white truck is gone now. The meadows have since grown into fields of weeds. My grandparents no longer live in that quaint, southern town in Arkansas. I don't think I've even eaten a plum since those days.
Today that changed.
I discovered this recipe is my newest, wait for it, Cooking Light magazine. When I saw that it featured plums, I immediately thought of my grandparents, the old white truck, the horses. And of course the jams, too, duh.
I had to make it.
O.M.G.
Make these sandwiches for your next picnic. Make them for your next lunch date with your husband or boyfriend. Make them for your kids, and grandkids. They scream summer, and family, and memories, and old white trucks.
Well, for me that is.
Open-Faced Prosciutto, Arugula and Plum Sandwiches: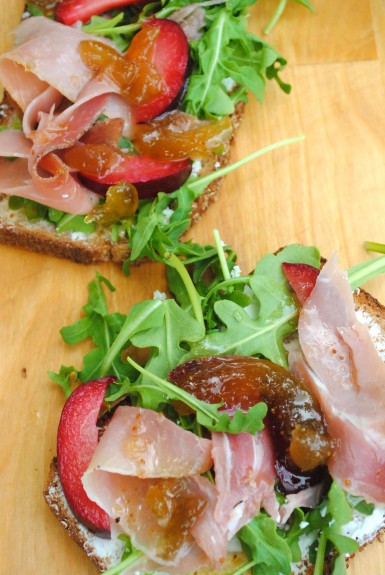 What it took for 1:
* 2 slices whole-grain bread, toasted
* 2 Tbs. goat cheese
* 2 Tbs. fig preserves
* 1 Tbs. fresh lemon juice
* 1 slice prosciutto, torn
* 1/2 cup arugula
* 1 plum, cut into thin wedges
Whisk the fig preserves and lemon juice in a  little bowl.
Smear the goat cheese on each piece of toast. Top with arugula, plum wedges and torn prosciutto. Drizzle with fig/lemon dressing.
Amazing, amazing.