Yes ma'am, this is 100% based on, inspired by, catapulted from and birthed within the pages of THE RUMOR.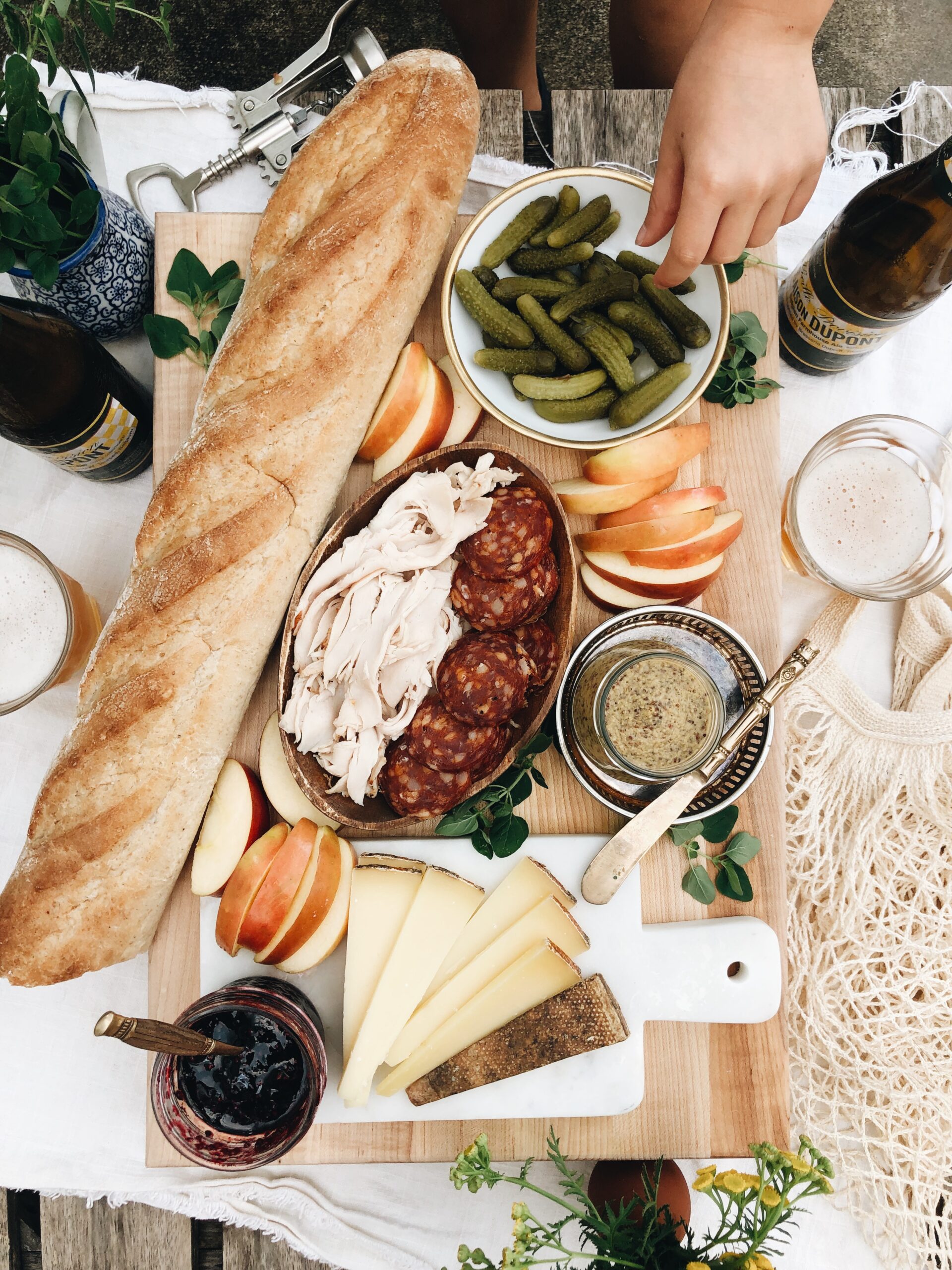 But we're doing it my way today. "And we'll do it our waaay yes, our waaaay, make all our dreaaaaams come true. For me and youuuuu." If you can name that reference we are soulmates.
So! The Ploughman's Lunch. I have to be embarrassingly honest. I'd never even heard of this concept until I read Grace Pancik serving her luscious gardener Benton Coe the Ploughman's lunch every day at her magazine-worthy flower and garden explosive home in The Rumor. Aside from what was happening between the two of them (mama mia!) of course I was like, "BUT HOLD UP, THIS LUNCH, THO."
(Mom, the younger generations spell it like that. Tho, instead of though. Not sure it works on me.)
First of all, Elin's words are magic. She can describe a toenail being ripped off a foot and it's poetry. She got me with this lunch, hook line and sinker. (and cheese.) So I did some research, read up on what the Ploughman's lunch actually is, what it means and where it came from, and recreated it for you!
Here's the Wikipedia definition for you. But my takeaway? A charcuterie plate, deconstructed. Simplified. Rustic. Obviously I'm in.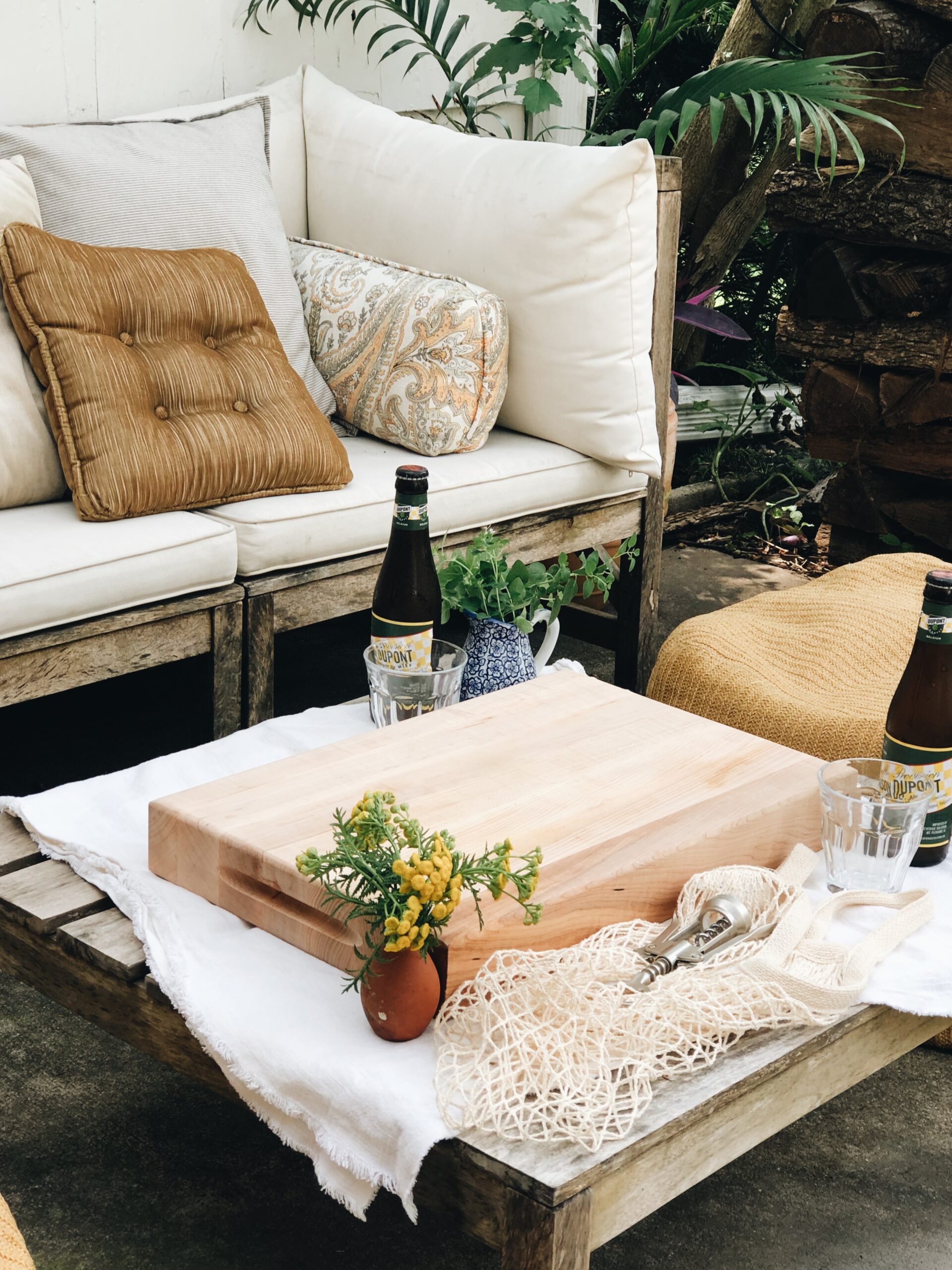 First, you find a cute little spot. Done.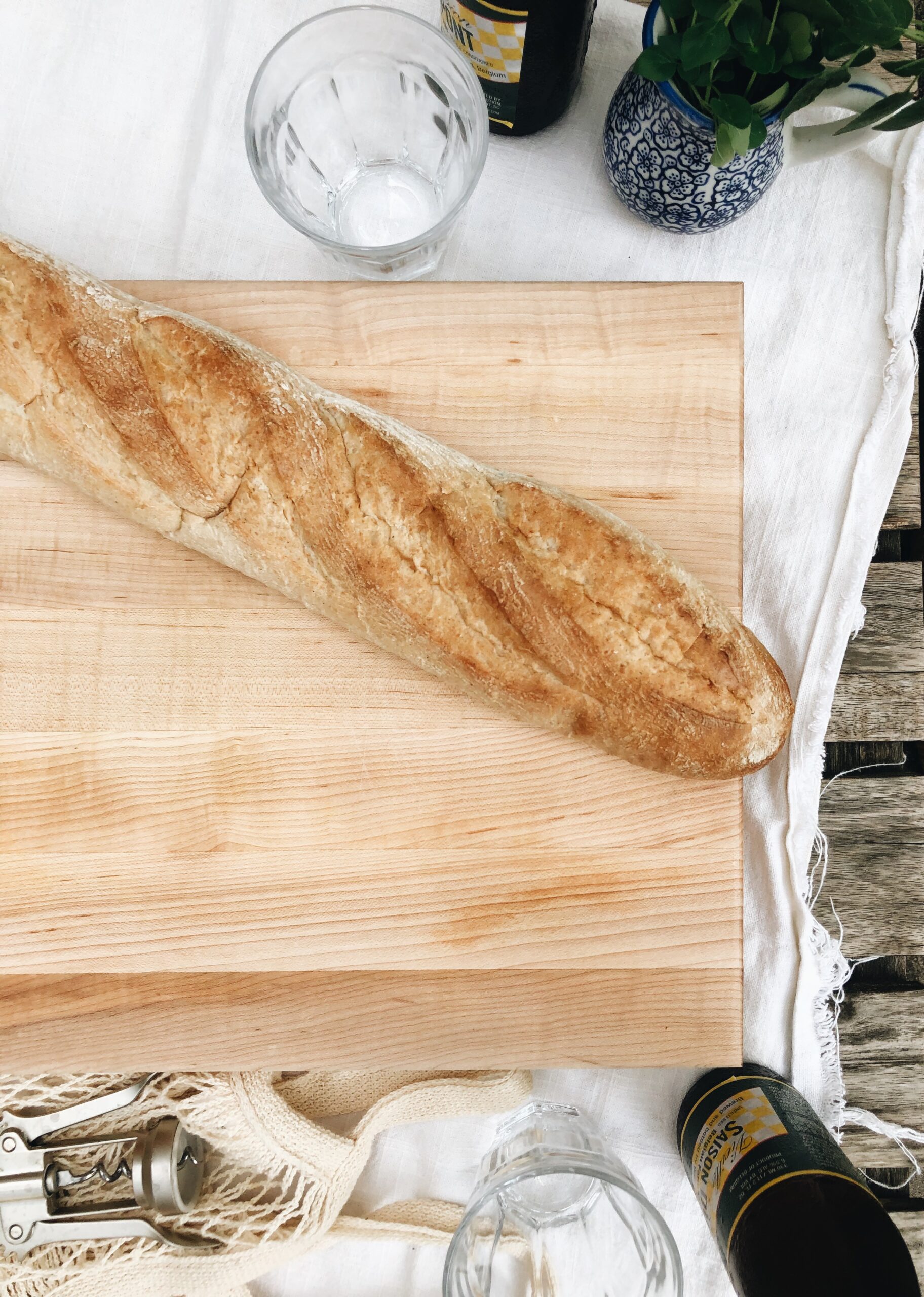 It's honestly just an adding-to-the-board type of thing. I started with bread. So maybe start with bread! Bread bread bread. A rustic baguette is a fine choice, but if you put sliced white sandwich bread on this, you're still a good person.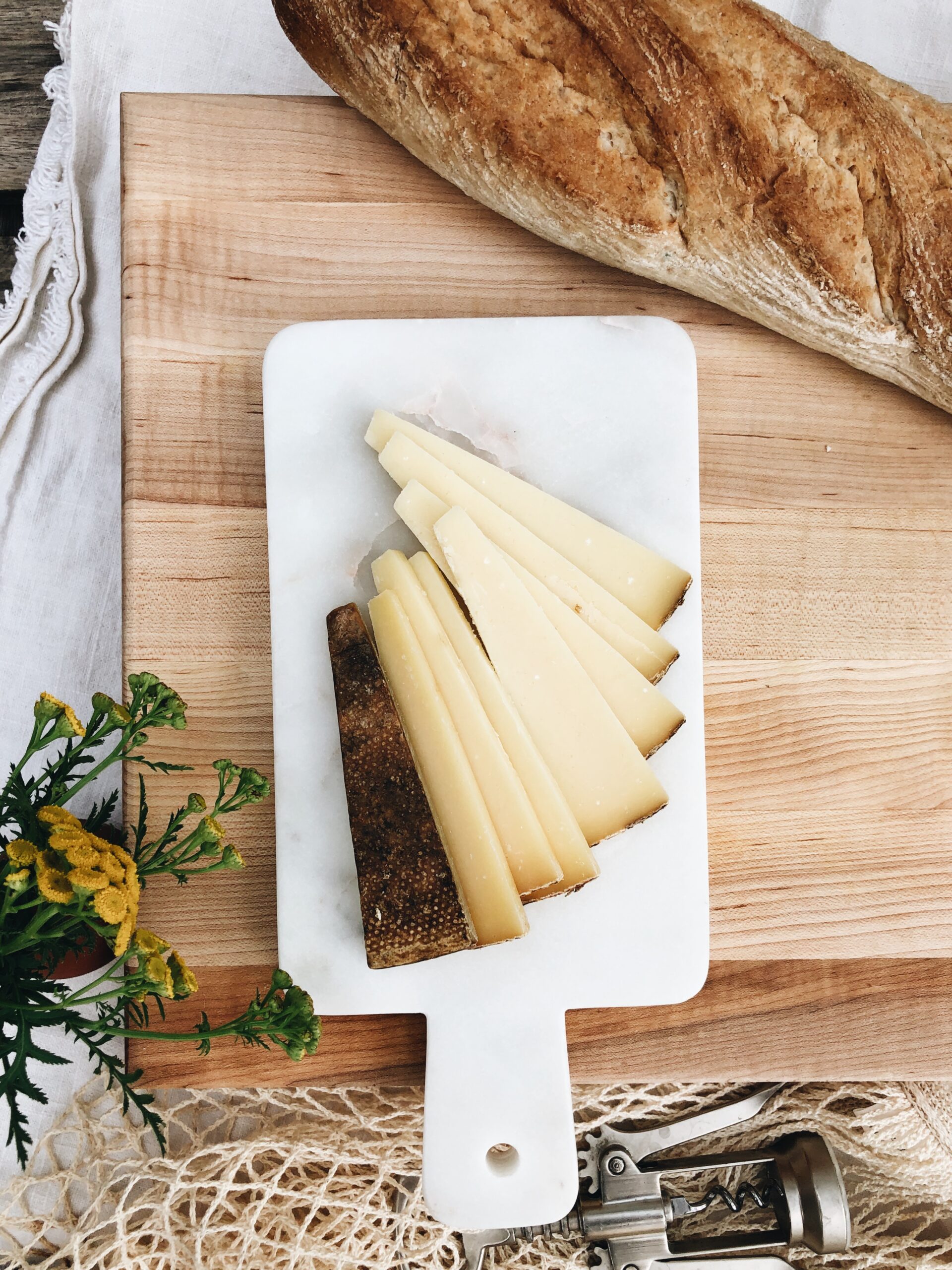 Oh! Before I forget, in my Instagram Stories I have a highlight about going to shop for all these goodies, based on your input. It's called Ploughman's because highlights only allows like three characters or something.
But this CHEESE, o m g. I got it at French Market because it's my second home, and Carter at the cheese counter said it was wonderful so I was sold. I was also drinking a chilled Sancerre and would have probably bought a dirty shoe. It's a hard cheese, and called HORNBACHER and I died laughing. It's perfect for this, but buy what you want! But maybe, buy something a little bit special. Nothing pedestrian, go to the fancy cheese part of the store. 'Atta goil.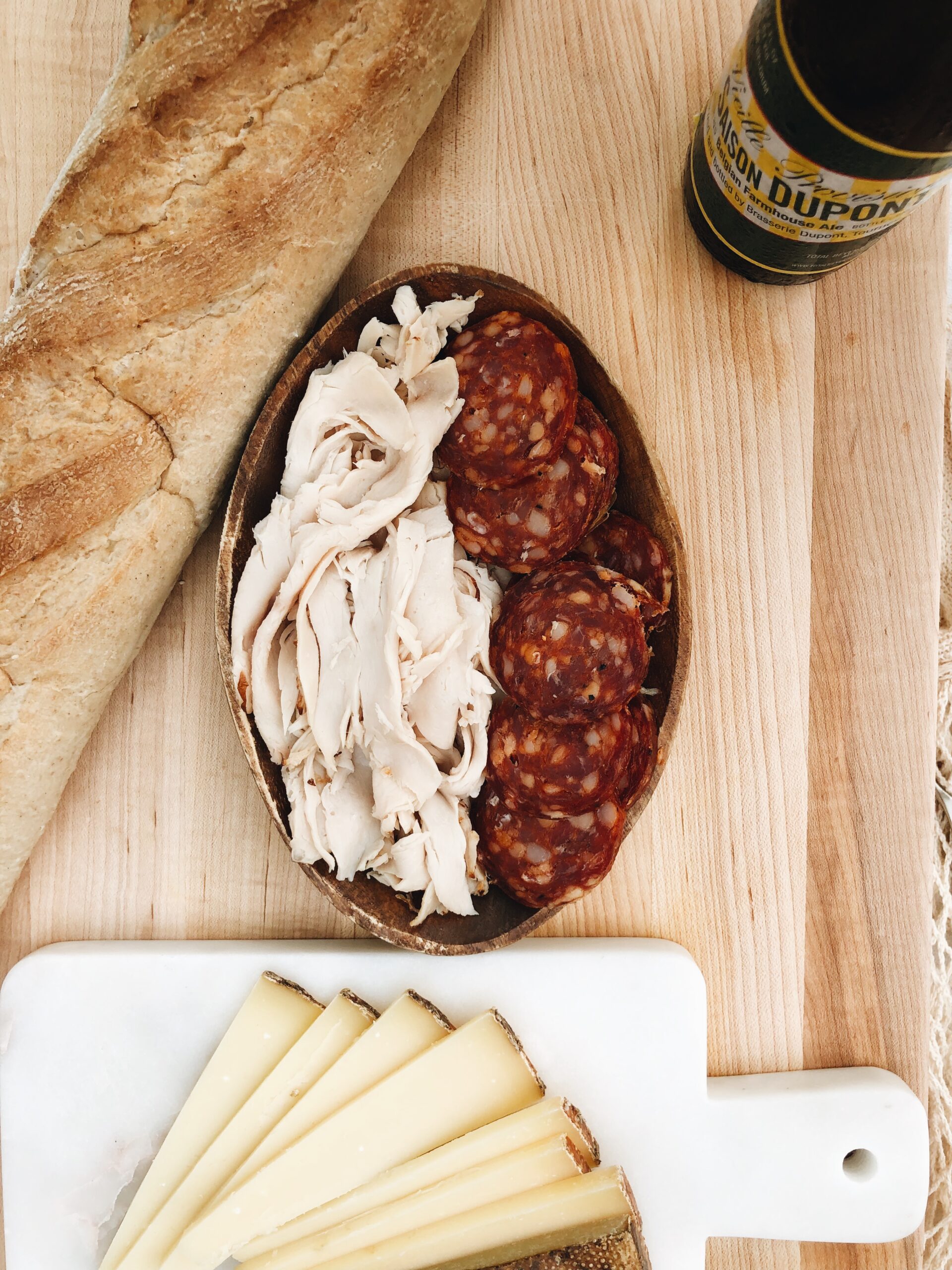 Next up, meat! I read different versions of the Ploughman's lunch, and it sort of sounds like anything goes. Lots of thick ham, yet lots of thinly sliced. So, I used what I had, which was a Soprasseta salami and a little bit of sliced deli turkey. And it was great! Everyone was happy.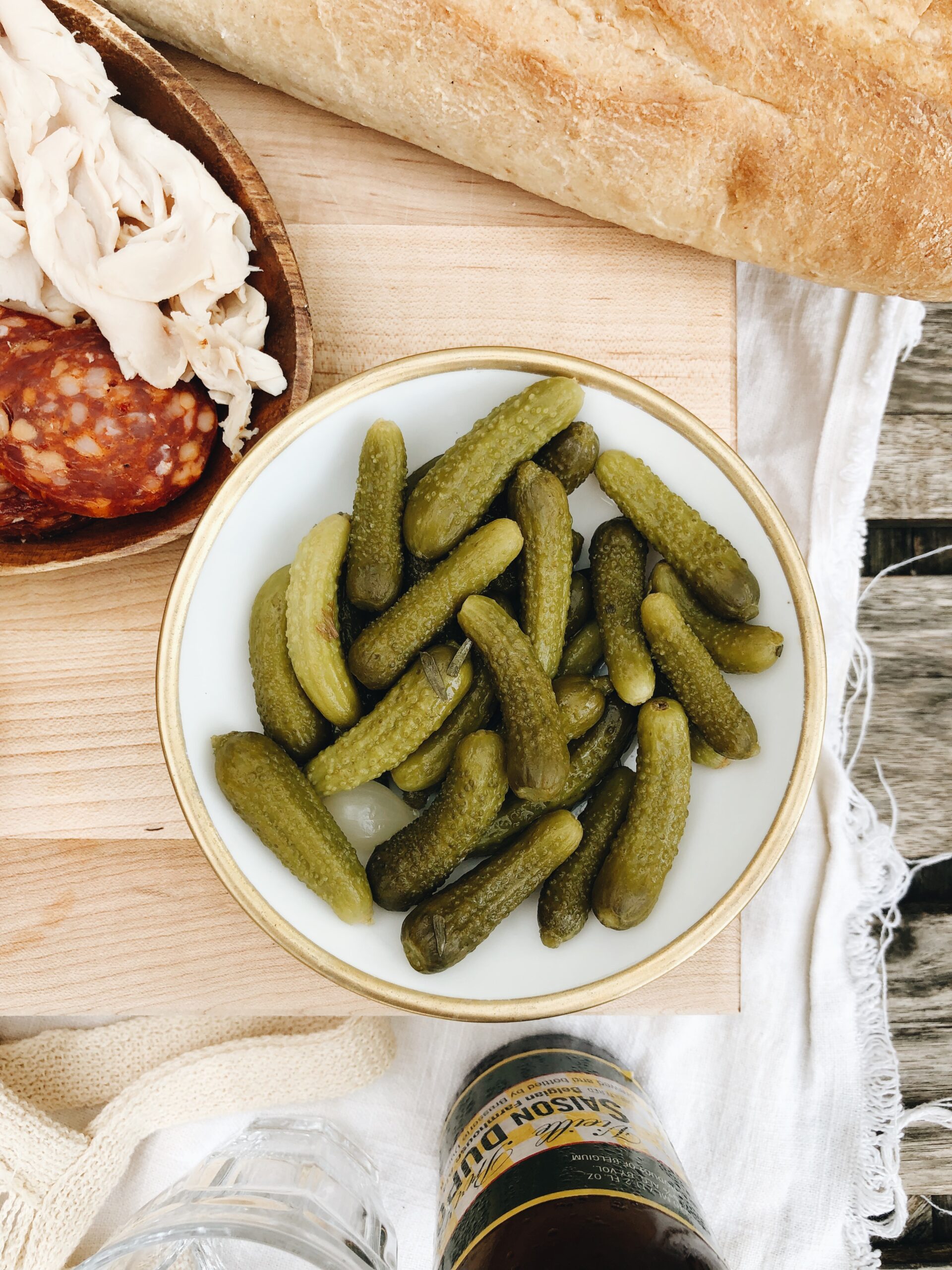 Okay, cornichons are a MUST. The little tiny pickles, ya know. You see them a lot on grazing boards and charcuterie platters. And for good reason – they're delicious. Mild, but briny bites of delicate pickle flavor. Grab a jar! You're making a Ploughman's Lunch and things are happening.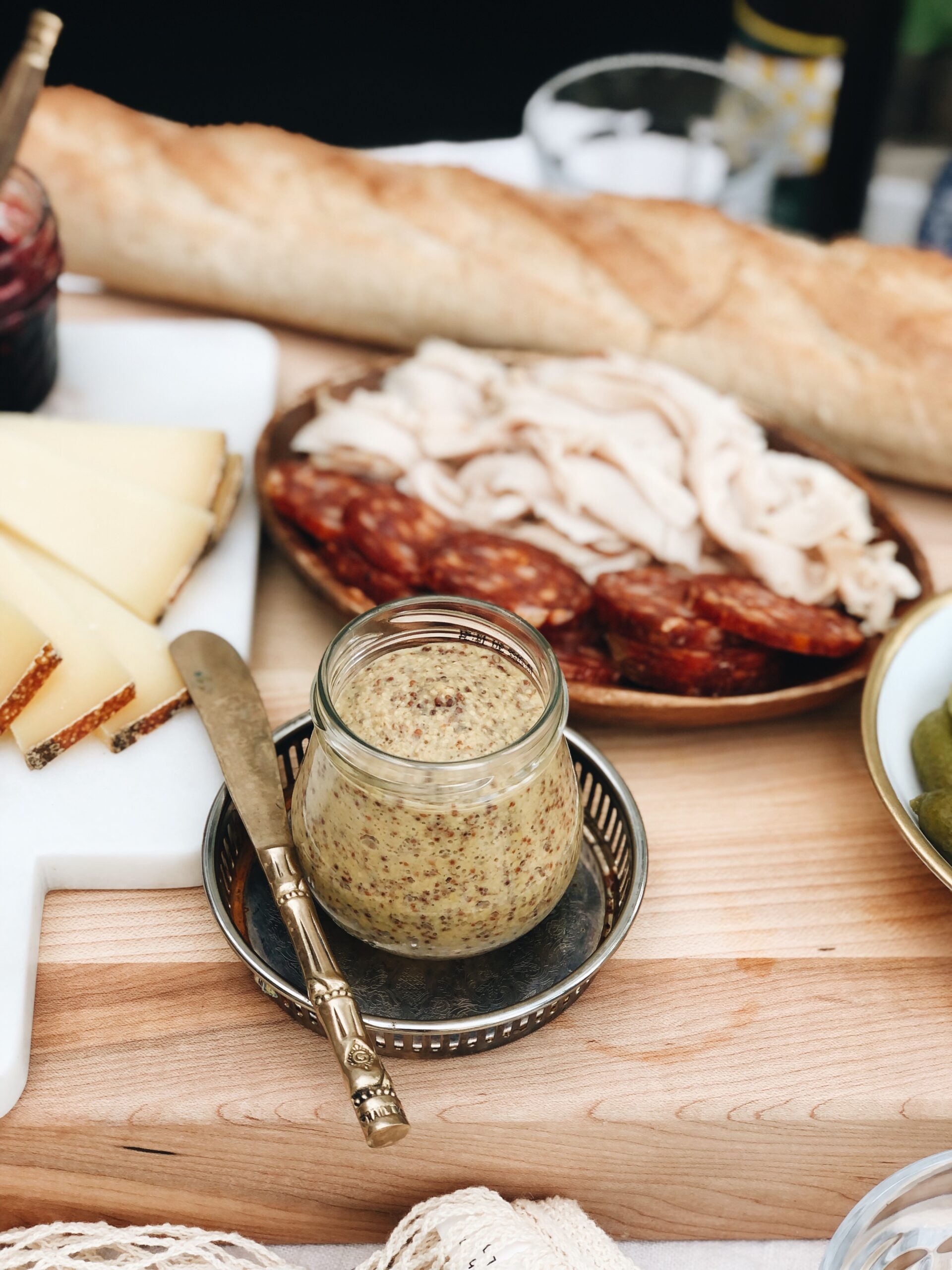 Mustard. That's obviously another must-have. This is an old fashioned grainy Dijon, and it's my favorite. Got it at French Market as well, but you can find it really anywhere. (OCD tip: rip the label off of your jar for a seamless, borderline pretentious look.)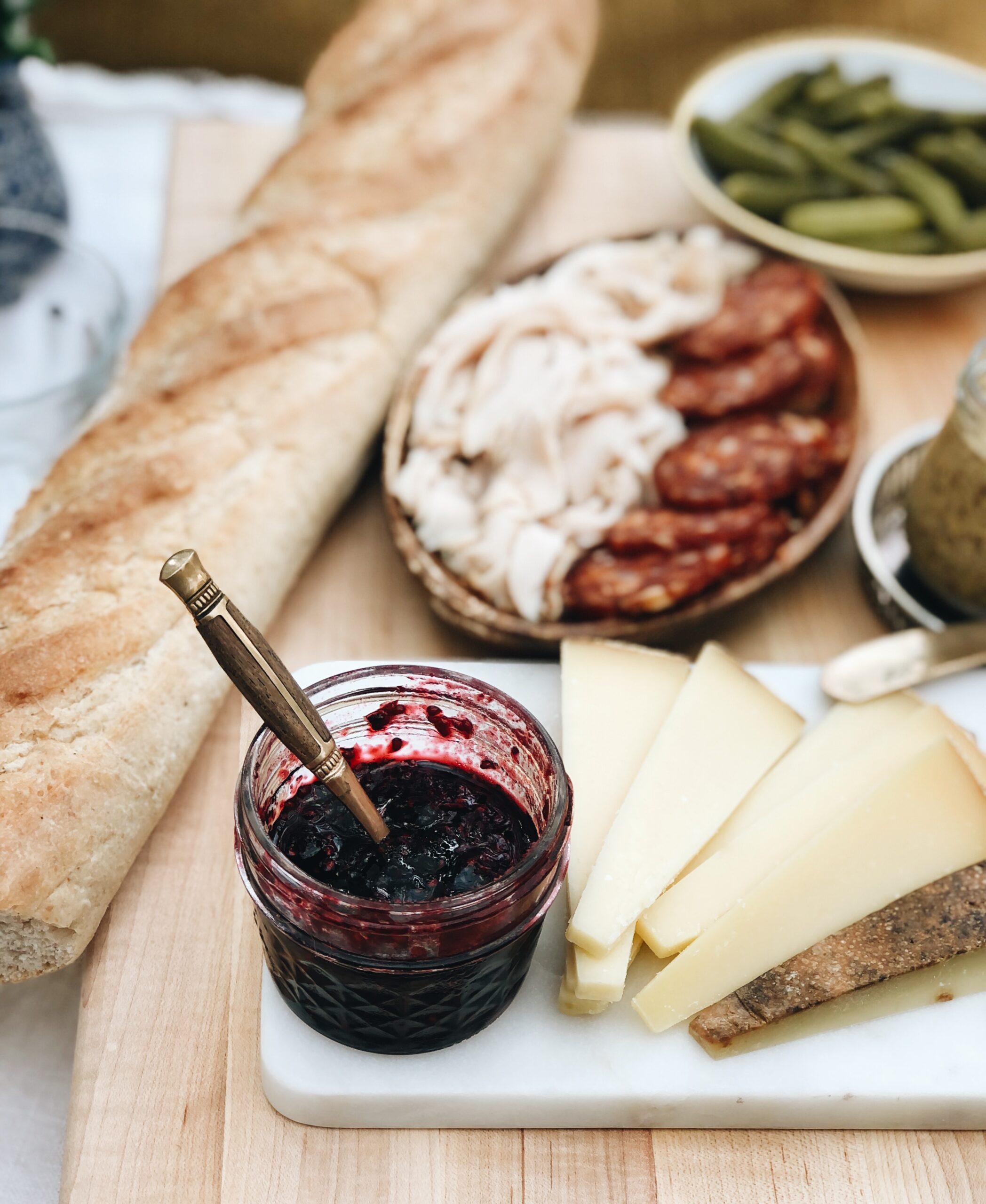 Now we need sweet! This is a raspberry jam we made earlier in the summer from our garden berry haul because I feel like you might be in the mood to punch something.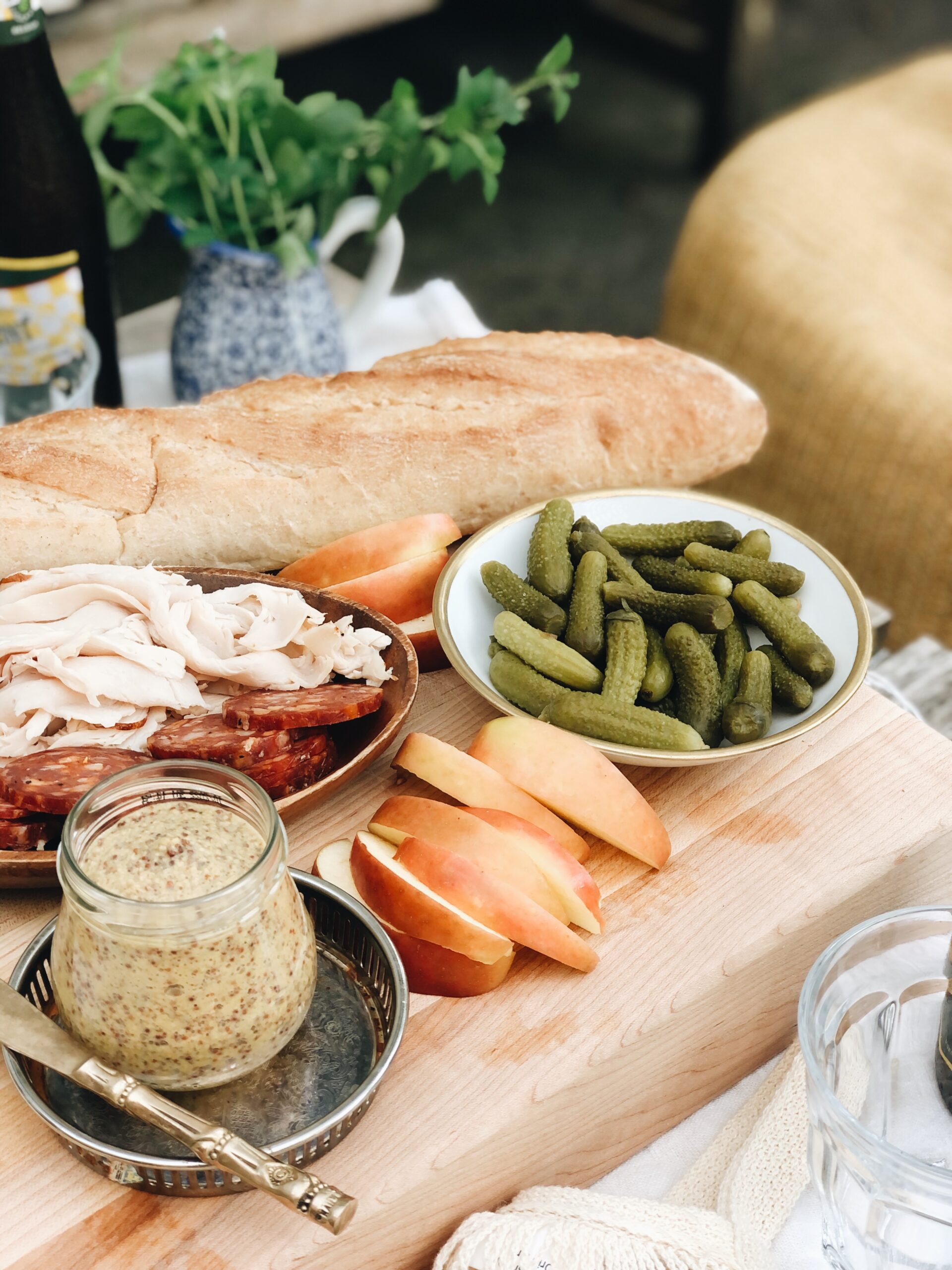 When I was reading up on the history of the Ploughman's Lunch, it could be really boiled down to this: snacky and British. It's always a cold meal. And it's always a little knob of this, a little chunk of that, a little slice of that. Apples were a quite popular, I found! So slice one up and violently throw it on your board.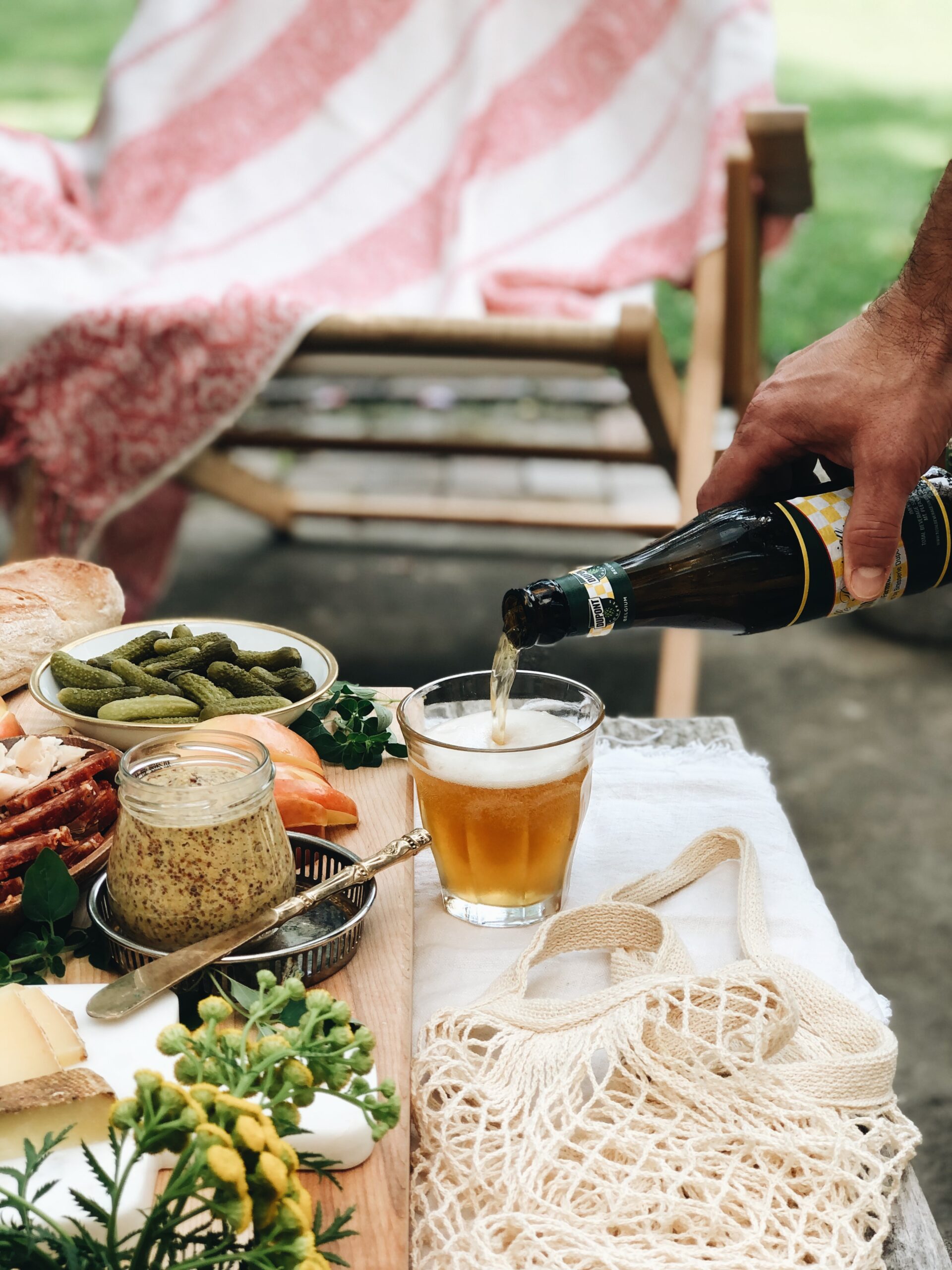 Aaaaand of course, the beer. Get what you want, but Aaron bought these intense ales that are apparently perfect for this lunch. But if you want a Miller Light no one will stop you. (amen, I'll join.)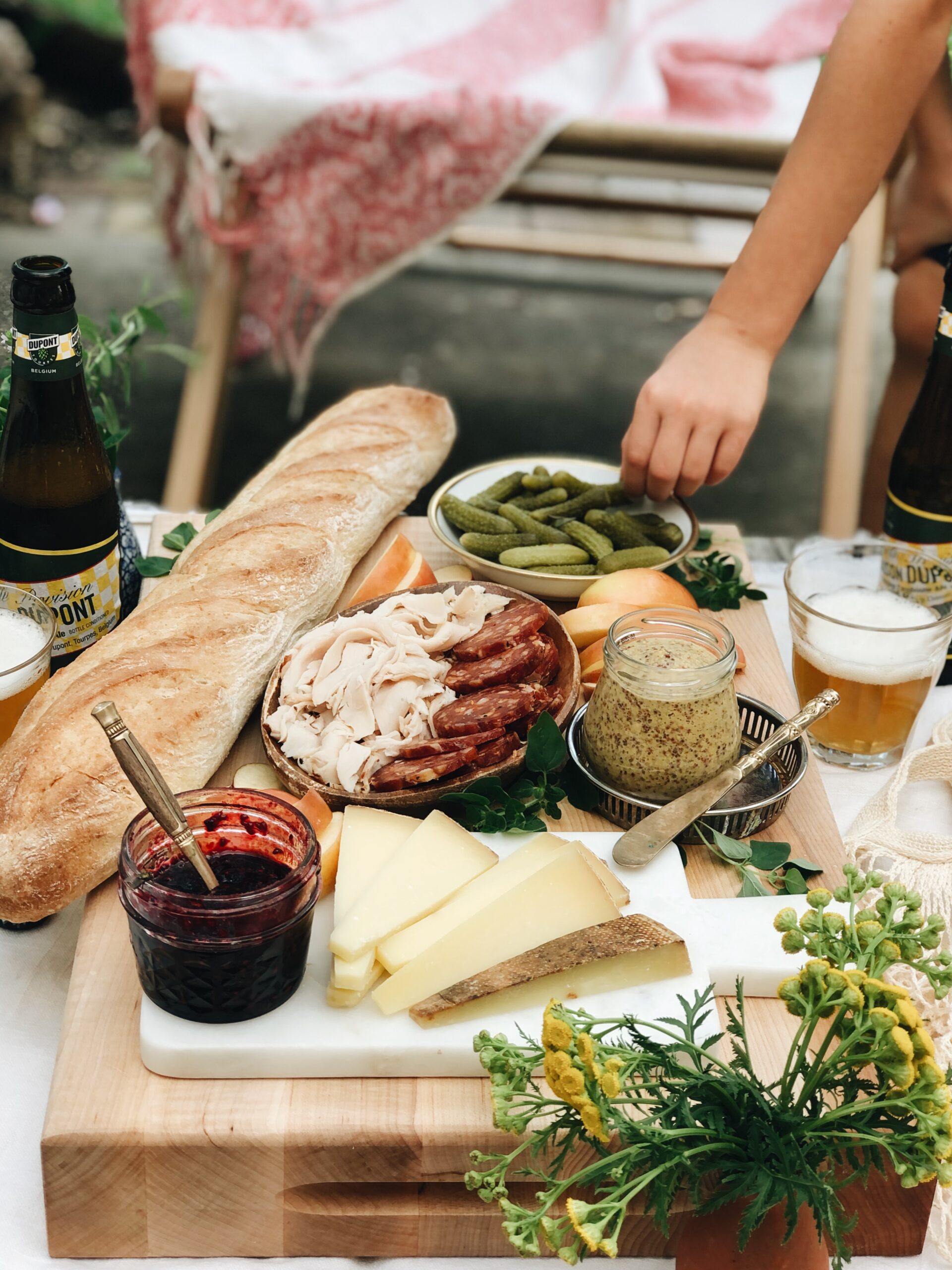 That was it for me! Hard-boiled eggs are also a staple, but to be honest, I just forgot. Sliced onion is also a go-to, but the kids gave me the stink eye when I brought up the option. So.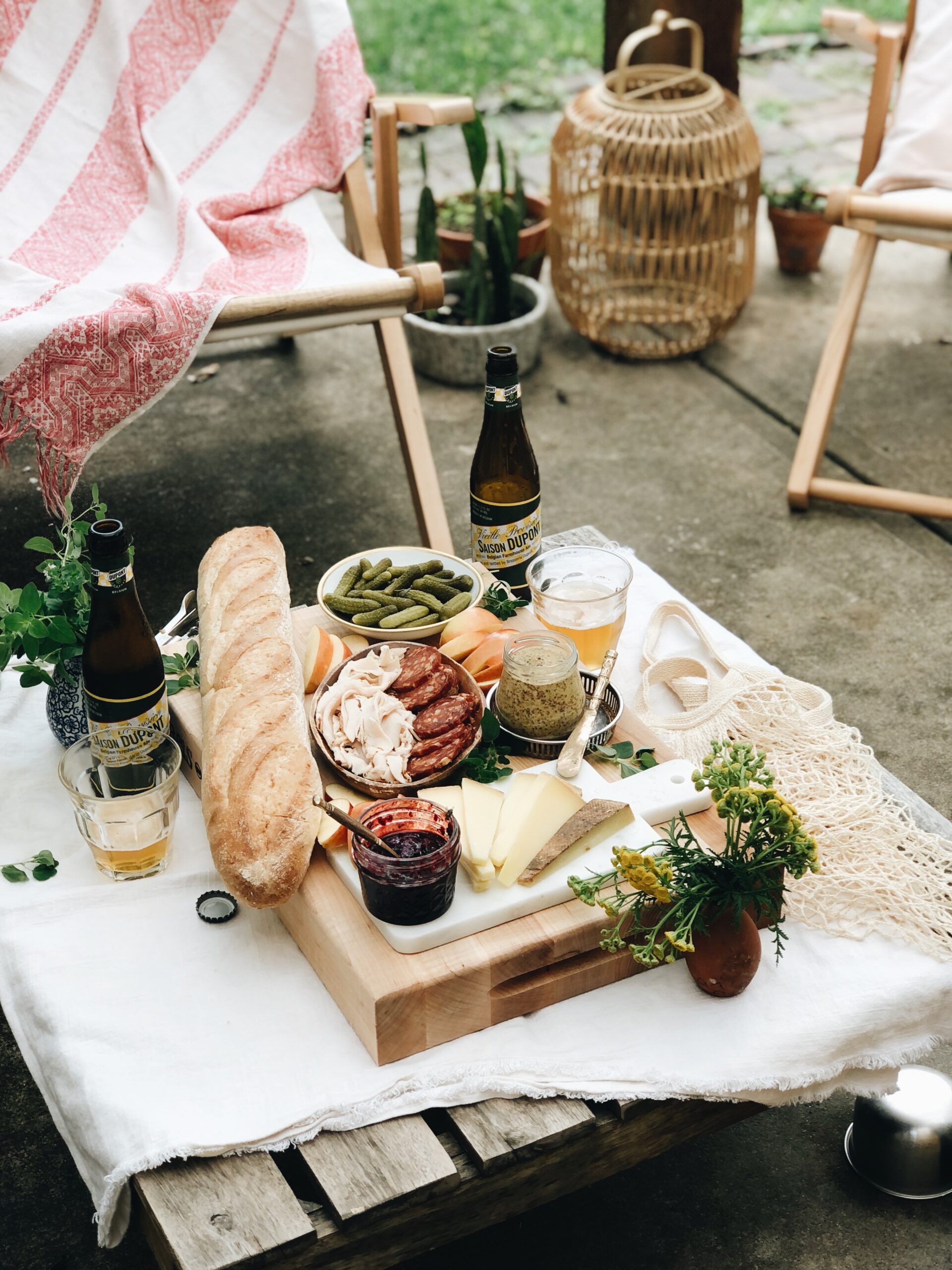 But isn't this so fun? ALSO a freaking bumble bee stung me during this shoot (and I lived to tell the story) so that stainless steel bowl bottom right is my freak-out panic moment. The bee is in there. And no one was home (yet) when I shot this. I was paralyzed with fear and couldn't move the bowl until Aaron got home. So the bee makes its debut. In a bowl. And I'm okay. I think?
You don't need a bumble bee in a bowl for your Ploughman's Lunch, in case any of that was misleading.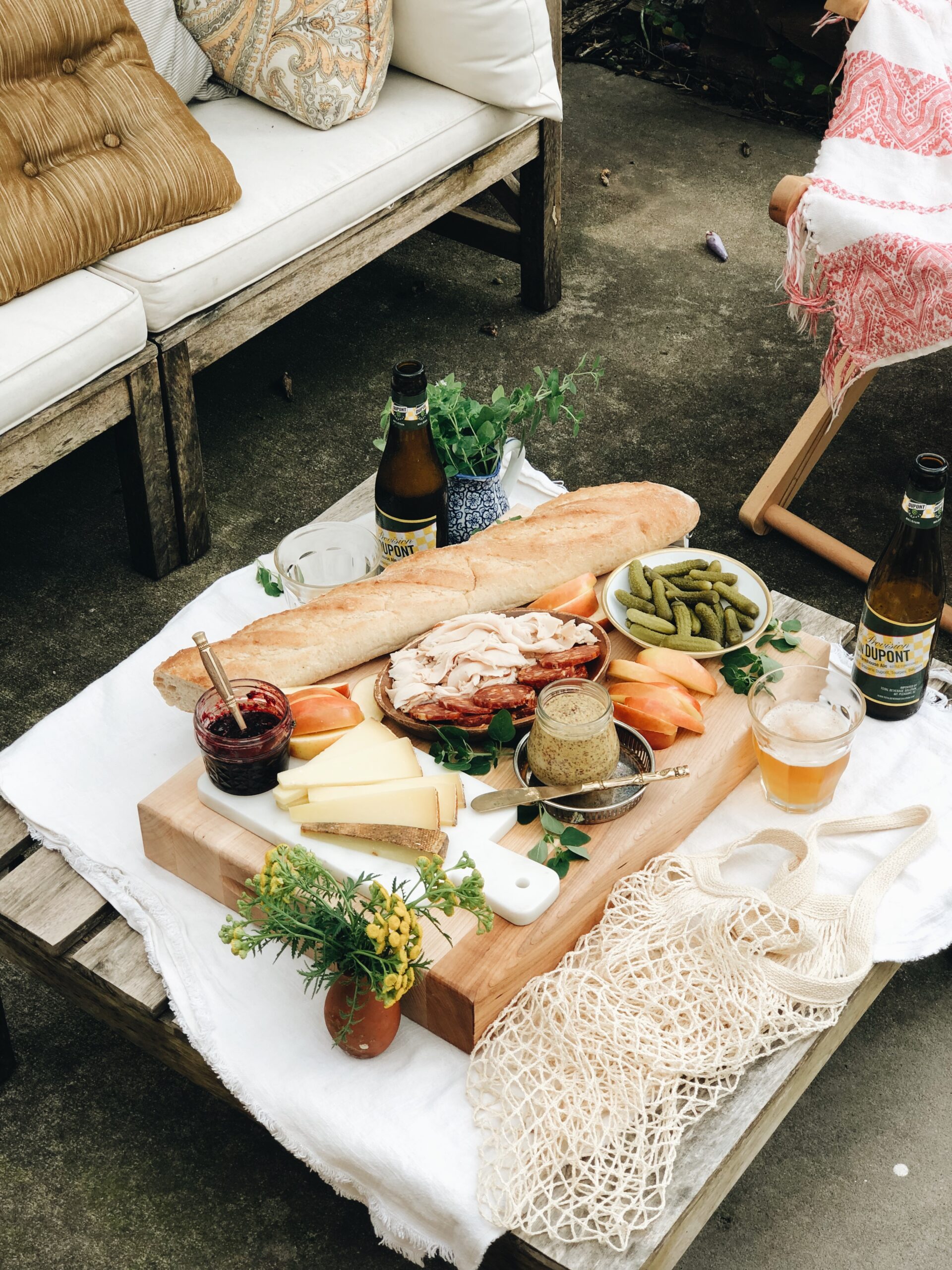 Super snacky, honestly simple and like, mega rustic. Tell me what you would have added! Do you ever make these Ploughman's Lunches? And yes, you desperately need to read The Rumor if you've not yet.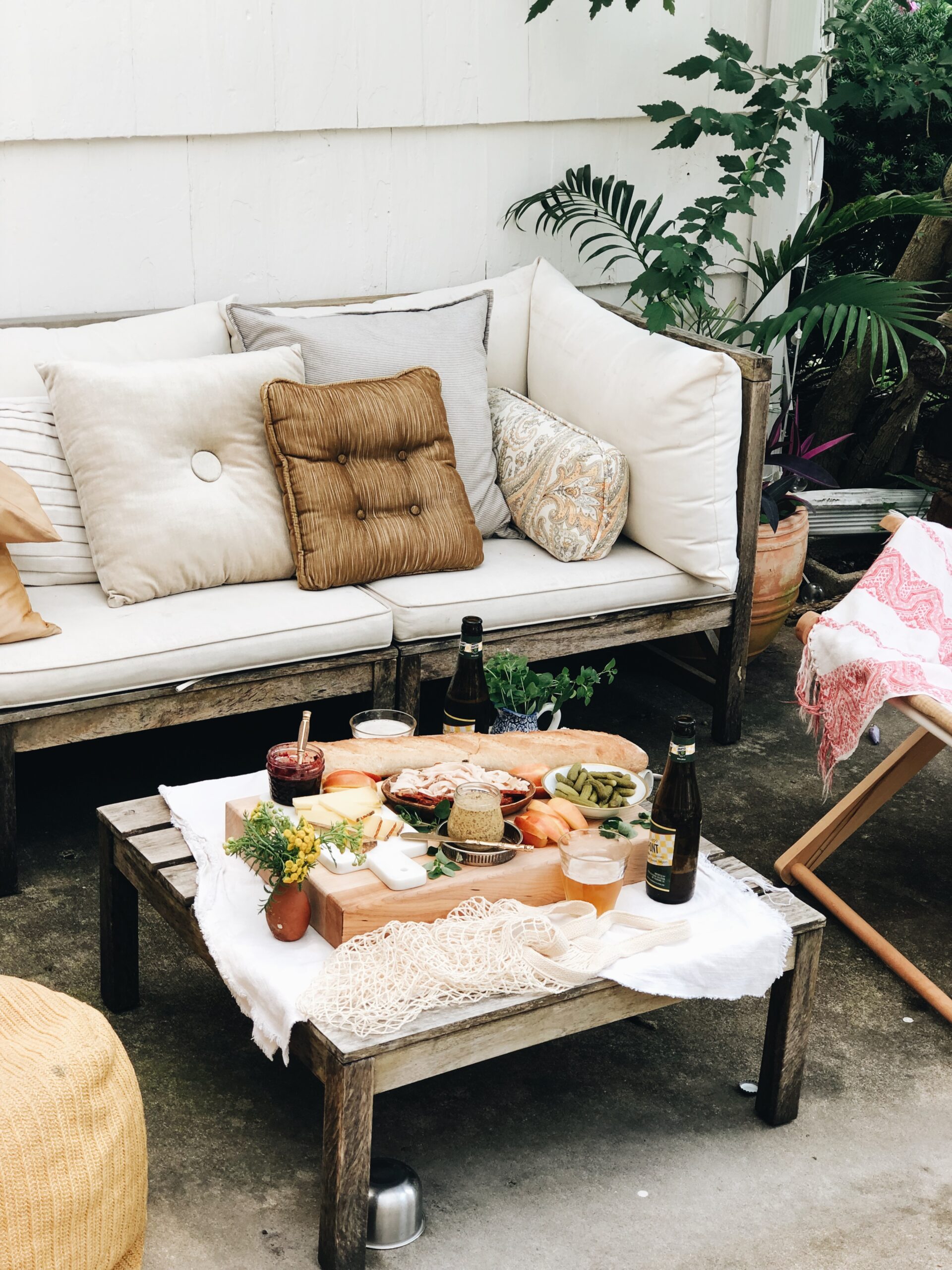 Orrrrr make the lunch and read the book at the same time. Like literally at the exact same time. Read Grace's version, make it and eat it and keep reading. How are we not doing this right now? Do this!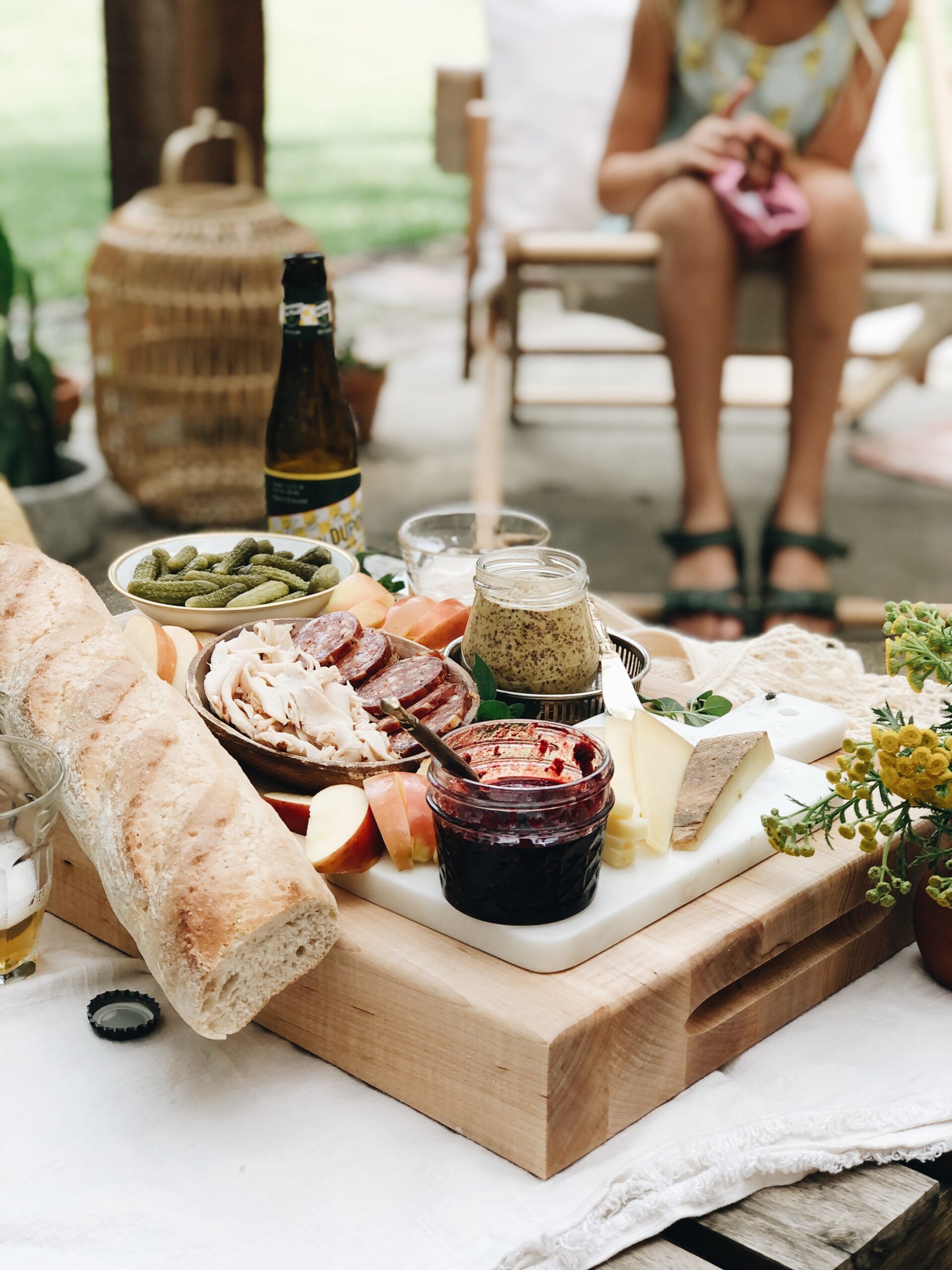 Okay one more photo because lanky legs.
Make this! And then report back with photos, natch.
(also, there's no real recipe, just use this as a guide and fly, little bird.)