Face plant right into that? Don't mind if I do.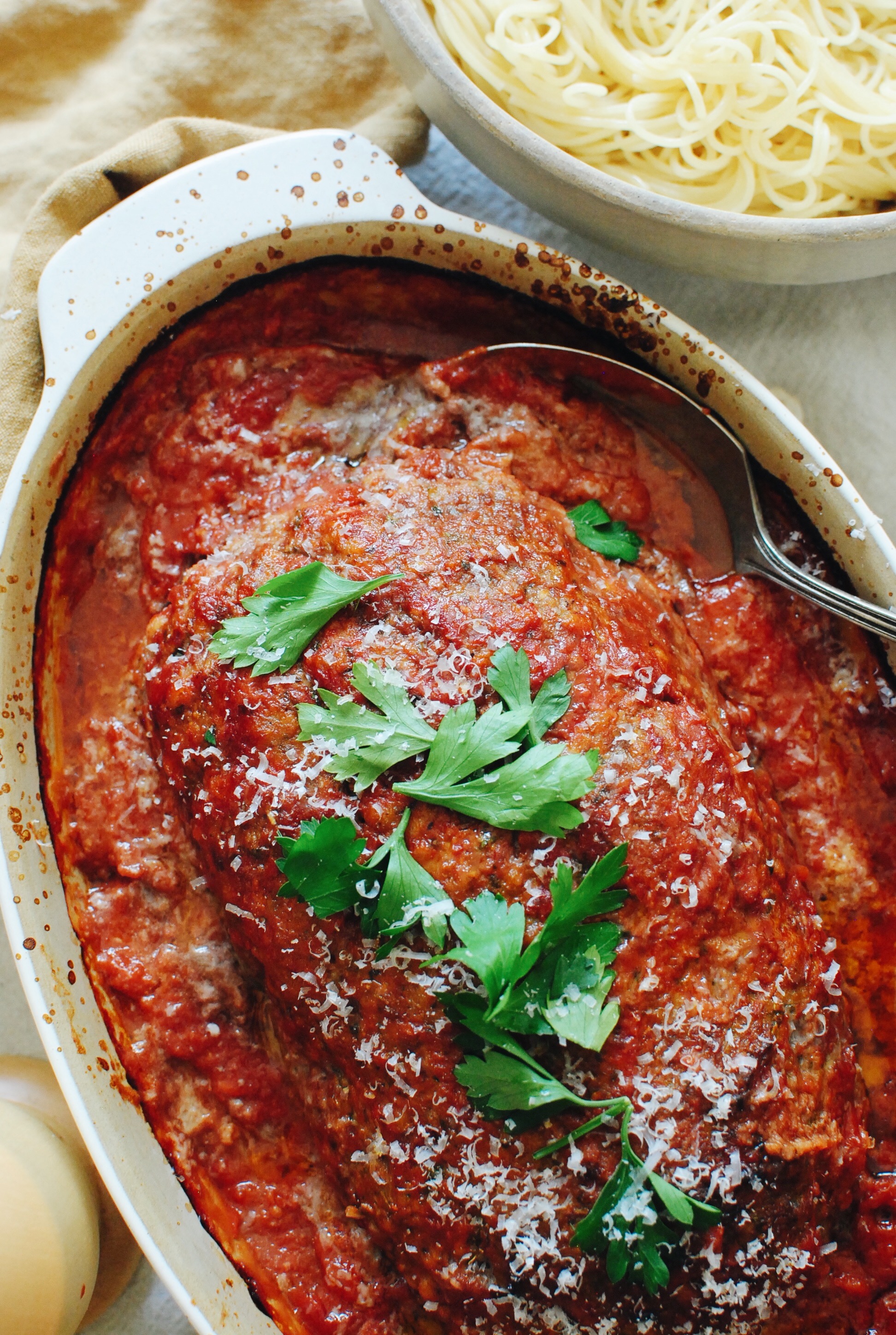 Let's be honest, when was the last time you thought about a meatloaf? Yeah, forever never ago, so I'm bringing sexy back.
Because look at that, we're baking it in a zingy crushed tomato sauce and wait, are you batting your eyes already? Knew it.
Also, two meats! Two of 'em. See how scandalous I can be for a 43-year old woman who goes to bed before 9pm every night? Yeah, don't even put me in a box!
I wanted the depth of flavor with traditional ground beef, but to also keep it semi-light with turkey. But see, we're flavoring the loaf (still can't say the word loaf with a straight face) as if it's ALL turkey, but that beef pulls through with its own, man, which makes this whole dern thing a show stopper.
Plus the sauce.
We'll get there.
Be chillin'!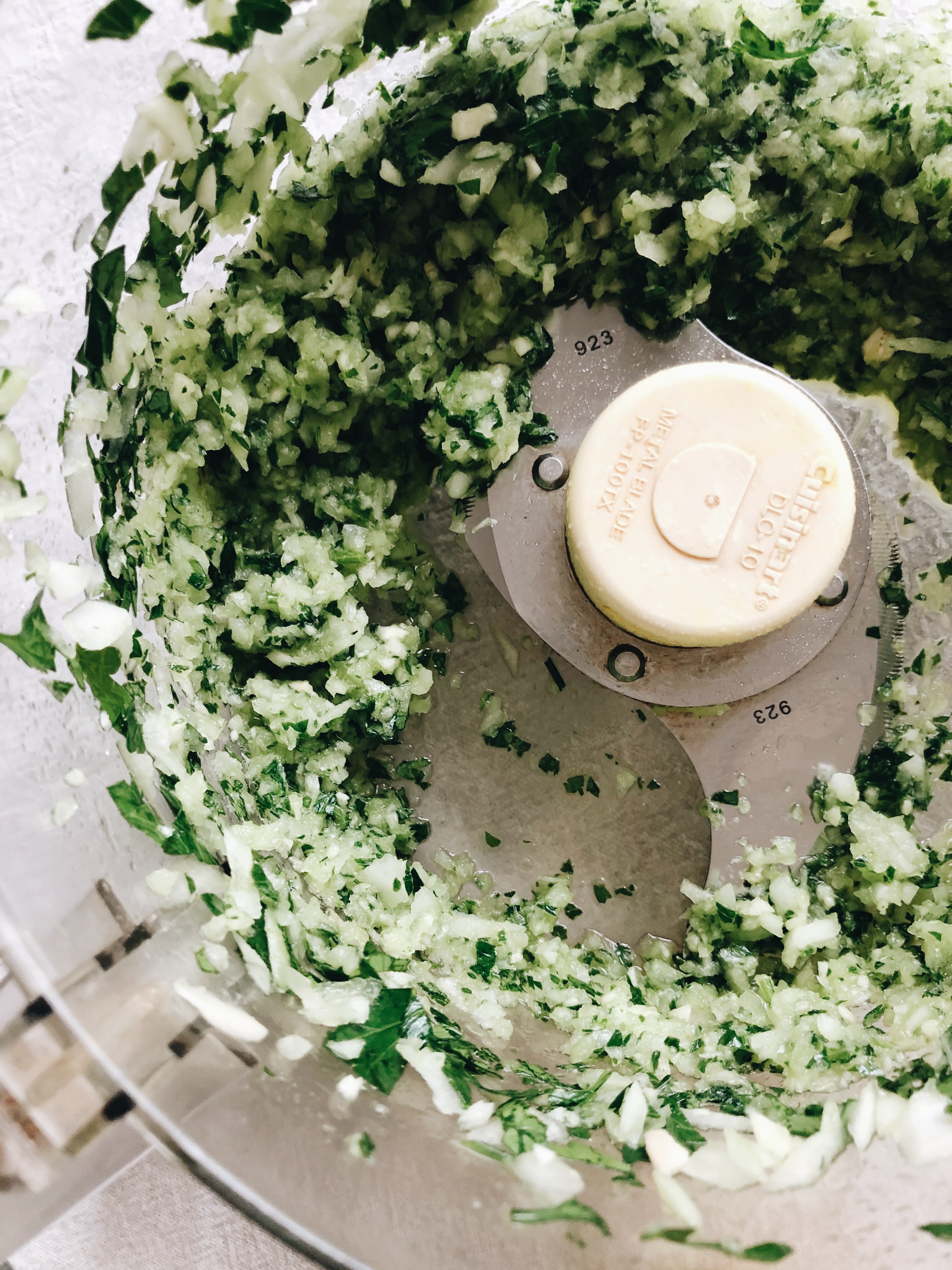 So here's a short cut. Because I'm a massive sissy when it comes to chopping onions because it looks like my face got murdered at the first tiny hint of onion fumes, I use a food processor! So it's the onion, garlic and parsley all together. Blitz blitz blitz, perfectly minced. WHO'S YER DADDY. (<–sorry about that just now.)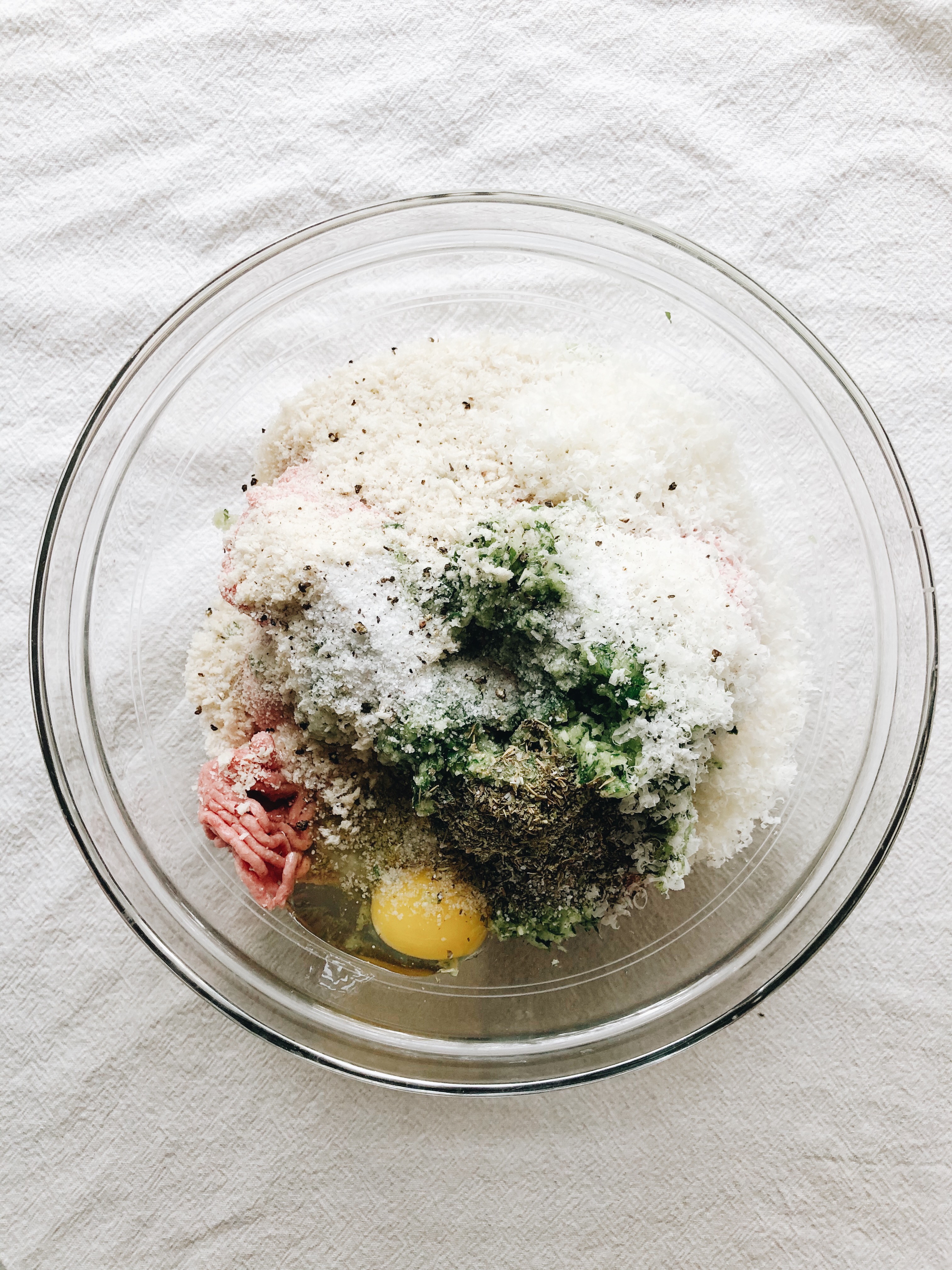 Then in a large bowl, just combine . . . well, all the things. Sans the tomatoes.
And here's another tip! If you're not a fan of your hands going completely achy numb during the massaging (ew) of ingredients, let that meat sit out a while. Like 30 minutes to an hour. It will start to come to room temp and you won't want to stick your arms in a hot oven post mixing.
Yes I'm fragile, leave me alone.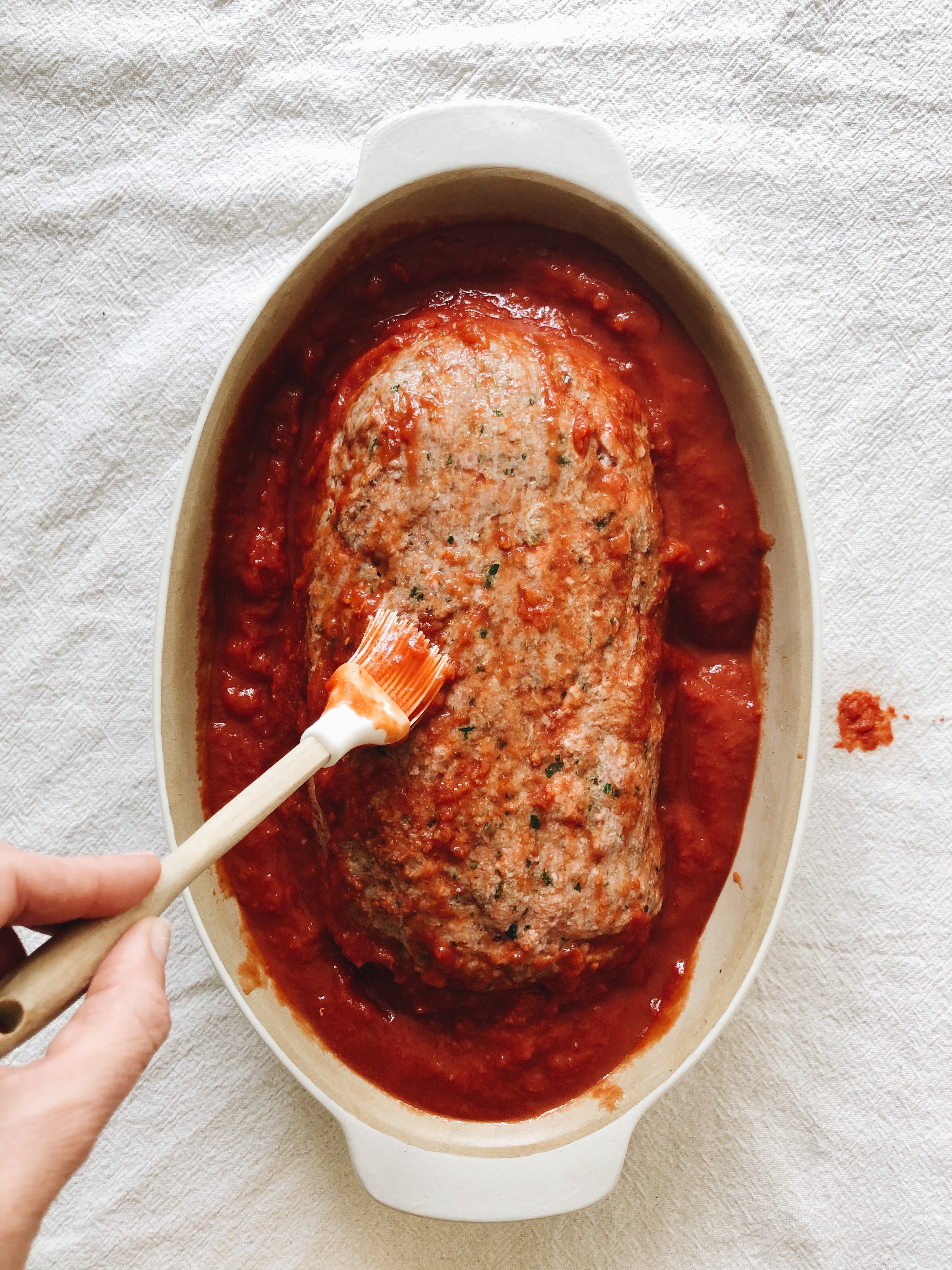 Then you shape it into the loaf form hahahahaha, and carefully (I do stress carefully – look at that blood stain! I mean tomato stain. I think.) pour the crushed tomatoes (oh! go with San Marzano. they've got the best bright, acidic punch for something like this. you want zing in that sauce since the meat is so deep in flavor. okay bye.) all around the loaf. Then just brush the tomatoes on the loaf. All over the loaf. All around the loaf. All up on dat loaf.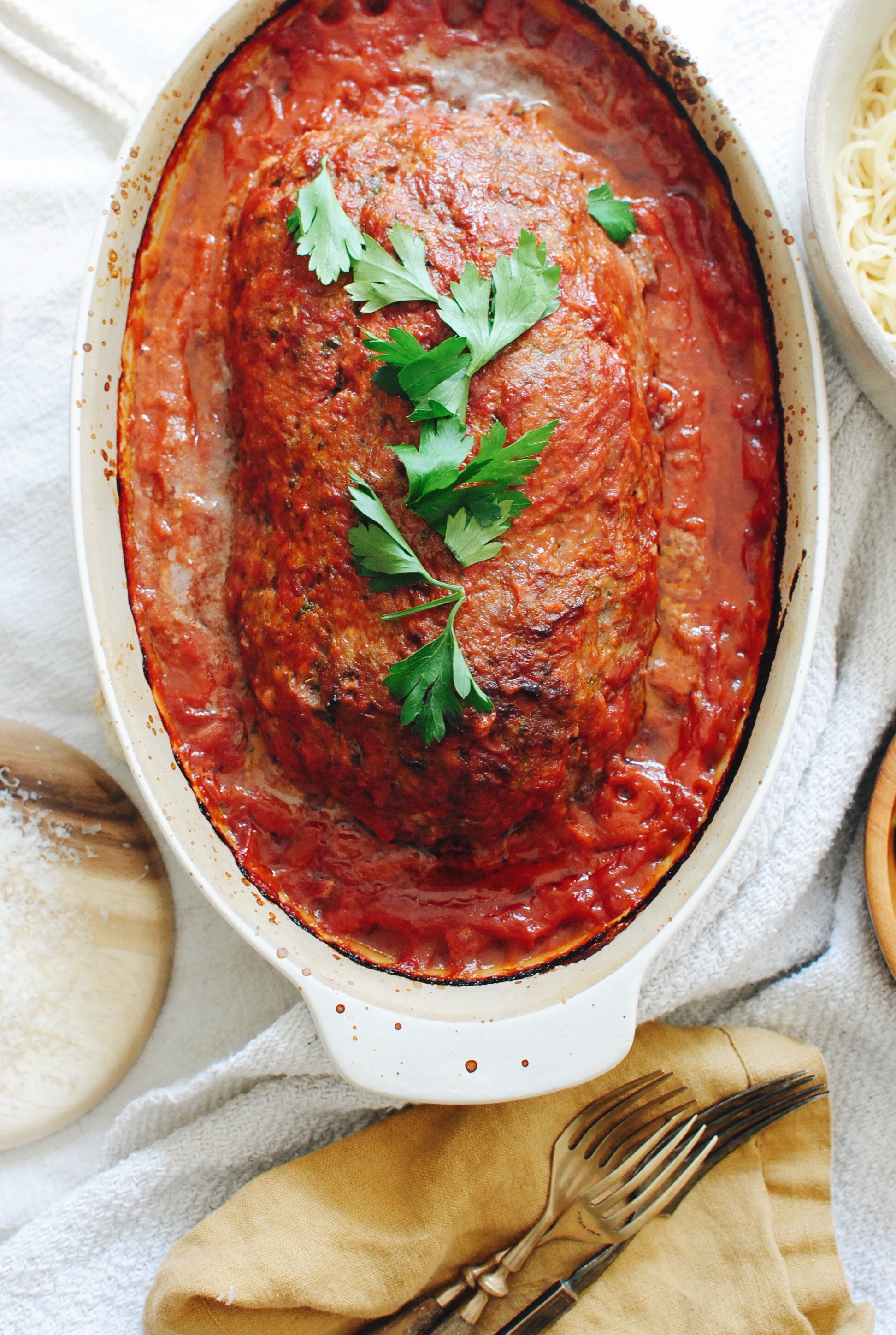 Hiiieeeeeee, gawgeous.
Don't you feel like we might be looking at Halloween dinner right now? I feel like we might be looking at Halloween dinner right now.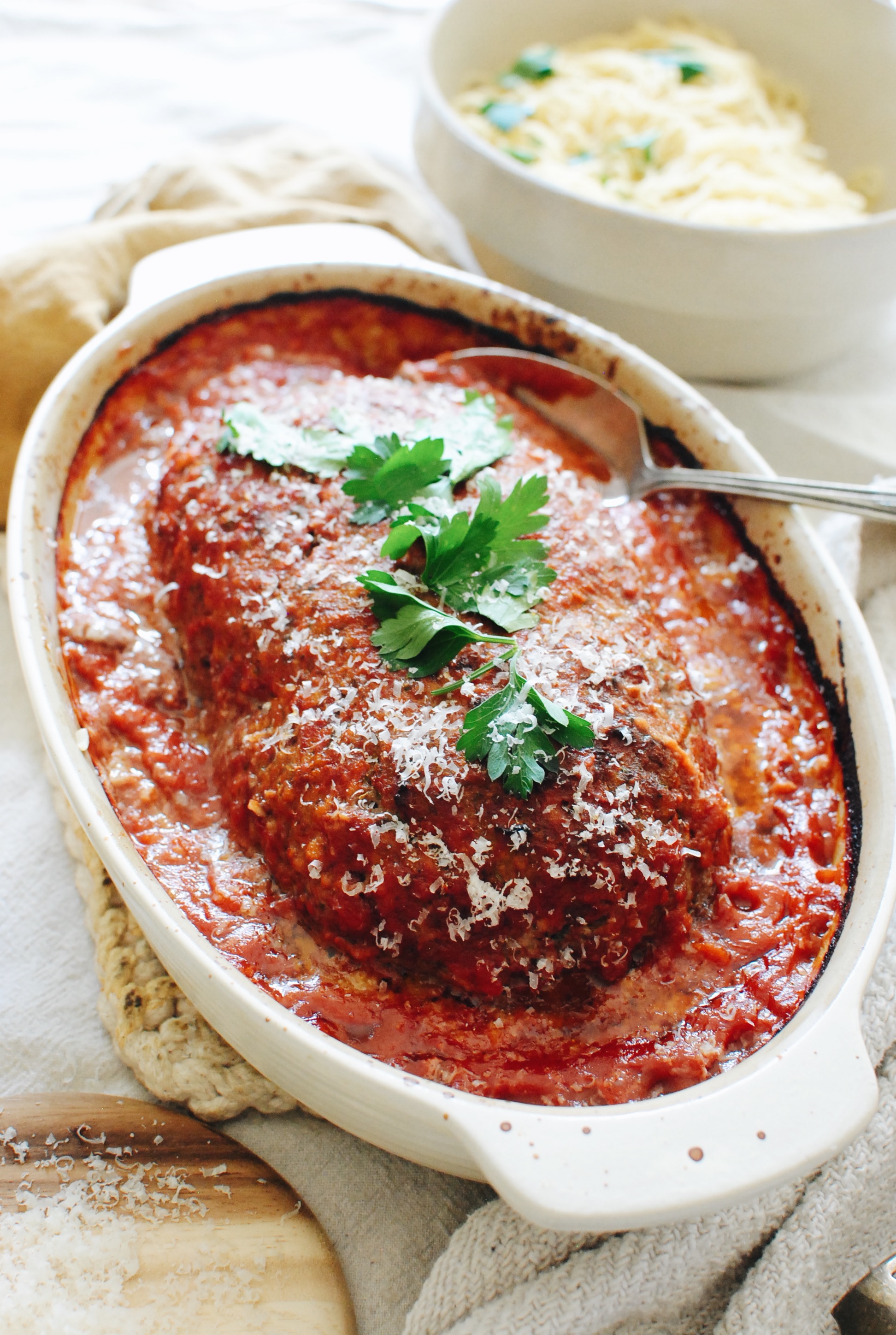 You bake while the kids trick-or-treat! It would be perfect. And you could call it BAKED ARM.
BAKED SEVERED ARM.
BAKED MASSACRED FEMUR.
I have no human friends, just as a reminder.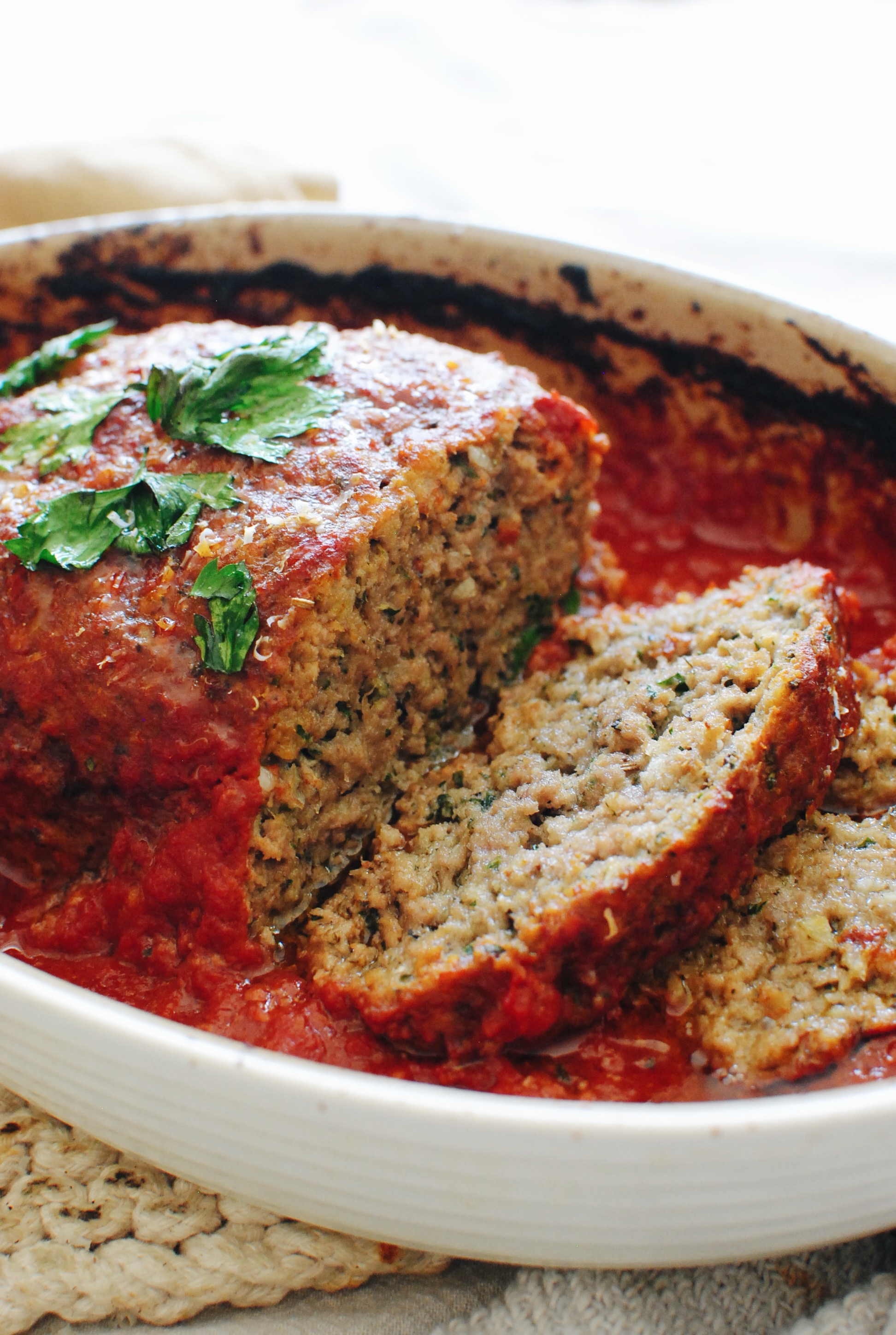 But I mean, it is just so, so good.
Tender! Tender is a word I'd use. Succulent! Without being too much of a gut bomb. Soooo savory. Like a giant meatBALL in a loaf form that you want to pet and call Frank.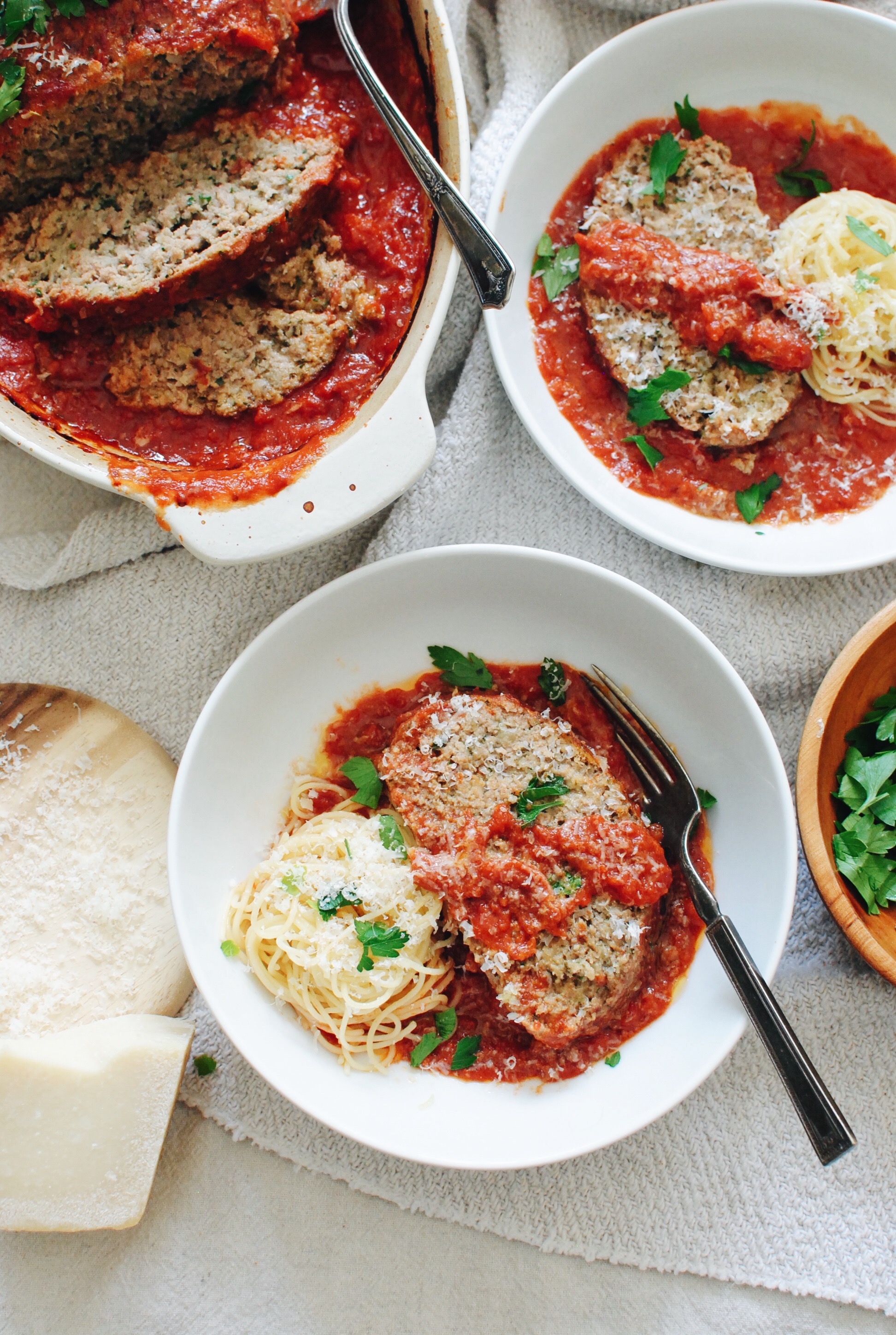 Because OH, DID I MENTION we're serving it with angel hair pasta? That's right we are. We aint' scared of no loaf!
Just a sweet little mound of angel hair, nestled to the side, so that you can fork into the meat and twirl it into the pasta and dredge it through those tomatoes and be the person you were clearly meant to be.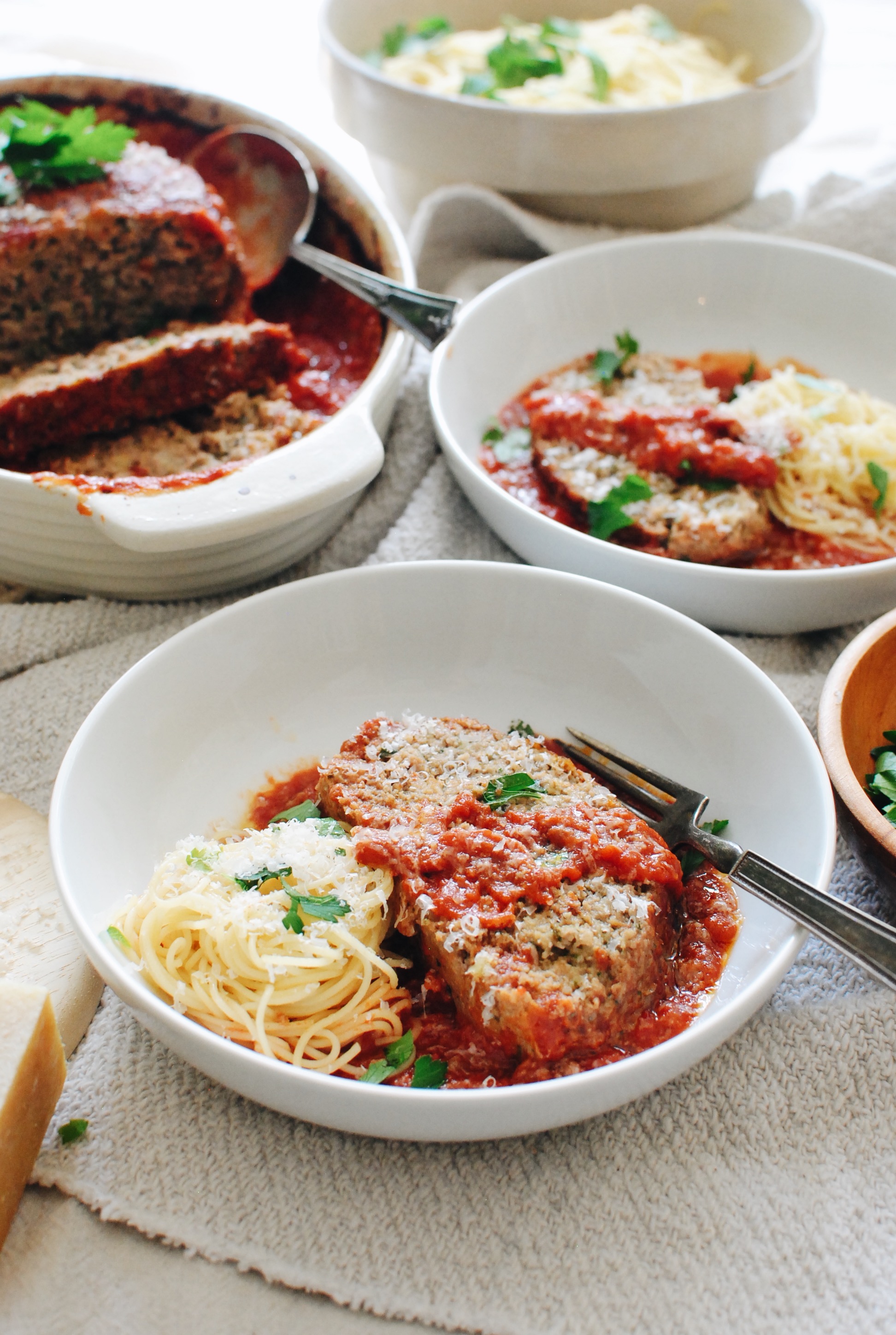 I think Baked Arm could really take off, you guys.
The Best Meatloaf in a Tomato Sauce
Ingredients
1 medium yellow onion, skin removed and cut into large chunks
3 cloves garlic
1 cup parsley leaves, plus extra for garnish
1 pound ground beef (90% lean)
1 pound ground turkey
1 cup Panko
1/2 cup parmesan cheese, plus extra for garnish
1/4 cup milk
1 egg
2 Tbs. dried Italian seasoning
1 (28 oz) can crushed San Marano tomatoes
12 oz angel hair pasta
2 Tbs. extra virgin olive oil
Coarse salt and freshly ground pepper
Instructions
Preheat the oven to 350.
(Tip! Let your meat sit out on the counter for about 30 minutes to ensure your hands not getting too cold during the mixing. That one's free.)
In a food processor, combine the onion, garlic and parsley. Pulse a few times until the mixture is a fine chop.
In a large bowl, combine the beef, turkey, onion mix, Panko, parmesan, milk, egg, Italian seasoning and a tsp of coarse salt. Grind a little bit of black pepper right on in. Mix with your hands until all the ingredients are fully combined. Transfer the mound to a flat surface and shape into a loaf. Gently place the loaf in the center of a casserole dish and carefully pour the crushed tomatoes around it. Brush the tomatoes over the top of the loaf. Give the tomatoes a little sprinkle of salt.
Bake for 1 hour and 15 minutes.
In the meantime, boil the angel hair until al dente, just about 5 minutes (or less!), drain and toss with the 2 Tbs. of extra-virgin olive oil. Season with a pinch of salt as well.
Slice and serve the meatloaf with the pasta, and a good spoonful of that bright tomato sauce! Garnish with parsley and parmesan and begin your new life.
Serves about 6.
7.8.1.2
383
https://bevcooks.com/2019/10/the-best-meatloaf-in-a-tomato-sauce/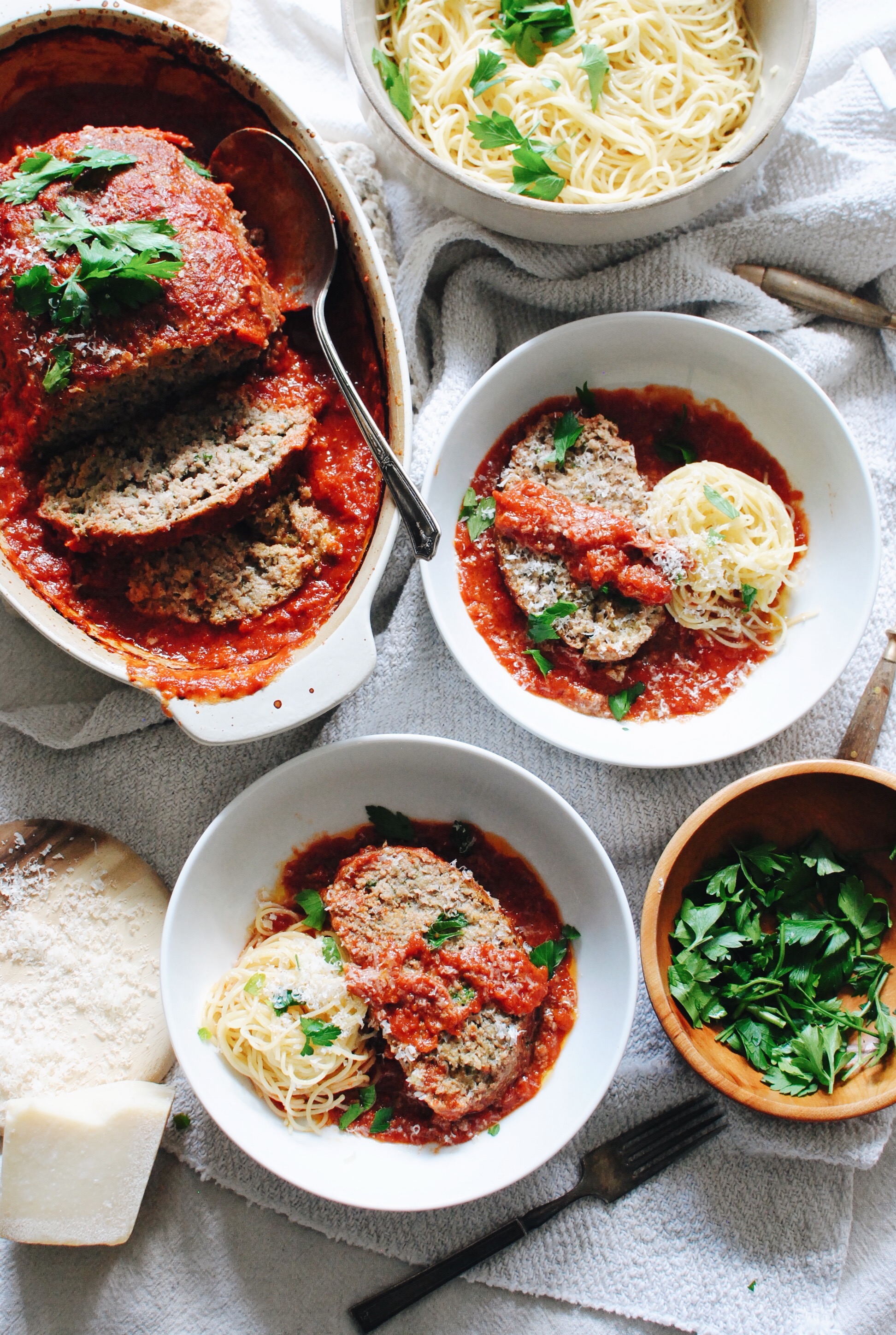 Is it weird that I'm physically jealous of your mouths' futures?