Look at me posting CAKE. What is this world?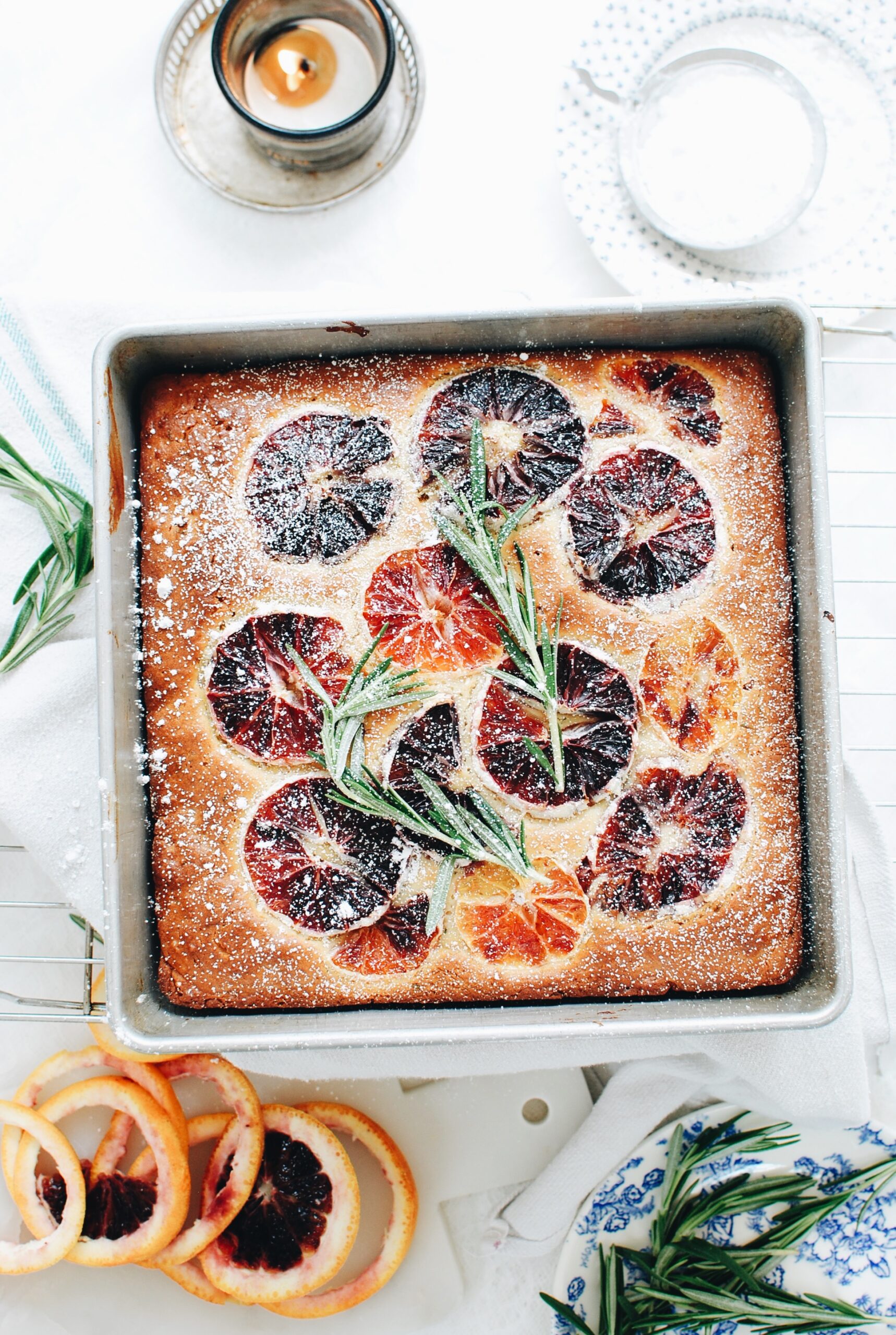 However, this one has Greek yogurt and rosemary and blood orange in it, so it's more savory leaning. In a way. In my head. In our mouths.
I've seen yogurt cakes hanging around my pinterest feed for a bit now, and I'm very into the idea of tangy, subtle cake with an earthiness to it. Nothing too sweet. You into this too?
Good.
Let us peepeth.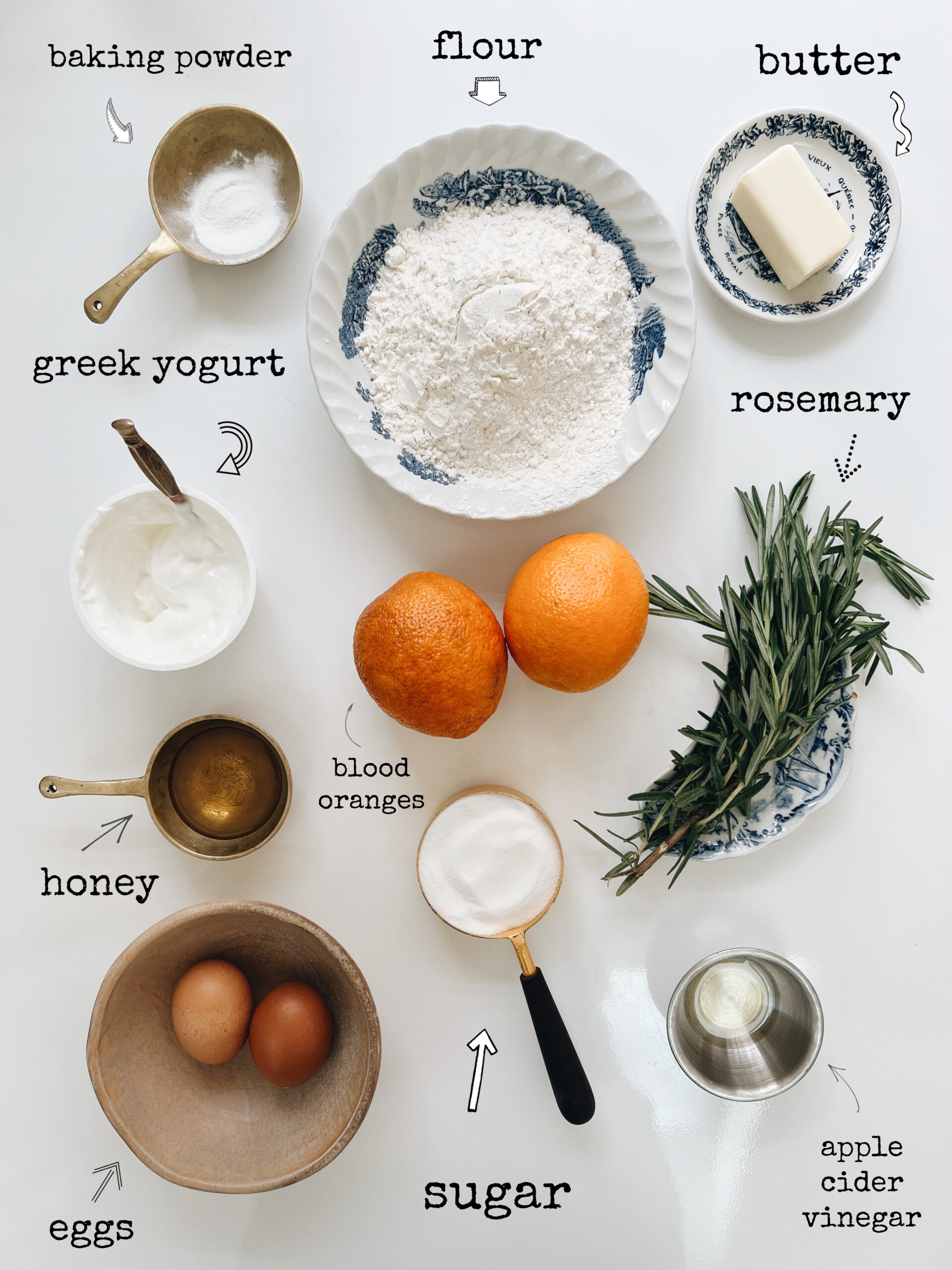 Did you know that blood oranges are also called tangerine oranges? At least they were at my store when I couldn't find blood oranges. The lady goes, "They're called tangerine oranges." A: how was I supposed to know that? Also is that even true? And b) do you think they renamed them to sound less Dextery? I'm thinking yes.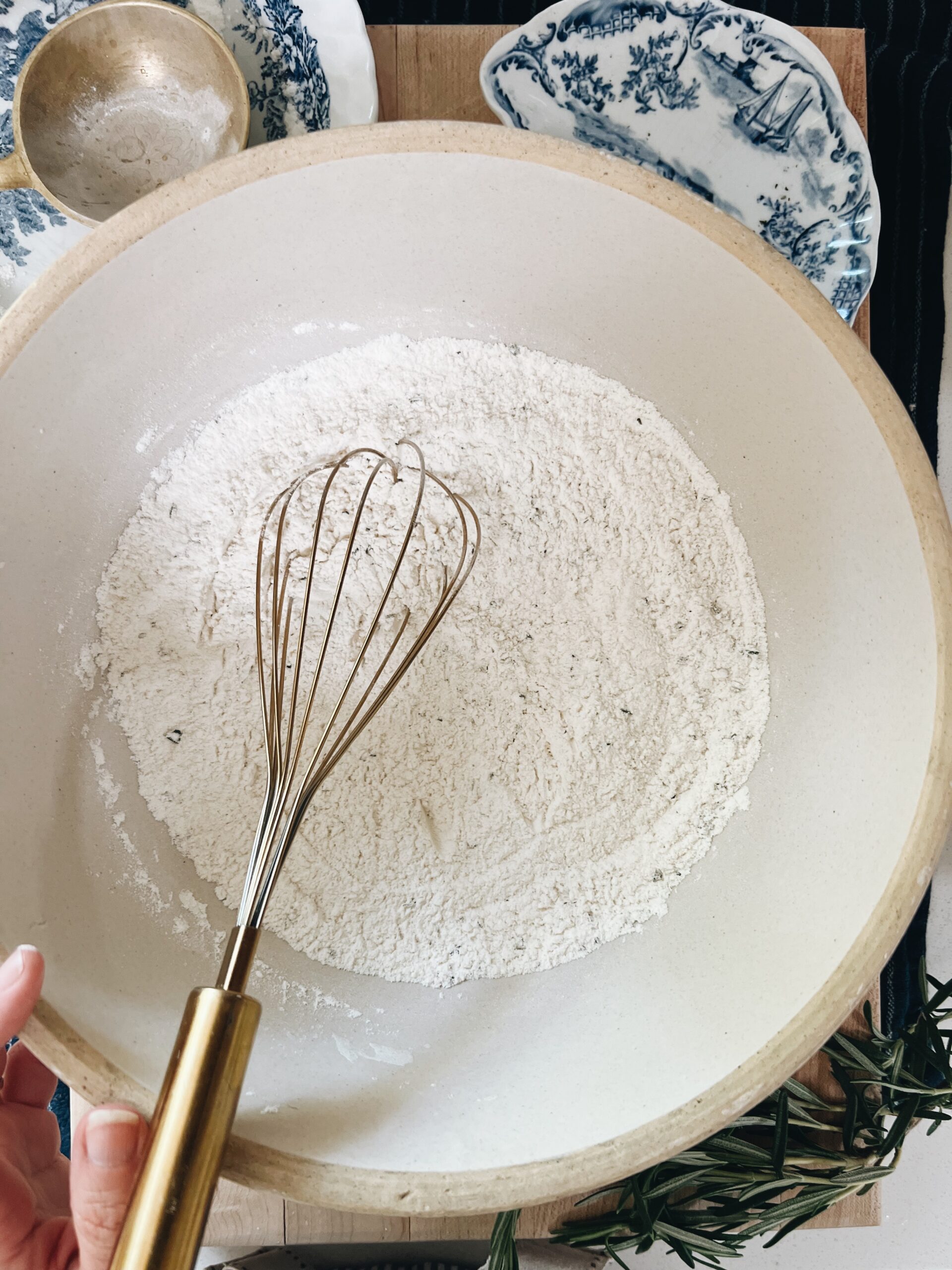 In a bowl we have the flour, the baking powder, the finely minced rosemary and a pinch of salt. The fragrance of the rosemary is a preview of what your mouth is about to experience. Just hold tight.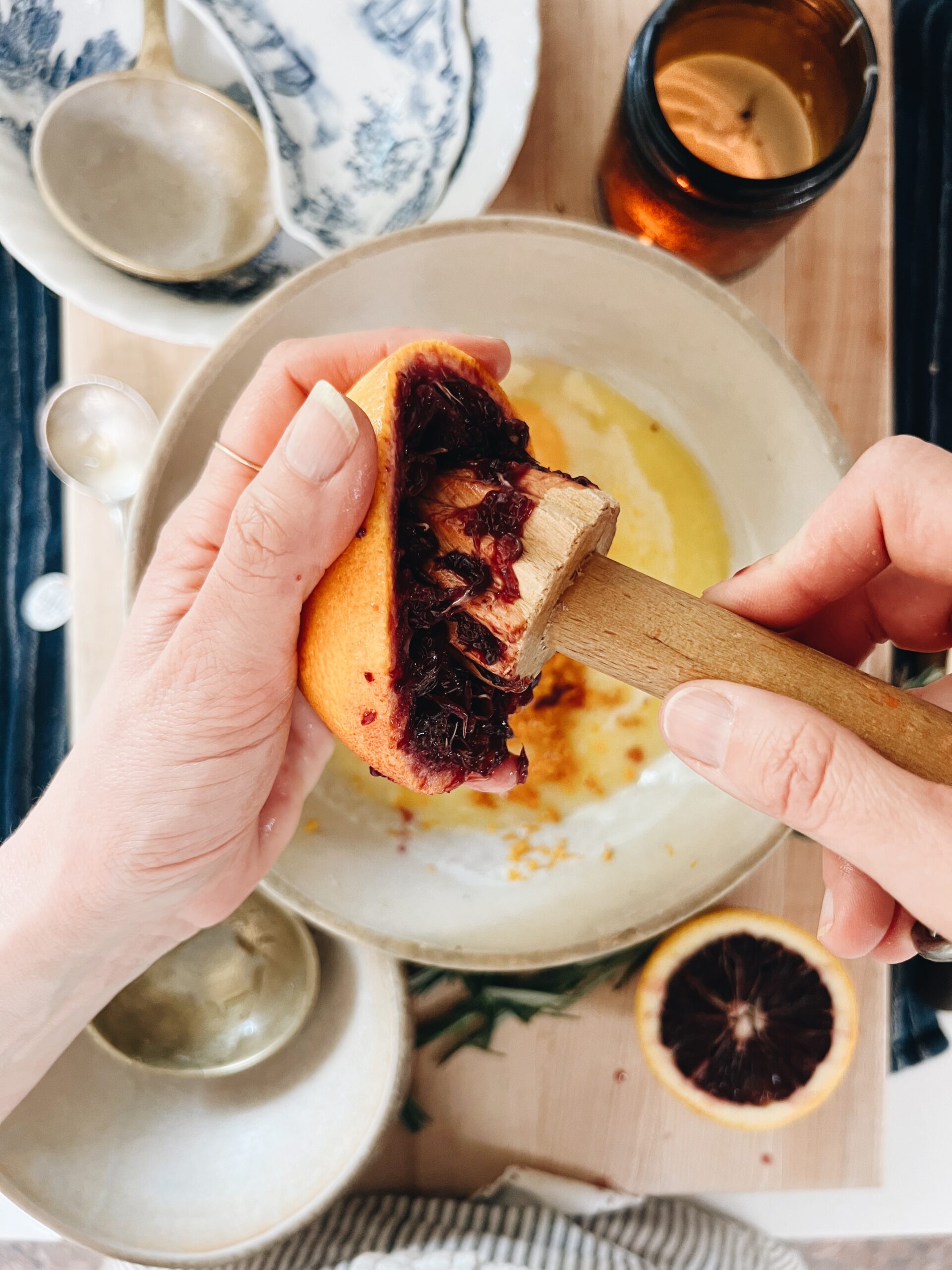 In another bowl we'll have the yogurt and sugar whisked together, the Dexter orange zest and juice, some eggs, honey and apple cider vinegar. In it goes.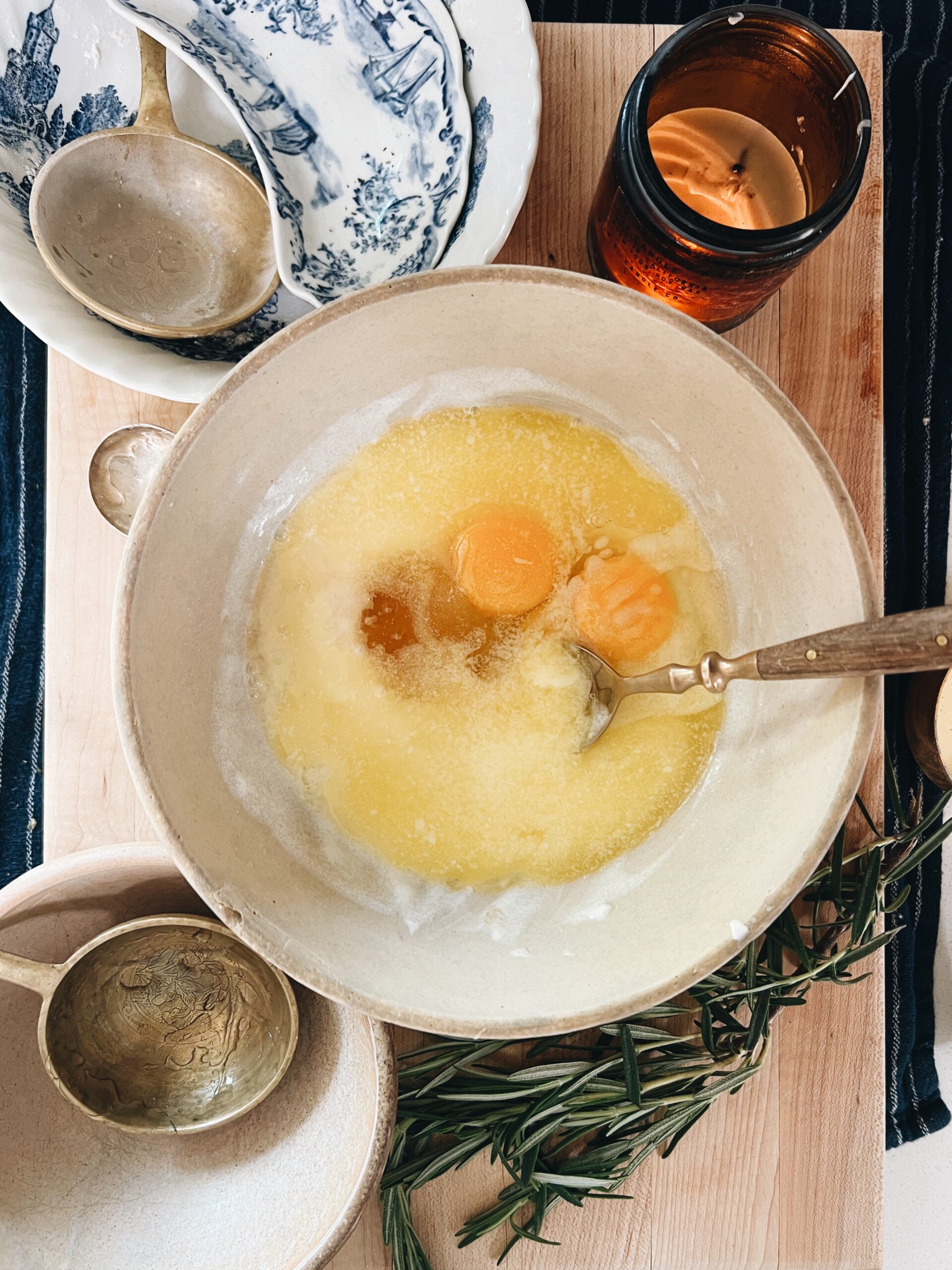 Get her whisked.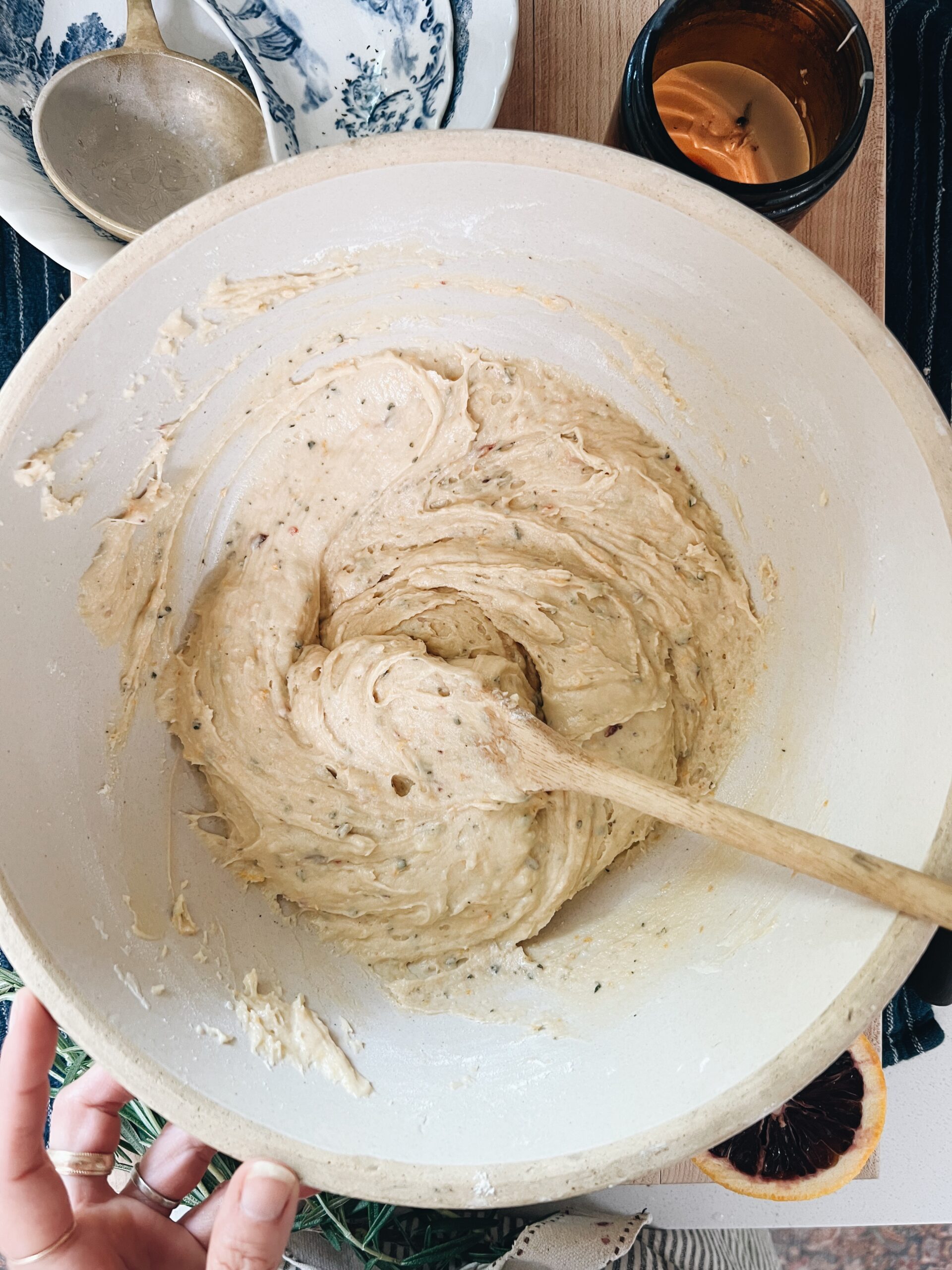 Then we'll add her to the dry ingredients and it all comes together just like that.
But we're not done. Next up is the magic.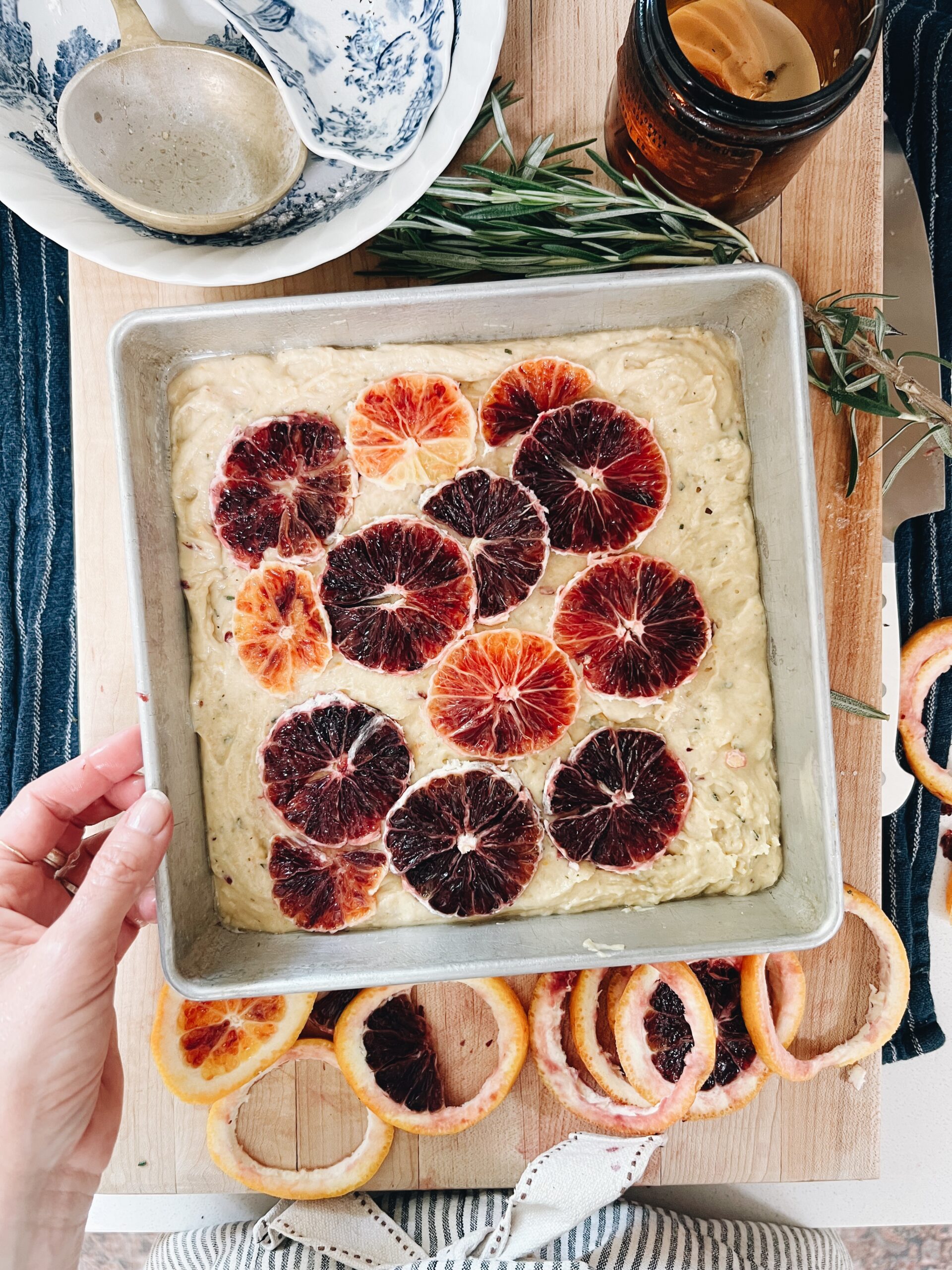 Into a greased baking dish it goes. (I used a 9×9. Something small is cute!)
Then we'll thinly slice the other Dexter orange and arrange it on top of the cake batter. I went ahead and took it out of the rind, so there's no bitter flavor. Plus I just dig the aesthetic! She cute.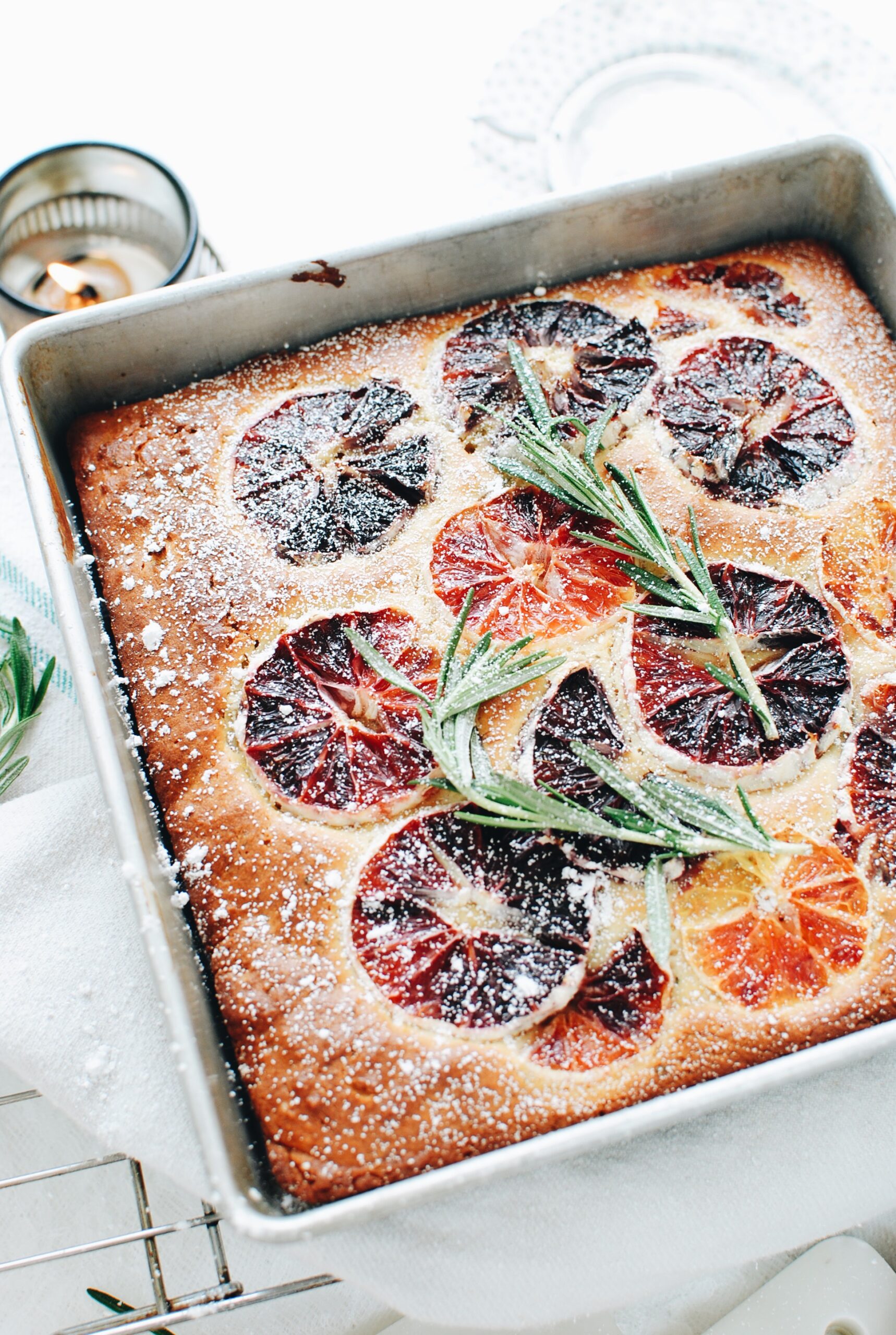 Hellooooo hello. Look at that. Garnished with powdered sugar for a touch more sweetness. Extra rosemary for that wow factor when it's on the table. She's dramatic but has it together, ya know? Don't mess with her.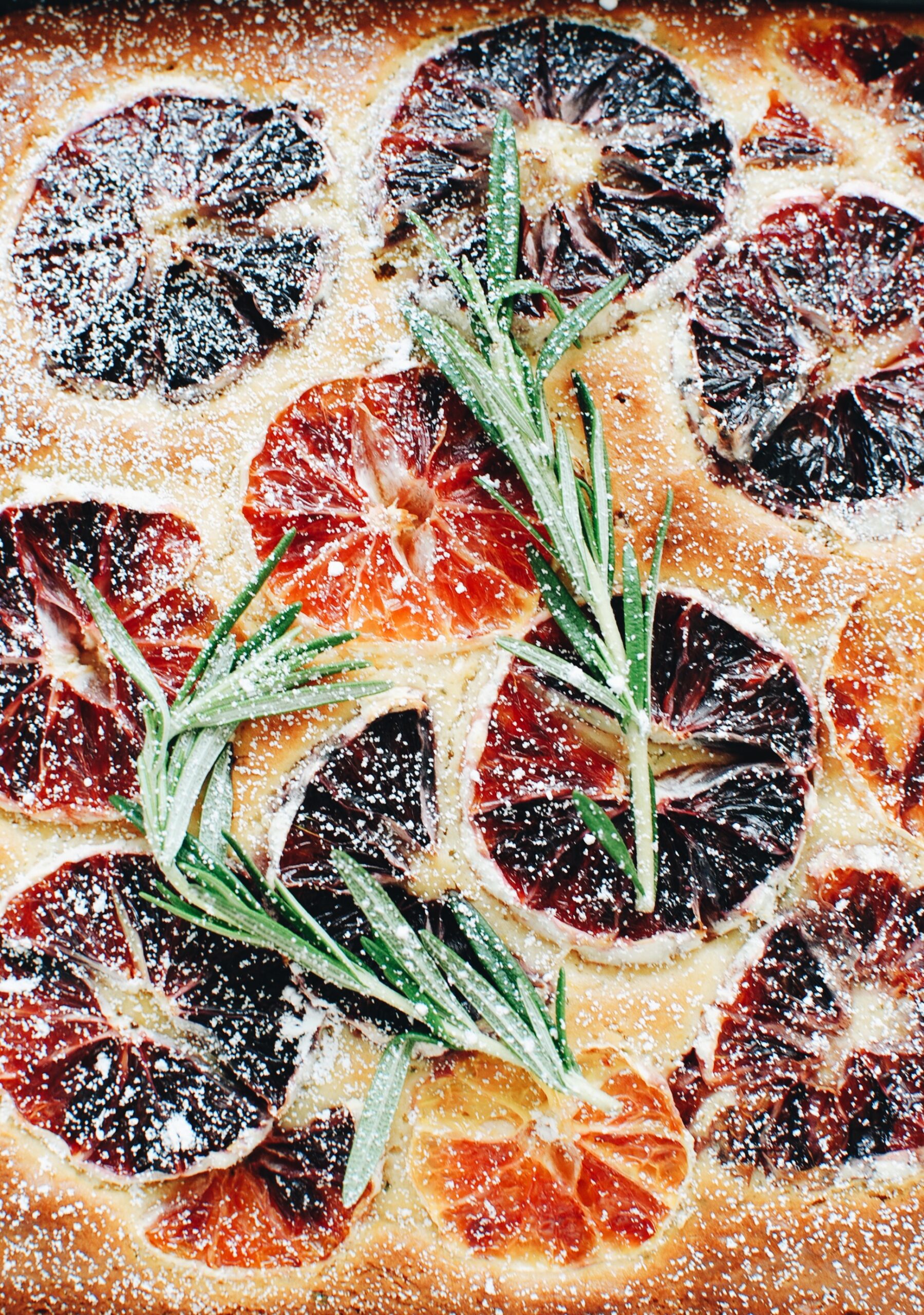 There's a lot happening here. Tangy in the cake, citrus on top, woodsy herb throughout. It's fun for a little summer brunch! That's my plan for you. You know we like a plan.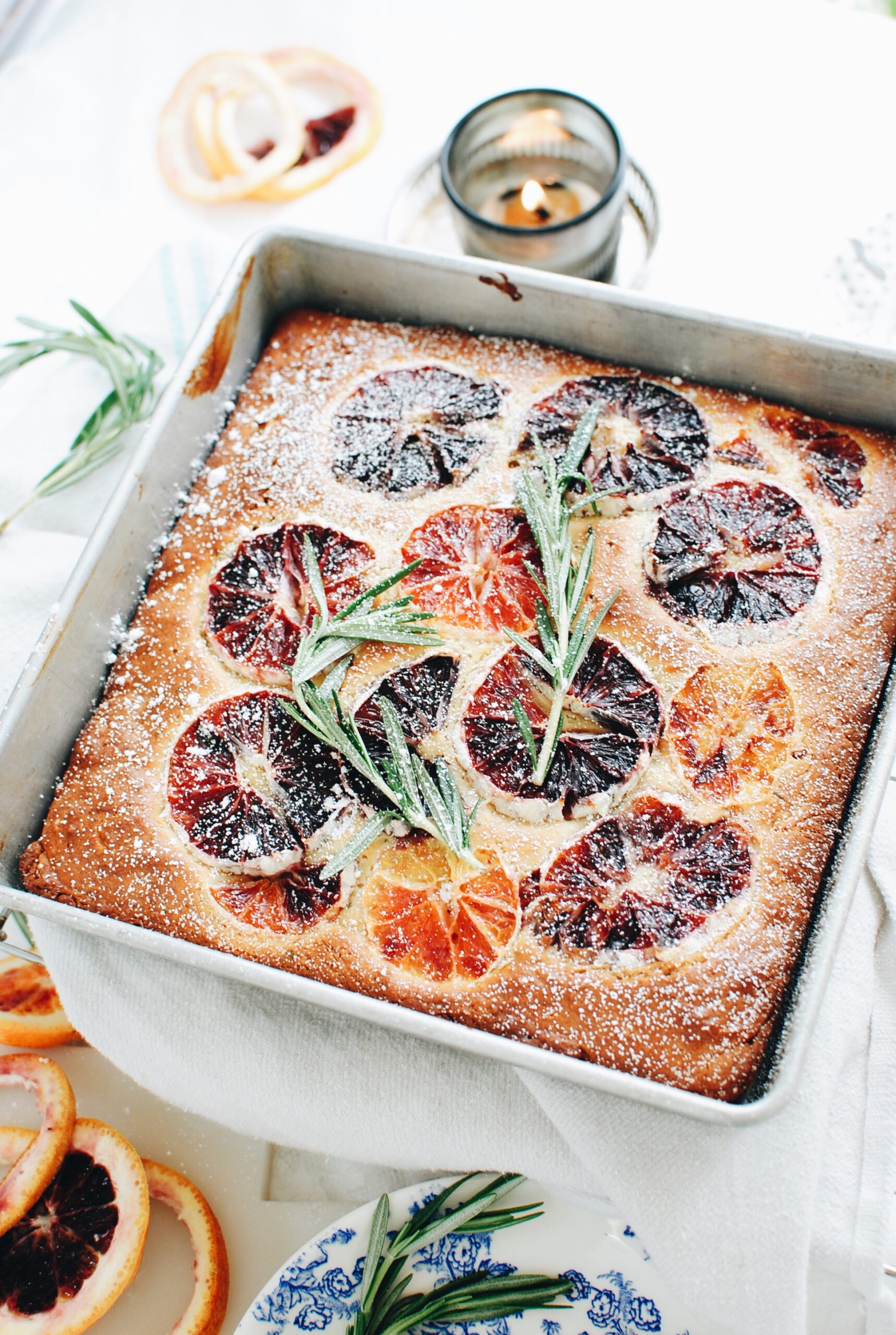 Served warm or room temp, anything works. Coffee or mimosas, you pick.
Dessert or breakfast, I'll never judge.
Later tonight or right now, it's all correct.
Get in that.
Blood Orange Rosemary Yogurt Cake
Ingredients
1 1/2 cups all-purpose flour
2 tsp baking powder
1 heaping Tbs. Freshly minced rosemary
Pinch of salt
4 Tbs. Butter, melted
1 cup greek yogurt
1/2 cup sugar
2 eggs
1 Tbs. Apple cider vinegar
2 Tbs. Honey
2 medium blood oranges
Powdered sugar, to garnish
Instructions
Preheat oven to 350.
In a medium bowl, combine the flour, baking powder, minced rosemary and a pinch of salt. Whisk to incorporate.
In another bowl, combine the greek yogurt and sugar. Whisk until smooth. Then crack the two eggs in, along with the melted butter, apple cider vinegar, honey, the zest of one blood orange, along with its juice (about 2 Tbs). We'll slice the other for the cake.
Whisk well until fully incorporated. Pour the wet mixture into the dry mixture and stir until smooth. Pour this into a greased baking pan (I used 9x9) and slide into the oven for 40 minutes. Check to make sure it's done with a toothpick. Comes out clean, you're ready to roll.
Garnish with powdered sugar and extra rosemary sprigs and serve immediately!
Serves six.
7.8.1.2
641
https://bevcooks.com/2023/05/blood-orange-rosemary-yogurt-cake/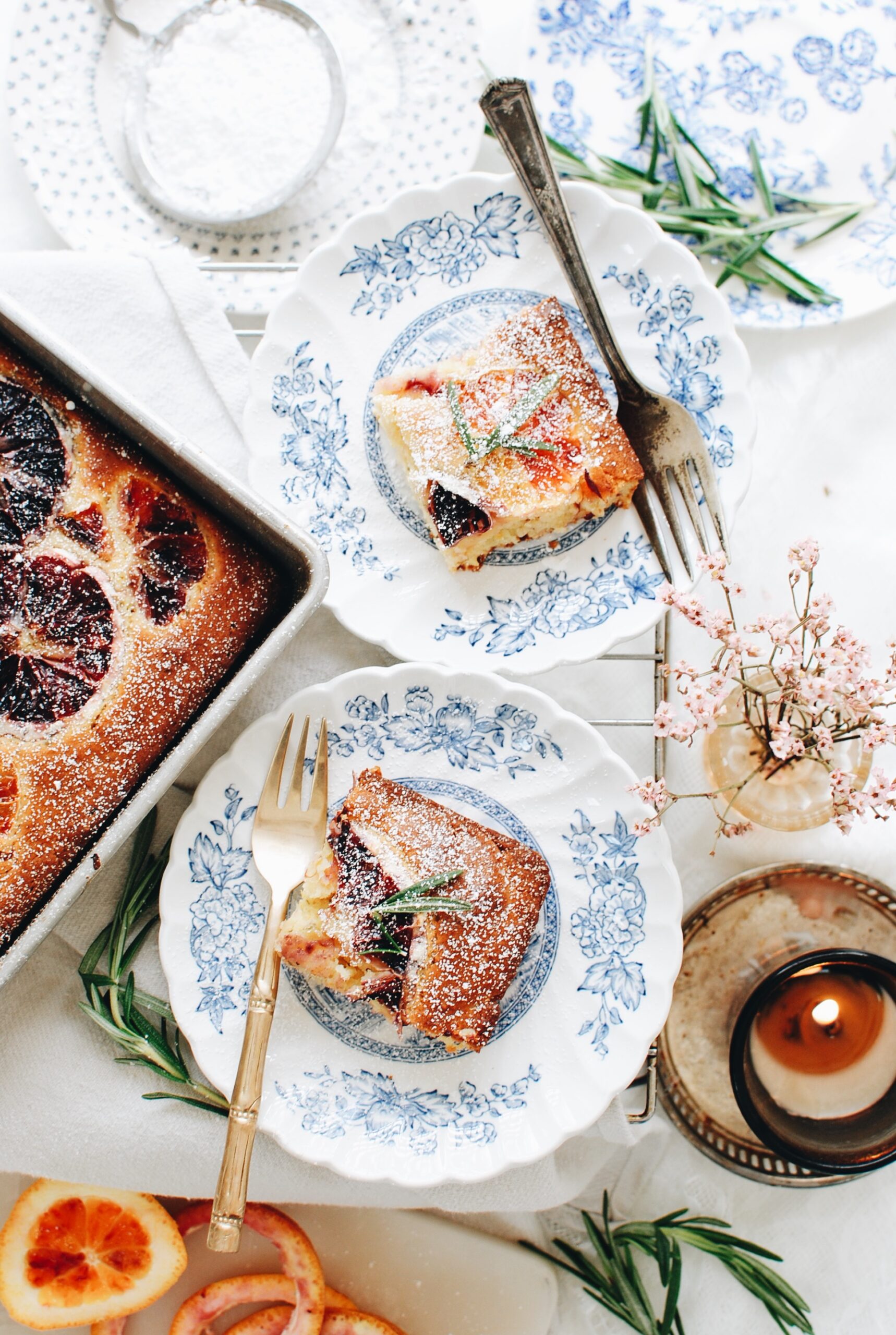 Officially very into yogurt cakes.