It's been a while since we've had a good ol' chicken and pasta dish, hasn't it? Well now's the time.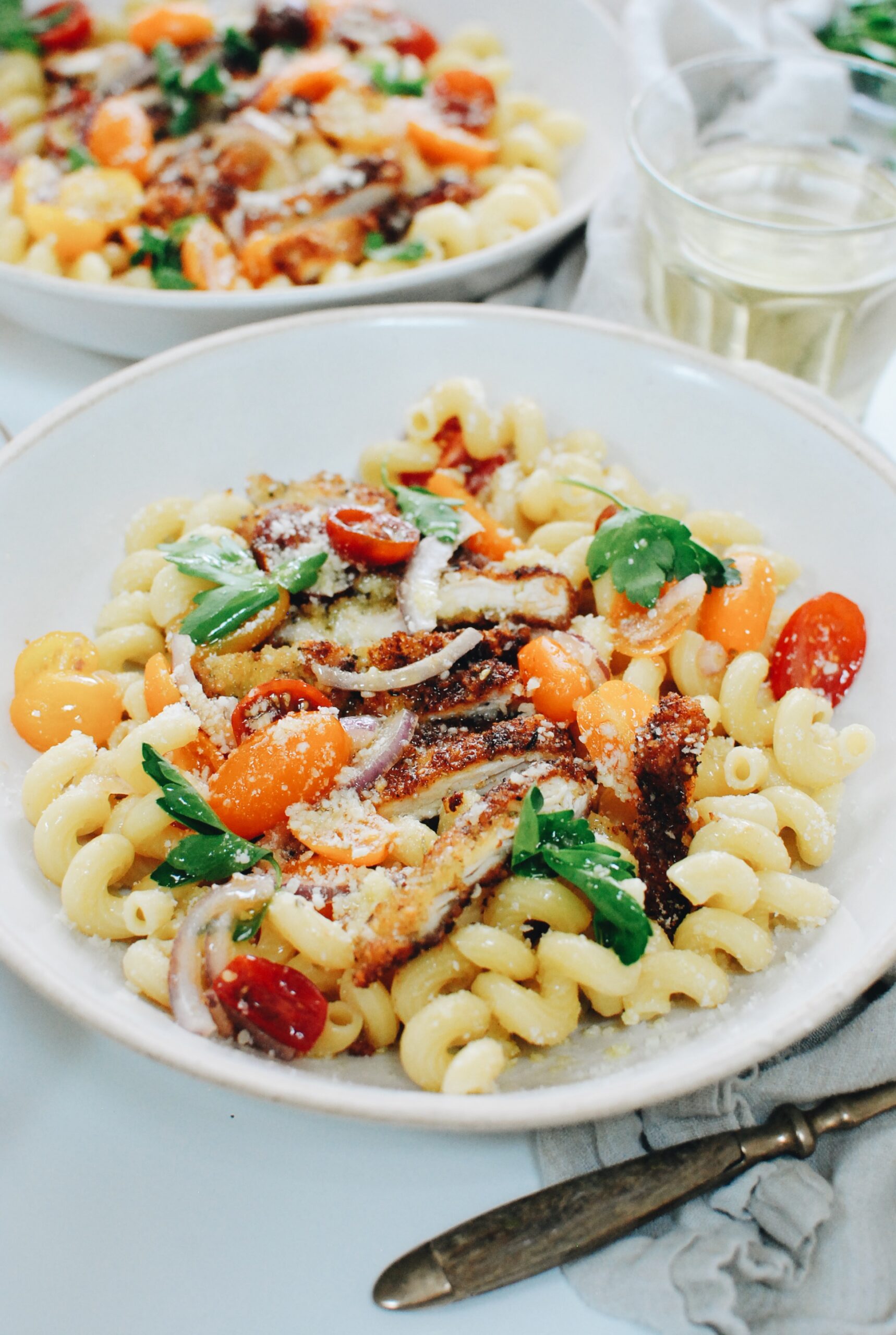 Okay remember how I talked about "throw-together" meals? This is not one of those. Ha!
You COULD buy some fried chicken tenders at your grocery store and skip the frying all together. Then it would be throw-together. But this specific recipe today requires a lil' bit of time and prep. This is a good weekend dinner! When you want it to feel fun and fresh, but it also requires your attention. And sometimes that's the exact therapy you need.
Let us peepeth.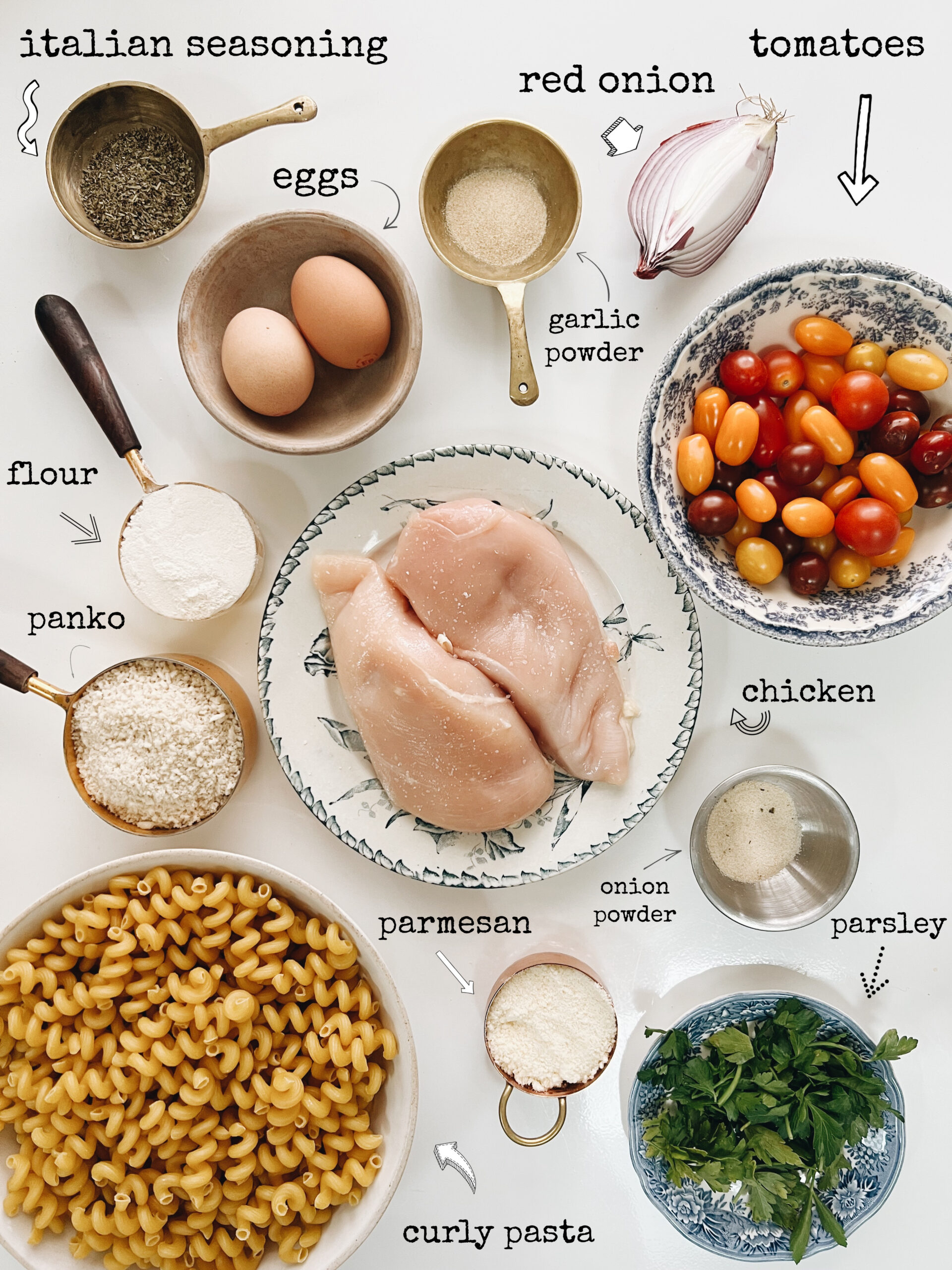 It seems like a lot but that's because I put all these ding dang ingredients in ding dang bowls and took a ding dang photo. Your prep will be a cinch.
Let's start with the tom-ah-toes, dah-ling.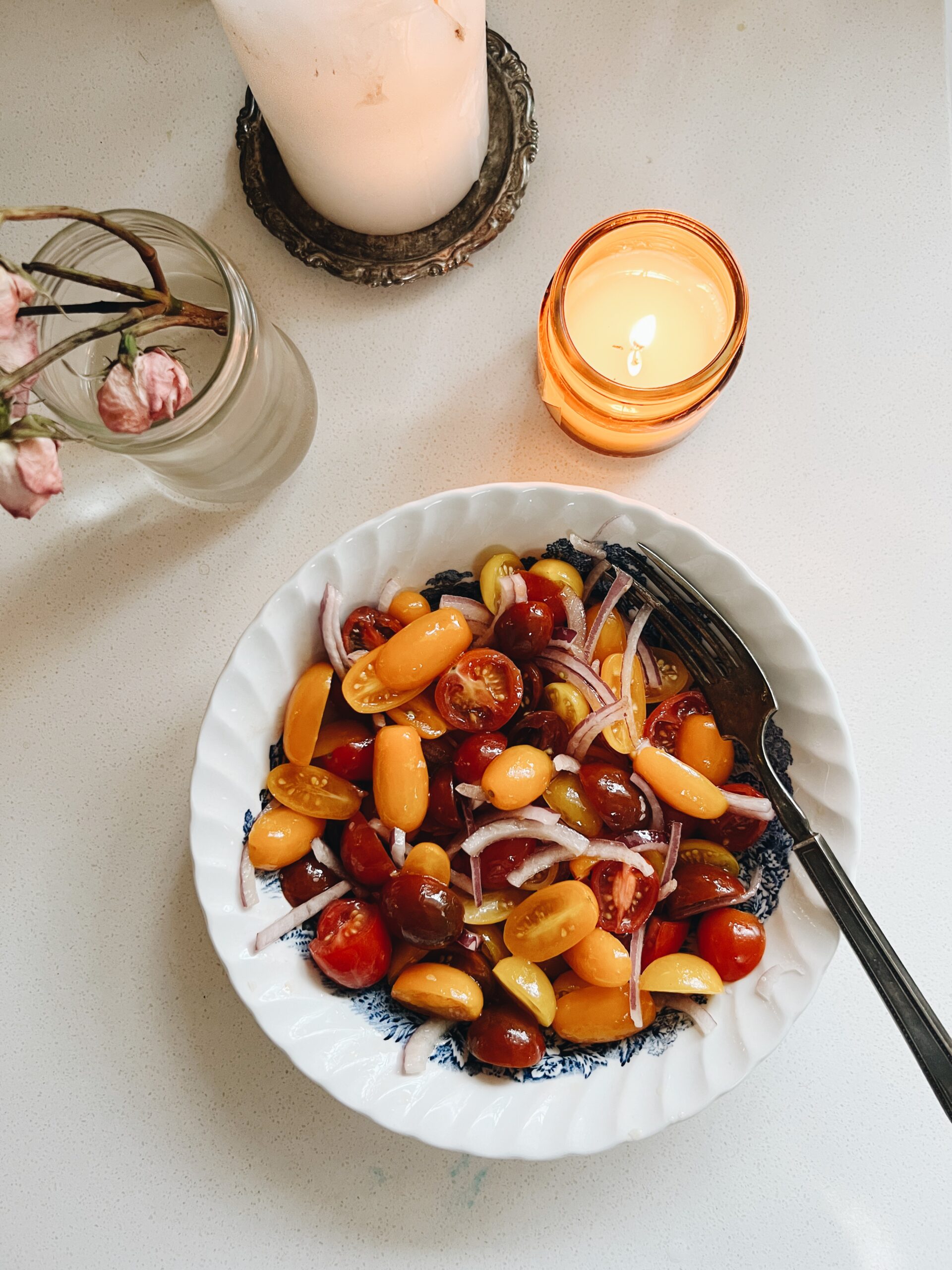 Fresh tomatoes? In the WINTER? Well, I mean yeah. My store always carries pretty cherry tomatoes, so I buy them every single Monday and drape them over eggs and avocado toast each morning. It's the only way.
Let's thinly sliced some red onion and slide it in there with a drizzle of olive oil a pinch of salt. This'll just sit while we make our chicken. Sound good?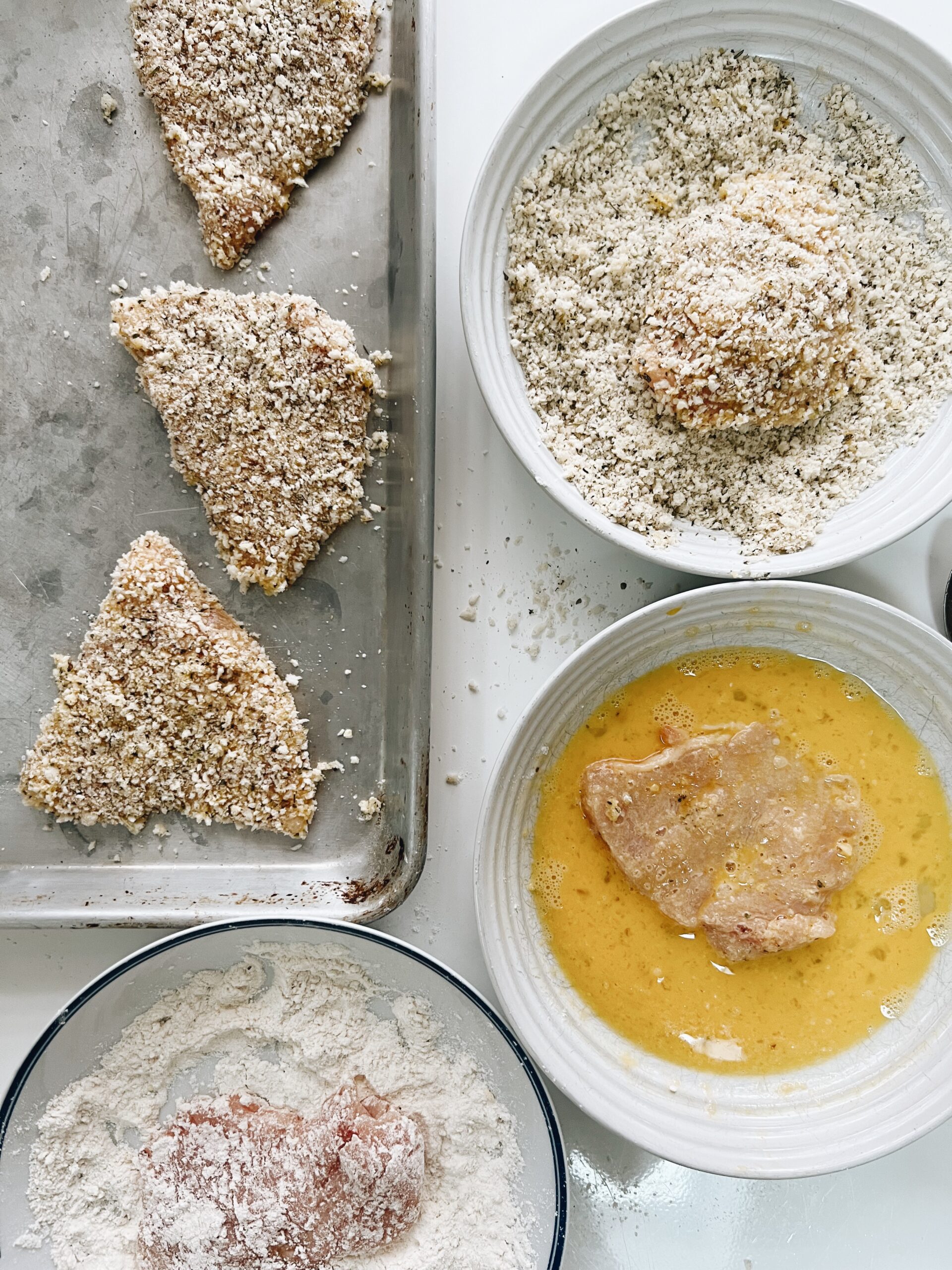 That panko mixture? Girl, it has garlic powder, onion powder, dried Italian seasoning, parmesan and salt in it. There's no shortage of flavor here. We'll dredge each chicken piece through the flour, then the egg wash, then the panko. Pretty simple when ya get going.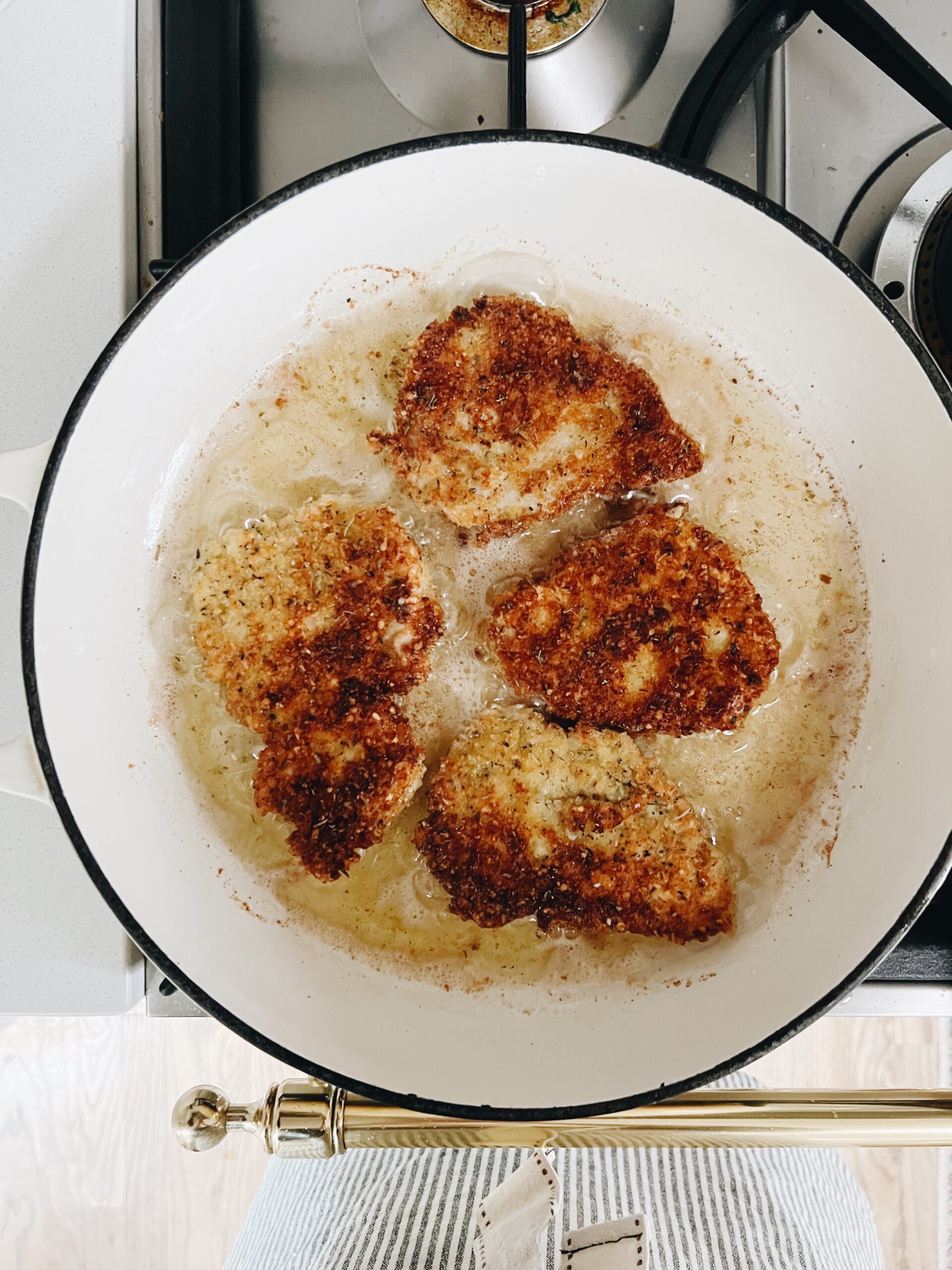 Then we'll just crisp it up in some AWL. (mom, that's oil.)
Four minutes on one side, about three on the other. Do this in two batches on medium high heat. Done.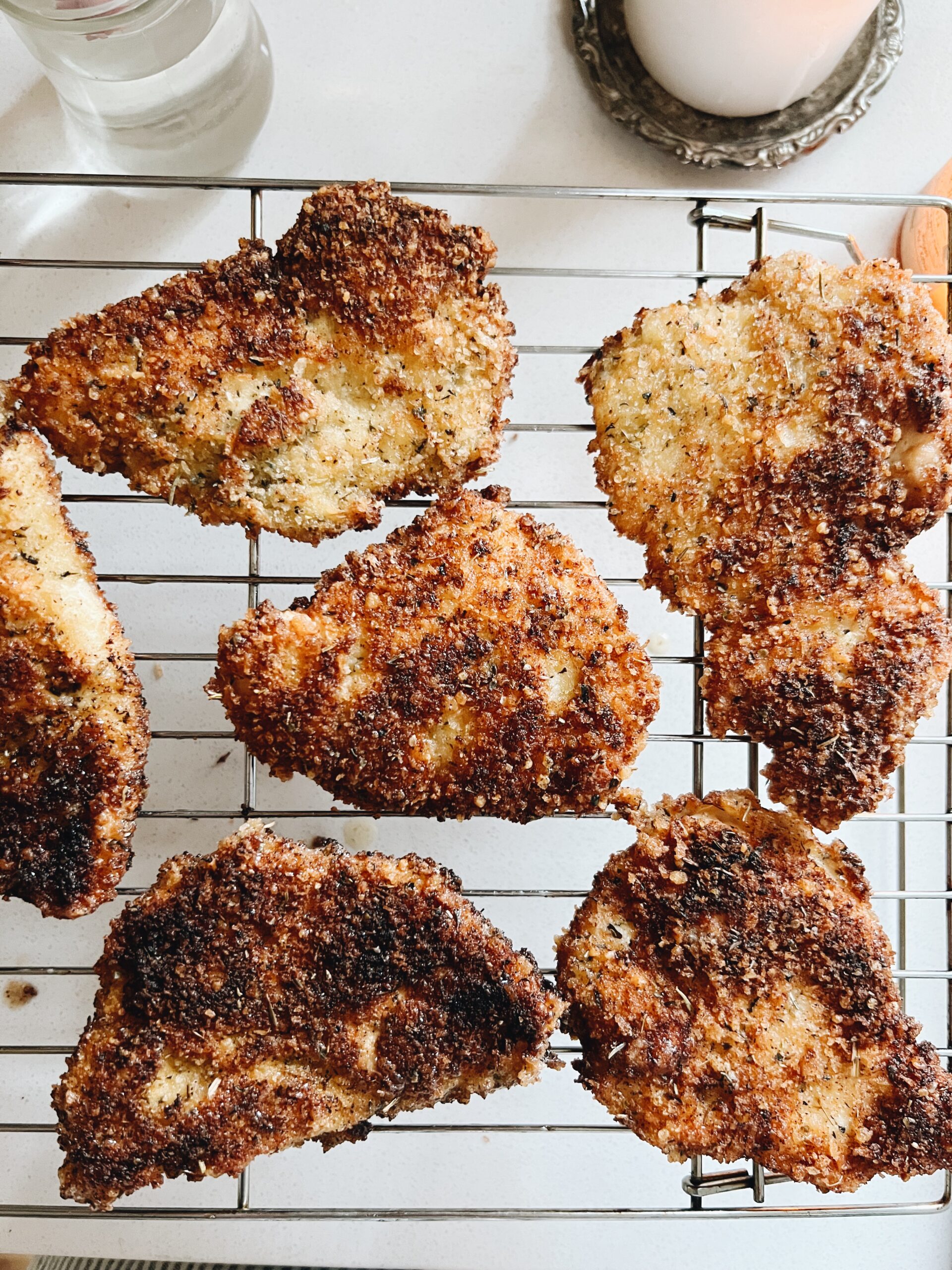 I always let mine rest on a baking rack (normally with a paper towel on the counter underneath, to let any excess oil drip off.) It works! Then we'll thinly slice the chicken.
Also, if you need to dip the chicken into some homemade ranch just to "test it out", you absolutely should.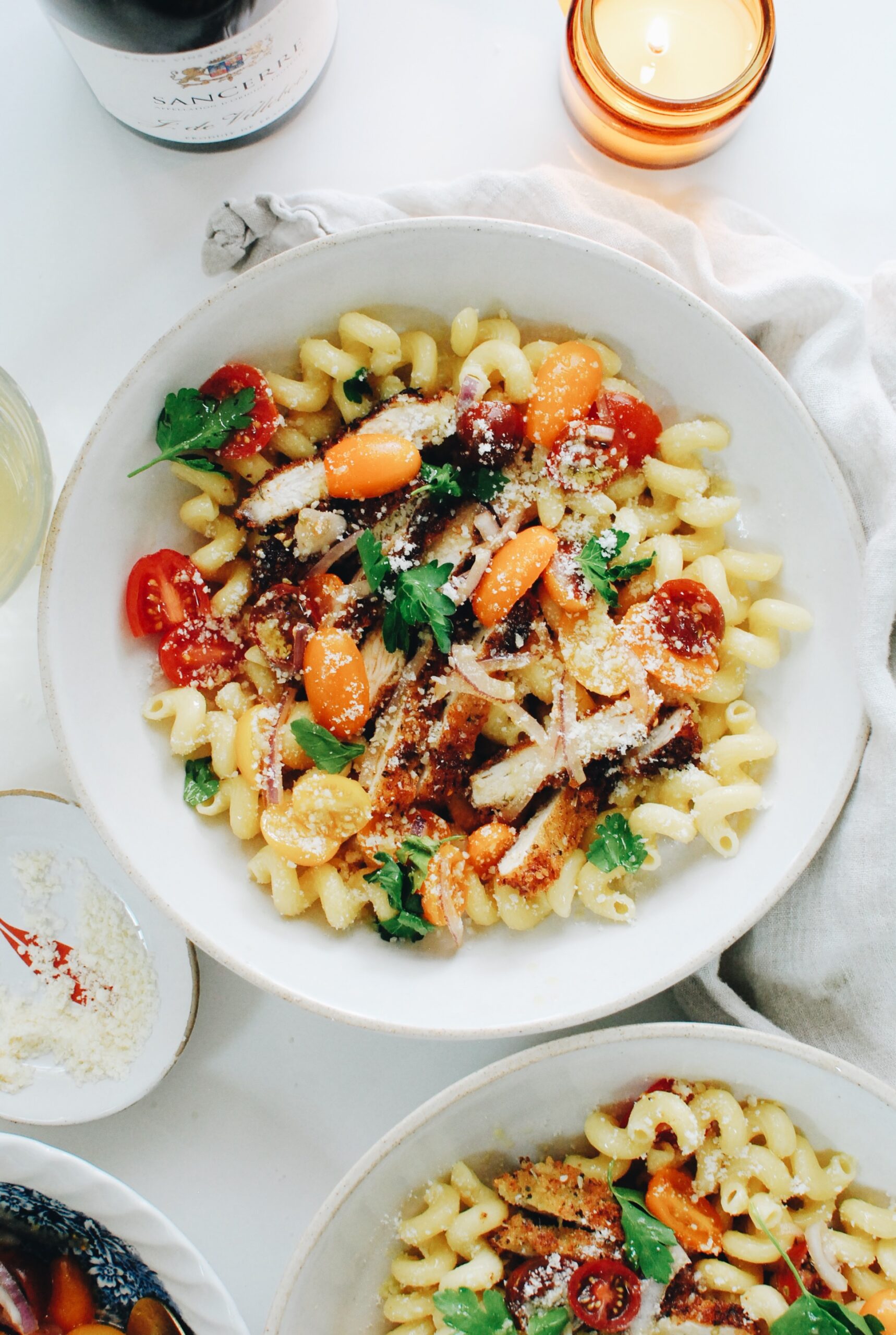 And that is it! You'll cook some pasta in the meantime, then serve it up with crispy chicken slices and the marinated tomatoes. It's suuuuper delicious.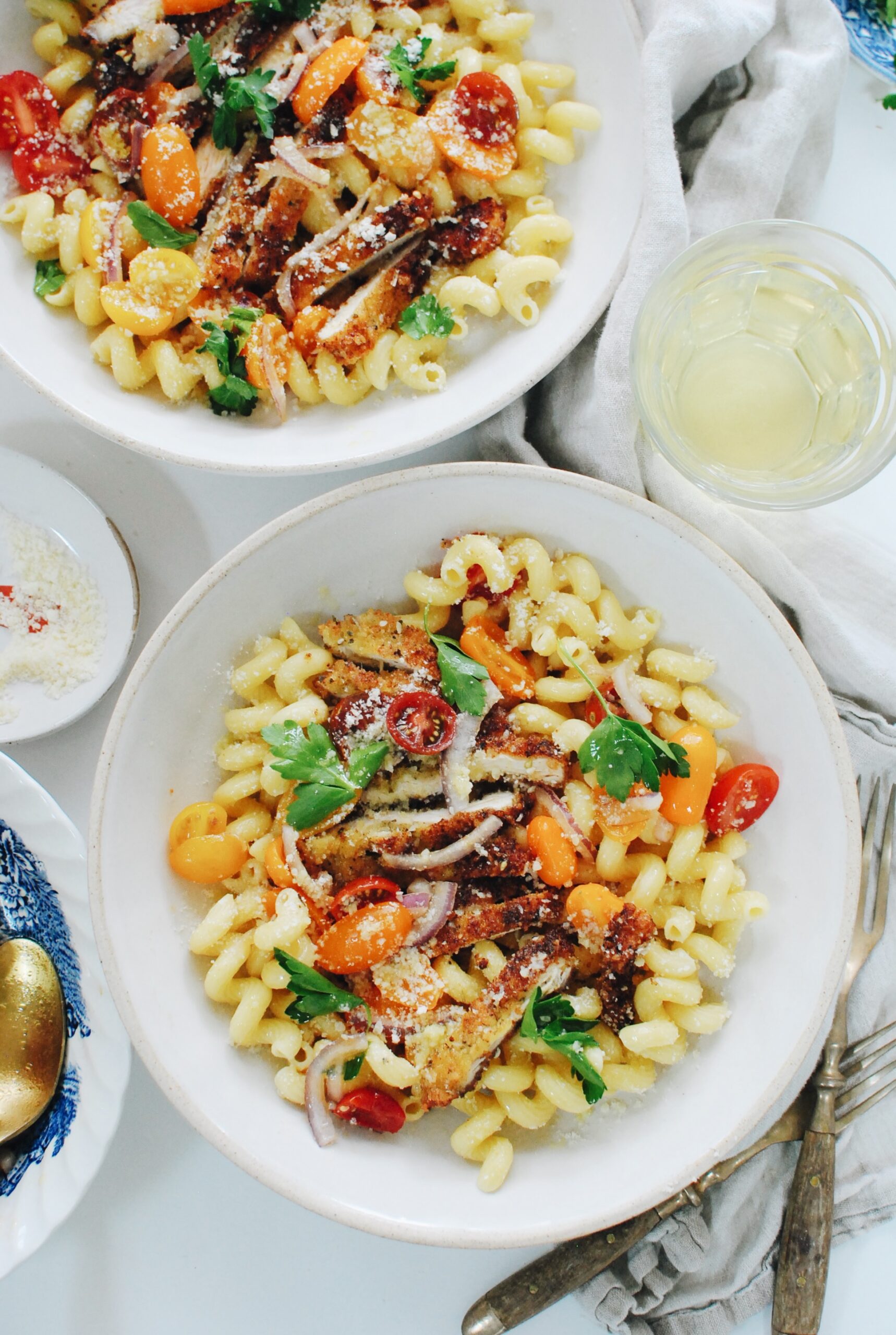 It's that perfect blend of cool and crunchy meets warm and satisfying. Loads of texture, buckets of complimenting flavors. It's too good.
And not too overwhelming to make, really!
If you need to short cut it, I completely get it. But try the panko mix next time you're in the mood to fry.
Also, you don't necessarily need to cut the chicken breasts down to cutlets. I like this technique because you get so much chicken out of it. Lots of surface area to crisp up, which is awesome. But you can use tenders if you need! That completely works.
You guys, get in this.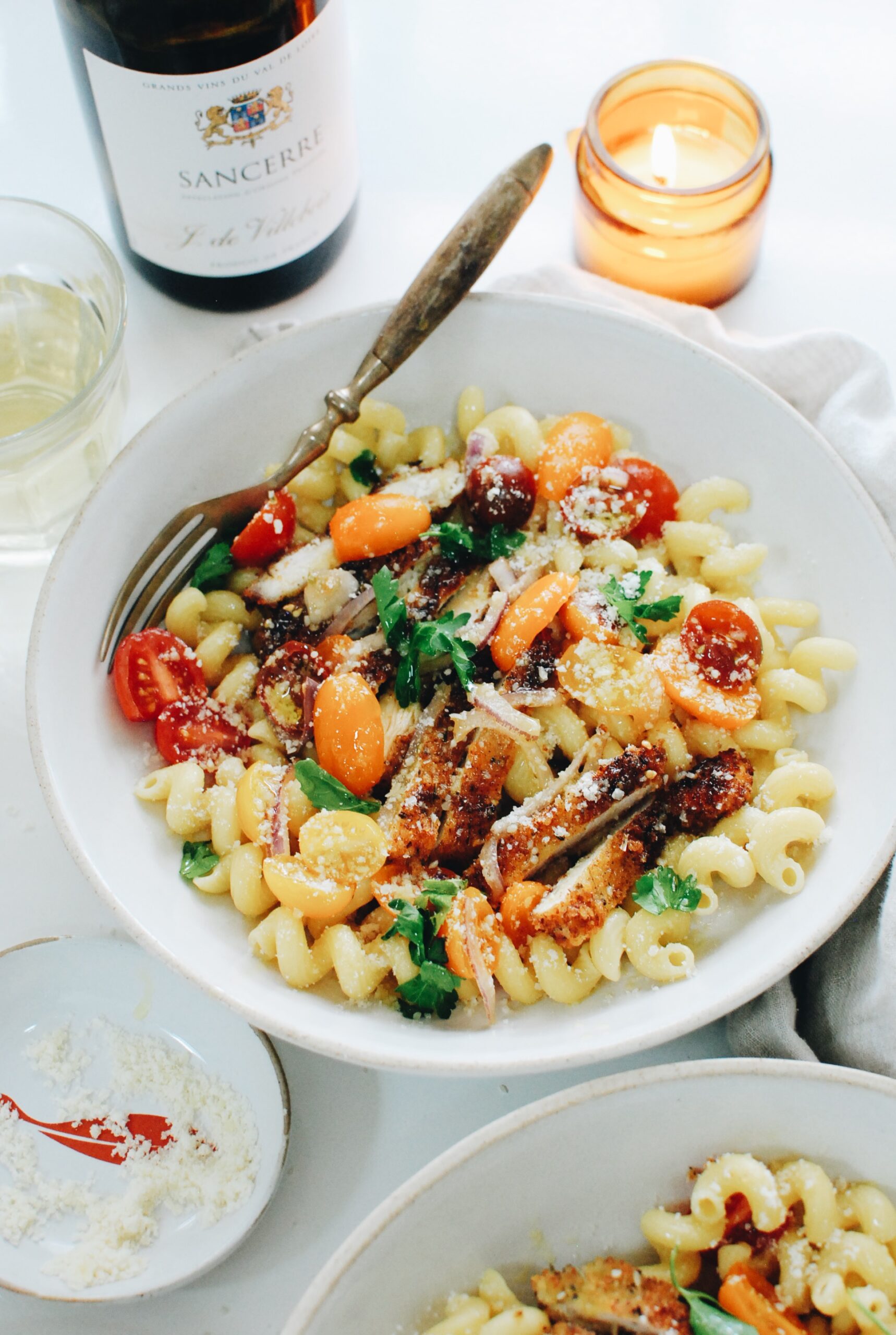 Today! Or this weekend. I'm breezy.
Crispy Chicken with Curly Pasta and Fresh Tomatoes
Ingredients
1 cup cherry tomatoes, halved
1/4 cup thinly sliced red onion
2 Tbs. Extra-virgin olive oil
Pinch of salt
2 medium chicken breasts, cut in half crosswise, once again lengthwise, then pounded thinly (making eight thin cutlets)
2 tsp garlic powder
2 tsp onion powder
2 Tbs. Italian seasoning
1 cup panko breadcrumbs
1/3 cup all-purpose flour
2 eggs, lightly beaten
1/3 cup parmesan cheese
1 pound cellentani (or any curly/spiral pasta)
Coarse salt
1/2 cup canola or vegetable oil
Parsley for garnish
Instructions
In a medium bowl, combine the halved tomatoes, red onion, olive oil and a pinch of salt. Toss with a fork and let marinate while you prep the rest.
Add the panko, onion and garlic powders, Italian seasoning, parmesan and a good pinch of salt to a medium shallow bowl. Beat the eggs in another shallow bowl, and place the flour in a third shallow bowl.
Dredge the chicken cutlets through the flour, then through the egg wash, finishing in the panko mixture. Place on a rimmed baking sheet until you've evenly coated the rest of the chicken cutlets.
In the meantime, heat the oil in a wide skillet over medium high. Add half the chicken to the skillet and fry until golden brown, four minutes on one side, three on the other. Rest the chicken on a drying rack to let any oil drip off. Slice the crispy chicken into strips.
Also, you'll have a large pot of salted water at a boil. Cook the pasta until al dente, according to package directions. Reserve about a cup of pasta water and drain the rest. Pour the pasta back into the pot and add a bit of pasta water to the pasta so it doesn't stick.
Serve the pasta topped with sliced crispy chicken strips, a good spoonful of the marinated tomatoes, parmesan cheese and freshly parsley as a garnish. Delish!
Serves 4-6.
7.8.1.2
620
https://bevcooks.com/2023/01/crispy-chicken-with-curly-pasta-and-fresh-tomatoes/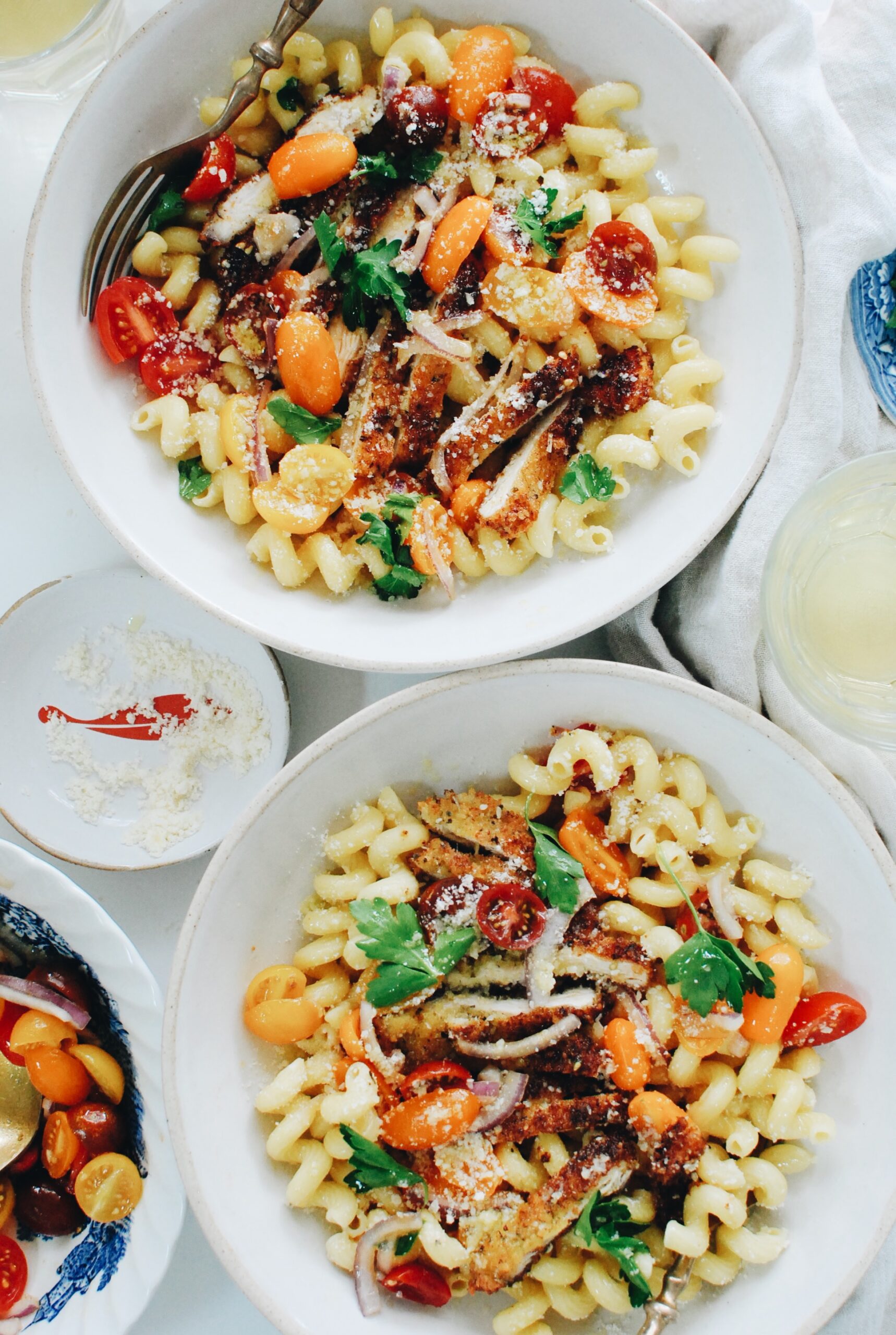 Extra parmesan is always a good idea.