It's not quiiiiiite a hummus. I know that's what you're wondering. It's not. But look at this.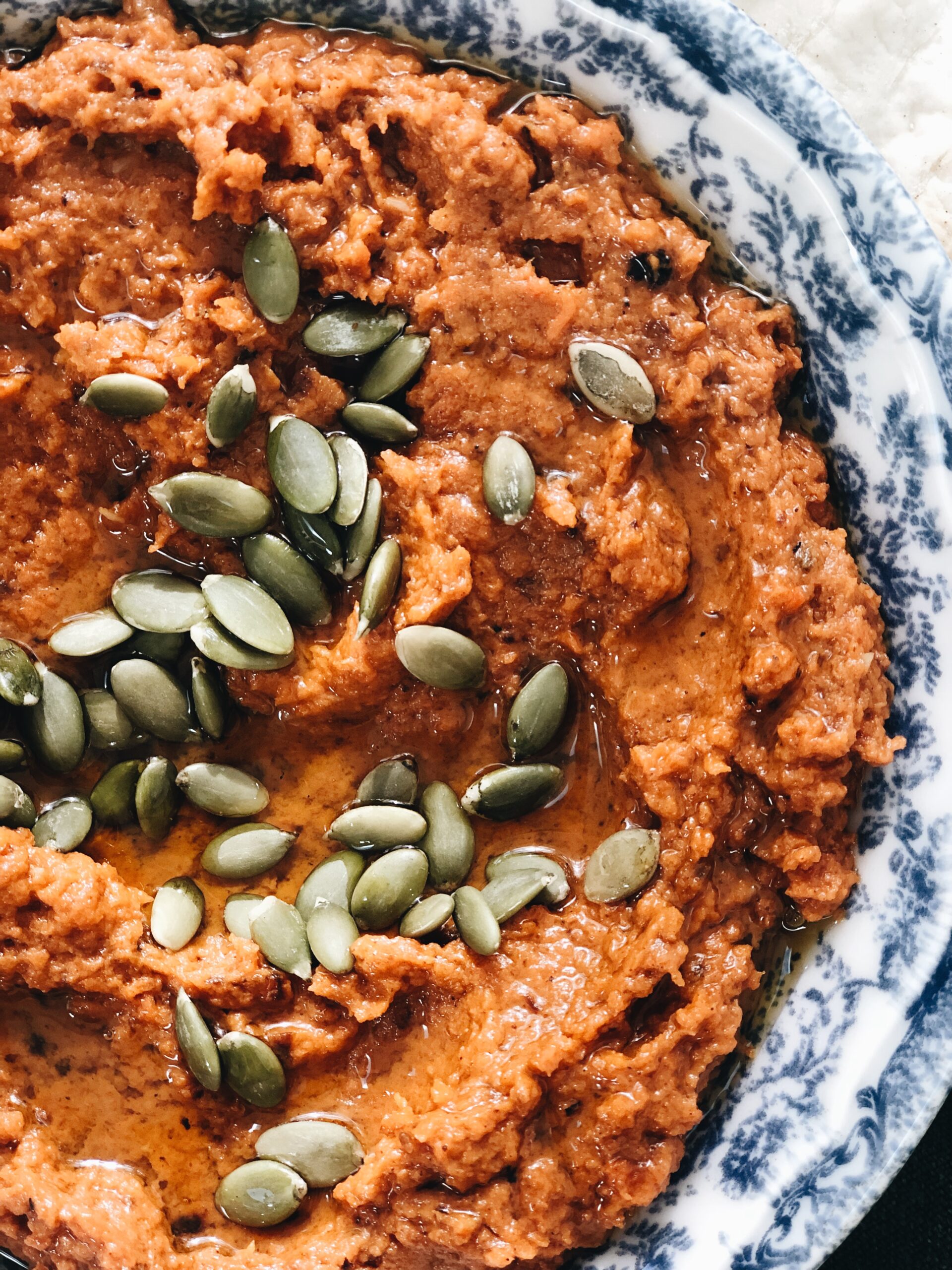 I mean my lands, you guys.
It's very simple, and a complete showstopper. And it's just a dip! But all hail the dips because this one is absolutely killer. And you just may need to whip this up for Thursday.
Let us peepeth.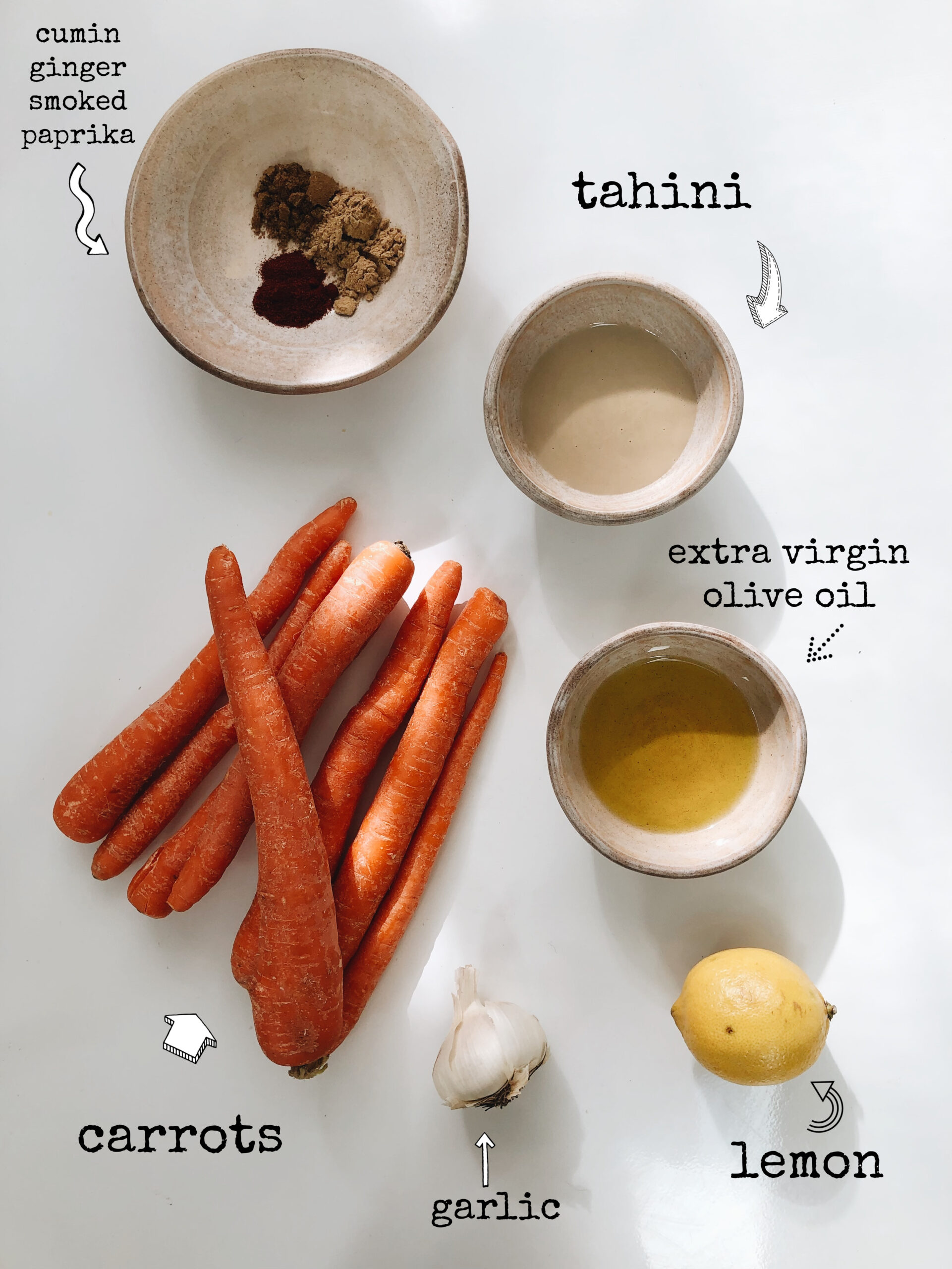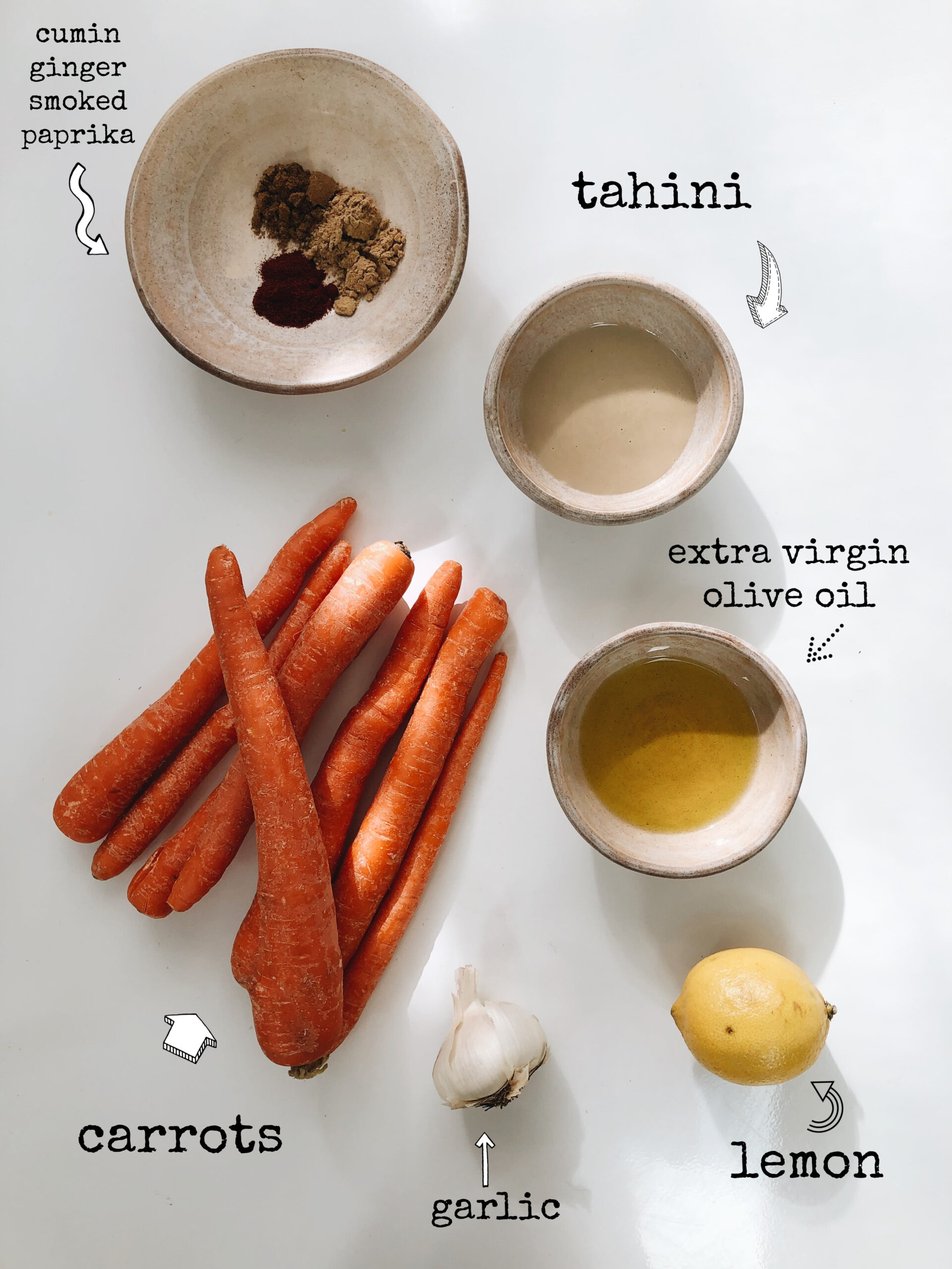 This is really all you need. No chickpeas! I know some people add it, but I wanted the carrots and garlic to shine here. So I told the chickpeas to butt out, bruh.
But we're still using just a little bit of tahini to add a level of silkiness to it. And a slight nuttiness that's quite stellar paired with carrots. You know we're into silky nuttiness, right? Right.
Okay this is what we'll do.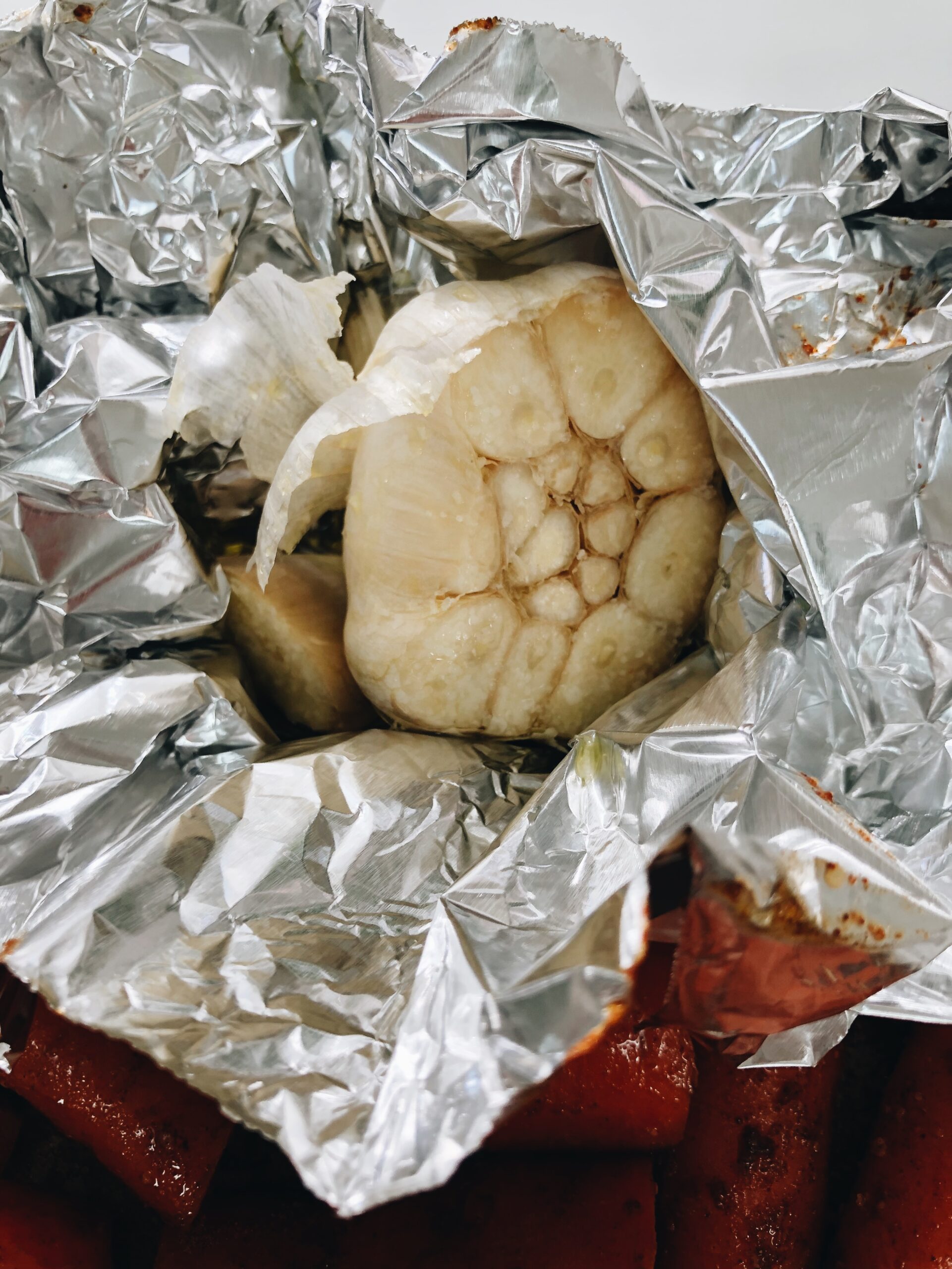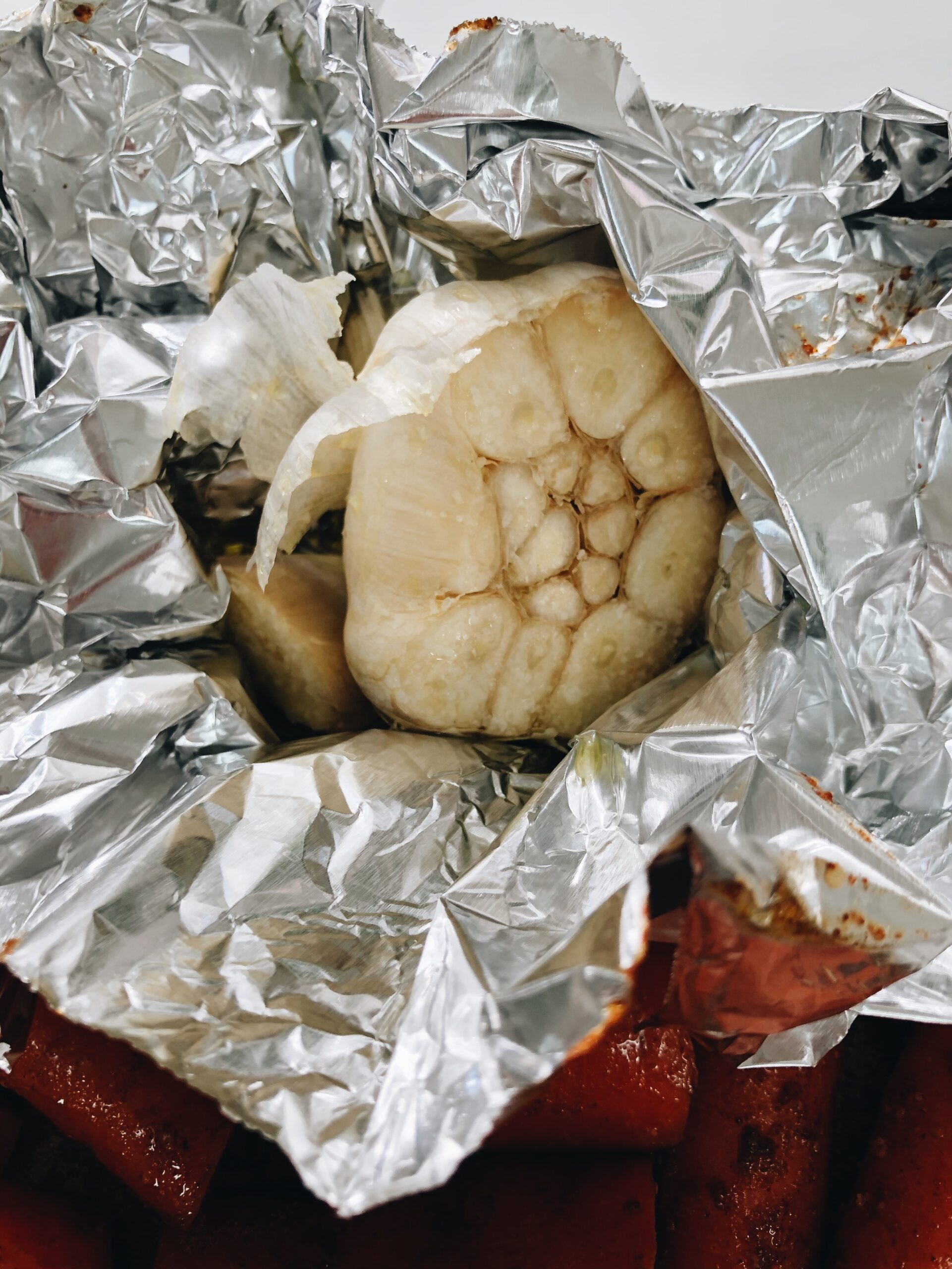 We'll roast a whole head of garlic, so just lop off the root end and sprinkle the open cloves (We're starting a band called Open Cloves) with salt and olive oil. Wrap this in a small piece of foil and place her on a baking sheet with the carrots. Magical things will happen inside that piece of foil, I tell ya.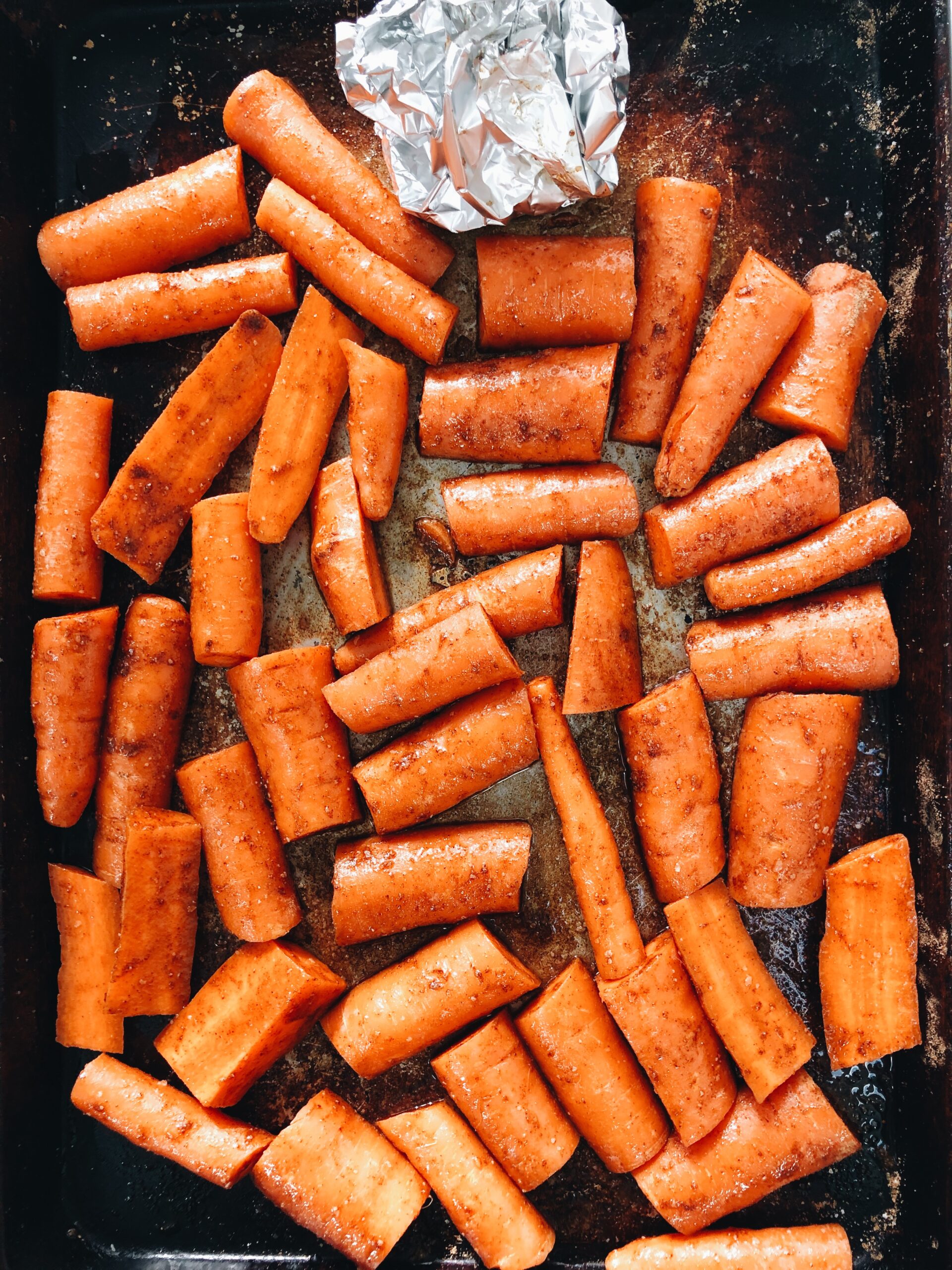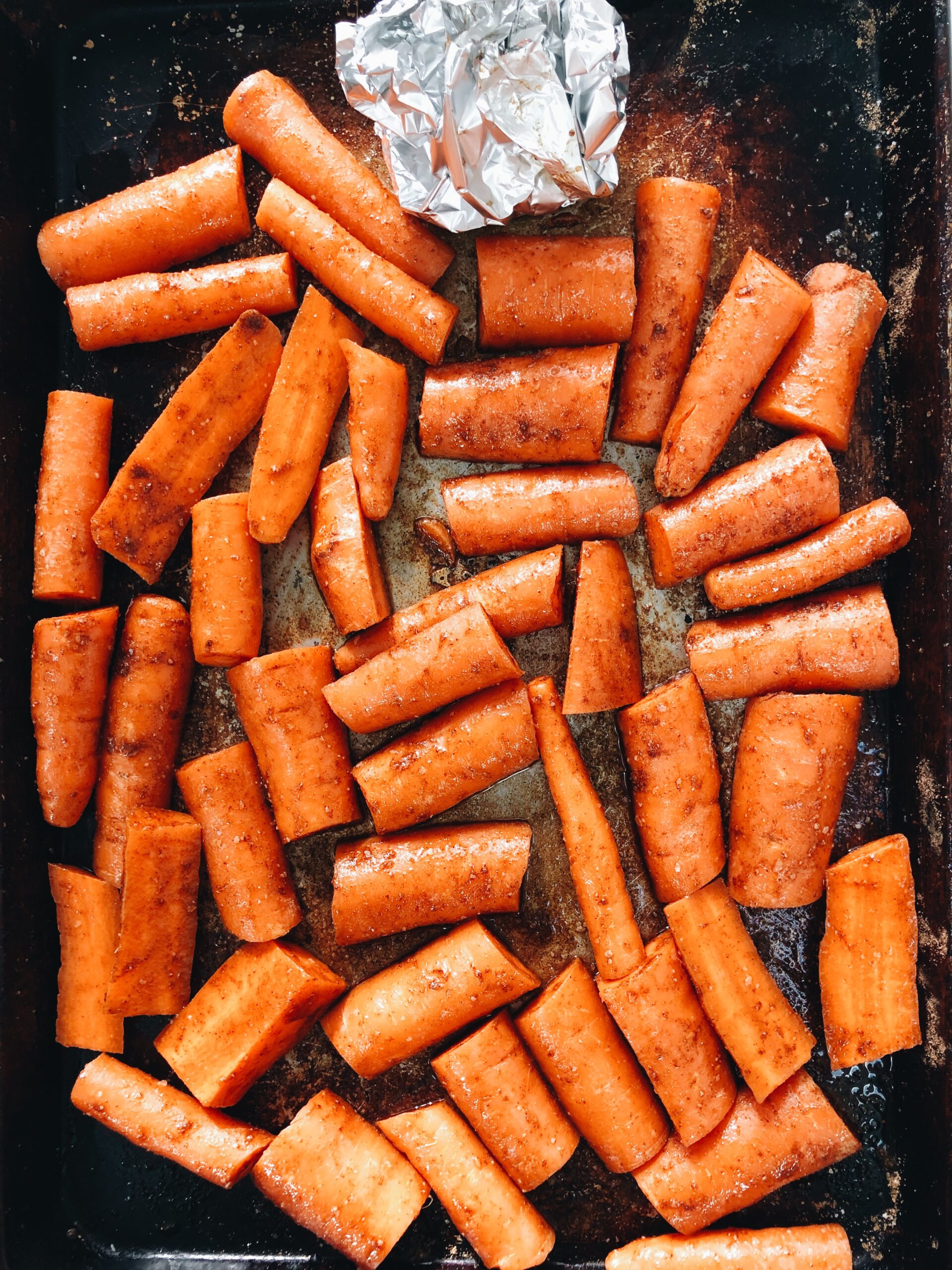 The carrots – I cut them into chunks, and then down the center on the bigger pieces. We want them about the same size for even cooking, but they'll get pureed in the end, so don't overthink it.
The spices are muah – cumin + ground ginger + smoked paprika + salt. Perfection. Drizzle with oil, tossy toss with your fangies (Mom, that's fingers in Bev speak) and roast this mess for 45 minutes at 400.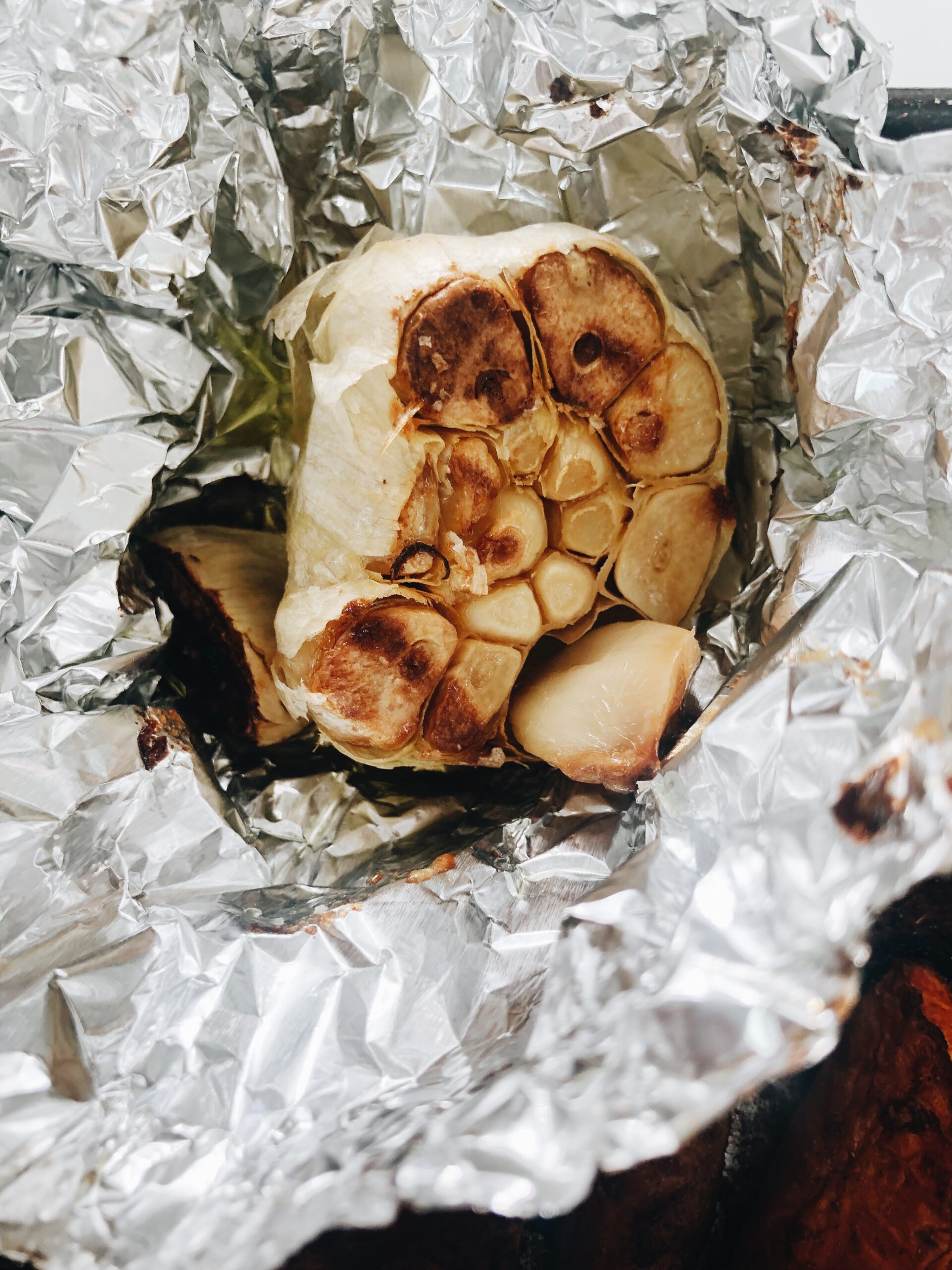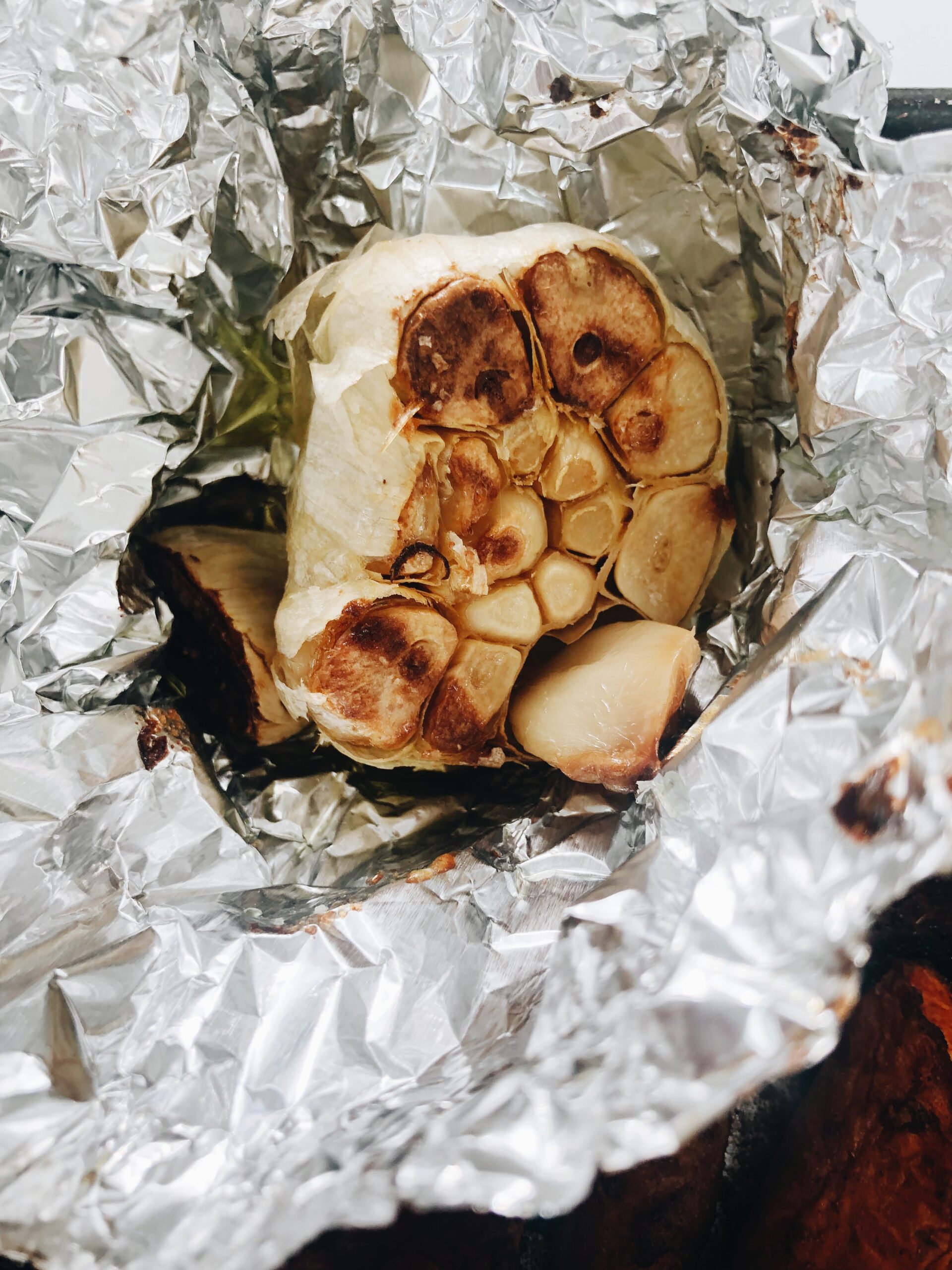 Yes, girl.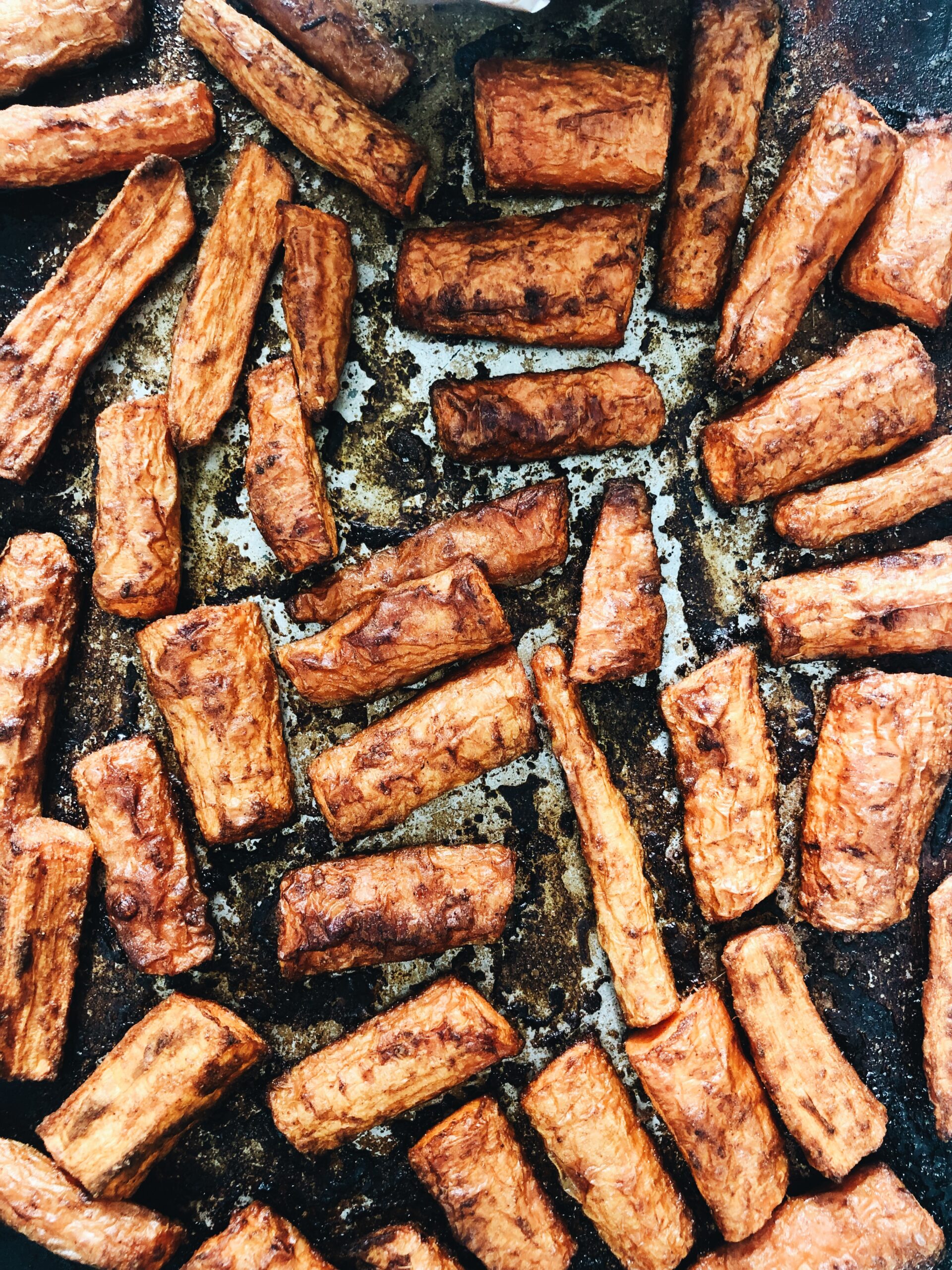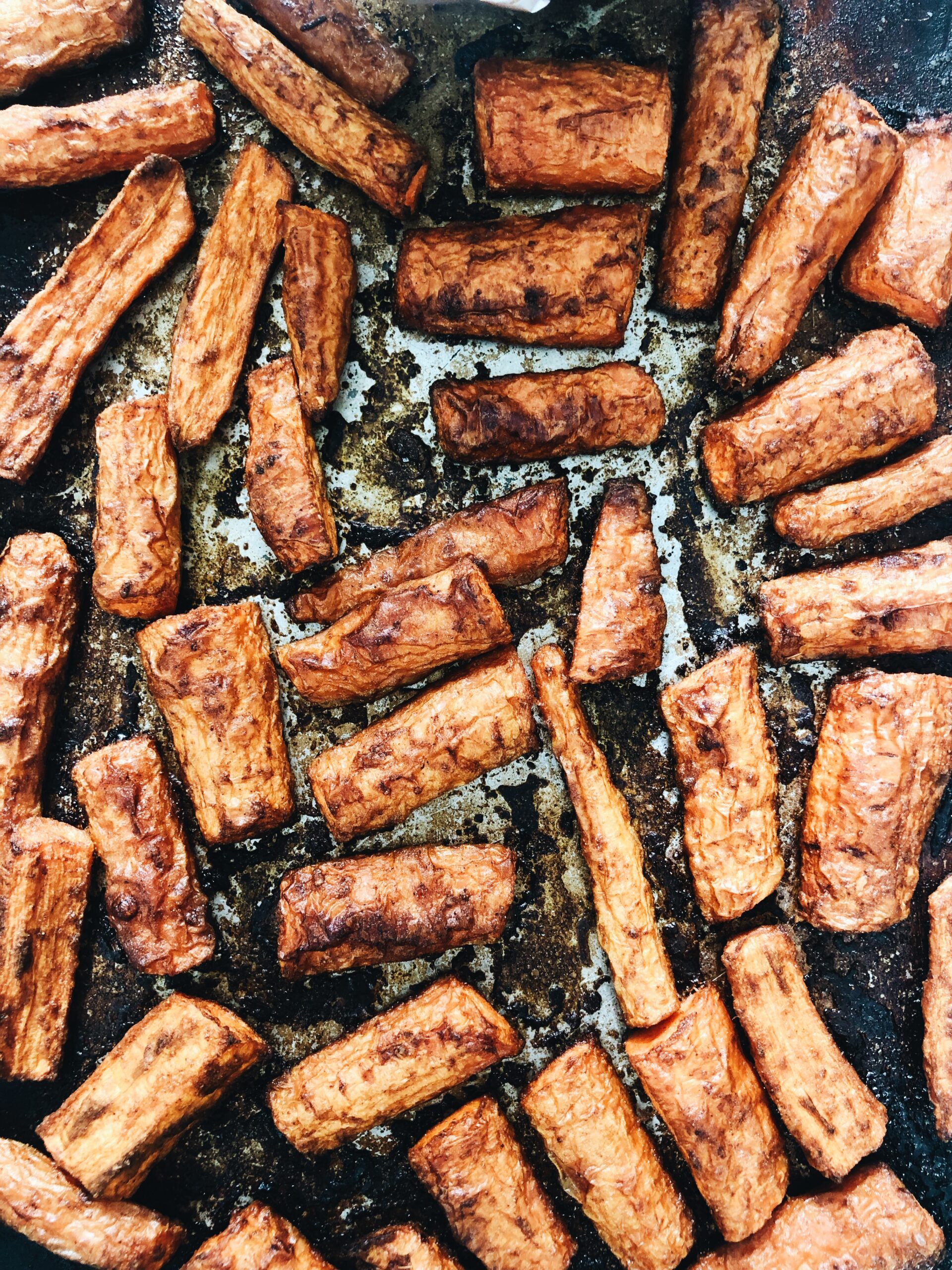 Yes, mama.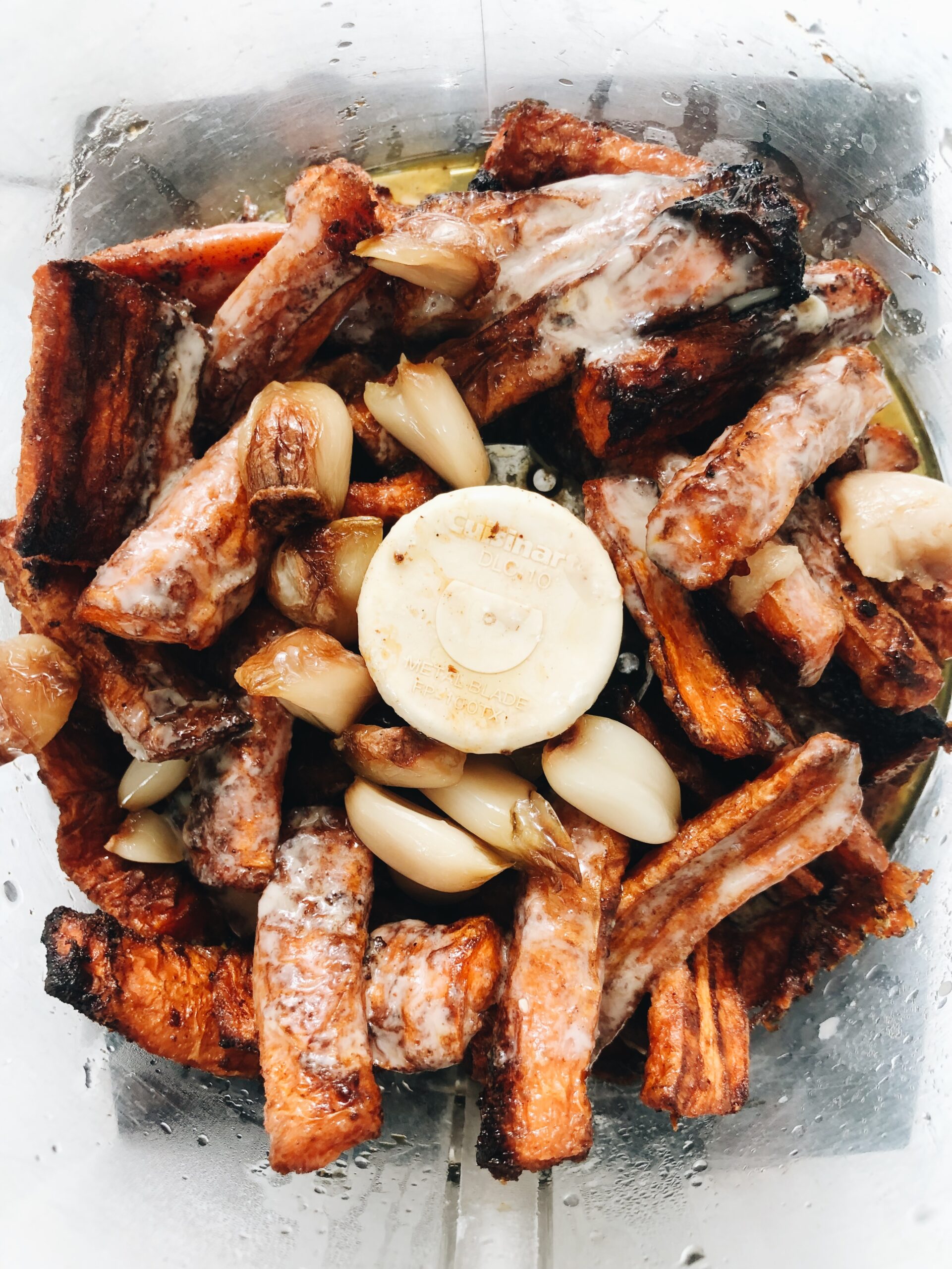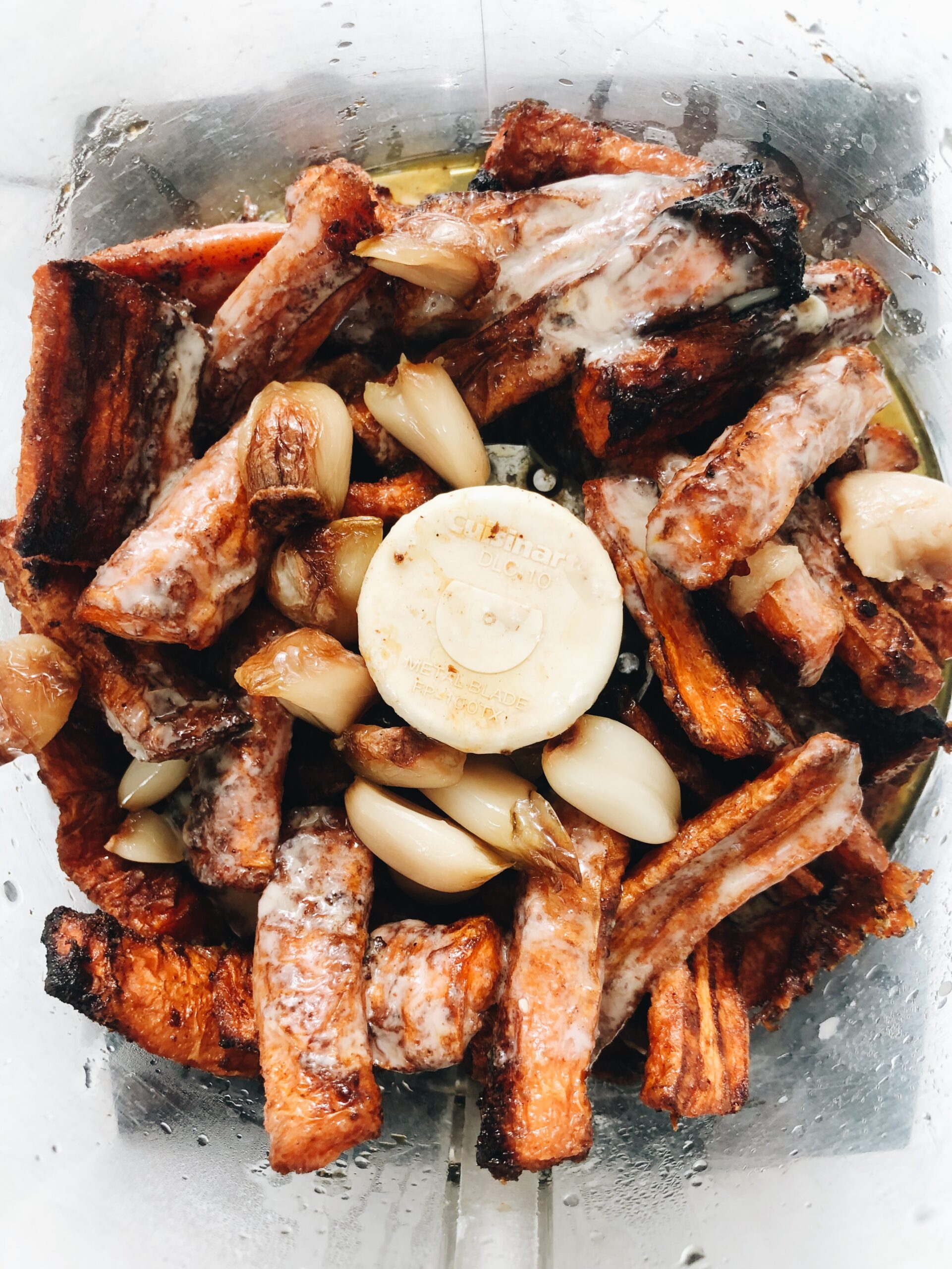 So, this is the good part. To a food processor let's add the carrots, garlic (they'll squeeze right out of the skins but be careful, it's hot!), the tahini, juice from half a lemon and the extra virgin olive oil. Just pulse that until it's . . . well, dippy. I got it as smooth as I could, but there was still a little bit of rustic grit in there, which probably isn't the best choice of words for a food blog, but whatever – it's DELICIOUS! So, so good. Painfully flavorful.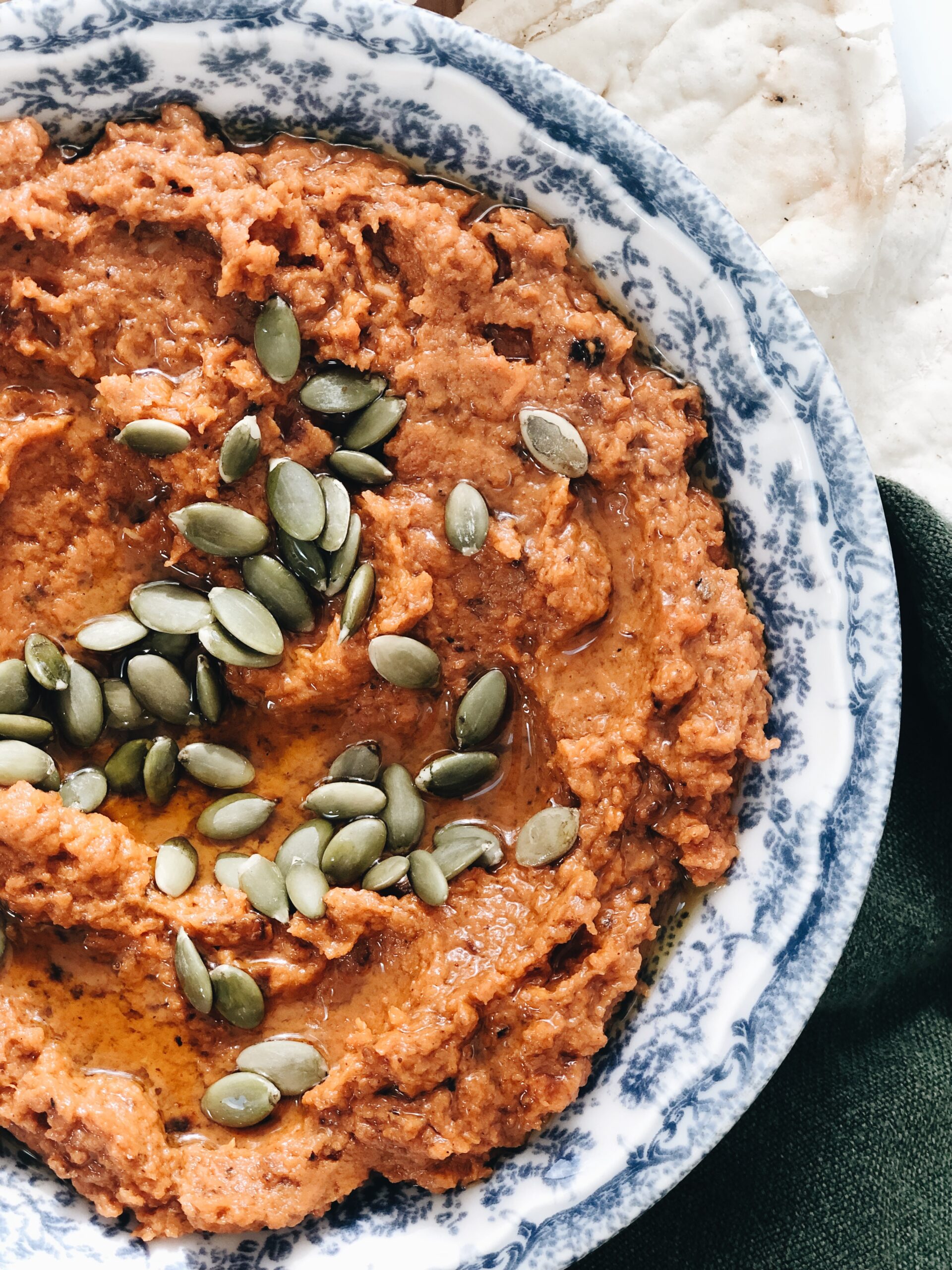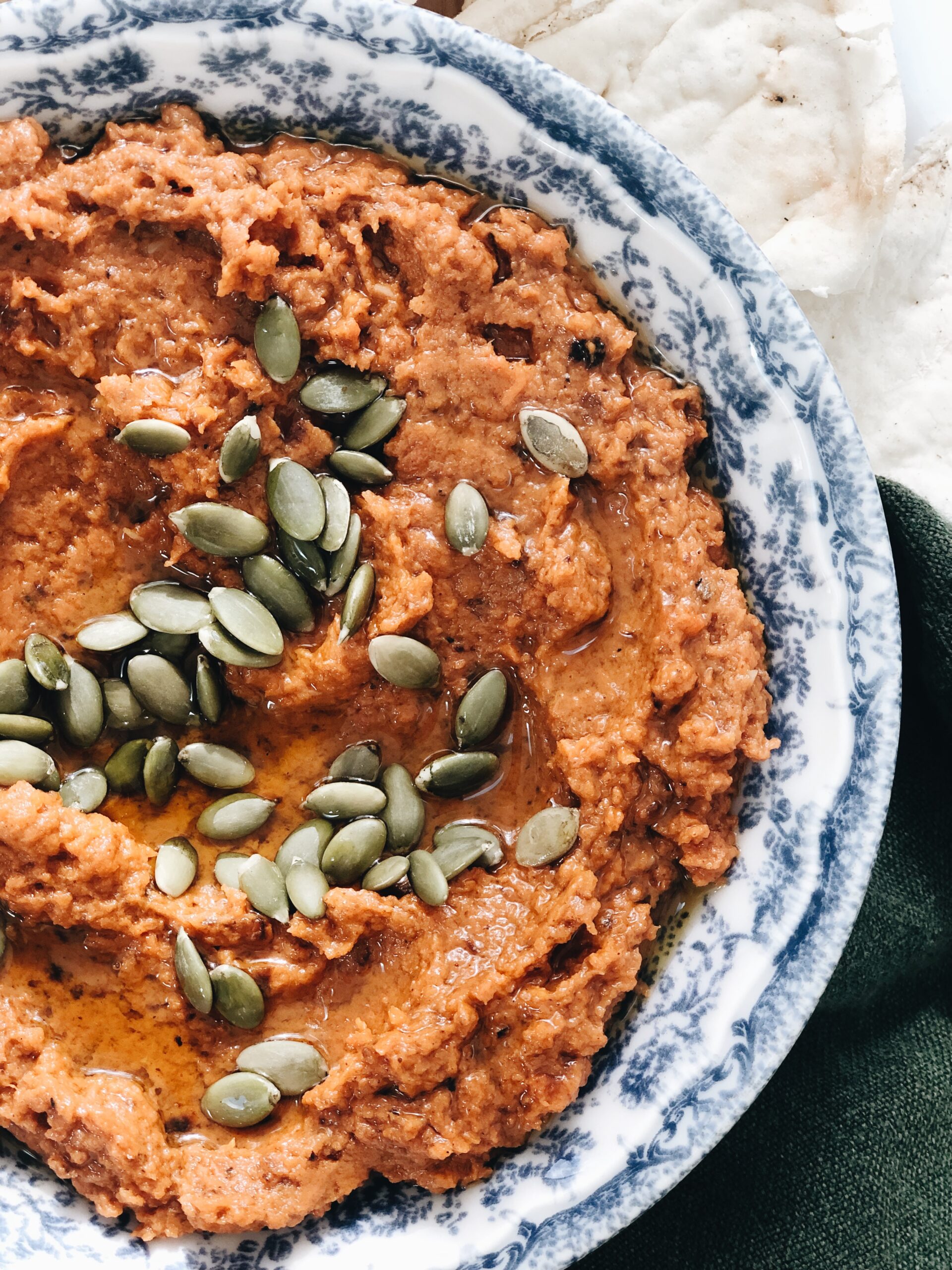 Also, I know what you're thinking, "So this is just glorified baby food?" Bite your tongue, Chachi! It's so not.
It's spiced, it's roasted garlic enhanced, it's silky and creamy and just slightly lemony. And remember the tahini? It's just great. Truly.
The pepitas I added for attitude, but you can skip it if you need. (they're super good though.)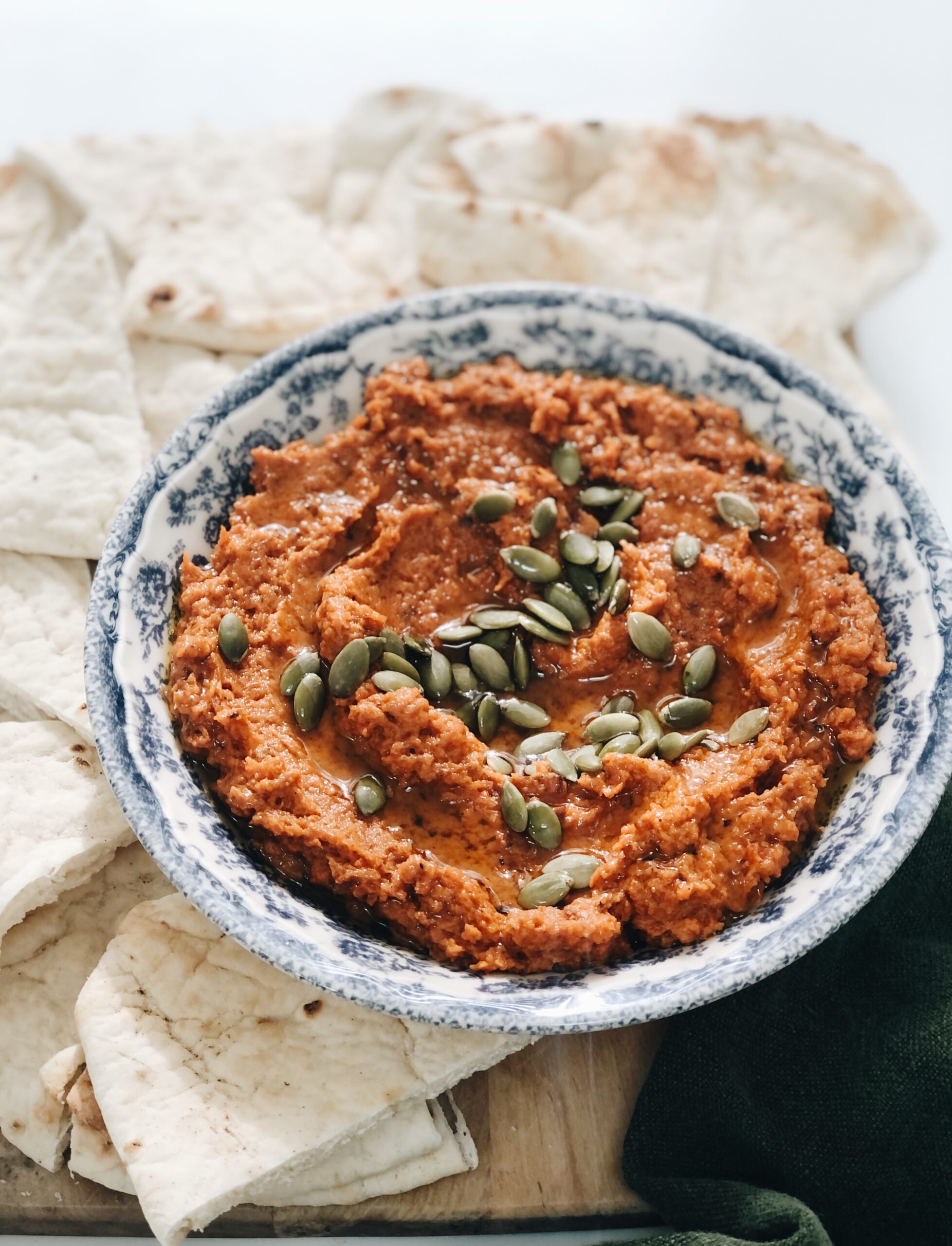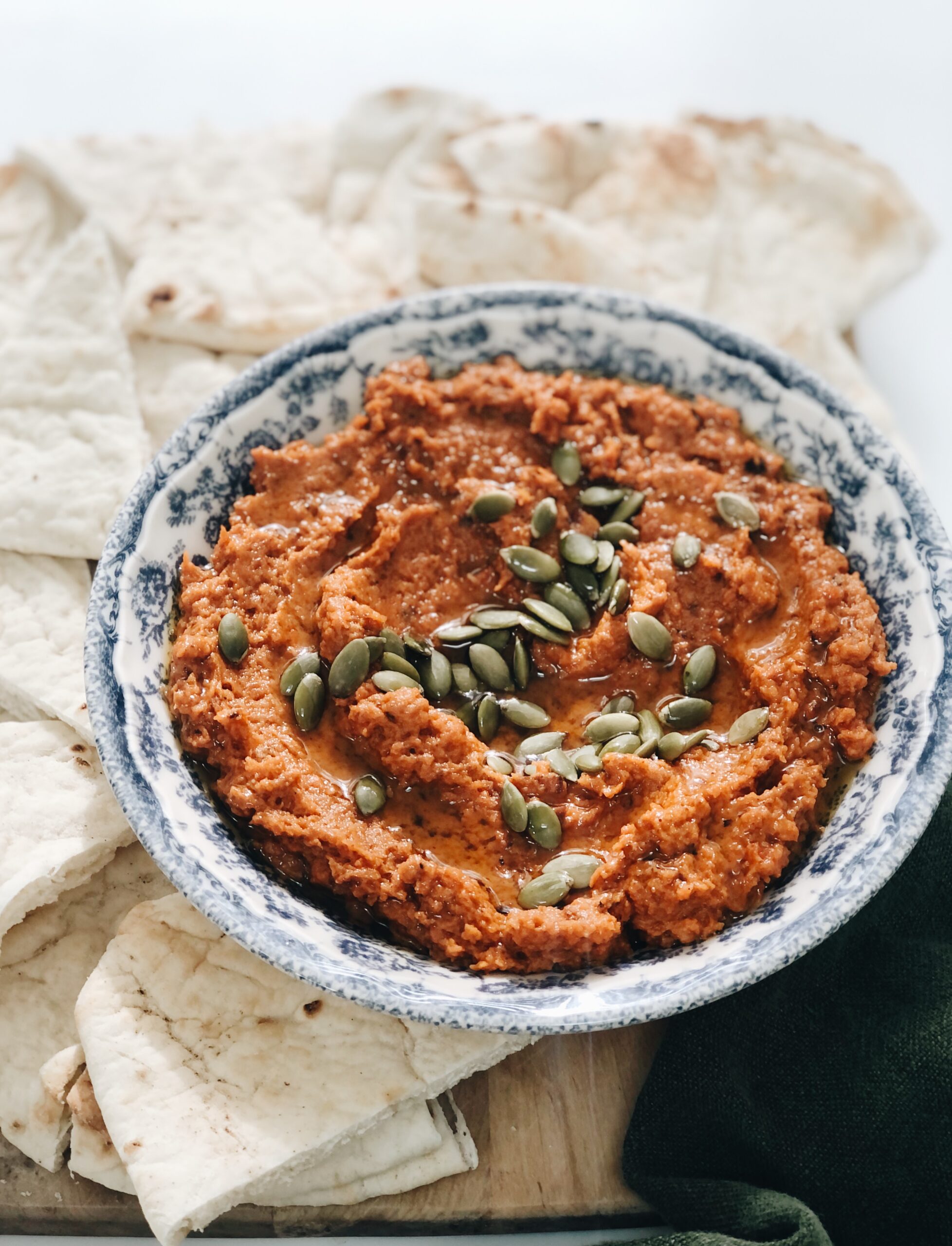 I took this to our annual Fakesgiving and it disappeared within minutes. Spread it on pita, baked bread, a dang cracker. It all works. It makes a festive appetizer before the main event, so ya know, jump on and in that.
Listen, plan on more than one bite though. I'm just telling you here first, okay?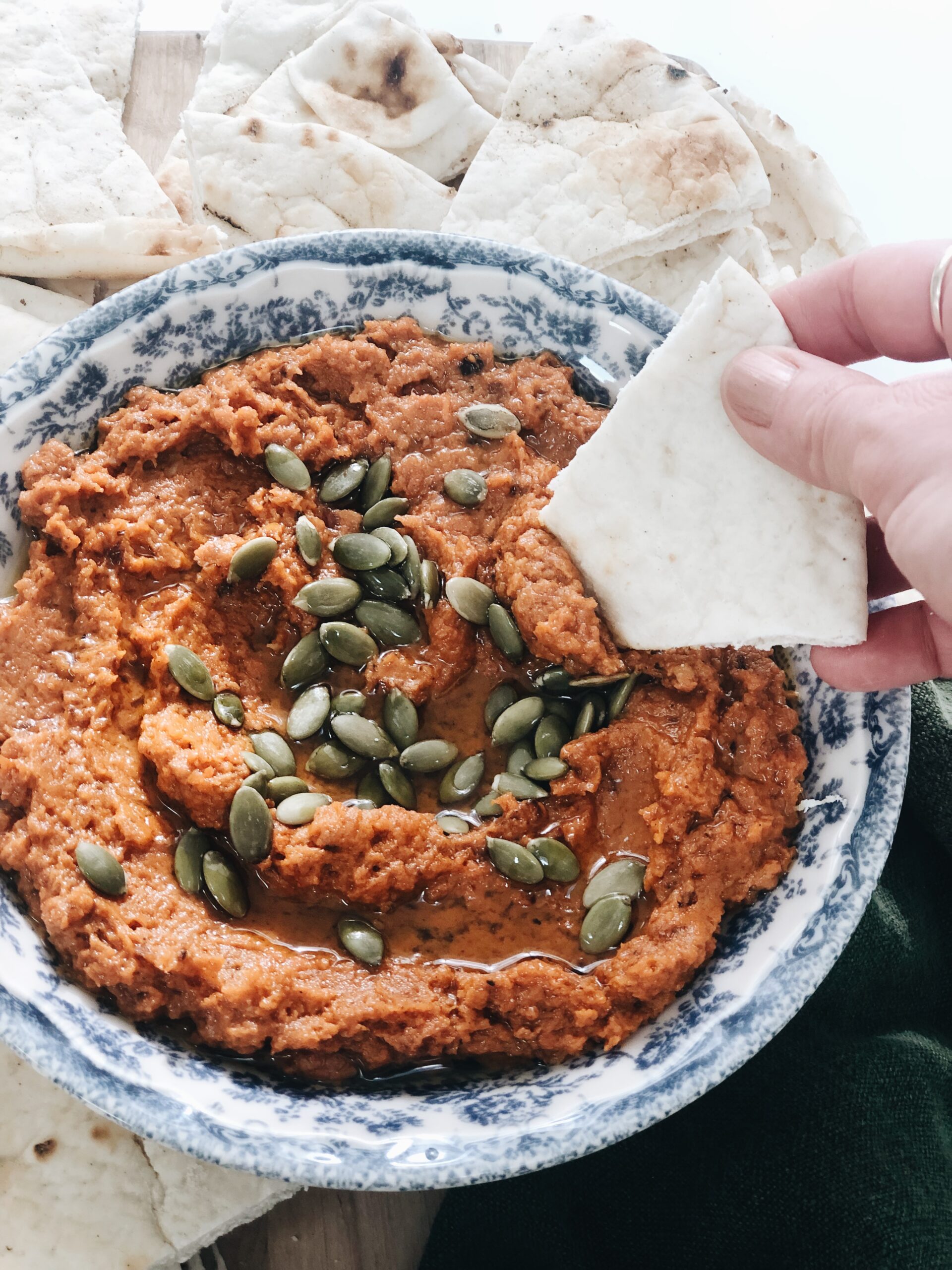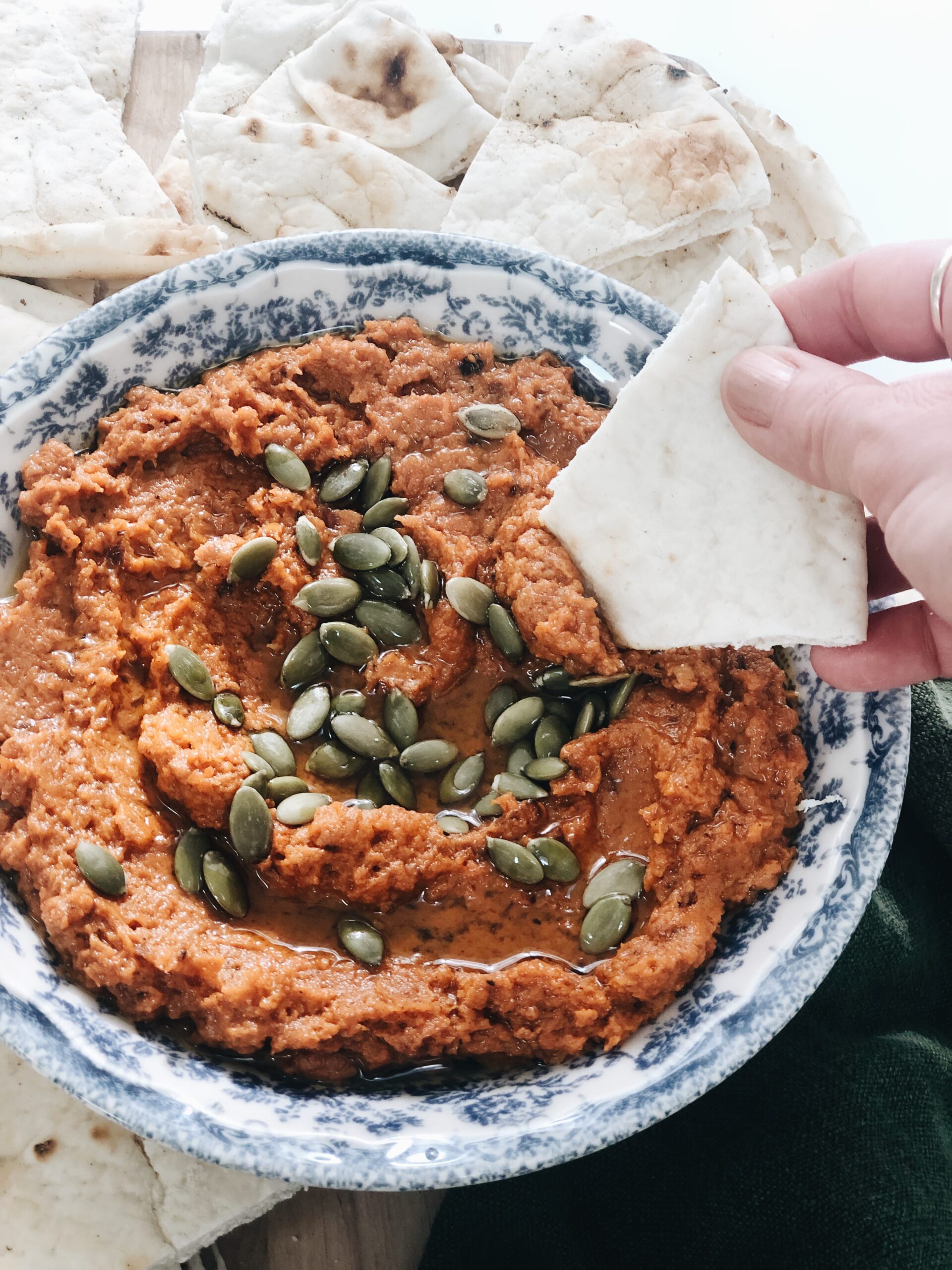 And maybe an extra drizzle of oil? Me thinks yes.
Roasted Carrot Garlic Dip
Ingredients
8 large carrots, cut into chunks and sliced down the middle
1 head of garlic
1 tsp cumin
1 tsp ground ginger
1/2 tsp smoked paprika
1 tsp coarse salt
3 Tbs. tahini
8 Tbs. extra virgin olive oil, divided
1/2 lemon
Pepitas, for garnish
Instructions
Preheat the oven to 400.
Arrange the cut carrots on a baking sheet. Mix the spices plus the salt in a small bowl, and sprinkle over the carrots. Drizzle with two Tbs. oil and toss together with your hands. Cut the root end off the garlic head, and place the garlic in a small piece of aluminum foil. Sprinkle with salt and a drizzle of oil, and fold the foil around the garlic. Place it on the carrot sheet.
Roast for 45 minutes.
In a food processor, place the roasted carrots, roasted garlic, (the cloves will slip out of their skins), the tahini, 6 Tbs. oil, and the juice from half a lemon. Pulse until smooth and creamy. Taste that. I MEAN.
Spoon into a small bowl and garnish with roasted pepitas and one more drizzle of oil, if desired!
Serves 4.
7.8.1.2
540
https://bevcooks.com/2021/11/roasted-carrot-garlic-dip/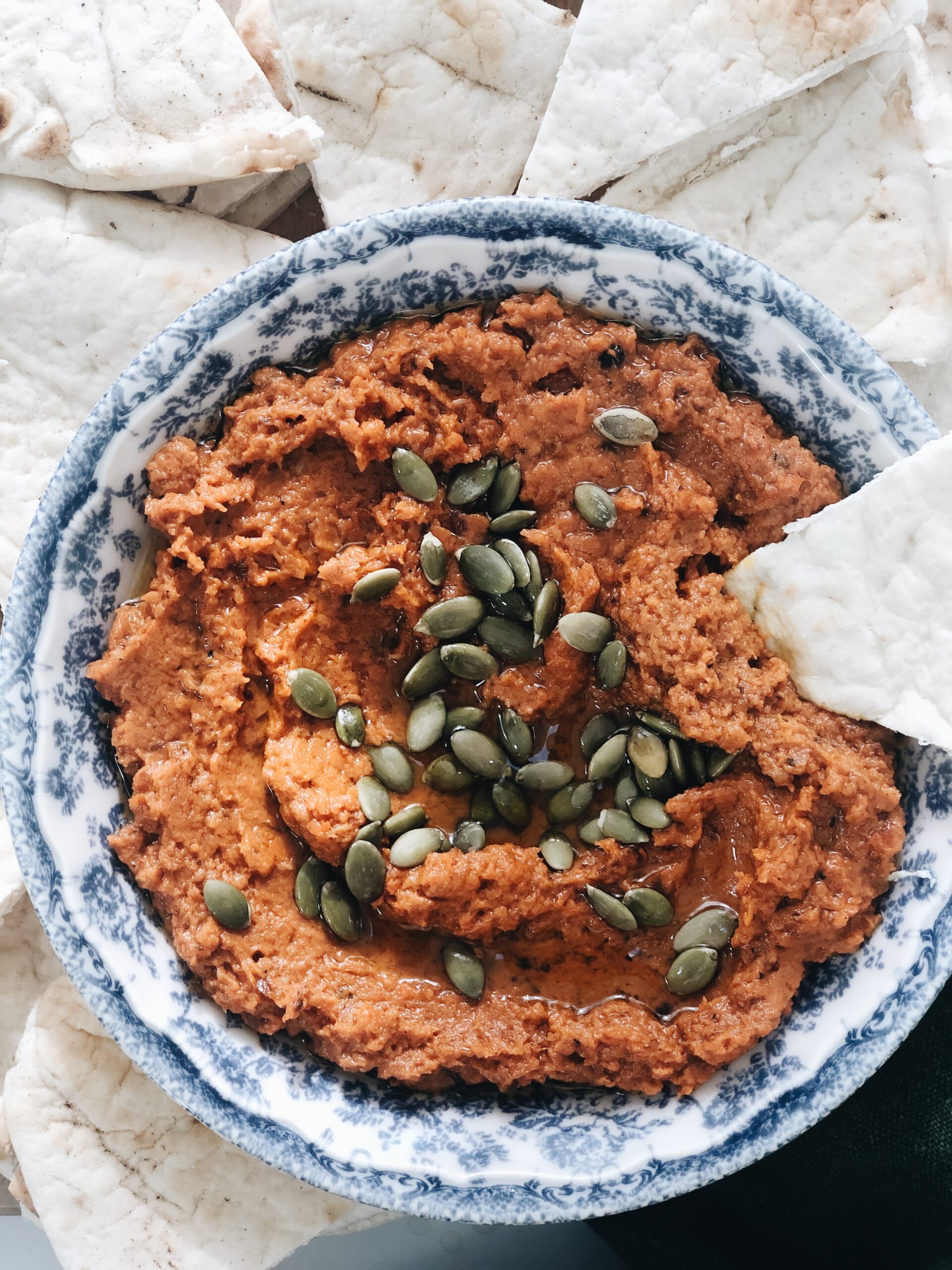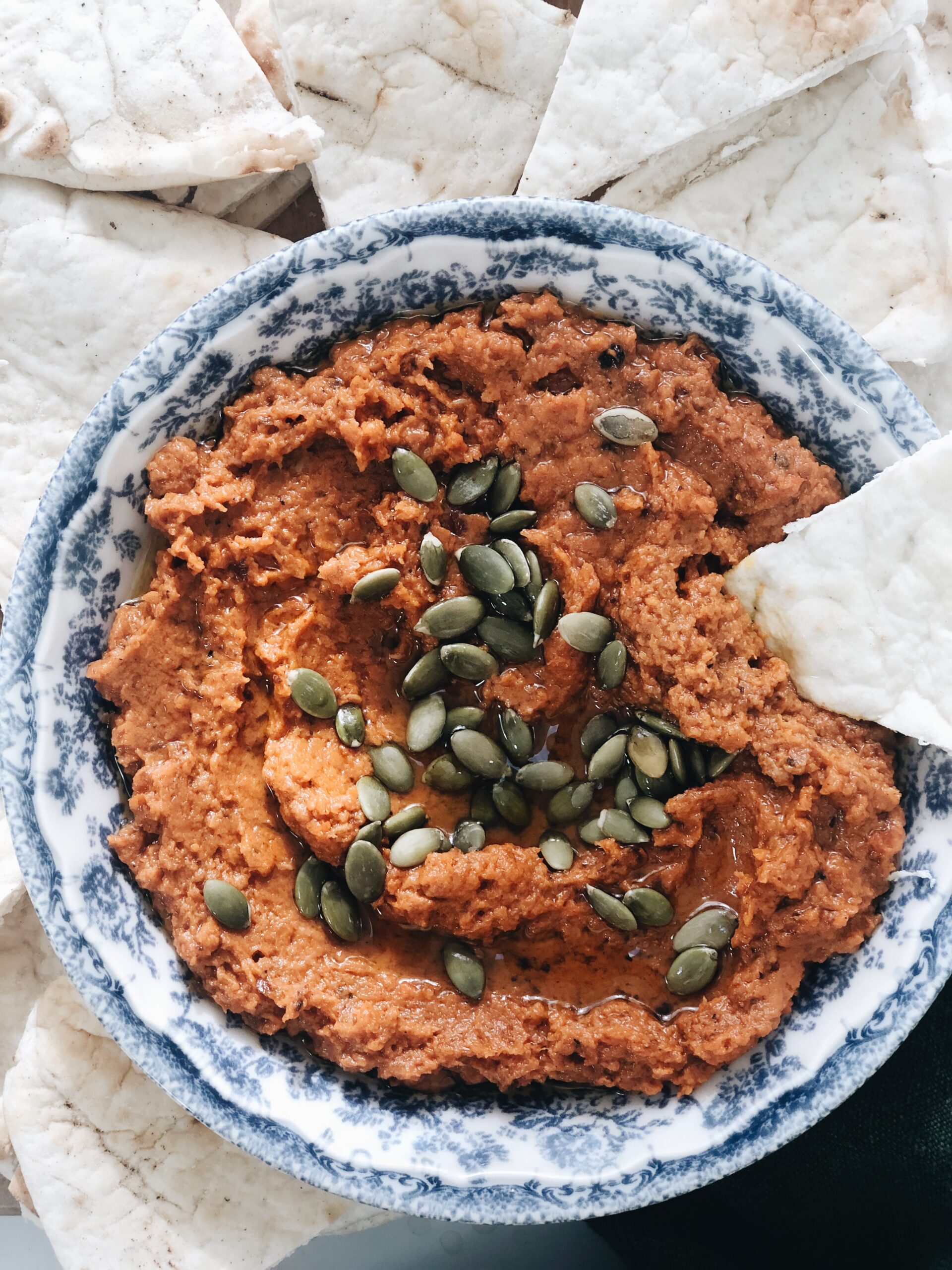 Have a fantastic Thanksgiving! Are you traveling? Hosting? Tell me all the deets. You know I need these details to thrive in this world.