As in, you can eat this cold because it's still summer. (!)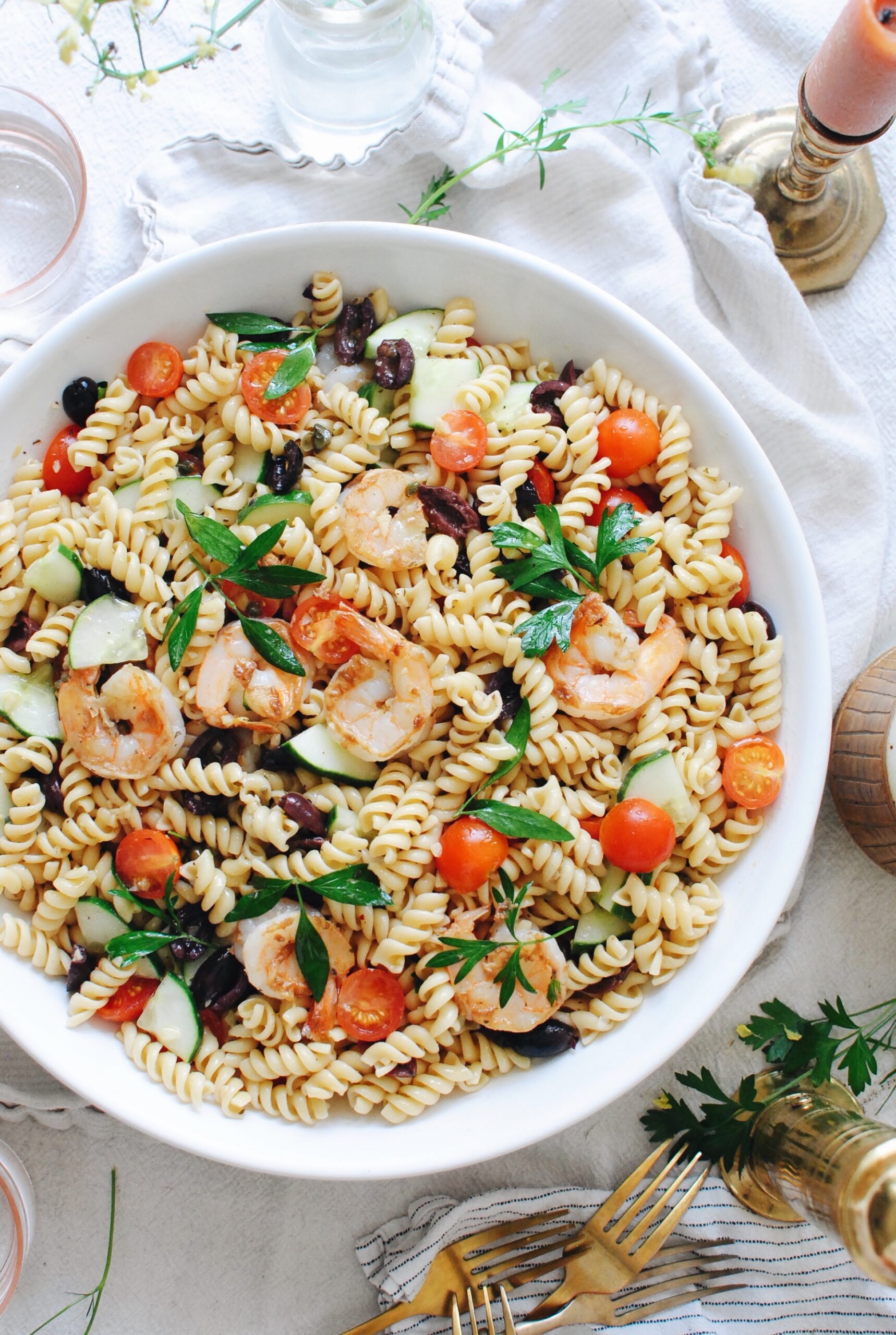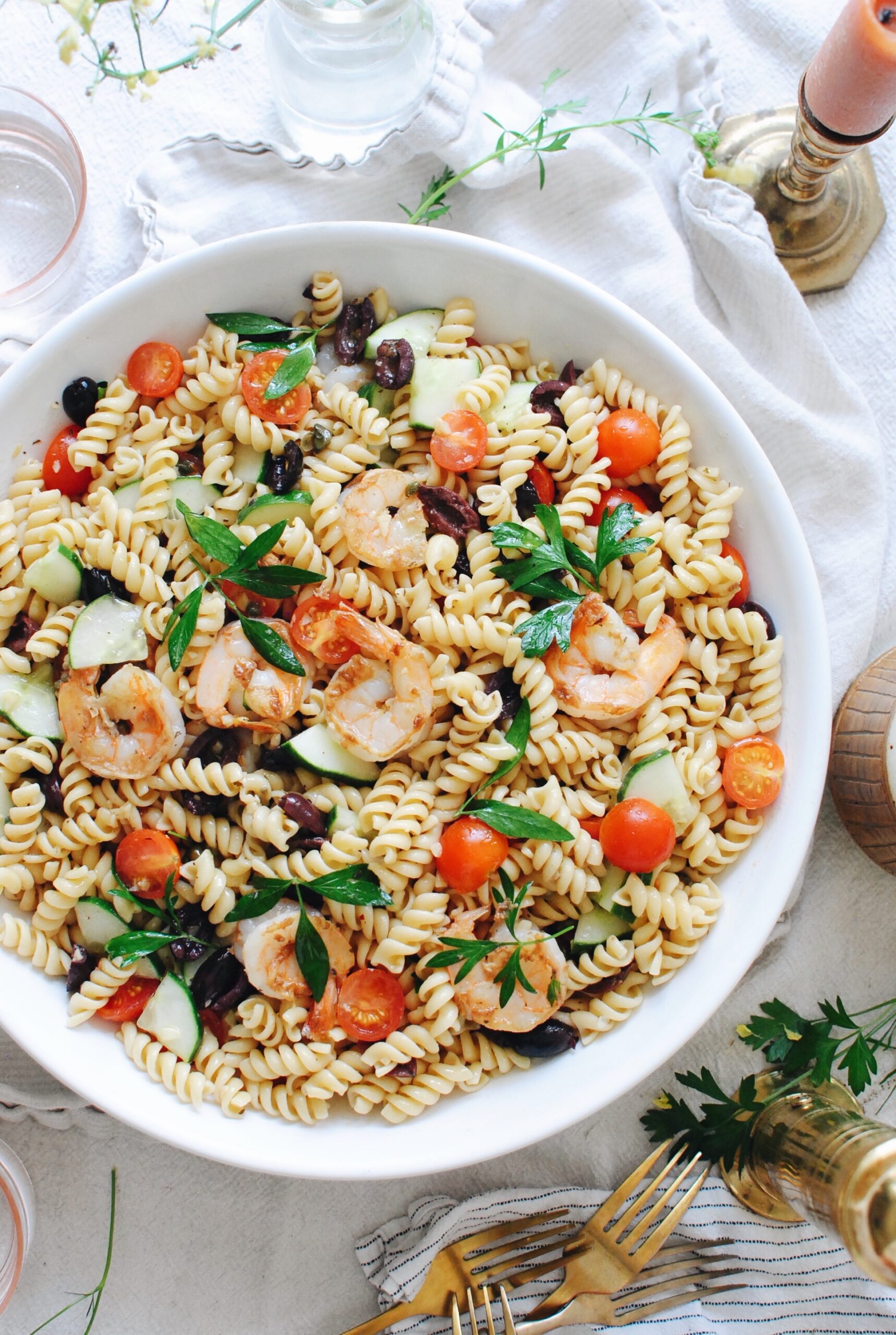 I'm honestly a little bit enraged at myself for NOT giving you a good pasta salad recipe at all this entire summer. What the actual wonk, Bev.
But! Late is better than never, so here we are. And you can make this all year round, truly. I dig it because there's no reheating when you want leftovers. #lazywins
Let's look.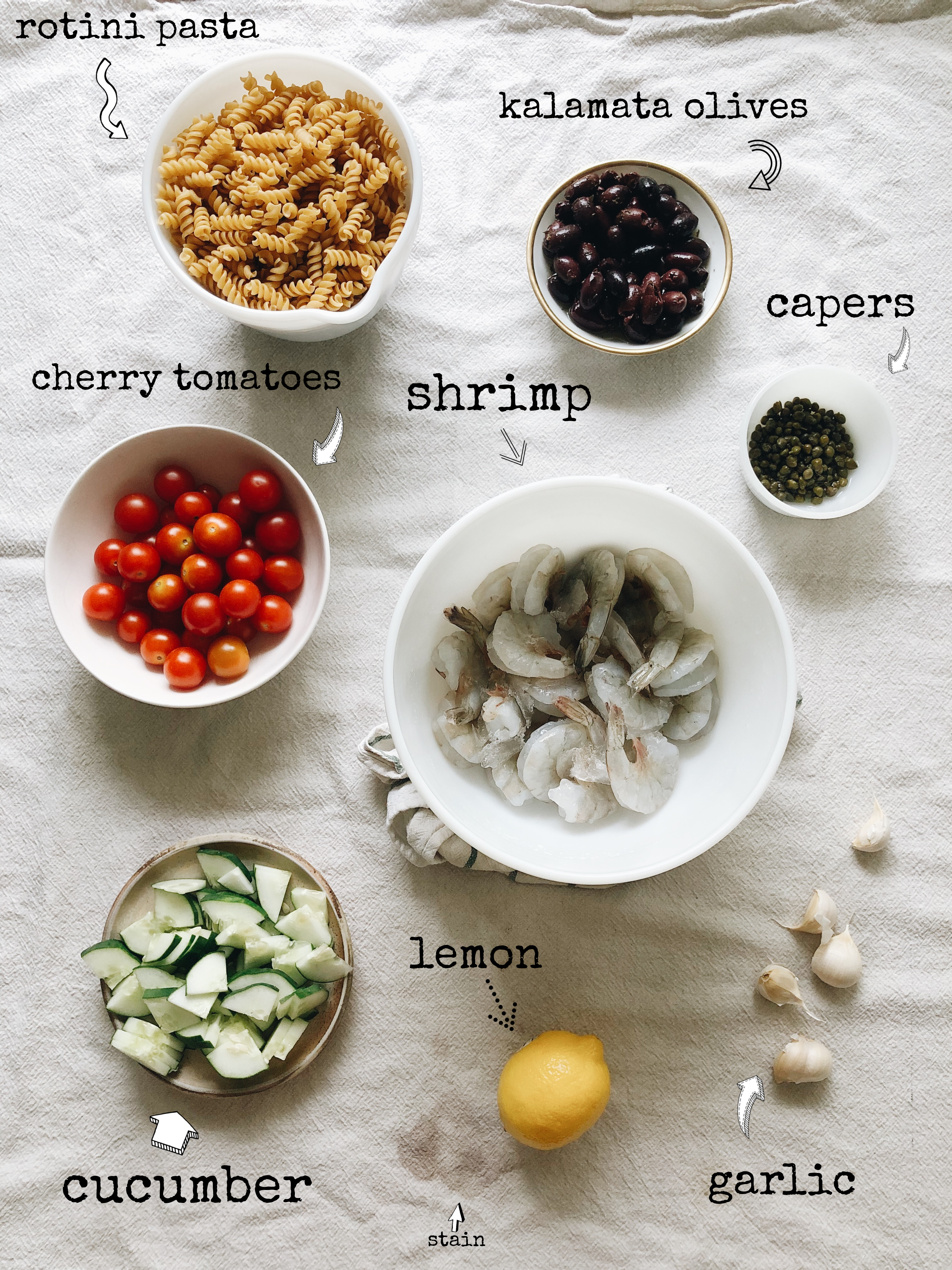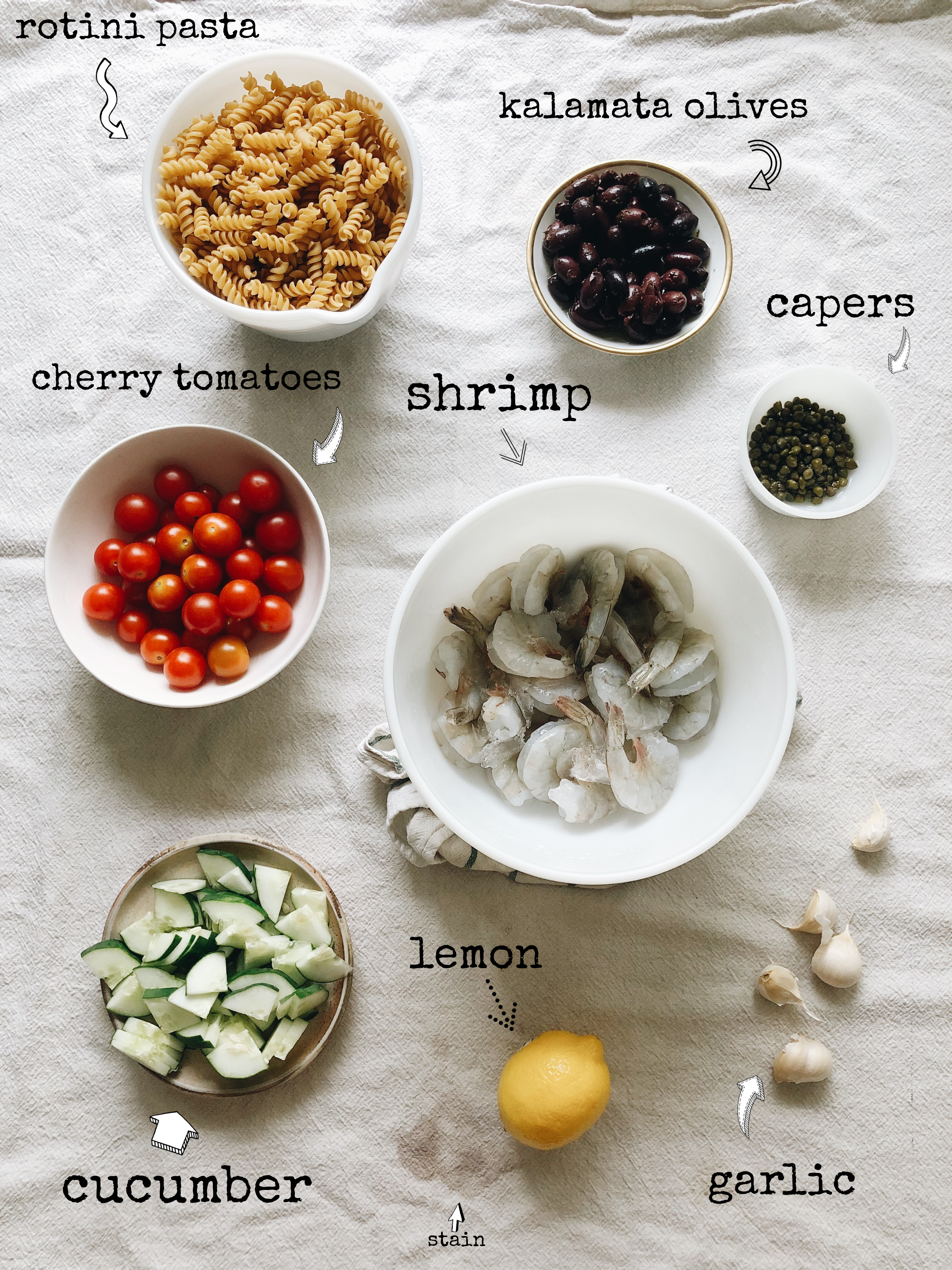 You can prep everything while your shrimp thaws. And do remember to buy RAW shrimp. There's nothing worse than misreading a bag and accidentally buying already cooked shrimp and discovering the repulsive hyper-pink sponginess once it hits the pan. Not that this has ever happened to me. I think I read about it once in a novel or the newspaper.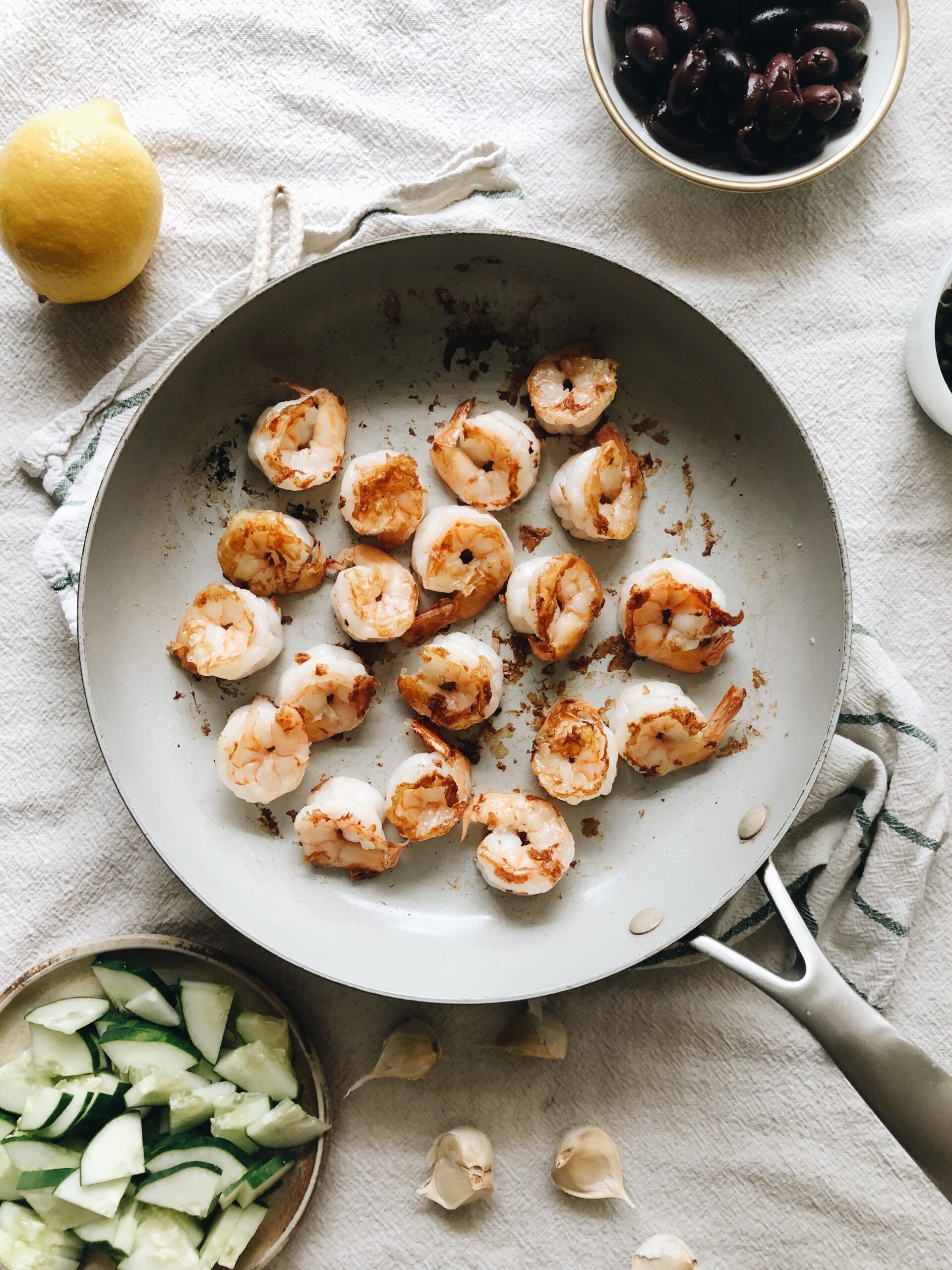 There's no real seasoning to the shrimp other than salt and pepper, because we've got so much flavor throwing down every where else.
Oh! And you can buy any size shrimp you want. I even think the teeny tiny ones would be stellar in this.
Sear those pups up. Both sides, char char. You know.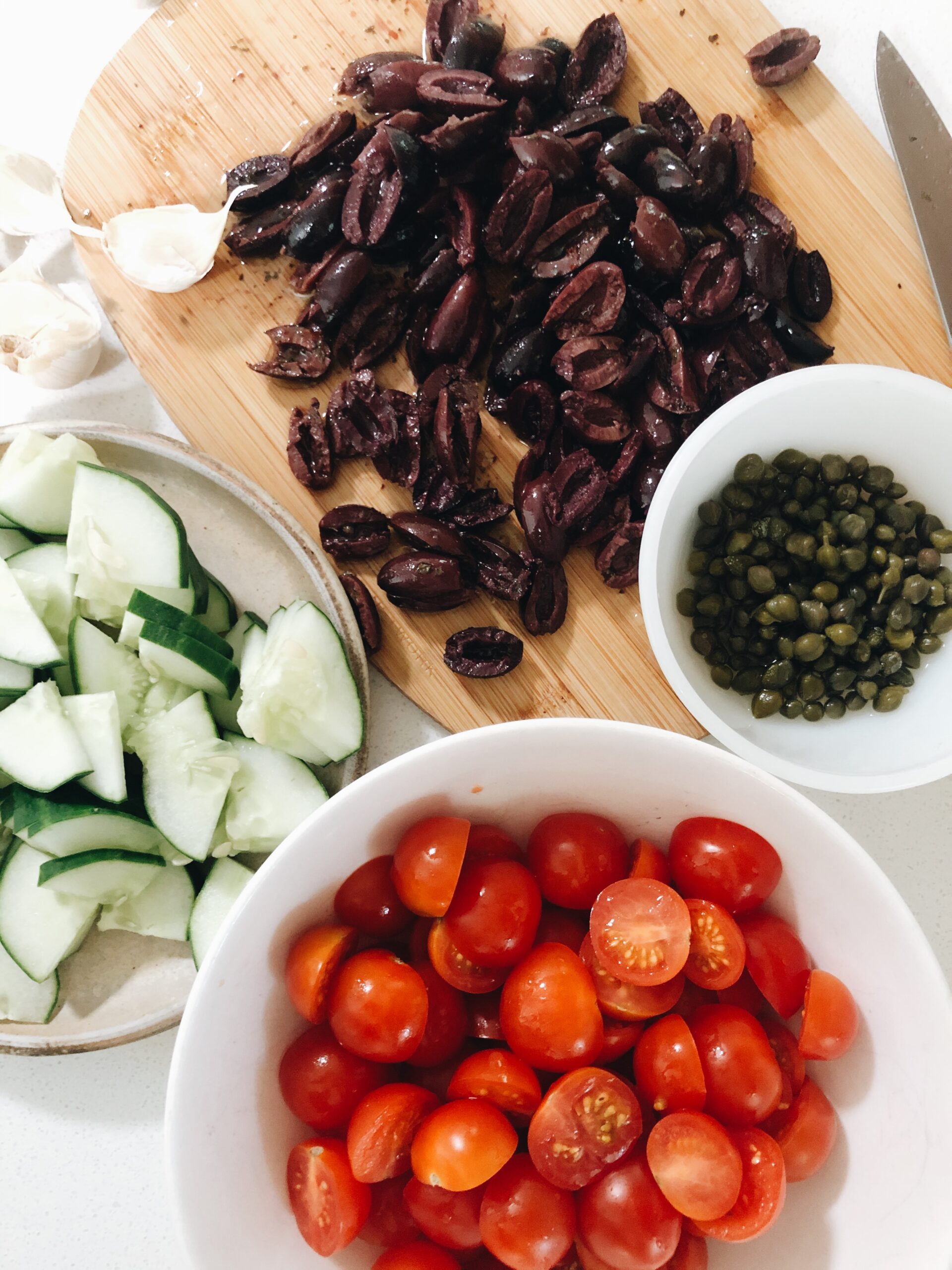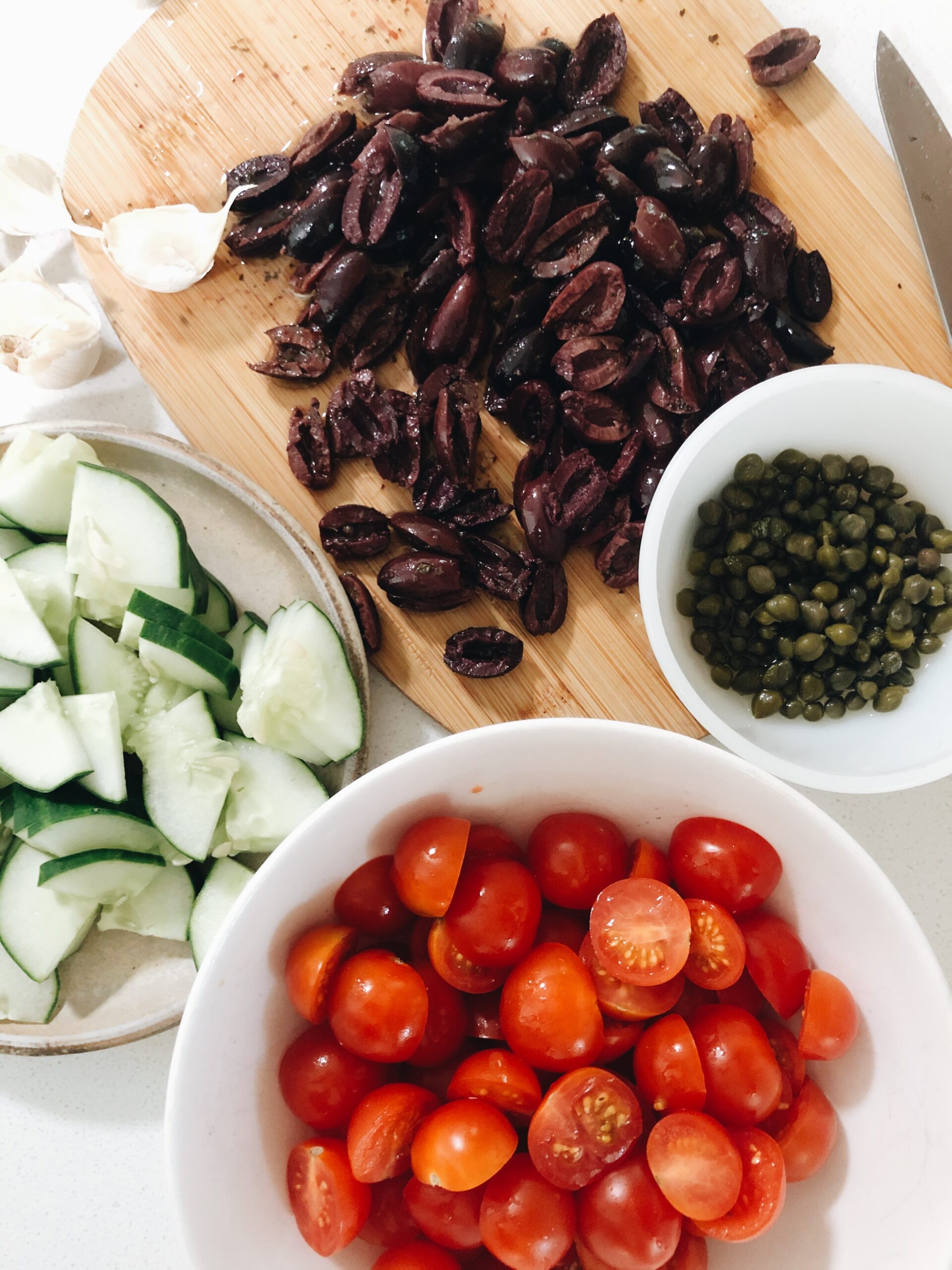 You'll just dice the cucumber, slice the cherry tomatoes and kalamata olives in half, and chop up your garlic. You might be thinking, "DEUM, Bev. That's a lot of garlic." I'm telling you, a) it's really not, and b) once it's sautéed in lots of oil with lemon and capers and evenly distributed throughout the pasta salad, it's not overwhelming. Swearsies. Shoot, add more garlic. I'll add more next time.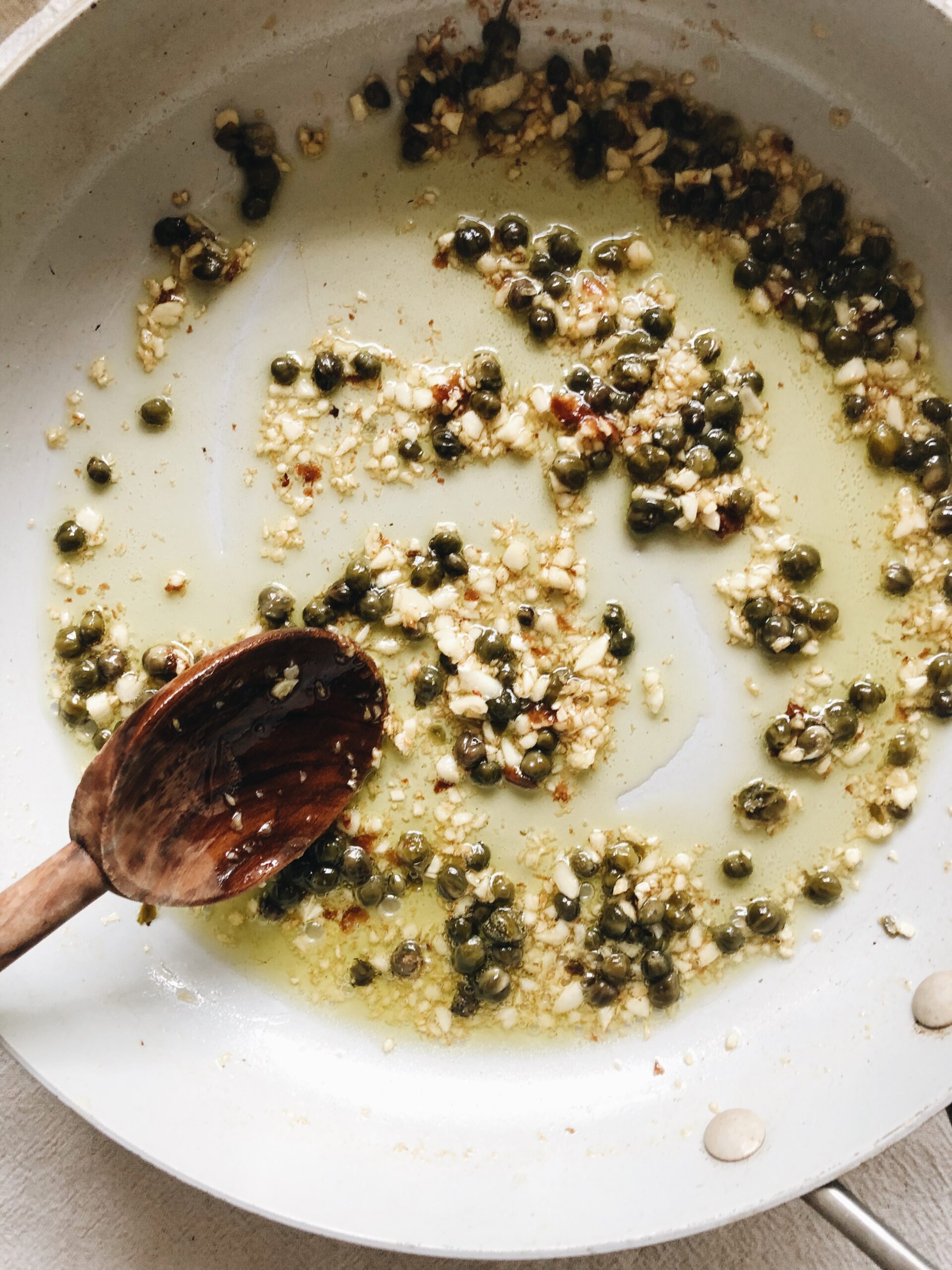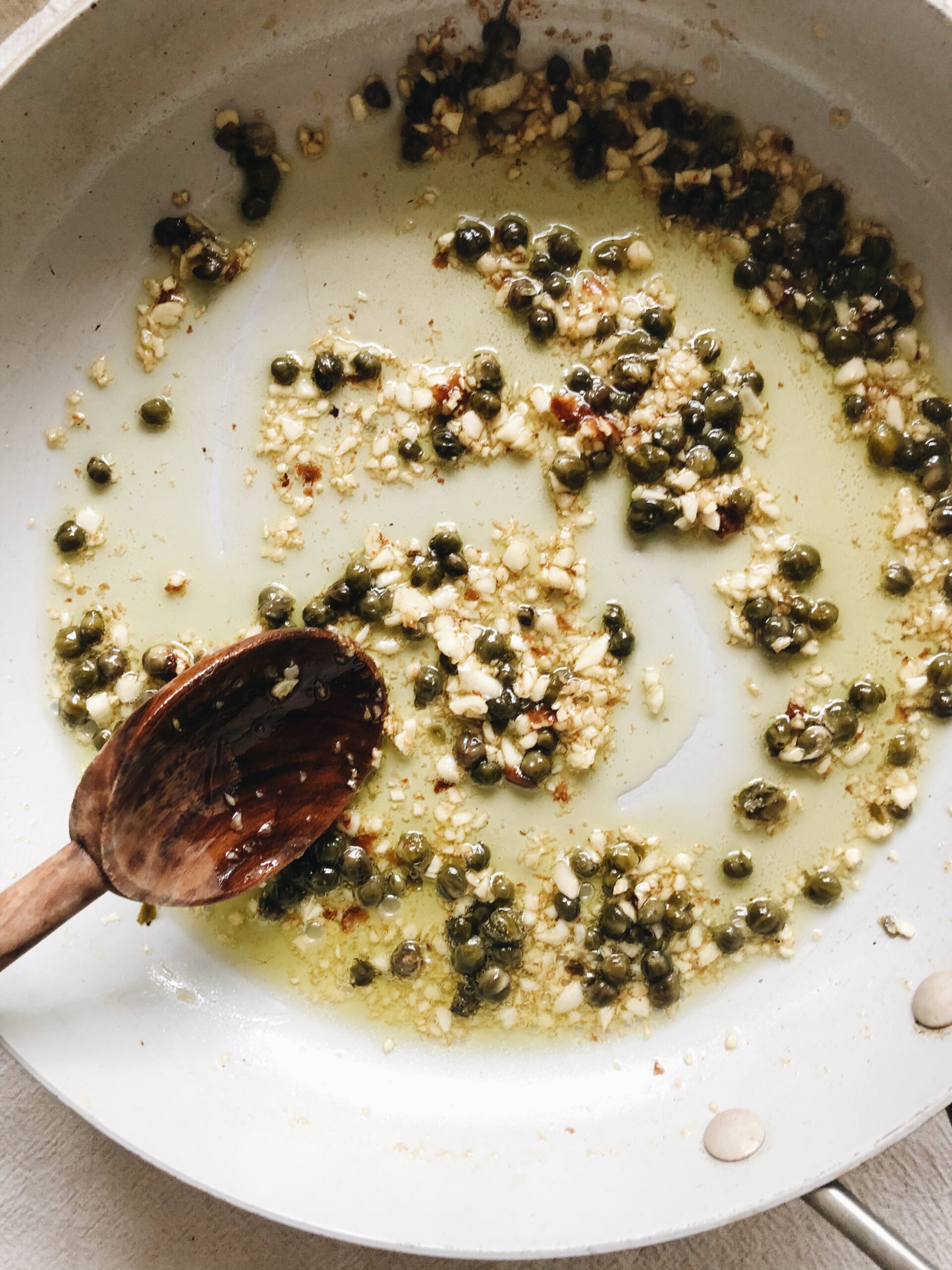 Because I mean, look at that. We could go for more.
And I'd say right here it gets a bit of a piccata flavor thing going on. Garlic + capers + lemon + browned bits. You can't not obsess over this.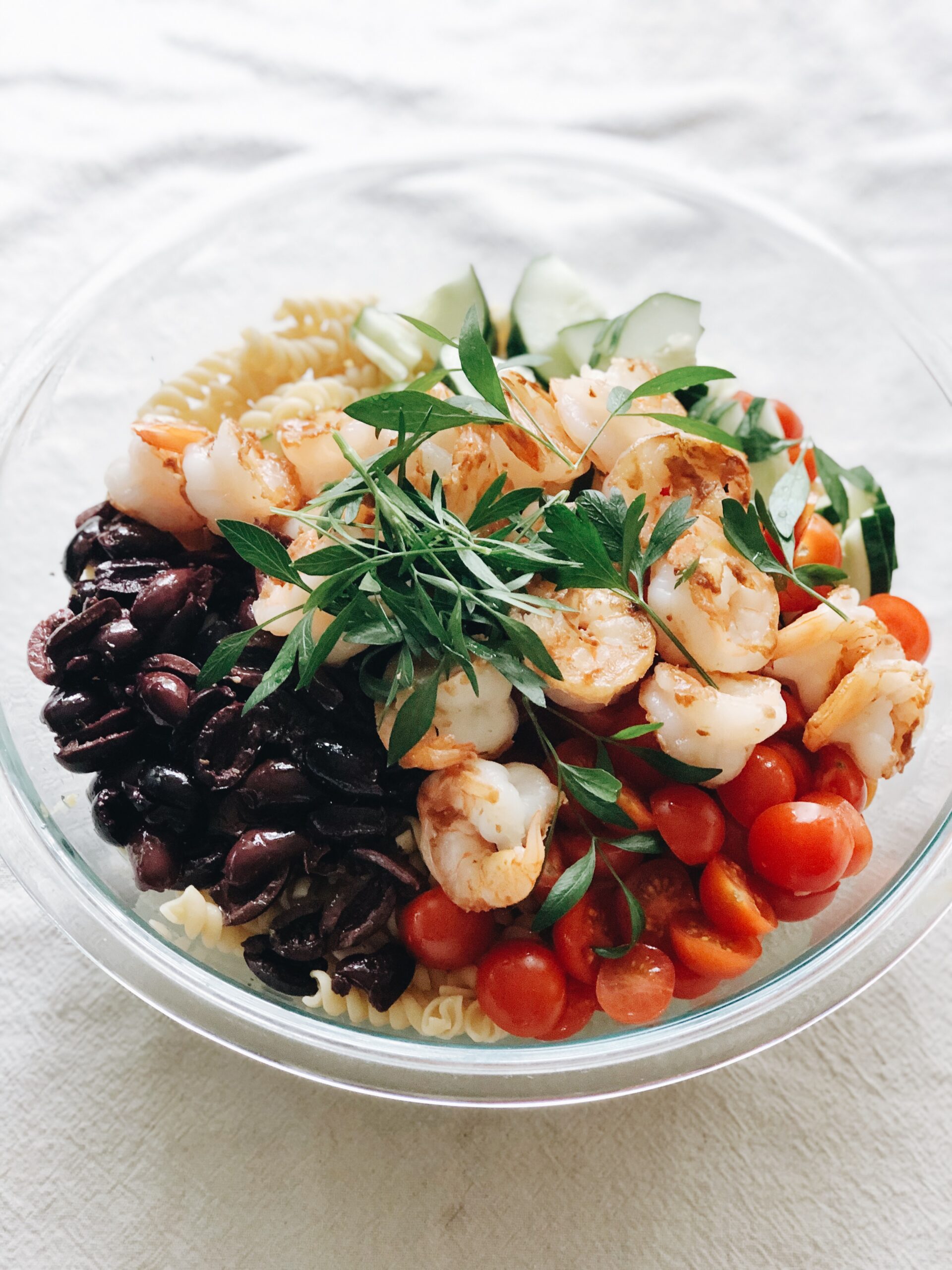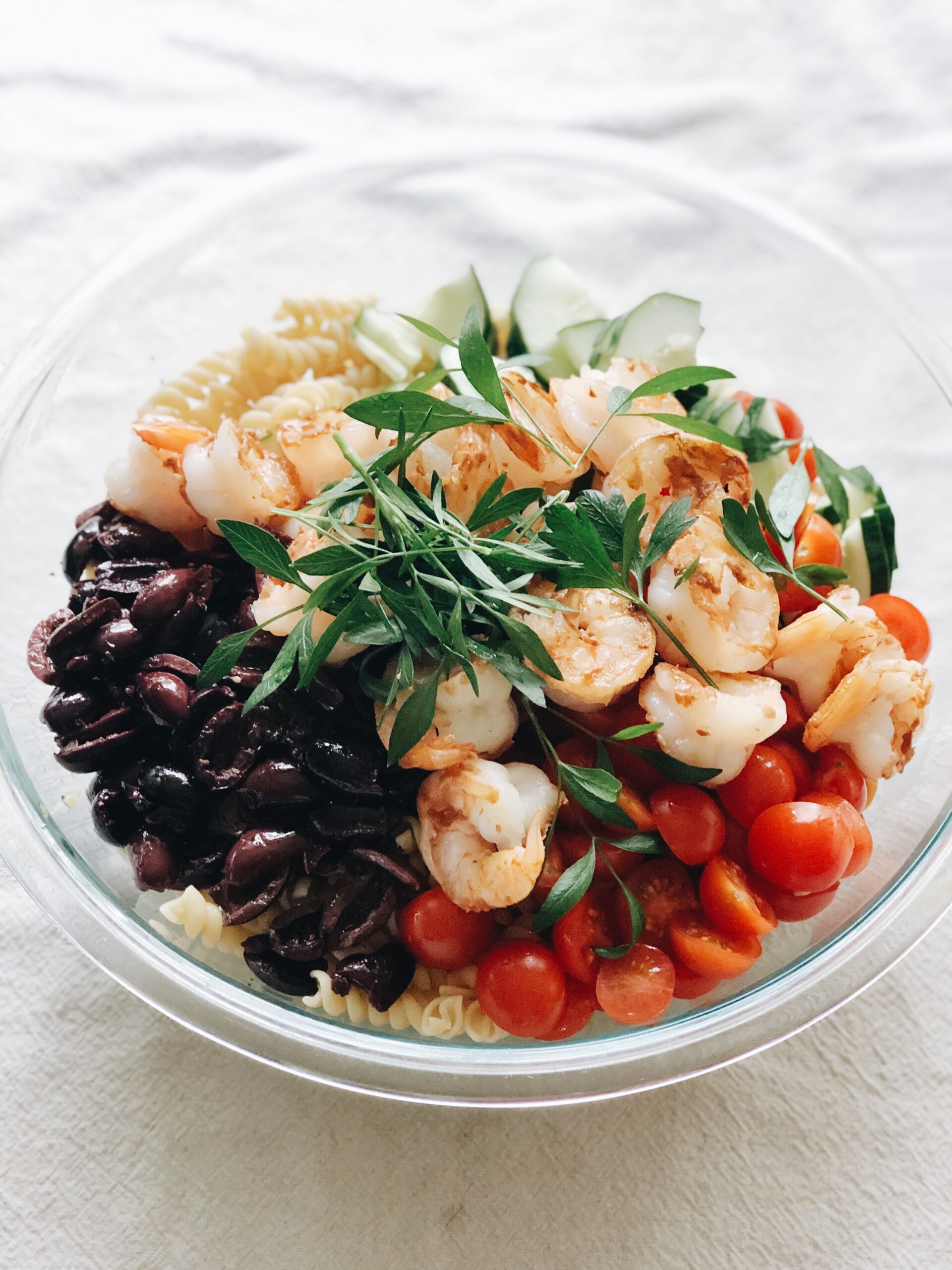 And then we honestly just toss it all together.
Oh! Pasta note: First of all, it can be anything you want in the whole world. Just keep it on the smaller size, since it's a salad. But rinse that cooked pasta under cold water until it cools. Which you know this already, I just feel like talking.
Hey! How are ya!? Tell me things!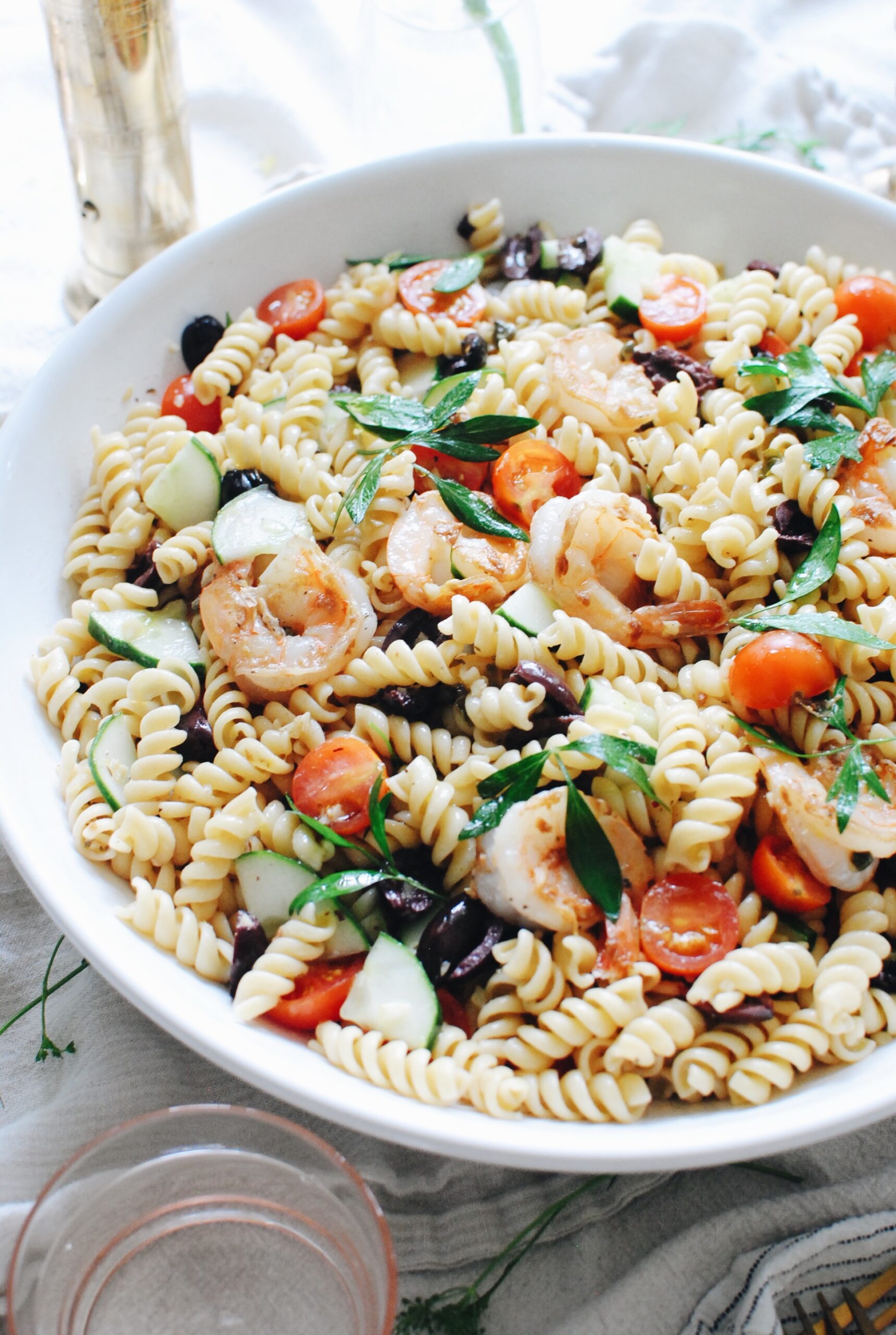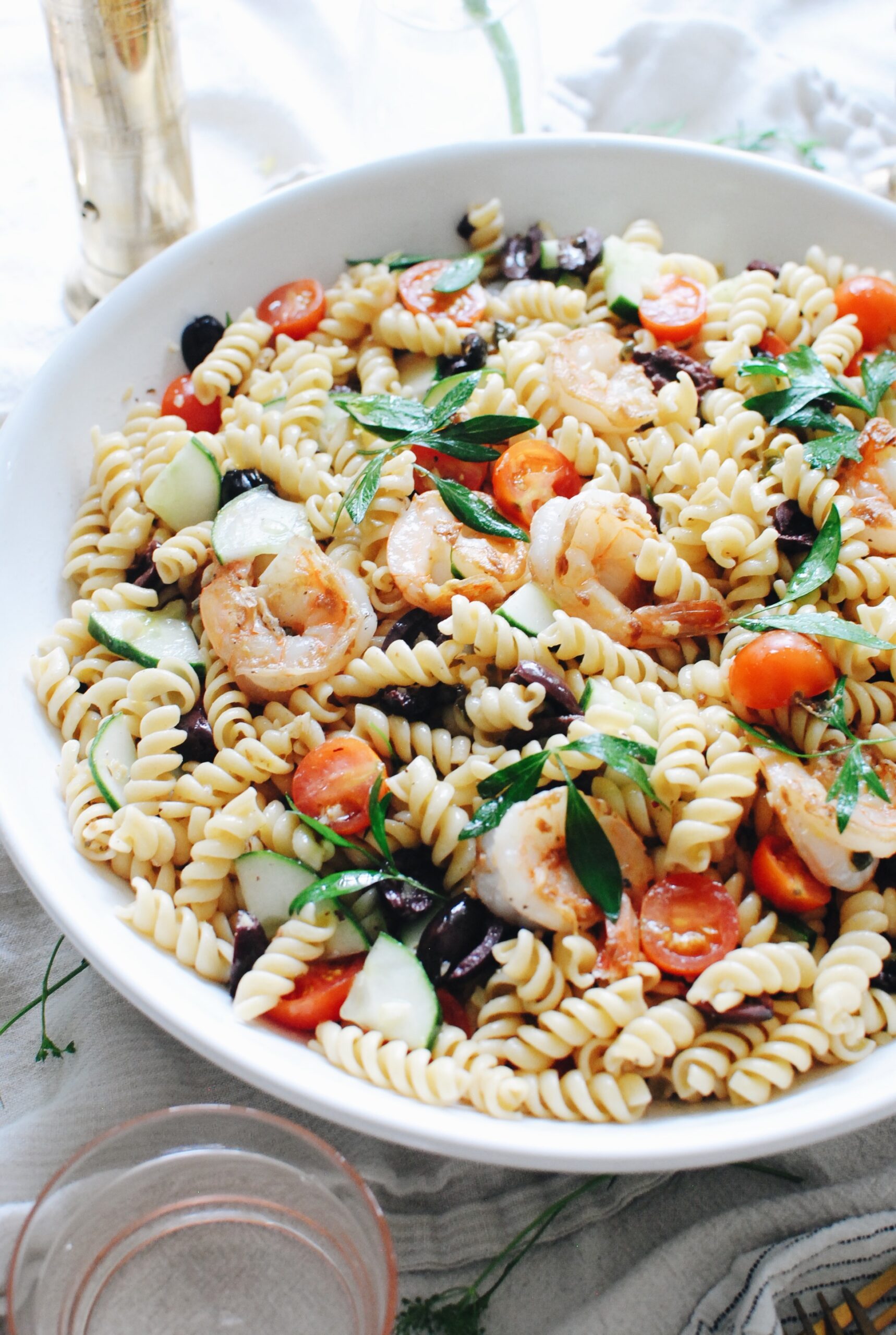 I don't even really need to explain the gorgeous texture in all this, do I?
Okay, you twisted my arm. Crunchy cucumbers with the juicy, tangy tomatoes and briny olives with the tender shrimp and al dente pasta? It's CRAZY GOOD. You'll need a good amount of olive oil, so get that ready.
The lemon juice really takes it far, too. You'll use the entire lemon, so expect nothing but greatness for your mouth.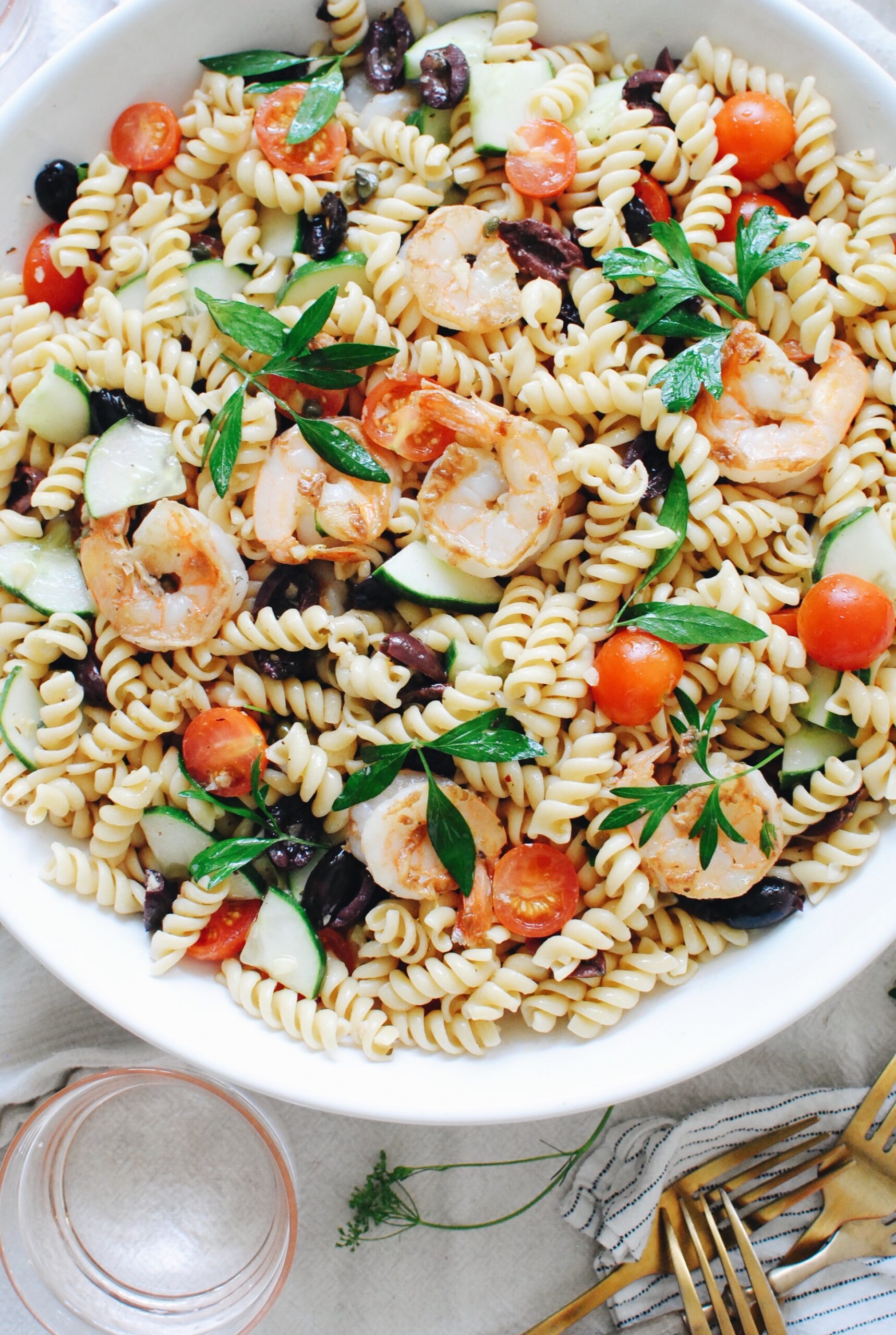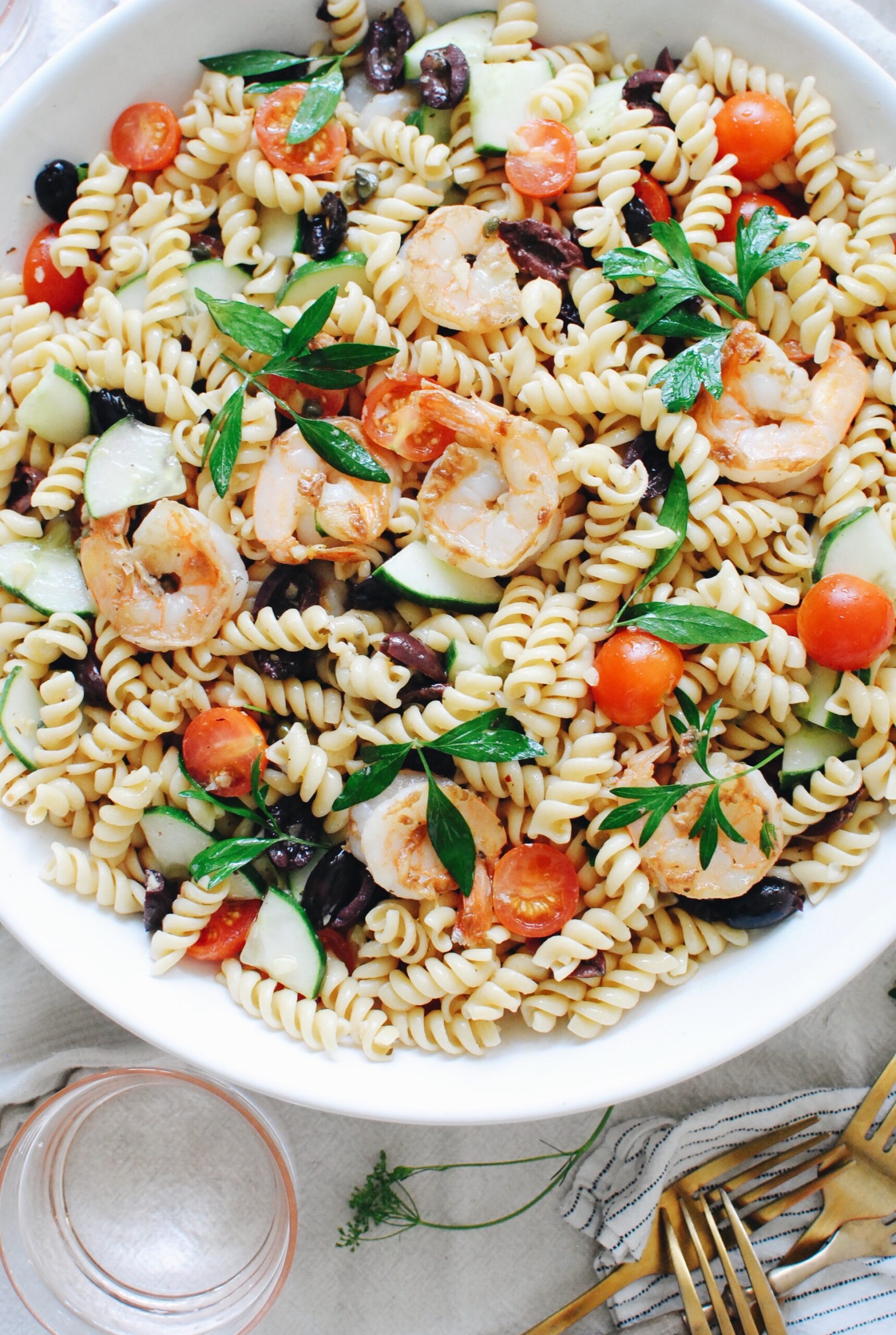 The olives and capers are going to add that robust salty flavor, and I can tell by the collective nod of heads felt in my heart that this was the correct life decision for us all.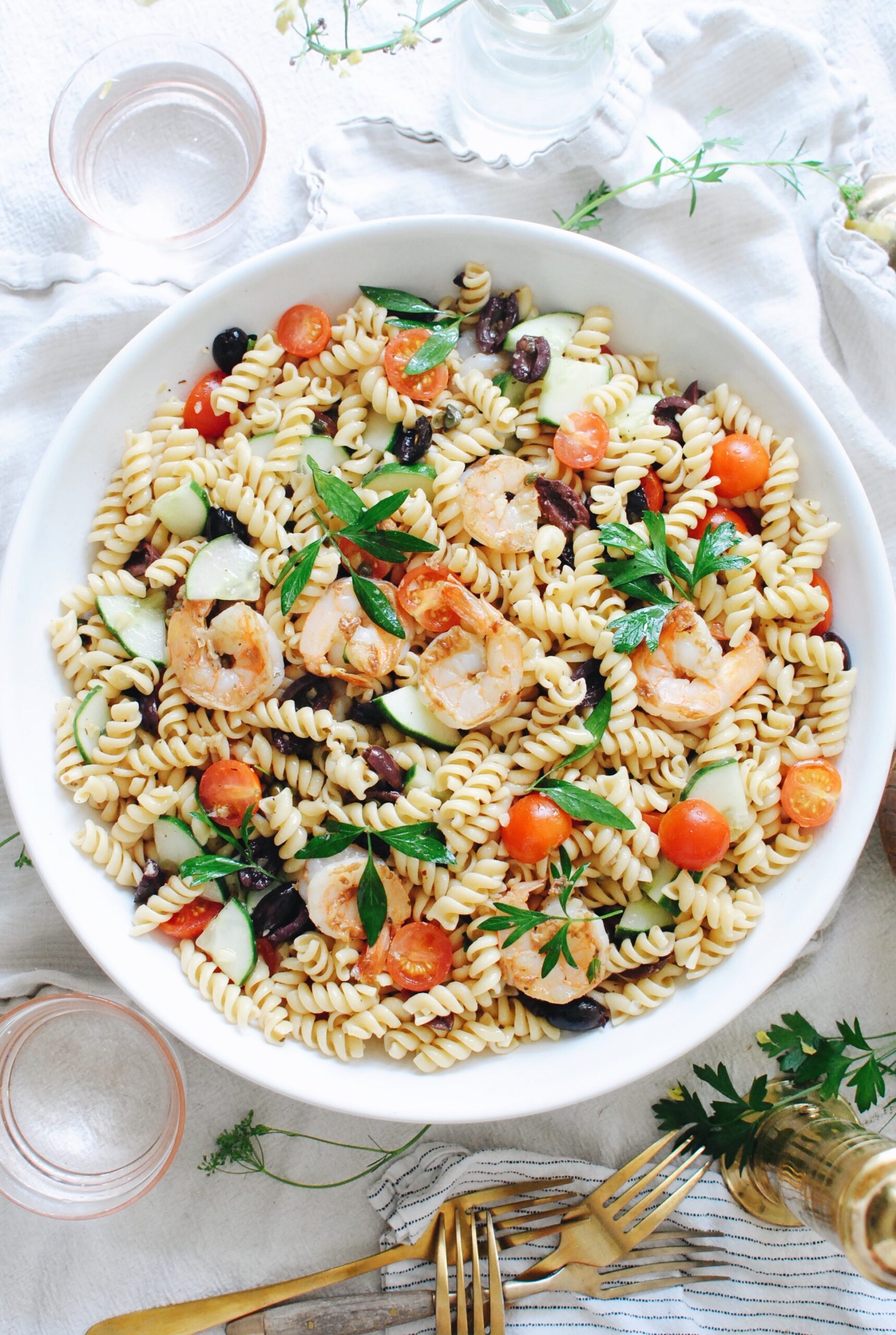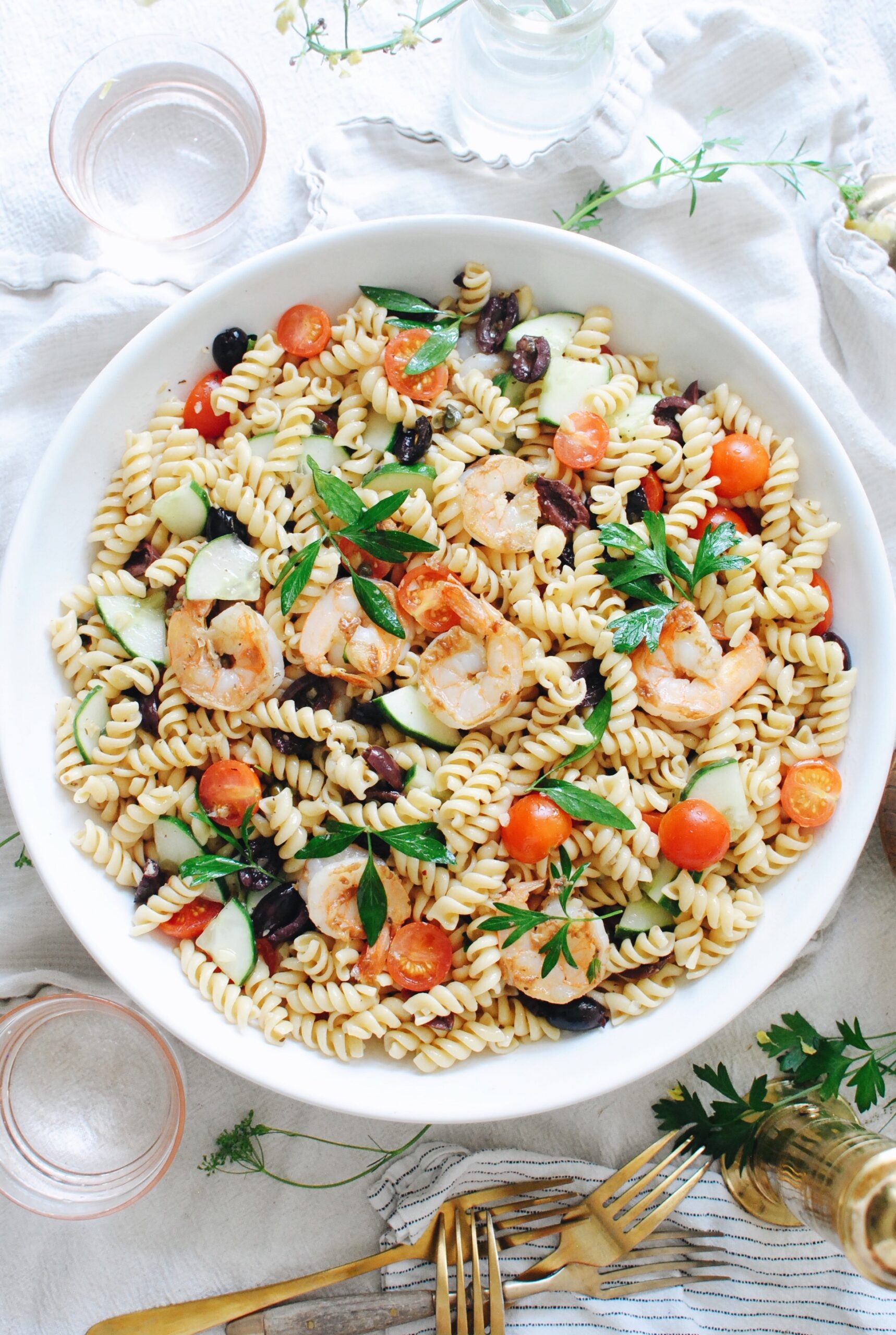 One of my favorite meals, seriously. There's so much vibrant freshness, so much bright, tangy acidity and complex umami-ness, I can't. It's perfect.
Look we're not to argue, this is perfect.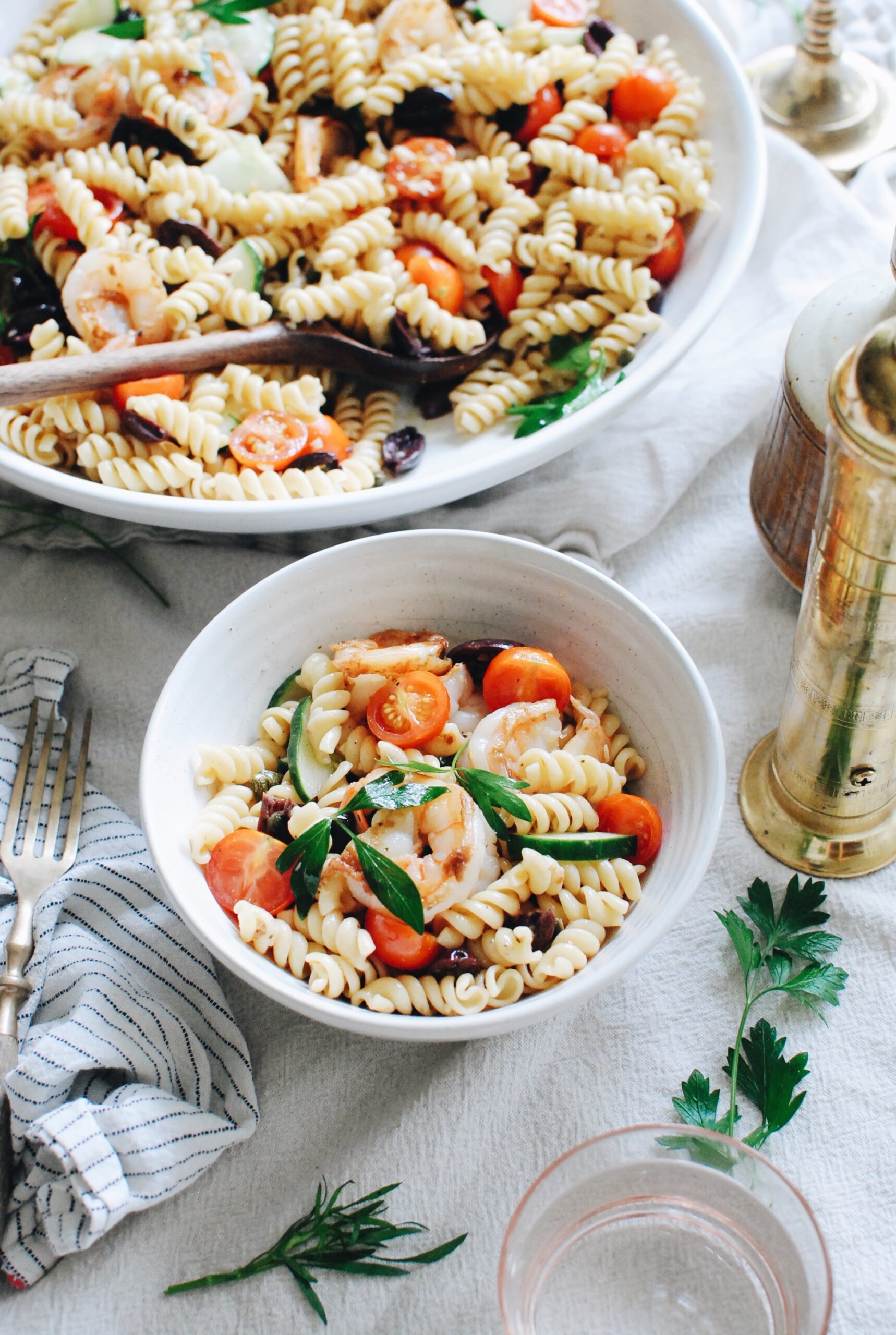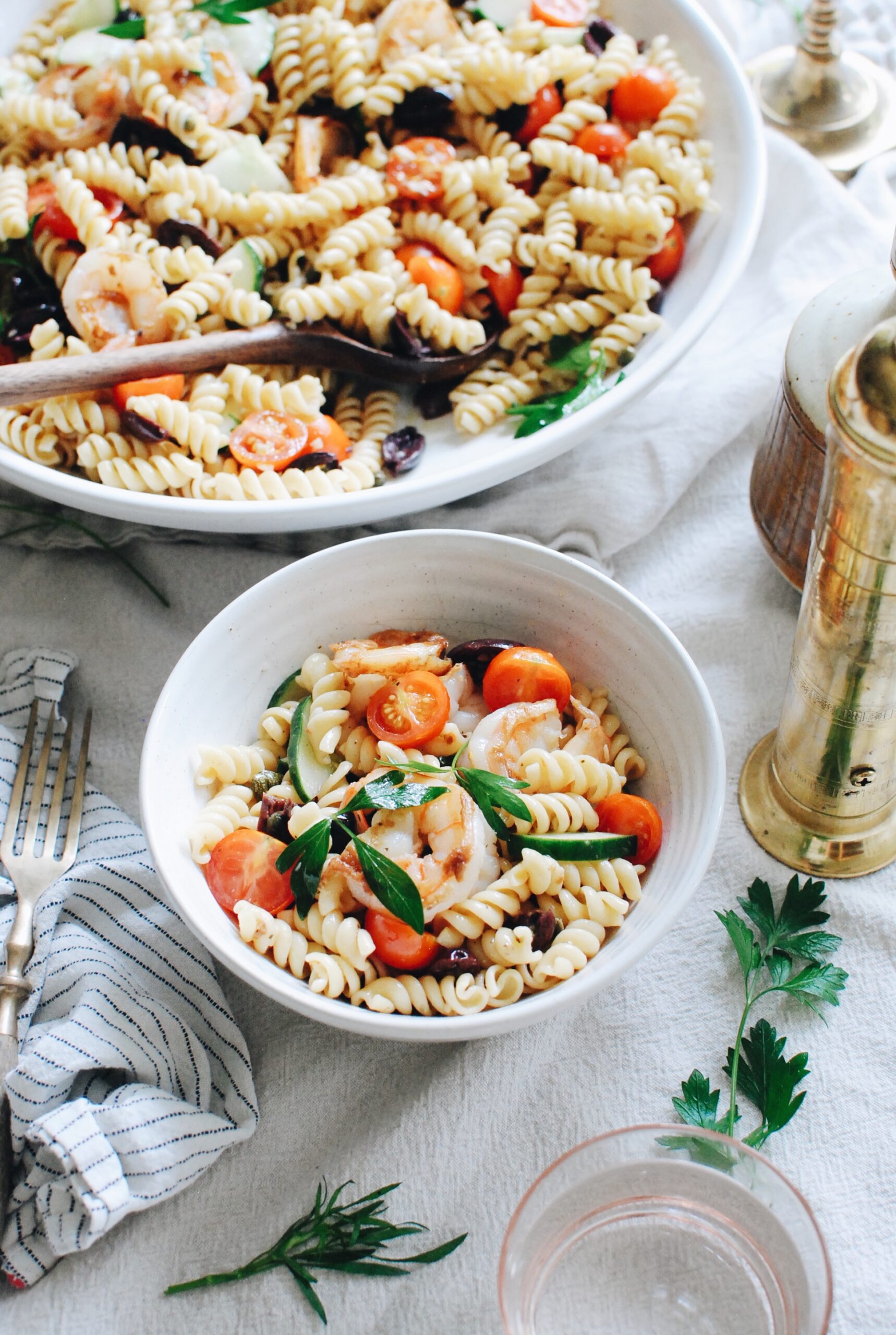 Labor Day casual dinner al fresca? Me thinks yes.
Ingredients
1 pound shrimp, thawed, peeled and deveined
1 (10 oz) container of cherry tomatoes, sliced in half
1/2 large cucumber, sliced
1 (7 oz) container pitted Kalamata olives, sliced in half
6-7 large cloves of garlic, finely chopped
2 Tbs. capers
1 lemon
6-7 Tbs. olive oil
14 oz rotini pasta (a pound is fine, too)
Fresh parsley, for garnish
Coarse salt
Instructions
Heat a Tbs. of the oil in a large skillet. Season the shrimp with salt and sear on both sides until you get a little browning here and there, about four minutes total. Remove the shrimp from the pan and set aside.
Back in the pan, add 2 more Tbs. oil, the garlic and capers. Sauté about a minute, until the garlic becomes very fragrant and begins to brown. Zest the lemon into the pan and stir to combine.
In the meantime, you'll boil the pasta until al dente (according to package directions) and rinse under cool water until no longer hot.
In a large bowl, combine the pasta, seared shrimp, tomatoes, olives, cucumbers, the garlic caper sauce, juice from the lemon, and the remaining 2 Tbs. oil. Season well with a large pinch of salt (after you taste!), and garnish with plenty of parsley. Divine. You will see.
Serves 4!
7.8.1.2
449
https://bevcooks.com/2020/09/greek-shrimp-pasta-salad/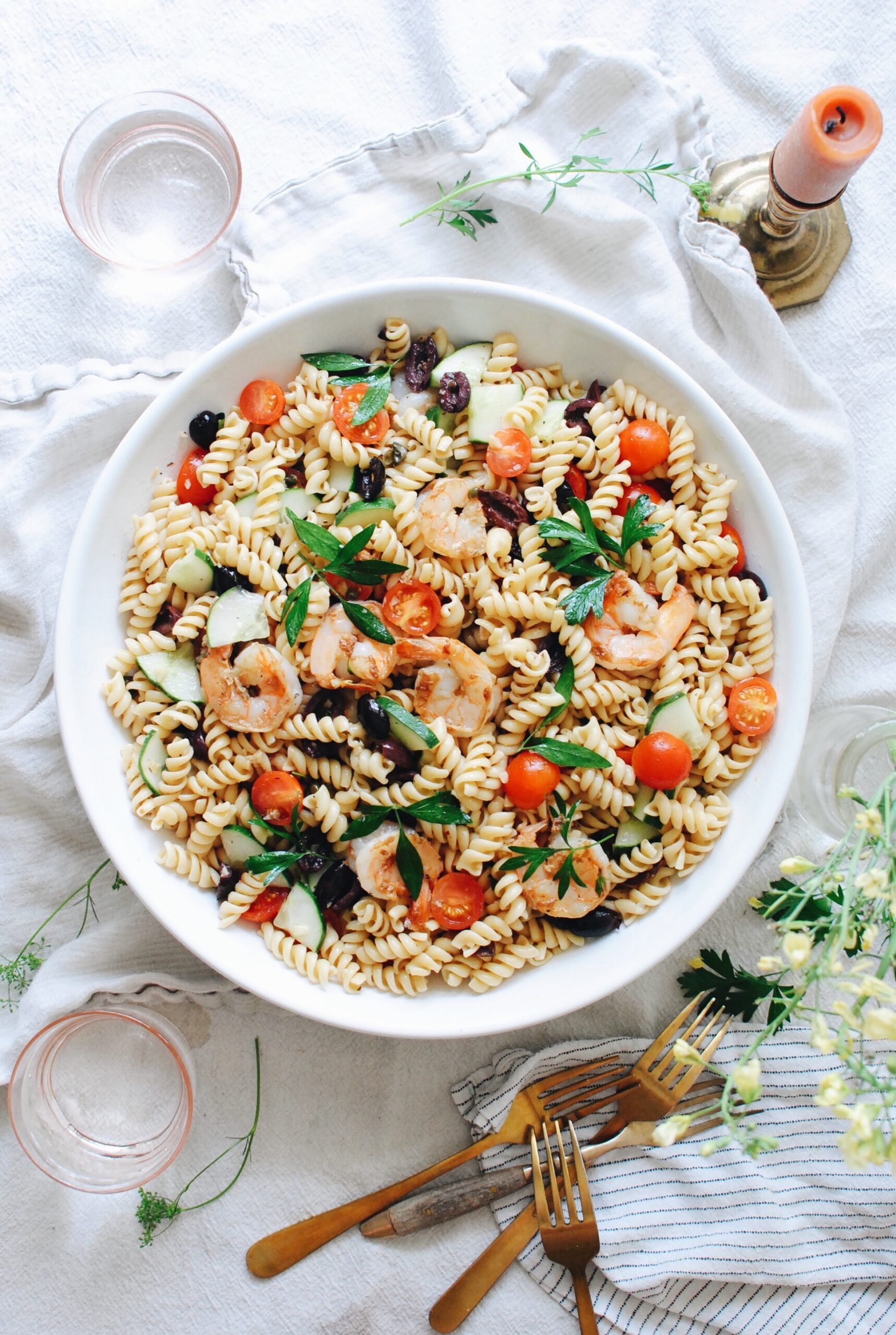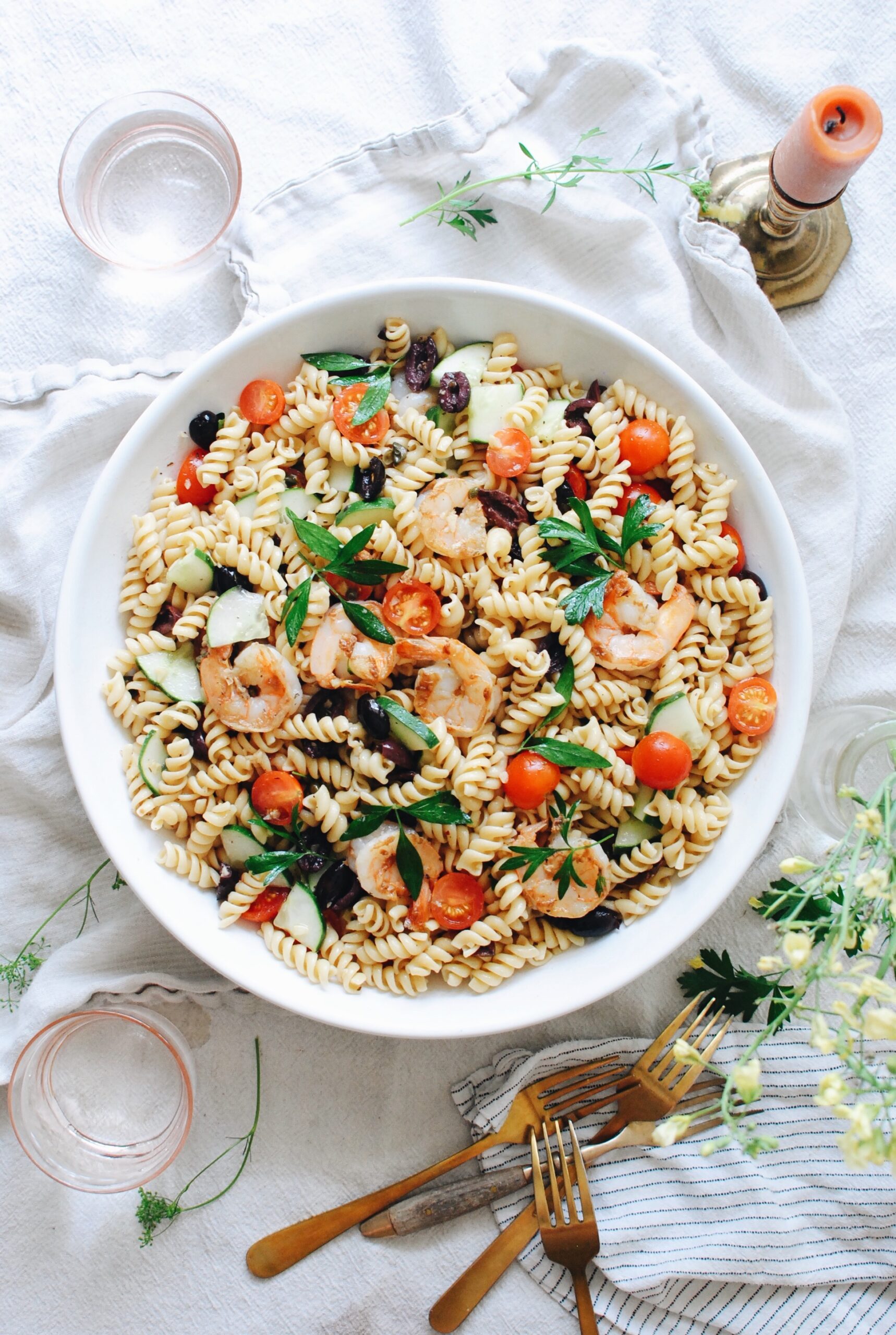 Ooooo maybe some fresh parmesan on top! Do that. Yeah, do that.