Well hello, lover. I didn't see you there.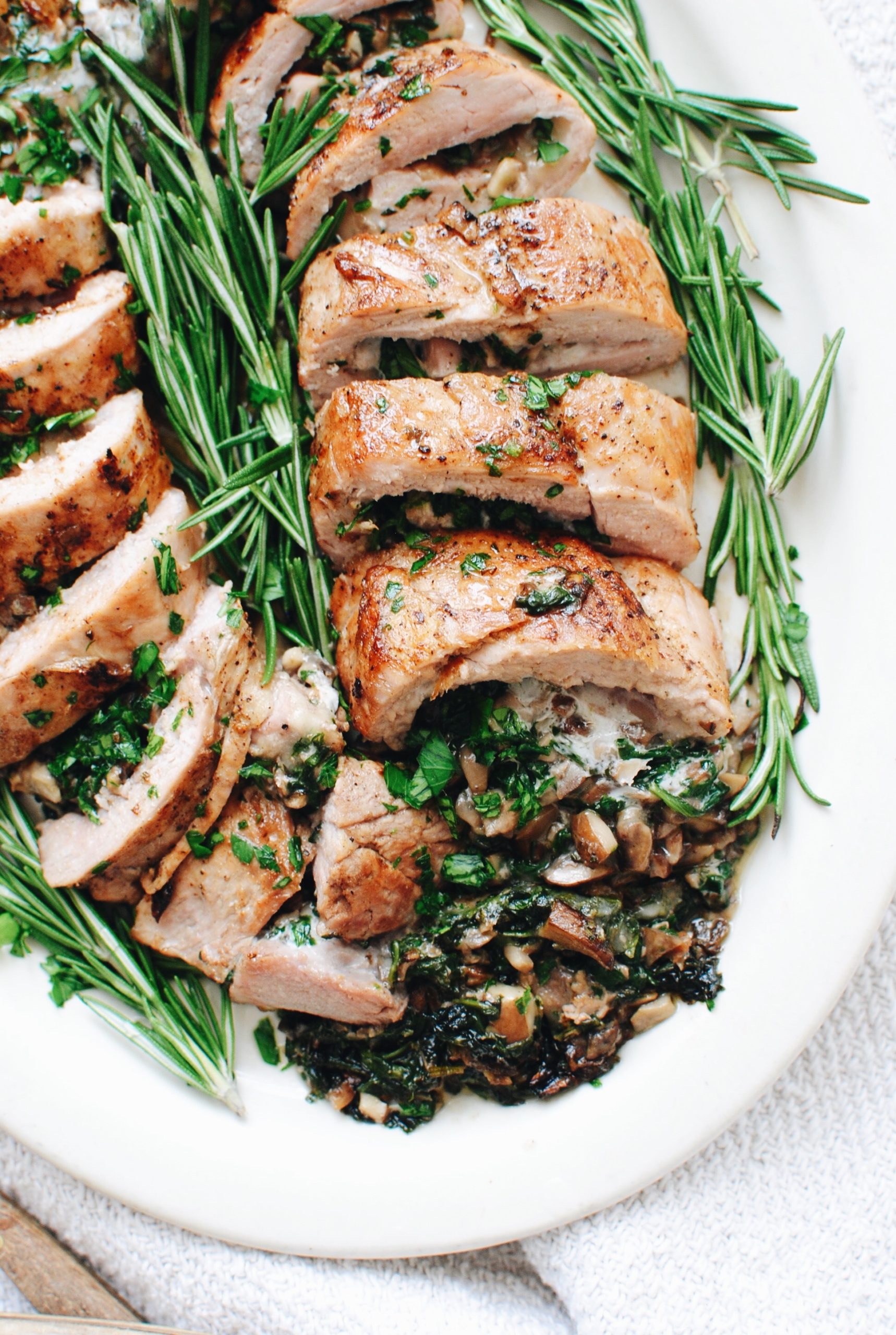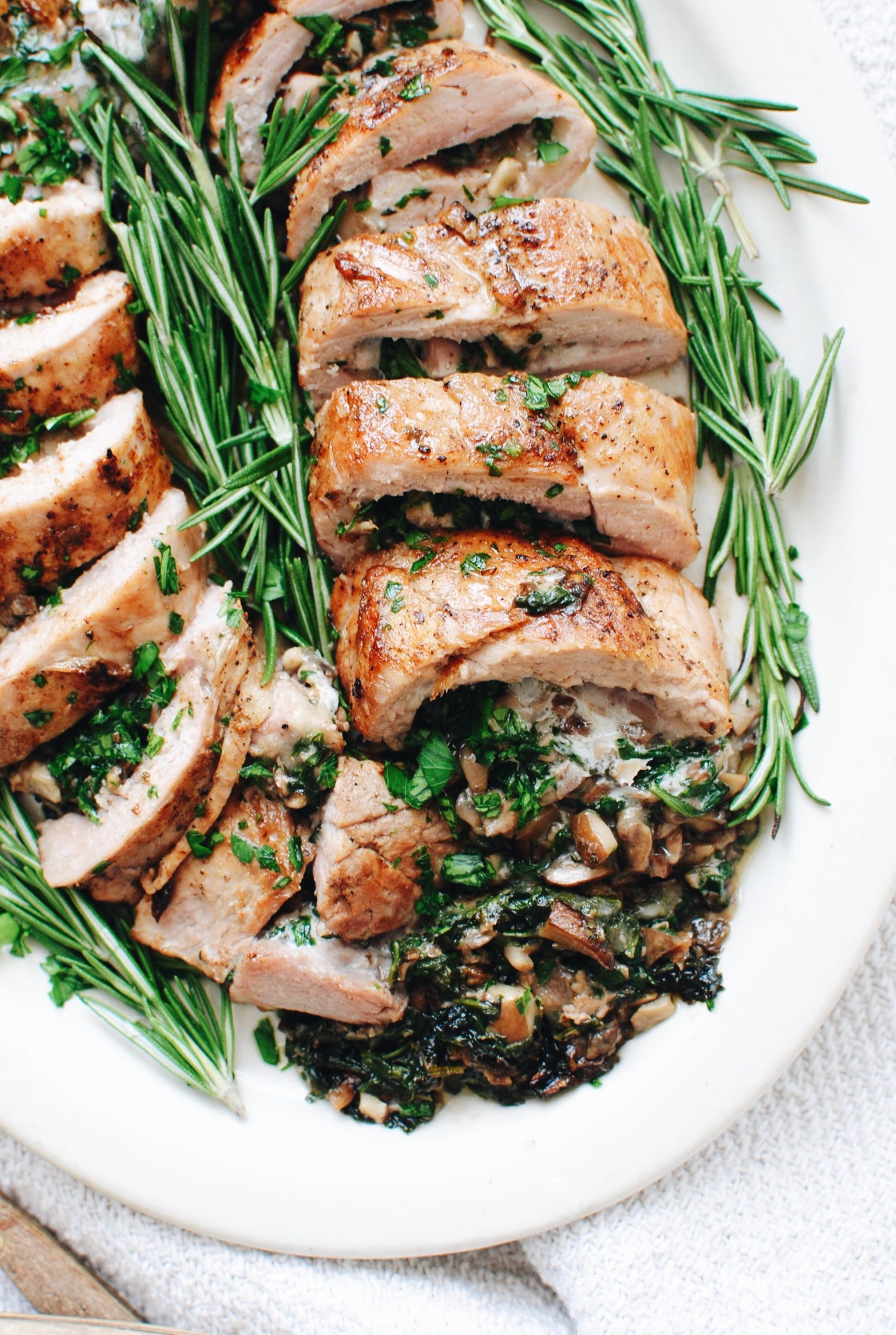 Actually I did because I made you, sobbed over you, photographed you, sang to you, snarfed you, edited you, uploaded you, placed you here and then seanced over you. But I still think you're sexy Lexie and I want to show you off.
Yes I'm talking to my pork, are we okay?
Guys I have your Christmas dinner planned! Let us peepeth.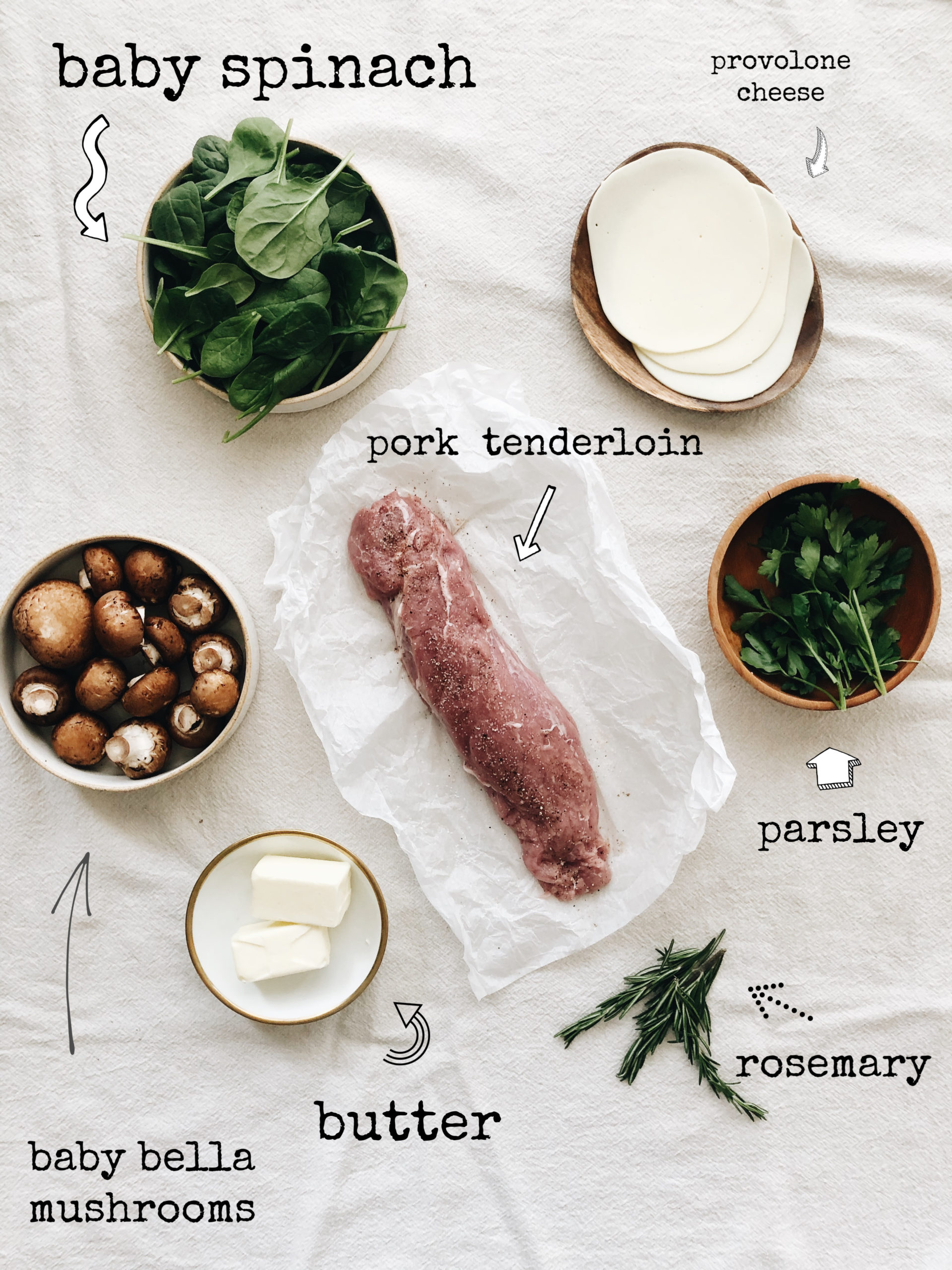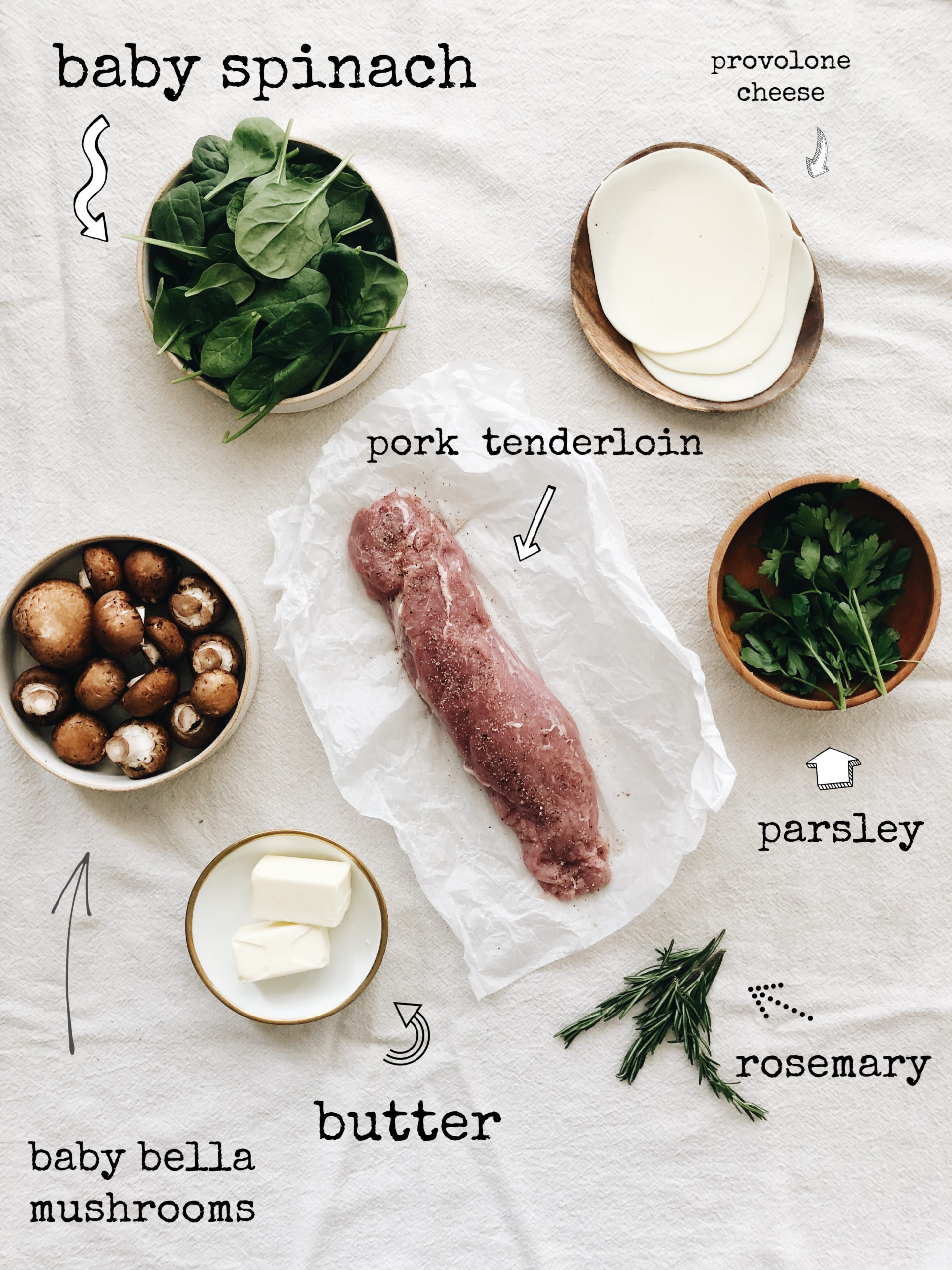 First of all, I'd like to take a moment and apologize for the painful raw log of pork I'm showing you. Pork tenderloins are not cute. Look, I'm in this with you. Let us have binding strength and get through this photo together.
That said, honestly look how non-intimidating this is! We're stuffing pork and searing in butter. And basting with more butter. But listen, not fake butter. Nothing in a tub or squirt can or armpit of an alien. No no, we're using REAL butter, a) because it's real butter and life was meant to be this way, and b) real butter performs better! It tastes better. It is better. It's real.
And it's the mega mama super star of the show with this recipe. Just you wait, 'Enry 'Iggins.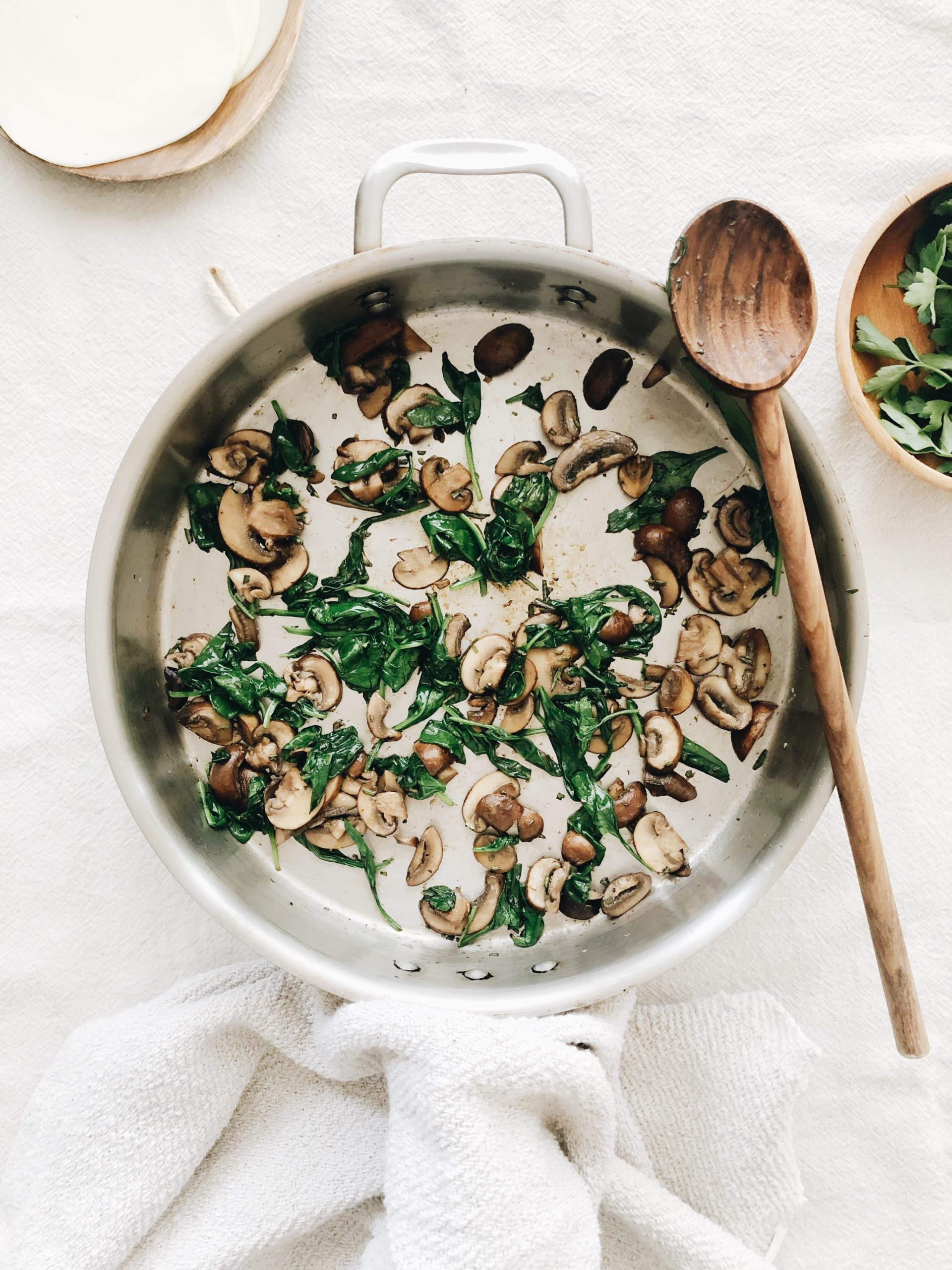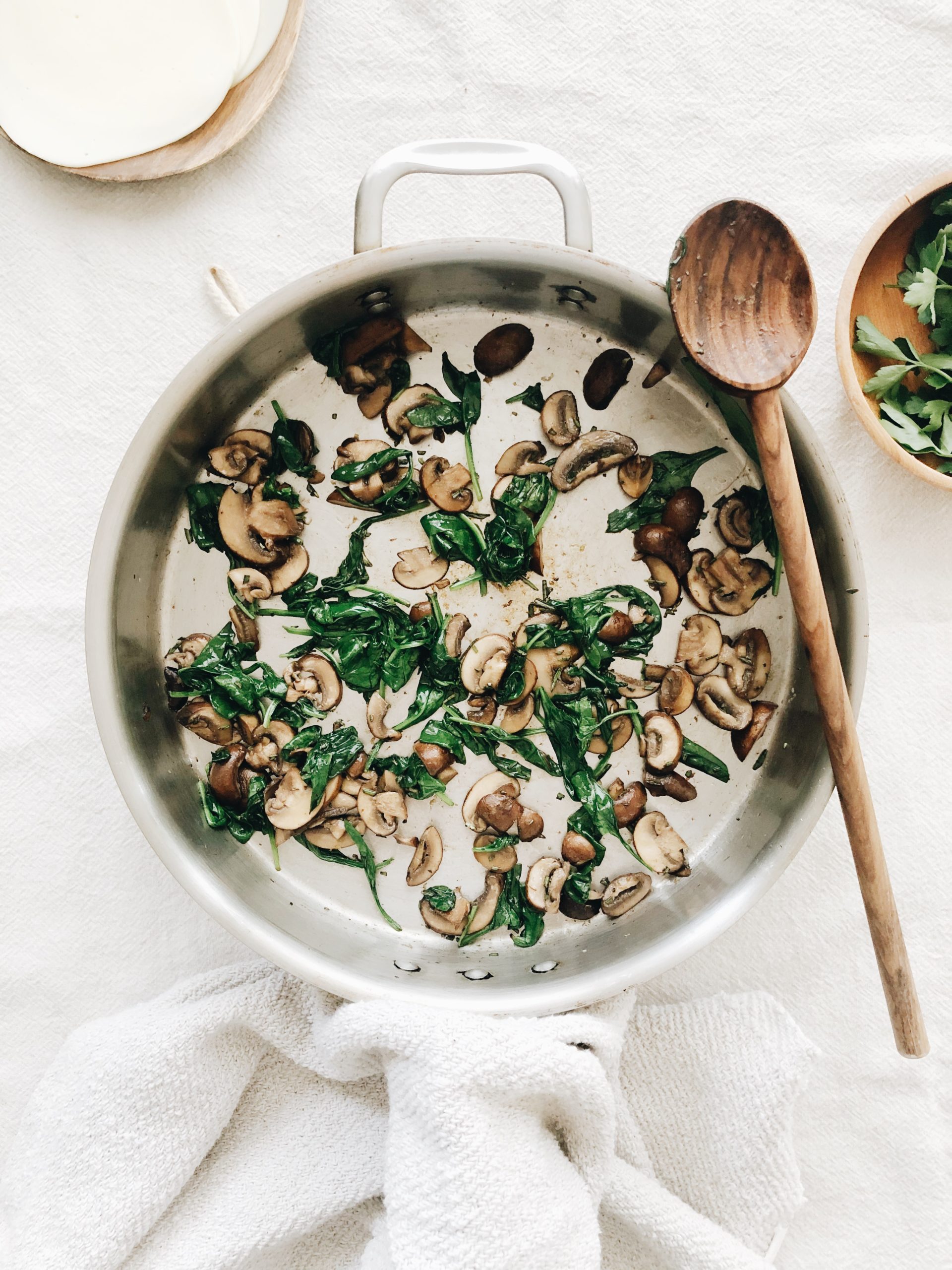 First up, we sauté mushrooms with freshly chopped rosemary and wilt spinach! In butter. Naturally. I did add a Tbs. of olive oil for the heat, but the butter is there to carry to flavor, man.
Just get the shrooms shriveled and brown in places, and get that spinach silky and velvety. Salt it a smidge. Dunzo.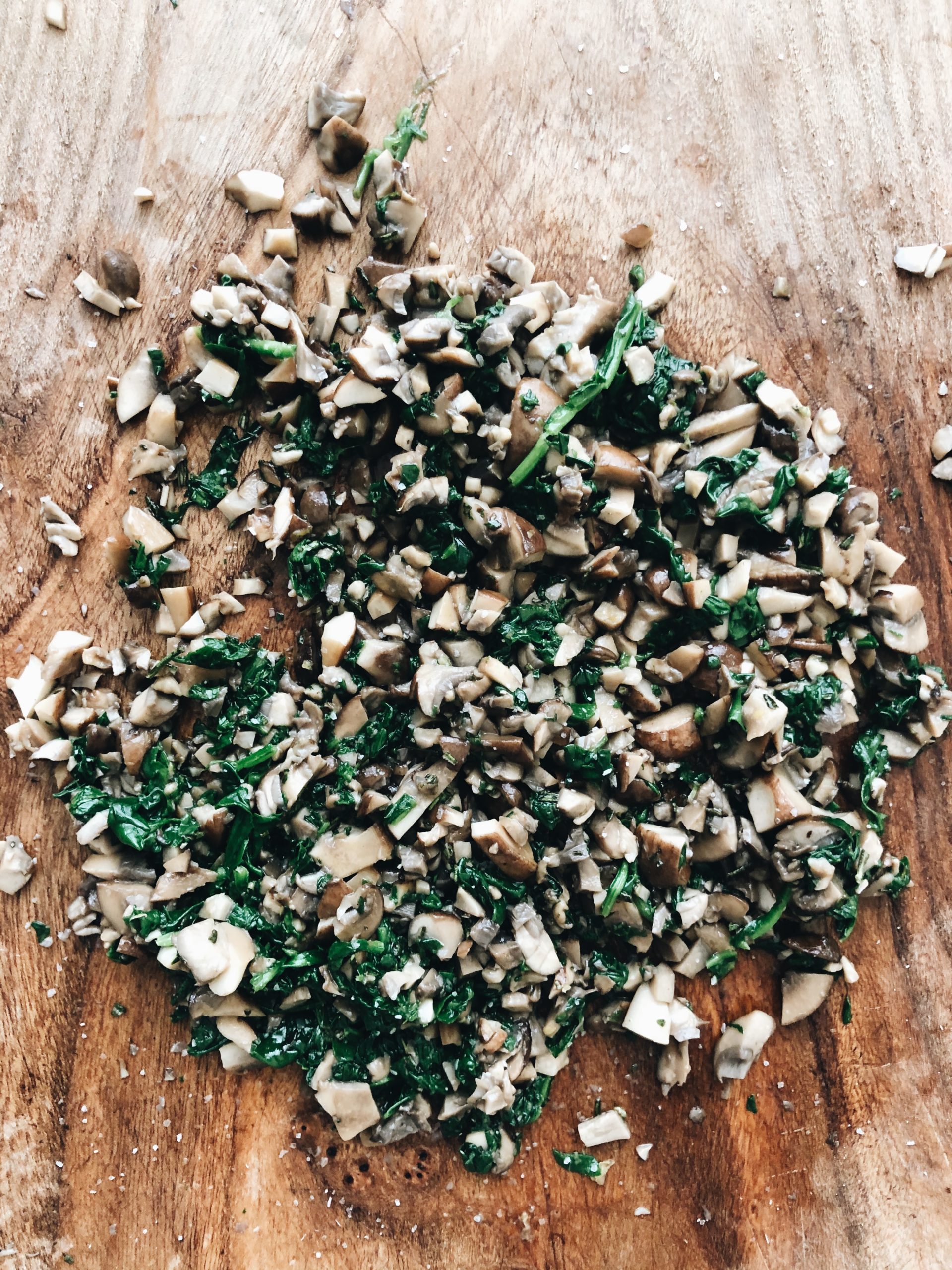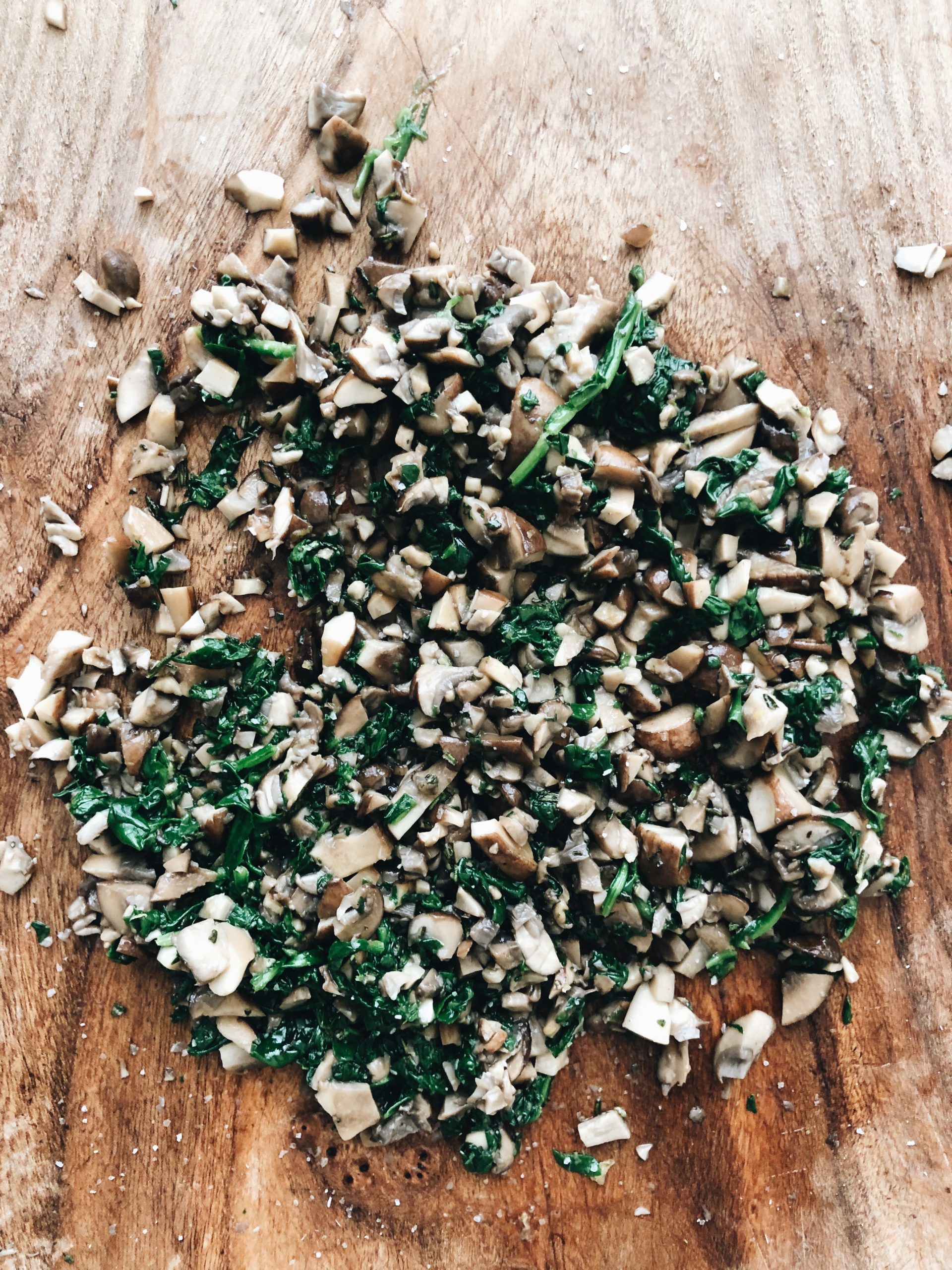 Next up, we chop! This is our filling, so make sure you really get it chopped way down. Almost like a mince. But seriously, George, take the time to get that knife through it multiple times. You want those bites tiny and delicate and delightful.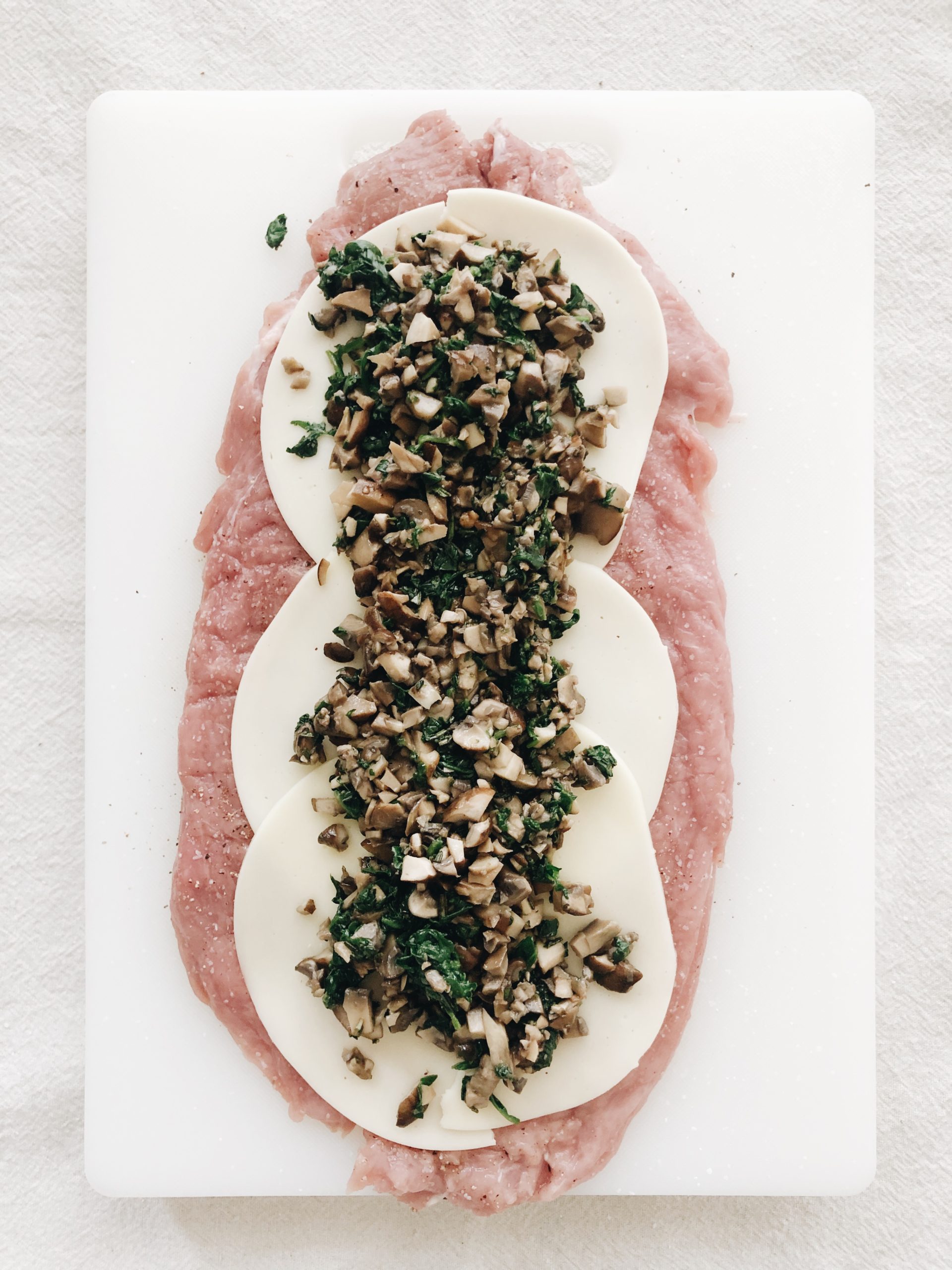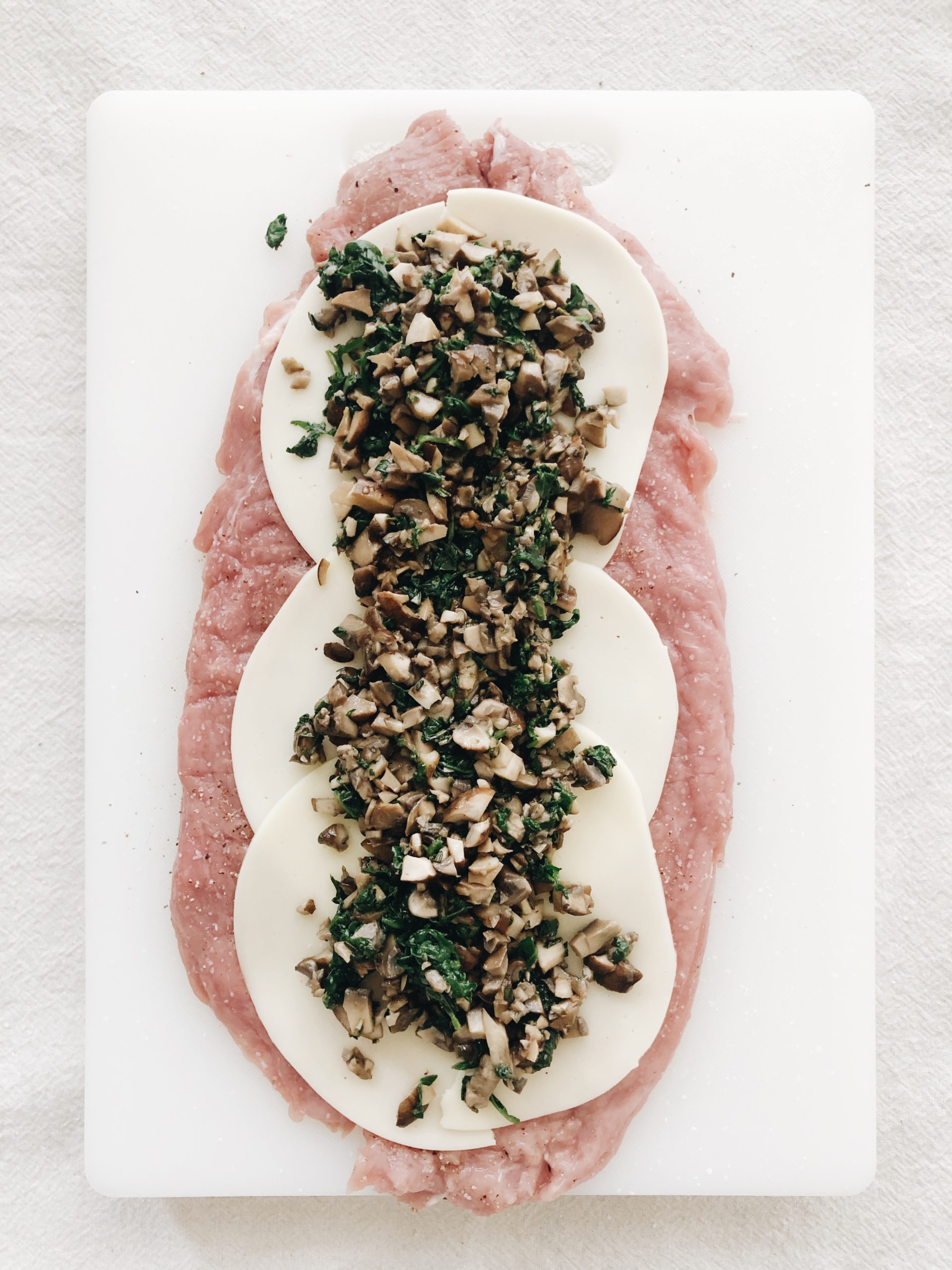 So theeen you'll take the pork and butterfly it. Meaning, you'll take a sharp knife and run it through the pork width-wise, but not all the way through! Slice through the center, unfold the pork like a book, lay it flat, put some plastic wrap over the top and pound it out as flat as you can. We're going to be rolling it up here in a sec with all our filling, so the flatter the better. Like my chest in high school.
Salt and pepper the flattened pork really well, then overlap three slices of provolone cheese down the center, along with the spooned filling on top. Look at that! We're not done.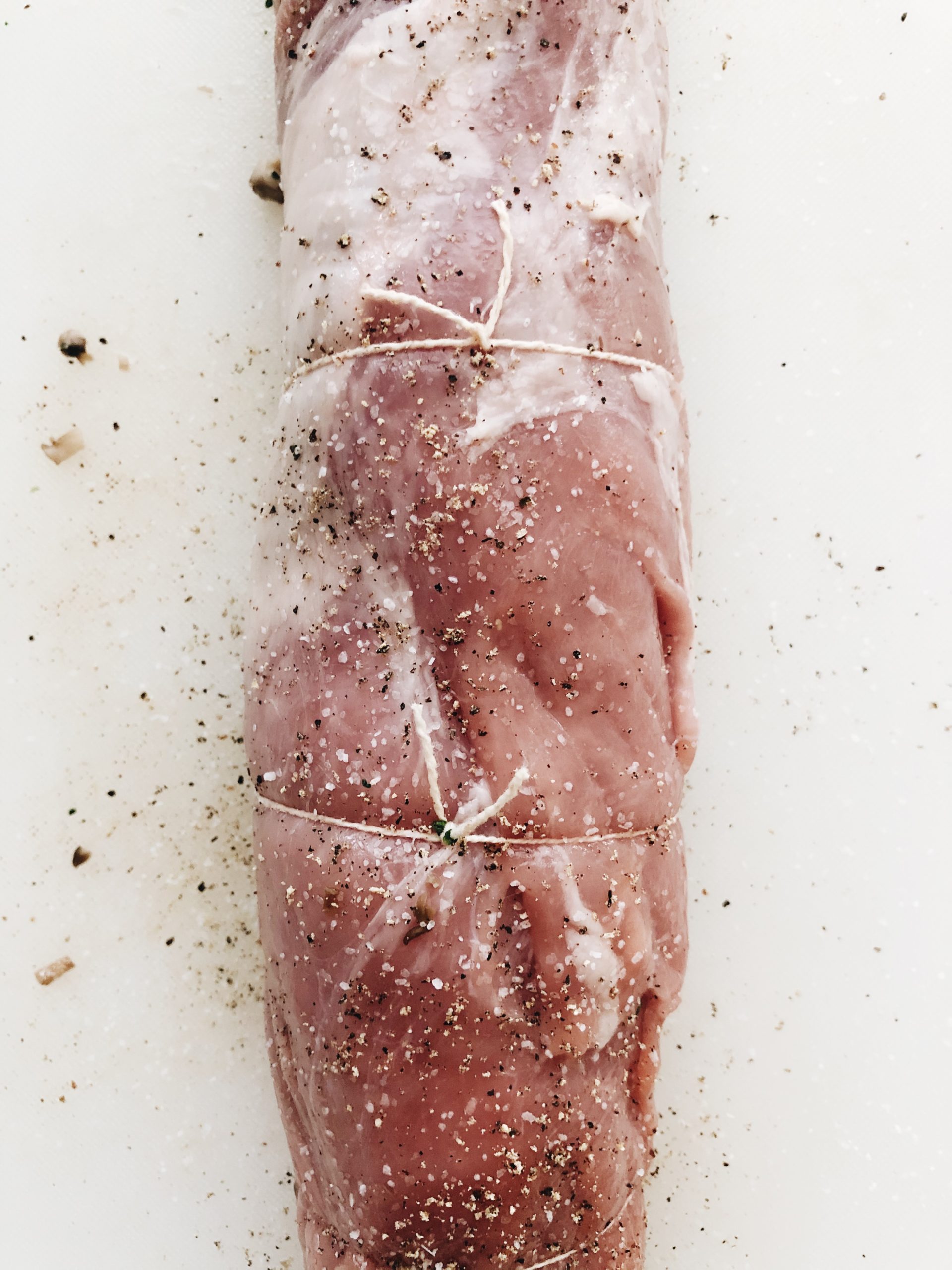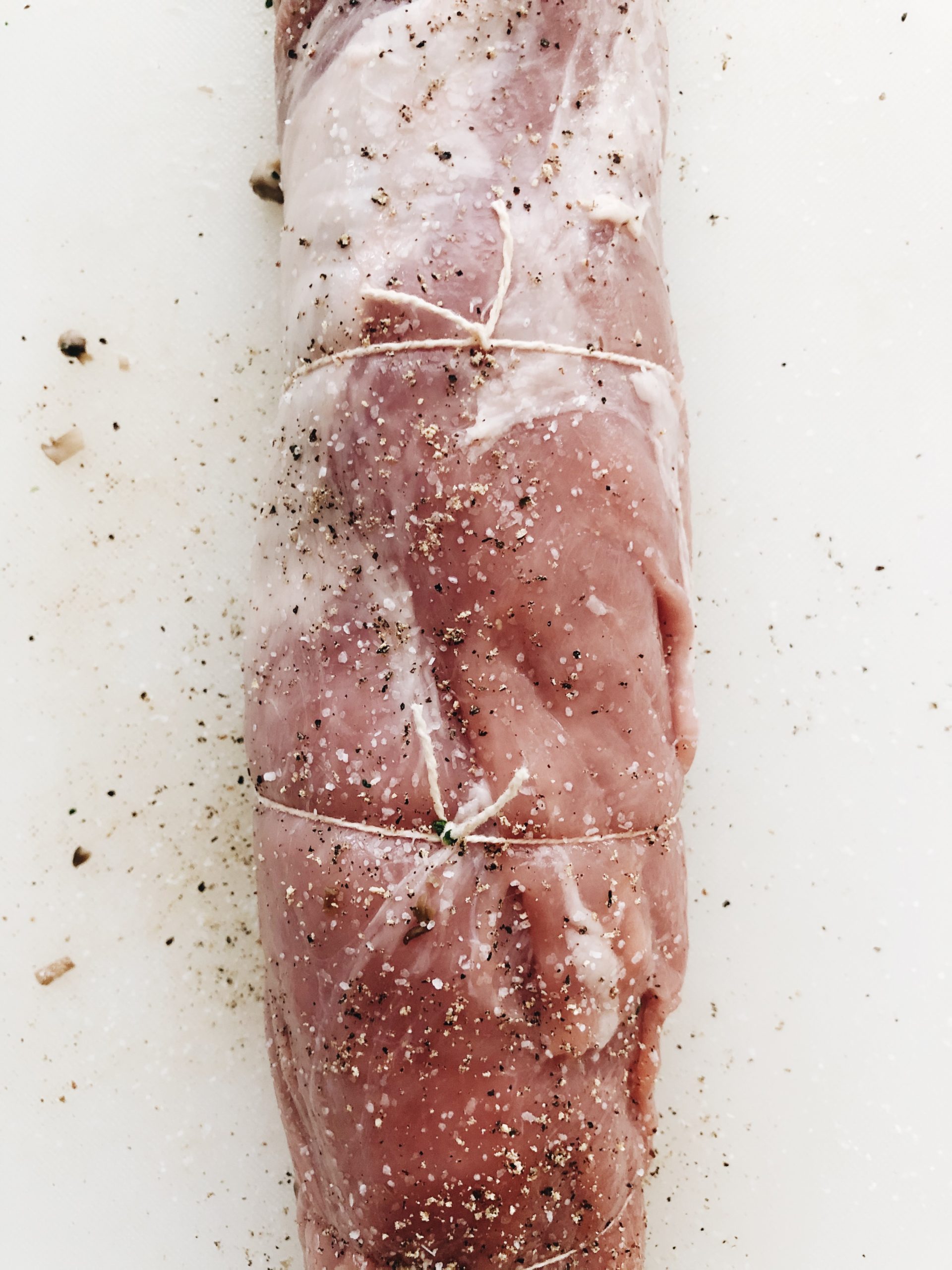 Then you'll start at one side of the pork (not end! the side) and carefully roll the pork from one side to other, gently (or violently, up to you) shoving the filling into the log to keep it there. Tie with twine to secure it and make sure everything stays put.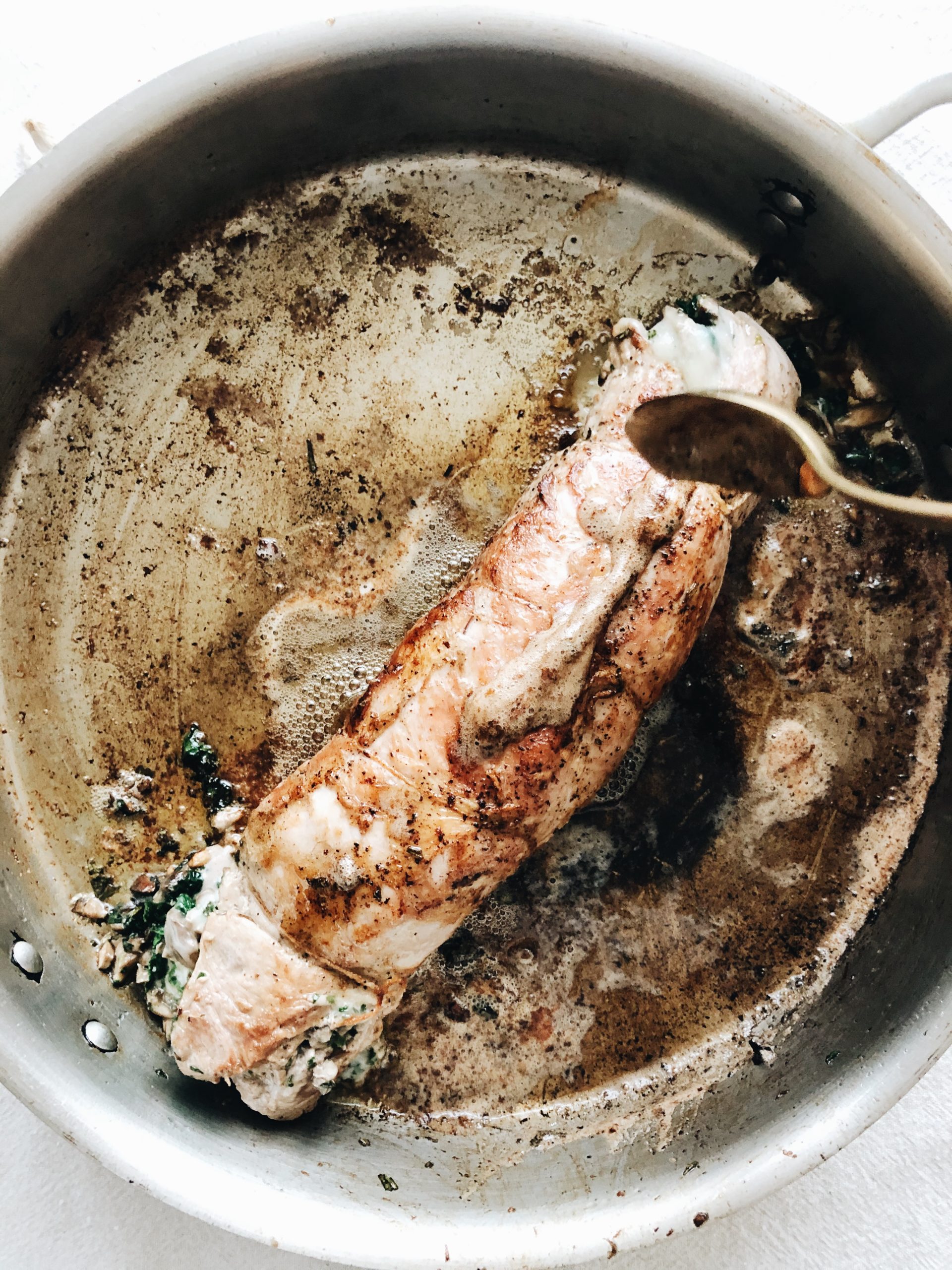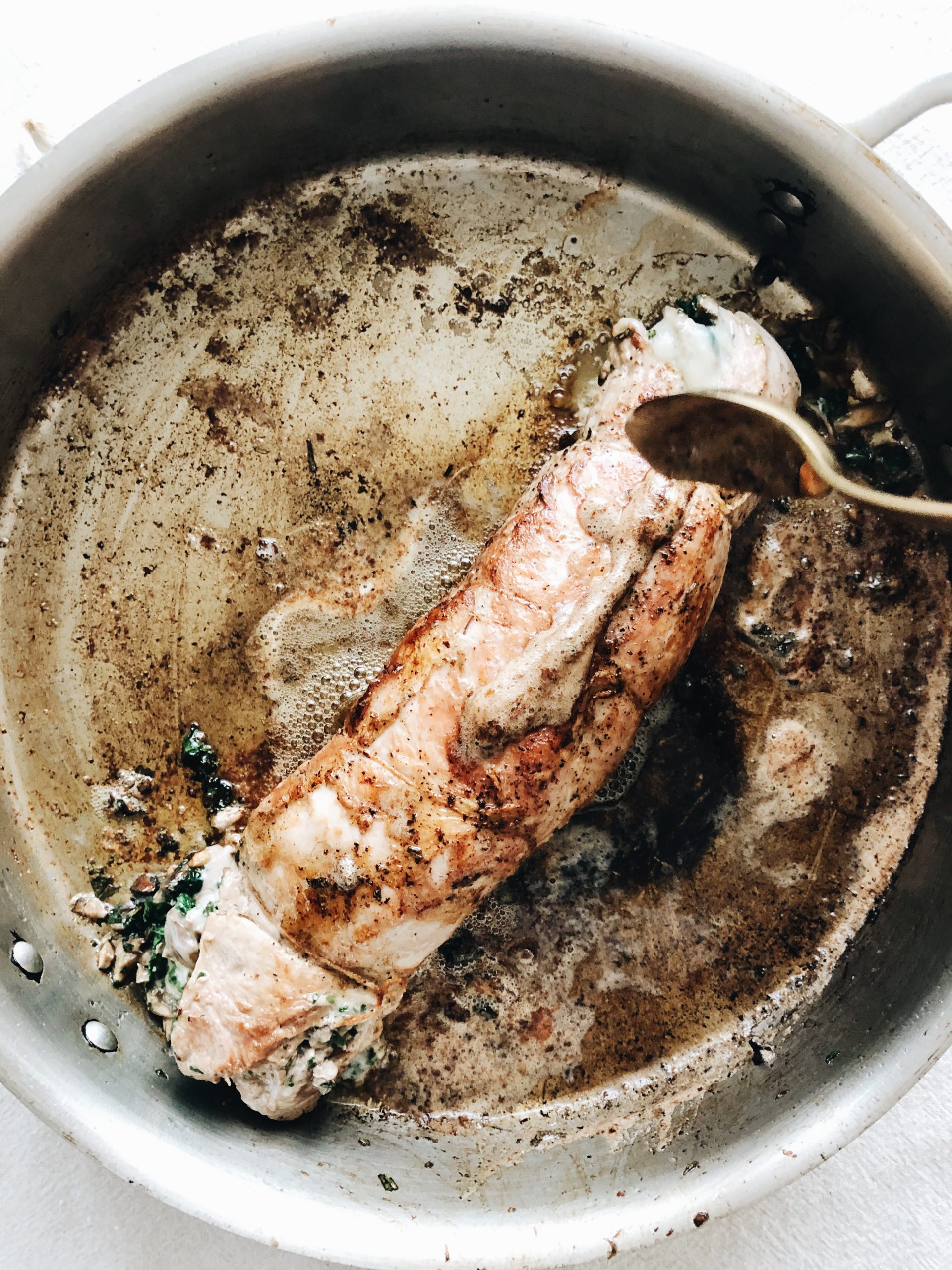 Then, we seaarrrr in buttaaaaaaah. And what you'll do is rotate the pork every three minutes, so that the whole stuffed loin gets browned all over and luscious. Filling will fall out on the ends. This is life. You're still a good person.
From time to time, tip the pan and spoon up the butter to pour over the pork. This basting method makes sure the pork stays glossy and moist (sorry), but also keep pushing flavor back all over everything. I see them do it on TV all the time, so.
After the pork is browned all over, just throw it in the oven for about 8 minutes to finish cooking. The butter will darken, so add a little more if you need to. It's all so sickeningly glorious.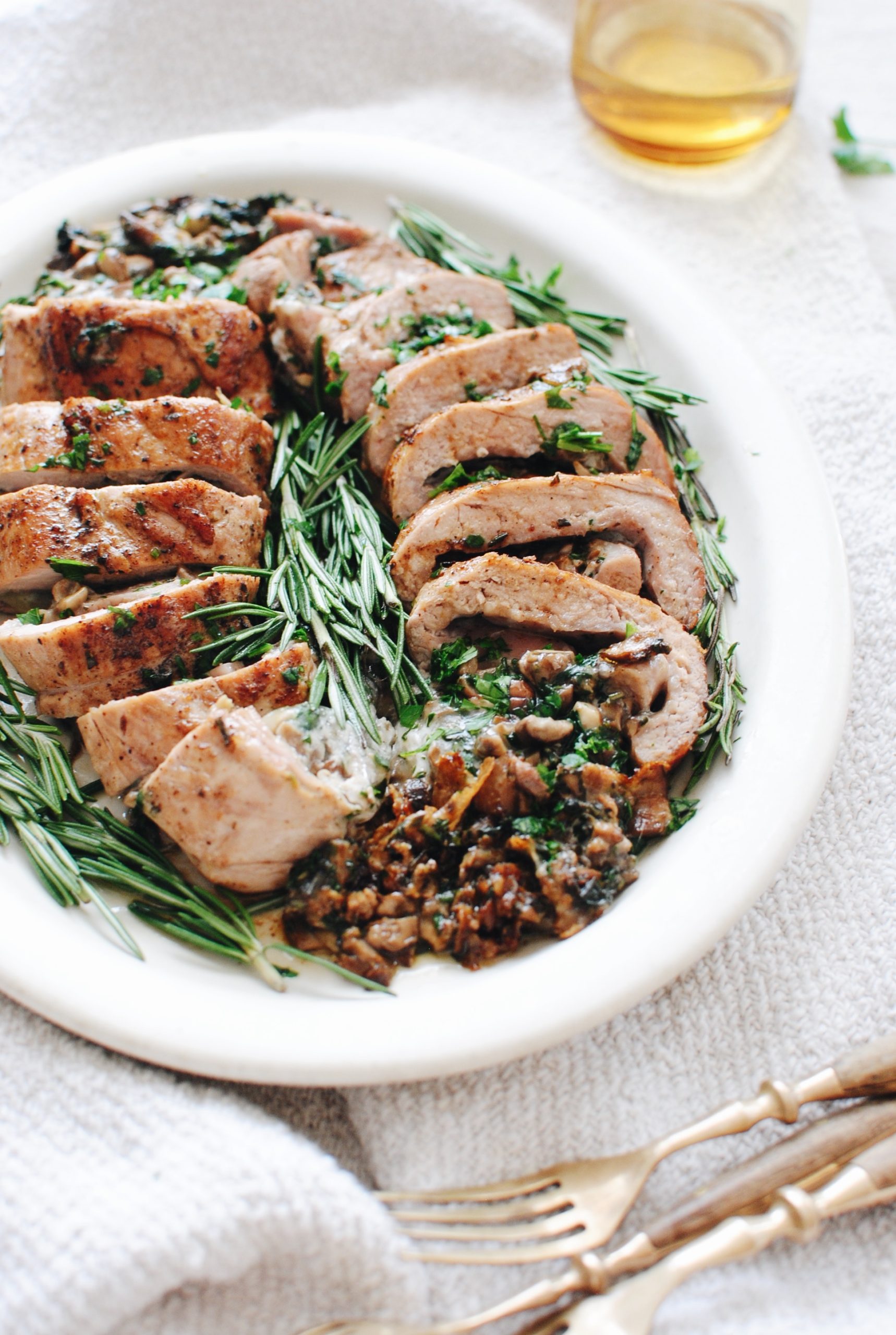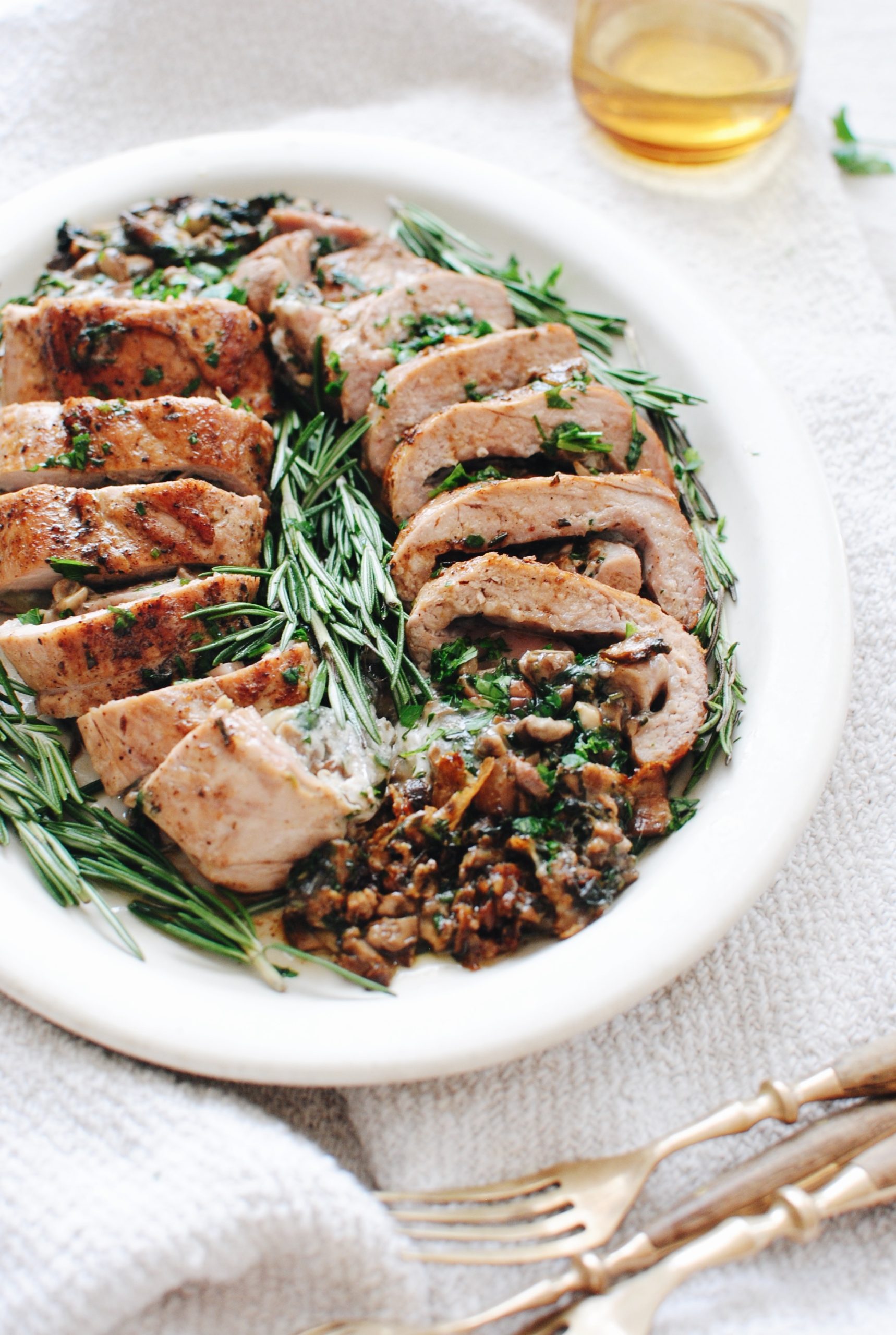 And then you'll fan it out like a pro on a platter (the pork is on the platter, not you), and let the cheesy mushroomy filling spill out even more to reveal the secret of what lies ahead for all mouths involved. Garnish with rosemary if you want! Or roasted potatoes even. Spears of asparagus. Crusty bread with extra butter. A crunchy green salad. Anything goes. It's Christmas.
I'm telling you, everyone is going to flip their minds over this. That real butter, both in and on makes such a mammoth difference in flavor, and works to keep the pork tender and beautifully caramelized in places. It is divine. And you will cry 33 rivers.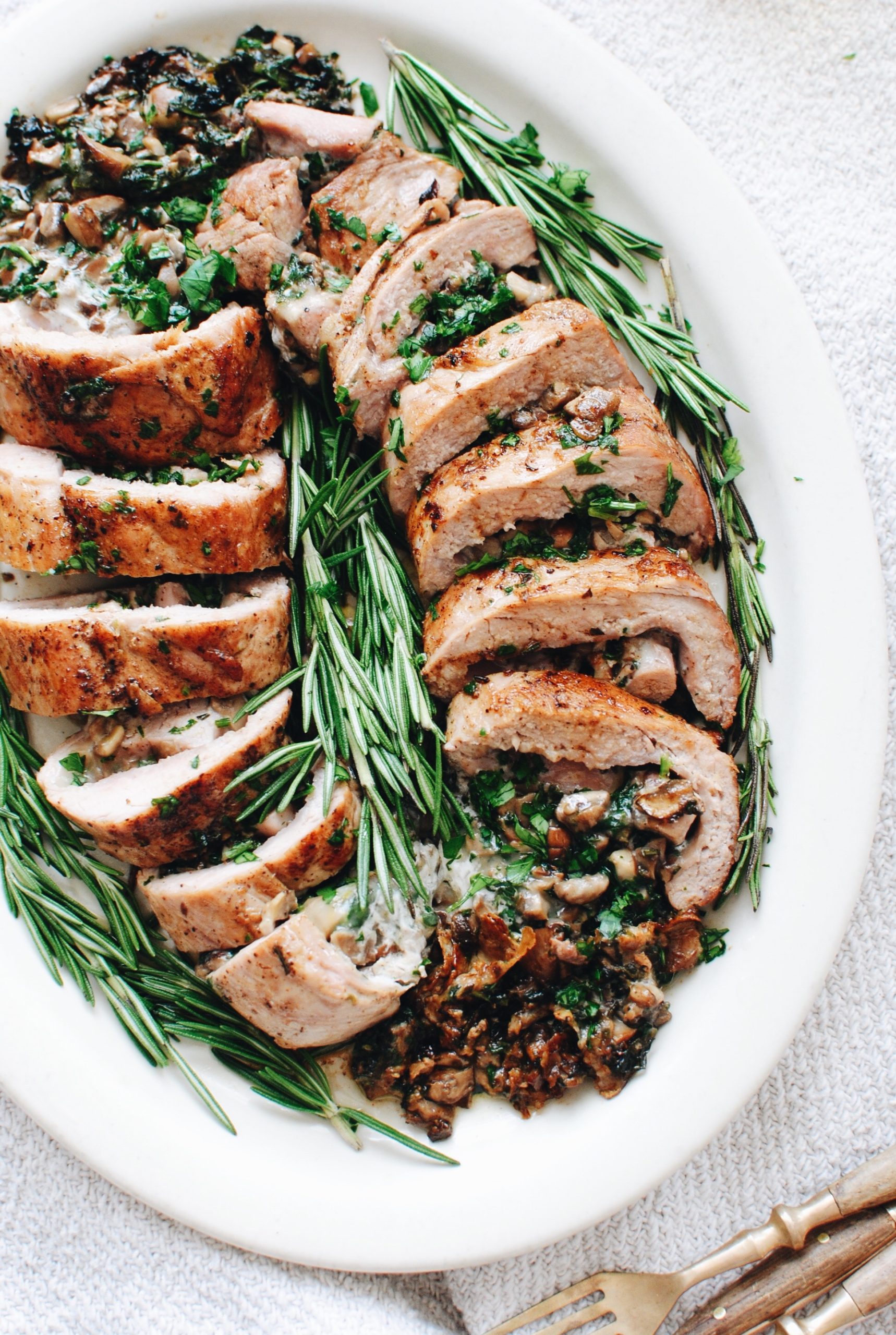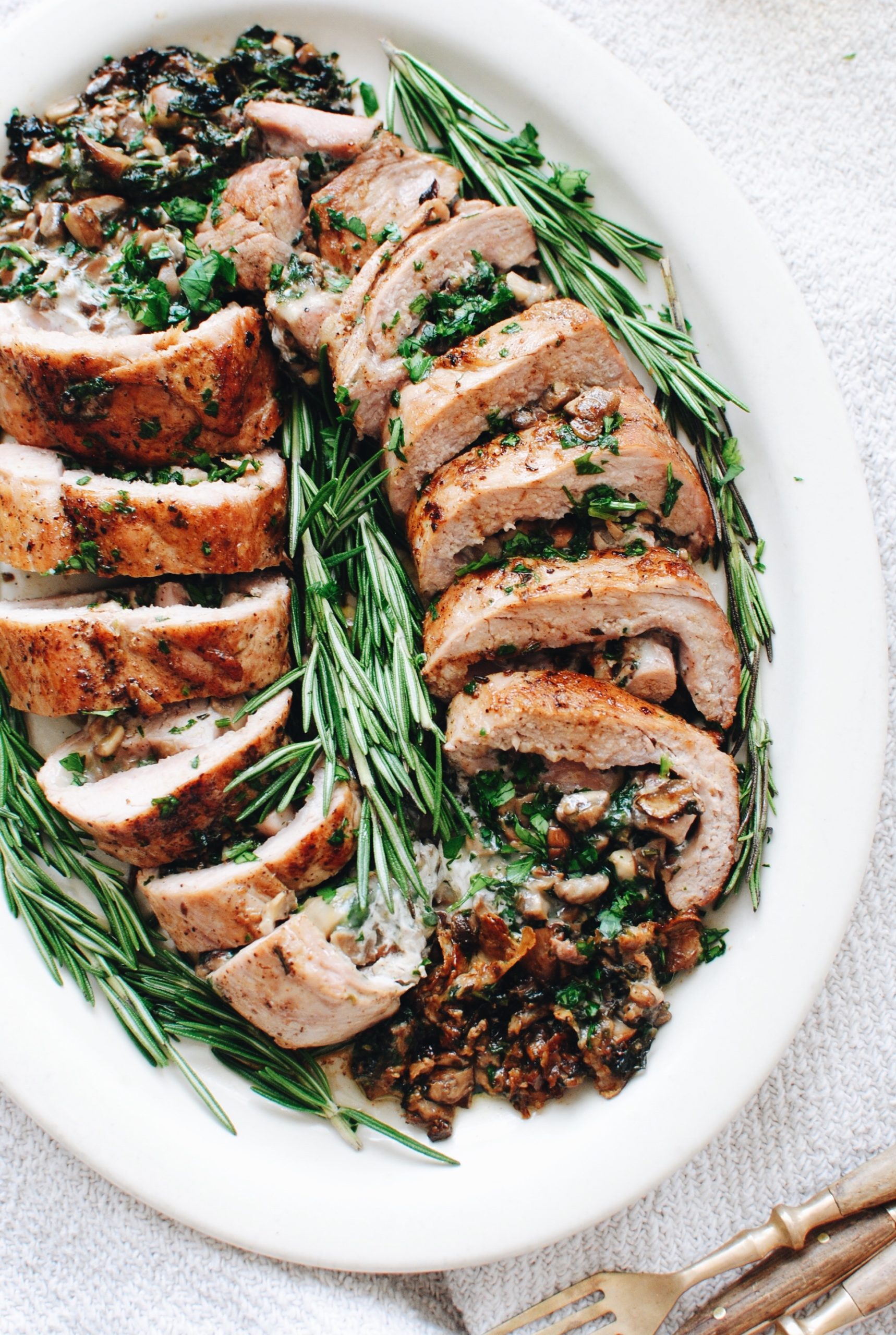 Maybe leave Santa a slice or 40.
Spinach and Mushroom Stuffed Pork Tenderloin
Ingredients
1 (8 oz) package baby Bella mushrooms, gently rinsed clean and sliced
3 oz baby spinach
2 sprigs of fresh Rosemary, finely chopped, more for garnish (optional)
About 6 Tbs. real butter, divided
1 Tbs. extra-virgin olive oil
1.5 pound pork tenderloin
3 slices provolone cheese
1 Tbs. freshly chopped parsley, for garnish
Coarse salt and freshly ground pepper
Instructions
Preheat your oven to 350.
Heat 2 Tbs. butter and 1 Tbs. oil in a wide pan. Once melted, add the sliced mushrooms and chopped rosemary. Let it sauté for two minutes, then sprinkle with a pinch of coarse salt. After another two minutes of browning, add the spinach and let wilt. Remove mixture from the pan and give it fine chop.
Take the pork tenderloin and butterfly it with a sharp knife. Meaning, take a knife and slice it through the center, width-wise, but not all the way through! Open the pork like a book, and place plastic wrap over the top. Pound it out, from top to bottom until thin. Season the pork with salt and pepper. Overlap the provolone cheese down the center of the pork, and evenly spoon the filling over the cheese. Give one more sprinkle of salt over the filling, then gently roll the pork, from side to side, shoving the filling back inside as best you can. It may spill out on the ends, but that's okay. This is what happens in life. Secure the pork with a few pieces of twine, up and down the stuffed tenderloin. Season the outside with salt and pepper.
To the pan, add 3 Tbs. of butter. Once it's melted and foaming, gently place the pork in the pan let sear for three minutes on medium high. Not too high or the butter will burn. Just riiiight over medium. After three minutes, rotate the pork a little bit, and sear three more minutes. Keep searing in three-minute chunks until the pork is browned all over. Tip the pan every few minutes and spoon the butter over the pork, basting it with extra browned butter flavor. This is to die for. Don't skip it. Add the last tbs. butter to the pan and slide the pork into the oven for 8-10 minutes, until cooked through.
Let rest on a cutting board for five minutes, then cut into one-inch slices, fanning on a platter. The cheesy filling will spill out, but this is exactly what we want in life. Garnish with chopped parsley and extra rosemary if desired! Your new life awaits.
Serves 4-6.
7.8.1.2
391
https://bevcooks.com/2019/12/spinach-and-mushroom-stuffed-pork-tenderloin/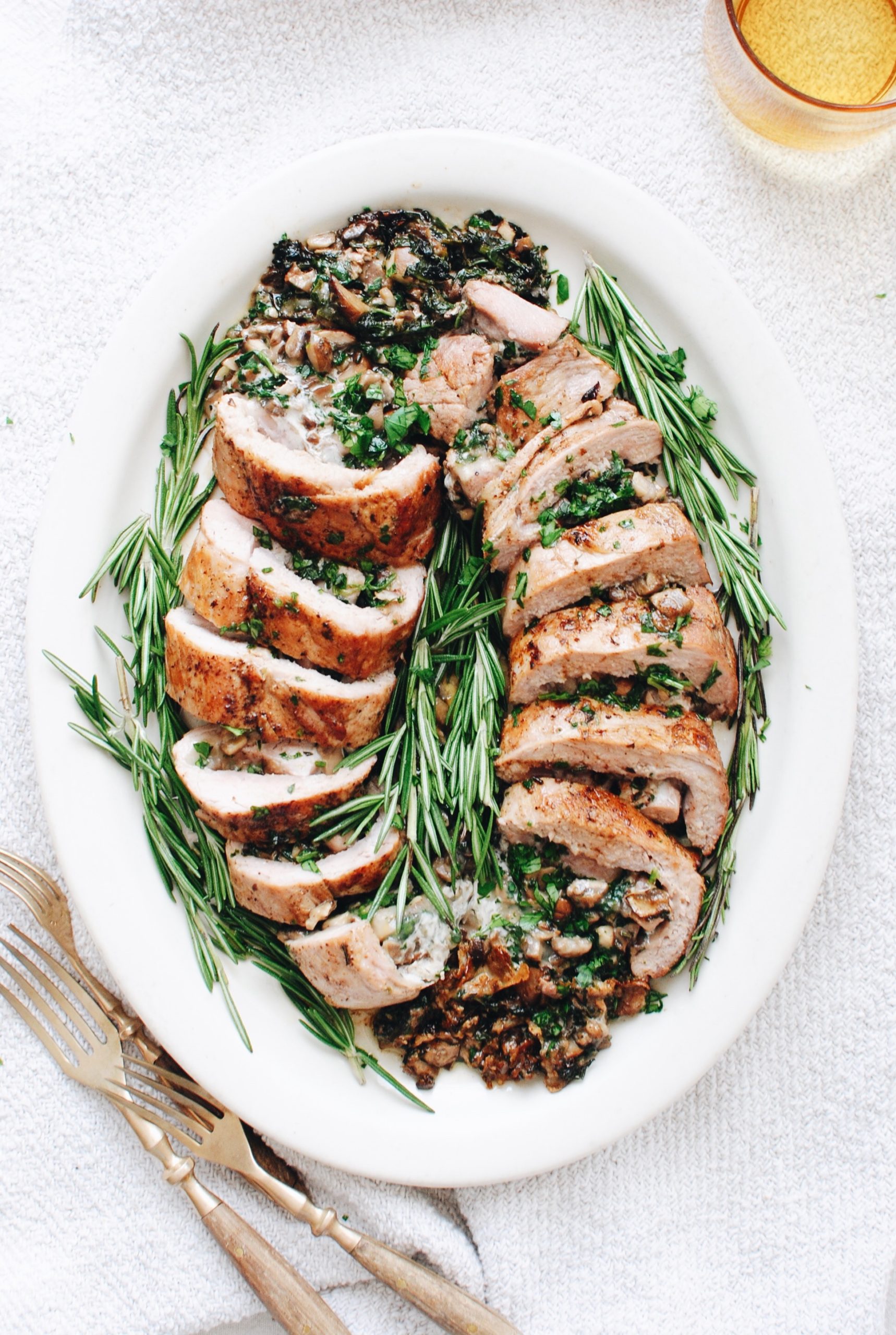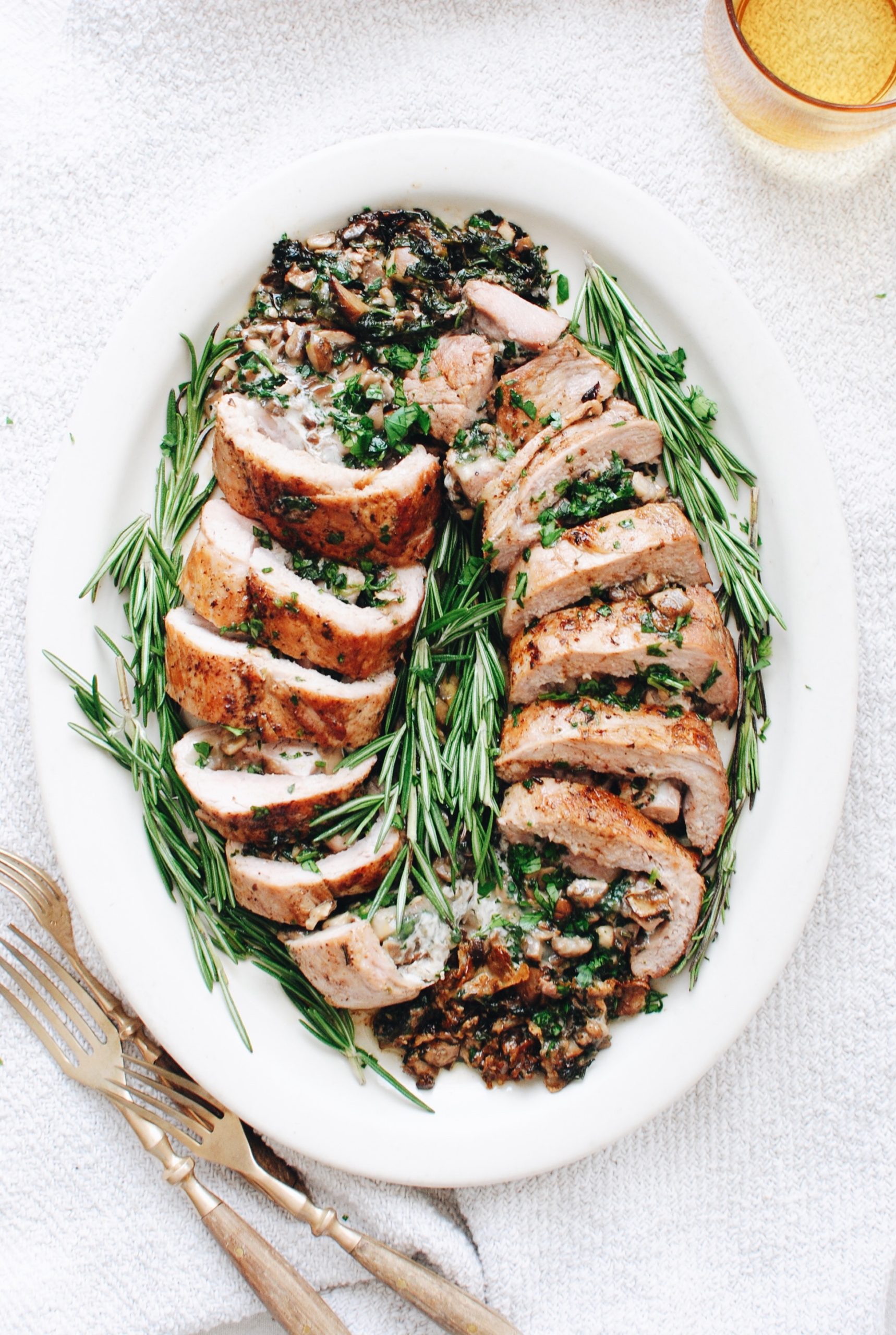 Please climb in that immediately.
(This post is definitely in partnership with Real Butter, but all snarfings and ramblings are totally my own. We coo?)