You can't not with a pan full of enchiladas. It's the law.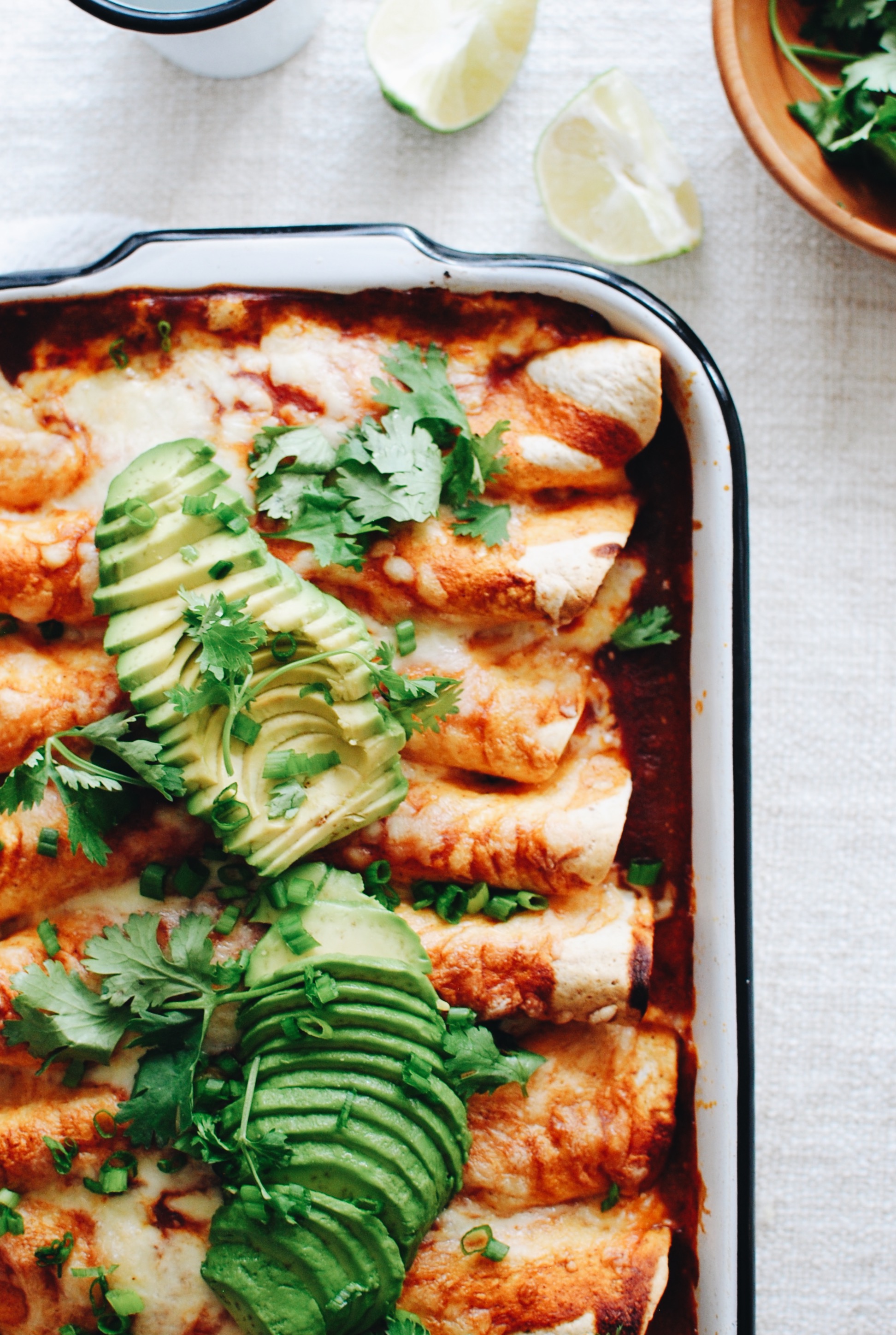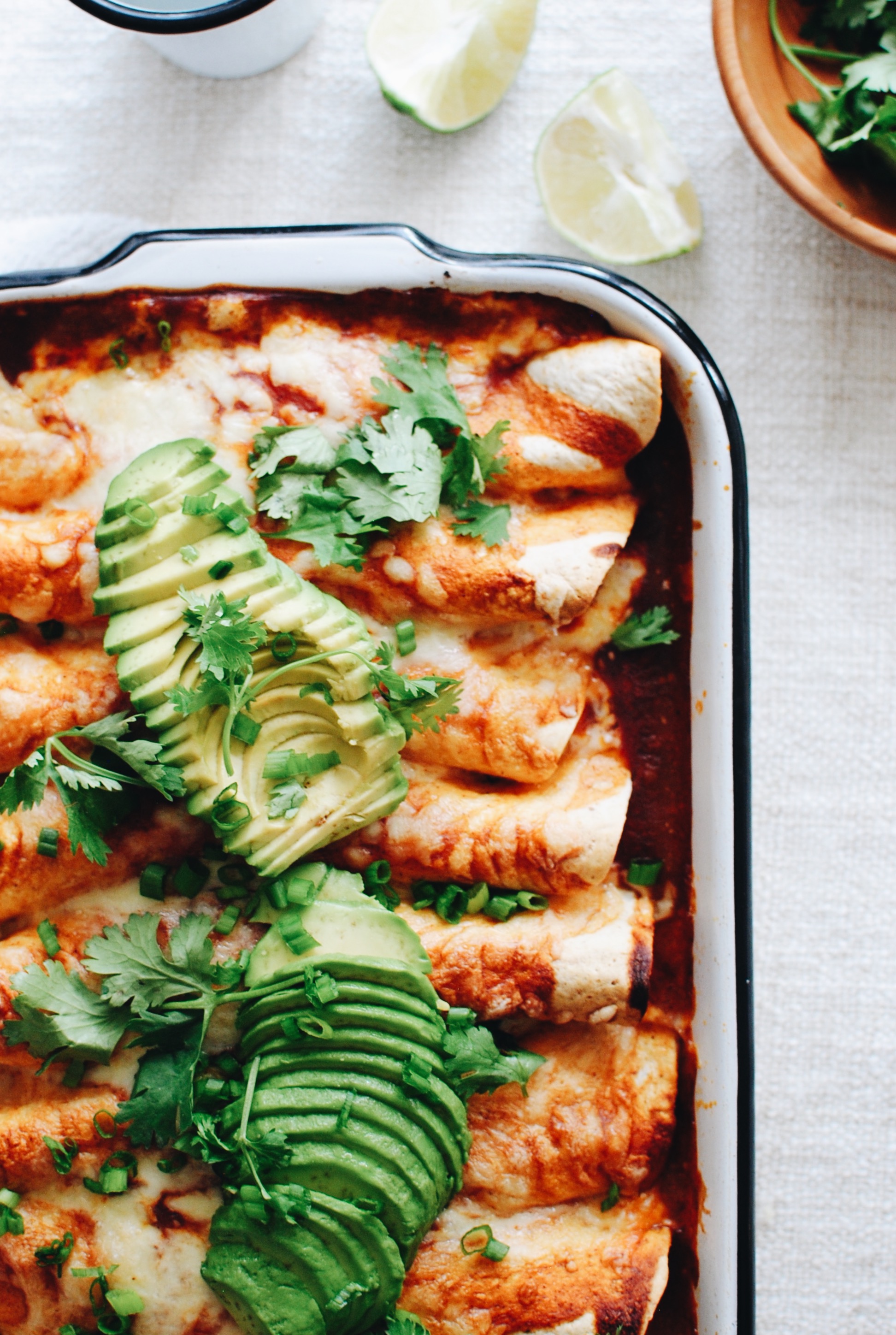 They've been around for ages. They're not going anywhere. And they always hit all the spots.
But!
I'm going to show you a lil' twist today on how to make some mega mama flavorful enchis (<–don't hate it) on the stove! With pork! And some good ol' toasty corny HOMINY. White or yellow hominy, it matters not.
Let's peep it.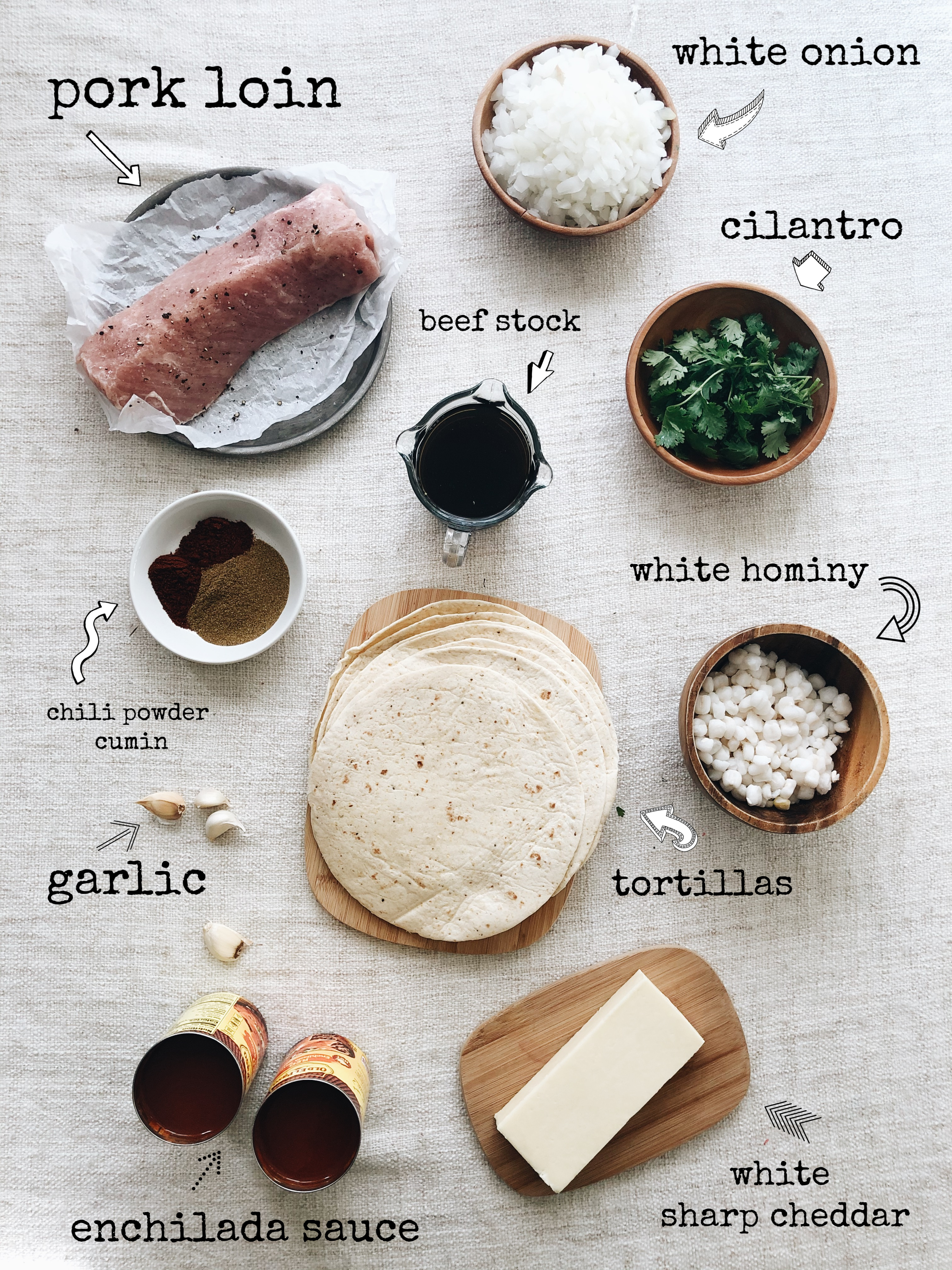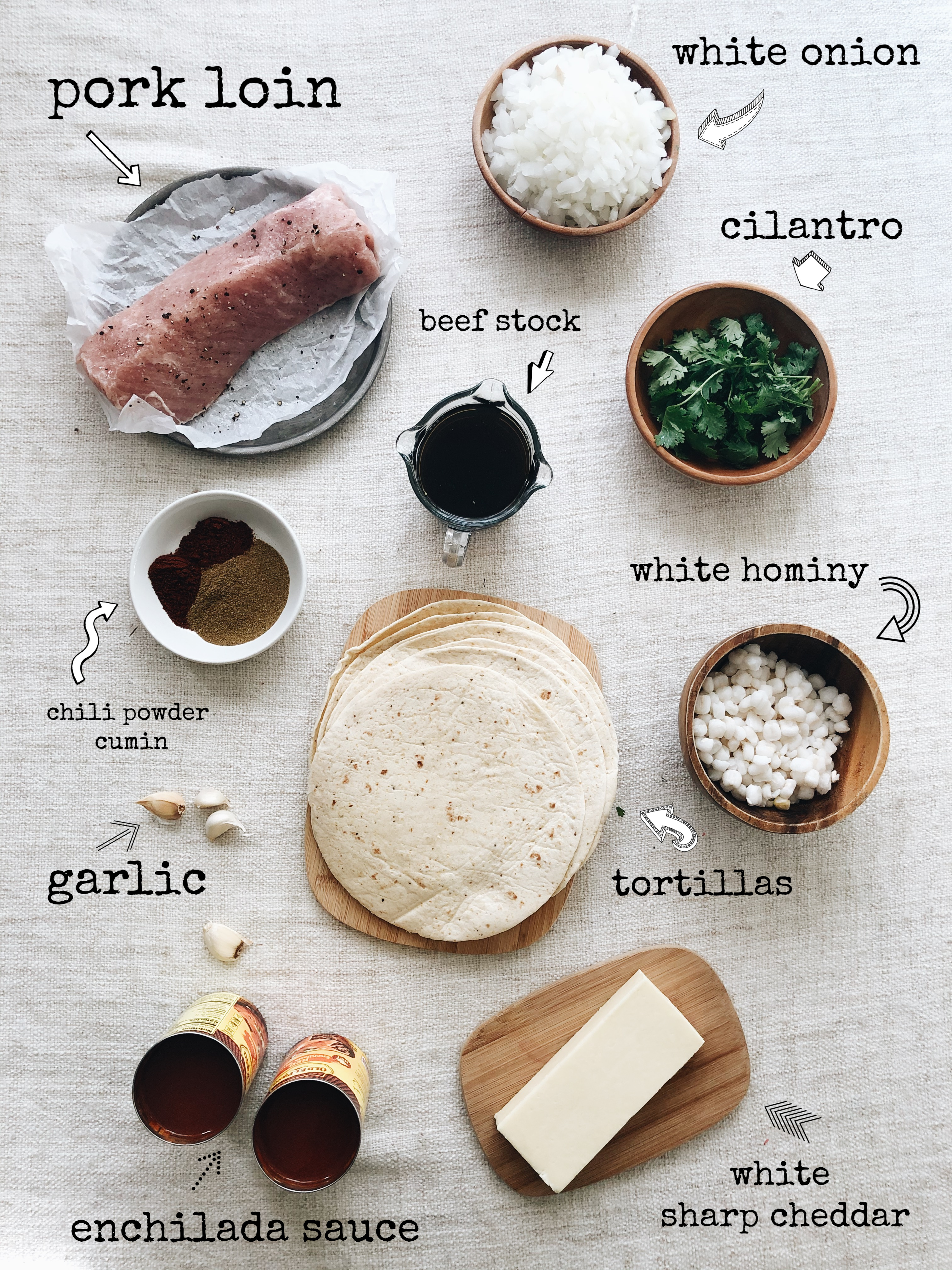 So guess what. I'm using a pork loin. Not a shoulder. Not a butt. Not an elbow. Not a pancreas. But a loin. And you might think, "uhhh that's going to dry out like my soul, chachi." – but it won't. Would I do that to you?
Besides baking these assembled enchiladas in the oven, it all happens in a pot on your stove. And I'll tell you now, it's not a fast recipe. But it's not hard either. So maybe carve out your Saturday or Sunday afternoon to have this bubbling away and tantalizing your nostrils until the cops come.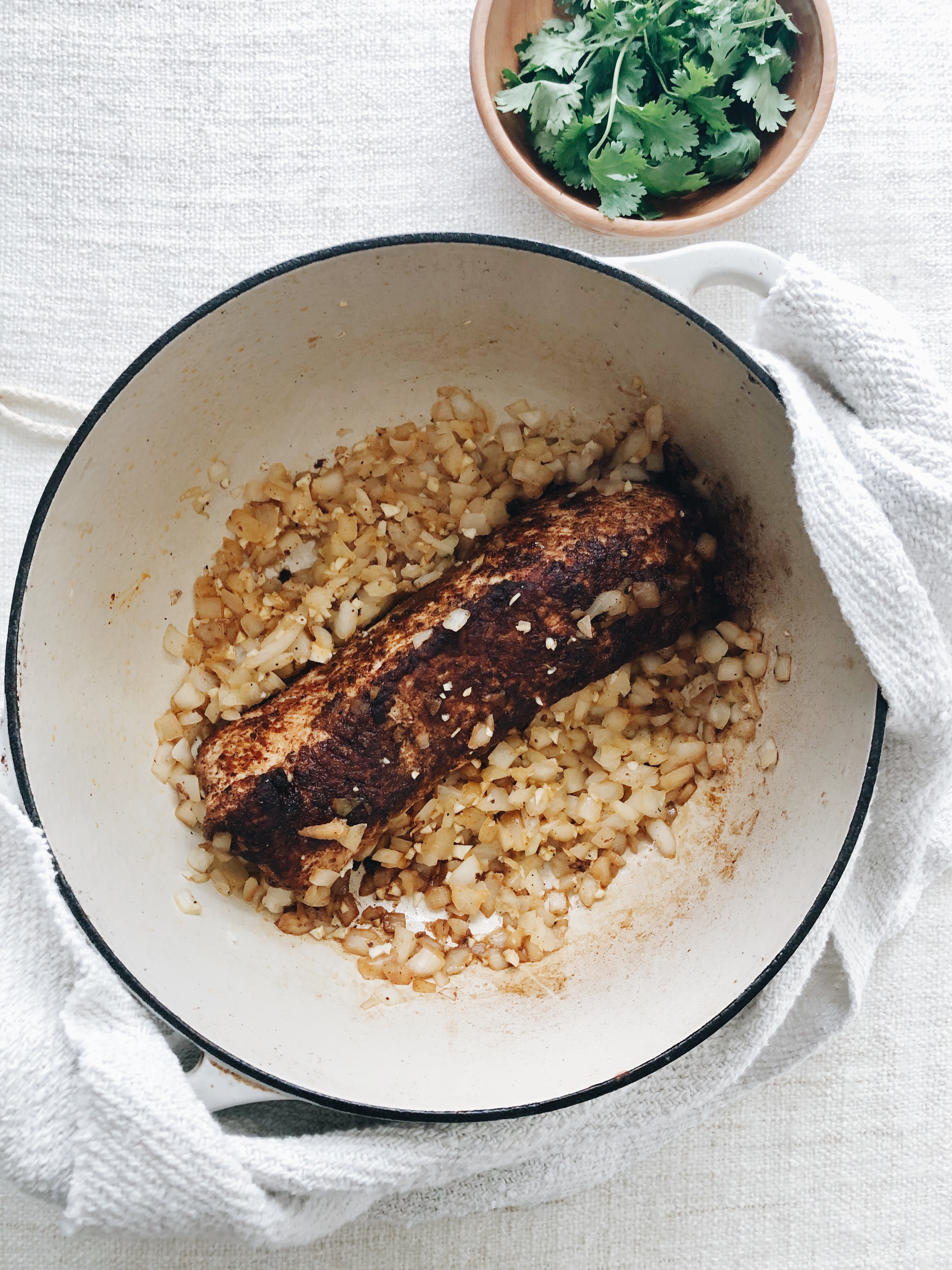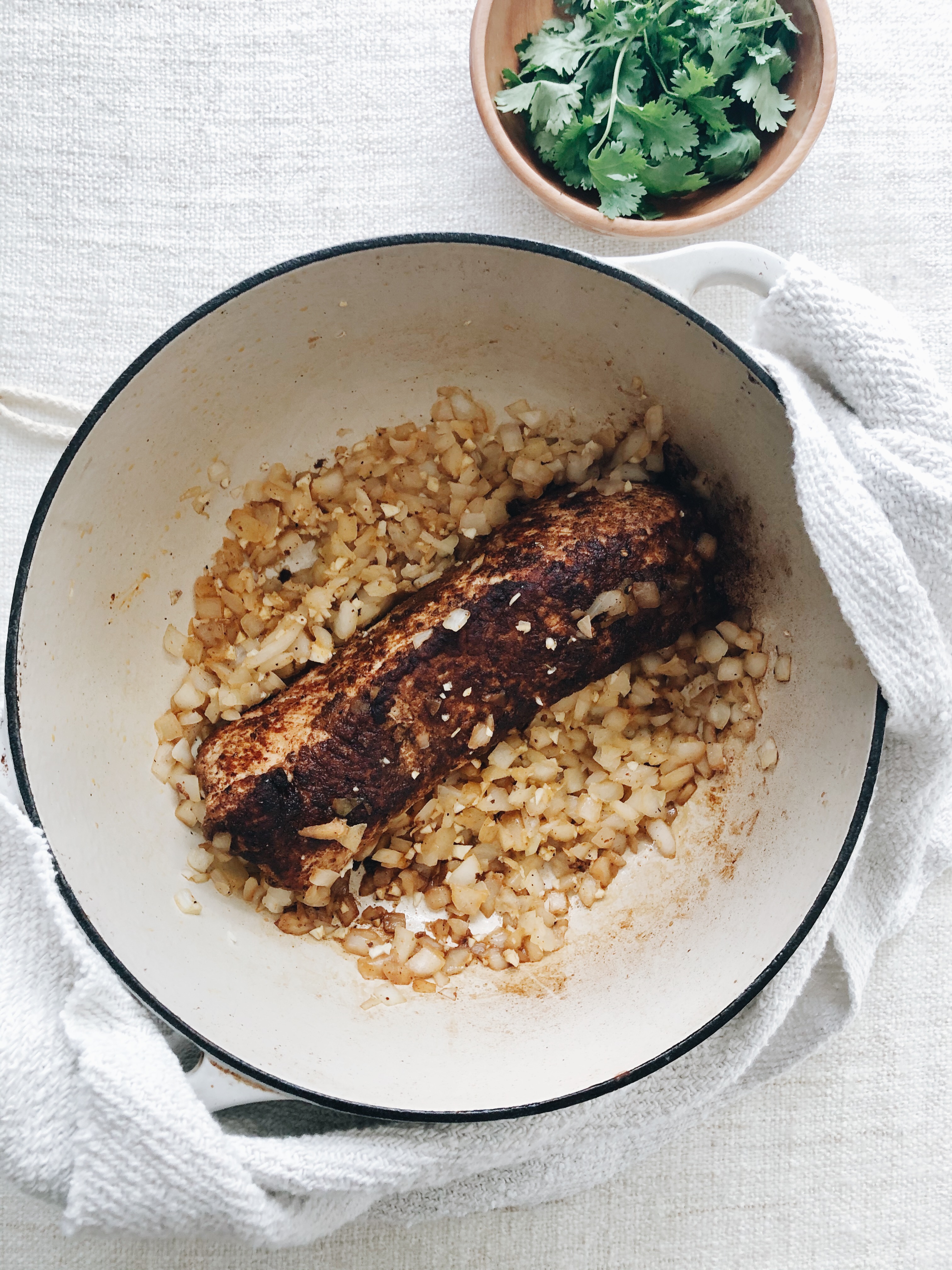 Take that loin, season it and sear it. Just coarse salt, cumin and chili powder. Standard Mexican-ish flavors here. We're not getting overly ambitious.
And do you want to know my secret to happy living and glowing skin and a giddy soul? BAGGED FROZEN CHOPPED ONIONS. I'm a food blogger and this is my confession and I stand by it forever.
(You know, I should really buy a vegetable chopper.)
In the pot – pork, onions, garlic and hominy. Just seared and sautéed for a few minutes before we add our beef stock. We good?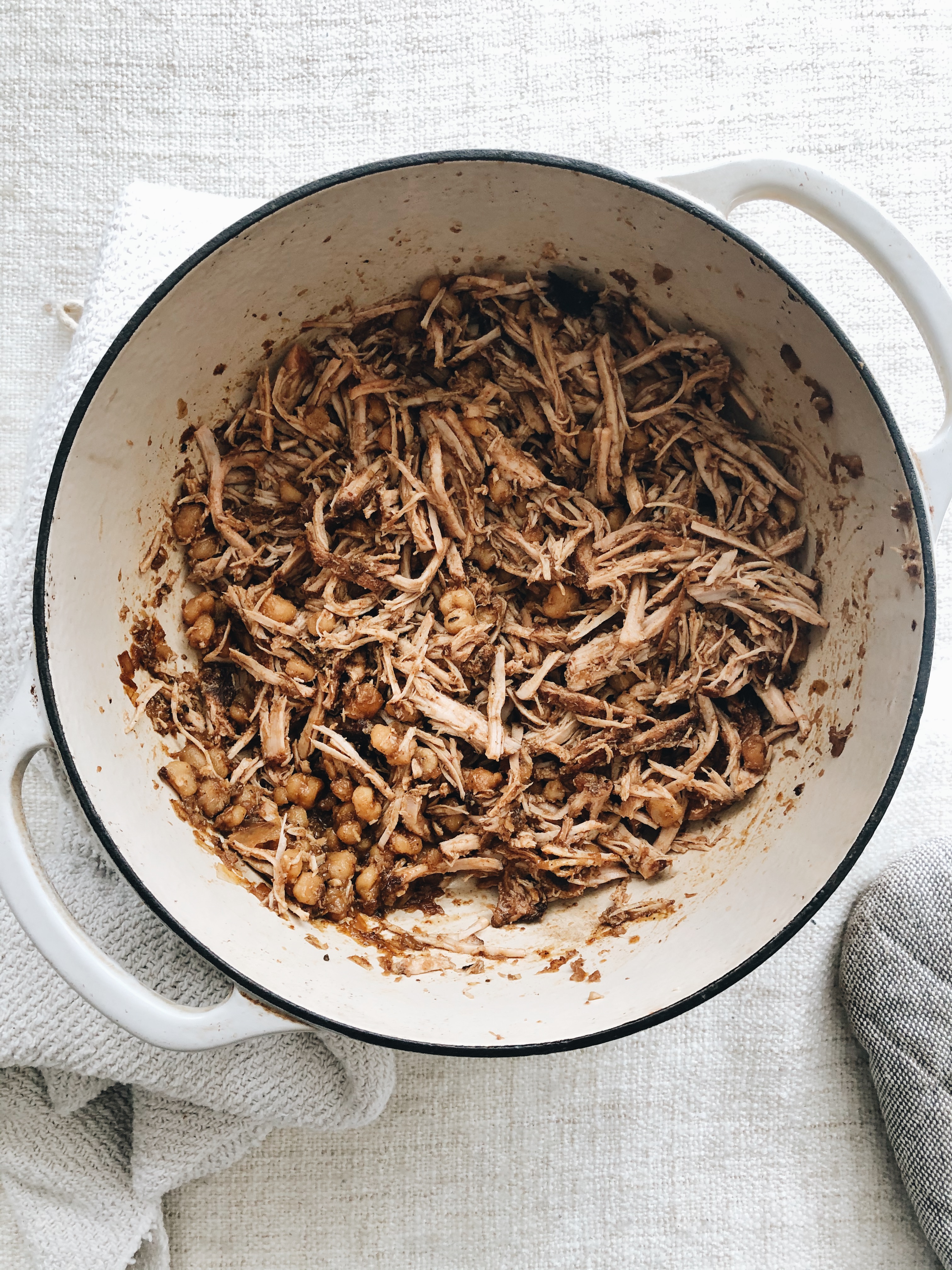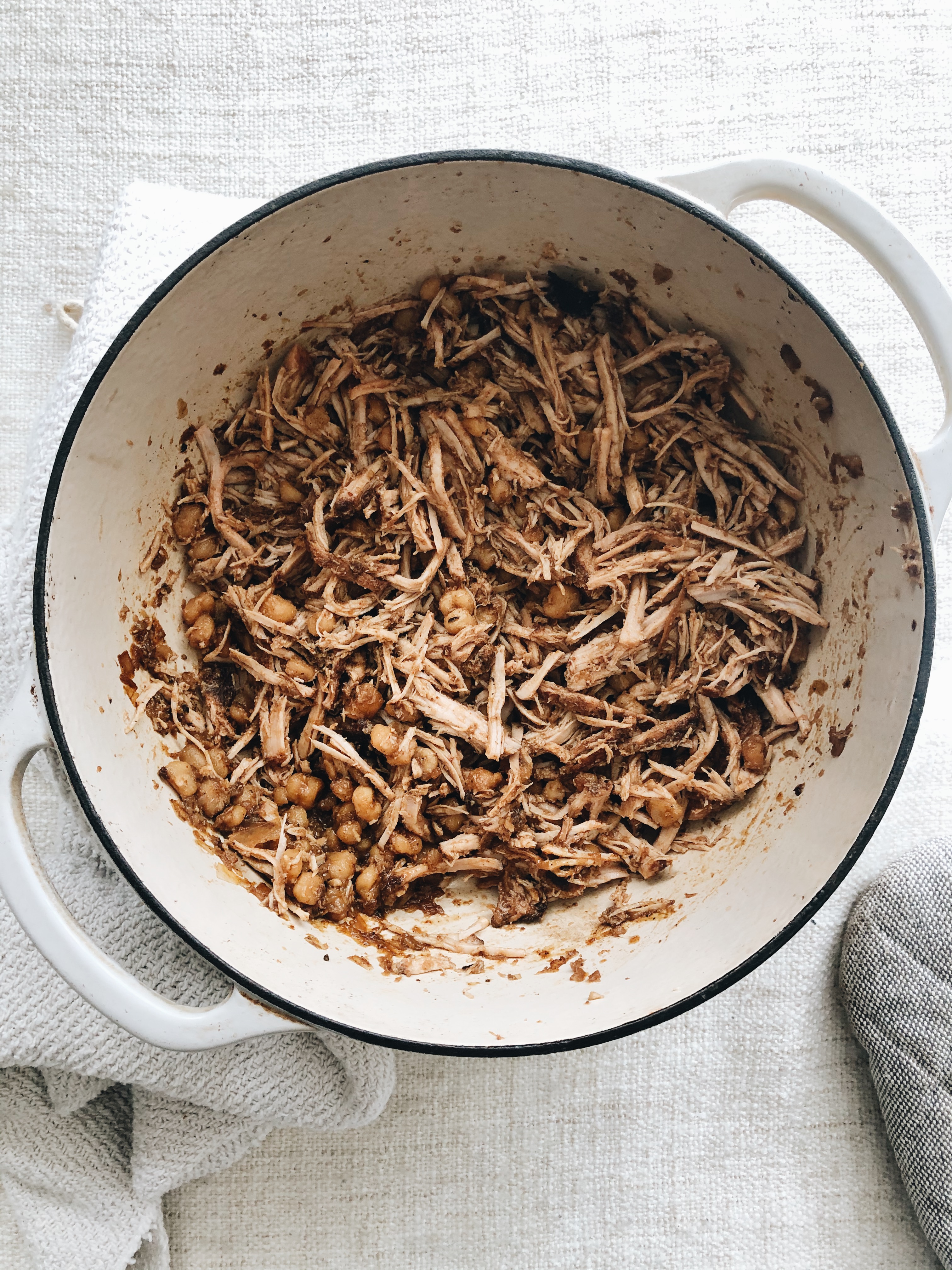 SO THIS is what happens. Over the next three (yes three!) hours, you'll simmer this on low. LOW, babes. The stock will slowly evaporate and the pork will absorb it and you'll add a little more as needed. I started with a cup, simmered for two hours (checking on it every half hour and wiggling the pork around to make sure nothing was sticking), then added the rest of the stock from the can and let it go one more hour. Then the pork just shreds right in the pan. Tender, moist (sorry), and lean! There's really not a lot of fat in a loin, so the stock adds moisture to the pork and also flavors it. Seriously, grab a strand of pork and a nibble of hominy and tell me that's not COMPLETELY INSANE.
(also, we're starting a band called Nibble of Hominy.)
Look, you got shredded pork and it didn't take all day! There are cartoon angels in my head throwing a giant rager right now.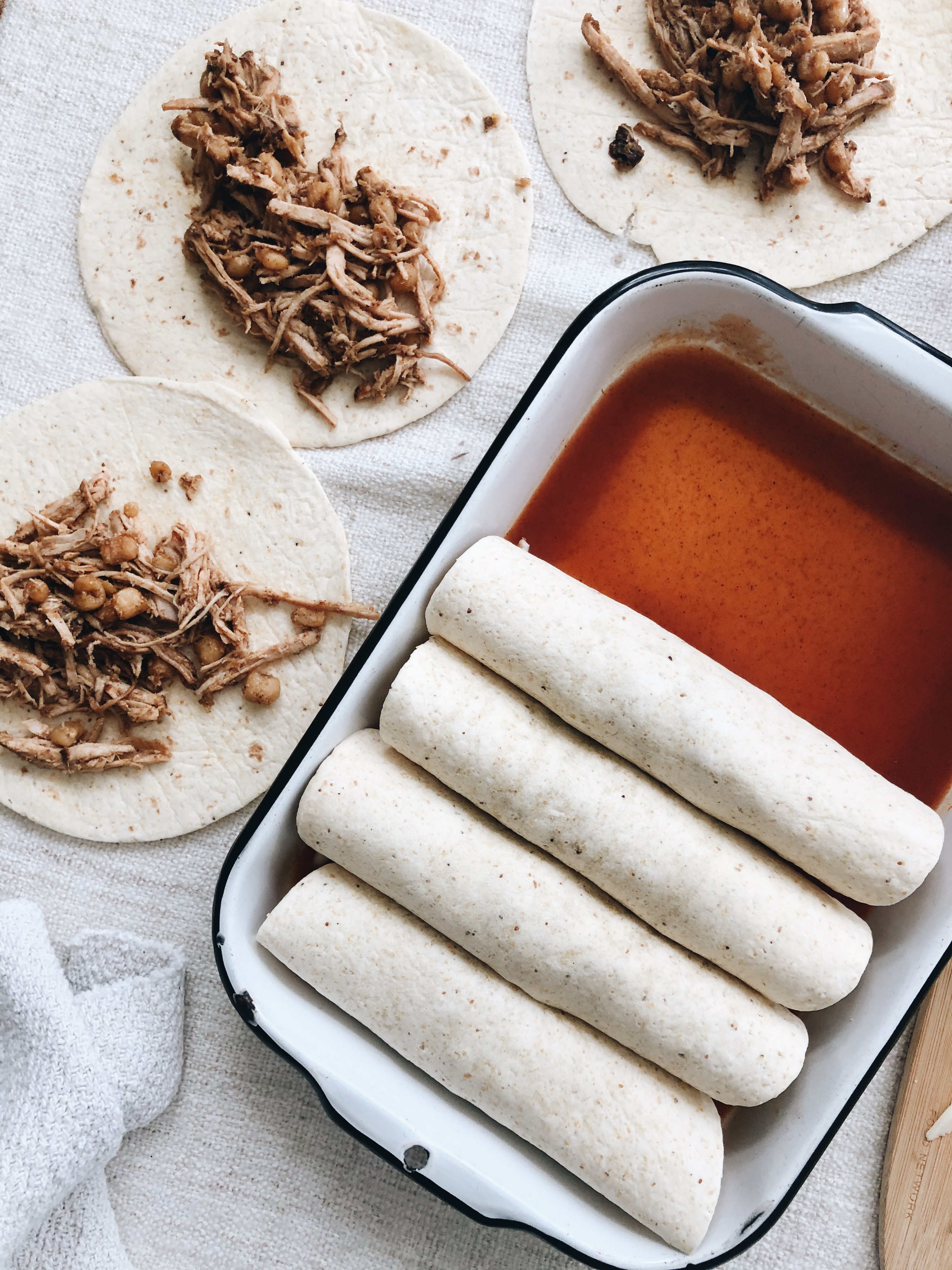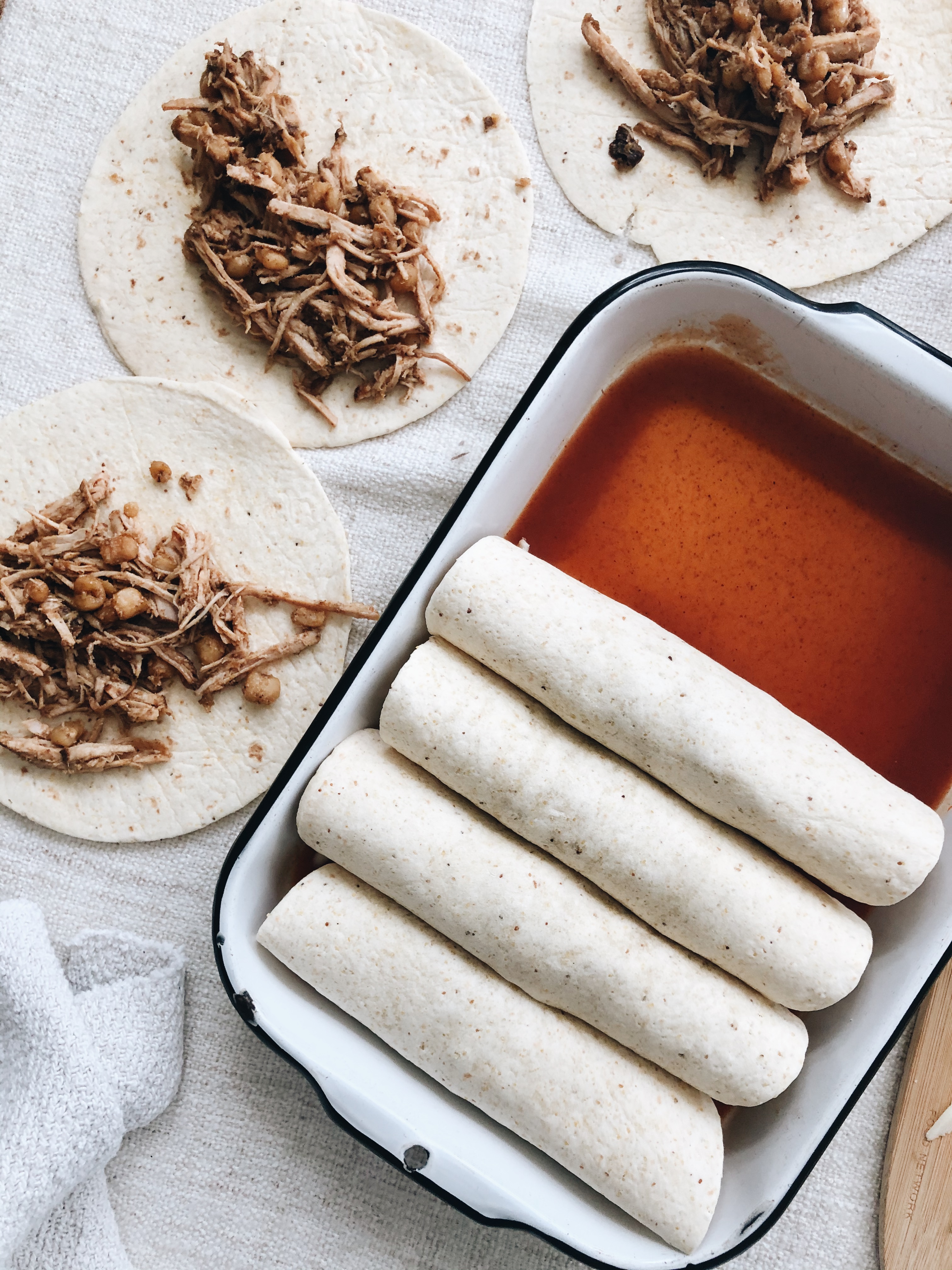 Then comes the enchilada making.
AND OKAY, use corn tortillas if you're a purest. I get it. Just don't send me hate mail for using a corn/flour blend. It's my life and this is how I'm living it.
Just divide the pork among eight tortillas, top with shredded Monterey Jack and roll 'em up!
What you're seeing above are cheeseless, yes. You do remember my husband and what I'm forced to live with, right?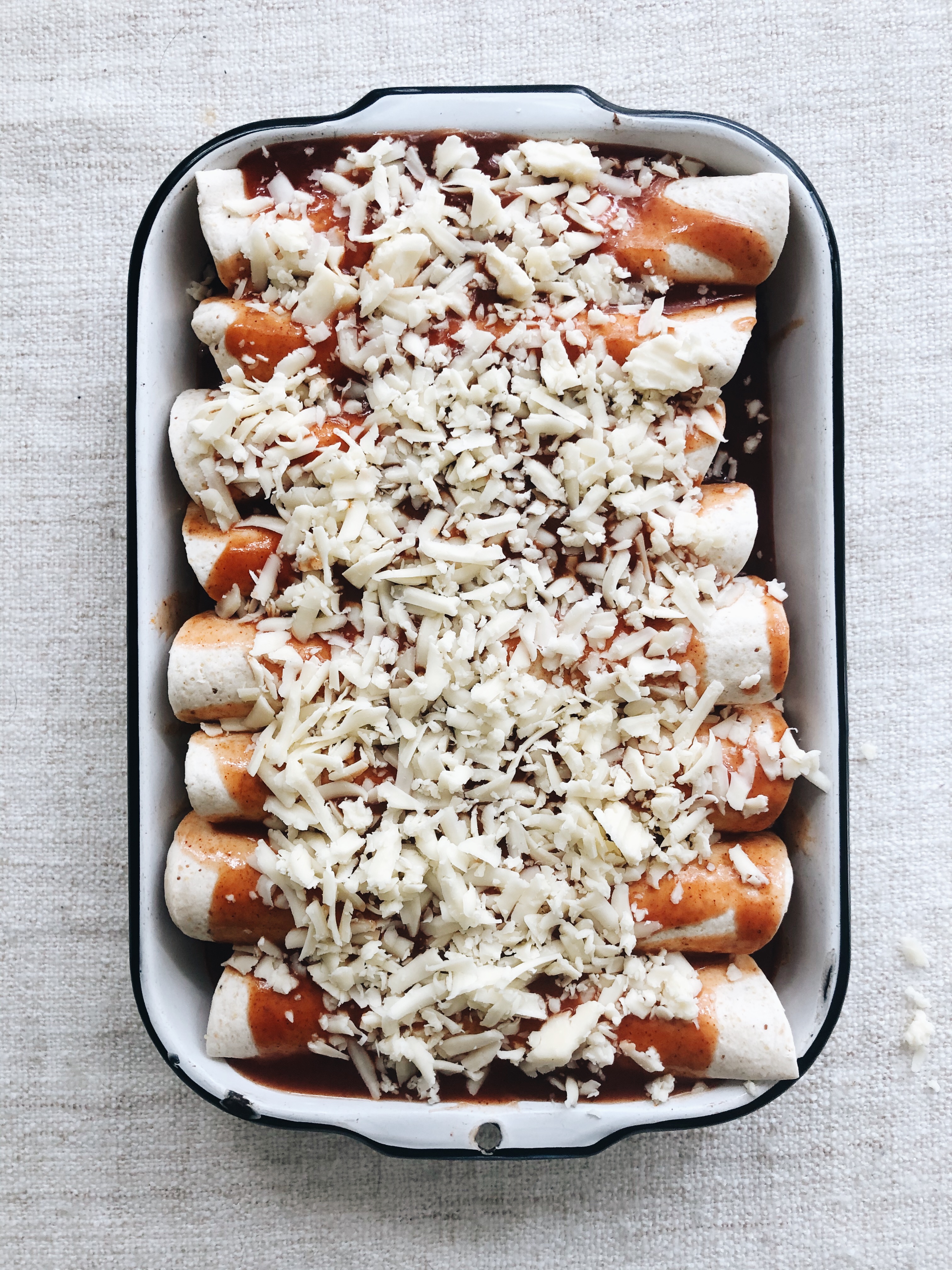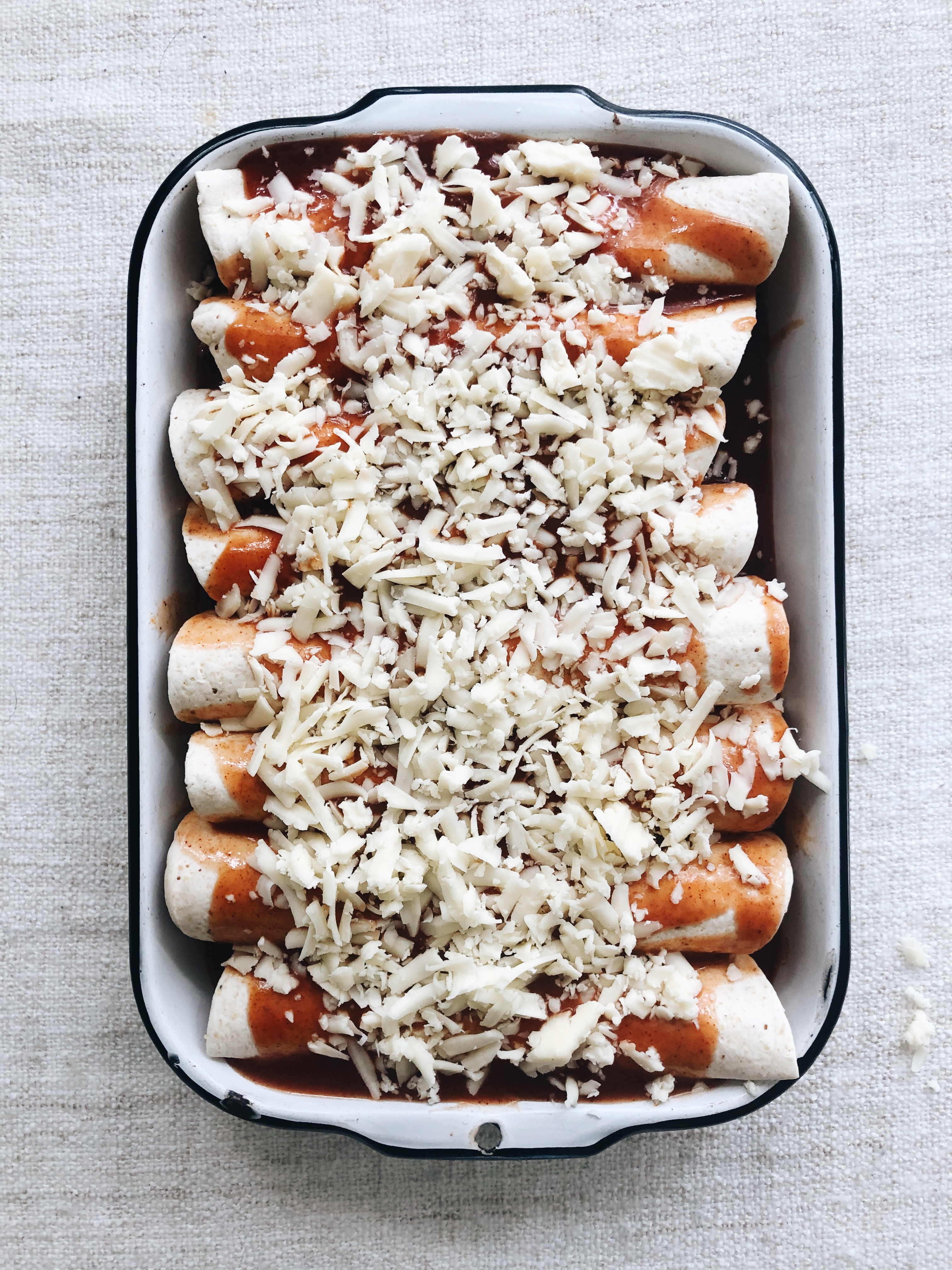 And the sauce? Canned, man. All the way. Unless you want to make your own sauce, which in that case I applaud you, overachiever.
I used most of one can on the bottom (like 2/3rds) and the rest of that plus another can for on top. That was a weird sentence. I like it.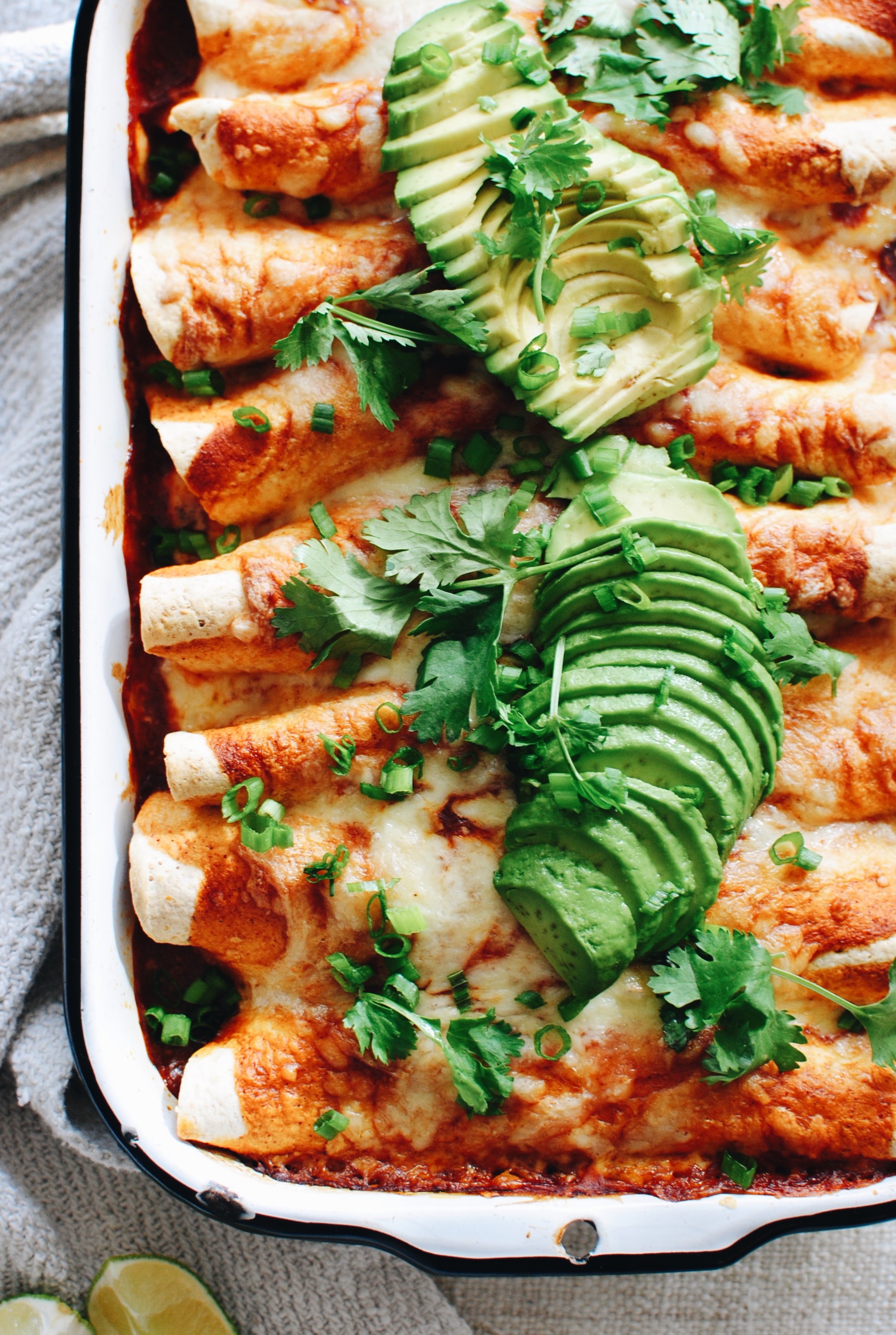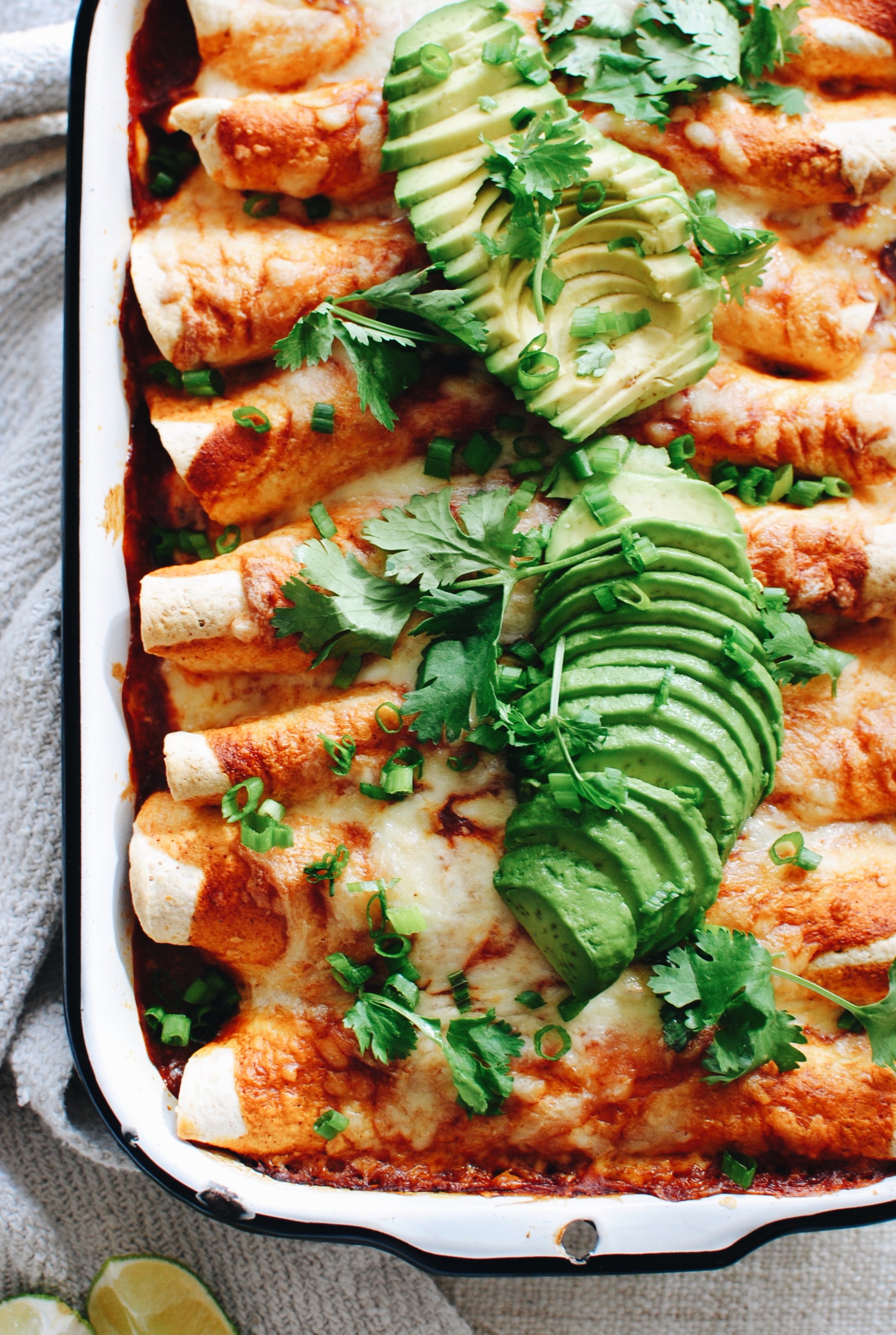 And honestly that's it. It's baked. It's bubbly. It's steamy hot and smells so good there's not much else to do but throw your entire torso at it.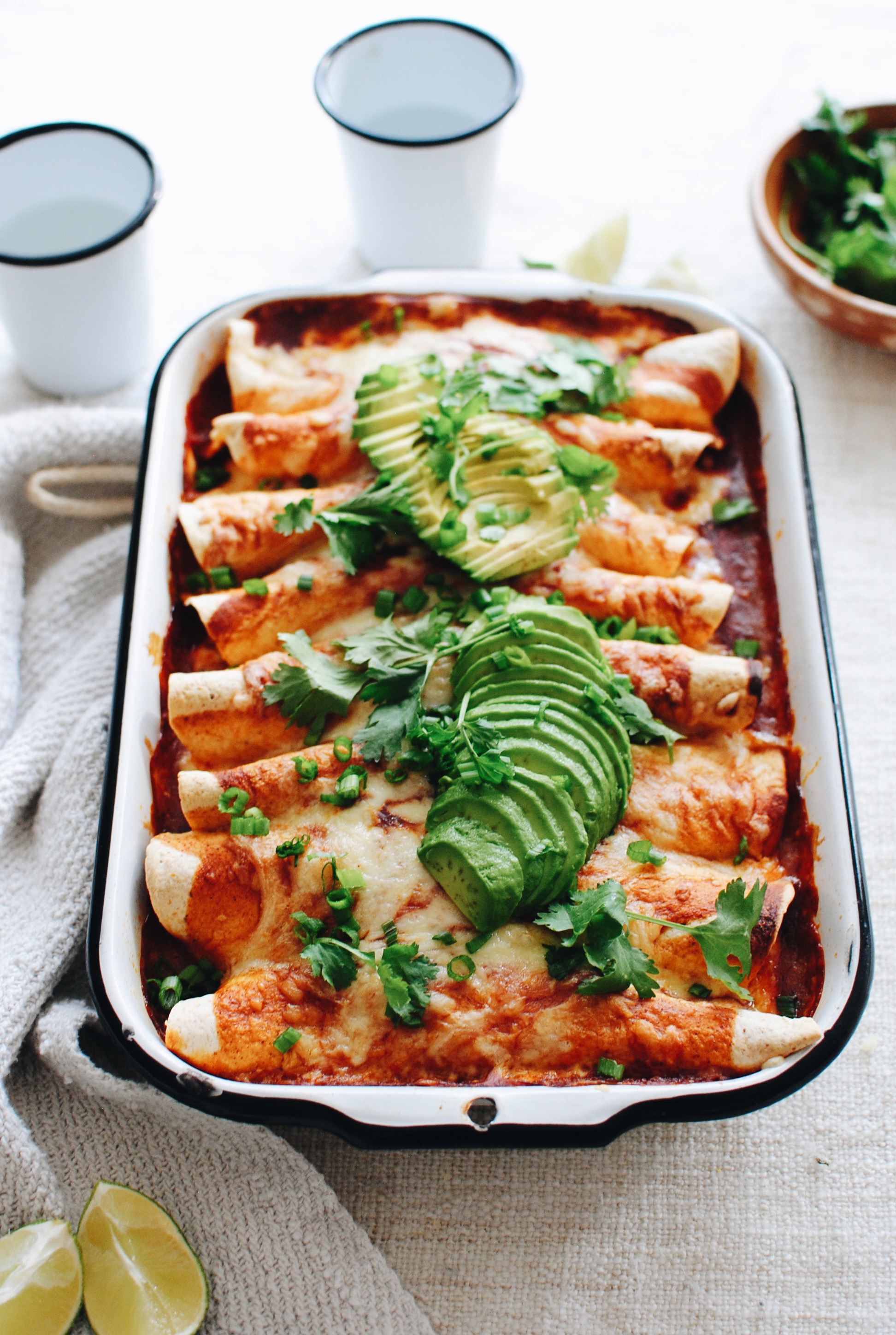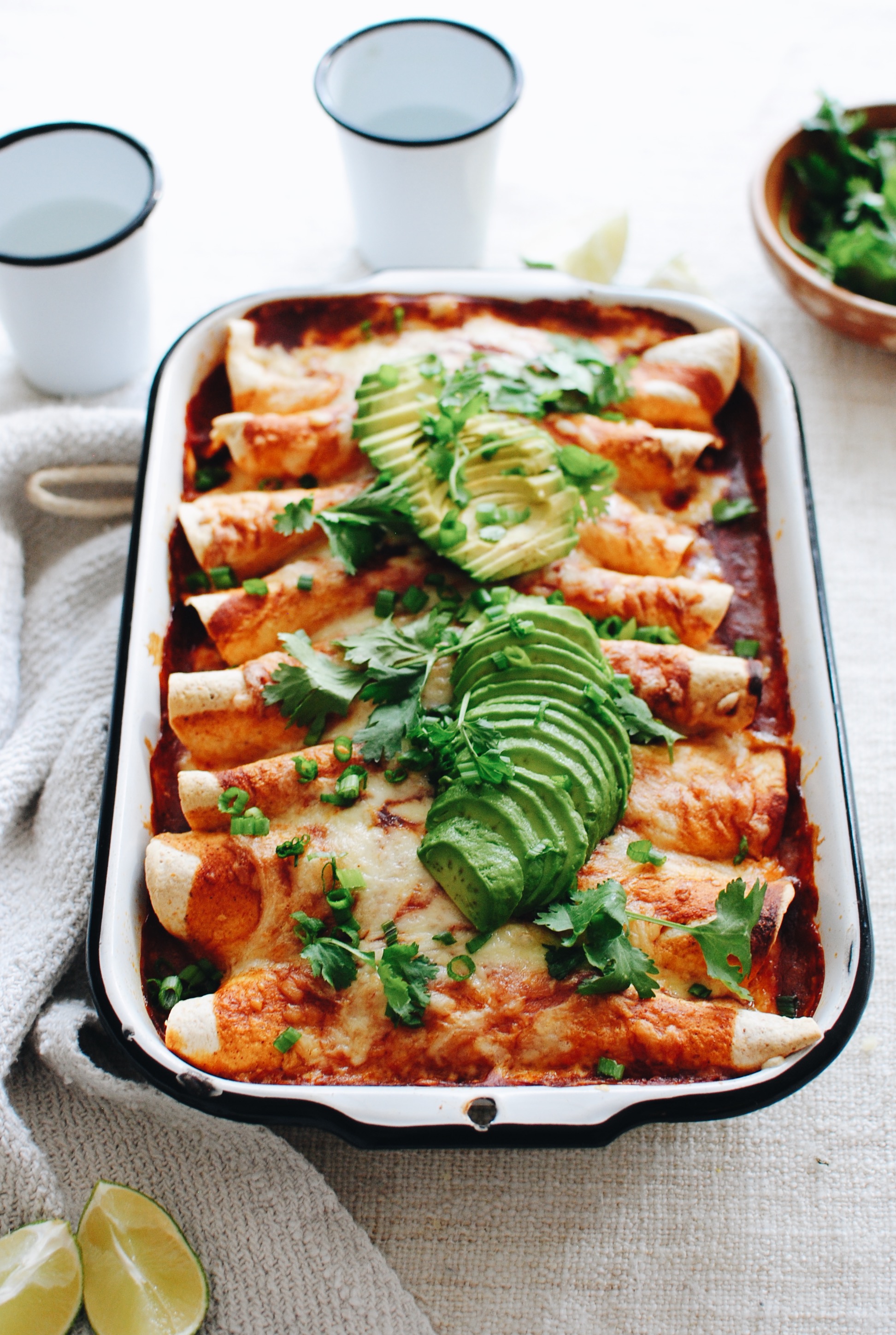 Fan some avocado on the top, or cube it. Anything goes. It's almost 2020, you guys.
(H O W)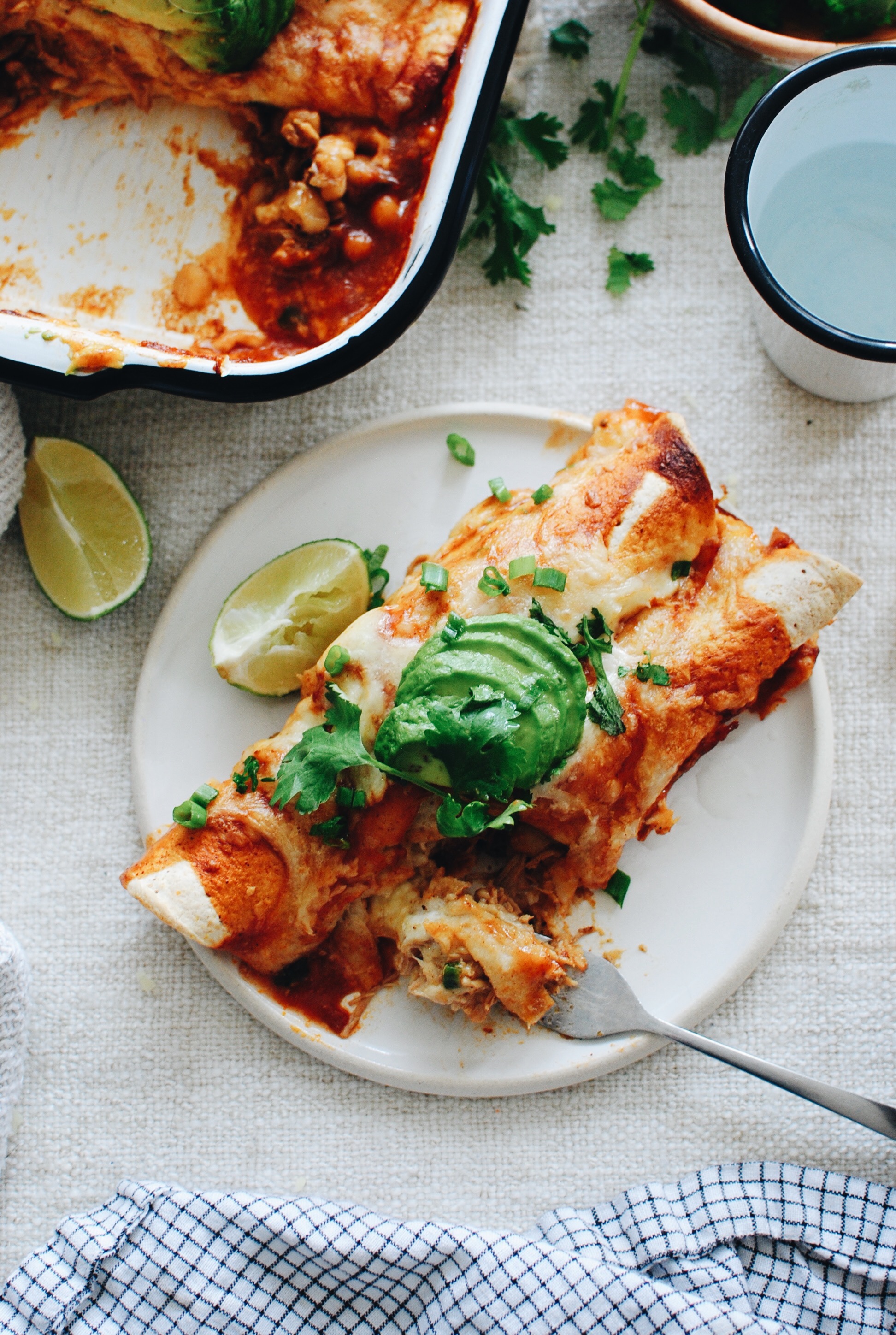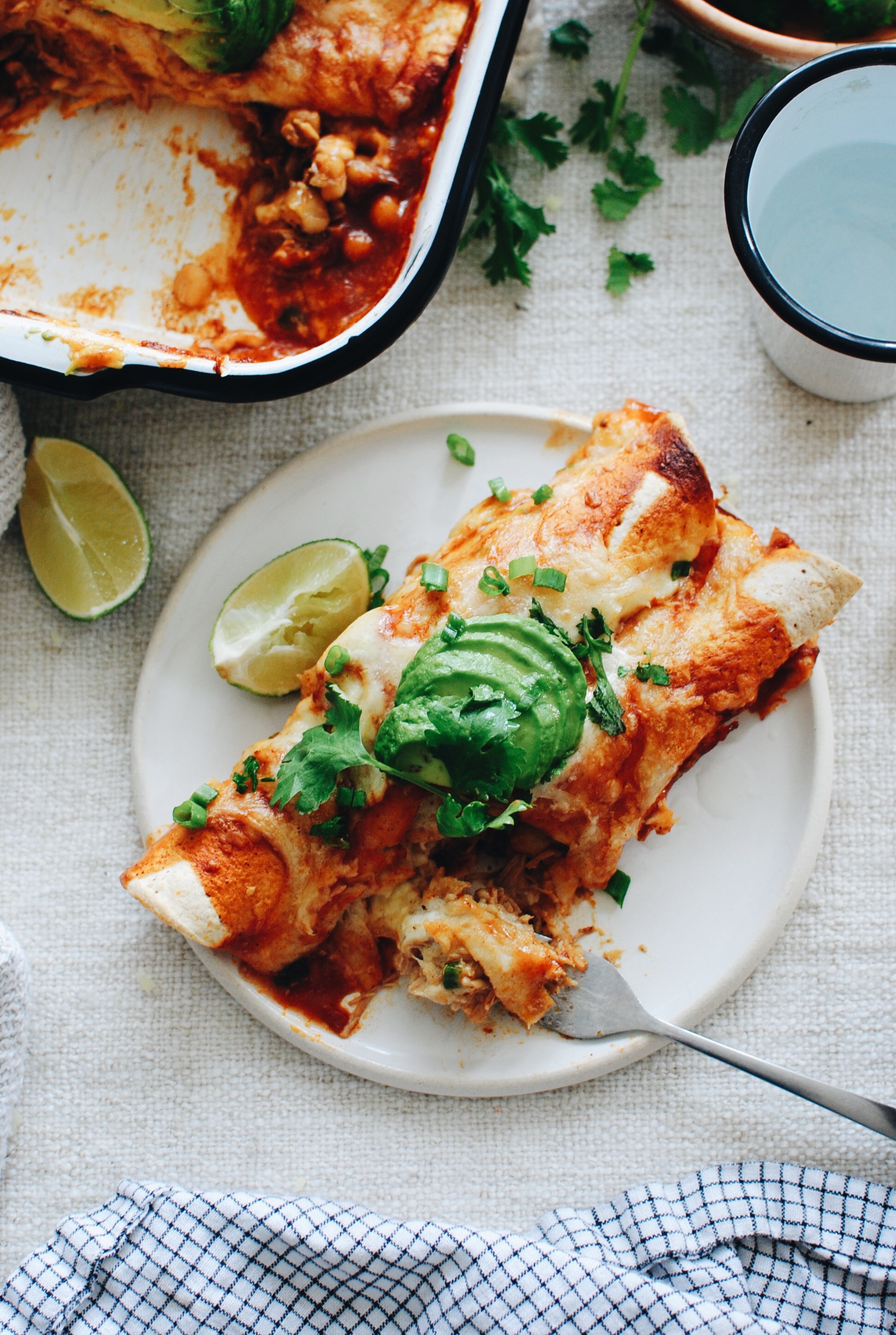 "We're gonna need a bigger plate." Ha! Never mind.
They are absolutely scrumptious. The flavor of the toasty corn and the shredded pork together will make you certifiably insane. It's SO GOOD. SOOOOOOOO GOOD. And that Monterey Jack all melted in everything? It's all you need in food. It's perfect.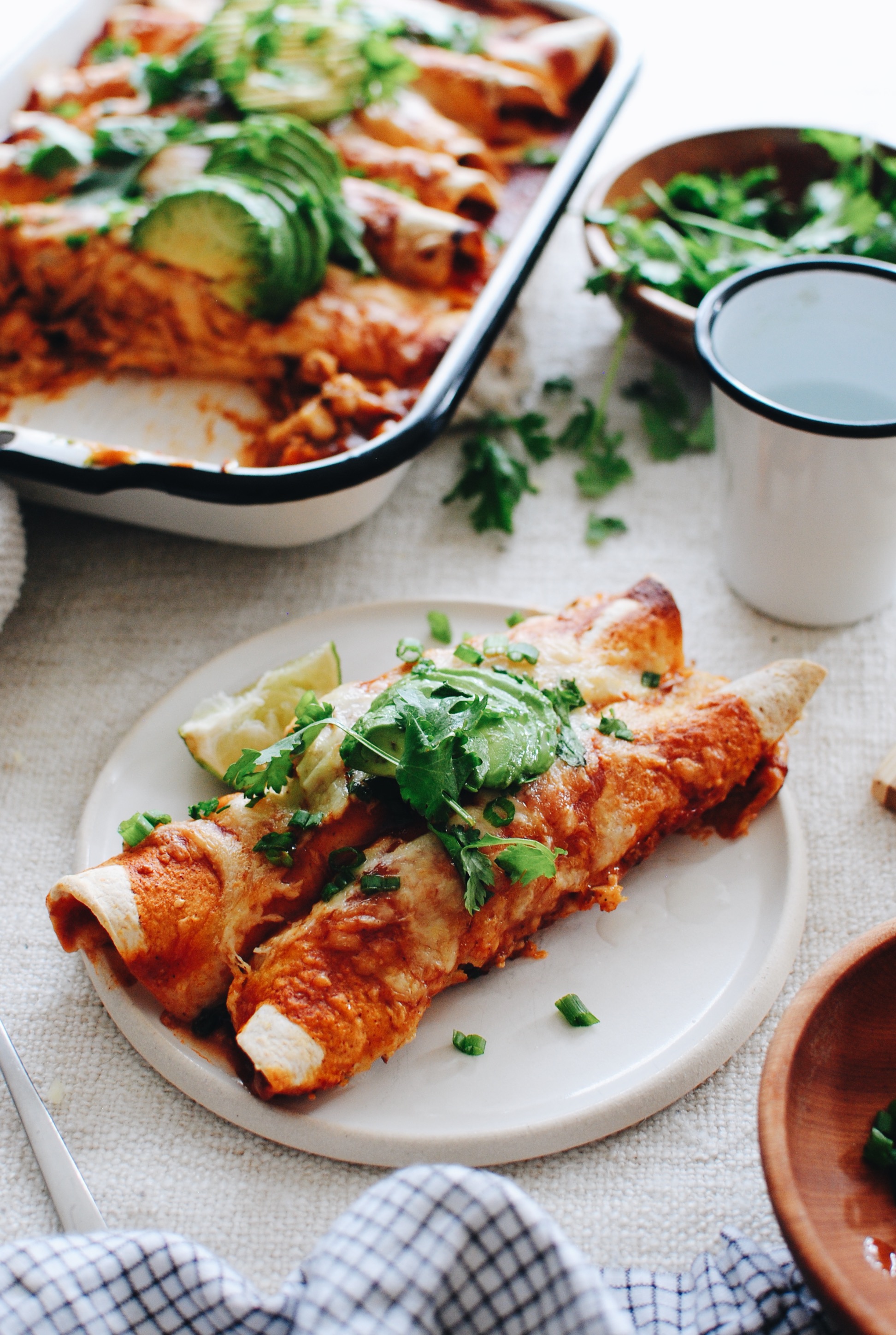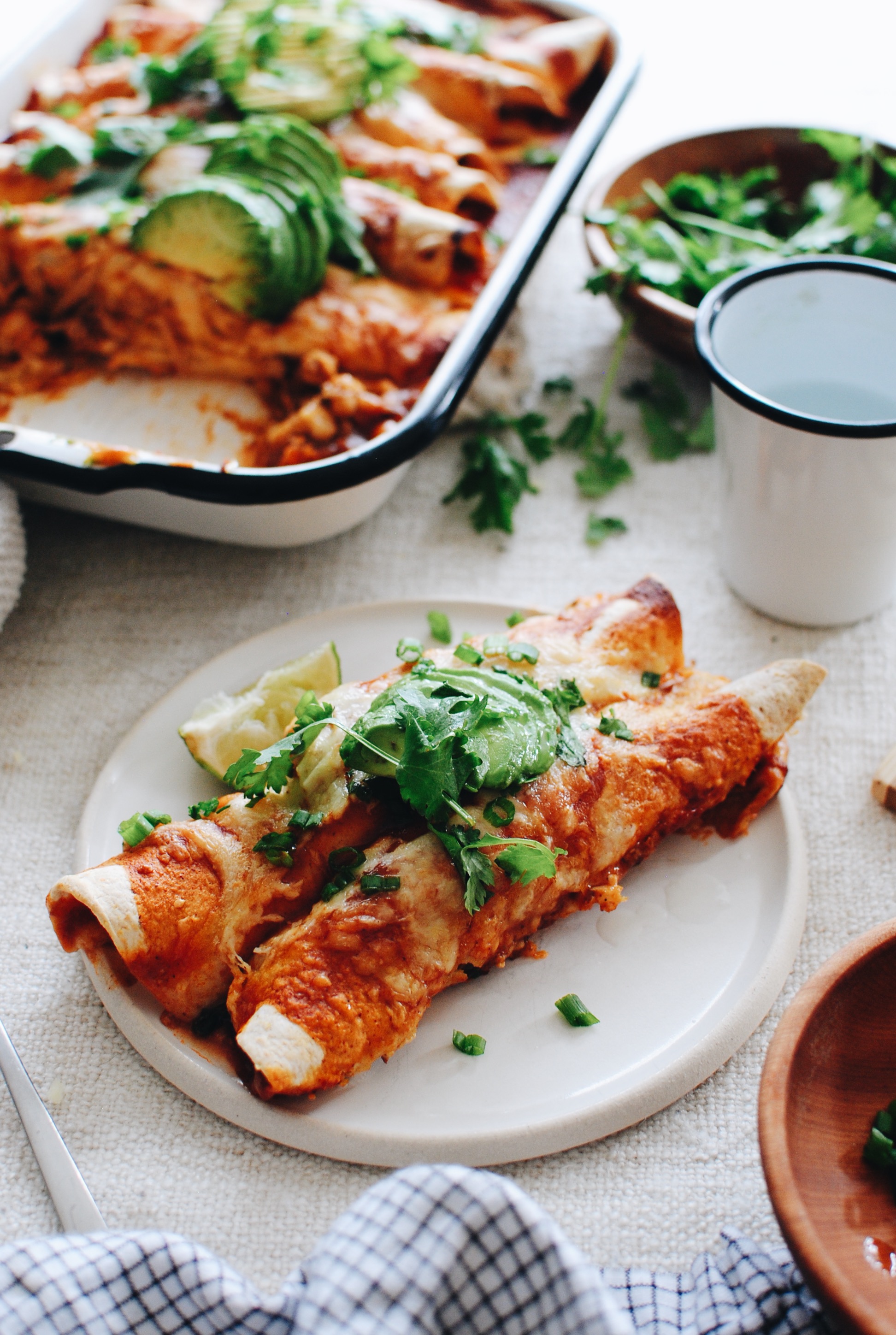 Any questions? Besides how fast can you get this in your face hole?
Shredded Pork and Hominy Enchiladas
Ingredients
1 (1.5 lb) pork loin
1-2 Tbs. extra-virgin olive oil
1 Tbs. cumin
2 tsp chili powder
1 (10 oz) bag frozen chopped onions (or one large white onion, chopped)
3-4 garlic cloves, minced
1 (15.5 oz) white hominy (drained and rinsed)
1 (14.5 oz) can beef broth
8 (six-inch) tortillas (flour is great, or a corn/flour blend!)
2 (10 oz) cans red enchilada sauce
1 (8 oz) block Monterey Jack cheese, grated
Cilantro, lime wedges and avocado, for garnish
Coarse salt
Instructions
Rub the cumin, chili powder and a good pinch of salt all over the pork loin. Heat the oil in a large pot over medium high heat and sear the pork all over until browned in places. Just rotate it with tongs until you're able to sear the whole loin.
Add the chopped onions and garlic (and maybe another drizzle of oil if needed) and sauté the aromatics until they're translucent, just a couple of minutes. Add the hominy and 1 cup of the beef stock (saving the rest to add later!). Bring the heat down to low, or a medium low, cover and simmer for two to three hours. Check on it every 30 minutes to make sure nothing is sticking. At the two hour mark, most of the liquid should be evaporated, so add the rest of the beef stock and let it simmer another 30 minutes to an hour. By this time the pork is soooo tender, so just shred it right there in the pot! Or you can take out, shred on a cutting board and put it back, if that's easier for you.
Now preheat your oven to 350.
Pour most of one can of enchilada sauce along the bottom of the your casserole dish (8x13 is fine).
Evenly divide the pork mixture among the tortillas and top with a Tbs. of shredded cheese, roll up and place them seam-side down in the pan. Pour the rest of the sauce over the top, plus another can of sauce. Top with the remaining shredded cheese, and bake for 30 to 40 minutes, until the cheese is browning in places and bubbly.
Garnish with cilantro, avocado and lime wedges!
Serve immediately.
Makes eight enchiladas.
7.8.1.2
388
https://bevcooks.com/2019/11/shredded-pork-and-hominy-enchiladas/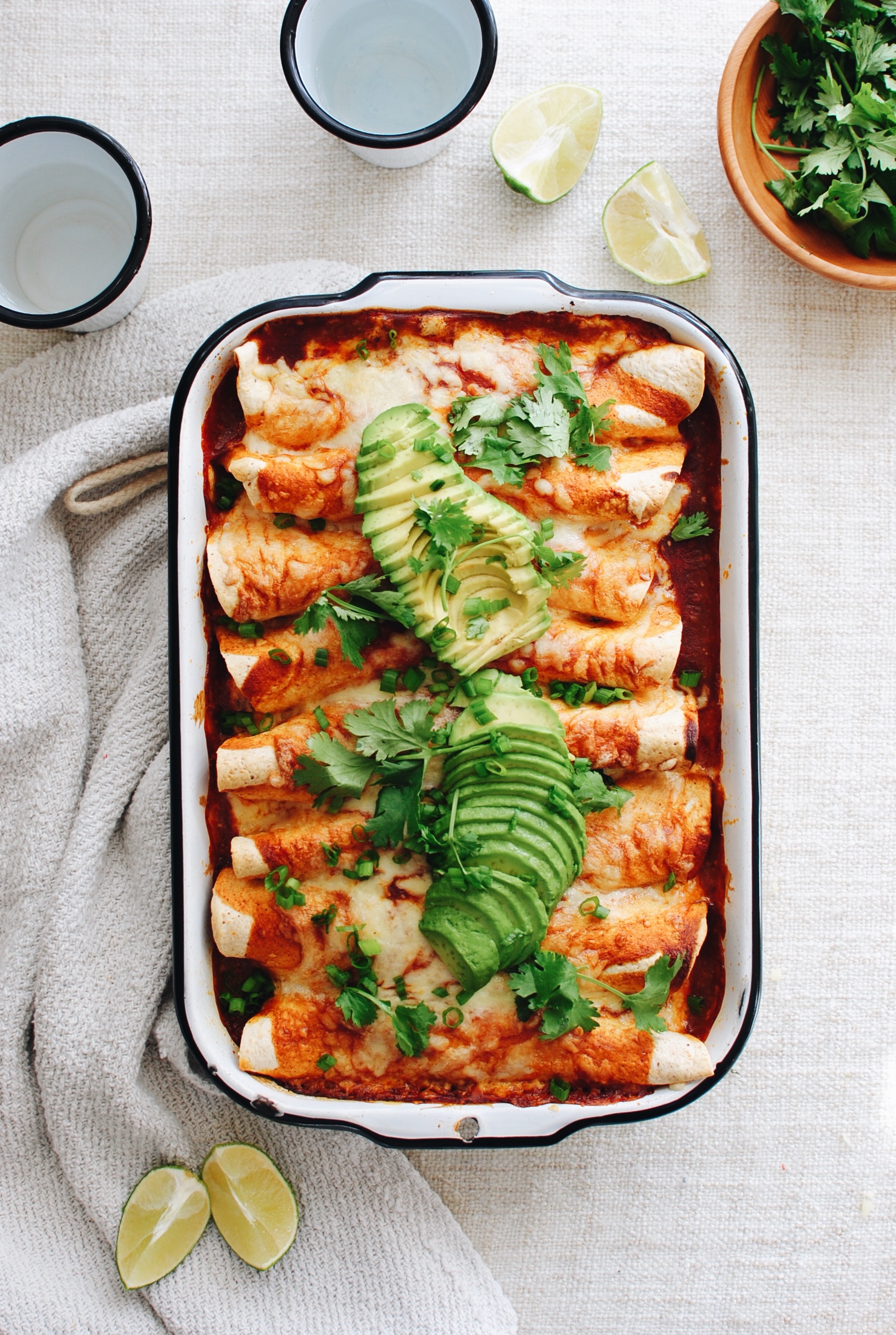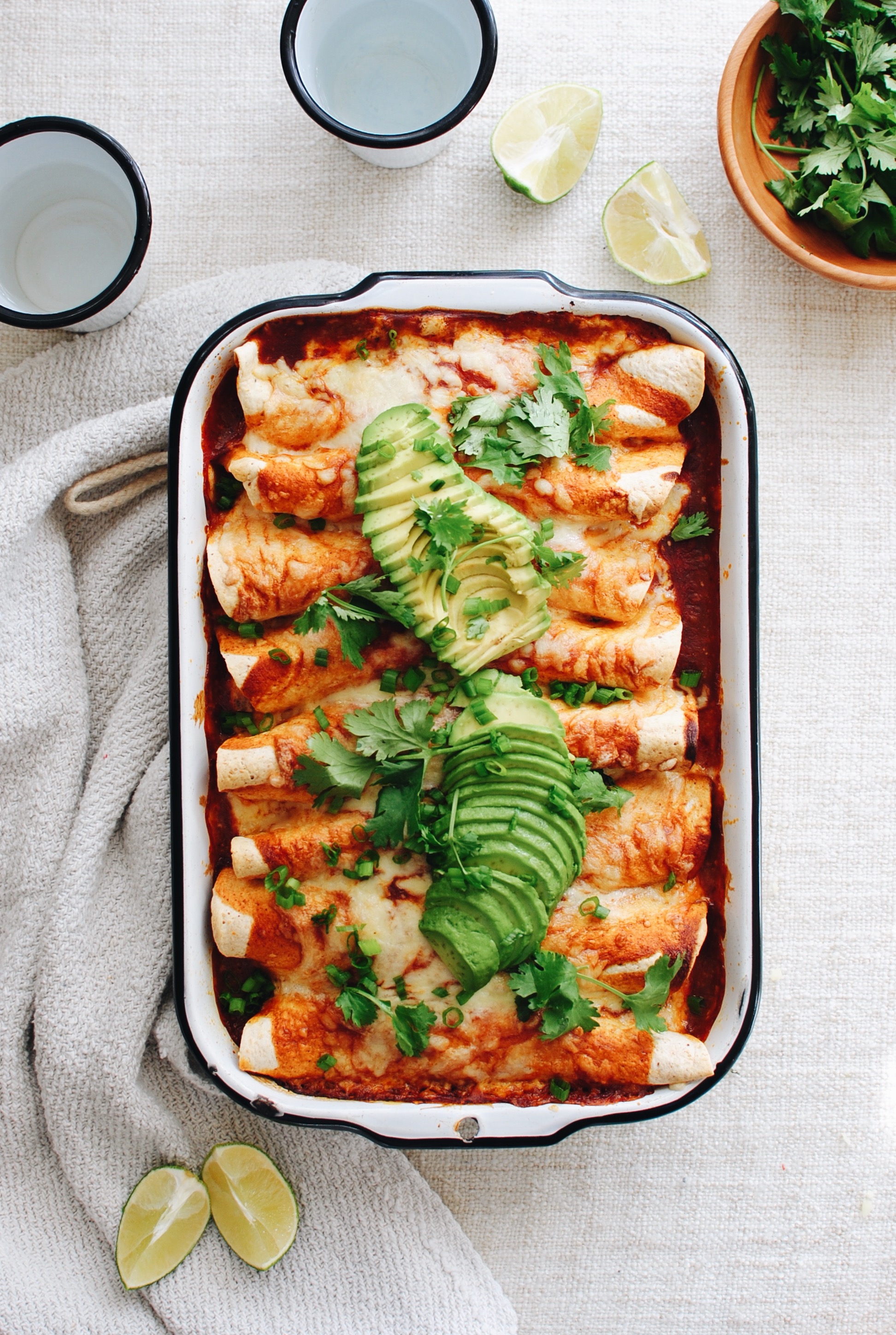 It's basically a love story, you guys.