GIRL.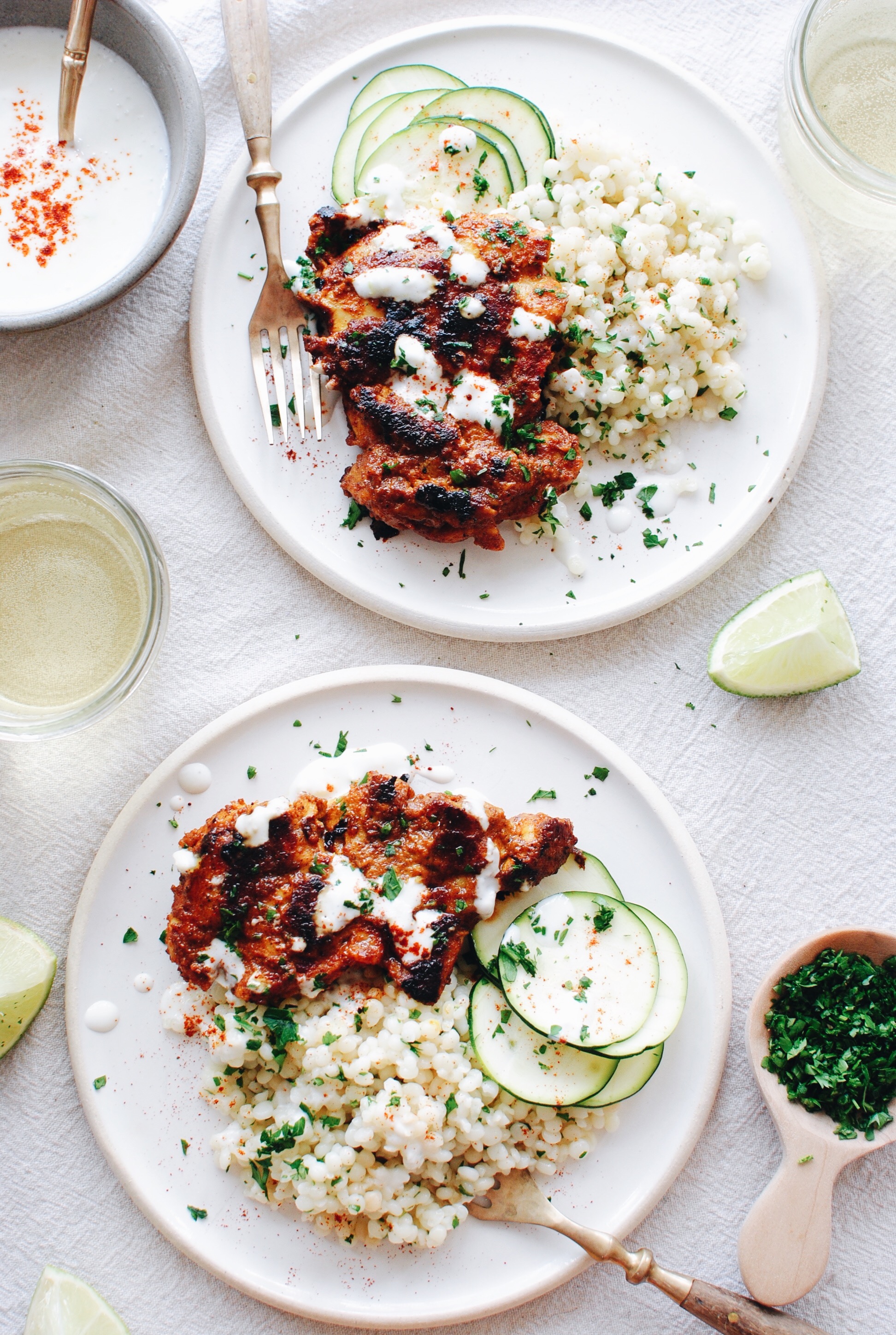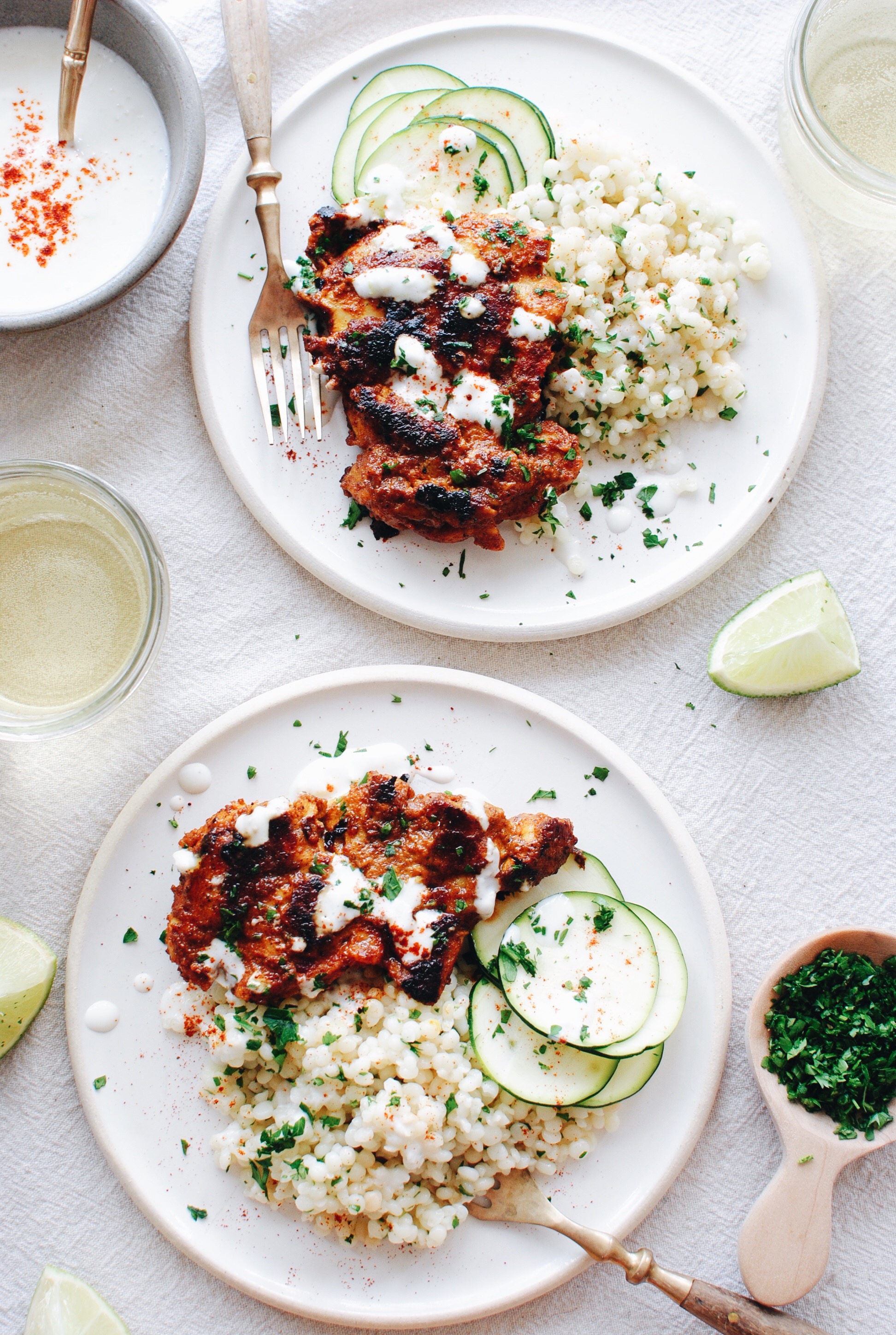 Okay. I don't beg very often. You know this. And I'm hardly EVER overly dramatic about ANYTHING EVER IN THE WORLD EVER. You also know this.
But.
I'm going to force you to make this Tandoori chicken. It is beyond easy, so there are zero excuses, and out-of-this-world amazing. Like, stupid good.
And I have a funny story about the cucumber. But we'll get there.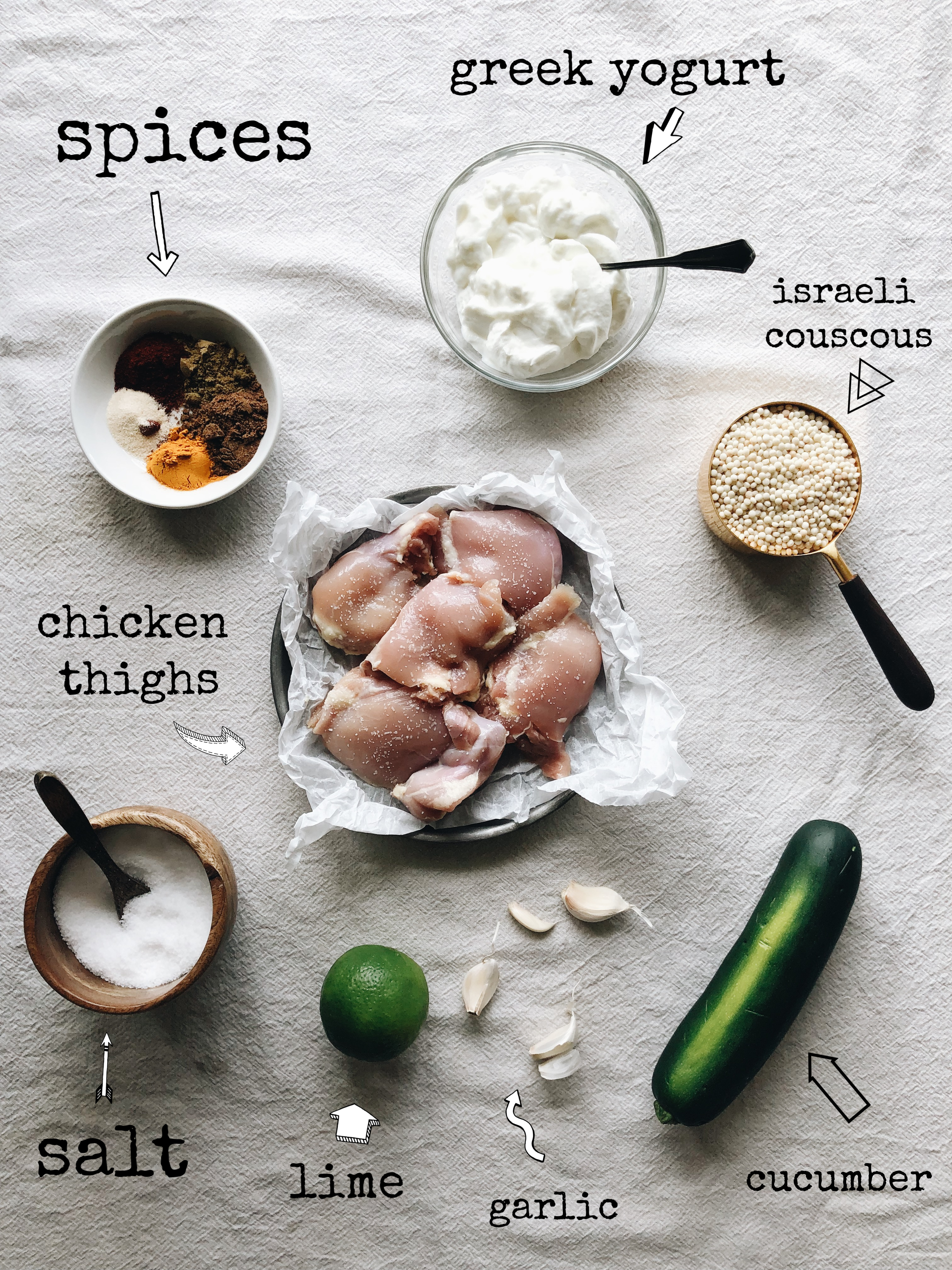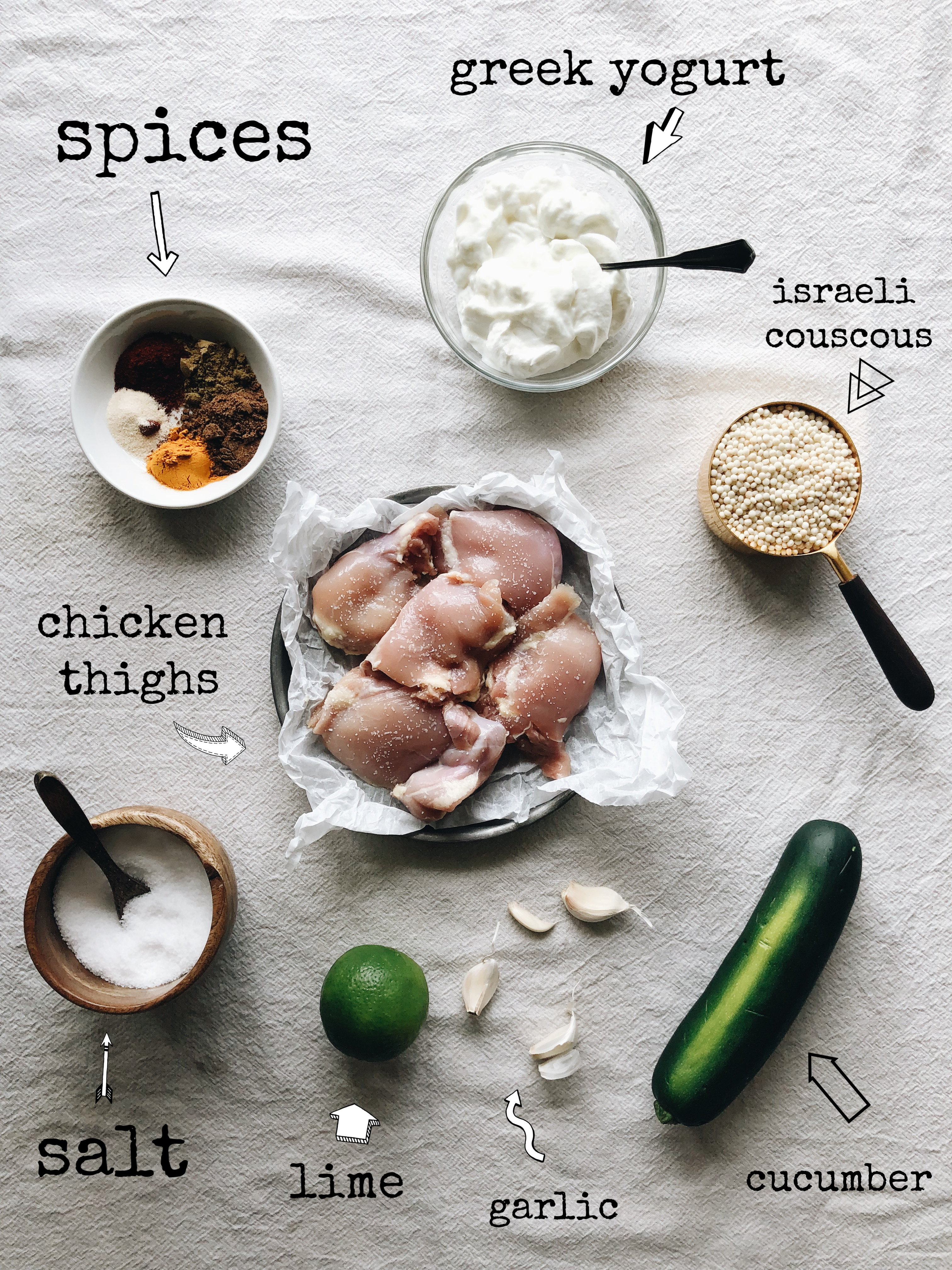 First of all, we're only going to use chicken thighs! Because thighs are life and thighs make the world go 'round and thighs just make you see things more clearly. Have I convinced you yet? Get the thighs.
Aaaaaaall you do is marinate the thighs in a mix of gawgeous spices and Greek yogurt. For a few hours. As long as you want! Start the marinade in the morning before work, and zippidy zappidy zoo, done.
Wait, that IS a cucumber, right? Looks like it to me!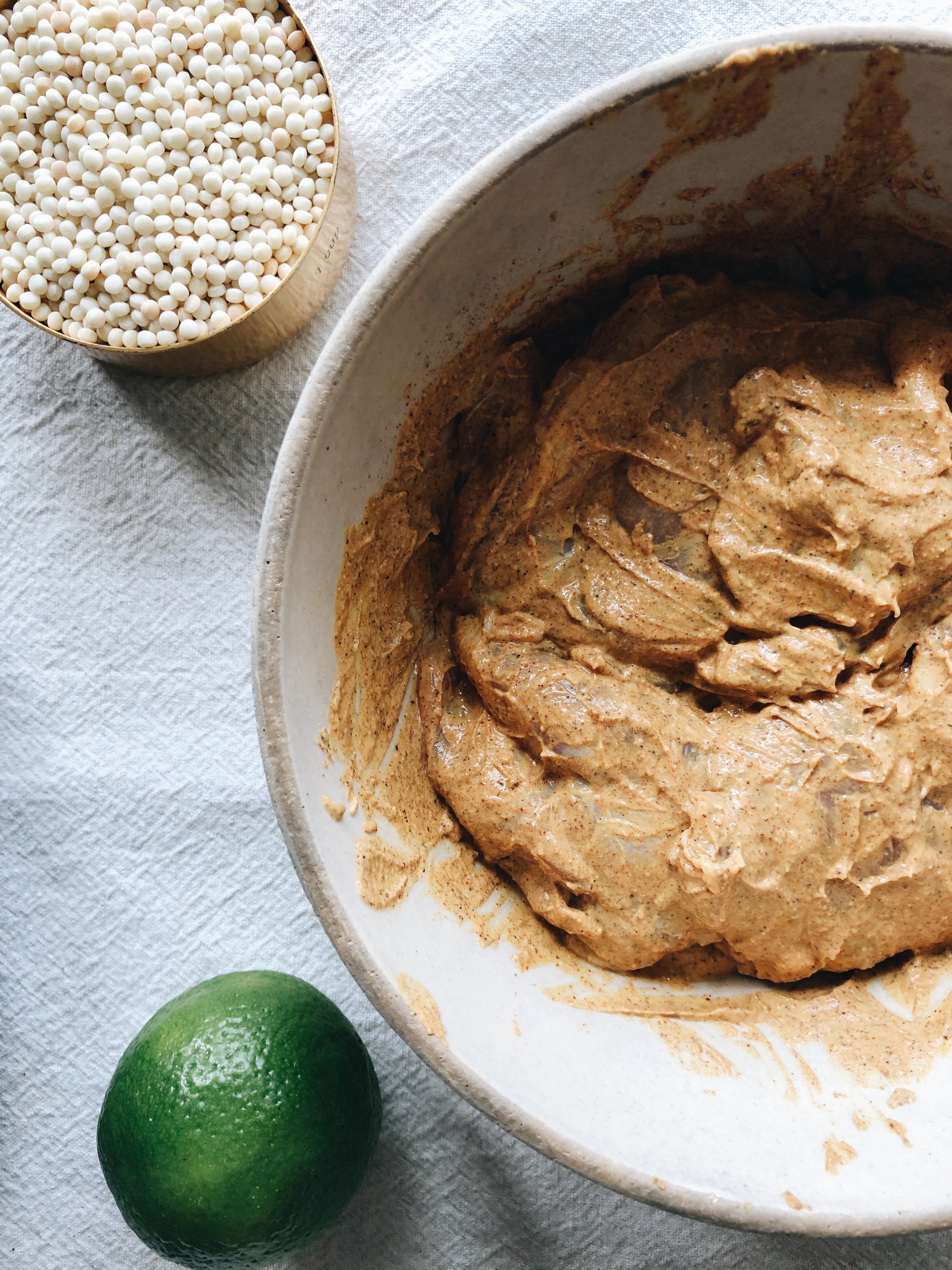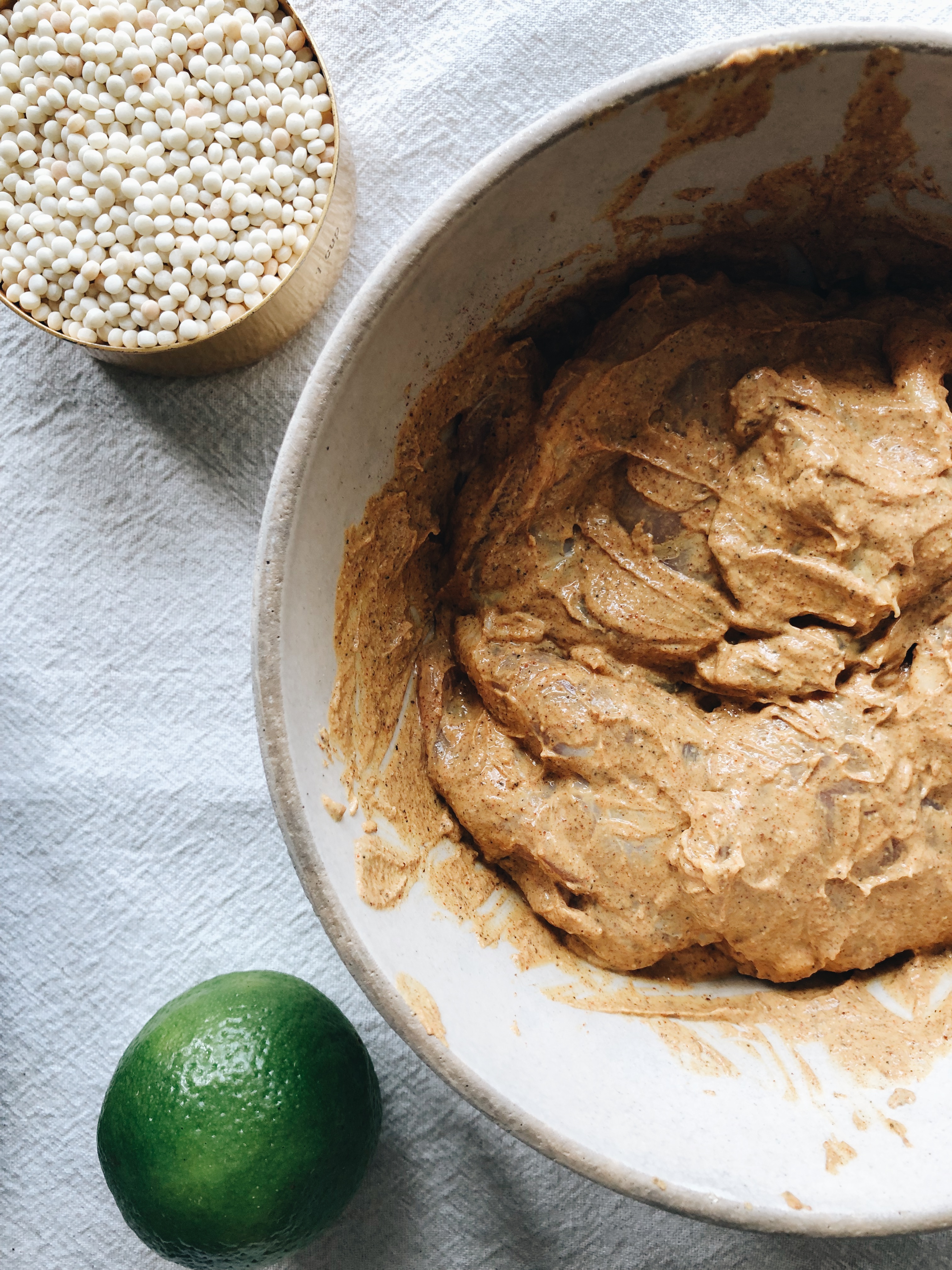 The spices are in your pantry, promise. We've got garam masala, cumin, tumeric, paprika and onion powder. And salt.
Don't you just love looking at raw chicken? I did this for you, you know.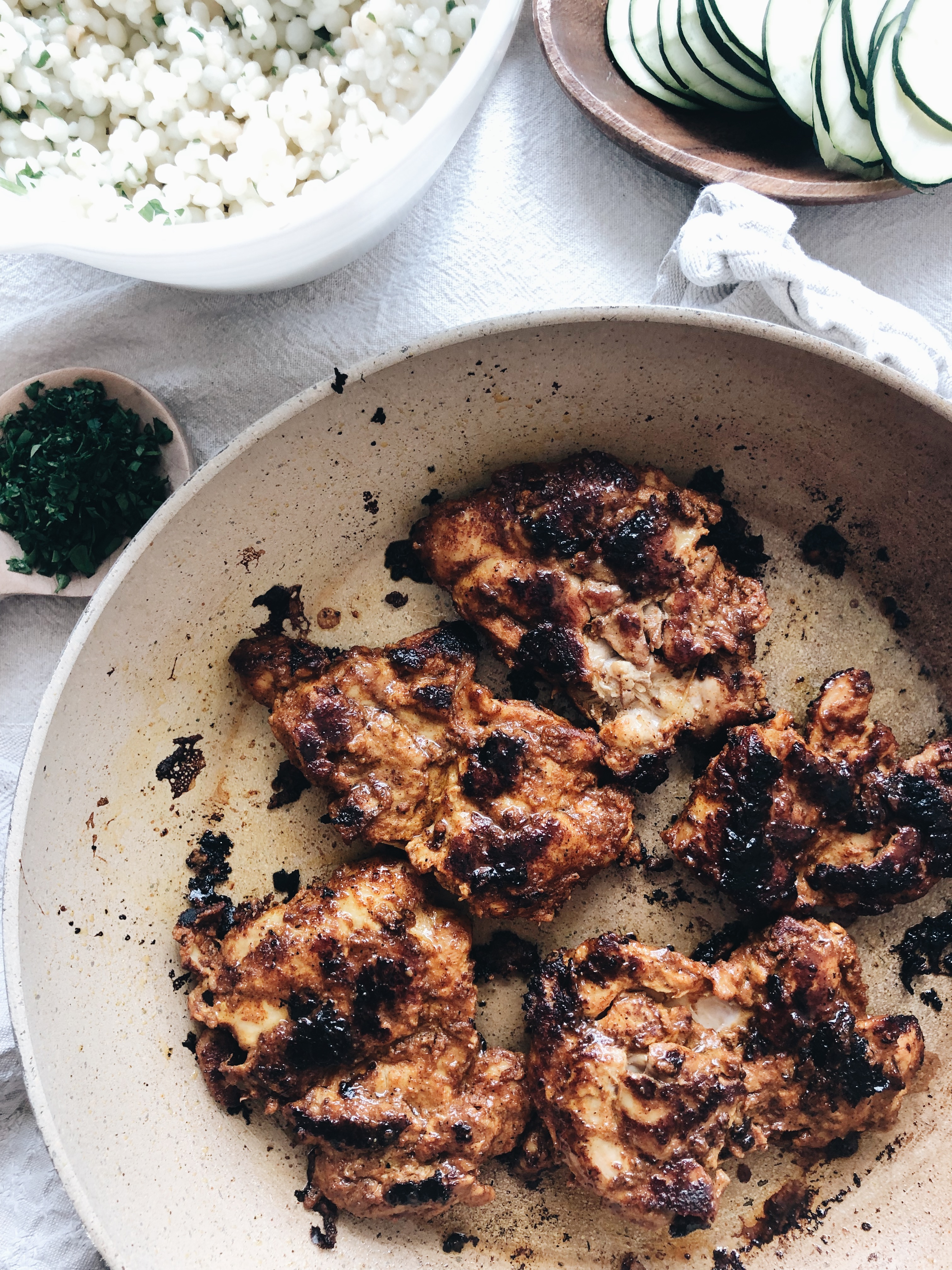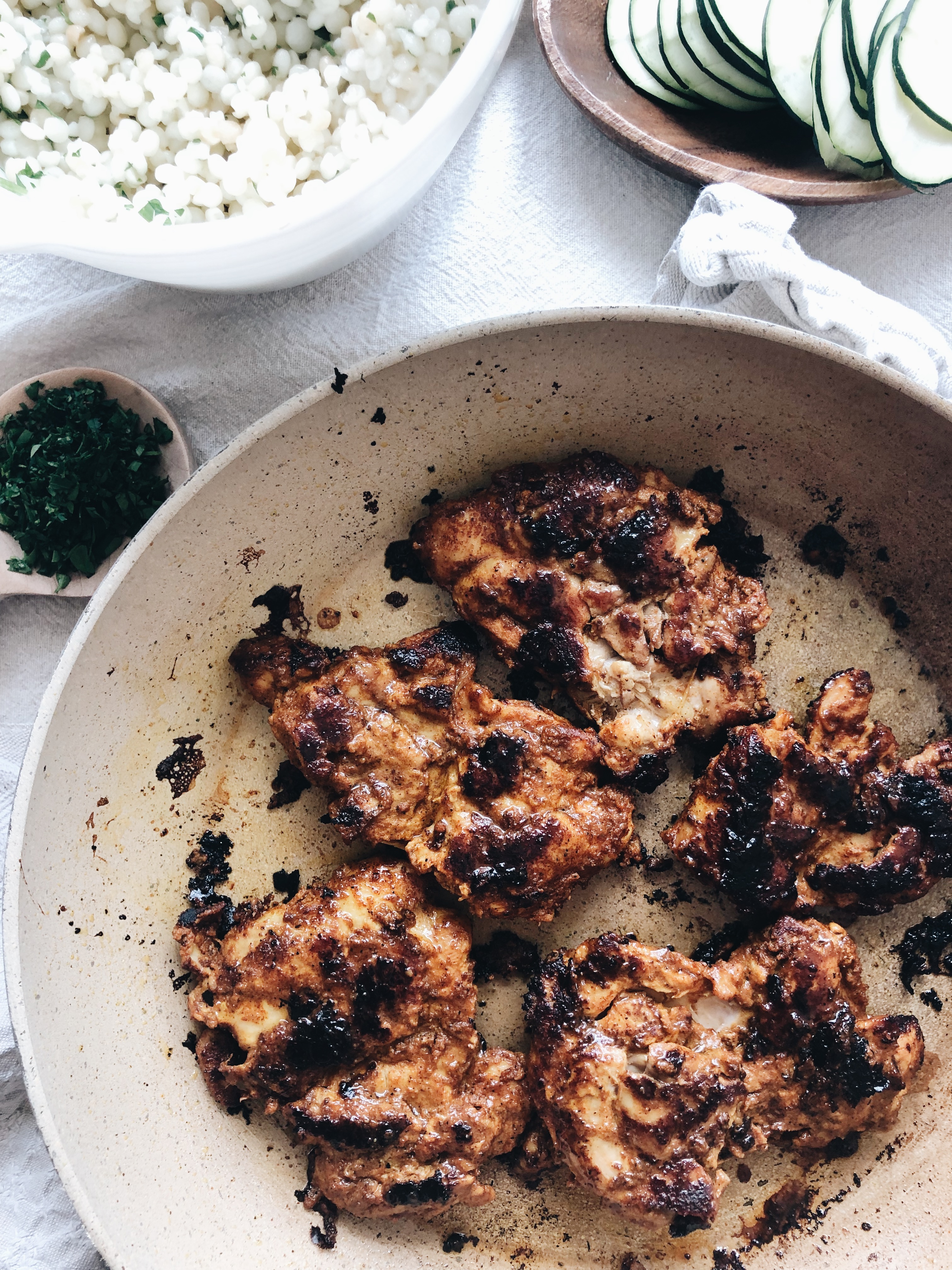 Later on, you sear the chicken! Since thighs take a wee bit longer to cook through than breasts, go like this: 3 minutes – flip, 3 minutes – flip again, 2 minutes – flip, 2 more minutes – one more flip. That should seriously do it. And you'll get that pretty browning all over from the yogurt that makes this whole thing so dern magnificent.
While you're searing, boil the couscous! Takes like 10 minutes, I think. The package will tell you. And what I DIG about Israeli couscous is that they're like, little baby pasta pearls. At least that's what I told my kids to get them to eat it. Pasta pearls! You'll swirl in some extra-virgin olive oil, a bit of lime juice and minced parsley just to bring it to 11.
And the yogurt finishing drizzle is divine. This is all it is: Greek yogurt, lime juice, garlic, pinch of salt. Mini food processor. Blitz blitz blitz. You want it runny and drippy and fabulous. I already can't wait for you.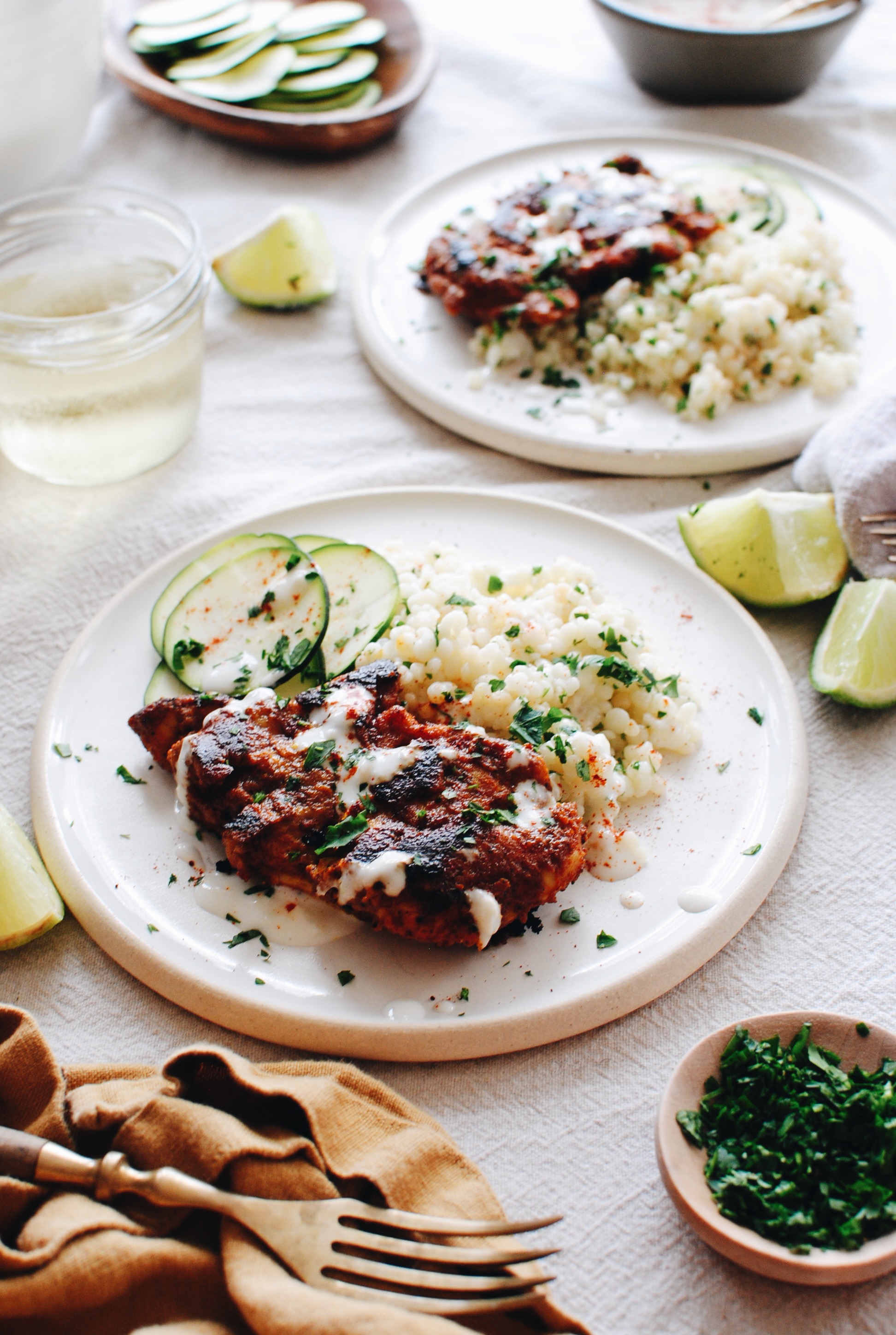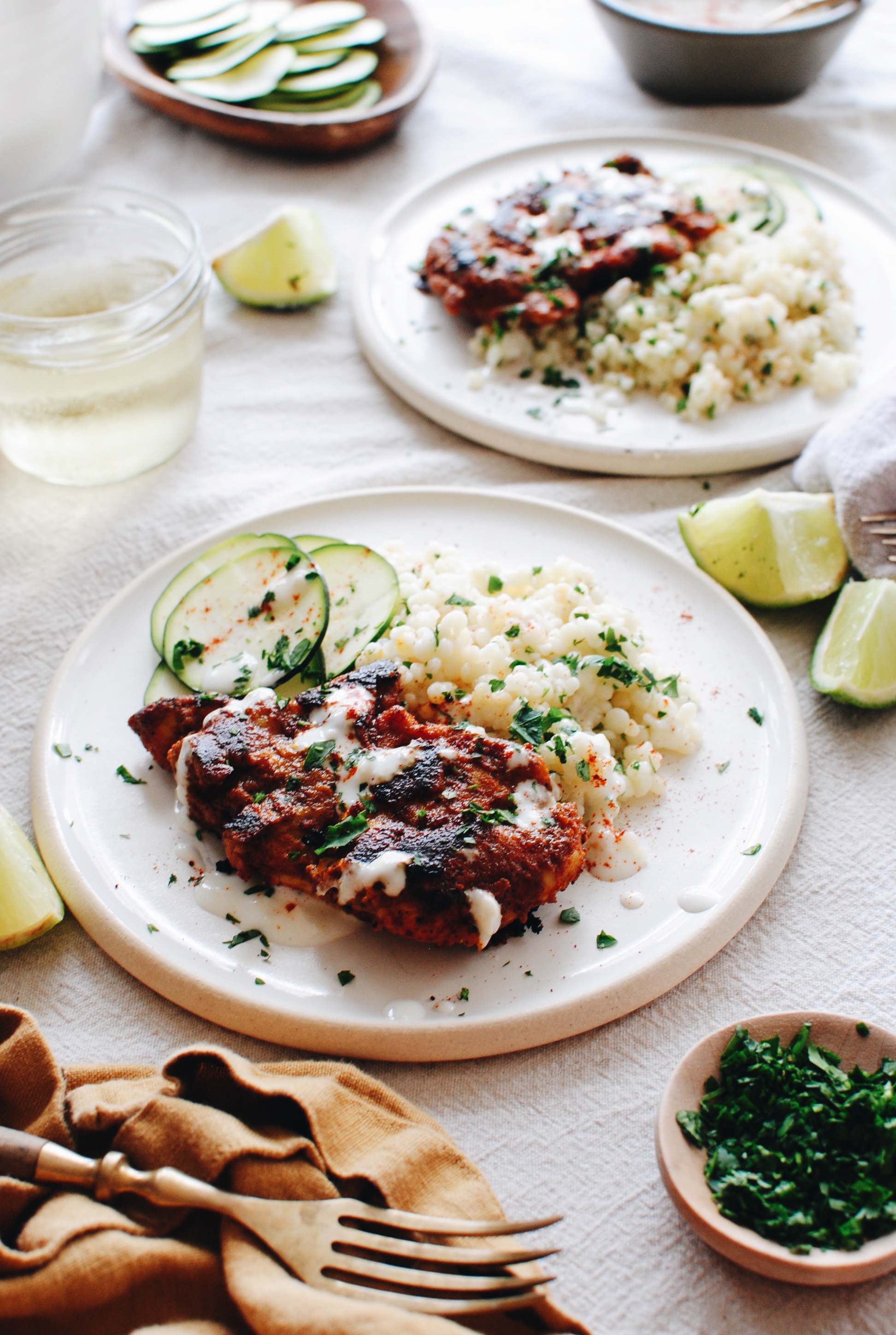 Serve with sliced cucumb! – wait, is that a cucumber, Bev? How about NOPE. That would be a zucchini. But listen! It totally looked like a cucumber with the girth (sorry) and color and all, and was in the cucumber BIN, right next to the zucchinis. I swear! Aaron made fun of me for three three hours and thinks I need to see a doctor. Because I think I bought the zucchini AND put the milk in the pantry on the same day. I have no idea. I HAVE TWINS, that's my excuse.
Oh, and I might have put orange juice in their cereal.
It's fine.
I'm fine.
Listen, this is beyond delicious and so incredibly simple and MADE FOR WEEKNIGHTS. Any nights. That chicken, I'm telling you, is going to ruin your life so good.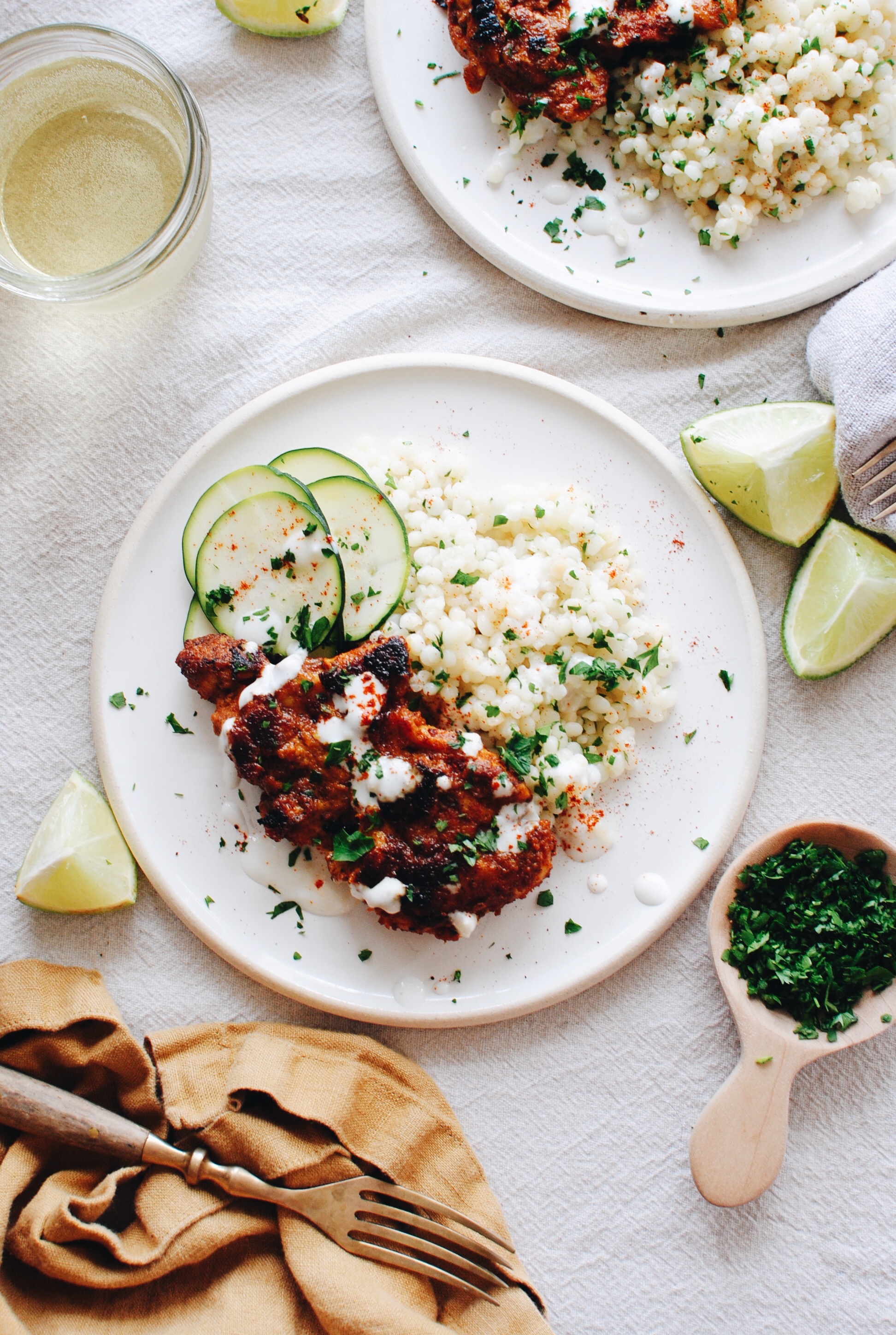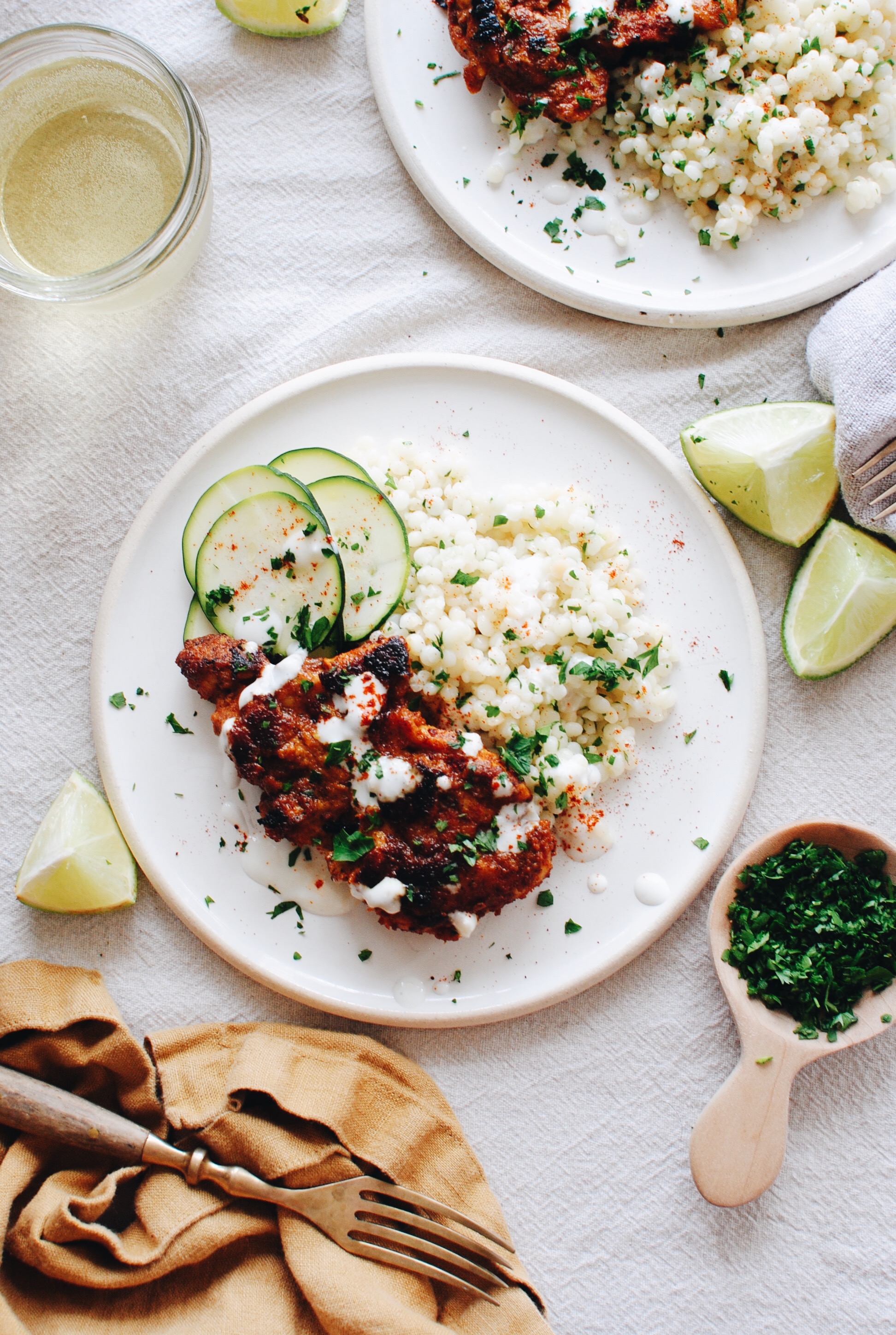 Yes. Please.
Ingredients
1.25 pounds chicken thighs (any excess fat trimmed)
12 oz Greek yogurt (two 6-oz containers)
1 Tbs. Garam Masala
1 Tbs. cumin
1 Tbs. turmeric
1 Tbs. paprika
1 Tbs. onion powder
Coarse salt
1 cup Israeli couscous
1 cucumber, thinly sliced (you may have leftovers here, so start with half of it)
3 cloves garlic
1 lime
1/3 cup chopped parsley, plus more for garnish
Instructions
In a medium bowl, combine all the spices with a tsp of coarse salt. Add 6 oz of Greek yogurt to the spices and stir to combine. Add the chicken thighs and toss to coat with your fingers. Cover and marinate in the fridge for a least two hours and up to overnight. Place the bowl on the counter about an hour before you want to cook, just to bring the chicken back to room temp.
Heat a couple Tbs. of extra-virgin olive oil in a large skillet. Place the thighs in the pan and sear for three minutes, flip and sear another three minutes. Flip again and let it go another two minutes, and one more flip for another two minutes. This will get the yogurt marinade all nicely browned and crispy all over, while cooking the chicken through.
In the meantime, bring a large pot of salted water to a boil. Cook the couscous according to package directions, until toothy but tender, about 10 minutes. Drain, and put back into the pot. Add a couple Tbs. of extra-virgin olive oil, juice from half the lime, a pinch of salt and the finely chopped parsley. Toss to get the couscous all shiny and glorious.
Lastly, make your dressing! (You can do this early in the day, too) In a small food processor, add the other 6 oz Greek yogurt, garlic and a Tbs. of lime juice. Blitz until smooth and a little runny. Perfect.
Serve the couscous with the seared Tandoori chicken, thinly sliced cucumber, and a nice drizzle of the yogurt sauce. A little finishing sprinkle of paprika never hurt anyone.
Serves 4
7.8.1.2
221
https://bevcooks.com/2019/04/tandoori-chicken-with-israeli-couscous/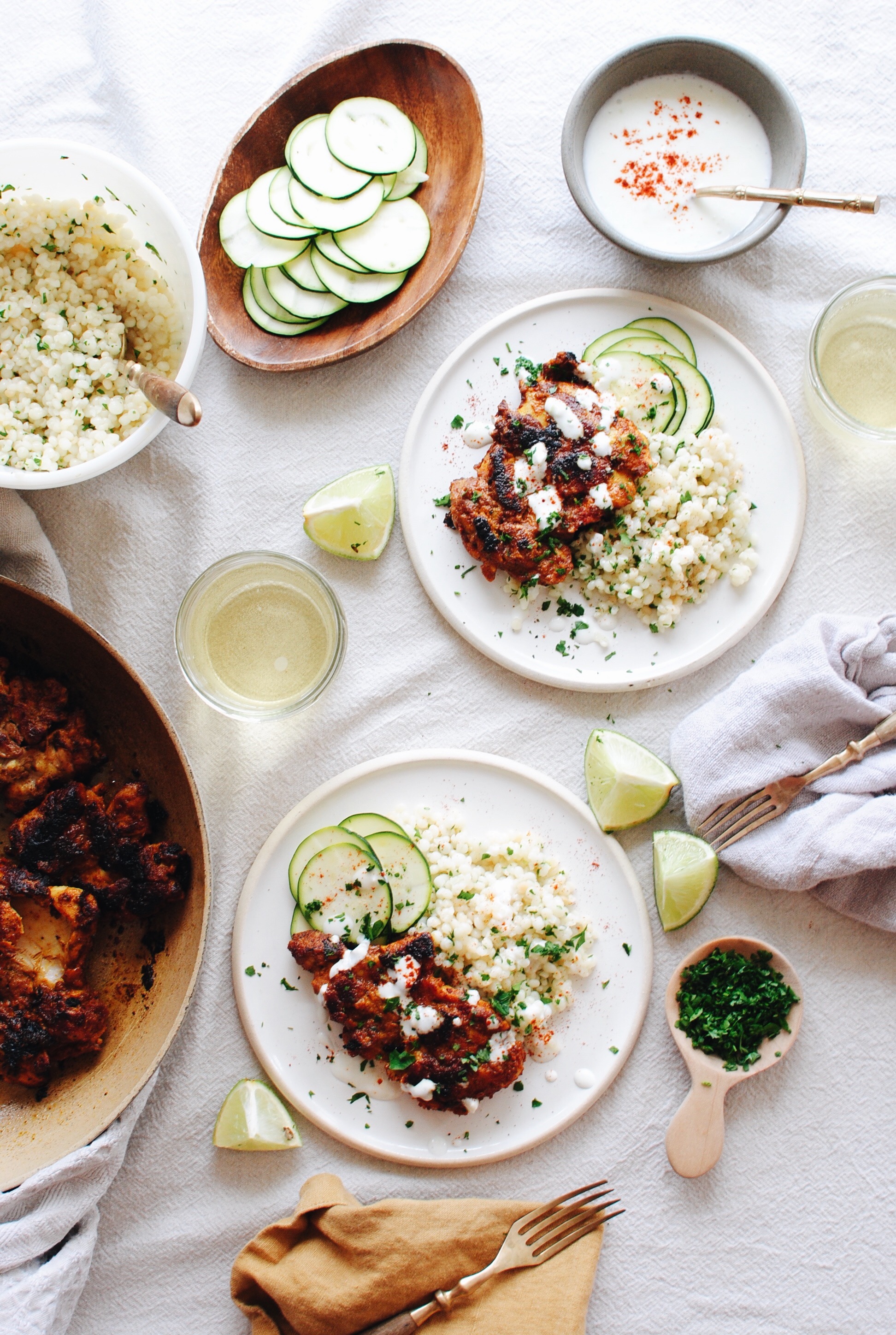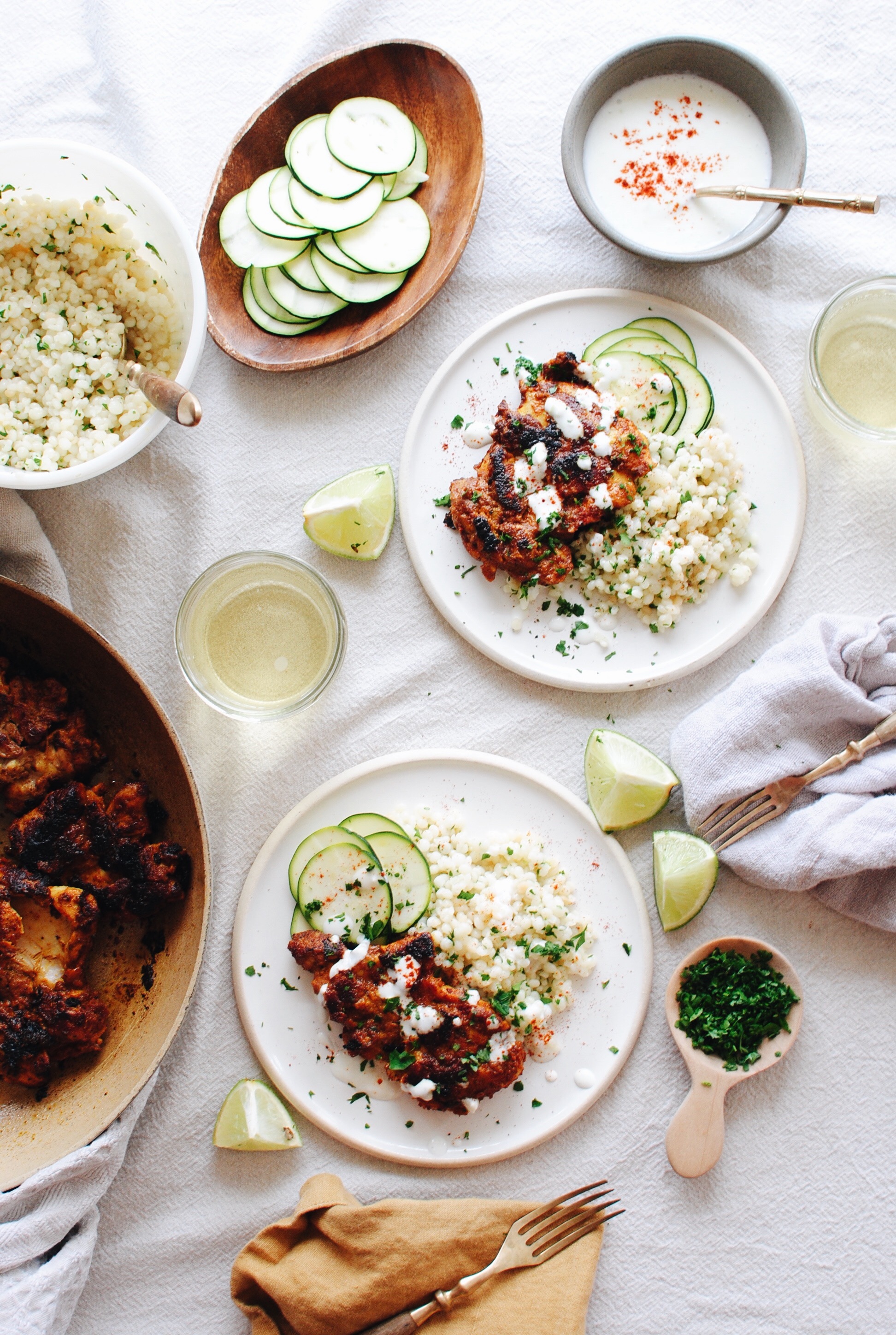 Aaaand weeknight meal rotation is updated NOW.