UM. OKAY.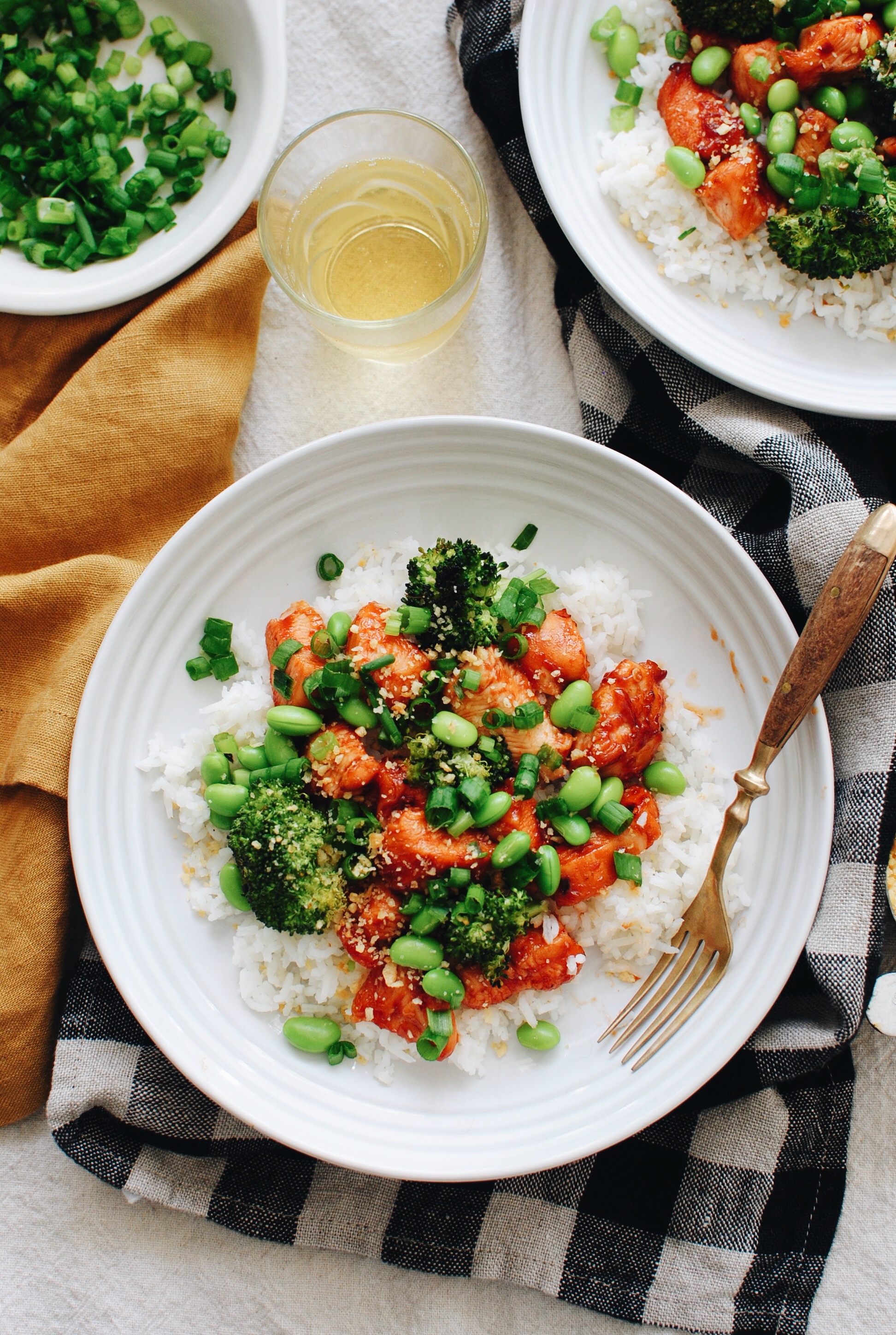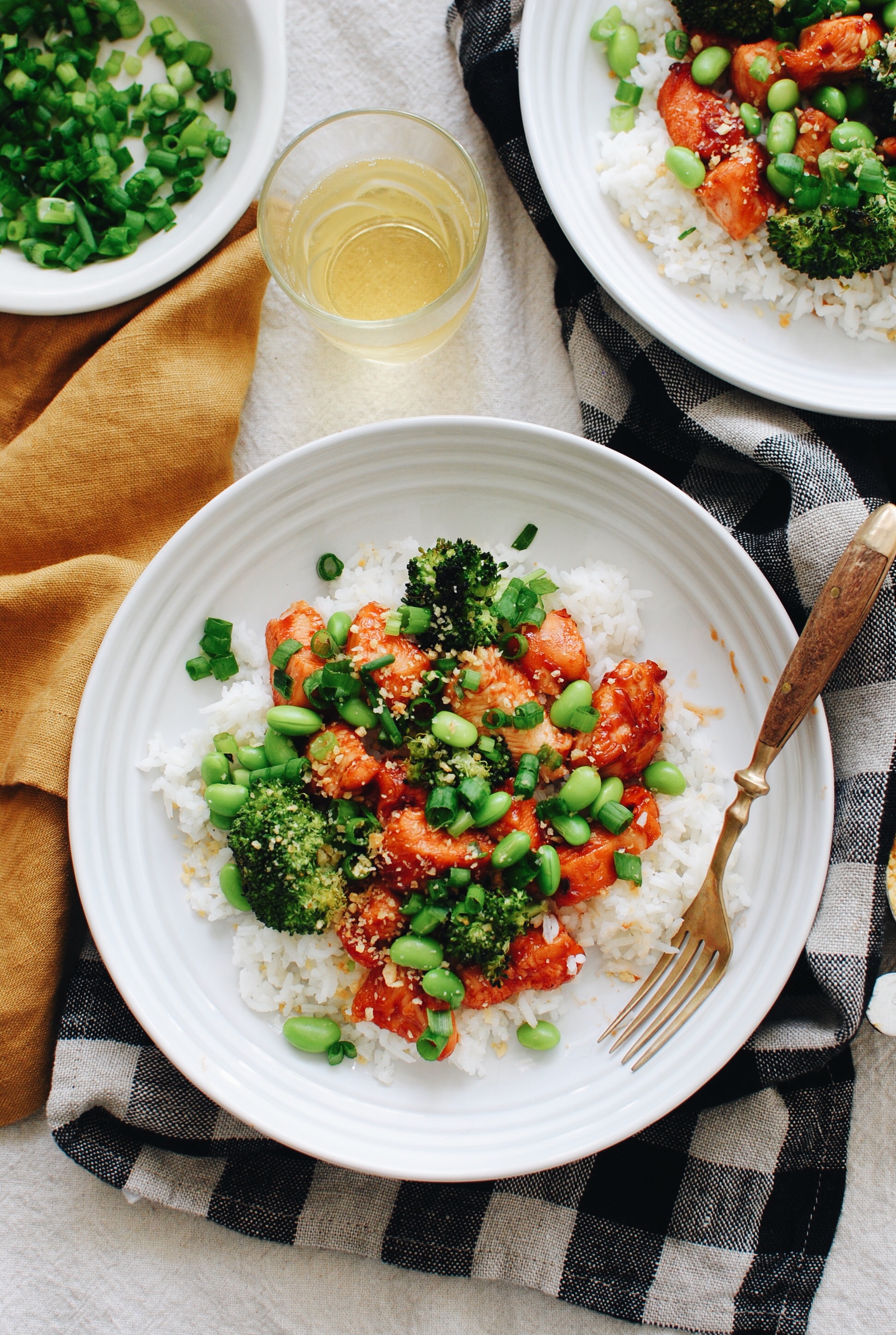 I know you're probably like, "Chicken, broccoli and rice, whoop dee do."
But.
Hi, this chicken.
Is coated in all that stuff you see in this next photo.
And it has sweetness.
And a little kick.
It's a little bit country.
And a little bit rock 'n roll.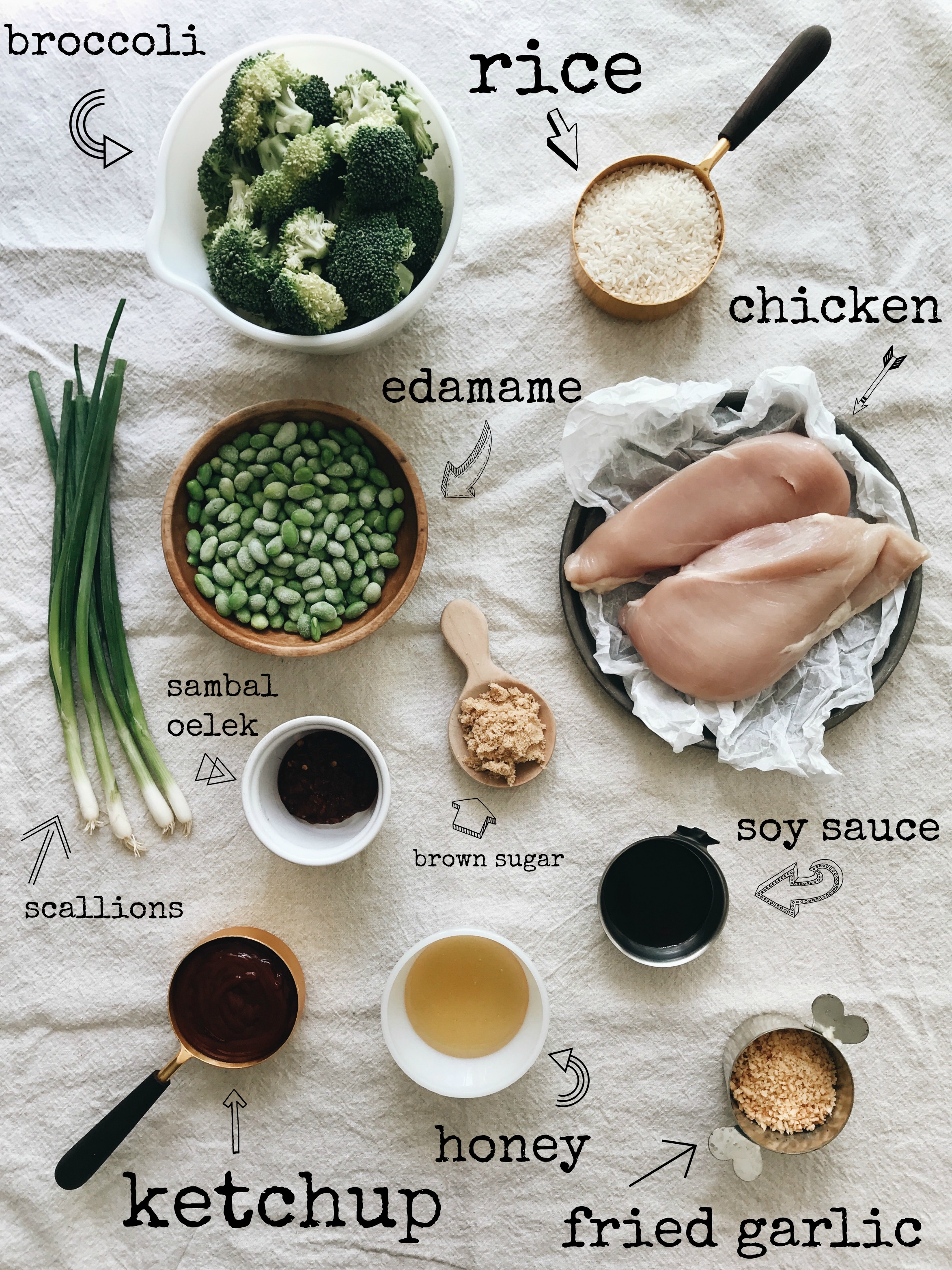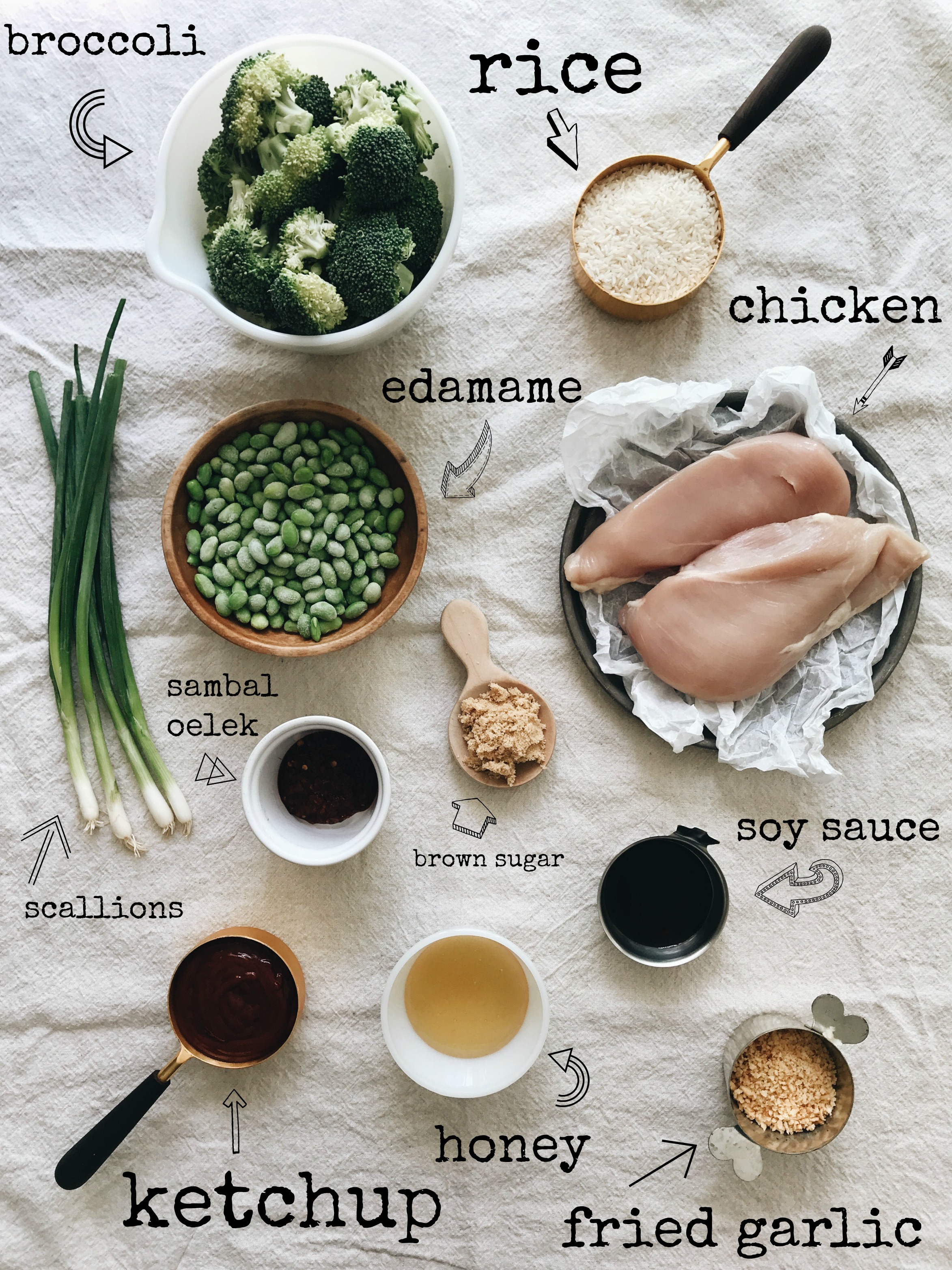 This LOOKS like a lot of ingredients, but it's really not. When you're grabbing ish from your fridge and squirting it all in a bowl, it takes less than time. It doesn't even happen. That's how fast this is to pull together. It's like reverse time.
I'm hyper, I know.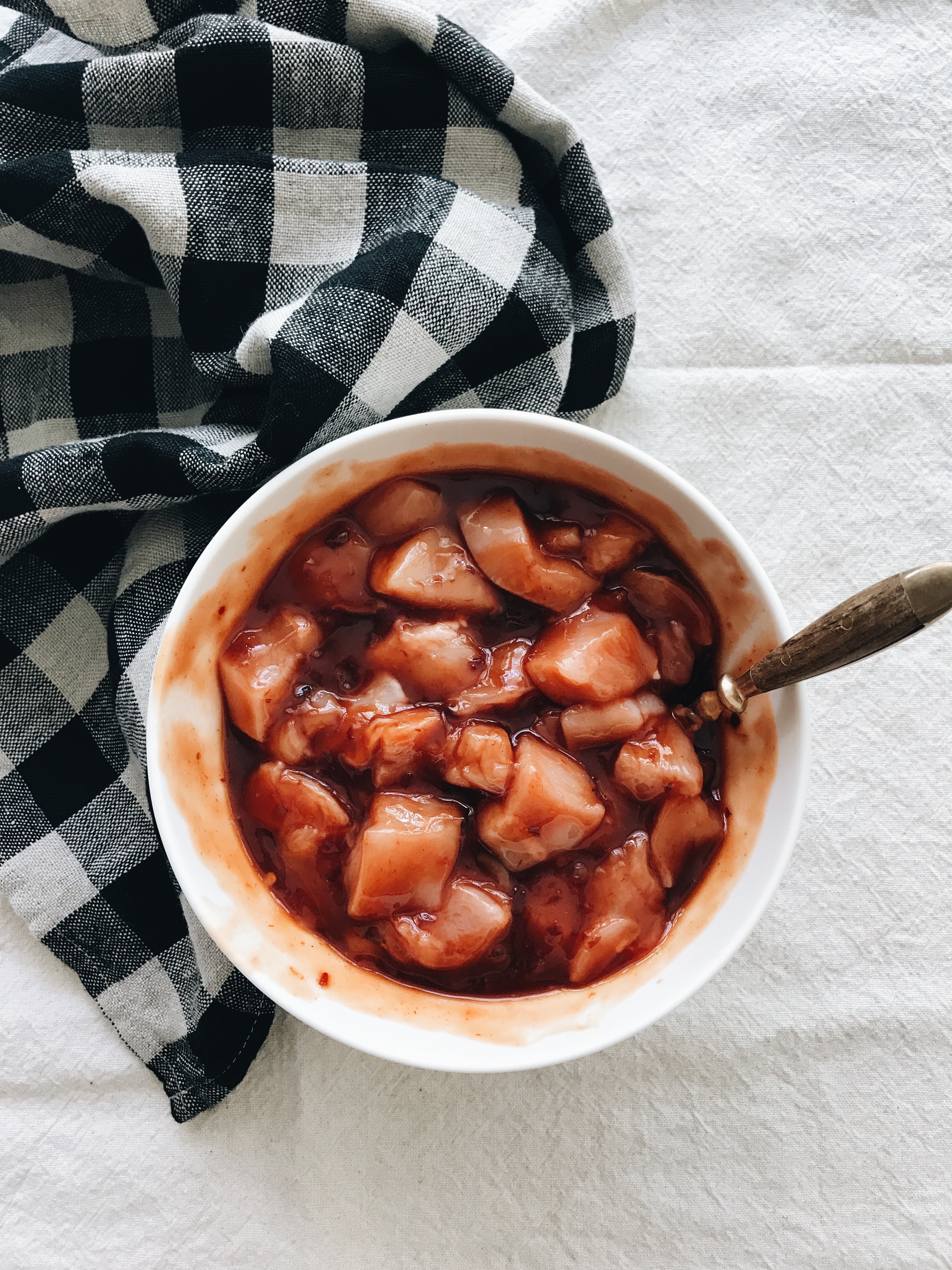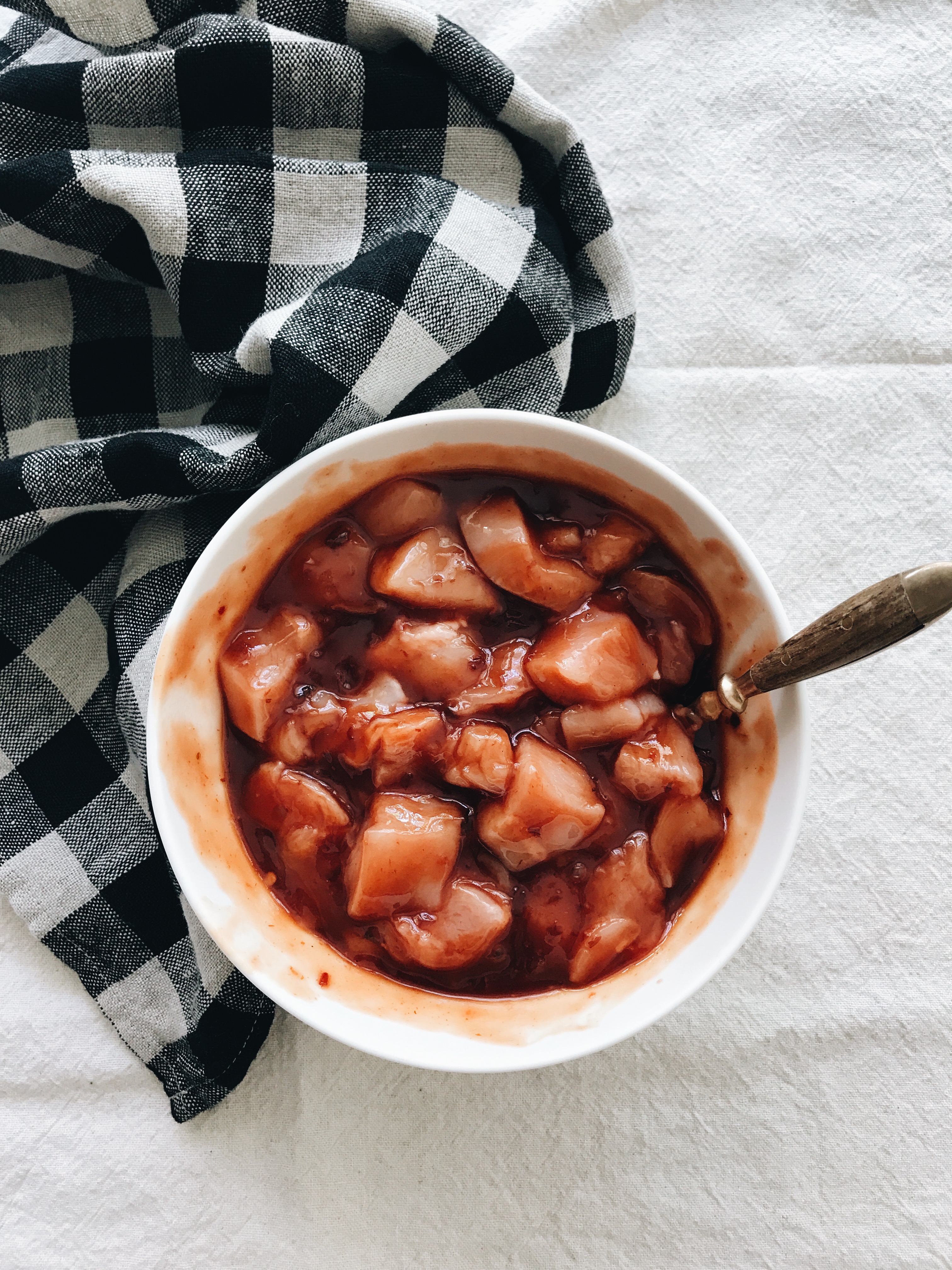 But it's so simple! You dice up a couple of chicken breasts and coat them in that ketchup+soy+honey+brown sugar+sambal mix. But don't try and taste it right now, because you know, salmonella death. Not on my watch, bunny.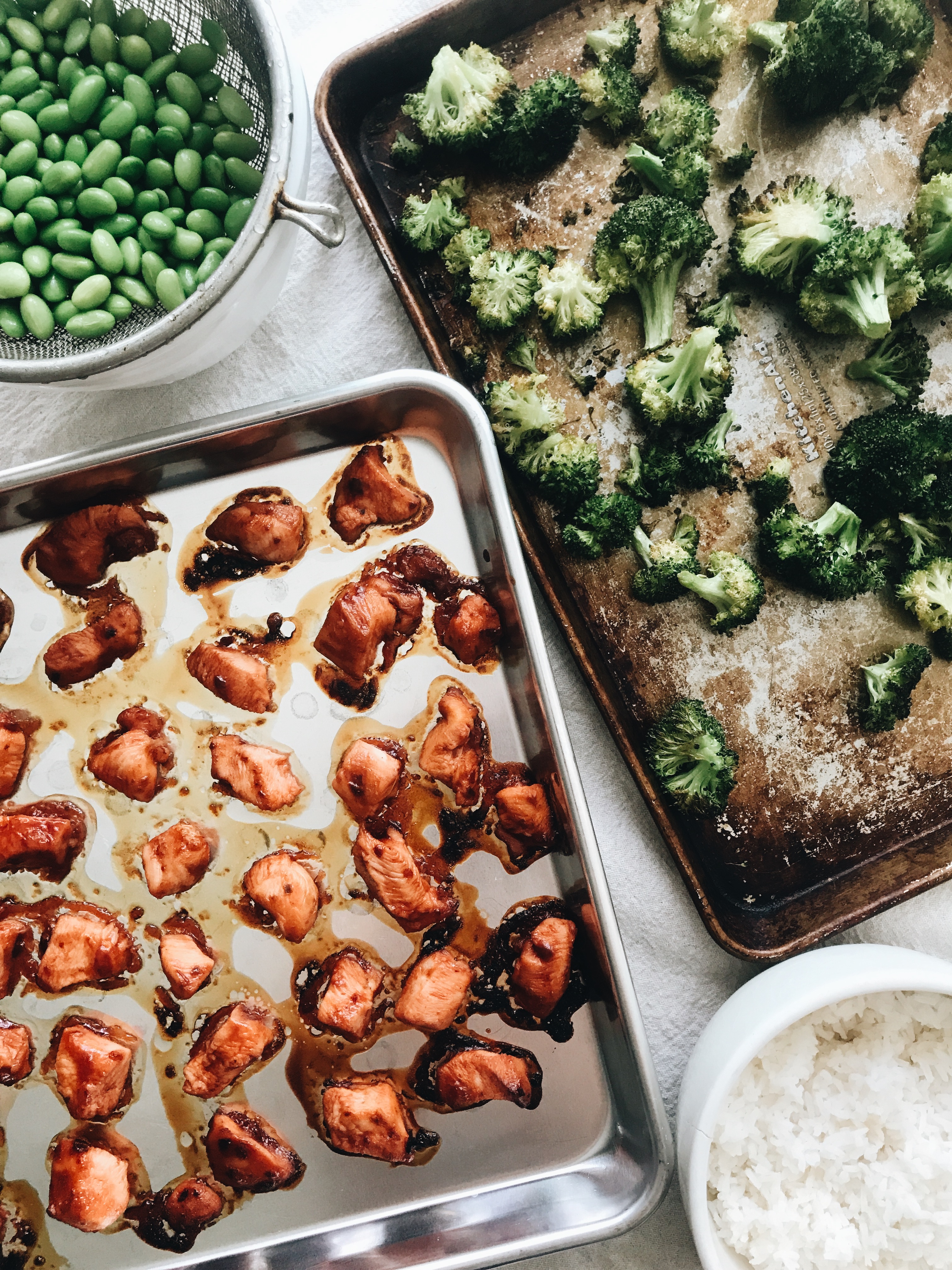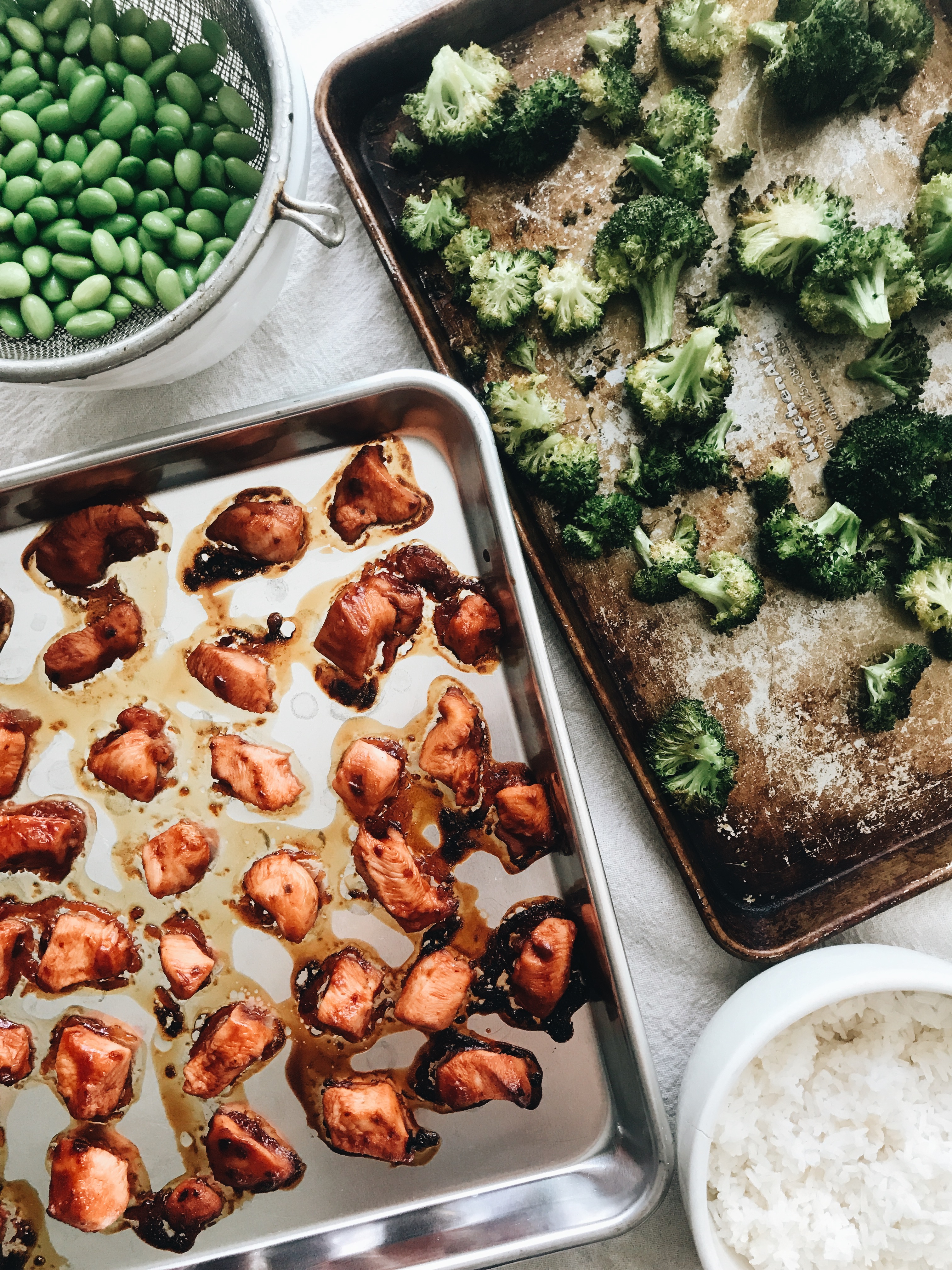 And then you roast! The chicken on one sheet, the broccoli florets on another. 30 minutes total. See how you're killing this?
The edamame (Which I keep wanting to type edamama. Edamama. That is equal parts disturbing and awesome. Come to edamama! No.) is STRAIGHT FROM A FROZEN BAG. All you'll do is thaw it. No need to cook. Just soak it in warmish water, and it'll come to room temp in a matter of moments. And you will sing songs of praise and jubilation.
The rice? Whatever you want – jasmine, basmati. I used JASMATI because I'm a tool like that. Just love.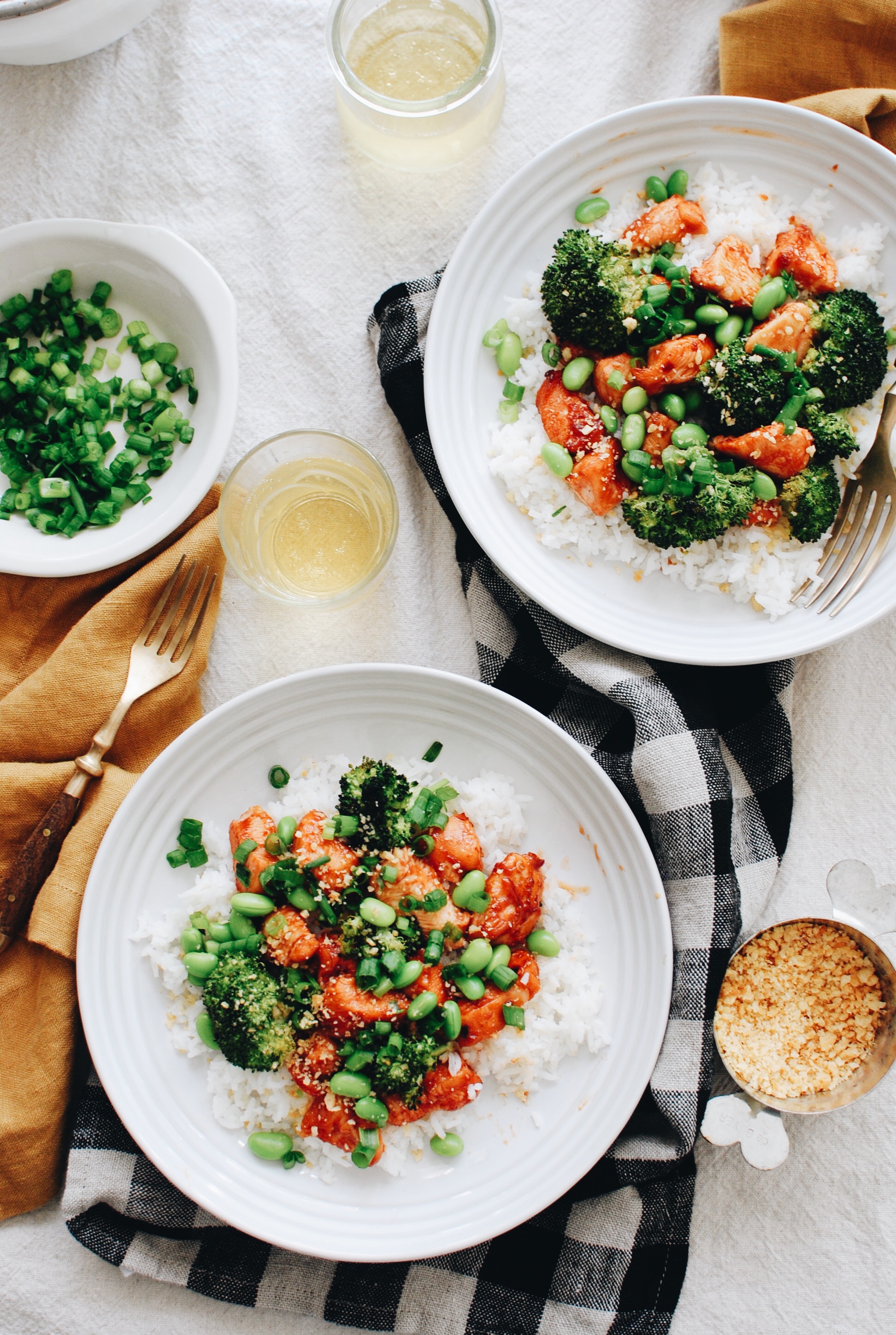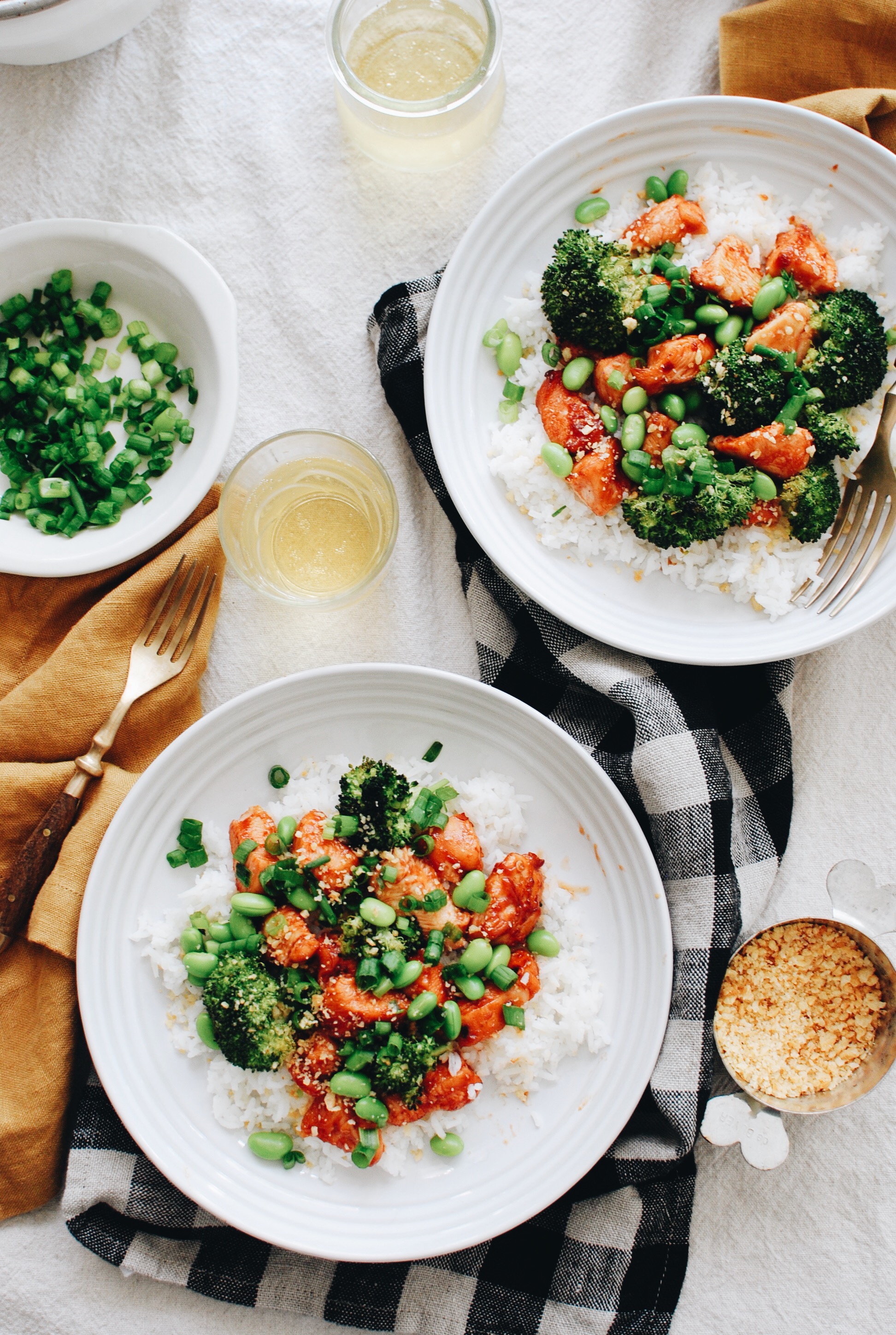 And let me tell you, the kick isn't enough to send your small humans running for the hills. That sambal oelek is the tiniest kick in the ESSENCE pants. Oh! Let's start a band called Essence Pants. We'll never get signed.
If it's just adult faces snarfing this, feel free to UP the samal, and lessen the ketchup. You shine, princess.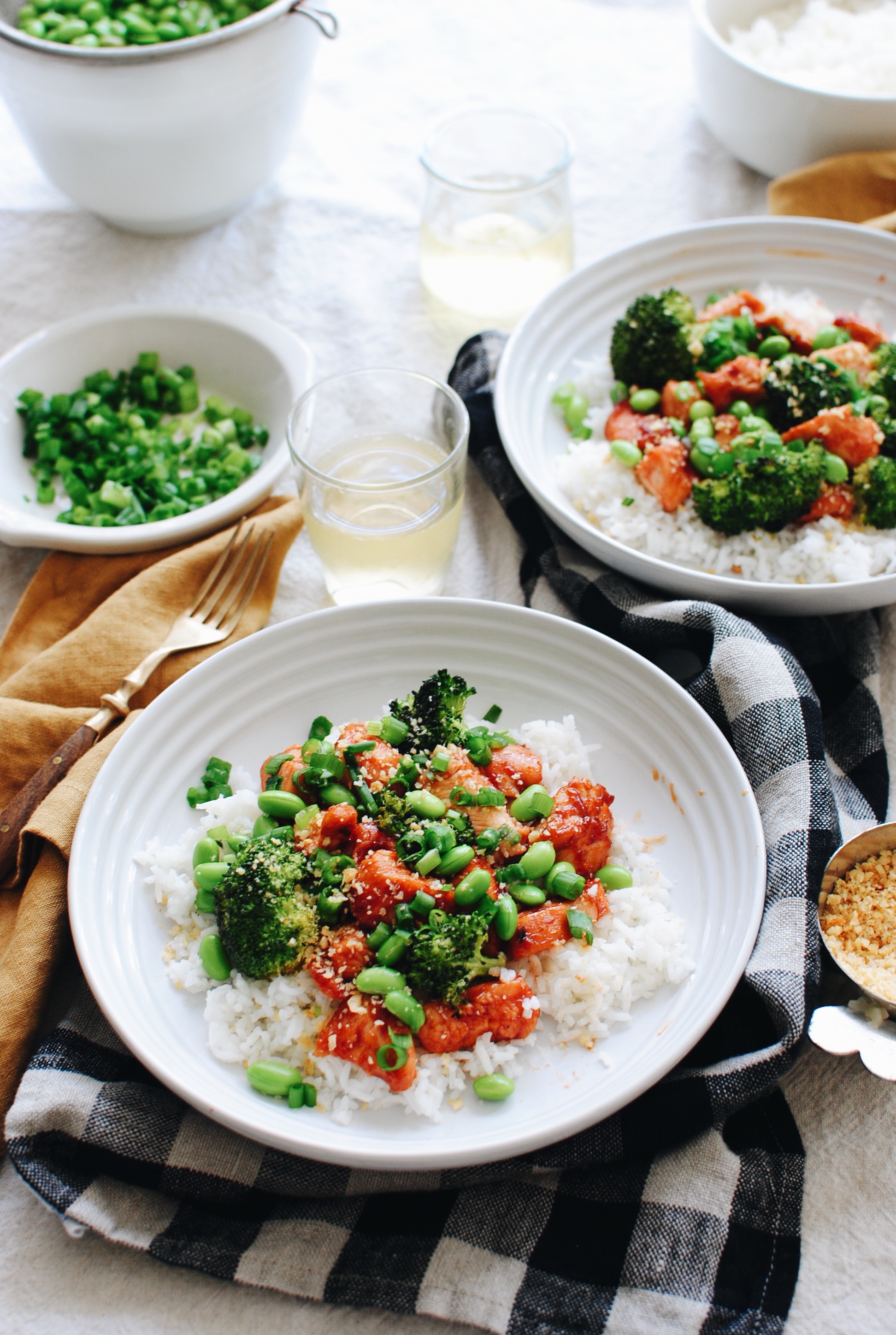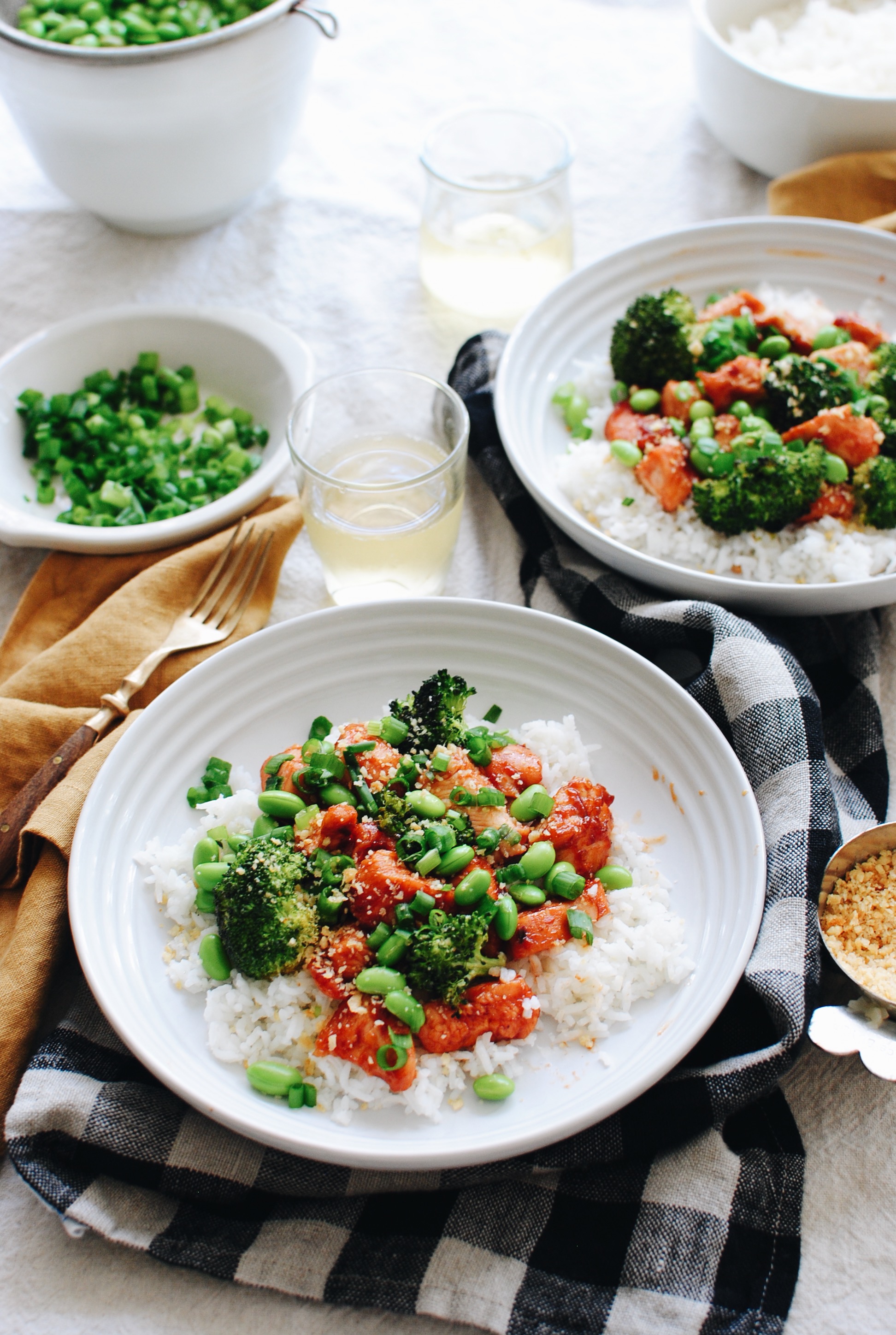 So the garnish – straight up sliced scallions and fried garlic. From a little jar! I buy mine at the Asian market, and it's the crunchiest, garlic-y-est topping ever. ADDICTED. Go find you some.
And this is it! Feel free to drizzle more soy sauce over it all right at the end. Or even sesame oil! Or HOT OIL. Lordy Lou, do that.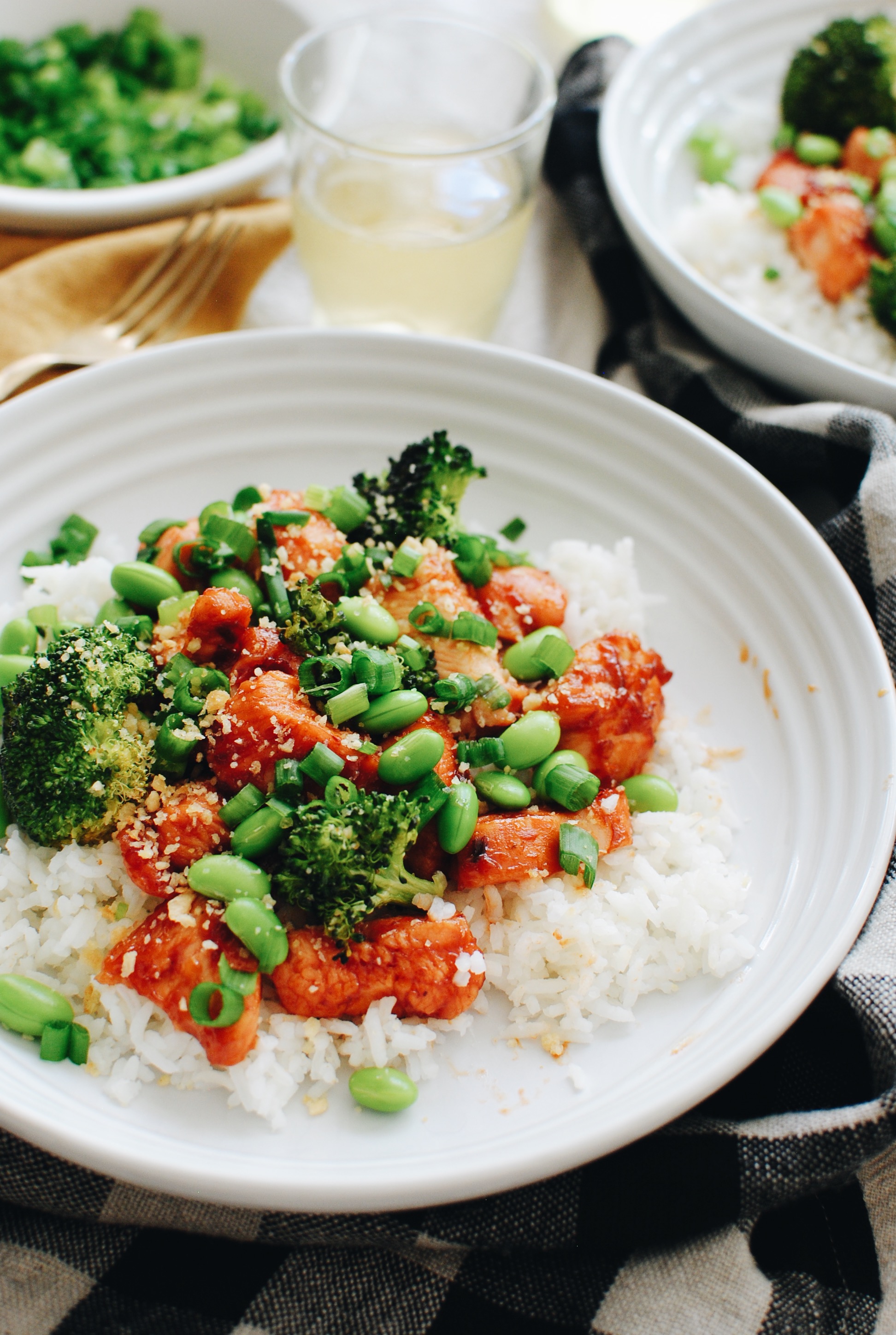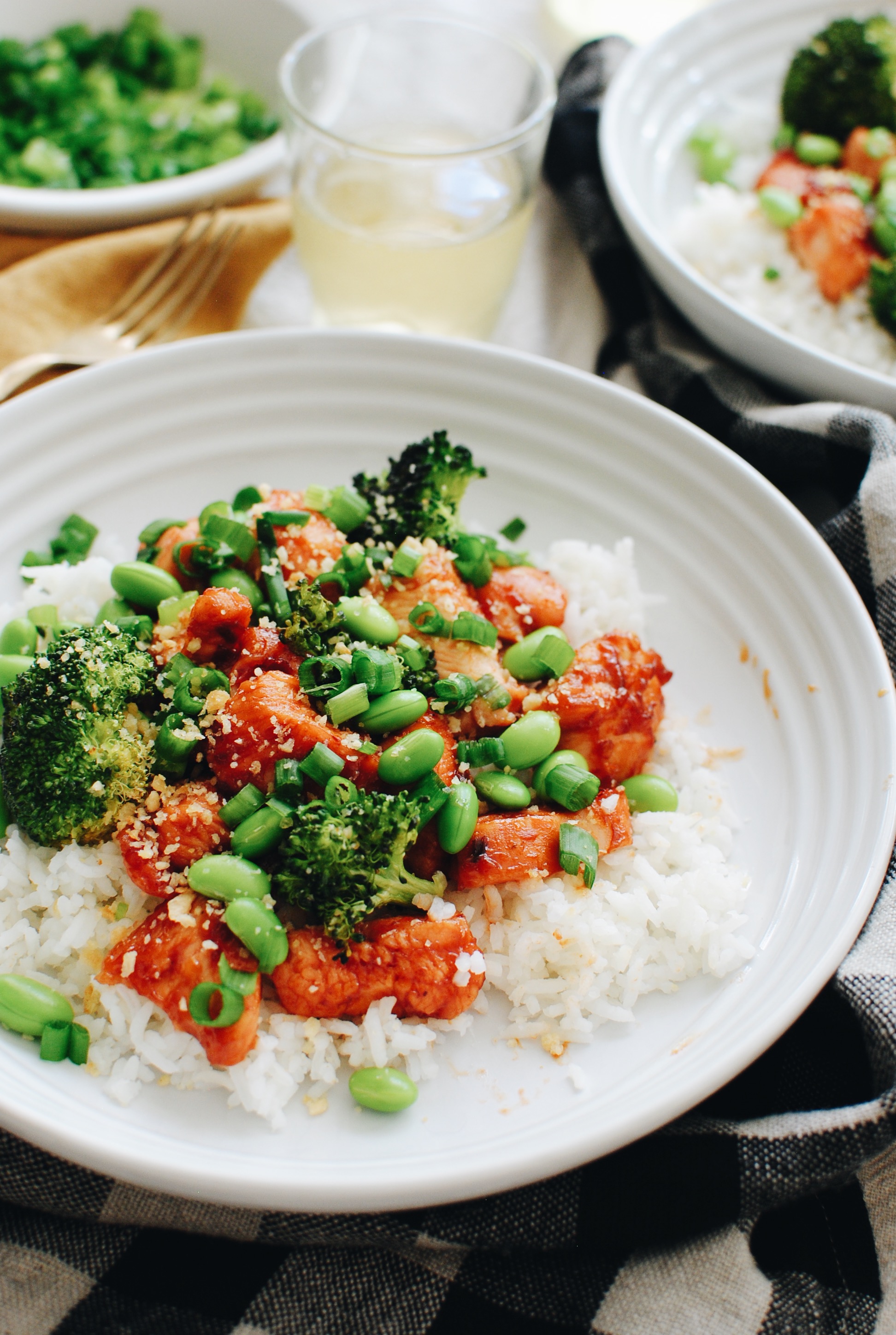 You may now inhale.
Spicy Chicken and Broccoli Rice Bowls
Ingredients
2 chicken breasts, diced into bite-sized pieces
4 cups broccoli florets
1 cup frozen edamame, thawed
1/2 cup ketchup
1/3 cup honey
2 Tbs. soy sauce
1 Tbs. sambal oelek
2 Tbs. brown sugar
4 scallions, thinly sliced
2 Tbs. fried garlic (store-bought is fine)
2 cups cooked white rice
Instructions
Preheat oven to 350.
In a medium bowl, stir together the ketchup, honey, soy sauce, samba oelek and brown sugar. Evenly coat the diced chicken in the sauce. Arrange the chicken bites on a large baking sheet. Place the broccoli florets on another baking sheet, and drizzle with a little bit of olive oil, along with a pinch of salt. Roast for 30 minutes. (You might need to rotate trays halfway through.)
Top the cooked rice with the roasted chicken bites and broccoli. Sprinkle on the edamame, chopped scallions and fried garlic.
Feel free to drizzle more soy sauce right at the end, or any other hot oil you dig!
Serves four.
7.8.1.2
177
https://bevcooks.com/2018/09/spicy-chicken-and-broccoli-rice-bowls/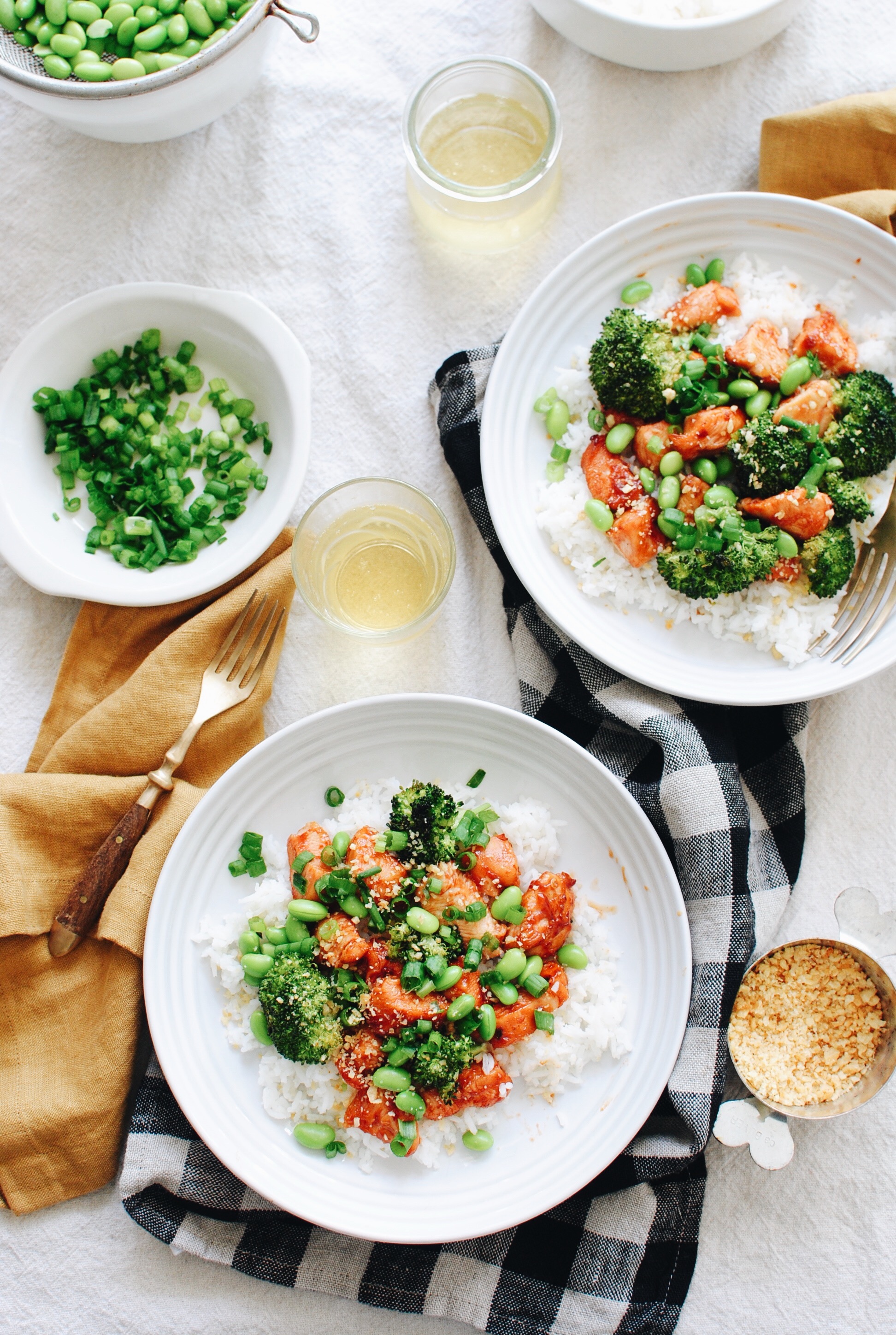 Weeknight rotation, hiiiiiiiieeeeeee.