Mother's Day month! Okay, week. Well, it's this weekend. Still six days away. Whatever.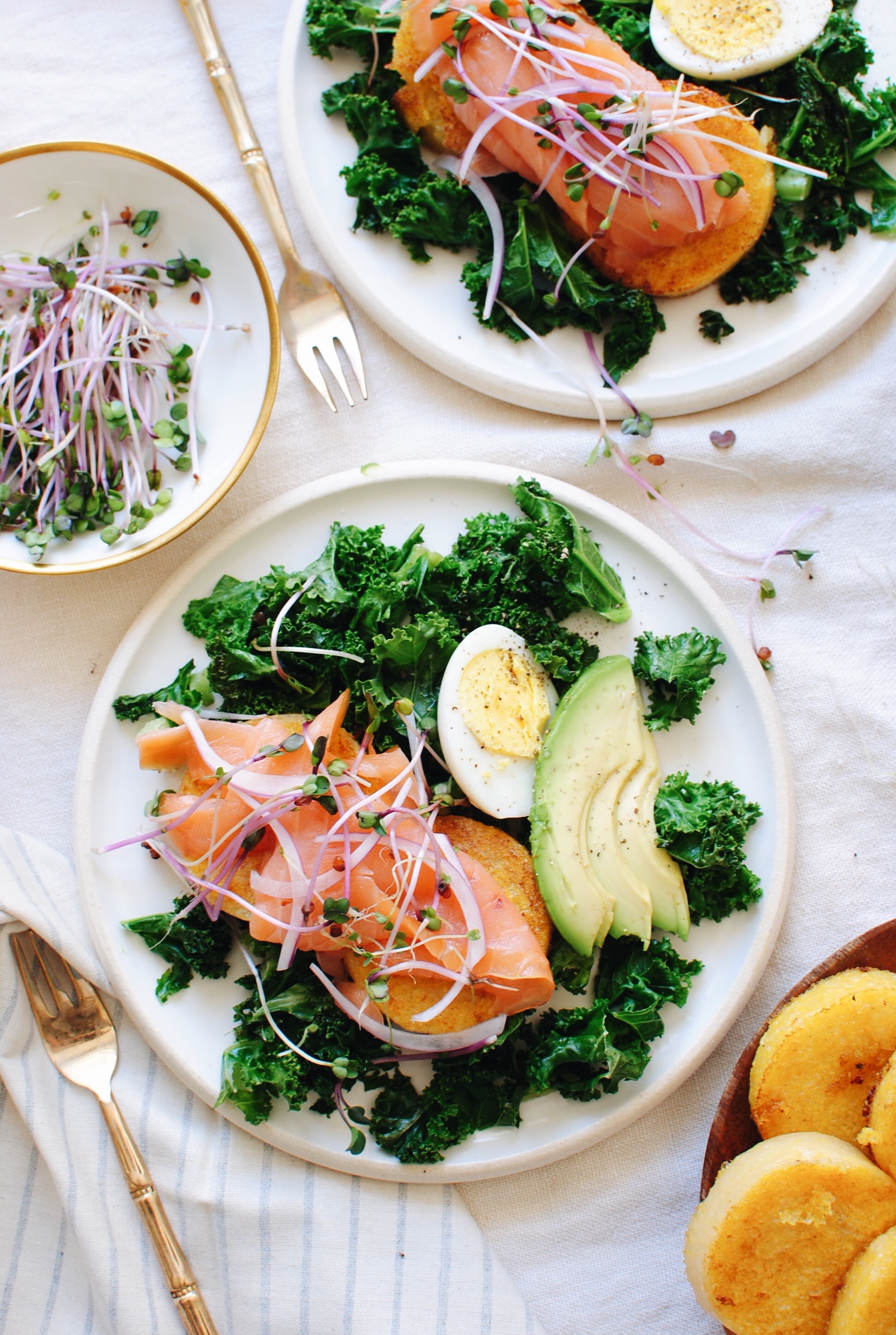 This week I've got two (2! TWO.) recipes that I believe would be straight diviiiine for Mother's Day. Both simple, both lovely, both healthy, both motherly. They're not motherly. They're people-y. Well, they're female-y. Feminine. Girly. Because sprouts.
Anyway.
Have you ever had seared polenta rounds at breakfast?
Don't let me down here, guys.
POLENTA ROUNDS FOR BREAKFAST ARE YOUR NEW LIFE.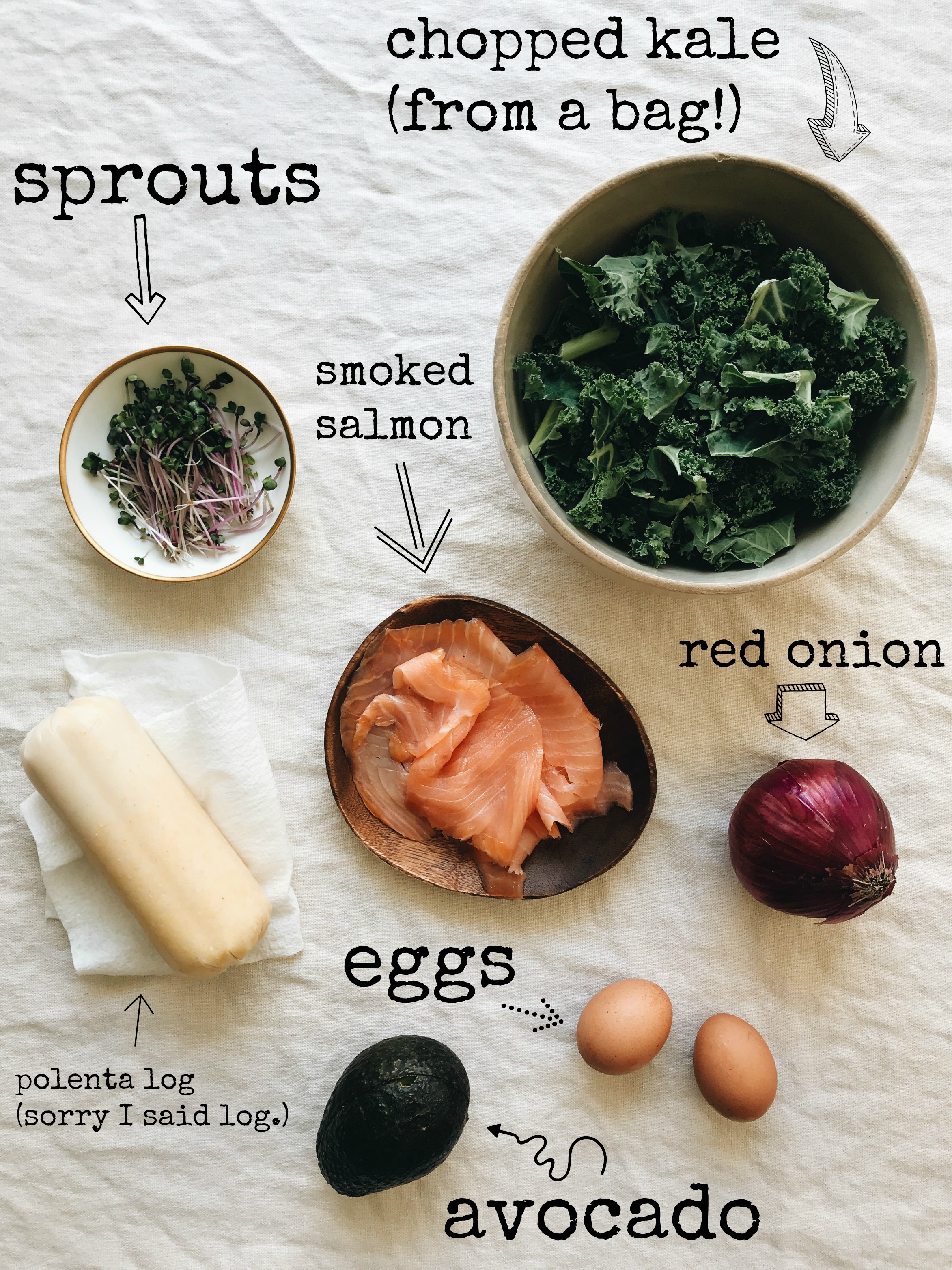 This whole mess is so my steez. I eat smoked salmon almost e-VERY-day. And then I read somewhere that it can make you dumb. So I got nervous, and strangely forgetful one week a long time ago, did more research, and read that it was a myth.
So.
Smoked salmon for pleb! I mean prez. Pres. President.
What?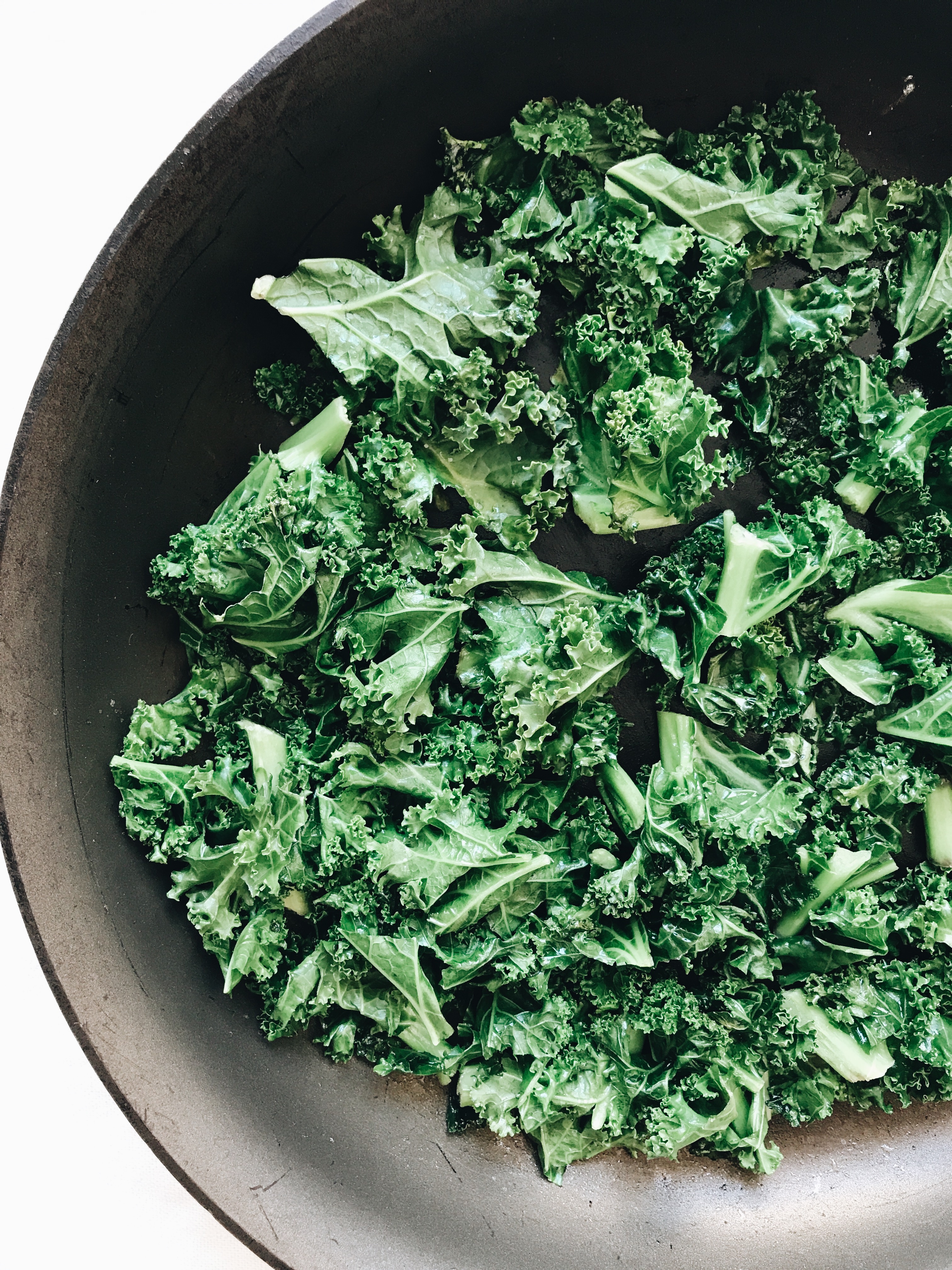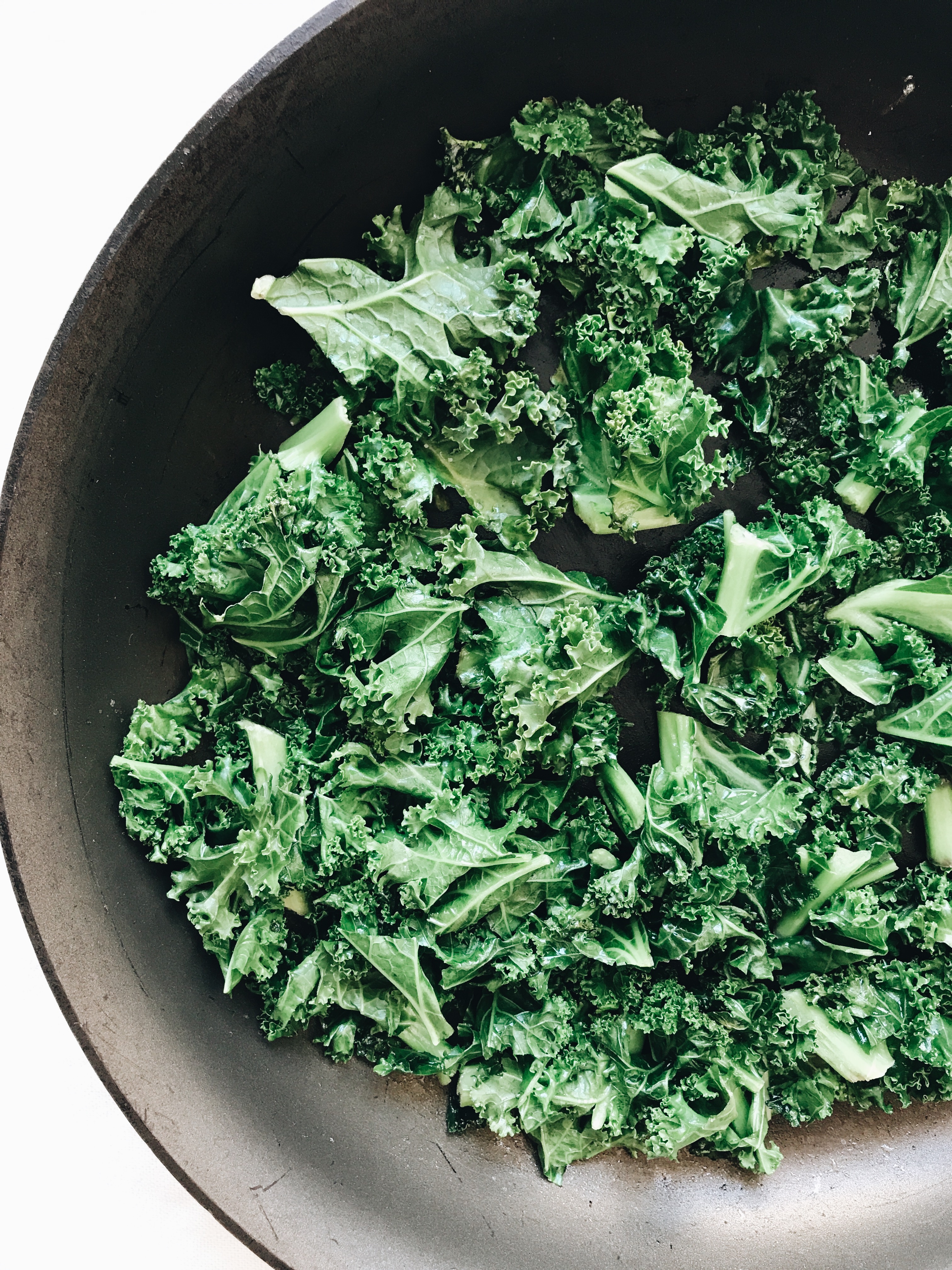 Sauté your kale. This is right out of the bag and into a tiny bit of olive oil. Add a Tbs. of water to hurry up the wilting. Pinch of salt and you're dunzo.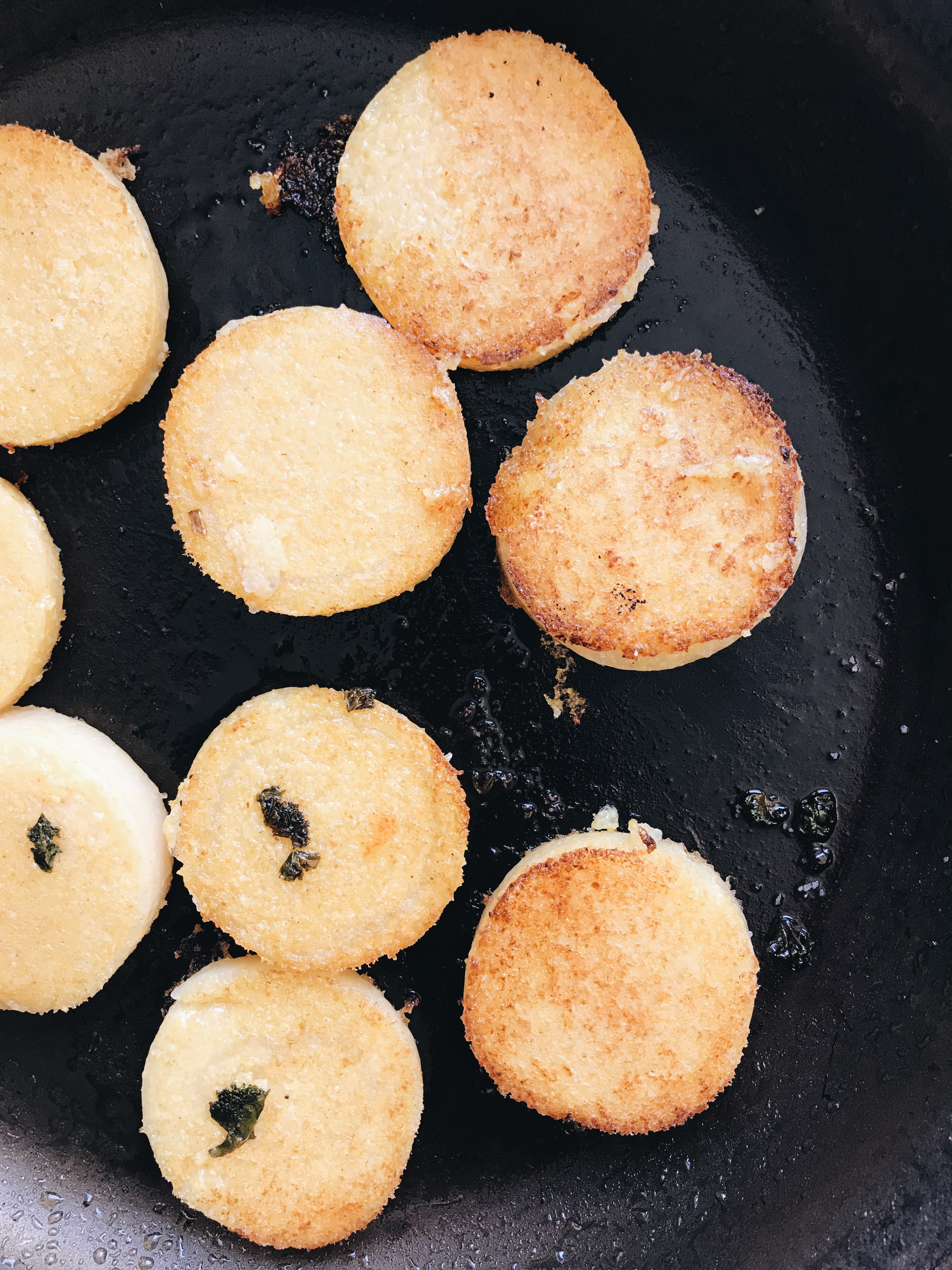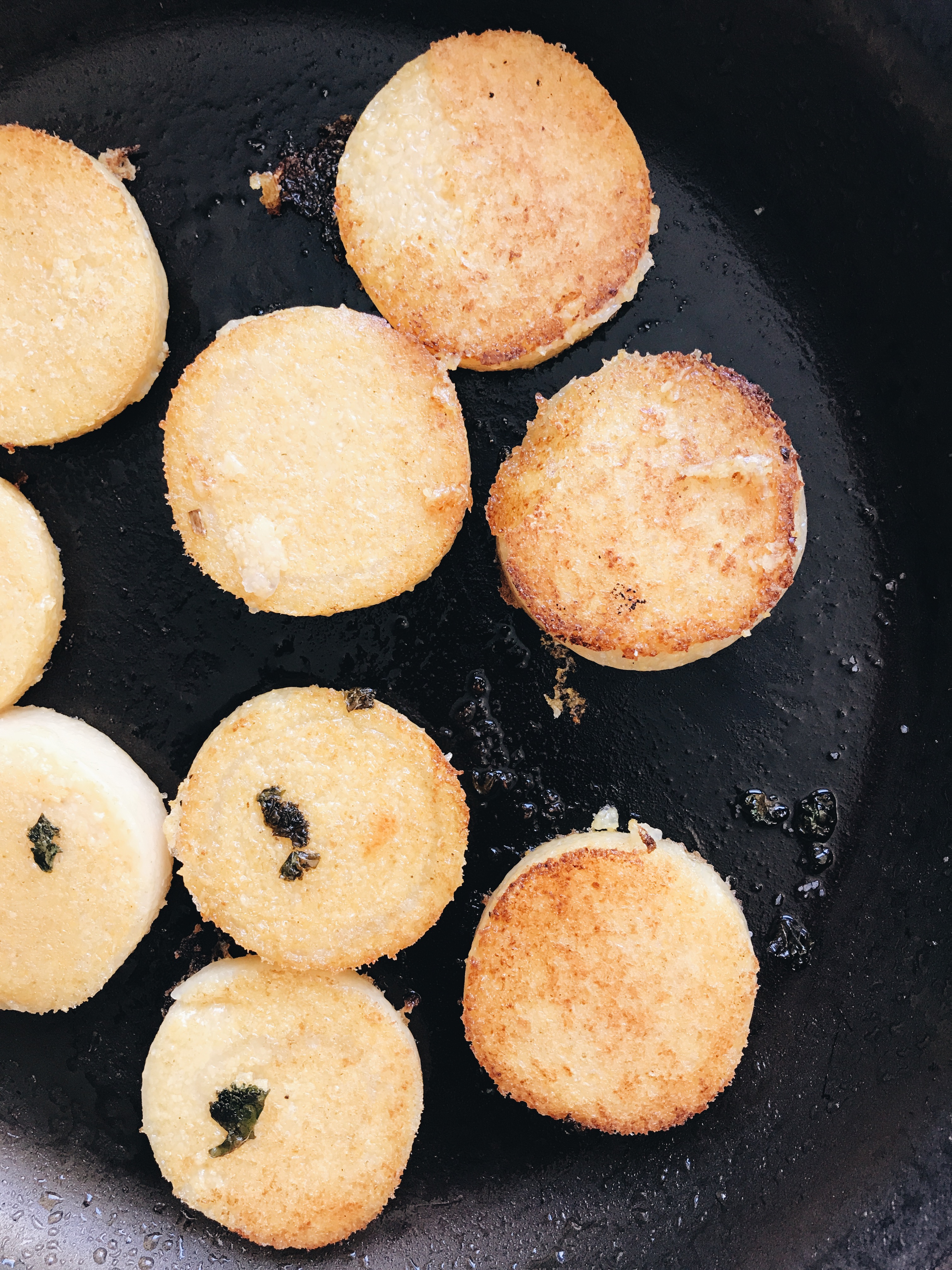 Now, in the same skillet, sear your polenta rounds. These are like, 1/2 an inch thick, and straight from the polenta log. You can even buy them flavored! I like the original. The OG. Did I say that right?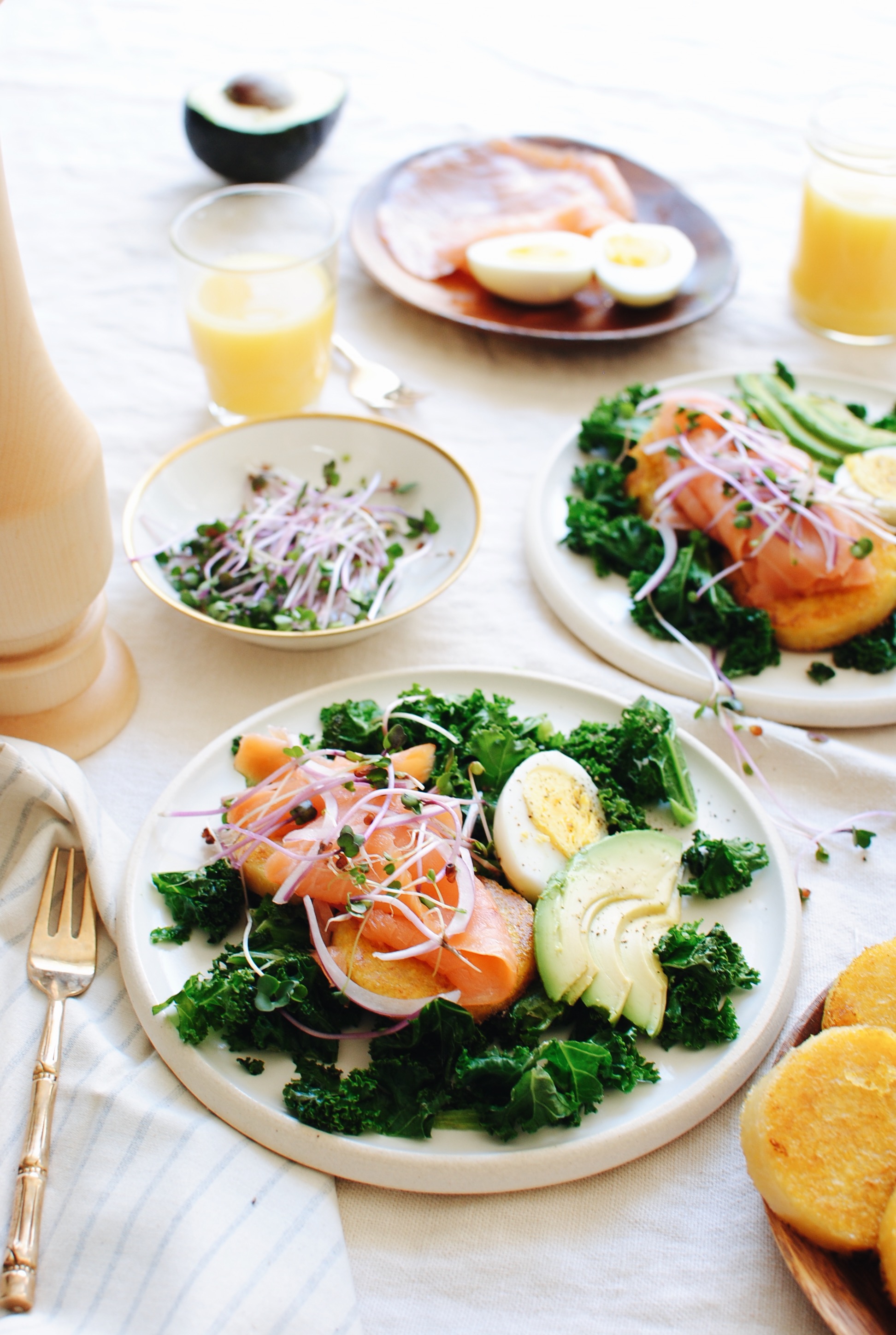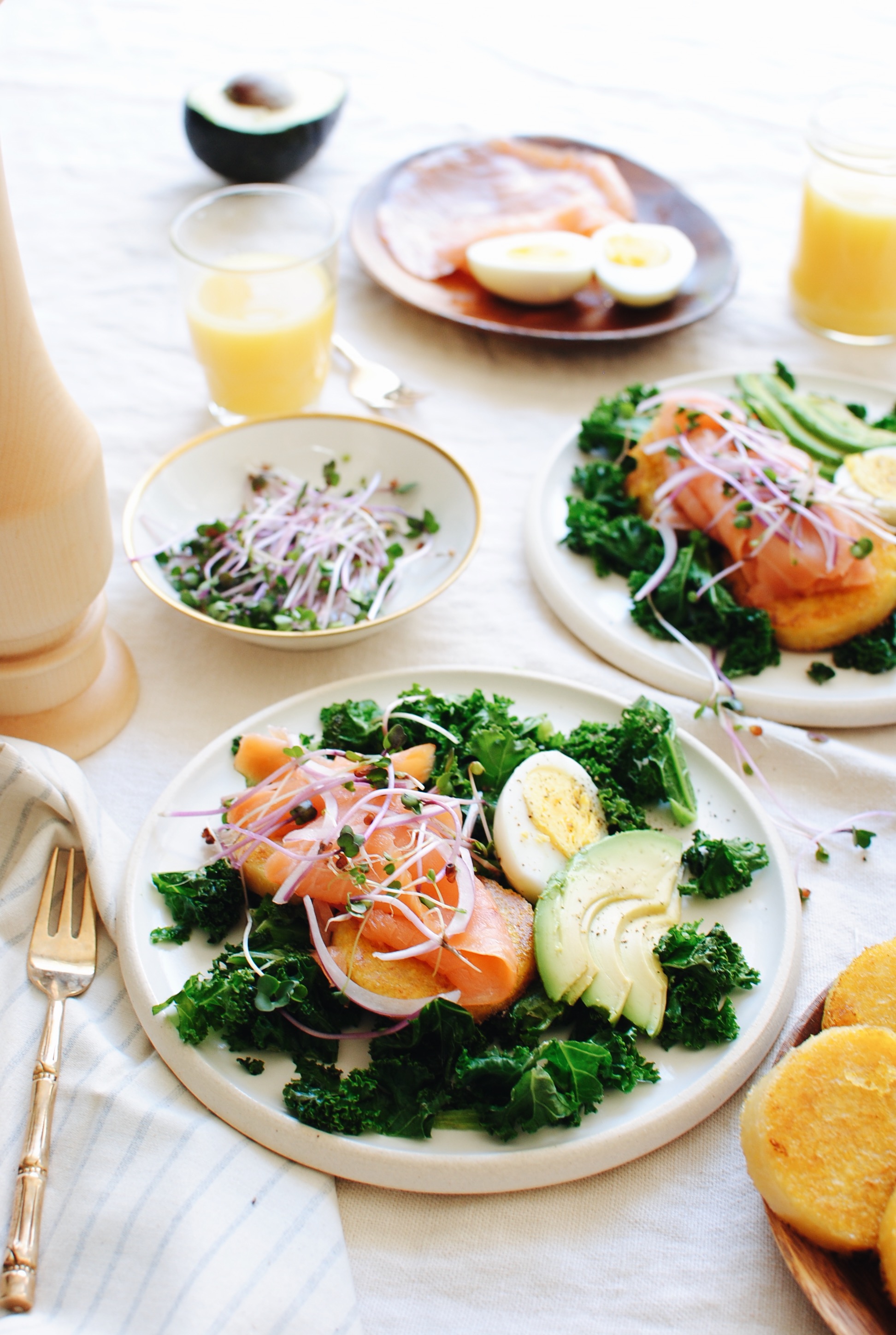 And honestly, this is all about the layering. Kale on the bottom, three crispy polenta rounds arranged on top, a nice thick layer of smoked salmon on top of the polenta, and a scattering of sprouts and thiiiinly sliced red onion to finish!
Ugh, you've got crunch, warmth, earthy, crispy, cool, creamy, and fresh.
And then there's the breakfast! (ba-domp.)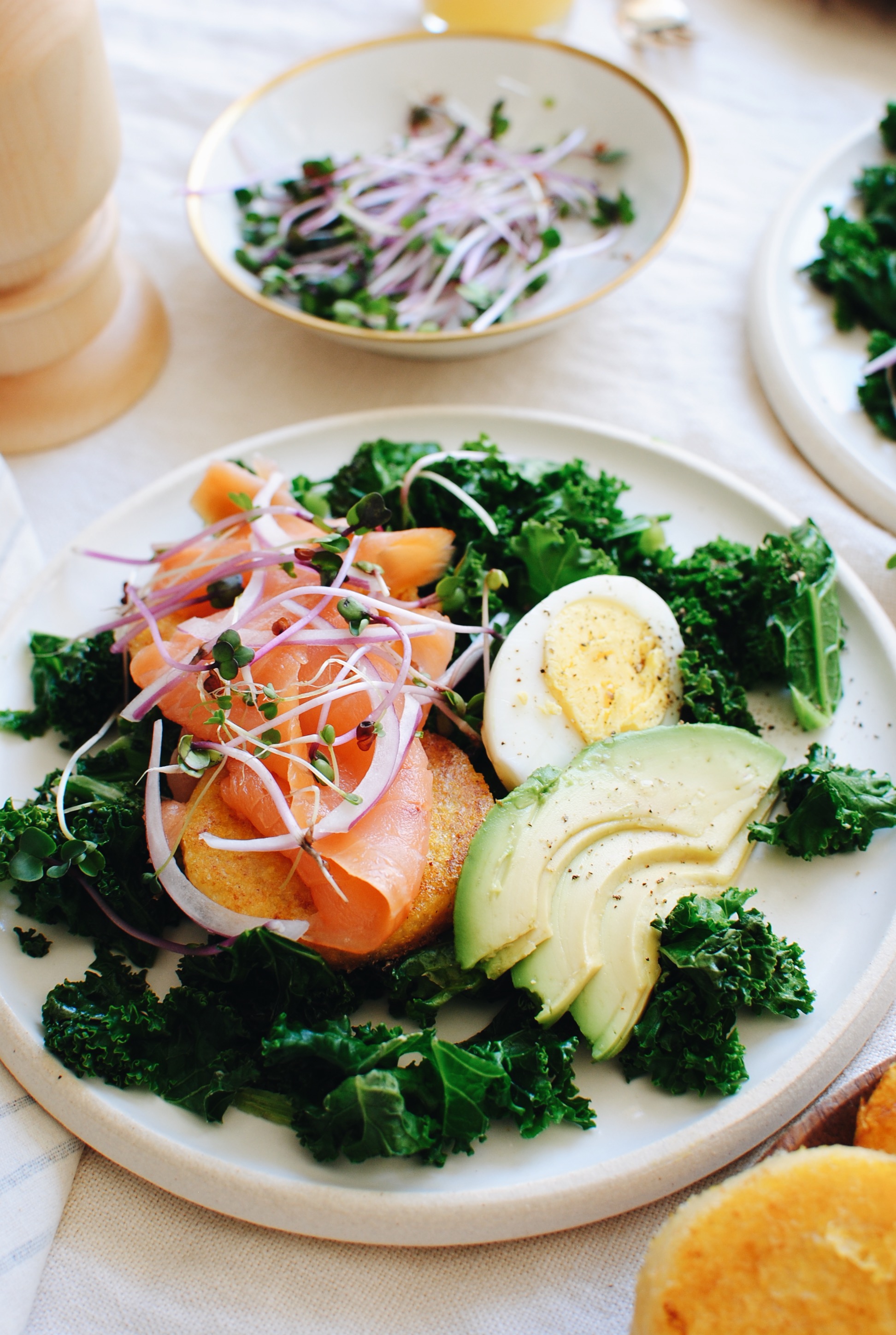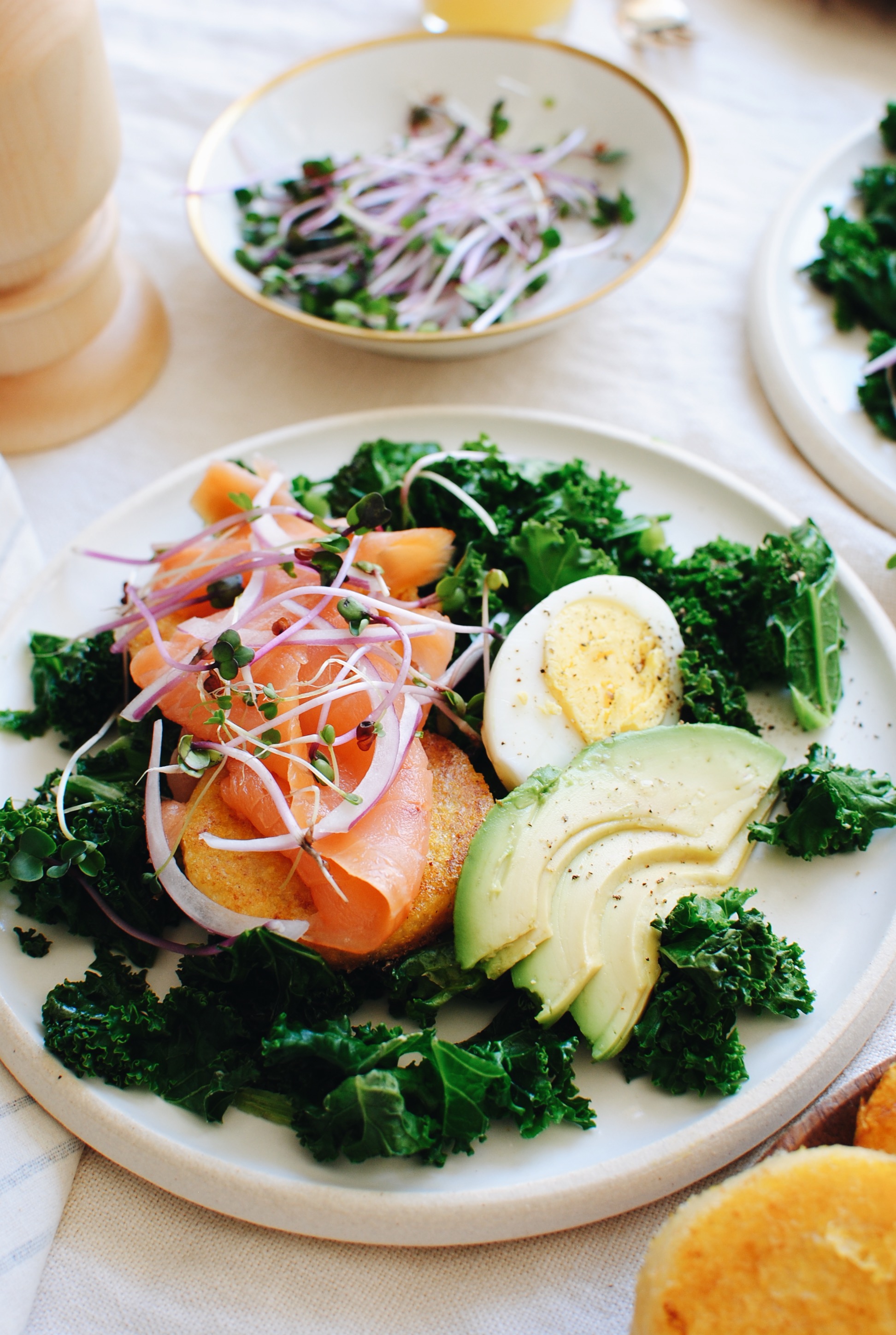 I'm a firm believer in sliced or cubed avocado with ERRTHANG, so arrange some pretty slices next to the main show. And then a hard-boiled (or soft-boiled!) egg nestled in and BABE. This is special. Just like mama. (<–ew.)
And you don't even need a sauce, ya know? Maybe a squeeze of fresh lemon, but that's it! The individual flavors from the crispy, roasted corn polenta, to the earthy, wilted kale, to the cool, creamy salmon? Girl please.
So easy and beautiful. Add about 18 mimosas and you're doing it right.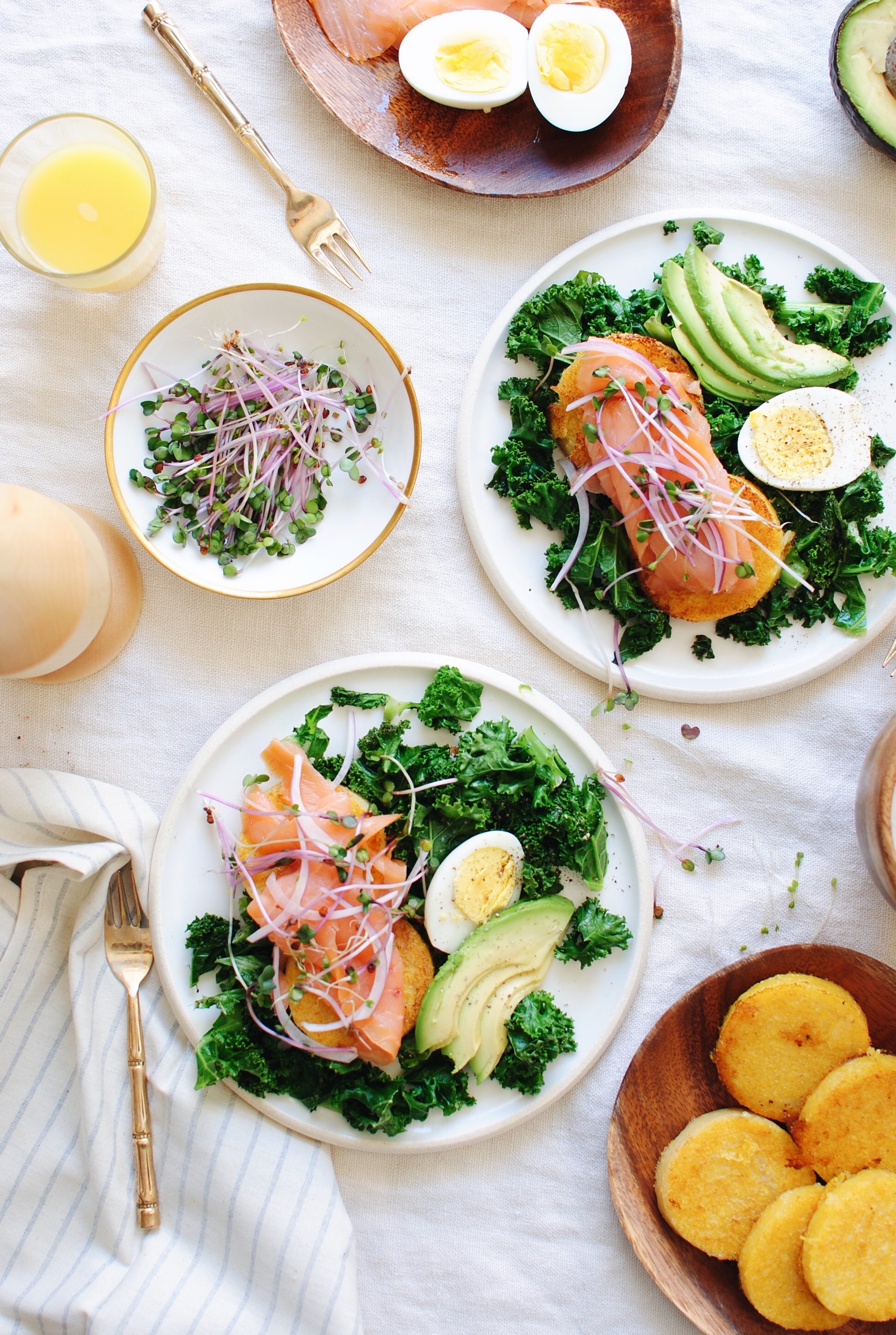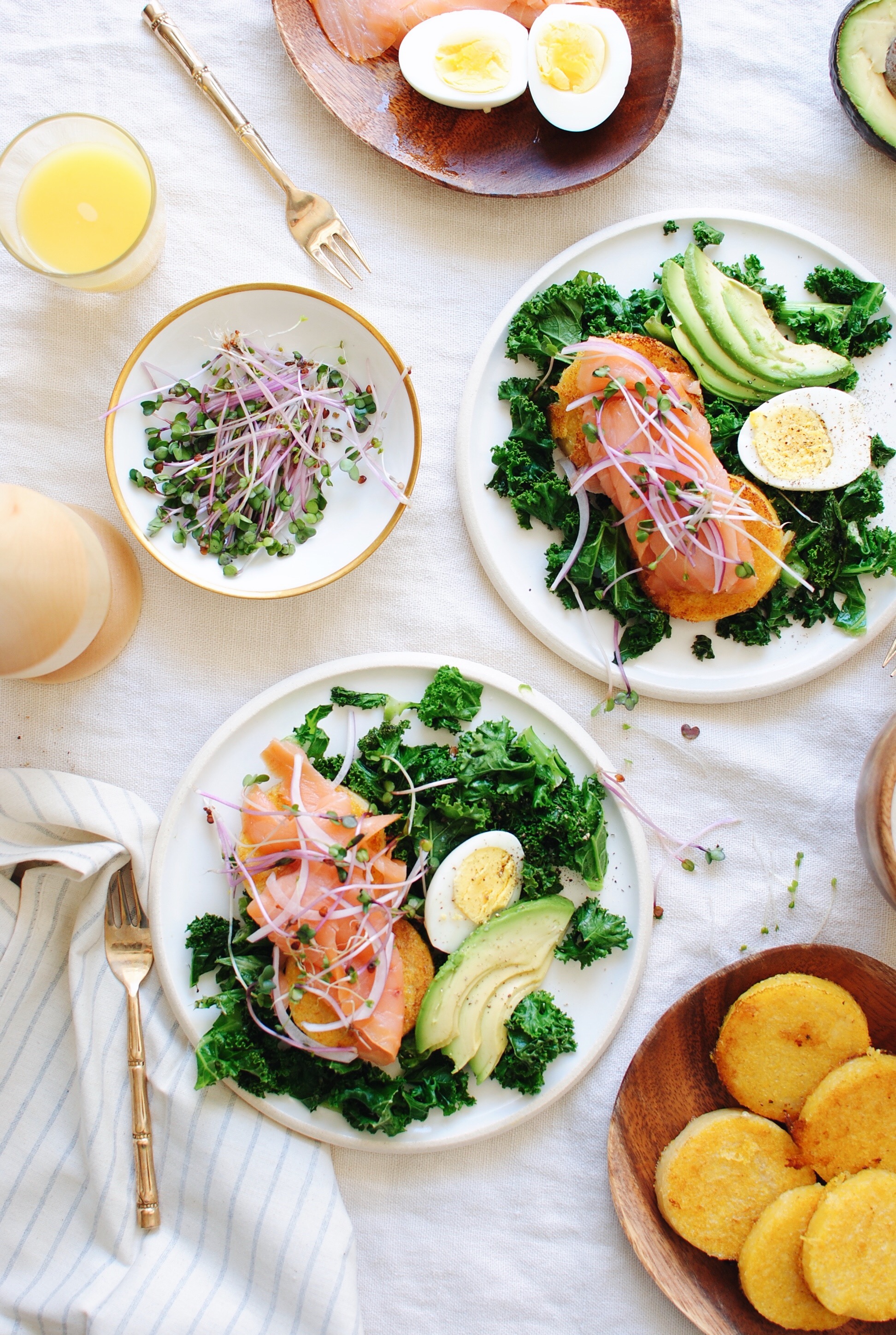 We can start Mother's Day early, right?
Seared Polenta with Kale and Smoked Salmon
Ingredients
2 Tbs. extra-virgin olive oil, divided
6 -8 cups chopped kale
1 (18-oz) tube of polenta, cut into 1/2-inch rounds
4 oz smoked salmon (or lox)
1/3 cup thinly sliced red onion
2 or 3 hardboiled eggs
Sliced avocado
Sprouts or micro greens
Salt and pepper
Instructions
Heat a Tbs. of oil over a medium-high heat. Add the kale and a pinch of salt and sauté until wilted. If you need to add a splash of water to help wilt, it's all good. Remove the kale from the pan.
To the pan, add the remaining Tbs. of oil, and add the polenta rounds in a single layer. You might need to do this in two batches. Sear about two minutes on a medium heat, flip and sear another minute or two, until you get some nice browning on both sides.
Divide the sautéd kale among breakfast plates, and top with three polenta rounds. Layer the smoked salmon over the rounds, and garnish with thinly sliced red onion and sprouts. Nestle a hardboiled egg on the plate, along with a few avocado slices. Give the whole plate another small pinch of salt and freshly ground pepper! Add a squeeze of fresh lemon to enhance it that much more.
Serve with coffee and alllll the mimosas.
Serves 4!
7.8.1.2
155
https://bevcooks.com/2018/05/seared-polenta-with-kale-and-smoked-salmon/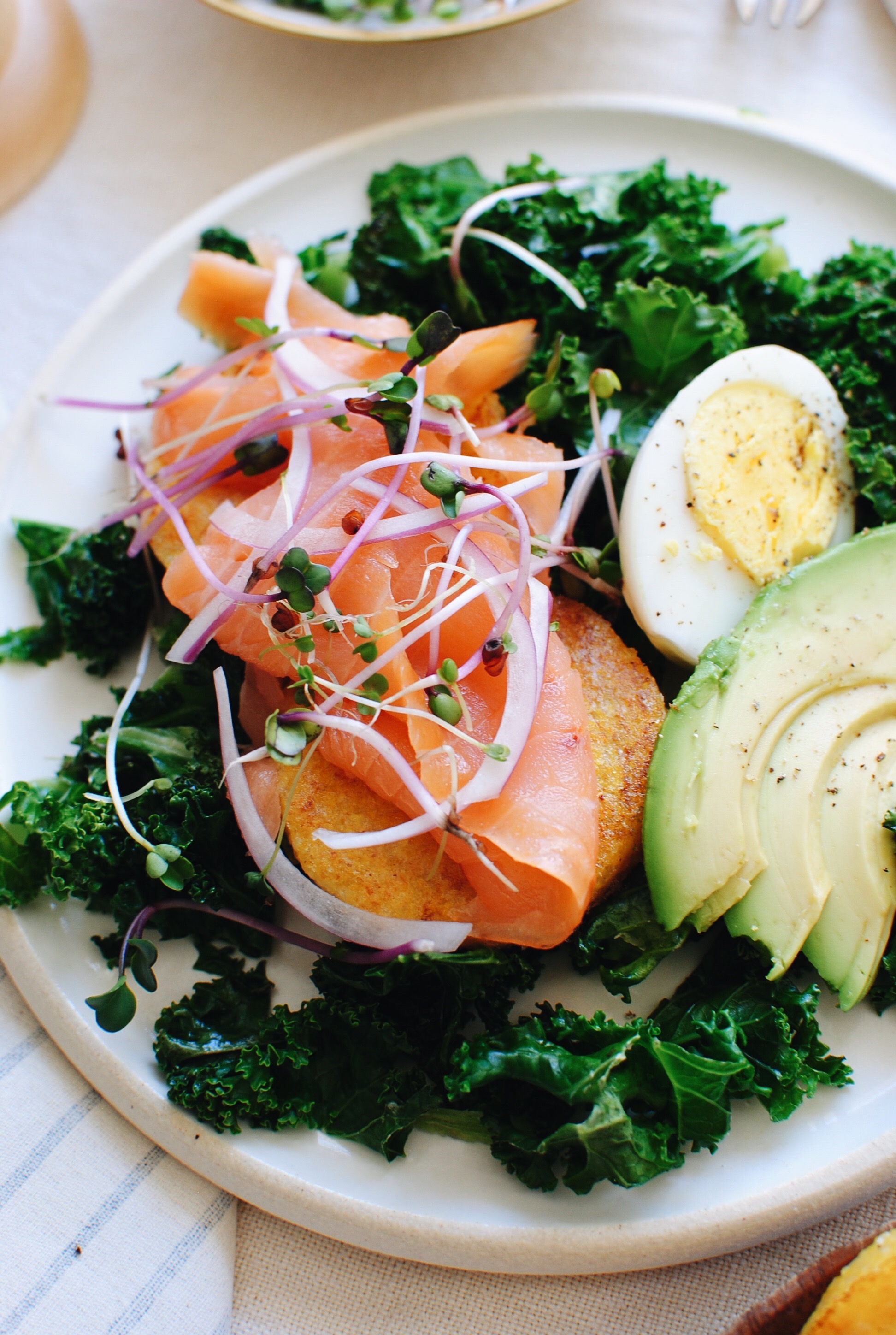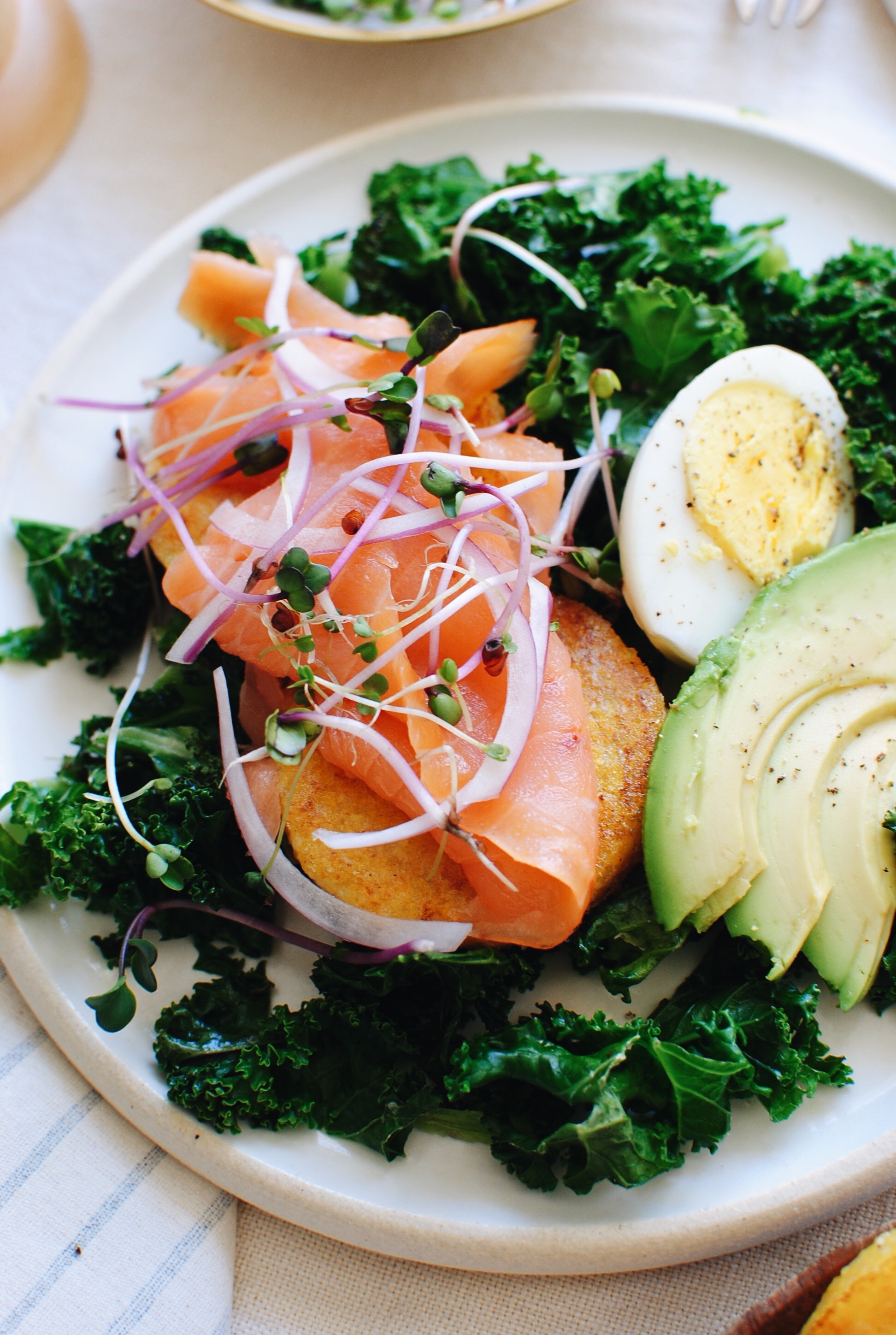 I am DYING for you to get in that.