(This post is definitely in partnership with Flatout Flatbread, but all ramblings and pizza inhalings are totally my own. We coo?)
More pizza! And I'm not mad about it.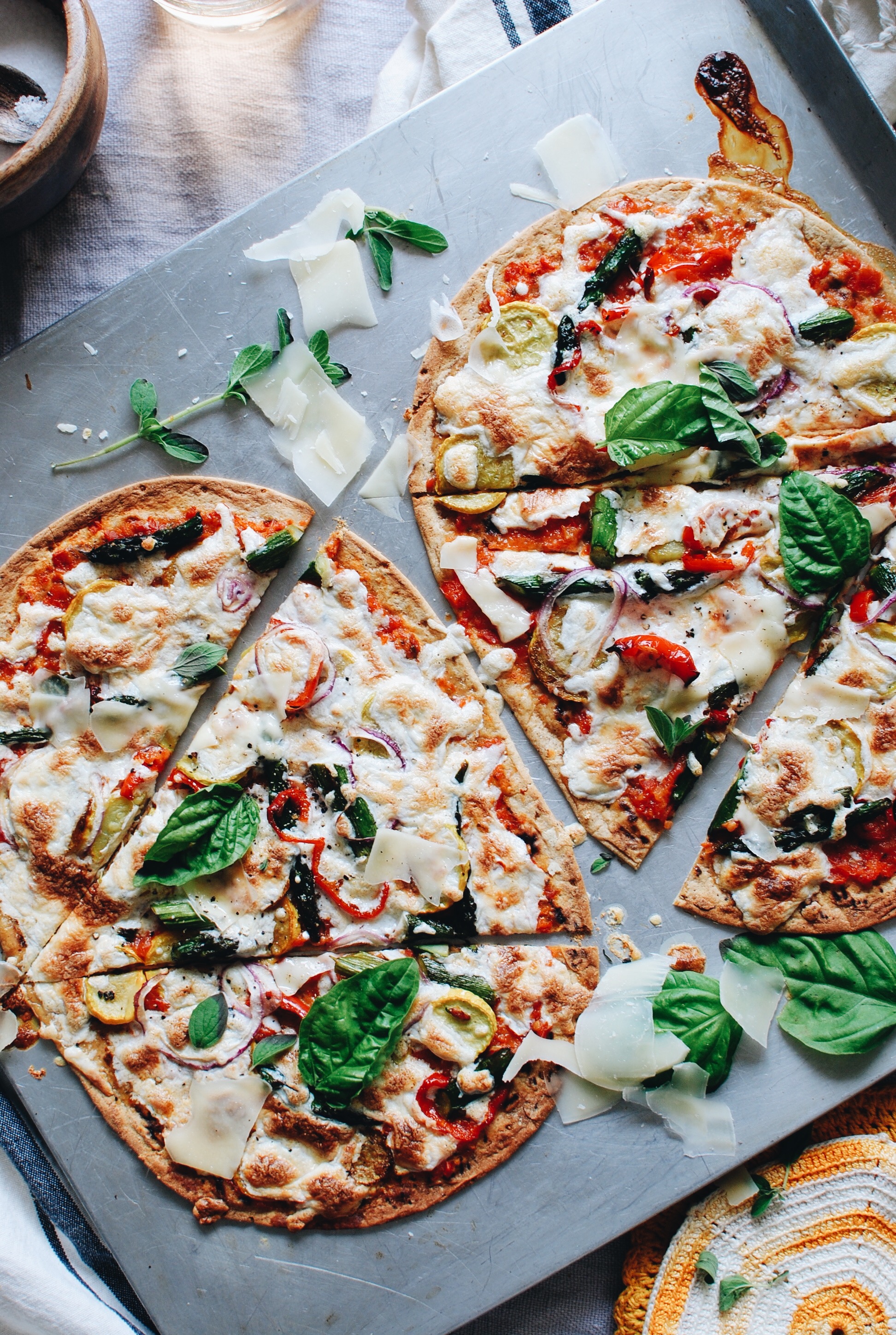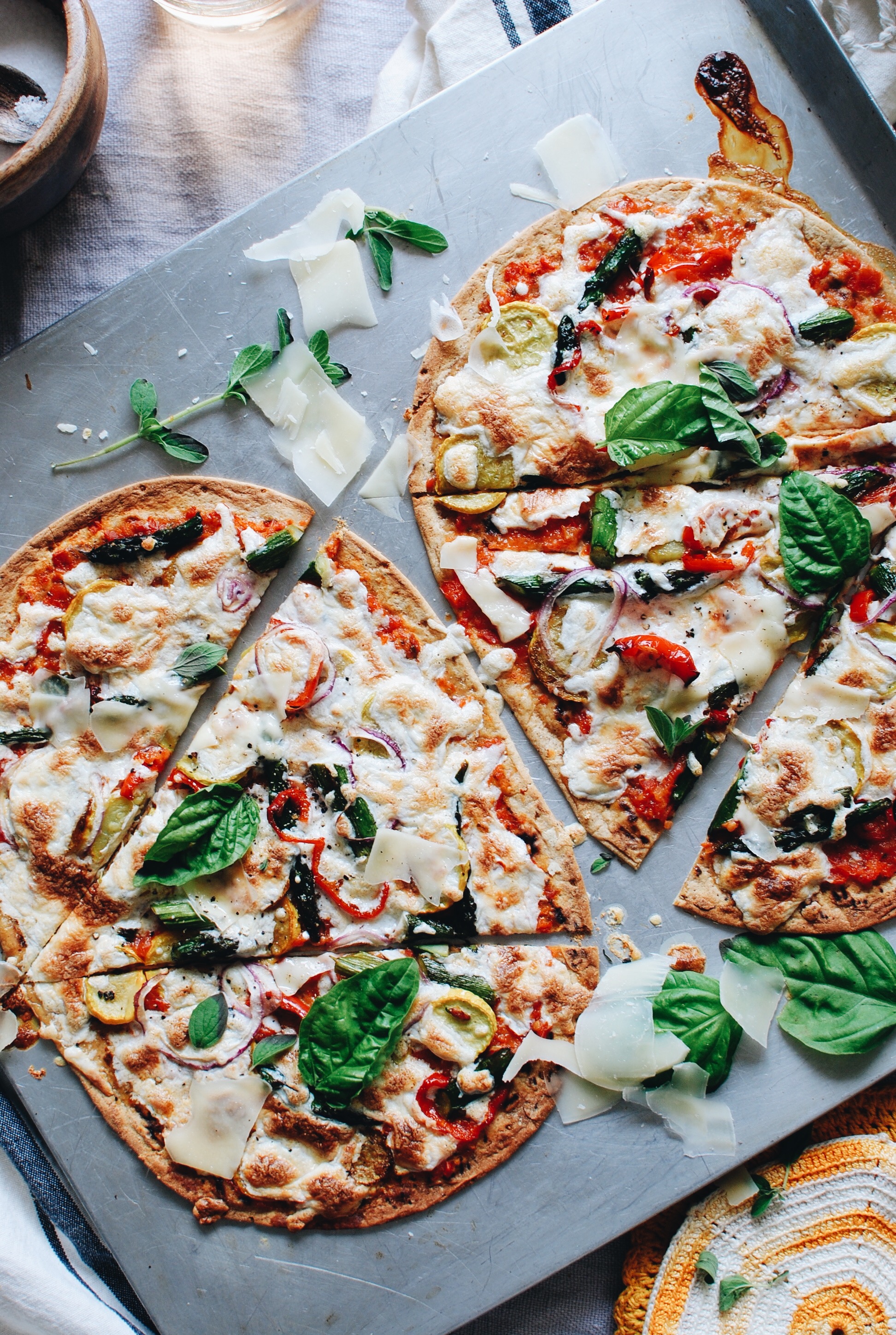 Lately, Aaron and I have been more inspired to let the farmer's markets dictate our grubbing. Listen now, I'm still a raging planner with a stupid rigid grocery list. But I can sway and bend, man!
And the markets – they're bustling right now. We're moving out of the "only-flowers-and-scallions" era and into the produce-o'-madness-palooza. (<–It's a word, don't argue with me.)
I knew I wanted pizza. (SHOCKER.) I knew what I'd been seeing at the farmer's market, therefore I knew what my Saturday life mission was.
. . . It was a farmer's market piz – right.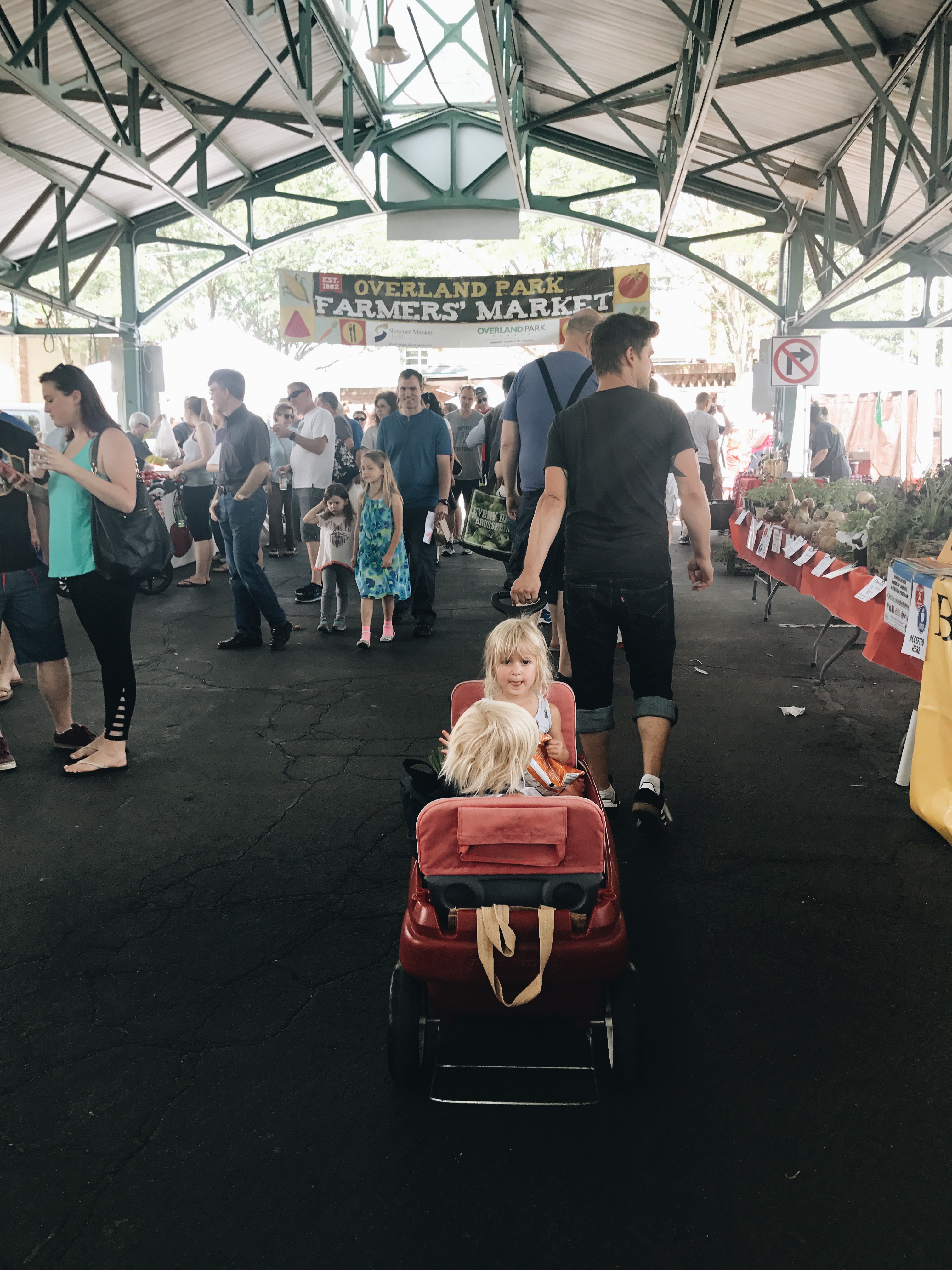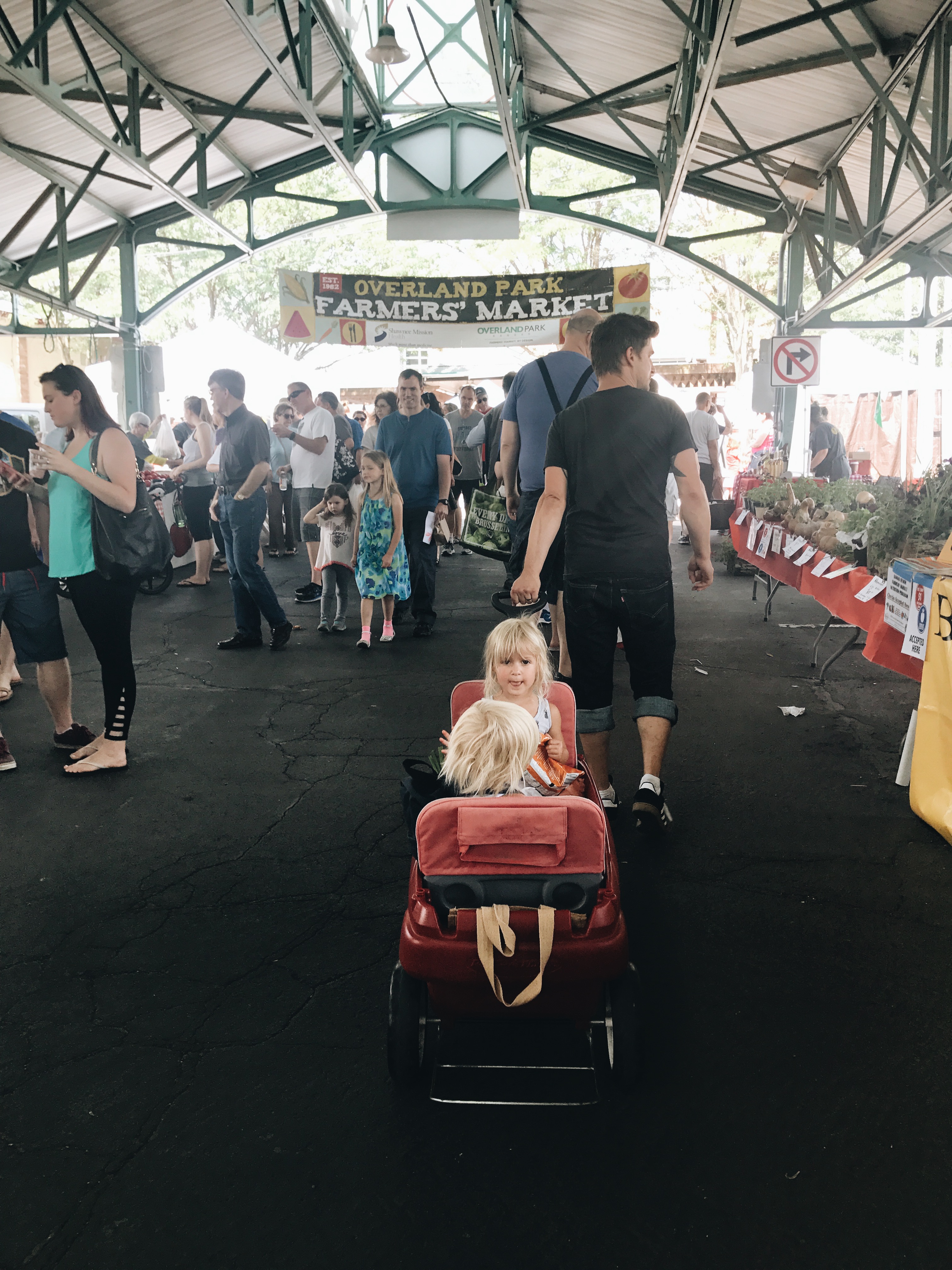 Just in case you're concerned about Will's hair (which rightfully you are), he had it in a ponytail right before this trip. The pony fell out in the car. Now it's crimped. And he was devastated because I couldn't find the tiny rubber band to put back in. And now he looks like Pete from Pete's Dragon. (don't tell him I said that.)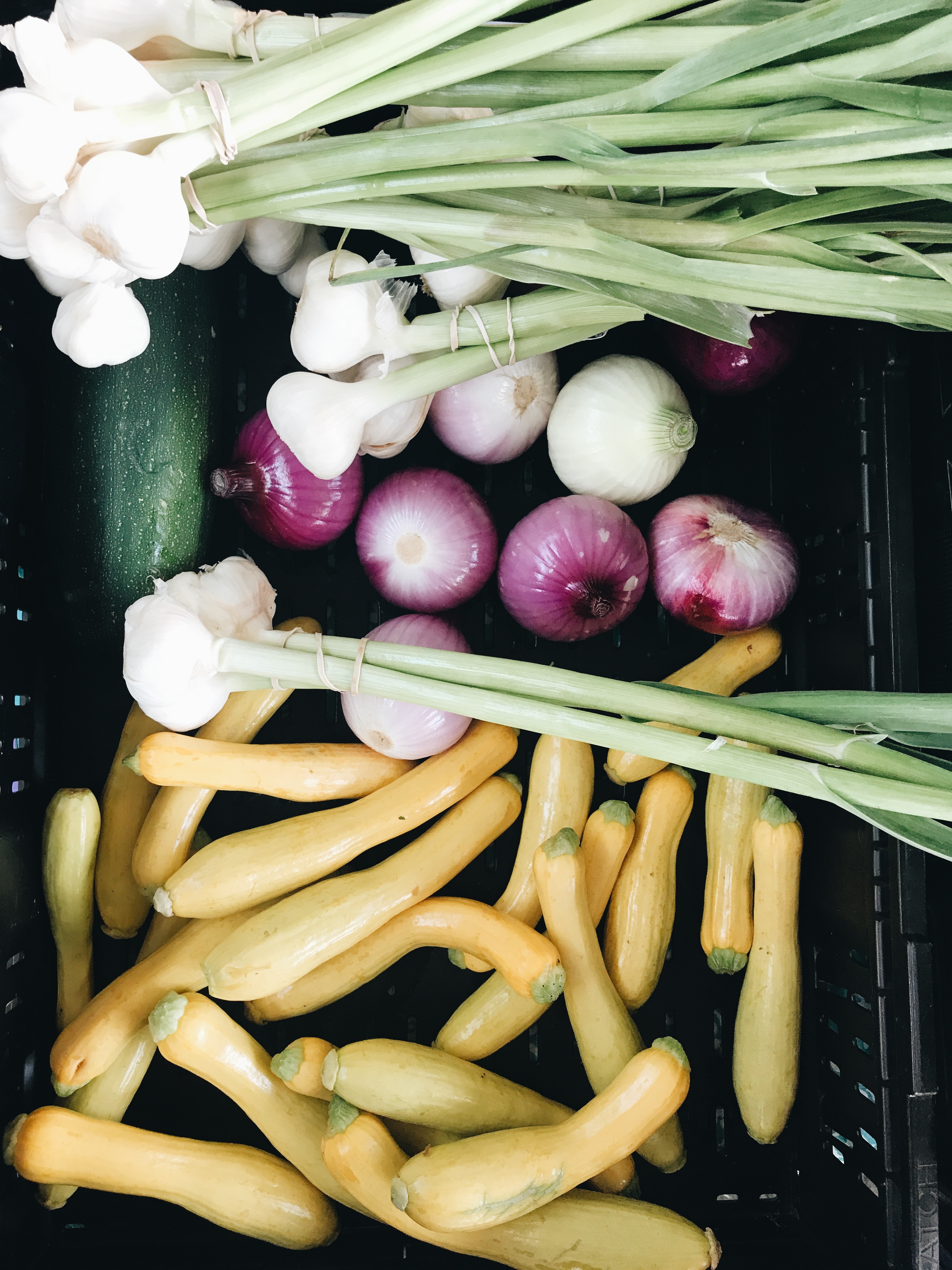 This seductive (<–sorry) basket of slender baby squash, purple onion and fresh garlic pretty much reached up and booped me on the snoot. DONE.
BY THE WAY – have you ever had fresh fresh garlic? You know, with the (scalliony/leeky) stems still attached? Honestly, I can't decide what I think. The garlic texture is quite different! It's . . . kind of wet. The skins aren't as papery as the garlic you find in the store. Matter of fact, they take a little more work to pry off. The garlic flavor is still pungent, but it's just different. WATERY. But I like it! I think. Never mind.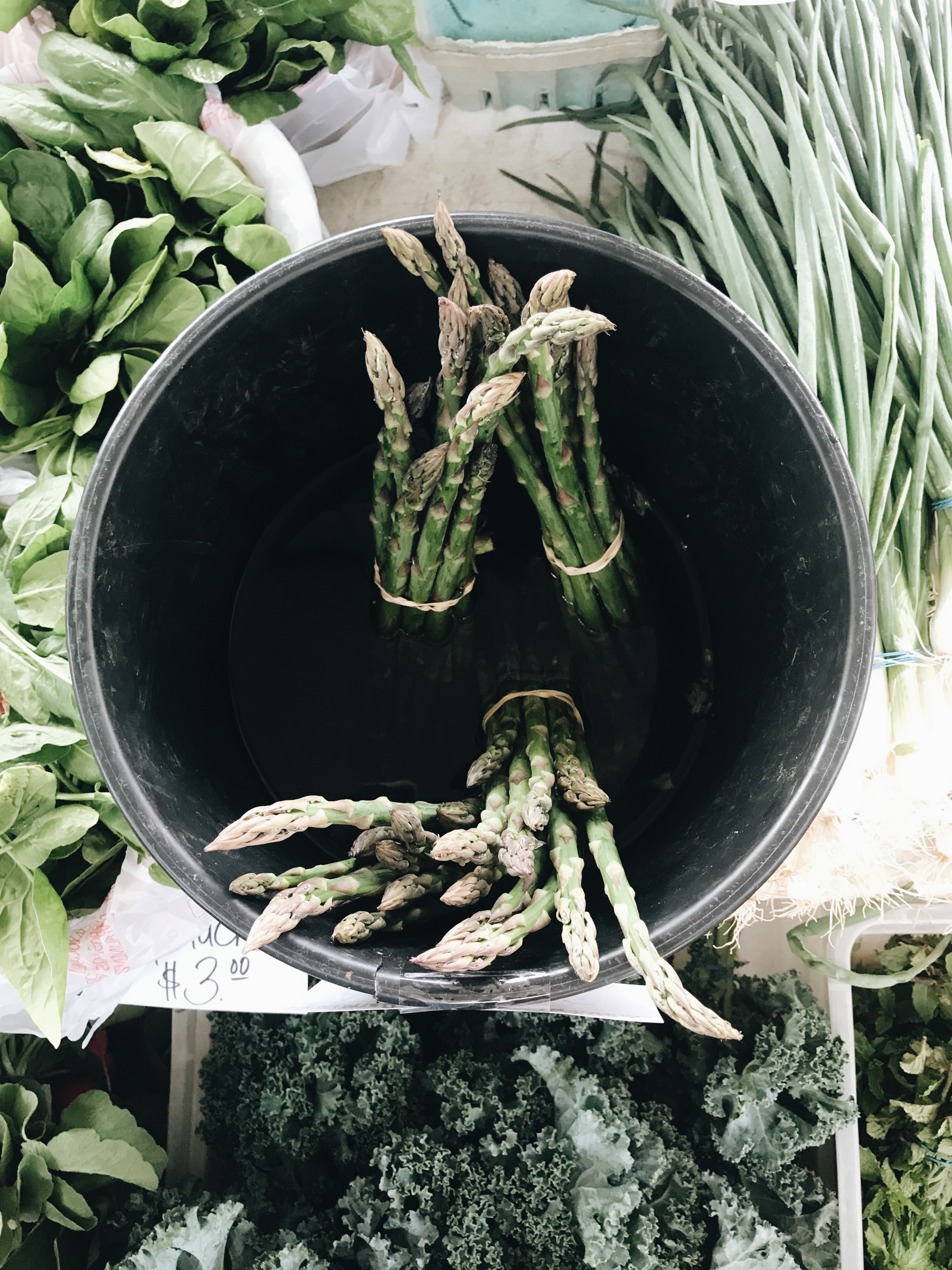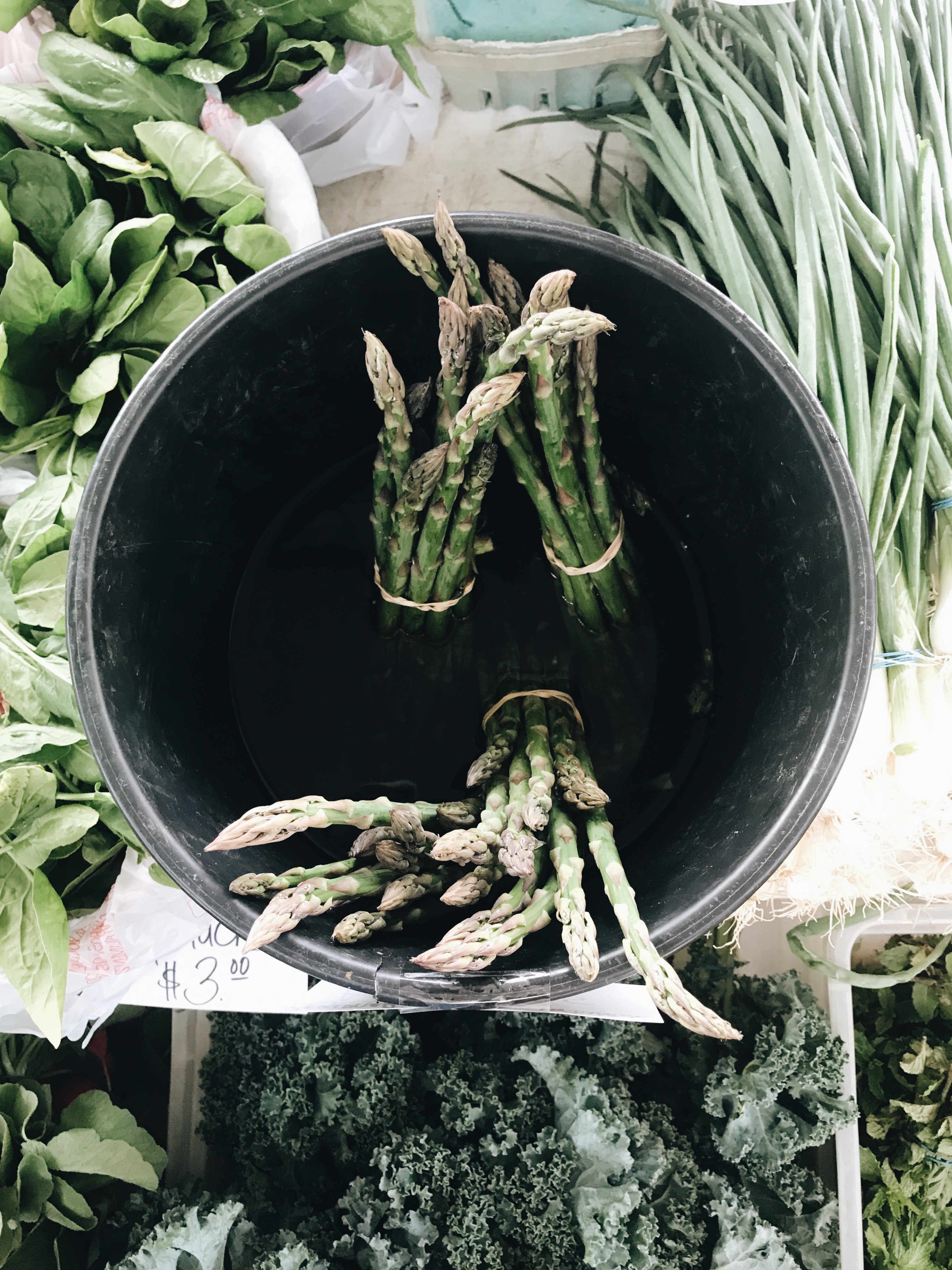 Hello, stunning asparagus. Done.
(Pro tip! <just kidding about the pro thing I just said.> Shop by color if you're not sure what to buy. Pretend you're picking out a rainbow to wolf down. The end.)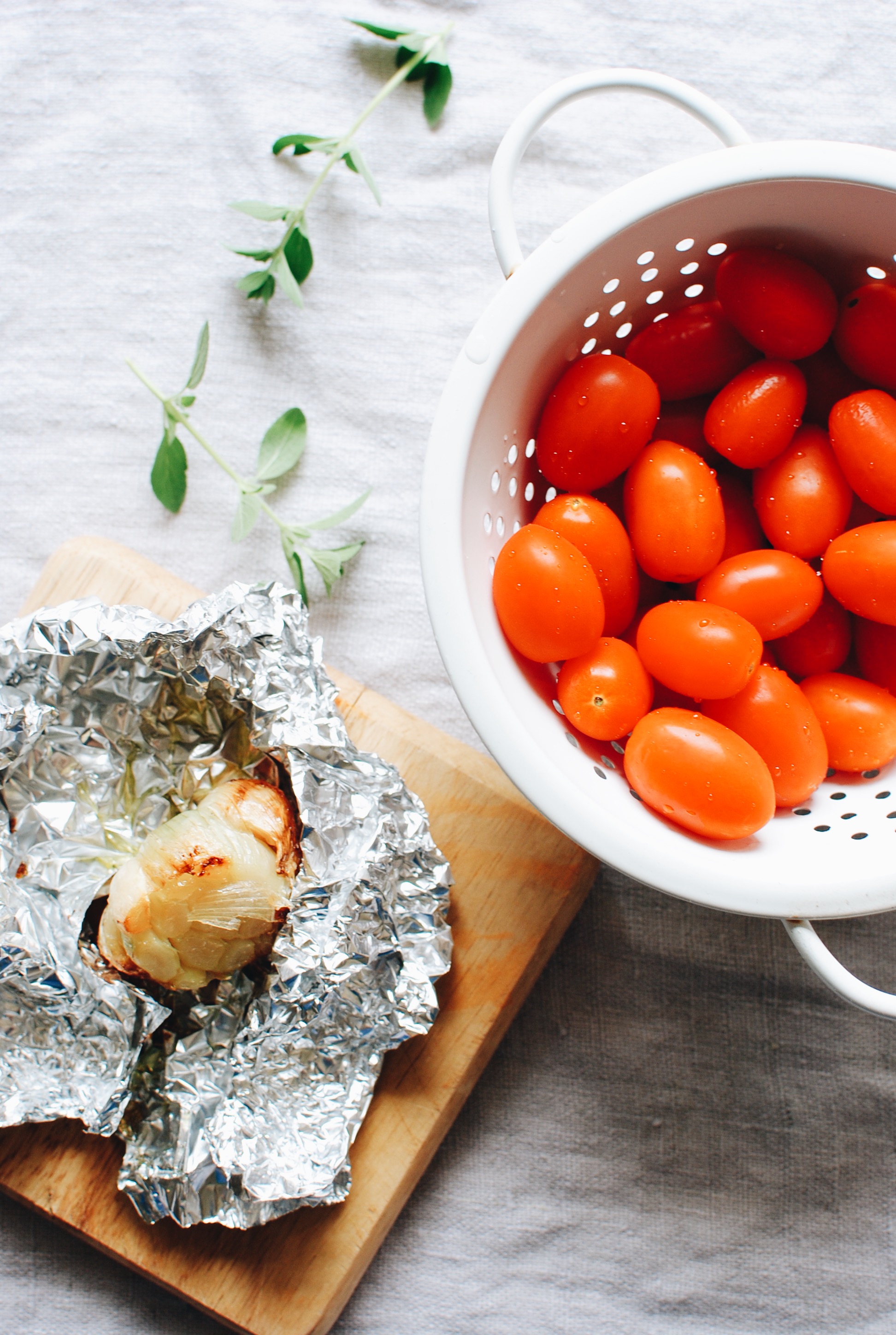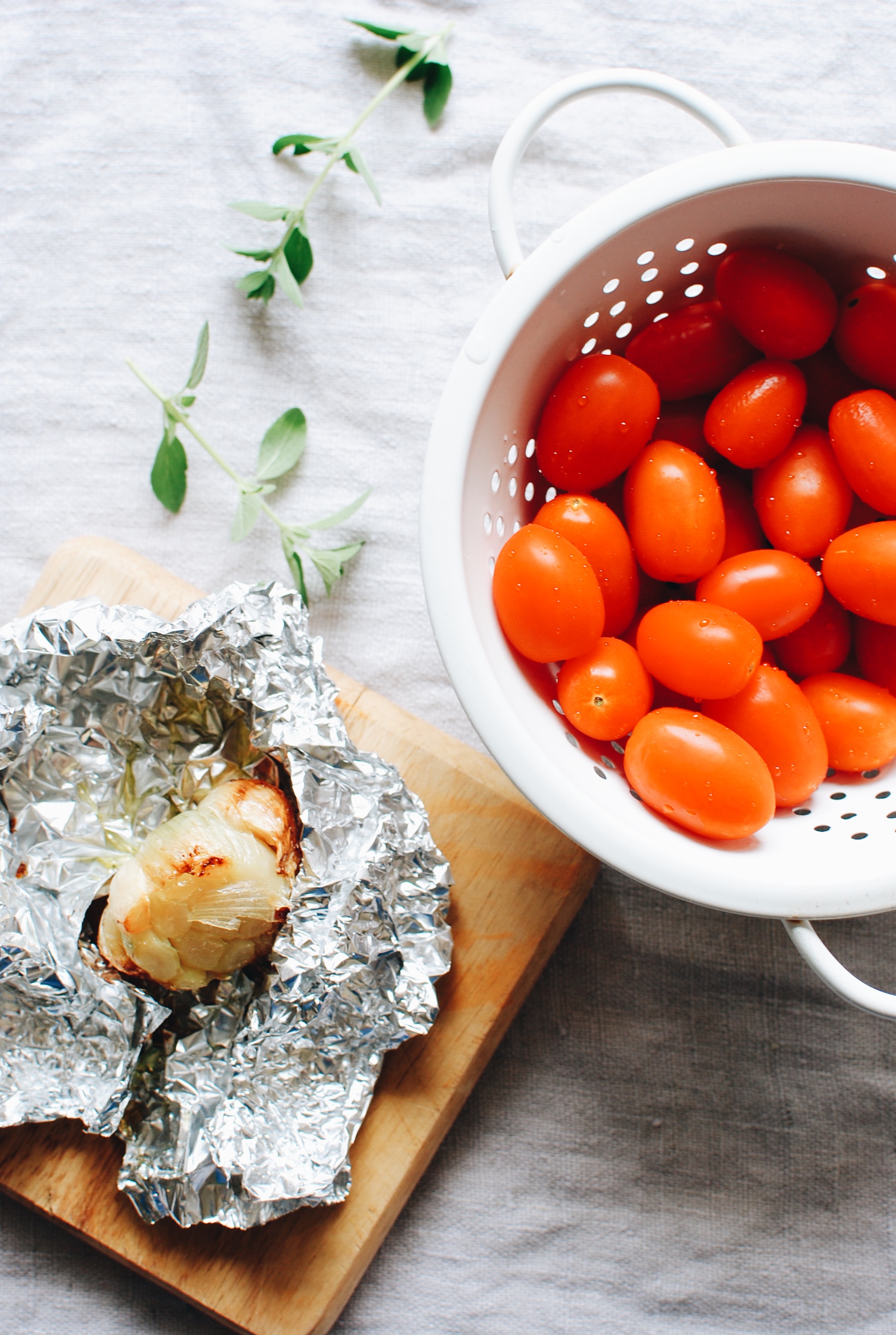 So for the tomato sauce – you can keep it simple and use jarred pizza sauce. OR, whip up this insane roasted garlic version. It's one full head of garlic, roasted about 40 minutes. Let it cool, then throw some cherry tomatoes in a food processor with the (squeezed out) tender roasted garlic cloves, a couple of tsp of olive oil, a pinch of salt and a few oregano leaves. Get it smoooooooth smooth smooth, then simmer on low while you prep the veggies. Right about now you're dancing to the Macarena, but I won't tell anyone.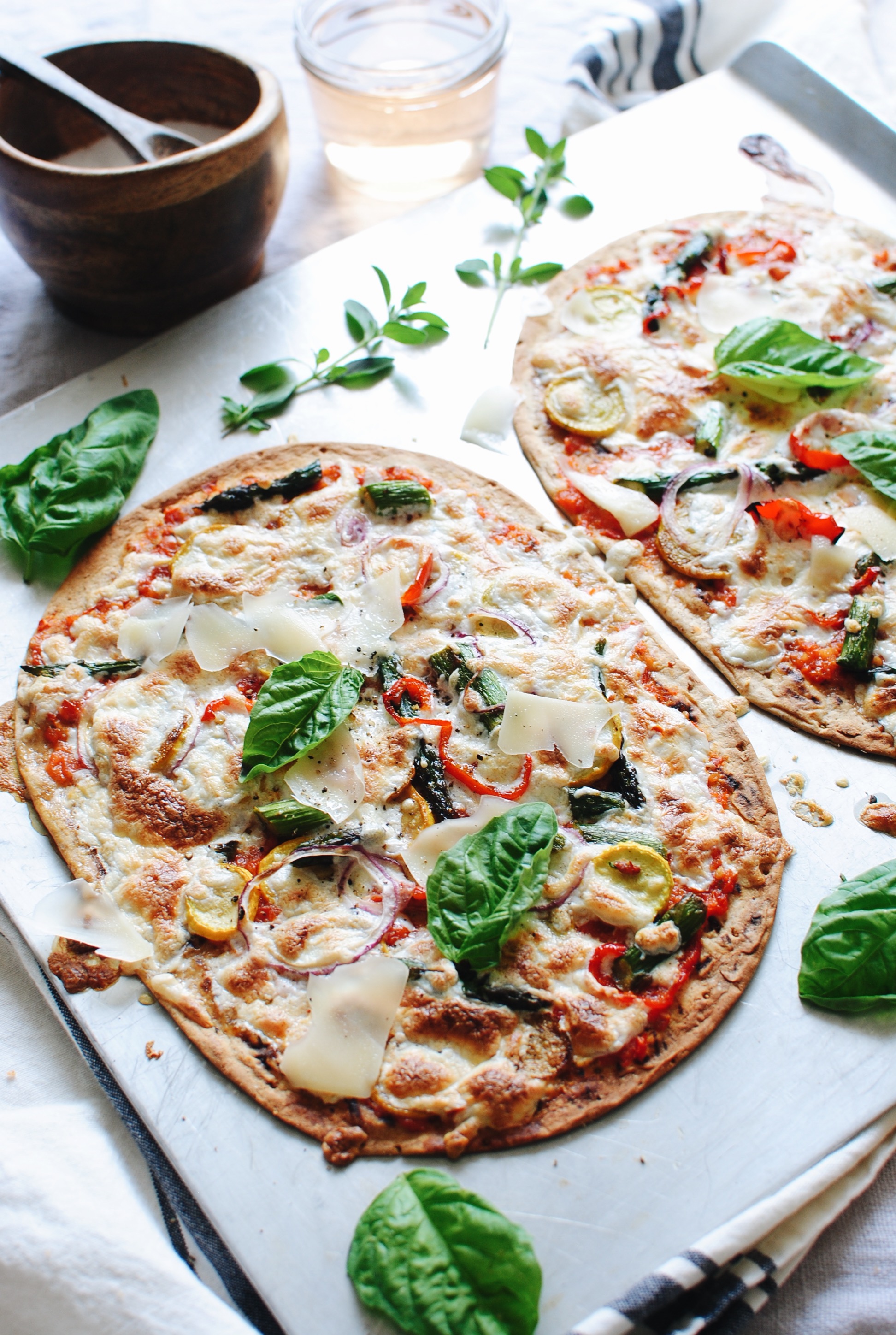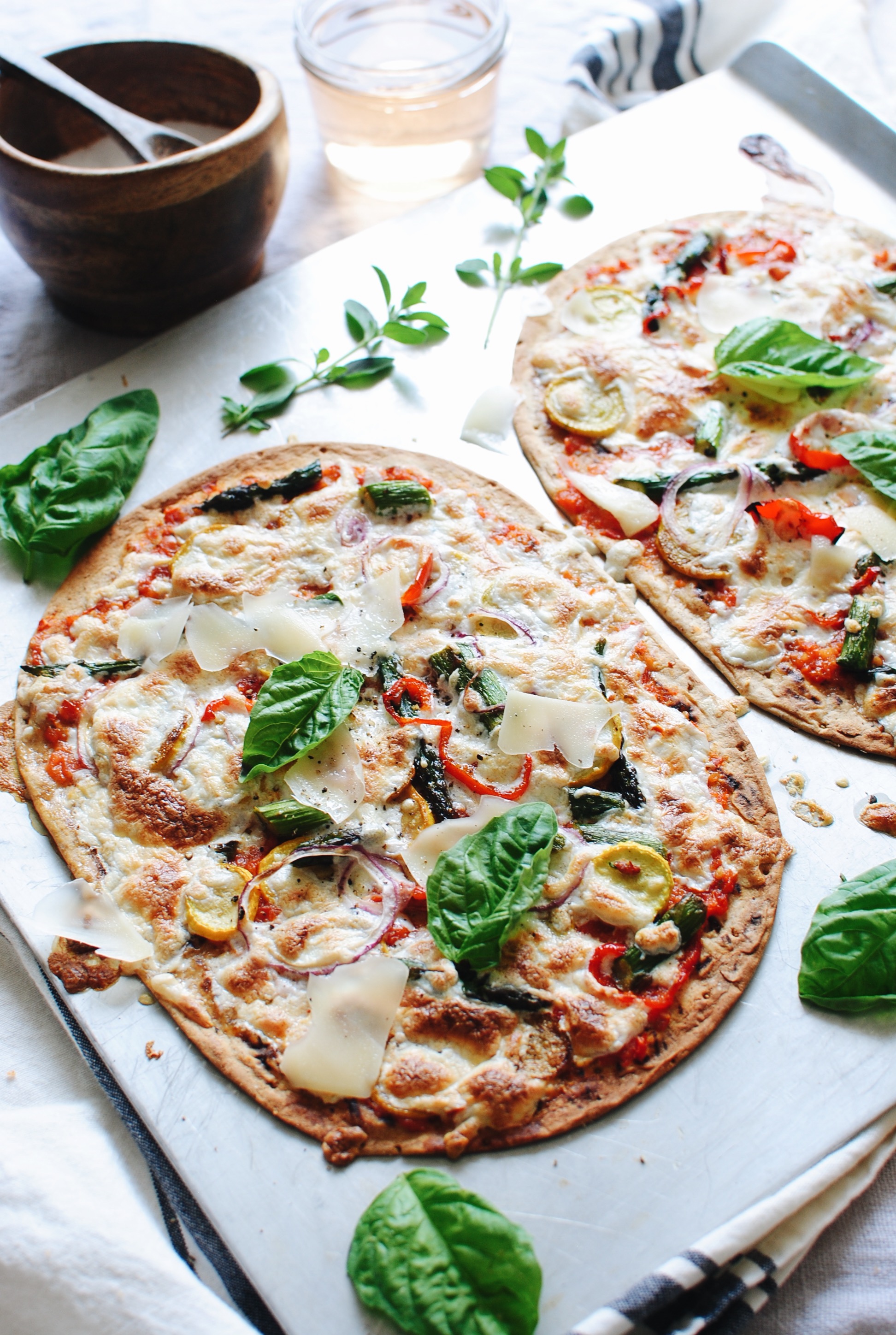 The crust! This time around I went with Flatout Flabread's Protein Up Core 12. Its whole thing is that the proteins are UP, and the carbs are DOWN. Which means you can eat more? I think so. They have a lot of different flavors and types of flatbreads though – I mean LOOK. The world is your flatbread.
Last time I used the pizza crusts, remember?! (true story, I like pizza.)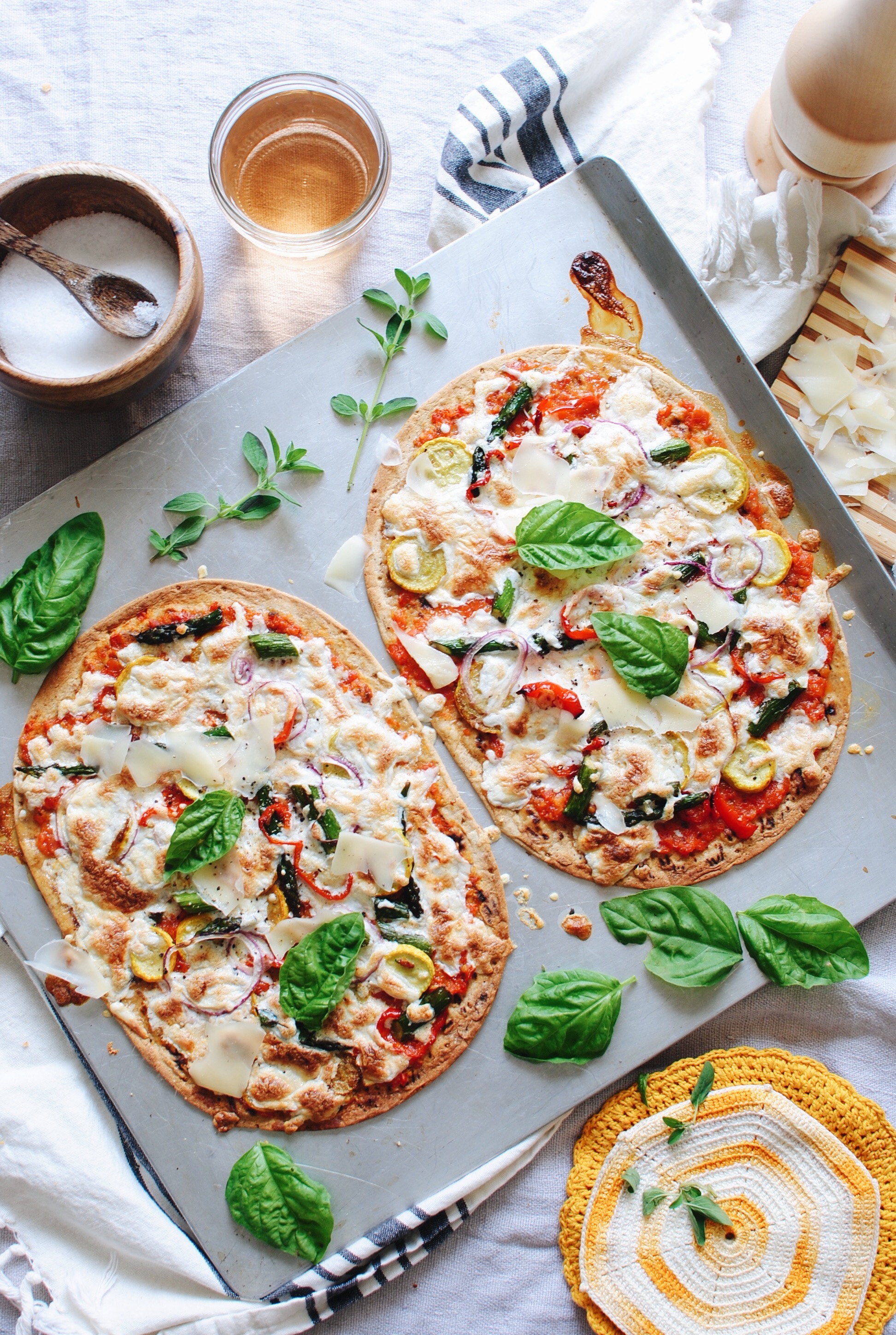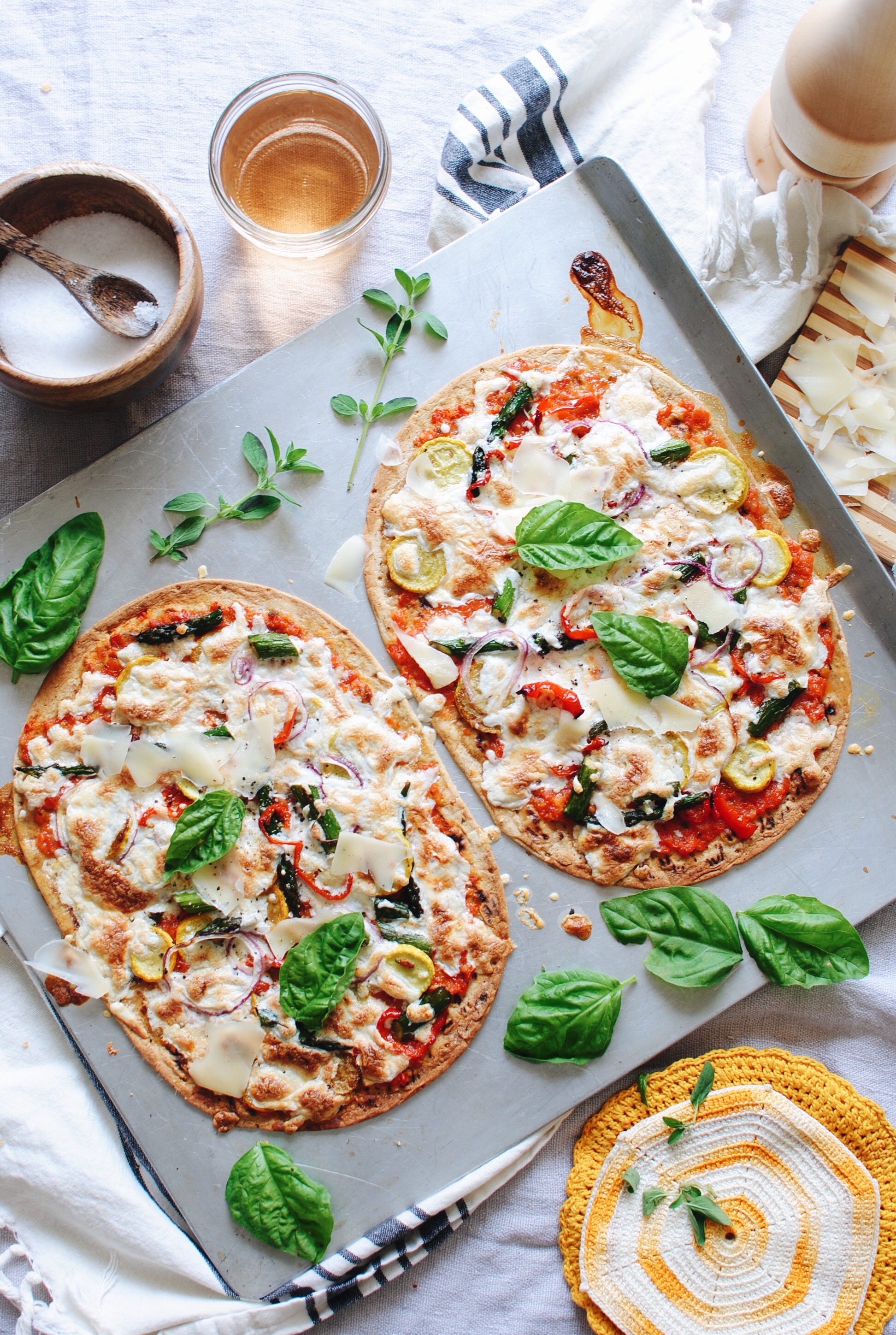 So on goes the sauce, then after a quick sauté of the market veggies, I scattered them on all willy nilly, topped it with fresh mozzarella, and shoved them in for a quick oven blast. And out they came – beautifully crackery thin, with light, vibrant toppings that made the face shoveling that much easier slash glorious-er.
But if you don't do this next part, your leg hair follicles will be haunted with angry fleas for three months! (Listen, I don't make up the rules.) Top with fresh basil and parmesan shavings. OR ELSE.
The rad thing is, you can use this recipe as a springboard for whatever you have busting at the farmer's markets. If you're into thin crust pizzas, the Flatout Protein Up is just fab. Play around the flavors, too, and tell me what you make!
You know I need these details to thrive in life.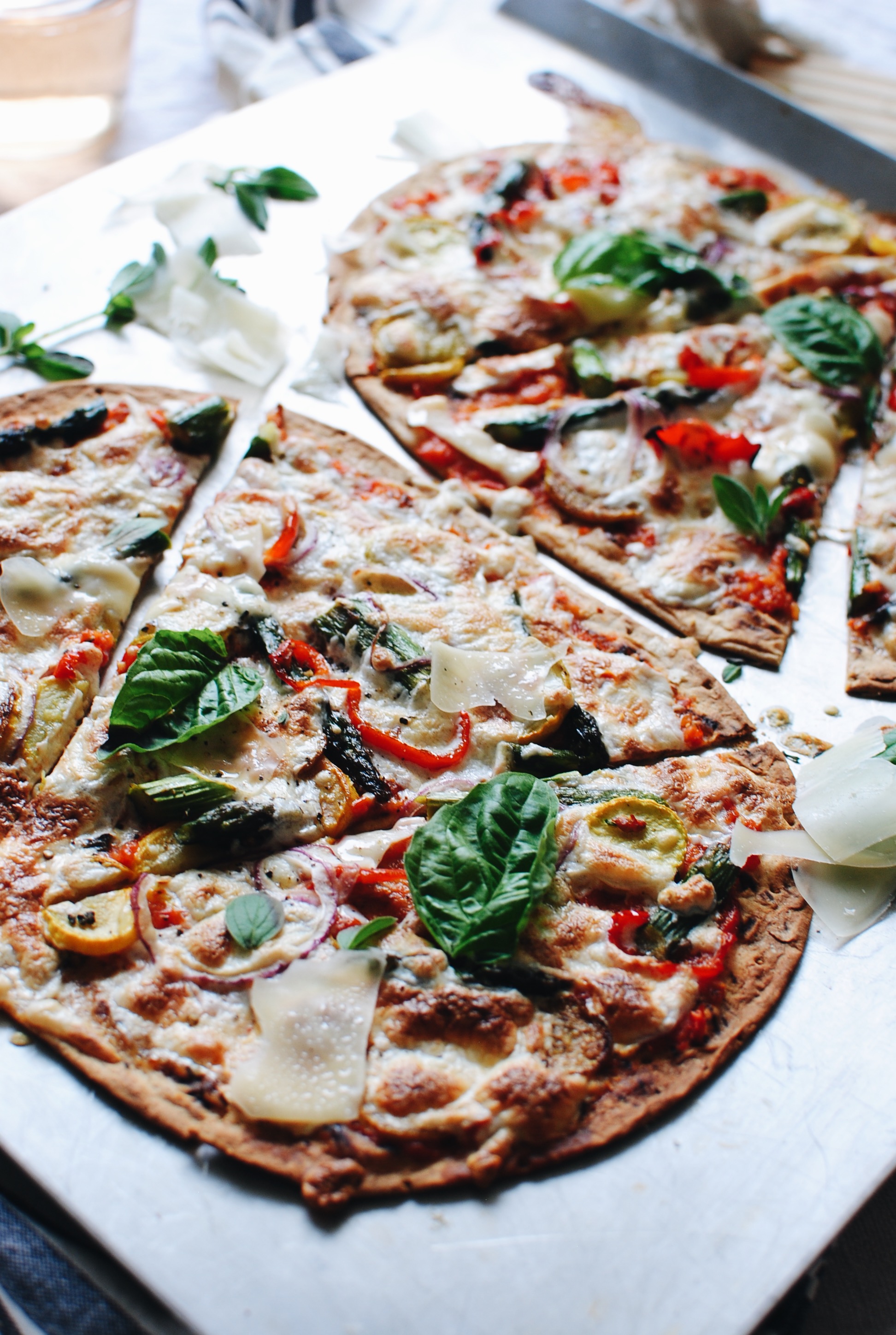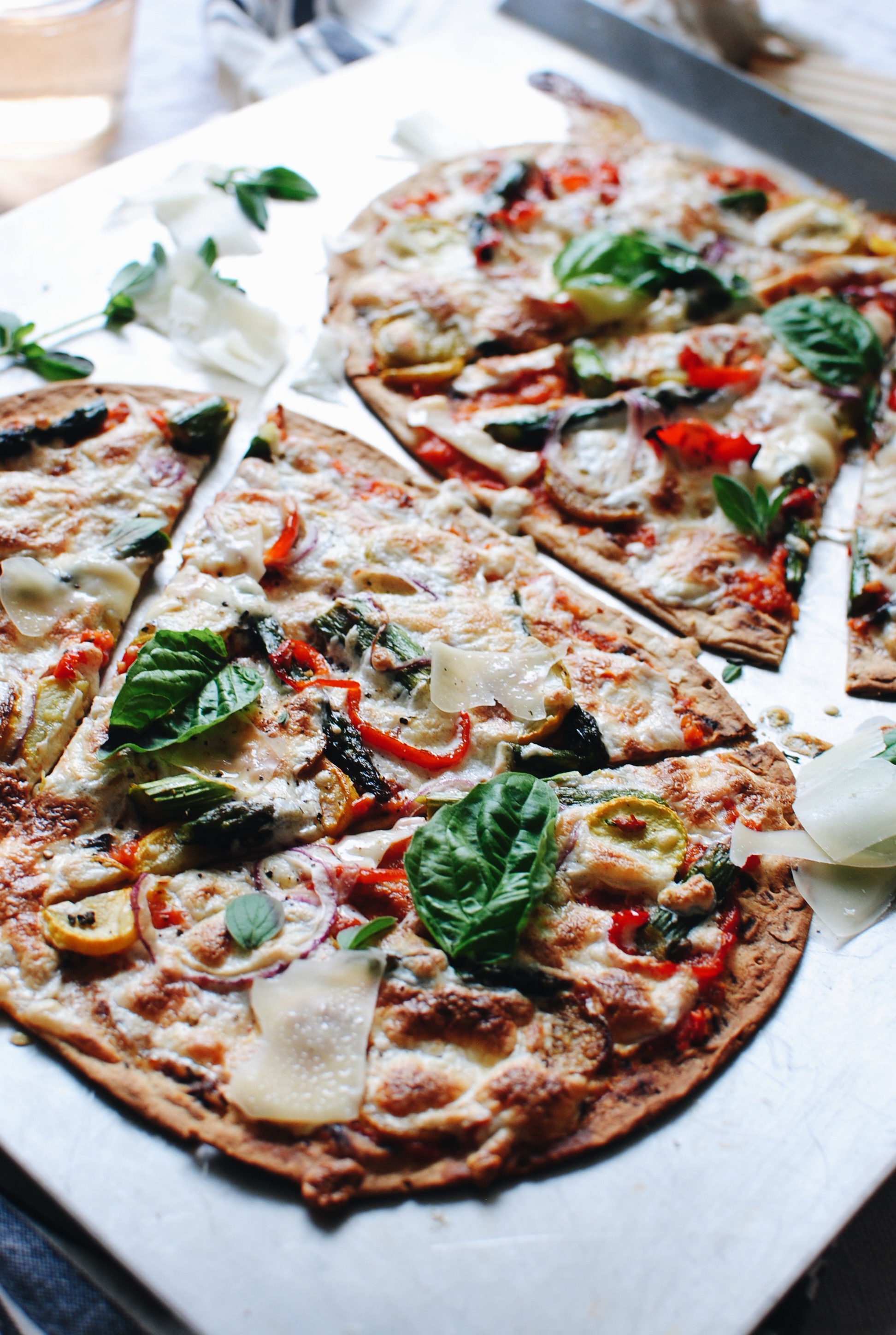 I like pizza, just in case that wasn't clear.
Flatout Flatbread Farmer's Market Pizza
Ingredients
1 head garlic
1 tsp extra-virgin olive oil
2 cups cherry tomatoes
6-10 oregano leaves
1 Tbs. extra virgin olive oil
2 small yellow squash, thinly sliced
1 bunch asparagus, cut into 1-inch pieces on the diagonal (ends discarded)
1/3 cup thinly sliced red bell pepper
1/3 cup thinly sliced red onion
1 (5 oz) ball of fresh mozzarella cheese, grated
2 Flatout Protein Up Core 12 flatbreads
Fresh basil and parmesan shavings, for garnish
Salt and pepper
Instructions
Preheat oven to 400.
Cut the end off the garlic head, and place in a small piece of aluminum foil. Drizzle with the tsp of oil and season with salt. Wrap the foil around the garlic and roast for 40 minutes. Let cool until the garlic is safe to handle.
In a food processor, combine the cherry tomatoes, garlic cloves, oregano leaves, 2 tsp of olive oil and a pinch of salt. Blitz until smooth. Transfer to a small saucepan and simmer on low.
Heat a Tbs. of oil in a large skillet. Add the squash, asparagus and red bell pepper to the skillet; sauté until tender and starting to brown, about 5 minutes.
Place the flatbread on a large baking sheet, and evenly spoon the tomato sauce over each Flatout Flatbread. Scatter with sautéed veggies, the raw red onion, and the mozzarella cheese. Bake for about 20 minutes, or until the cheese melts and starts to get brown and bubbly.
Top with fresh basil, oregano and parmesan shavings. DEVOUR.
Makes two pizzas.
7.8.1.2
92
https://bevcooks.com/2017/06/flatout-flatbread-farmers-market-pizza/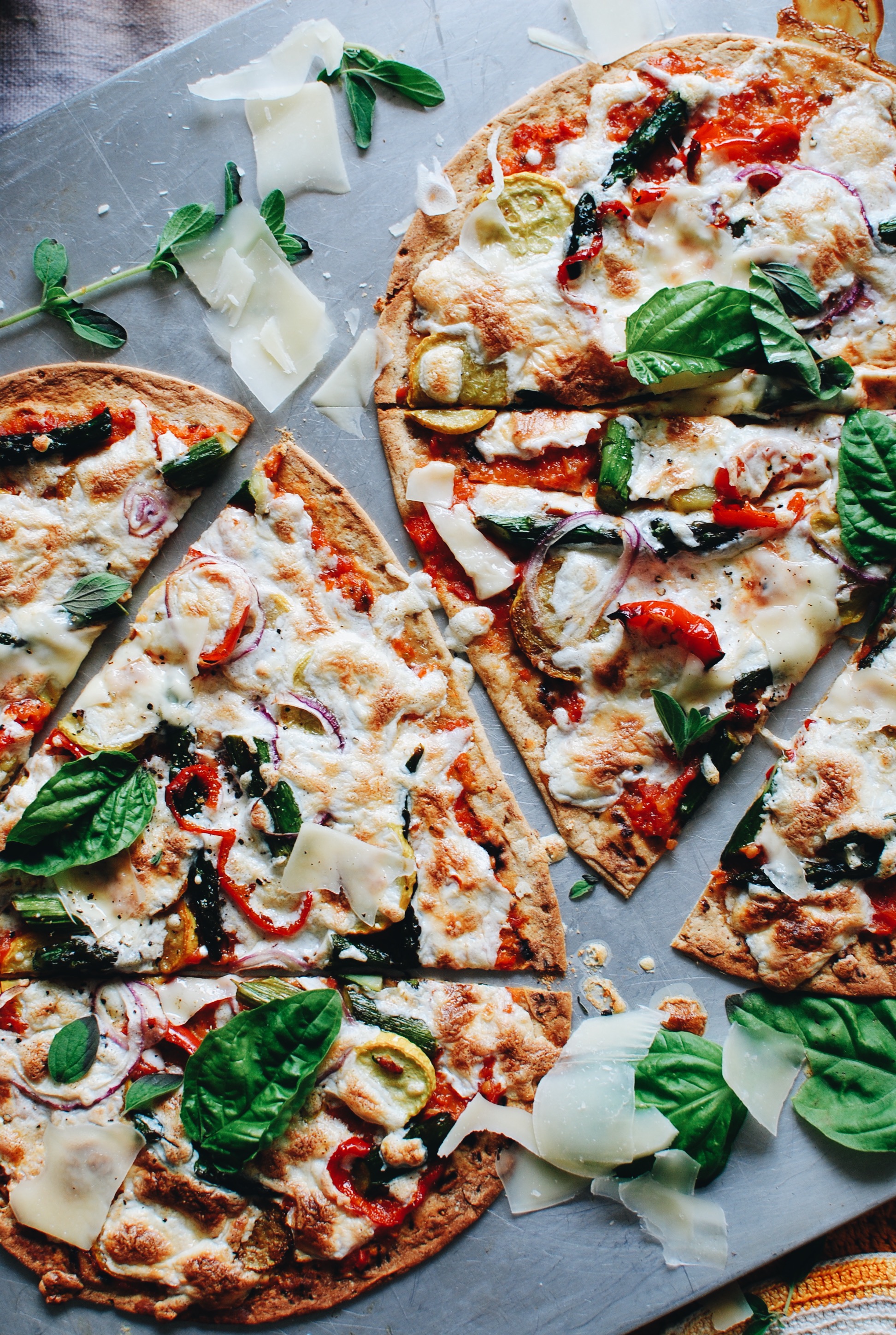 Forever and ever, amen.