Easiest creamy pasta! Ever. Well, today. At least right now.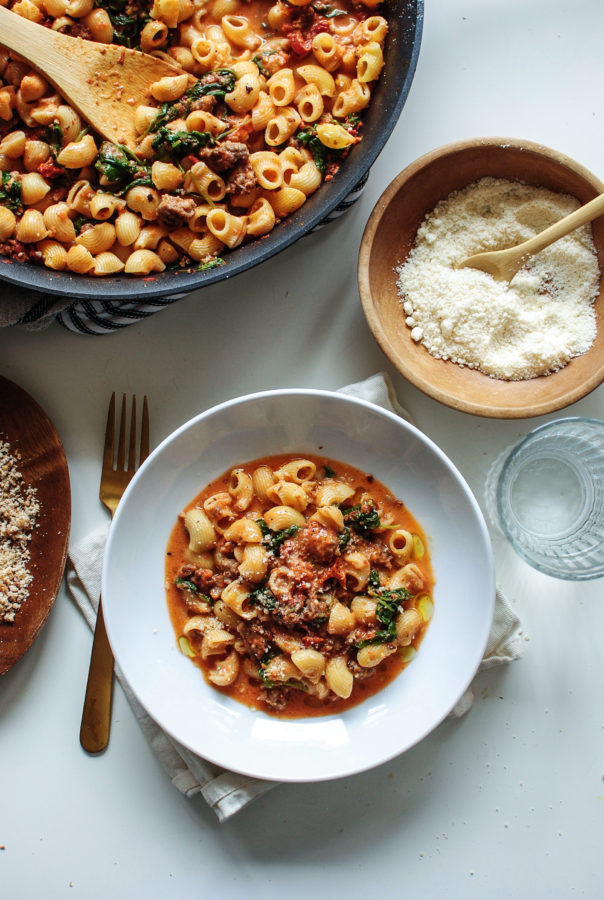 I bet you're craving those kinds of meals that make themselves. You've got a lot to do, man! All your Christmas shopping, baking, party planning, outfit-laying-out, eggnog gulping (<–I've never had proper eggnog, can you believe that? Is it grody? Would it give me chest hair?)
This pasta is your key to life. It's super simple, but it has a few layers of flavor that will kick you in the face. Not really a kick. More like a love pat. From its foot.
I feel like winter begs for Italian sausage. Never mind the fact that every day all year for me calls for Italian sausage. But especially in the wintertime! Oh, remember the snow thing I mentioned last week, that was all set to happen this week? GONE. Not gonna happen. We were supposed to get 1-3 inches tomorrow, but it's vanished from the forecast, thus resulting in a mental decapitation within my soul. I'm freaking dreaming of a White Christmas, dang it! (<–my fist is in the air right now.)
Anyway, Italian sausage blah blah blah. Brown it. And add some chopped-up sun dried tomatoes while you're at it. This is make you happier in life.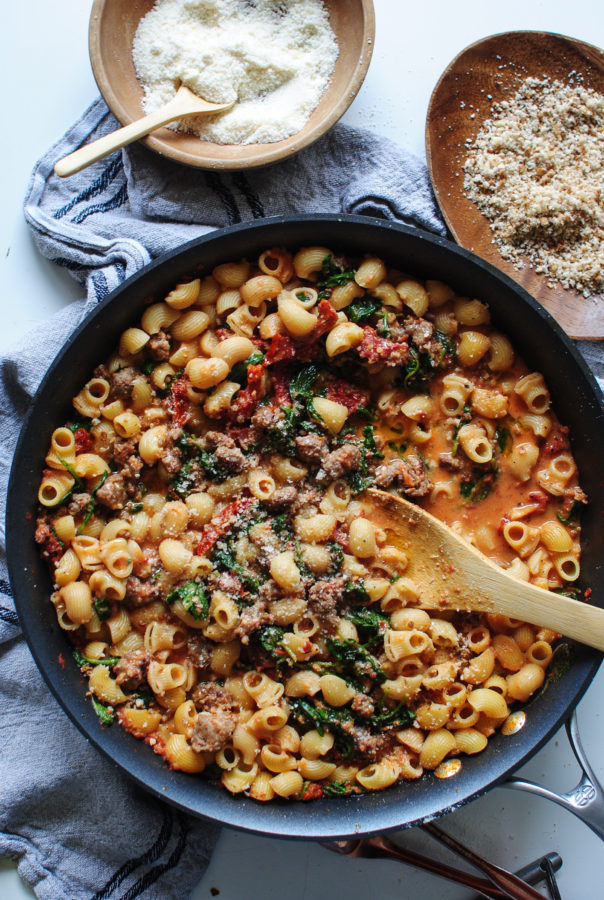 It's honestly so basic and so ridic delish. The sauce goes like this:
1 can of fire-roasted tomatoes, whizzed in a food processor. That, plus 1 cup of chicken stock, plus 1/3 cup of cream. That's it! It's a creamy tomato sauce. But not too thick and gloopy. It's smoother, sort of like Frank Sinatra's aura. That's Frank Sinatra sauce in your pasta.
Patent pending!
The innards go like this:
Sausage and sun dried tomatoes, plus an F150 of chopped kale, and short pasta. I used pipette! Mostly because it rhymes with Babette, and I'm clinically obsessed with her right now. She ate oatmeal, you know?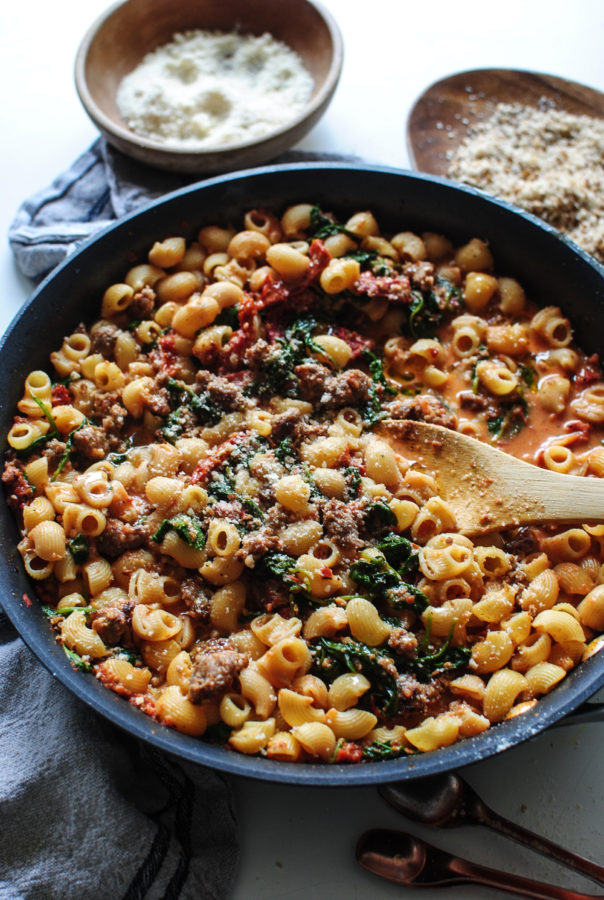 Oh oh oh! Another key element to this pasta dish slash your life merriment? Toasted breadcrumbs. Just one slice of bread, wheat or white or whatev, give it a blitz in a food processor until it's good and crumbly. Then you can let it sit out and stale up, or shove it in the toaster for a few minutes to brown up and crisp up. Whatever happens to the breadcrumbs, it's up. Hahaha! Oh.
The breadcrumbs plus the powdery parmesan – DUDETTE. (<–rhymes with Babette. You know.)
Sorry I'm so hyper.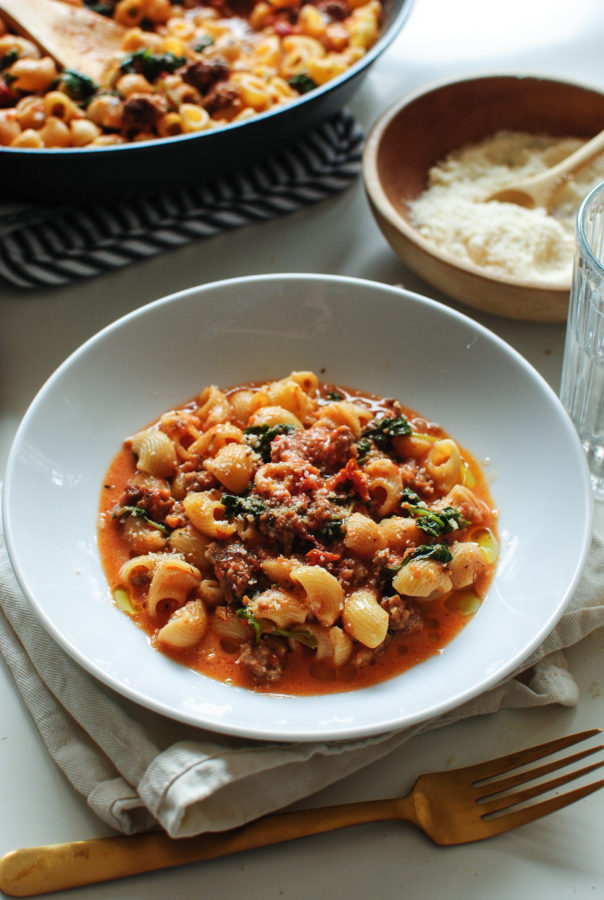 Make this pronto, yo!
Creamy Pasta with Sausage and Kale
Ingredients
10 oz pipette pasta (or your favorite short, pudgy pasta)
3 links Italian sausage, casings removed
1/2 cup chopped sun dried tomatoes
1 (15 oz) can fire-roasted diced tomatoes, blended in a food processor until smooth
1 cup chicken stock
1/3 cup heavy cream (milk is fine, too)
5 oz chopped kale
1 slice bread, pulsed in a food processor, making breadcrumbs, then toasted
salt and pepper
Instructions
In a large pot of salted water, boil the pasta according to package directions, until al dente. Drain.
In the meantime, brown the Italian sausage all over, until cooked through and crumbled. Add the sun dried tomatoes and sauté another minute. Add the tomato puree, chicken stock and cream. Let simmer for a minute or two, then add the kale. Once it's wilted, add the cooked pasta and toss to coat. Taste it. Yeah, you need some salt. Season with a pinch of salt and pepper until it's pawwwfect.
Garnish with toasted breadcrumbs and parmesan! Inhale.
Serves about four.
7.8.1.2
58
https://bevcooks.com/2016/12/creamy-pasta-sausage-kale/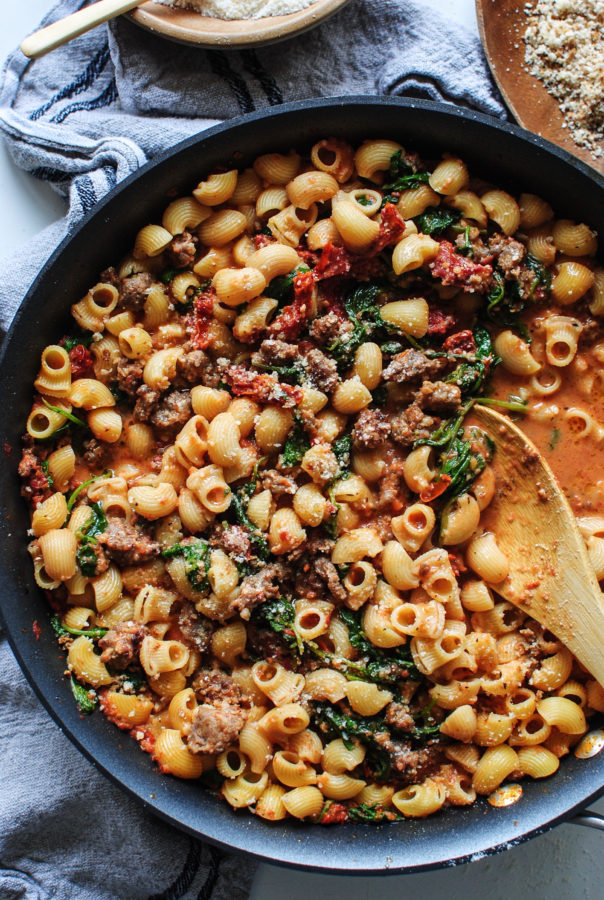 Babette approves this message.
Save
Save
Save