Ohhhhhhhh yeahhhhh.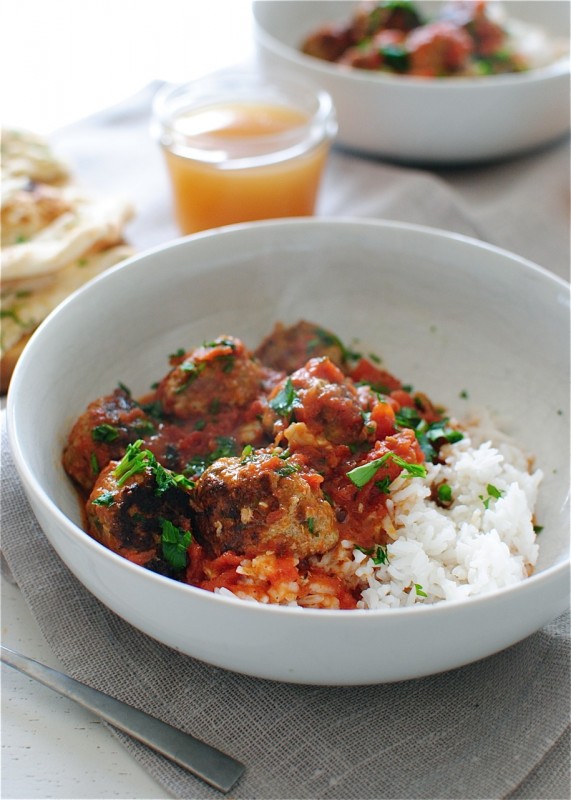 Meatballs. But not just any meatballs! Turkey meatballs. But not just any turkey meatballs! Indian turkey meatballs. But not just any Indian turkey meatballs! I'm not sure what to say now.
But! This is sosososoosososososoooooogood. It's like spaghetti and meatballs, but totally twisted and turned upside down with seductive spices, a buttery marinara, white rice and garlic naan! Carbs on carbs, man. Winter demands this extra padding, you know.
I see you nodding.
The sauce is actually a tip from my sis-in-law Carolyn. She suggested adding butter instead of oil. I think that basically makes her the queen of life. It adds this richness that makes ya wanna slap your mama. But mine isn't here so I slapped myself. Which was a stupid move. But anyway.
The meatballs, my gah. I soaked some good grainy bread with milk for moisture, added some garlic, shallot, parsley, yadda yadda yadda. BUT, it's the garam masala and kiss of turmeric that blow these balls right outta the water. It's not too much spice, oh no. It's just enough. Just a little subtle spice party in your mouth. They even rented a band. But not like one of those awful cover bands at your work holiday party where the lead lady singer moves too much and wears sequins on her shoulders. Good grief get out of there.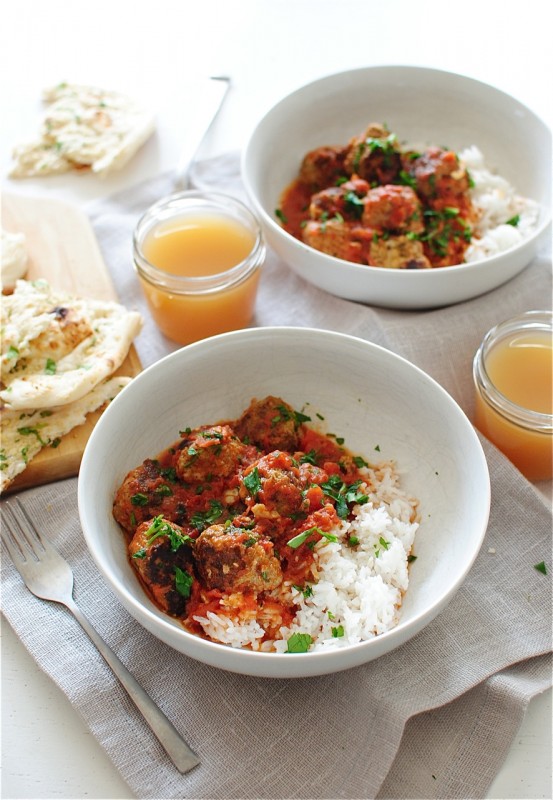 I'm madly in love with this meal. Fairly easy, crazy comforting, pretty healthy, complex flavors, but not like whaaaaaaat is this. And you can easily sub anything for anything. Swap in ground chicken, egg noodles, whatever makes you sing. But not with sequin shoulders for the love.
You must absolutely add this to your winter rotation. Or your all of life rotation. That works, too.
Also, carbs on carbs.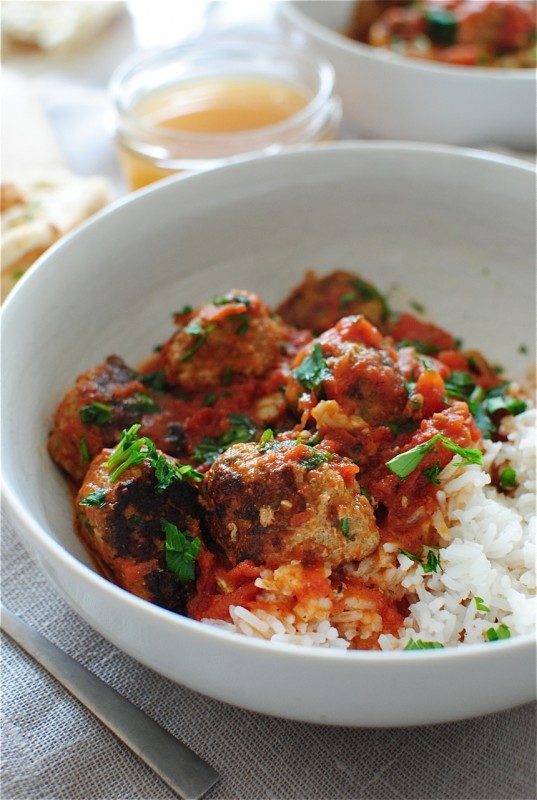 You have my permission to slap yourself.
Indian Turkey Meatballs over Rice:
What it took for 4:
for the meatballs:
* 2 slices grainy bread
* 1/4 cup milk
* 1 pound ground turkey (I used dark meat)
* 2 cloves minced garlic
* 2 Tbs. minced parsley
* 1 Tbs. minced shallot
* 1 Tbs. garam masala
* 1/2 tsp ground turmeric
* 1/3 cup freshly grated parmesan
* 1 egg
* a pinch of salt and pepper
for the marinara:
* 1 (1 lb 12 oz) can San Marzano (if you can find it) whole peeled tomatoes
* 3 cloves sliced garlic
* 1 white onion, cut in half
* 4 Tbs. butter
* 1 tsp dried oregano
* salt
the rest:
* 1 cup white rice (jasmine or basmati)
* garlic naan (frozen is just fine! mine was from Trader Joe's.)
* minced parsley for garnish
Pulse the bread in a food processor until it becomes crumbly. Place the crumbs in a small bowl and pour the milk over it. Combine with your hands until the bread is moist. Sorry.
In a large bowl, place the turkey, garlic, shallot, parsley, garam masala, turmeric, egg, and parmesan cheese. Add the bread mix and a good pinch of salt and pepper. Combine with your hands. Form 1-inch balls and place them on a tray or plate until you're ready to cook. I let mine sit in the fridge for a couple of hours.
Place the tomatoes in a large bowl and crush with your hands. I like this part. I'm weird.
Transfer the crushed tomatoes to a large pot and add the onion halves, garlic, butter and oregano. Let simmer on low for about 45 minutes.
In the meantime, cook your rice in a rice cooker or stovetop method, whichever you prefer!
Also in the meantime, heat a little oil in a large skillet over medium high. Add the meatballs and sear on both sides until you get some good browning. Once browned, transfer the meatballs to the sauce to finish cooking, about 15 minutes. Fish out the onion halves to make room. Give a pinch of salt to the sauce at the very end.
Serve the meatballs with marinara over rice, with pieces of torn garlic naan. Garnish with parsley and eat this mess already.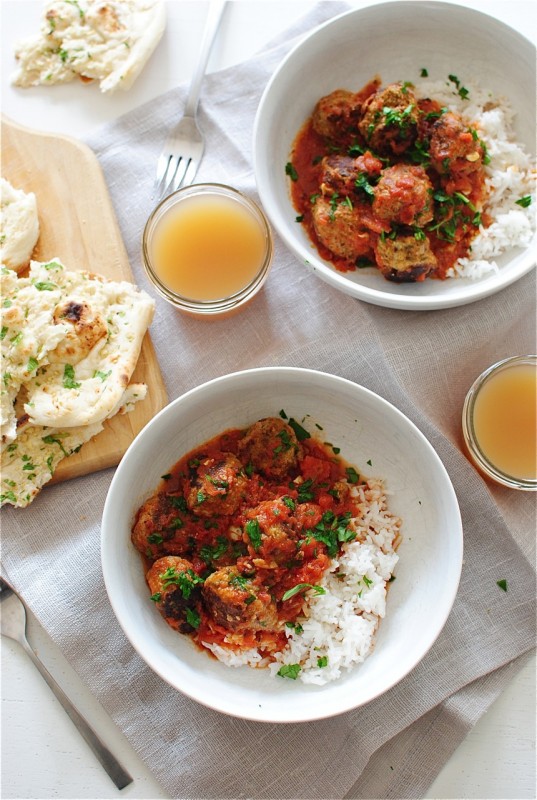 Sequin shoulders sold separately.