Okay, you guys, baby food is ugly. This has been your warning.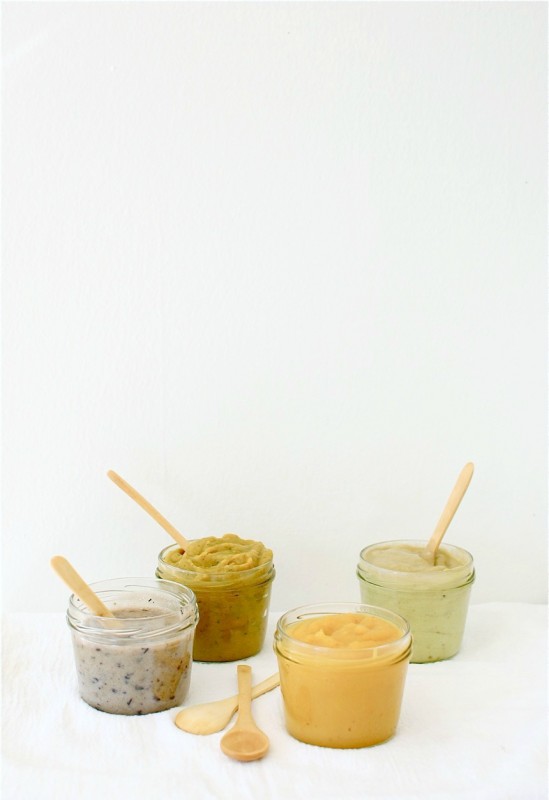 But it's soooo easy to make and I just couldn't get through this phase without sharing a few of my go-to purees for the gremlins.
And no, they're not going to be gremlins for Halloween. Which actually breaks my heart because I seriously just thought of that a few hours ago. How amazing would that have been? I'll never forgive myself. As a matter of fact, I'm going to lock myself in the cellar and punish myself for the rest of ever!
I'm just kidding you guys we don't have a cellar.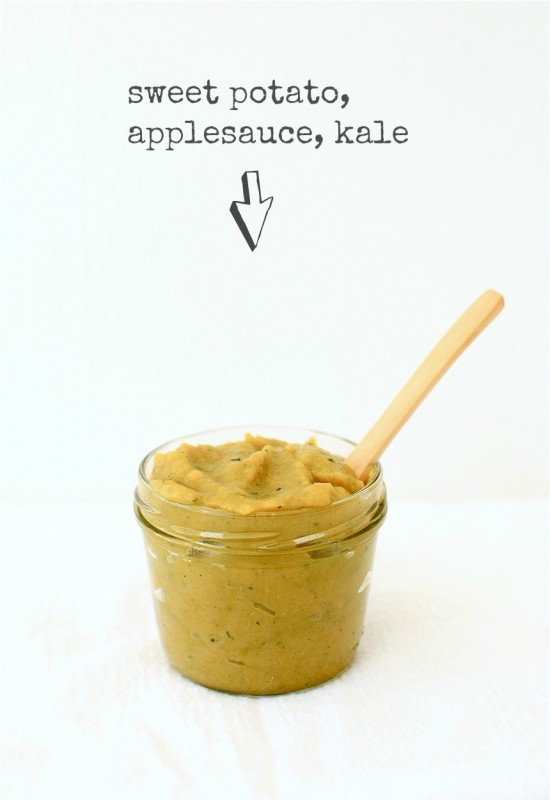 Let's start with the ugliest. This would be a mix of boiled sweet potatoes, jarred organic applesauce and kale. Just one long leaf of Tuscan kale. But the curly stuff is fine! This is how it goes down:
* 3 small organic sweet potatoes, boiled
* 1 cup organic applesauce
* 1 leaf Tuscan kale
* 1 Tbs. water
Yields right about 2 cups, maybe a little more.
Okay, I have the Baby Bullet, but listen, if you're not in the market for one, a food processor or blender is just fine! I just prefer it because it's tiny and . . . well, cute. Puree in batches (if needed) and you're done. That's it.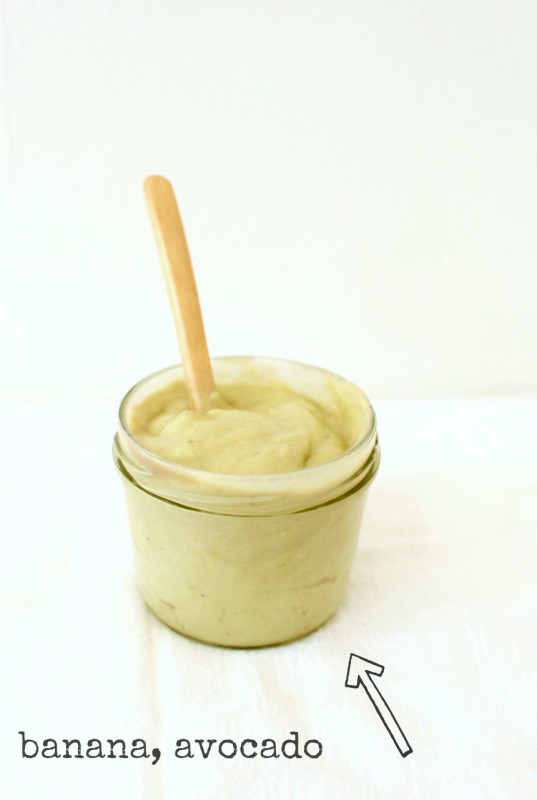 I like to call this one Guacanana! The babies like that, too because they seem to giggle every time I say GUACANANA! GUACANANA! Now that I think about it, it's probably more because I sound like a Muppet on speed.
* 2 bananas
* 1 avocado
Puree. The end. You're done.
Yields about a cup.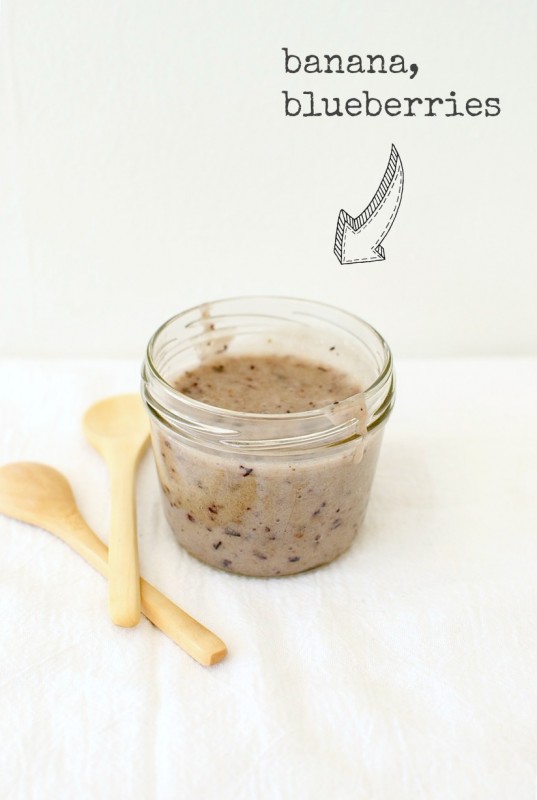 I need to ask you to overlook how messy and gross this jar is. I think it's because as I was pouring this little smoothie into the jar, a bald eagle flew through my back door, landed on my head and began to dance the Macarena.
* 2 bananas
* 1/3 cup blueberries
Puree. You're done. Done.
Yields a little over a cup.
I make that one for the babies every single morning at 8am! You're exhilarated just thinking about it, aren't you?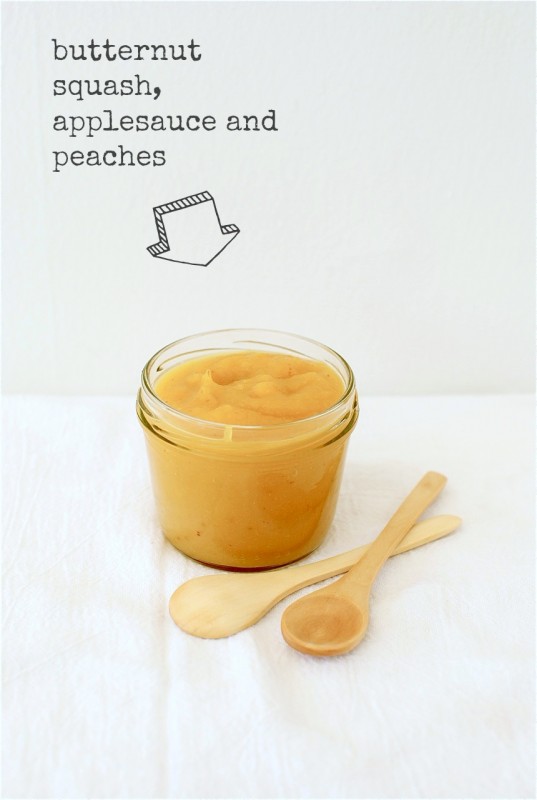 This one is super good. I buy those little bags of already-peeled (fist bump!), already-diced (booya!) butternut squash and boil 'em all up. Add some applesauce, some fresh peach chunks (or even pears!) and boom diggity.
* 1 (12 oz) package diced butternut squash
* 1 peach, pitted (not to be confused with the Peach Pit from 90210)
* 3/4 cup applesauce
Puree. Holla back.
Yields around 2 cups.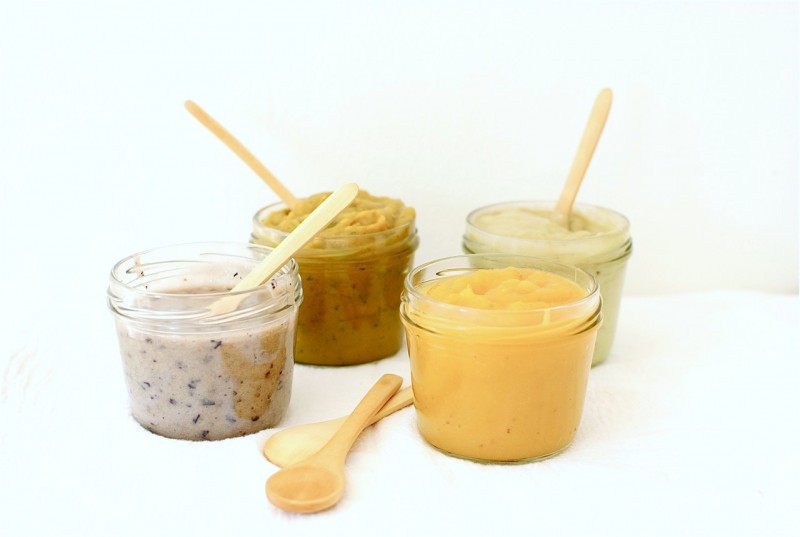 I will admit, we're moving out of this puree phase and into the they-eat-what-we-eat phase. Which is nice except that my entire house is covered in spaghetti, red sauce, chicken taco filling and pizza chunks. And then there's the babies' mess . . .
So there you have it! Four easy baby food recipes for your face. I mean your baby's face. I'm sure you have a lovely face, too.
Did things just get weird?
Okie doke, tell me what I absolutely have to try next, or else I'll use more exclamation points! I mean .