New weeknight favorite. Right here. Right now. I have my hands on your shoulders and I'm looking you square in the eye and making you extremely uncomfortable.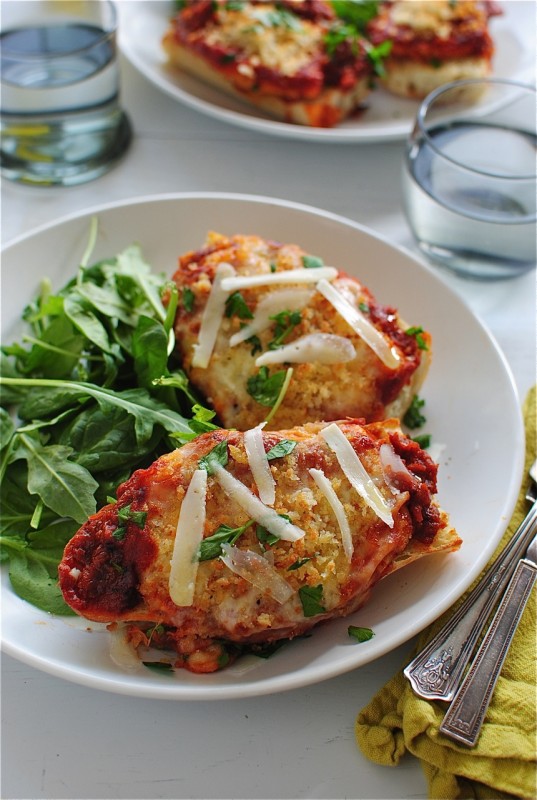 But first, could we talk about how jank my parmesan shavings are? They look like hair clippies. Barrettes. I opened a brand new block of cheese and you know how they sometimes come in triangle form? Well, these shavings are from the triangle tip part. And I even tried to angle it a bit to get more cheese and that "rustic shaving" look, but was scared I was going to shave all of my knuckles off. And I didn't want any blood to get on the food, right? But there's so much tomato sauce you might not even tell. But I'm actually out of regular Band-aids right now (the only ones I have are shaped like men's underwear and they barely stay on. such problems!) so I kept the shavings more like clippies.
Wait, where are you going?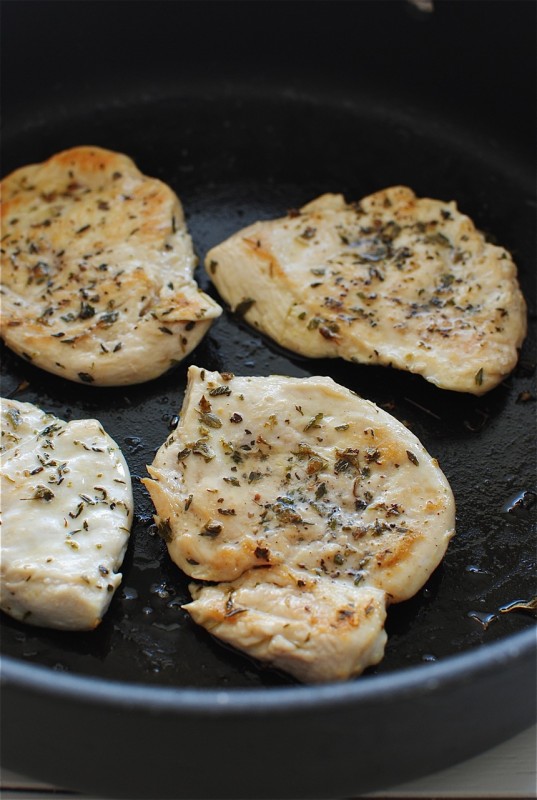 If you're not convinced yet that this is going to be your most favoritest ever new weeknight meal, perhaps you should peep the next photo.
And the one above, but you've already looked at that one. Which is just pounded out and seared chicken, but still. It's all seasoned with dried thyme and oregano. And it's not TOO much meat, ya know? Just a nice thin slice of – wait, what's it called when you do this? When you pound it out and sear it? Scalpo, scappo – hold on. I'm gonna ask Dr. Google.
Scallopini!
Which makes me wonder, can you scallopini scallops? That sounds horribly sad and wrong.
Anyway, the reason people scallopini meat cutlets is to leave more room for bread and cheese. But that's obvious.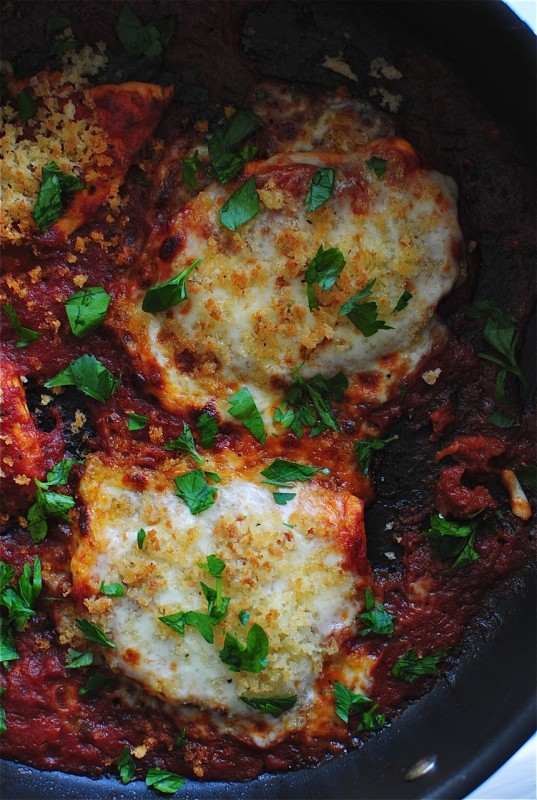 Pound, season, sear, simmer, broil, toast and shove all four into your head-hole before anyone notices.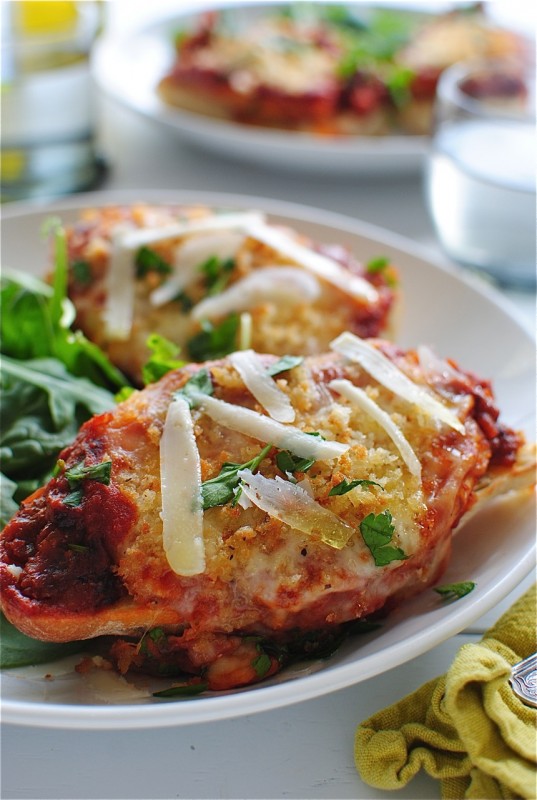 Ridiculous.
Chicken Parmesan French Breads:
What it took for 4:
* 2 Tbs. extra-virgin olive oil
* 2 chicken cutlets, sliced in half and pounded out thinly (making 4 thin chicken pieces)
* 1 tsp dried thyme
* 1 tsp dried oregano
* 1 (1 pound) jar favorite marinara sauce
* 2 cups shredded mozzarella
* 1 french baguette, sliced lengthwise and into 4 pieces, toasted
* 1/4 cup freshly chopped parsley
* 1/2 cup panko
* 1 Tbs. butter, melted
* coarse salt and freshly ground pepper
* fresh parmesan shavings, for garnish
Heat the oil in a large sauté pan over medium-high. Season the chicken with salt and pepper on both sides and place in the pan. Season with half the thyme and oregano. Sear for 4 minutes. Flip, season with remaining thyme and oregano and sear an additional 3 to 4 minutes, until you get some nice light browning.
Add the pasta sauce, partially cover and simmer on medium-low for about 7 minutes, or until it thickens a bit.
Evenly sprinkle the mozzarella over each chicken piece.
Slide the pan into the oven and broil for about 5 minutes, or until the cheese is browned and bubbly.
Also, in a separate little bowl, mix together the butter, panko, a pinch of salt and pepper.
Sprinkle the panko on top of the cheese and slide back under the broiler for about 2 minutes, until the panko is golden brown.
Carefully slide each tomato-y cheesy chicken piece onto a toasted French bread.
Dollop with more tomato sauce if ya want!
Garnish with parsley and omg.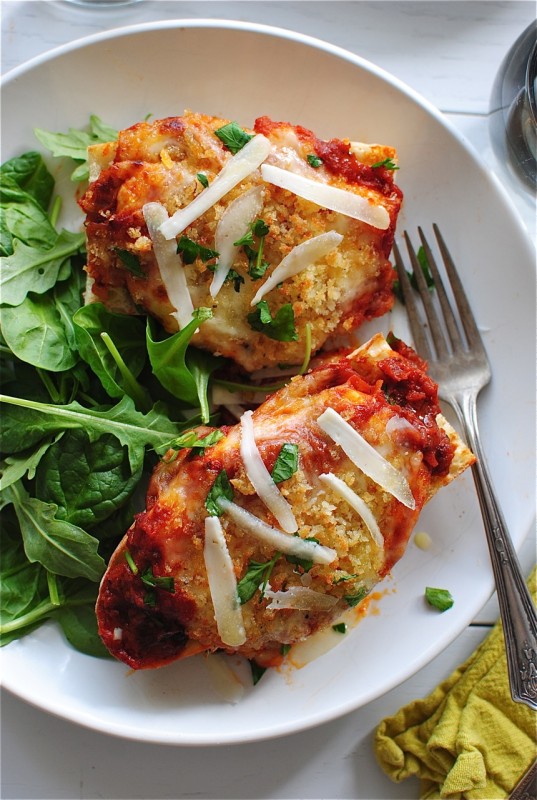 I guess you'd like me to remove my hands from your shoulders about now, huh?