Just to clarify, there are no babies in this toasted coconut milkshake.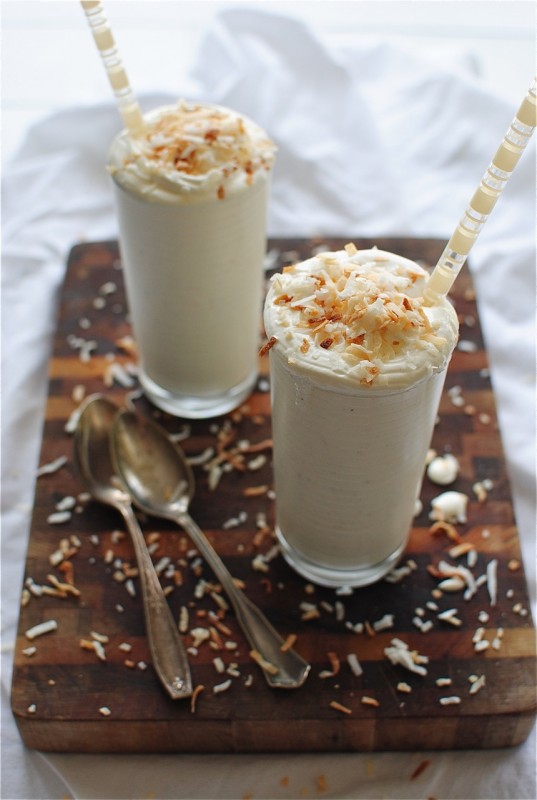 Heeeeey, Aggiiiieeeeeerooooo! Guess what-eee-doooo. It's a virtual baby sherrr fer yewwww!
Oh that rhymed.
I made you milkshakes. Because hi, don't we preggrotons need like 12 billion grams of calcium a day? Aaaand they're milkshakes. With toasted coconut. This is basically what pregnancy dreams are made of. Well, this along with a dozen Ryan Goslings dressed in solid argyle swinging from tree limb to tree limb yodeling the Sound of Music soundtrack.
Aggie, I'm SO excited for you. We still have yet to meet (ah knowwwww), but I can assure you, when we do, I will do my best not to completely freak you out. Oh! Maybe we could switch babies and nurse them and see if they notice a difference! Oh . . . ohmygawd, I'm so sorry. I have no idea why I just said that. That's so gross. Please don't call the police.
Aggie?
. . . A . . . Aggie?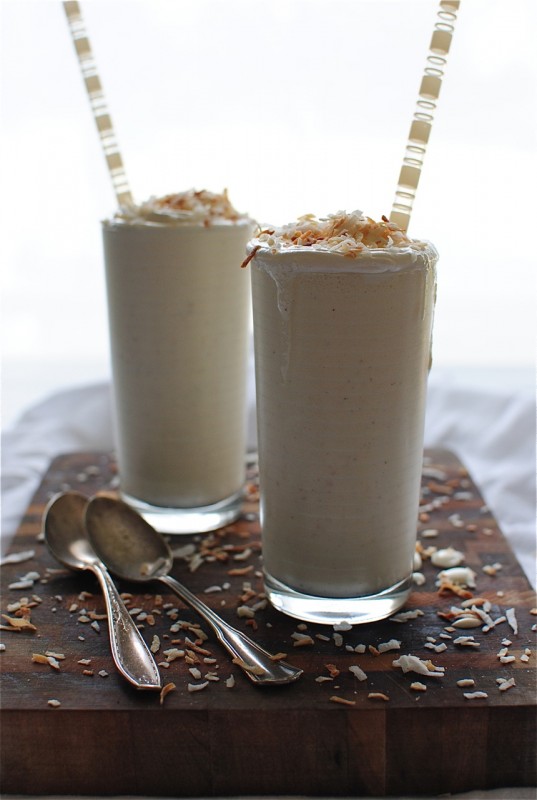 Get a dang baby!
Toasted Coconut Milkshakes:
What it took for 4 mediumish shakes:
* 1 (1.5 quart) container French vanilla ice cream
* 1 (15 oz) can coconut milk
* 1 1/2 cup shredded coconut, toasted
* whipped cream, for garnish
In a blender, add the ice cream, 1 cup of the toasted coconut shavings, and the can of coconut milk. Pulse or blend until combined. If it's a little on the liquid side, stick it in the freezer for 30 minutes or so.
Garnish with whipped cream (that will most definitely look better than my puny topping, ugh) and remaining toasted coconut shavings.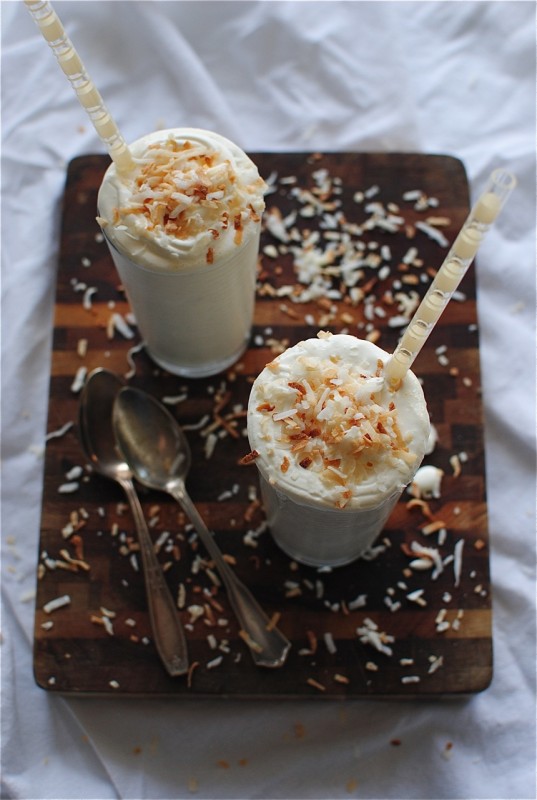 Check out the 463 million other bloggers who made goodies for Aggie's shower!
Appetizers
Sundried Tomato Hummus from Robyn of Add a Pinch
Melon & Prosicutto Balls from Paula of bell'alimento
Bruschetta from Sheila of Eat2gather
Jalapeno Poppers from Ali of Gimme Some Oven
Grilled Naan White Pizza Bites from Jamie of Mom's Cooking Club
Watermelon Feta Bites with Basil Olive Oil from Sandy of Reluctant Entertainer
Pesto Caprese Fried Wontons from Julie of The Little Kitchen
Blue Cheese Wedge Salad Crostini from Cheryl of TidyMom

Drinks
Toasted Coconut Milkshakes from Bev of Bev Cooks
Lemon Cream Soda from Angie of Eclectic Recipes
Peach Sorbet Bellini and Spritzers from Shaina of Food for My Family
Non Alcoholic Berry Spritzer from Lisa of Jersey Girl Cooks
Virgin Peach & Raspberry Bellinis from Milisa of Miss in the Kitchen
Italian Basil Sparkling Lemonade from Marly of Namely Marly
Italian Sodas from Laura of Real Mom Kitchen
Cafe Mocha Punch / or Iced Cafe Mocha from Amy of She Wears Many Hats

Salads
Italian Chopped Salad in a Jar {with Creamy Caesar Dressing} from Brenda of a farmgirl's dabbles
Caprese Salad with Mozzarella Crisps from Christine of Cook the Story
Pesto Pasta Stuffed Tomatoes from Suzanne of Kokocooks
Grilled Romaine Caesar Salad from Liz of The Lemon Bowl
Herbed Israeli Couscous Salad with Tomato and Mozzarella from Rachel of Rachel Cooks
Chickpea, Avocado, & Feta Salad from Maria of Two Peas and Their Pod
Lentil and Chickpea Layered Salad from Lisa of With Style & Grace

Entrees
Chicken Cacciatore from Meagan of A Zesty Bite
Zucchini, Bell Pepper & Edamame Stir-Fry from Cassie of Bake Your Day
Potato-Crusted Vegetarian Quiche with Zucchini, Tomatoes & Feta from Dara of Cookin' Canuck
"Straw & Hay" Tagliatelle in Cream Sauce from Flavia of Flavia's Flavors
Grilled Italian Chicken with Veggie & Bow Tie Pasta from Katie of Katie's Cucina
Grilled Naan Pizza with Summer Veggies & Turkey Sausage from Kelley of Mountain Mama Cooks
Smashed Chickpea and Avocado Panini from Kathy of Panini Happy

Desserts
Fresh Blueberry Shortbread with Lemon Cream Frosting from Sommer of A Spicy Perspective
Crostata di Mango from Lora of Cake Duchess
Italian Ice from Kristen of Dine & Dish
Roasted Banana and Nutella S'mores Bruschetta from Jenny of Picky Palate
Italian Cream Cake from Deborah of Taste and Tell
Panna cotta from Leslie of The hungry housewife
Fortune Cookies from Shari of Tickled Red
Baby Vanilla Bean Scones a la Starbucks from Tara of Unsophisticook