The snow has melted. Luscious temperatures have returned. Let's get it awwwwwwwwn!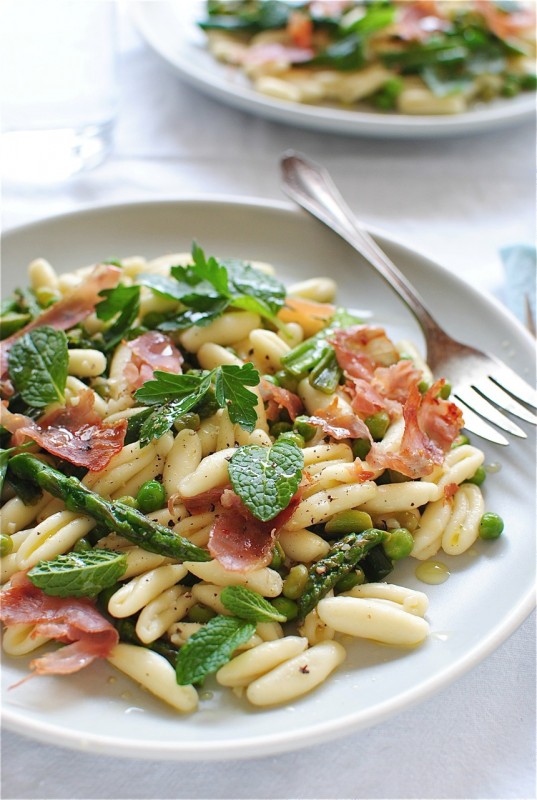 Oh wait, I didn't mean it like that. I just meant with this here spring pasta since it's all nice again outside.
Wait wait, not with the PASTA. Oh goodness. I just meant like, let's twist and shout like sauerkraut.
Throw our hands in the air? Like we just don't  . . . care?
Do the funky chicken . . . ?
Shut my trap and just eat? Okay.
Meals like this make my life hurt so good. I think it's the super simple garlic/olive oil thin sauce coating everything that makes me holla back, y'all. And when I say garlic, I mean G.A.R.L.E.E.C. Lots of it. At least 6 cloves. Whatever keeps the vampires (minus Edward Cullen, amiright) away.
I change my mind! (not about Edward) It's the crisp-tender spring green veggies tucked into the pasta that make me Tarzan my way from branch to branch in minor embarrassing jubilee.
I change it again! It's the pasta. Yes, 100% the pasta.
No, wait! It's the herbs. Hot diggidy dang, it's the fresh mint and parsley that dropkick my tongue with a baseball bat. That's it. Bringin' down the gavel.
. . . Okay wait. I remember now. It's the torn prosciutto strips on top. Yep, totally. The salty, crispy, warm ribbons of pork that make me dance my frickin' face off. And that's my final answer!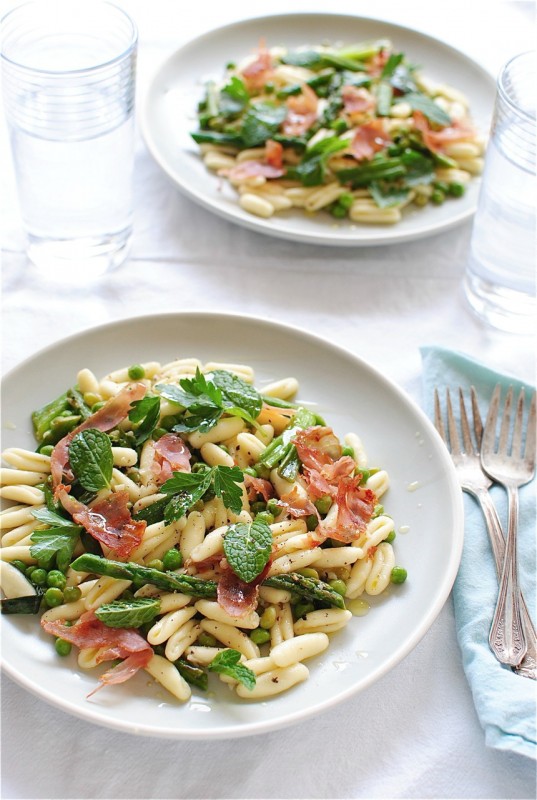 Except can I change it one more time?
I need it all. I'm sorry but I need everything. The pasta, the garlic sauce, the vegetables, the herbs, the crispy prosciutto. I GET SO EMOTIONAL, BABY. EVERYTIIIIIME I THINK OF YEW-HEW-HEW.
Oh you know you feel the same.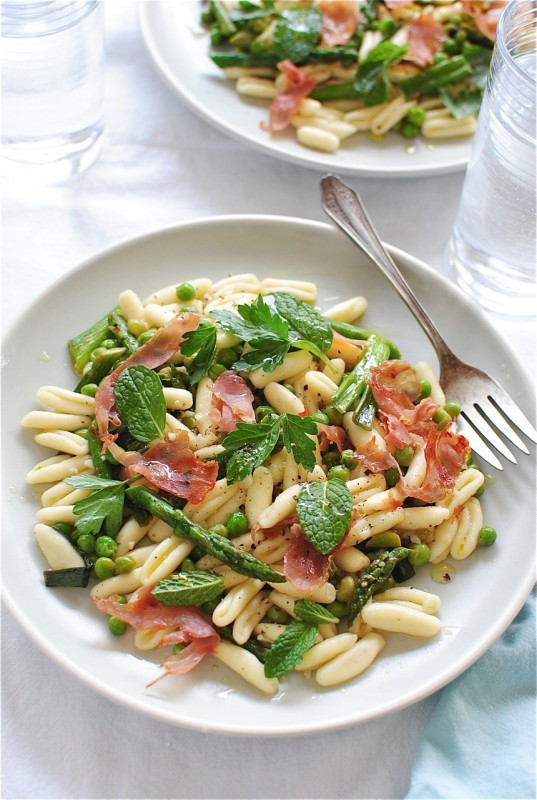 Ain't it shocking what love can do?
Cavatelli Pasta with Spring Vegetables:
What it took for 4:
* 2 cups cavatelli pasta
* 2 Tbs. extra-virgin olive oil, plus more for drizzling
* 1/2 bunch asparagus, ends trimmed and cut into a small dice
* 5 scallions, cut into 1-inch pieces
* 5 – 6 garlic cloves (or more!), minced
* 1 cup frozen (or fresh) peas
* 1/2 cup fresh mint and parsley (combined), for garnish
* 4 slices thin prosciutto, torn
* coarse salt and freshly ground pepper
In a small sauté pan, crisp up the prosciutto strips over a medium heat (no oil.) Snack on a few and set the rest aside.
Heat the oil in a large sauté pan over medium-high. Add the asparagus, scallions and peas; sauté until tender and bright green in color, 3 or 4 minutes. Give a good pinch of salt and pepper. Add the garlic and bloom 30 seconds.
In the meantime, bring a large pot of salted water to a boil. Add the cavatelli and boil until al dente, about 15 minutes. Reserve 1/3 cup pasta water and drain the rest.
Add the pasta to the veggies, and stir in some of the pasta water to create a thin sauce, Go ahead and drizzle another Tbs. of oil over it too. Yes. Taste it. Need another pinch of salt? Maybe? Probably.
Serve the pasta garnished with a good handful of fresh mint, parsley, and the crispy prosciutto.
Commence dying.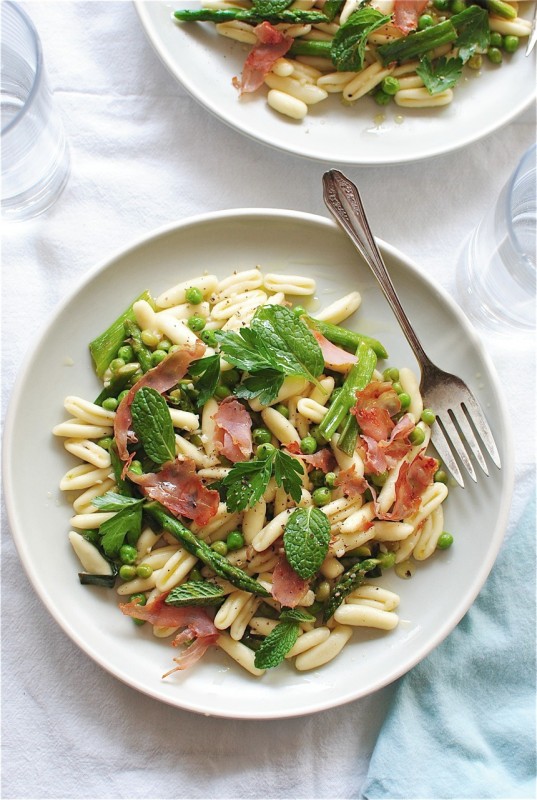 Aaand lastly, the winner for Gaby Dalkin's Absolutely Avocados iiiiiiiiiis (according to random.org) comment #57, Nicole Boddington, who said: I used an avocado in egg salad, because I was out of Greek yogurt. It was delicious! Thanks for the chance to win. xo.
Congrats, Nicole! Check yo email, cheelah.
…Shocking what, LOVE CAN DEW. Ain't it shocking what love can do. . .
(you're welcome.)