Monday, Monday (ba daaaa, ba da da da), so good to meeee (ba daaaa, ba da da da).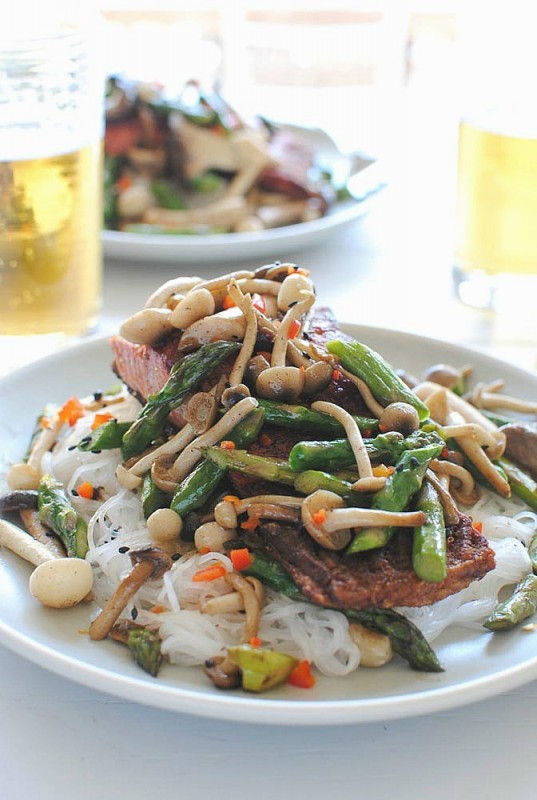 No worries, chimmy chums. I'm not going to ruin your life by butchering the lyrics to yet another song, in the pathetic attempt to somehow relate to the food, while simultaneously calming the traffic in my head. Although of course now I really want to. Lawk rawly bawd.
But I do need to start by asking a very important question. A very, very, very, very, VERY important question. A question that burns deep withineth. A question that keeps me from rest. From food. From The Carrie Diaries. (Yeah okay THAT was a total lie. Nothing could keep me from Carrie and Sebastian and his flippy blonde hair that I just want to take a nap in.)
Here goes . . .
Do you watch The Carrie Dairies too? I'm just kidding, do you like salmon?
You do? Hey that's great because I have a post about it, right now on this blog that you're on!
I made this quick dinner the other night on a whim. (I'm over-pronouncing the H like Stewie in Family Guy. Remember that episode? OMG. Cool wHip. Say it again. Cool wHip. Why are you saying it like that? Saying it like what? Cool wHip. I love it so much I just want to nibble on it. The show, not cool wHip.)
The other night on a wHimsical wHim I wHipped this up wHile wHispering wHacky wHatnots, like, wHoa.
Okay sorry sorry. I'm focusing now. Swear it.
So yeah, this is awesome! Let's go over it real quick. Real qHuick. Nope, that didn't work.
The mushrooms in this, just get what you dig the most. Shiitake, oyster, cremini, anything goes. This was a gourmet sampler from Whole Foods that I always get suckered into buying because of the shapes of the 'shrooms. Dude, they're like . . . foresty looking. I can't stay away.
So it's basically just salmon seared up in some butter, ommmface. And then asparagus and mushrooms sautéed back in the butter. ommmmyourface.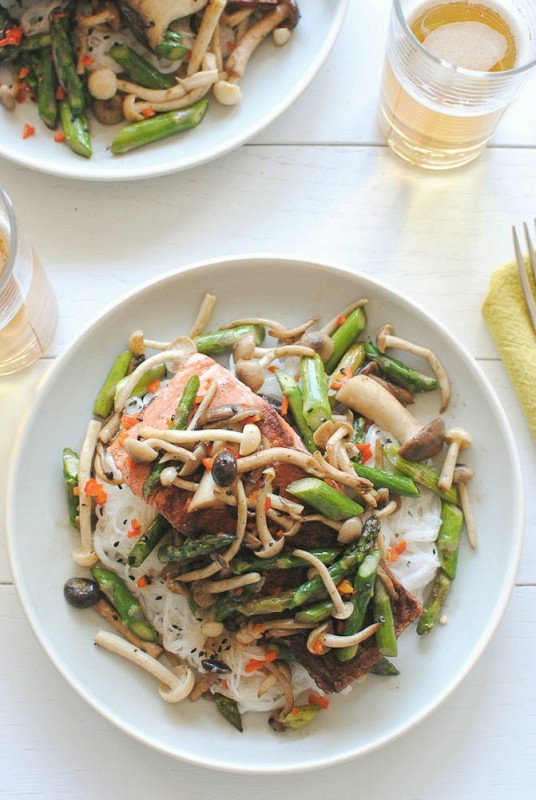 And then, would you believe, you'll just boil some vermicelli noodles in some coconut milk for extra awesomeness in your life.
Then garnish it all with minced red pepper and black sesame seeds and you will skip to your own frickin' Lou for all I know.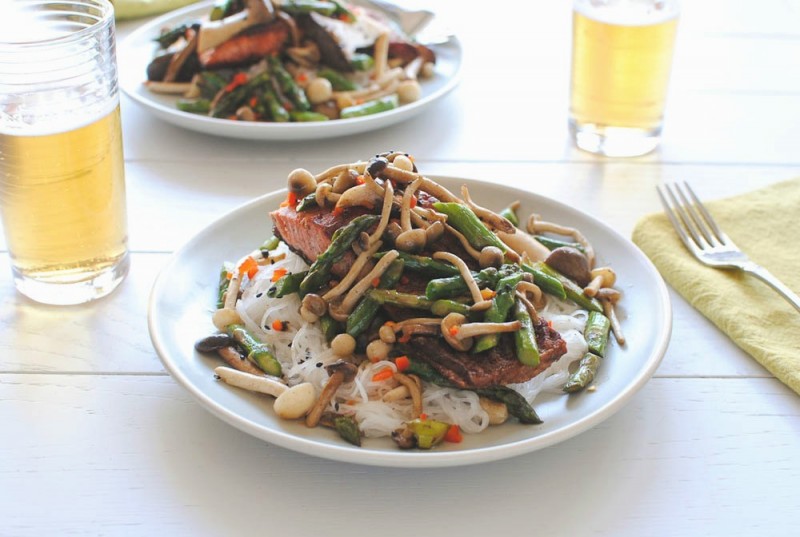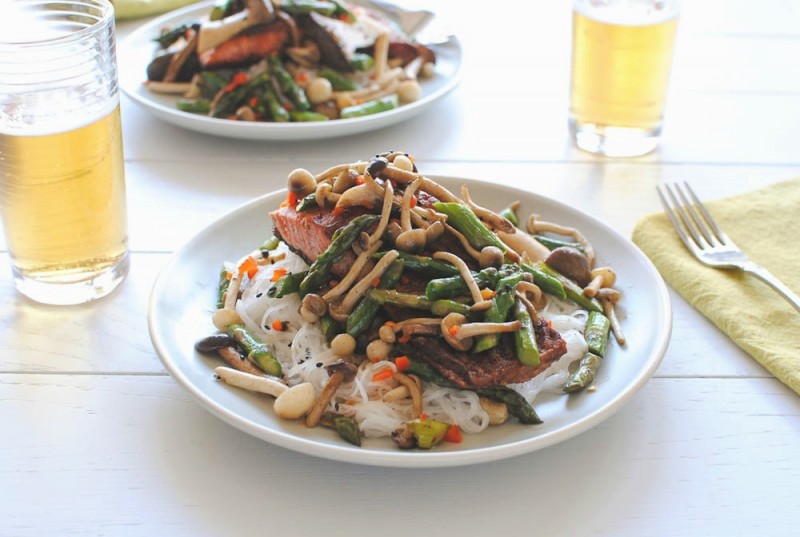 wHinner! (just go with it.)
Seared Salmon with Mushrooms and Asparagus over Coconut Noodles:
What it took for 2:
* 2 Tbs butter
* 2 (6 oz) salmon fillets
* 2 cups gourmet mushrooms, lightly rinsed
* 1/2 bunch asparagus, sliced on the diagonal into 1-inch pieces
* 1 can coconut milk
* 2 bundles vermicelli noodles
* 1 pinch coarse salt and freshly ground pepper
* 2 Tbs. freshly minced red bell pepper
* 1 tsp black sesame seeds, for garnish (totally optional)
Melt the butter in a cast iron or your fave skillet over medium high heat. Add the salmon fillets; season with salt and pepper. Sear on each side for 3-4 minutes, or until slightly browned, crispy and cooked through. Remove from the skillet and cover to keep warm.
To the pan, add the mushrooms and asparagus; sauté until the asparagus pops in color, and the mushrooms soften and darken a tad, 3 minutes. Season with salt and pepper.
In the meantime, bring the coconut milk to a light boil in a saucepan. Add the vermicelli noodles and cook about 3 minutes, until tender. Drain the coconut milk (it will be pretty thick!) and arrange the noodles on each plate.
Top with salmon and mushrooms/asparagus mixture. Garnish with minced red pepper and black sesame seeds.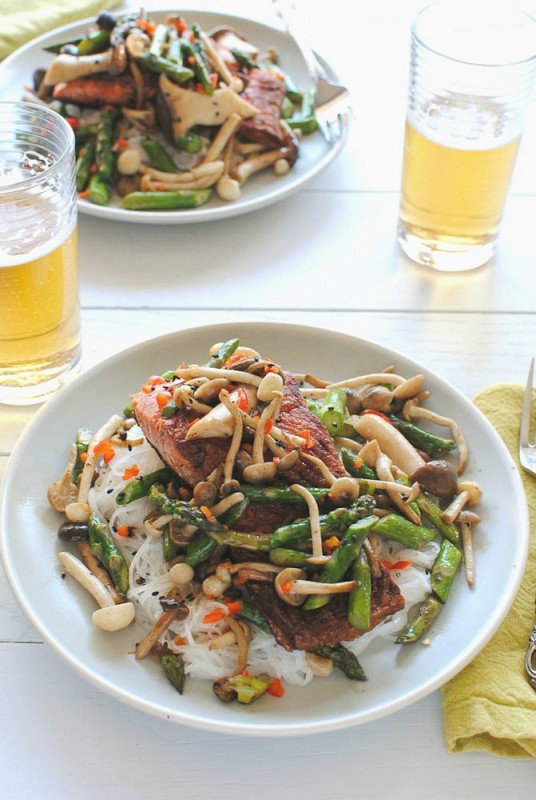 I wonder if they make coconut cool wHip.
Save