I remember the first time someone told me about spaghetti squash, and I was all, "No way, dude. There's just no way squash does that. " And they were like, "Yes it does! You stick a fork in it and it gets all wrinkly like spaghetti." And I was like, "Do whaaaaaa? You stick the fork in and…..really? REALLY?"
They were right. It does in fact get all wrinkly like spaghetti when you stick a fork in it.
We can go ahead and call this vegetable THE FREAK SHOW.
And I'm going to admit something to you. I cooked this freak show vegetable for the VERY FIRST time yesterday.
The following statements represent the perplexity discovered in my kitchen, approximately 17 hours ago:
"You've got to be kidding me…."
"Seriously? It really….whoa…..ew?"
"No. Freaking. Way."
"This is like HALLOWEEN food."
"Where's the hidden camera? Tom Bergeron, I know you're there!"
You guys, I think I like spaghetti squash.
I found a recipe on the Whole Foods website and Weidnerized it a smidge, and it was pretty dang good. The squash cavities (did I just say that?) are stuffed with all kinds of Southwesterny goodness like beans, peppers, spices and melted cheese on top. You're gonna forget you're eating FREAK SHOW FOOD.
Unbelievably delicious freak show food.
*Make this for Halloween and get your kids involved! Have them fork out the "brains" or "intestines" or whatever awesomely nasty thing you can come up with.*
*I guarantee 4,257 giggles.*
Southwestern Stuffed Spaghetti Squash: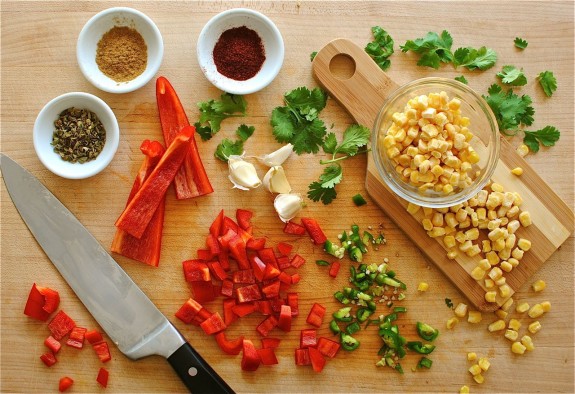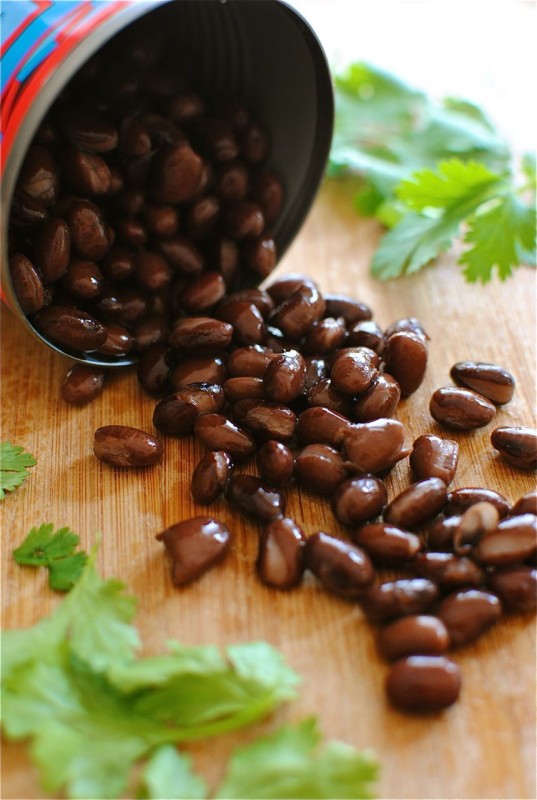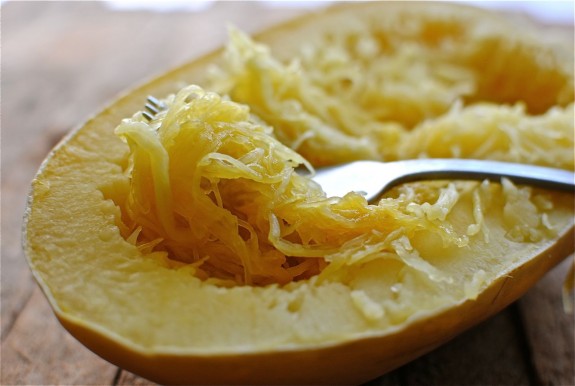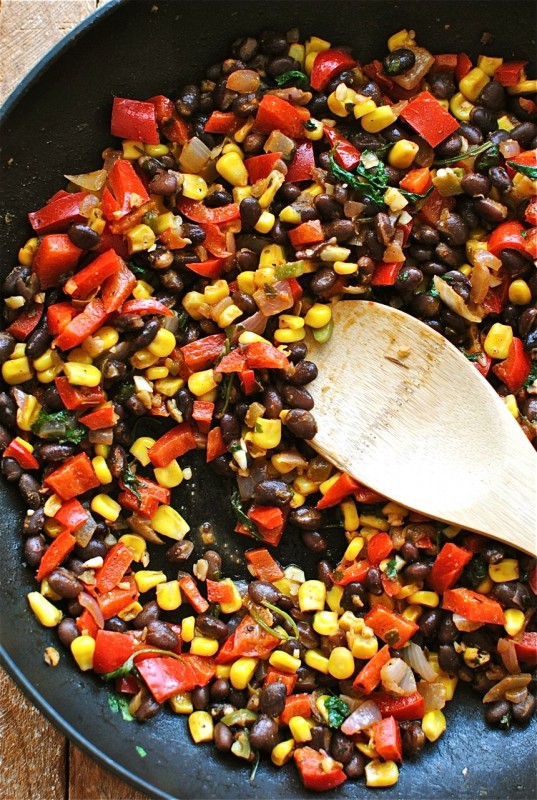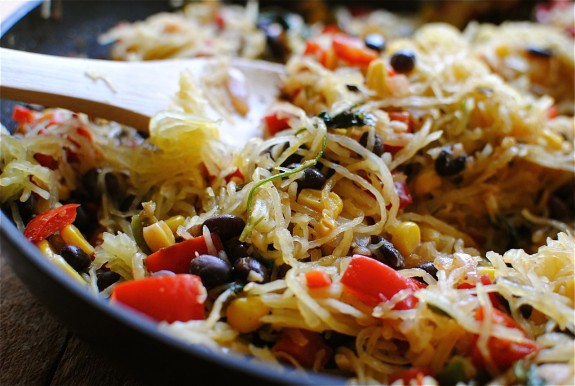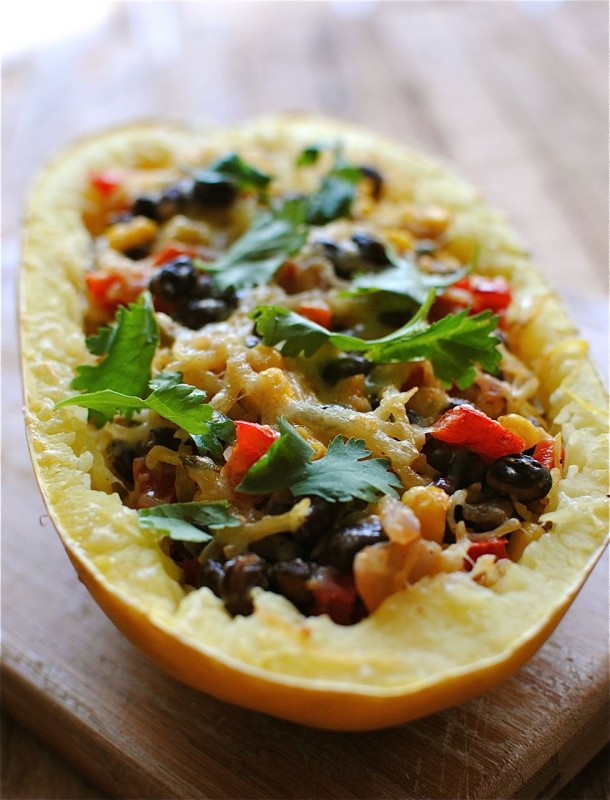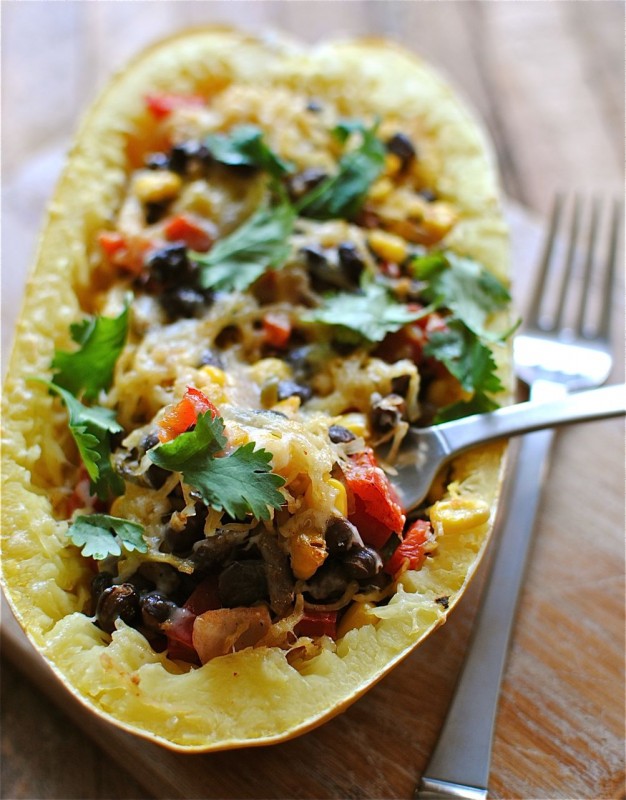 What it took for 2:
* 1 spaghetti squash
* 2 Tbs. extra-virgin olive oil
* 1/2 red onion, chopped
* 3 garlic cloves, minced
* 1 jalapeno pepper, minced (leave seeds in for more heat)
* 1 red bell pepper, chopped
* 1 Tbs. ground cumin
* 1 Tbs. Mexican oregano
* 1 Tbs. chili powder
* 1 can black beans (drained and rinsed)
* 1 cup frozen corn, thawed
* coarse salt and freshly ground pepper
* 1/2 cup freshly torn cilantro, plus more for garnish
* 1 lime
* 1 cup grated cheddar cheese
Preheat oven to 375.
Roast squash on a baking sheet for 50 minutes. Let cool another 30 minutes, then cut in half. Spoon out the seeds, then using a fork, scrape up the flesh, making the "spaghetti." Isn't that cute?
Heat oil in a medium skillet. Add the onion, garlic, jalapeno pepper and red bell pepper. Saute 2 minutes. Add cumin, Mexican oregano, chili powder and a good pinch of salt and pepper. Saute another minute. Add the beans, corn and cilantro. Stir to combine. Squeeze in the lime juice and give one last stir.
Add in half the "spaghetti" to the bean mixture and stir to combine. Taste and season accordingly. I probably tossed in a little more salt at this point.
Switch oven to broil.
Stuff each squash half with the mixture and top with grated cheese.
Stick it back under the broiler until the cheese melts and gets all brown and bubbly, baby.
Garnish with a leetle bit of cilantro and enjoy your life.
*I used only half of the spaghetti squash as it was A LOT. I saved the rest for lunch the next day.*