As you know, we were welcomed home yesterday to a Mount Everest-sized pile of green beans and jalapeno peppers.
Which was zippity do da with me, because instead of hitting the grocery store, I needed to bathe our dog. Our little dog who tromped through the woods and invited 463 zillion chiggers, ticks and fleas to have an 80s dance party on her little body. Once the bath was finished, I let her run around the yard to dry off, like I've done a thousand times before. This time though, something snapped in her. She promptly gave me the bird and ran straight for this dirt pit in the corner of our garden and rolled around in it, pointing at me and laughing in my face the entire time.
OH NO SHE DID NOT JUST DO THAT.
But guess what honey. I won.
I grabbed that little tramp in one swoop with a towel and hauled her grimy booty back to the shower. Aaron got involved this time. While he violently chuckled in disbelief at how dirty she'd actually become in less than 2 minutes flat, he held her little shaking body in place while I bounced around the shower, lathering her up ONCE AGAIN and yipping at what a BIA she was for doing this to me and my labor day.
But we've moved past it! She begged for sweet forgiveness with her little paws and deer-like eyes and I snuggled her face with acceptance. Her flealess, tickless, chiggerless face.
And that's the story of the green beans and peppers. From our garden. And how we ate them. And didn't go the grocery store. Yay!
Grilled Chicken with Green Beans and Potatoes: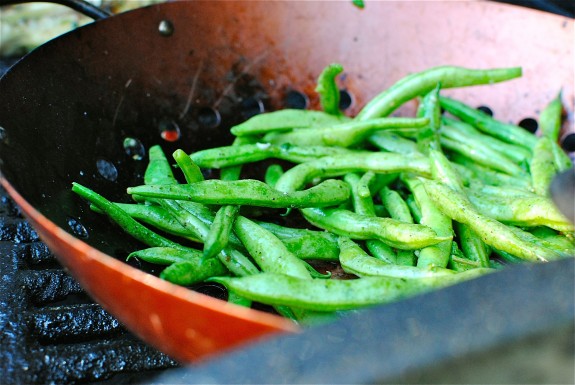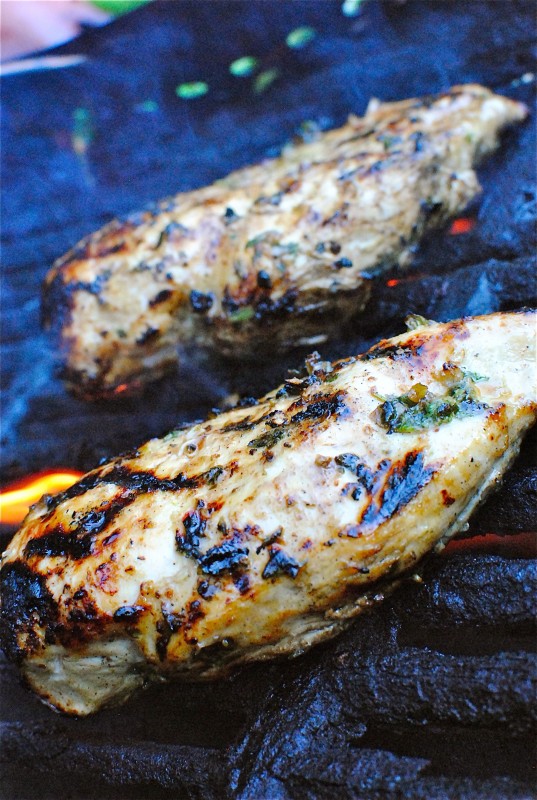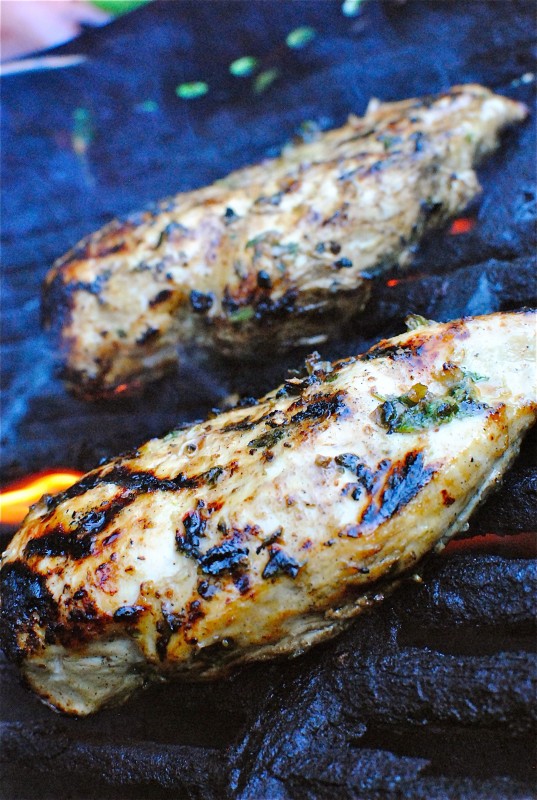 Here's my version.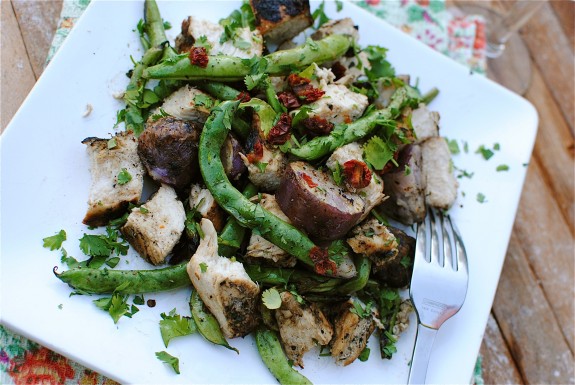 Here's Aaron's version. GO AHEAD. YOU CAN SAY IT. His is prettier.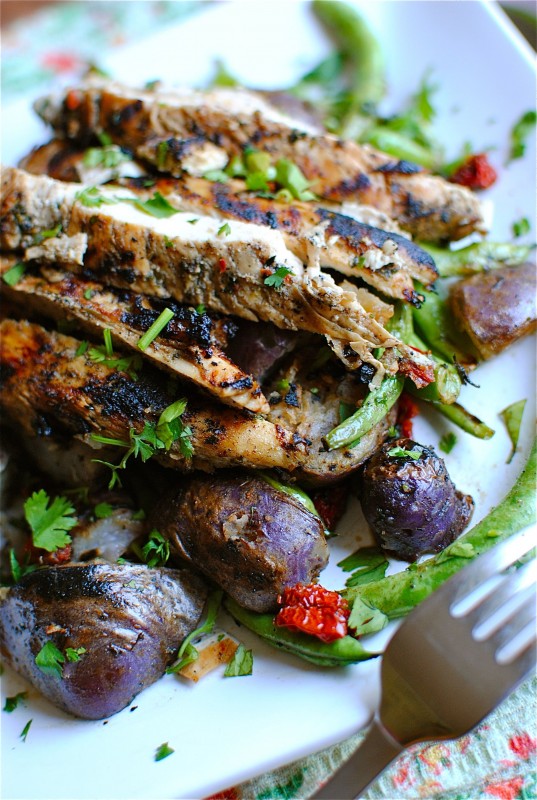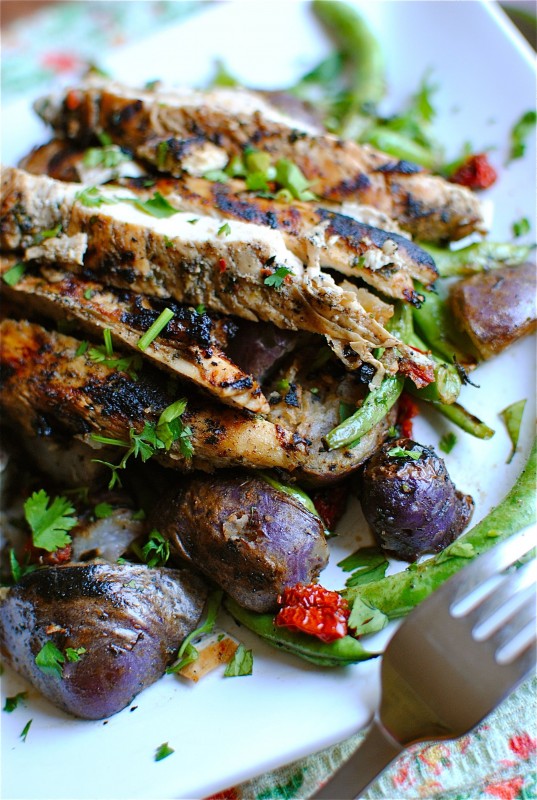 What it took for 2:
For the marinade:
* 1 Tbs. Dijon mustard
* 1/2 cup cilantro, chopped
* 4 Tbs. extra-virgin olive oil
* 2 small jalapenos, chopped
* 3 cloves garlic, chopped
* splash of hard cider (or apple cider vinegar)
* pinch of salt and pepper
The rest:
* 2 boneless, skinless chicken breasts
* 1/2 pound green beans
* 5 small purple potatoes, halved or quartered
* 1/4 cup fresh cilantro, chopped (for garnish)
* 1/4 cup sun-dried tomatoes, chopped
* pinch of salt and pepper
In a small food processor, blitz all the ingredients together for the marinade and pour it into a sealable plastic bag. Add the chicken breasts to the bag, seal and stick in the fridge for an hour or so. Flip at the 30 minute mark.
Bring a pot of salted water to a boil. Add the potatoes and boil 10 minutes. You just want to parboil them. They'll finish on the grill.
Heat the grill to a medium-high.
Skewer the potatoes onto metal skewers and arrange them on the grill. Sprinkle with a little salt. Layer the chicken breasts on the grill as well. Toss the green beans in the grill basket, sprinkle with salt and pepper and place on the grill.
Grill the potatoes until you see nice grill marks on all sides, about 10 more minutes.
While grilling the chicken, baste with the marinade. Grill until chicken is done, 10 to 15 minutes. Remove and let rest 10 minutes.
If you want, baste the beans a little with the marinade. Don't be skerred, the heat kills the bacteria.
Chop chicken (or not!) and serve with potatoes and beans. Sprinkle with sun-dried tomatoes and more cilantro for garnish!