Mama, it's HOT. Today I was in the middle of a patio deep clean and I'm absolutely sure my skin slid off my body and oozed onto the concrete.
That's pretty gross.
Too gross for a food blog? Let me try this again.
What a wonderful summer day we had! (better?)
Gosh, the warmth of the sun just nourished my garden tremendously! (oh, this is getting good.)
I even worked on my tan while on a lovely morning run with my pup! (muuuuch better)
And I'll end the day with a seasonal asparagus, walnut and green bean pesto pasta with a crisp Sauvignon Blanc. (you guys, I'm surprising even myself)
Thank the LAWD for all this heat! (okay that might be pushing it.)
Asparagus and Walnut Pesto Pasta: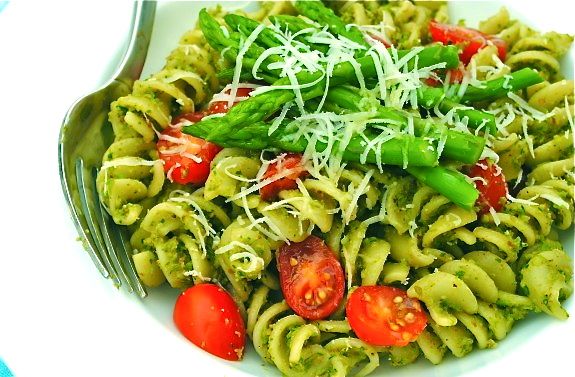 What it took for 4:
* 1 pound rotini
* 1 bunch asparagus, ends trimmed
* 1 cup green beans, ends trimmed and cut into a small dice
* 2 Tbs. fresh lemon juice
* 3 garlic cloves
* 1/3 cup toasted walnut pieces
* 1/4 cup freshly grated pecorino
* 1 cup basil leaves
* 1/2 cup parsley
* 3 Tbs. extra-virgin olive oil
* 1 cup cherry tomatoes, halved
* coarse salt and freshly ground pepper
Bring a pot of salted water to a boil. Add the asparagus spears and cook 4 minutes.  Using tongs, bring them out of the water and into a colander. Rinse with cool water.
Bring the water back to a boil and cook the pasta until it reaches al dente. Reserve a little pasta water.
On a cutting board, trim off the top 3 inches of the asparagus spears. Set them to the side. Cut the rest into several chunks.
In a food processor, toss in the garlic, walnuts and lemon juice. Pulse a couple of times.  Add the asparagus, basil, green beans, and cheese. Pulse a few more times. With the motor running, add the oil in a thin stream. If needed, add the pasta water as well. Season with salt and pepper.
Toss pasta with asparagus pesto and the cherry tomatoes. Top with remaining asparagus spears. Summer, oh summer.