And I do mean quick. So get amped.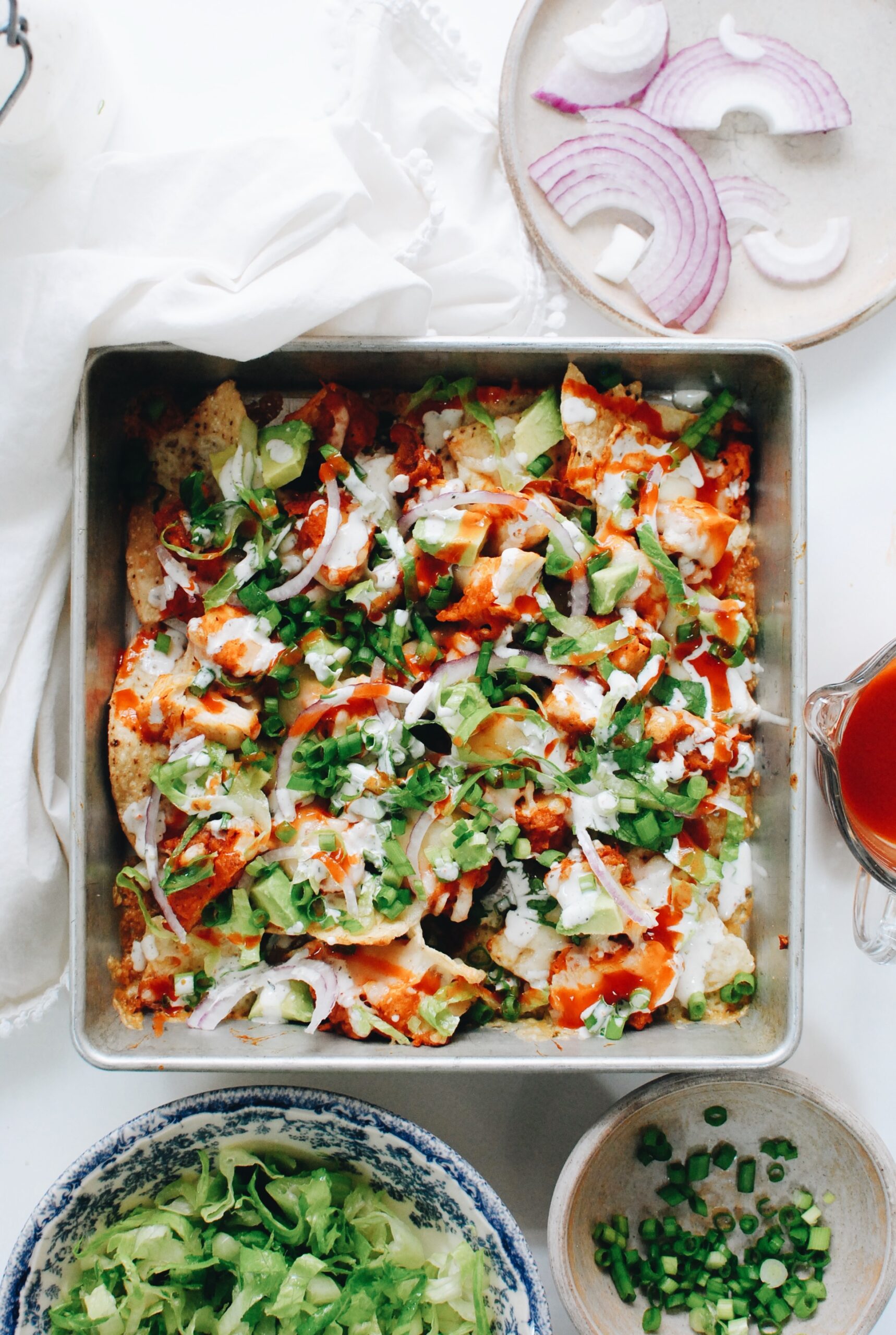 They're sheet pan! And you need to know now, these measurements are meant to fiddle with. (my mom says fiddle with.) Complete springboard dinner idea for however much or however little you want to pile on and build. My family isn't really into cheese (Nat is, but not in this way. I live with aliens.), so I made this exact pan for myself, and snarfed it while they had theirs bare. A tragedy from which I'll never recover.
In the meantime, let us peepeth.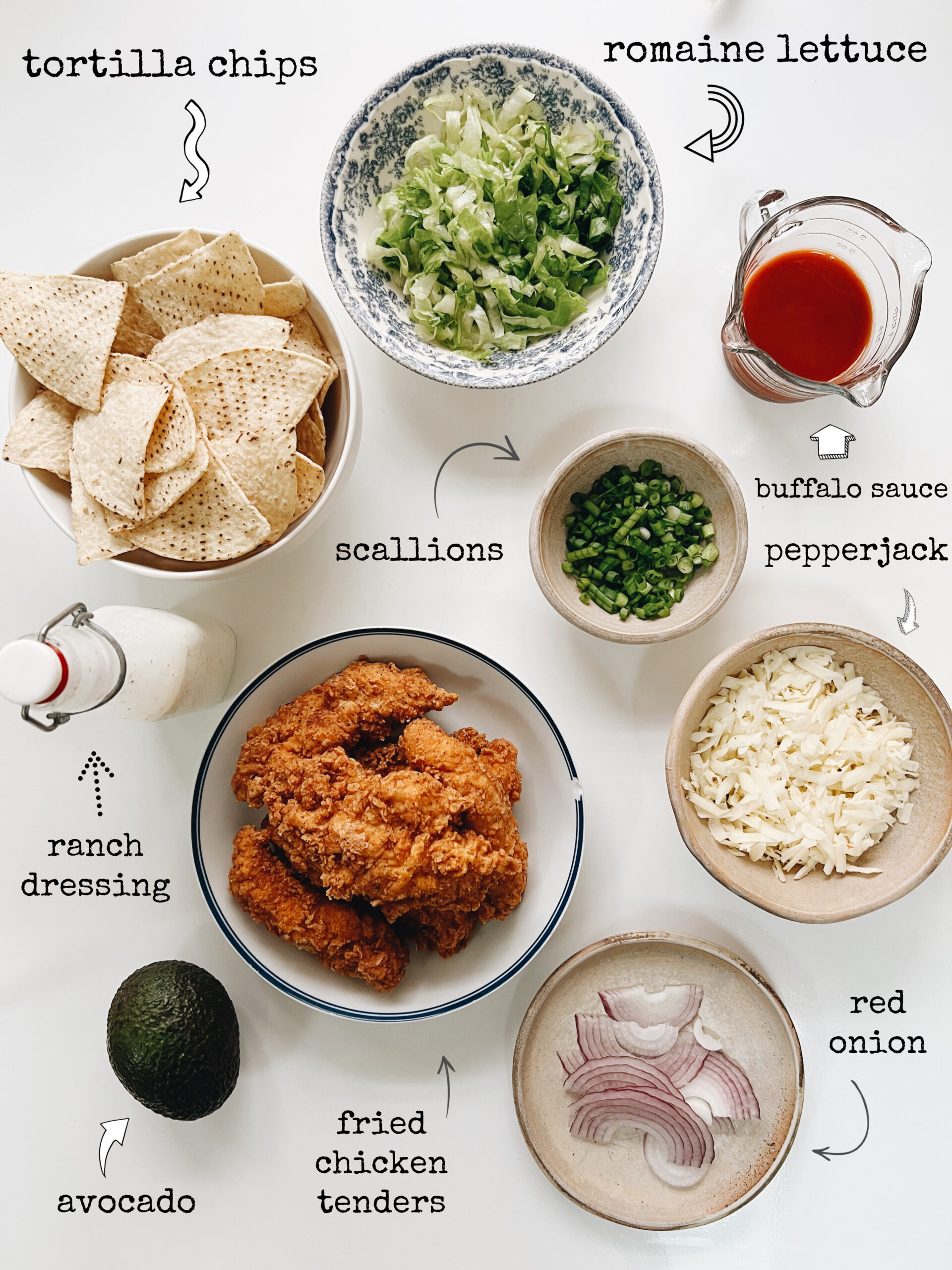 The shortcut is the chicken. Our little neighborhood grocery store has THU BEST fried chicken tenders, and is an absolute regular grab-and-go for this crew. No judgement allowed. Only jealously.
The ranch dressing is homemade, which I've shown you before. My friend Anna and I have been making our own since the summer and there is truly nothing better. Here's the recipe again:: 1 Tbs. Penzeys buttermilk ranch seasoning + 1 Tbs. water. Mix in a bowl and let sit for five minutes. Then add in 1/2 cup mayo and 1/2 cup buttermilk. Whisk to combine and pour into a cute little jar for ultimate life happiness. Tangy, slightly runny (no gloop allowed) and great flavor. You'll never buy store bought again, I'm telling you.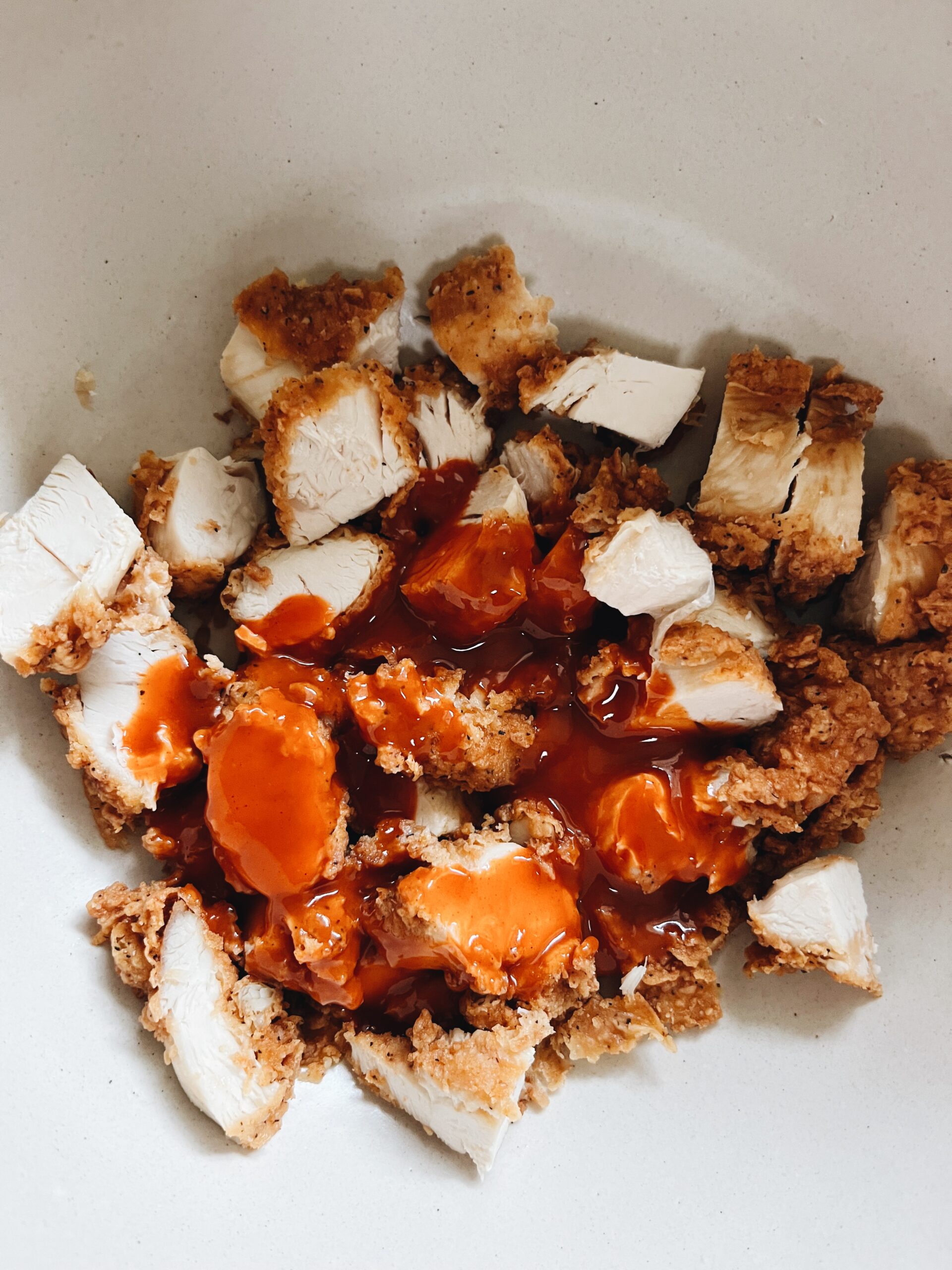 All ya do is chop up the tenders and pour a bit of buffalo sauce over it. (I dig Frank's, but whatever you have on hand absolutely works.) Toss the mix until it's coated and silky. Then we build!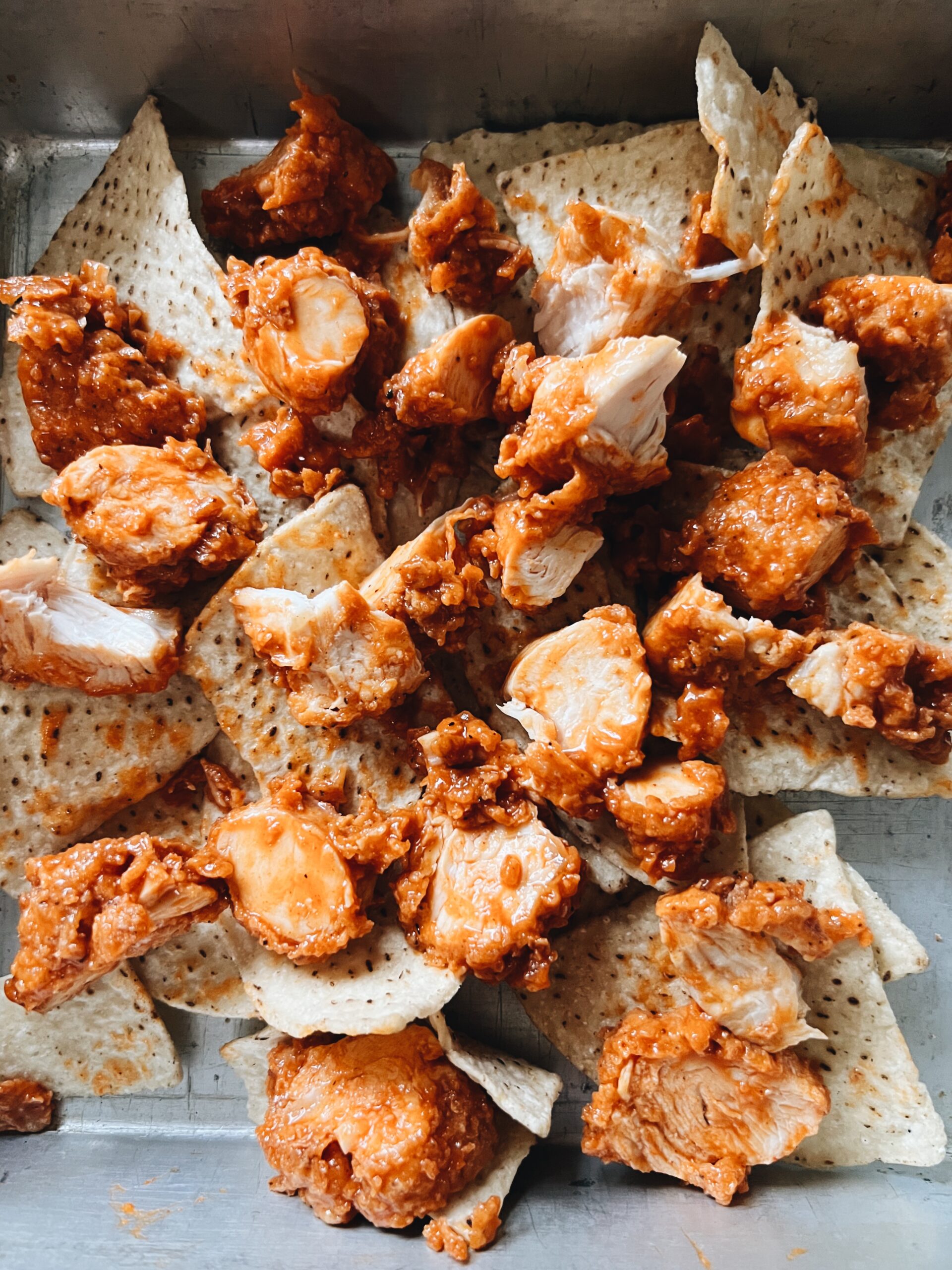 Grab either a large sheet pan if you're feeding your normal non-alien cheese loving family, or a small one if it's just you or two of you, and layer some tortilla chips in it.
Buffalo chicken goes on top. Just scatter it all around. Violently, duh.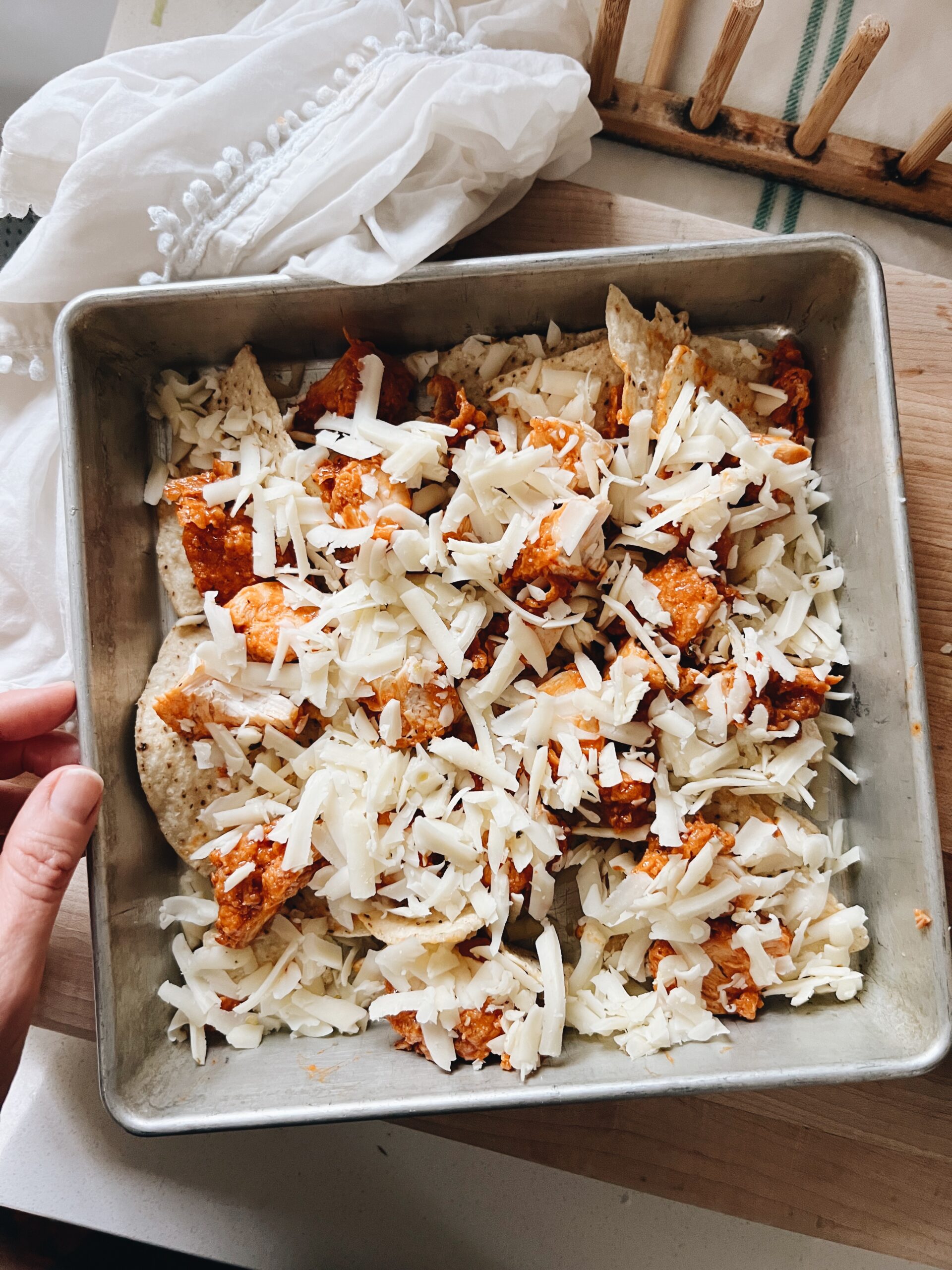 Next up is the grated cheese! I went with Pepperjack because I'm rebellious in nature, but use cheddar or Monterey Jack if you prefer. Just sprAnkle her on.
Into a 350 degree oven they go for about ten minutes. Not long at all. Enough time for the cheese to melt and the chips to turn slightly golden brown. Perfect. And during this time you can thinly slice your red onion and slice your scallions! And the lettuce. Thinly slice romaine if you're into that. Again, this is all a springboard for HOWEVER you want to create this mountain o' nachos.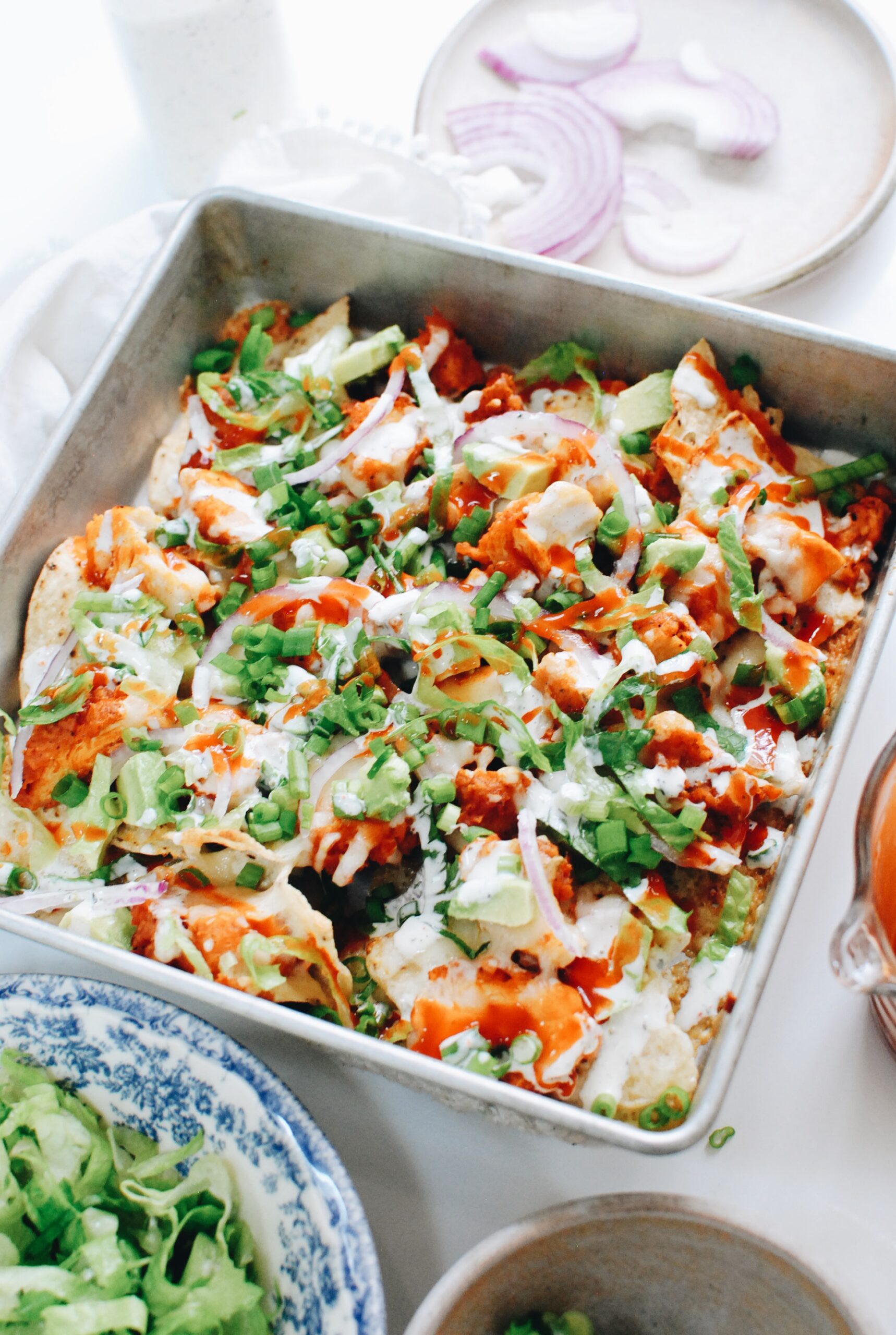 That's it! I tossed a bunch of lettuce, red onion and scallions on top, followed by a delicious drizzle of the homemade ranch dressing pluuuuuus a little more buffalo sauce for good measure. Ya gotta get the right balance of sauce vs. toppings. It's the law of nachos. Get the balance just right.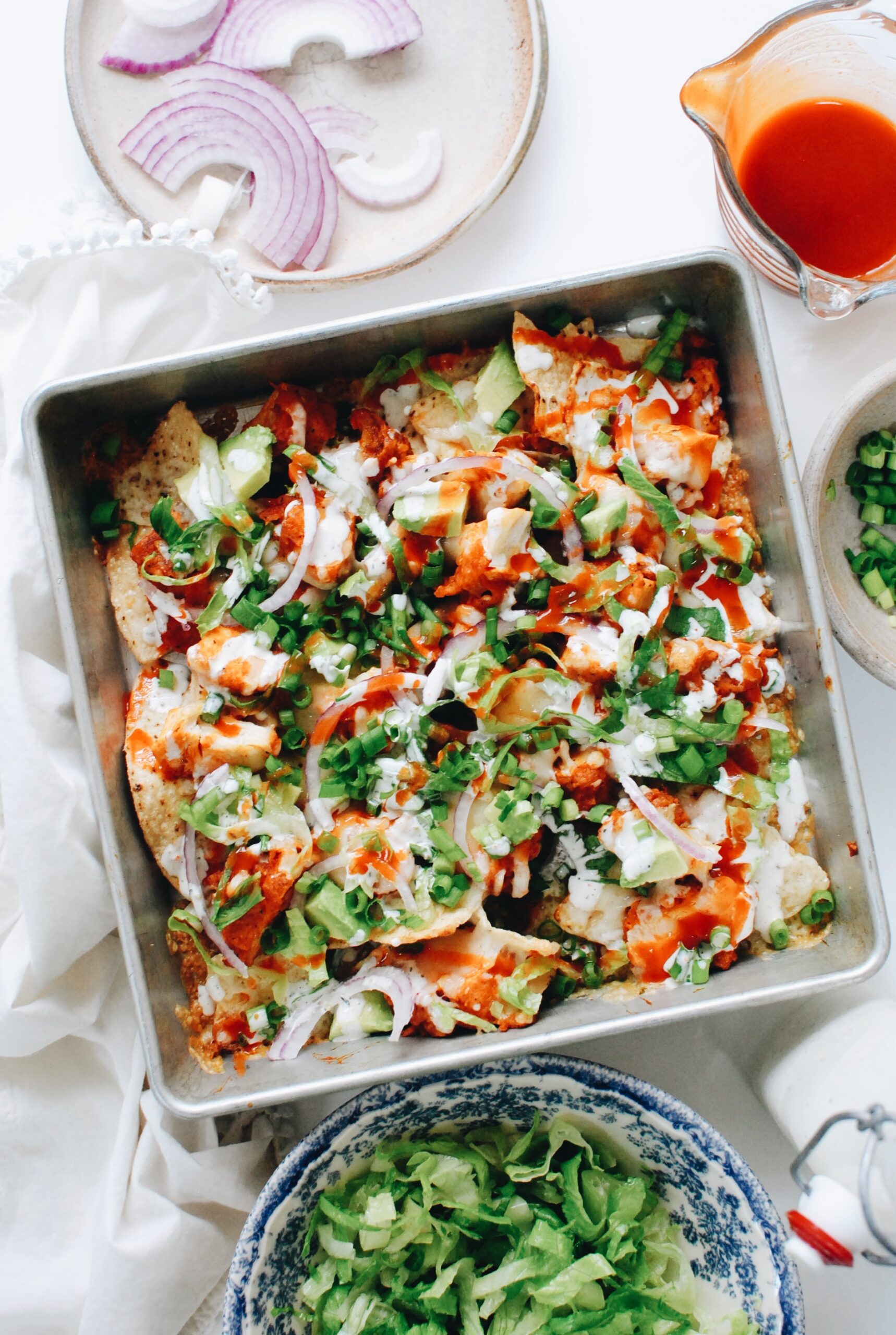 This isn't changing the world. But it's changing your level of soul giddiness on a Thursday night because you're at the end of the week and it's fun eating and simple to prepare and easily adaptable and so freaking delicious and why NOT.
Go ahead and get in that.
Quick Sheet Pan Buffalo Chicken Nachos
Ingredients
5-6 store bought fried chicken tenders, chopped
1/2 cup buffalo sauce (we use Frank's), plus more for drizzling
8 oz block pepperjack cheese, grated (or any cheese you love)
Half a bag of tortilla chips
1-2 cups thinly shredded romaine lettuce
A good drizzle of homemade ranch dressing (recipe in the post!)
3-4 scallions, finely sliced
Thinly sliced red onion, however much you want
1 avocado, cubed
Instructions
Preheat your oven to 350.
In a medium bowl, combine the chopped chicken with the buffalo sauce. Arrange the chips on a rimmed baking sheet and top with the buffalo chicken. Sprinkle the grated cheese on top and bake for about 10 minutes. A few minutes minutes more if your cheese needs it!
Top the nachos with the thinly sliced onions, scallions, shredded romaine, the cubed avocado and a good drizzle of your ranch dressing. Also a little more buffalo sauce if you know what's good for ya.
Serve immediately!
Makes a large pan of nachos. (Tailor this to however many are eating)
7.8.1.2
613
https://bevcooks.com/2022/11/quick-sheet-pan-buffalo-chicken-nachos/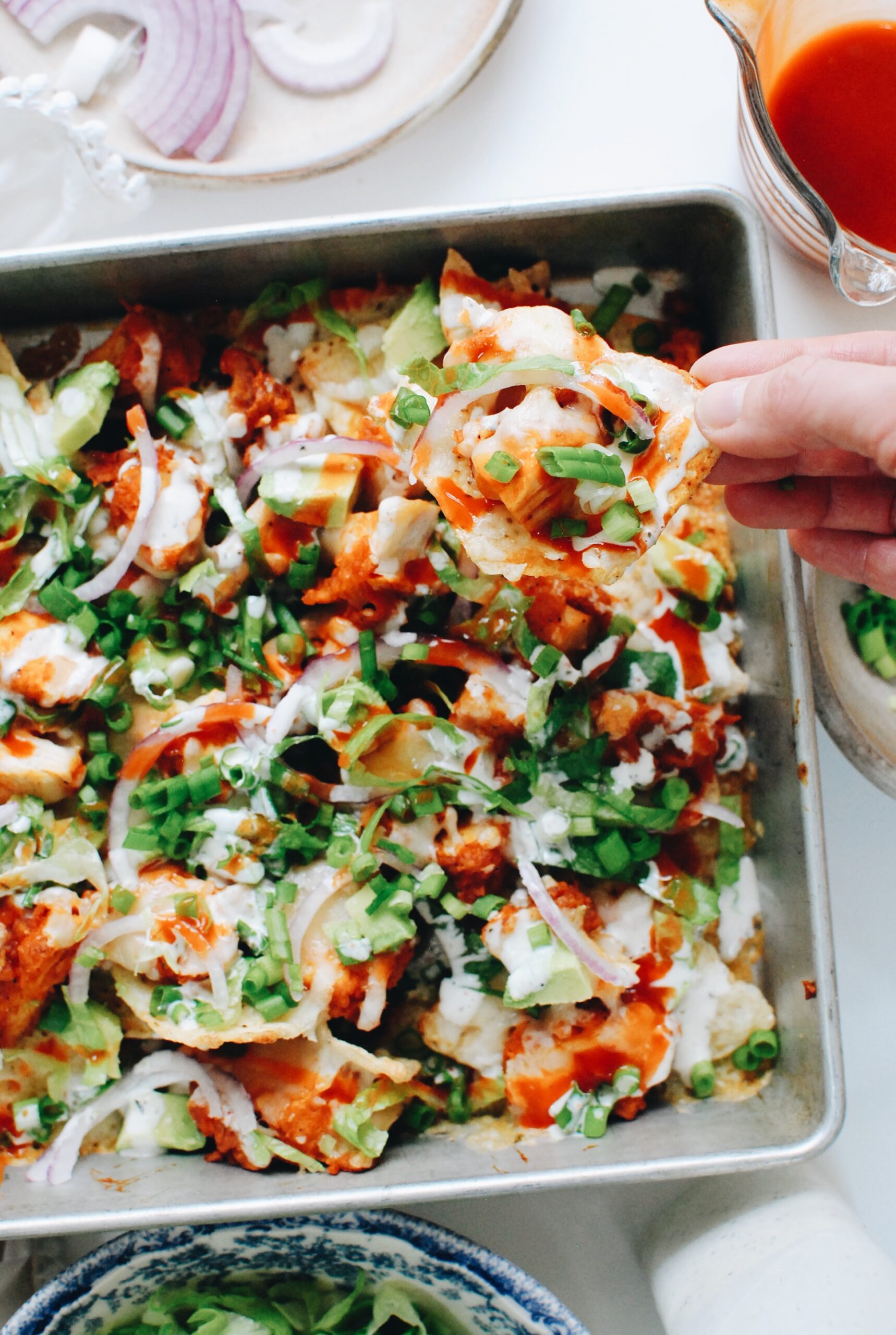 And let me know what you add to it because I need to these details to thrive in this world.