Bebiesss!
First of all, this is like, the furthest thing from a sponsored post. These are just my/our/their favorite baby products we used in that first year. Some for cute, some for necessity. But listen, none of these brands know who I am, nor give a tooty loot about this blog.
Second of all, thank you for the sweet feedback a few days ago! I've forwarded all of your suggestions to my gal and we're on it on it.
Third of all, bebiessss!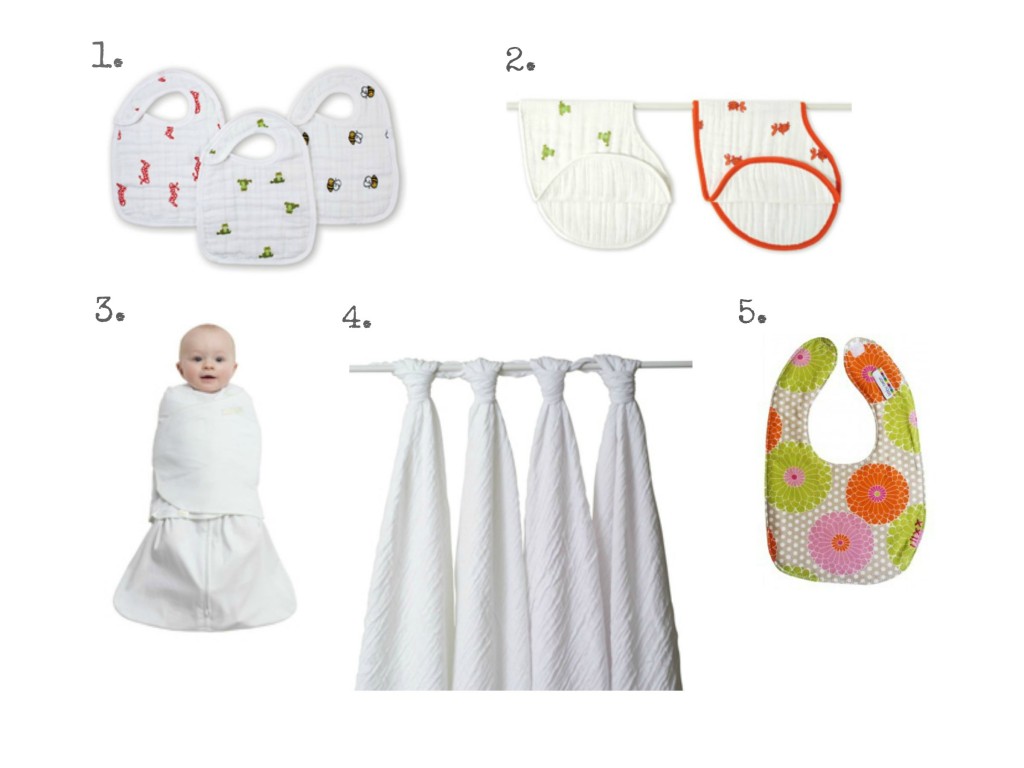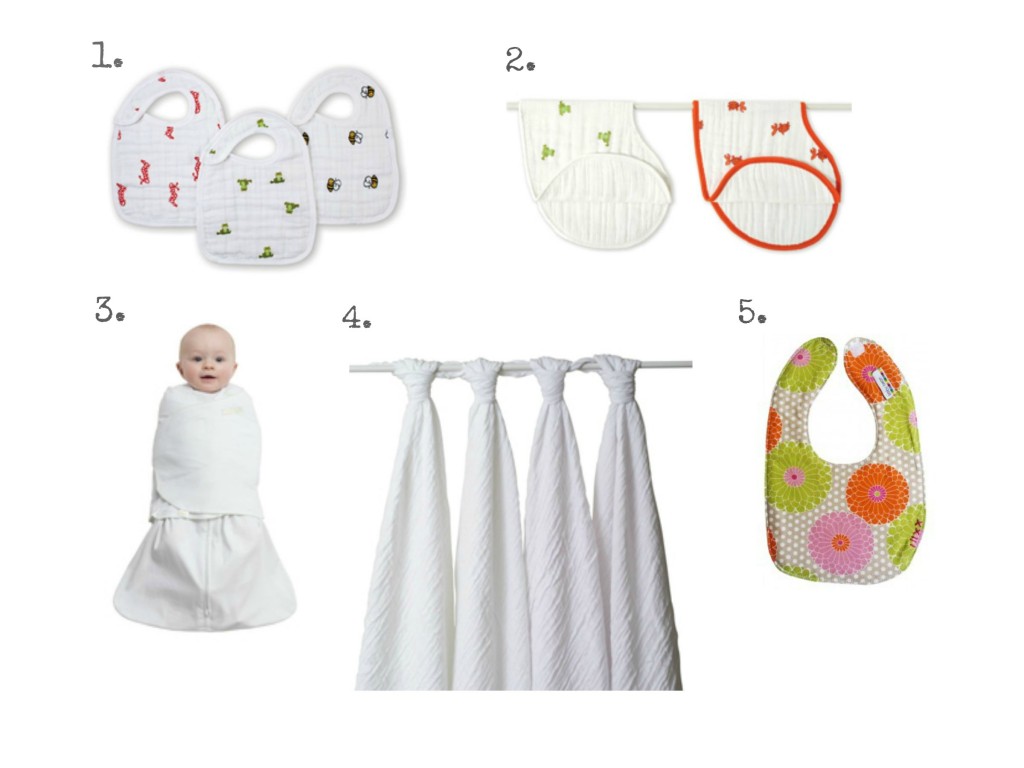 This first chunk o' items are bibs, blankets and swaddles. We had/have zillions of bibs, katrillions of blankets and bagillions of swaddles. But these, these here are what we loved the most. They're what worked the best. They make me a better mom. Just kidding I don't know even know what that means.
1) You almost can't go wrong with anything from Aden and Anais. A little pricy, yes, but throw a bunch on a register or use gift card money if you have it. We loved the bibs because a) they're great material, b) they snap so it's harder for the babe to rip it off, and c) they're cute designs with a unisex feel. Done.
2) More A&A bibs. But the cut of the bib is a bit sweepier over the shoulders, which I LOVE. Less to clean. On them that is. Sort of. Probably not.
3) Ahhhh swaddling. I gotta say, out of the pile of swaddles that we had, the Halo ones won our heart. It's like, you can learn to drive a stick, but you'd almost always prefer an automatic. Hi, Halo swaddle. You stick your baby in it, and it velcros over the chest/belly like a dream. SO EASY. You can keep their arms in or out. It zips. No snaps. Long enough in the legs for growth. Done.
4) These plain white A&A blankets are just brilliant. They're lightweight and super airy, so you can tuck them over your baby in the stroller, or just lay it over the top of the stroller if it's especially warm. Now that mine are walking gremlin toddlers, they drag these around the house almost like a security blanket. Will will actually drape it over his head like a ghost and I weep every time. You can definitely learn to swaddle with these, too, ya overachiever.
5) Because bibs should be stylish, too.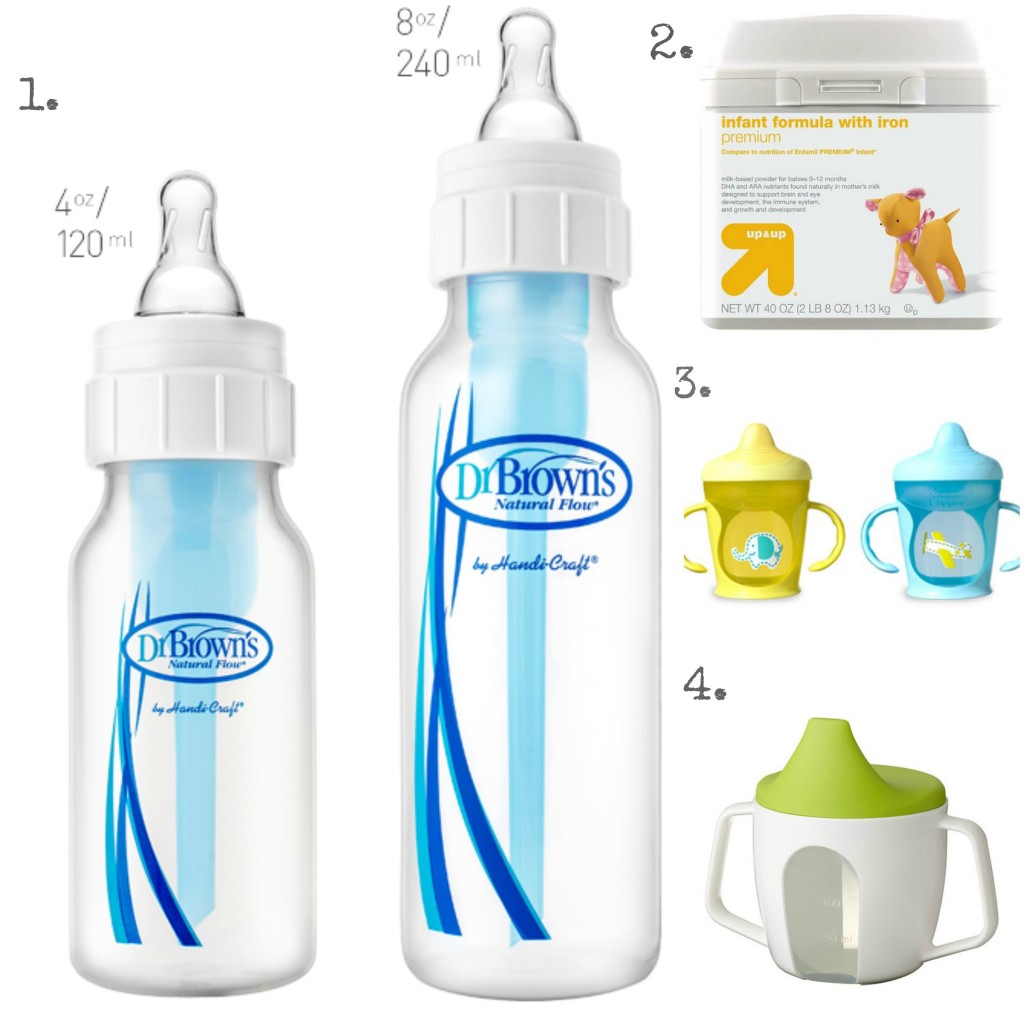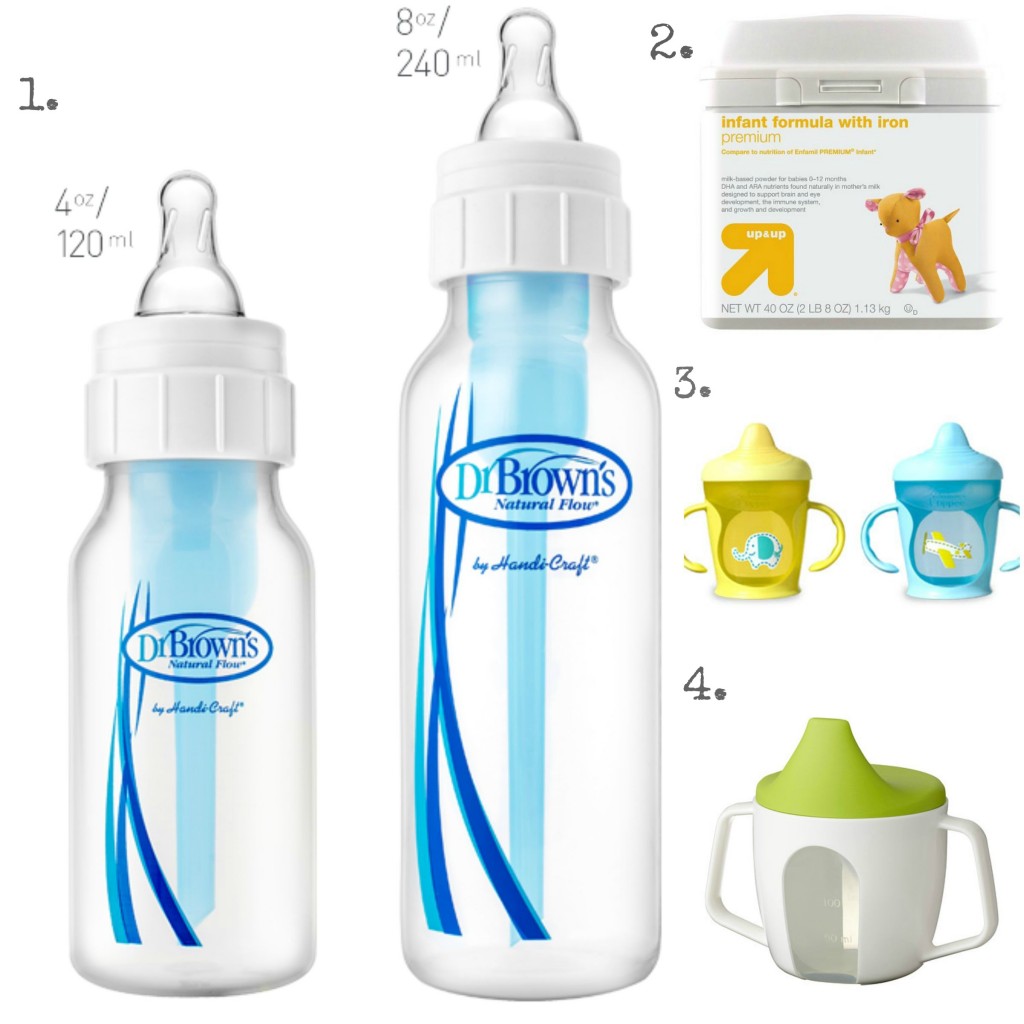 This next chunk be all about the mouth. Bottles and sippies, yo.
1) I'd like to apologize for the hilariously enormous photo of Dr. Brown's bottles. I guess I'm not the best at collages. That said, go with Dr. Brown's and nothing else. We tried lablillions of bottles, and these ruled. They have that blue thing down in the bottle that helps with gas or something. They're not the cheapest, but they were the BEST for us. Done.
2) Now, I didn't breastfeed, as previously discussed, so I was all about finding good formula. And you know what, Target's brand has the very same ingredients as the exprawwwnsive stuff, so we used that. And it was great! Do what you feel is best for your littles, but I'm just saying, this is what I used and digged. Dug? Doog?
3) Now that we're deep in the dark world of sippy cups, I'm still trying to figure it out. BUT! What I've discovered so far is that leaks make me see red. That said, I feel like the Tommee Tippee cups work best for leak spillage. And they ain't bad looking, either. Done.
4) I'm going to be the hugest walking contradiction right now, but I'm okay with it. These little IKEA sippy cups are pretty good. They don't have the plug to prevent leaks, so I usually only put water in these, and let the babes have them out back on the patio, or in their highchairs. Besides the simplicity that I'm drawn to, and the fact that they cost like three pennies, they're the most basic, easiest cups to use. So I DO like to use these for certain occasions. Just don't put blueberry juice in it while they're playing next to your new neutral sofa. Lawwwwd.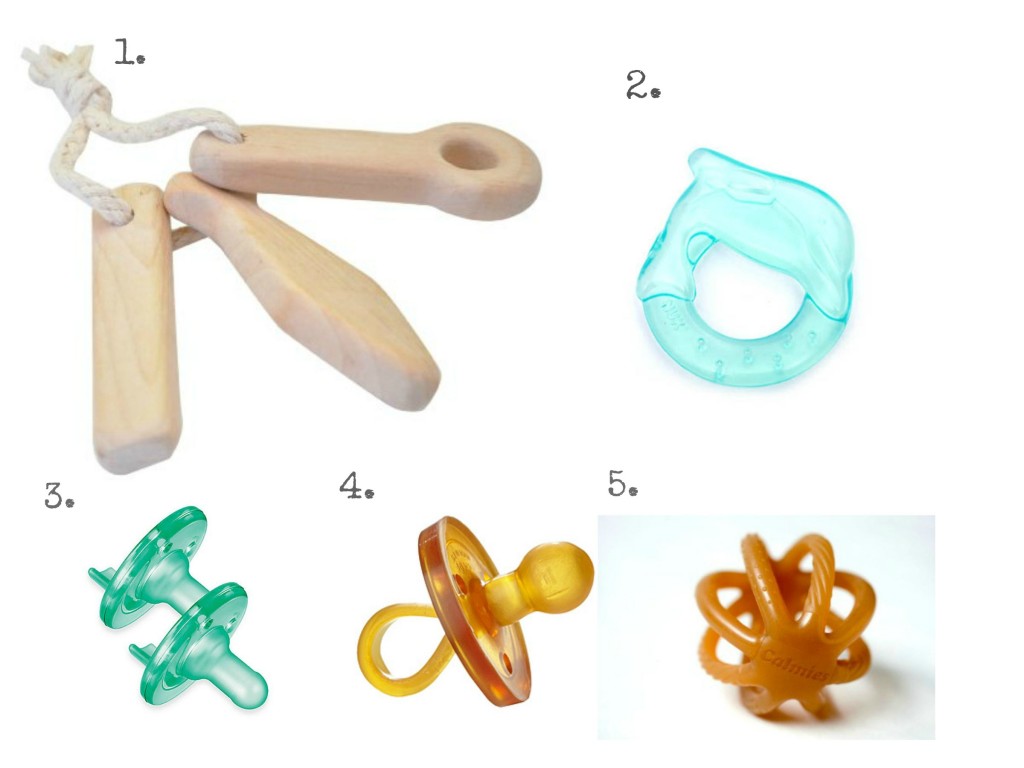 Teethers and pacis!
1) I try to go as natural and simple with as much as I can. That said, I was squeally to the max to find that they LOVED these wooden teething sticks. It's obviously soft wood and safe to suck on. I even teethed on it! Just kidding, that's weird.
2) Freezer rings always save the day around here. Still. You can find cute freezer teethers everywhere. In most dollar stores, even. We have so many I should probably be admitted.
3) As far as pacifiers, mine ONLY, and I mean ONLY take two kinds. These simple blueish greenish Avent ones are definitely their first pick. My only tip? Buy 15 trillion. Let me take that back, my second tip? Don't put one of those terrifying animal things at the end of them. Seriously, what is that?
4) They also looooved these old school natural Natursutten pacis. I personally love the look. I'm so glad they see it my way.
5) And lastly (I'm trying to be fast to keep you from gnawing through your veins.), this natural teether was a HUGE winner over here. It's a ball. It's a teether. It's cute. It has texture and slits and rings, oh my! Done.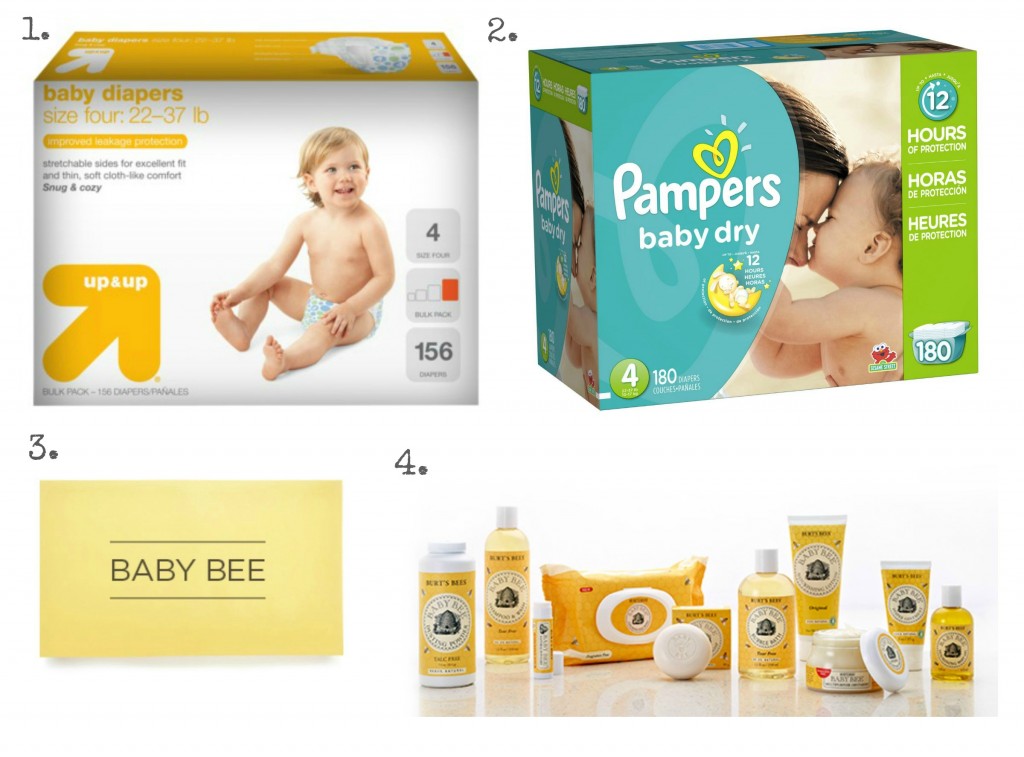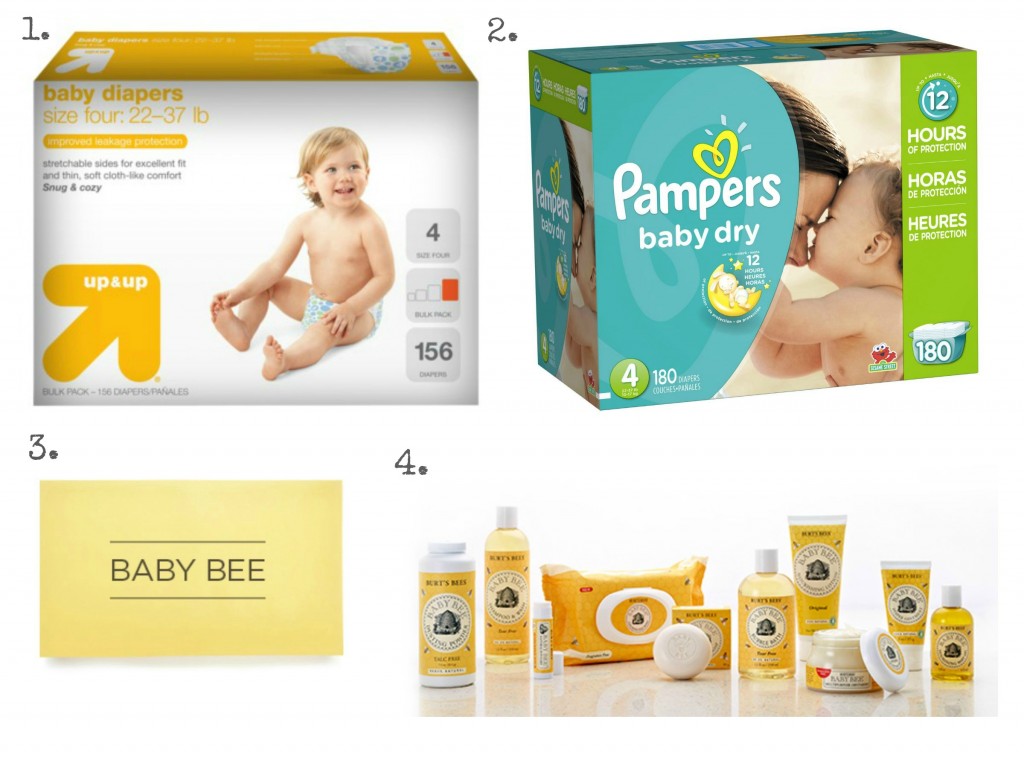 Baby butts and bath stuff:
1) I figured this one out real quick. Target brand during the day.
2) The more expensive ones at night. The end. Oh wait! We did cloth for the first six months, and it was a good experience! I admire any mama who sticks with it. My patience levels are that of a cheetah through a drive-through, so 'sposies it is.
3 and 4 because I'm a dumba$$) Okay, as far as bath soaps, lotions, diaper rash cream, yadda yadda YADDA, we use Burt's Bees and could not love it more. I've been a huge BB fan since my early 20s. Have you seen that documentary about Burt? It's completely fascinating. Watch it! Bzzzzzzz.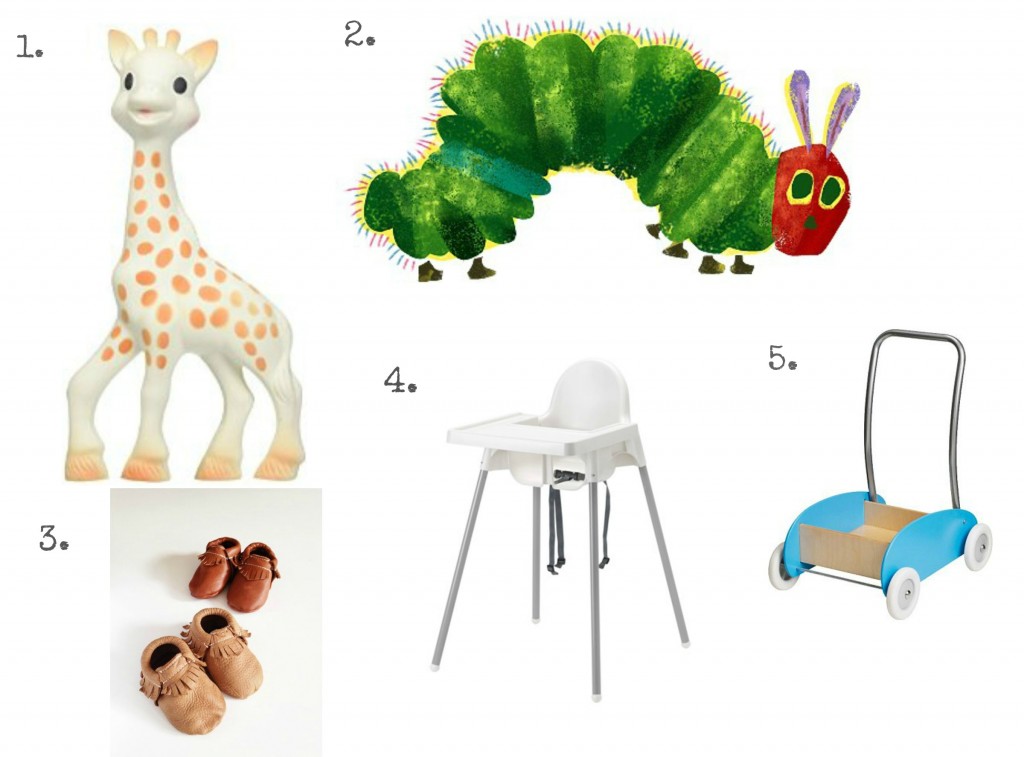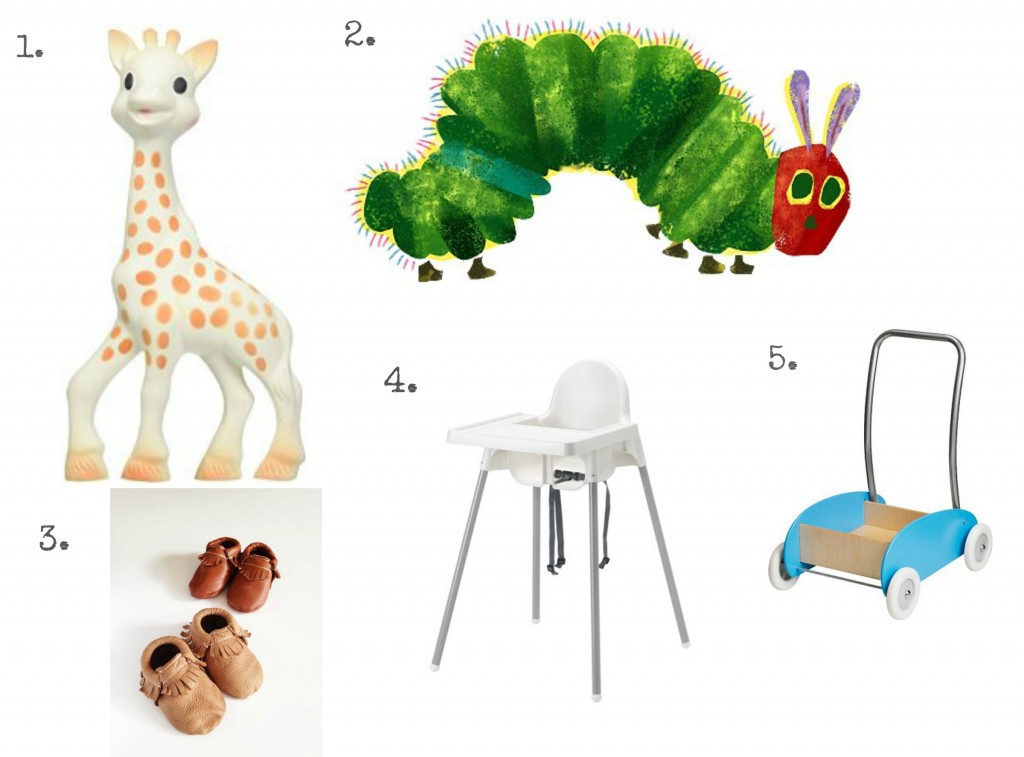 I can't believe you actually survived this post. One last group! This is just my "everything else" category.
1) I forgot to talk about Sophie up there with my teethers. I know she's trendy, but babies loooooove the Sophies. She's got all these ridges and legs and a head and it's like utopia for them. Done.
2) I am telling you right now, The Very Hungry Caterpillar on Netflix saved. my. life. The book is amazing, too. I'm not dissing books. Let me repeat, I'm a book lover and believer. BUT, this 30-minute cartoon on Netflix is genius. It's accompanied by goooorgeous classical music, and the cartoon isn't super modern and gross. It's a collection of five shorts, all written by Eric Carle (I like to pronounce that last e like a troll), and it's just wonderful. My babies have been nothing short of captivated by this animation since they were three months old. Even today, if I need 30 minutes to finish up something, or just sit in peace, THIS IS THE ANSWER. Sorry to scream. I could just kiss Eric CarlE.
3) Baby moccasins. Duh.
4) The beloved IKEA highchair. This thing rules. A) It's a basic design and that just speaks to me. B) Eaaaasiest ever in the world to clean. C) Comes apart easily for travel. D) Makes for great photos. WHAT, it does. Done.
5) And lastly, a toy. I could write an entire post on toys, but that's silly. So I'll just show you one that they seem to dig. A basic little IKEA blue walker to push around and run into things in a mission to destroy my life. But whatever, they're happy.
And that's it! I'm four billion % positive that I've forgotten something, so please, if you have any questions about anything else, email me or leave a comment below and I'll definitely hook it up. And honestly, if you have any must-have products that I need to know about, hollaaaa.