Anytime I say the words, "Taco time!," I always think, "Make it Suntory time." Name that movie?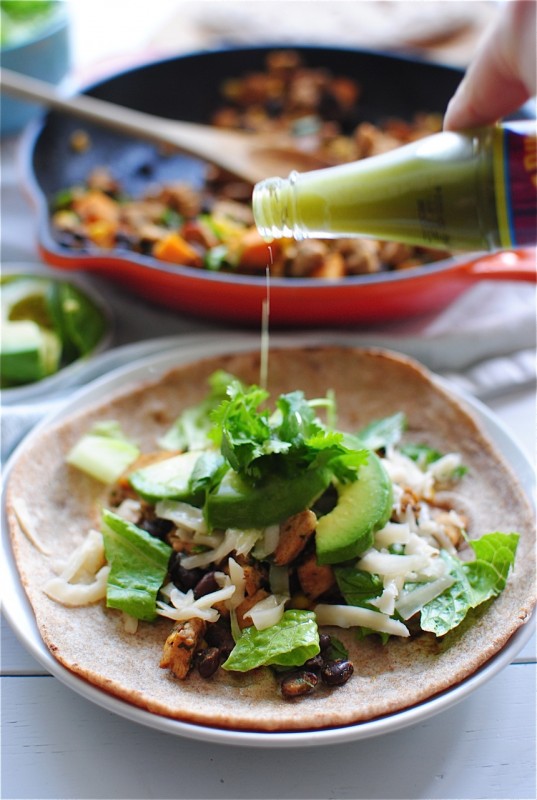 If you can honestly guess that movie we will be serious best friends forever.
So this isn't really anything new or groundbreaking. But I'm still a pretty good person. See, we're full on in the "nom-nom-nom-whatever-is-in-the-fridge-before-we-leave-for-Boston" mindset.
Oh I forgot to tell you! We're headed to Boston UR-LIE in the morning. I'm singing and playing guitar in a family wedding. If the guitar will fit in front of my bump. Say, what if the babies don't like what I'm singing and kick the guitar right out of my lap?
IT COULD HAPPEN.
Also, did I just start that sentence with the word "say?" What is this, Mayberry?
"SAY, Andy! (slaps knee) Let's hop on down to the creek and hook and eye some rascal crawdads for the local ice cream social tonight!"
That would be one nasty ice cream social, you guys.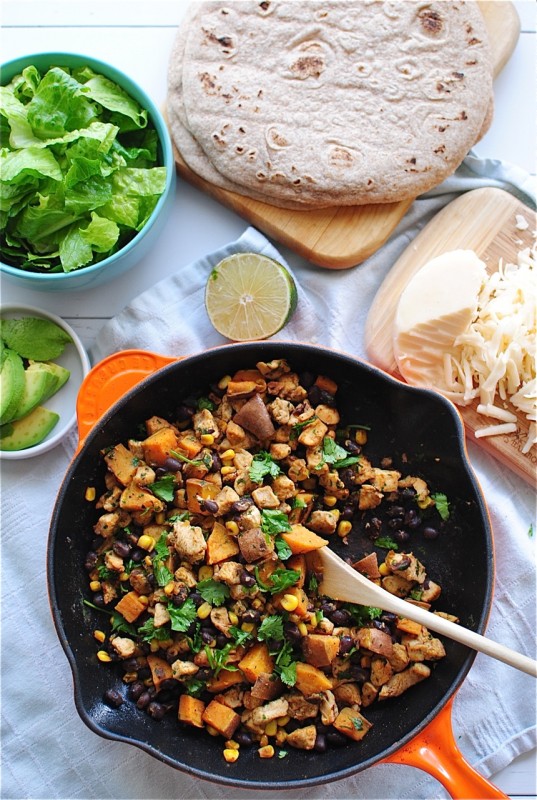 This is pretty hodge podgey, but I'm always down for that. It's why my hair has such troubles.
We got chicken. We got corn. We got beans. We got thorns.
OH SORRY. We do not have thorns. We have sweet potatoes. Tender, roasted, thornless sweet potatoes.
And we have manchego cheese, which is just the best invention since bug zapping rackets. Know what I'm talking about? Yeah, those things are awesome.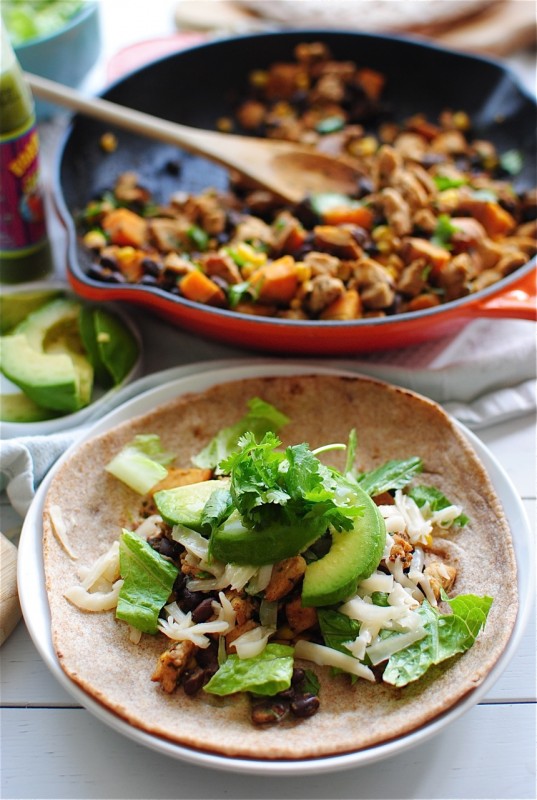 Make it Suntory taco time.
Chicken, Black Bean and Sweet Potato Tacos:
What it took for (about) 4 tacos:
* 1 Tbs. extra-virgin olive oil
* 1 large chicken breast, cut into a small dice
* 2 tsp ground cumin
* 2 tsp chili powder
* 1 cup corn (frozen and thawed is fine)
* 3/4th can black beans, or the whole dang thing! (drained and rinsed)
* 1/2 cup cilantro leaves, plus more for garnish
* 1 cup roasted sweet potato cubes (1 small sweet potato, cut into a dice, sprinkled with cumin and cayenne, salt and pepper, little bit of oil and roasted for 30 minutes at 400) mine were leftover
* 1 cup shredded manchego cheese (or whatever you prefer)
* 1 cup shredded romaine lettuce
* fresh lime juice
* hot sauce
* sliced avocado
* 4 whole grain flour tortillas (or whatever you dig!)
* salt and pepper, to taste
Heat the oil in a medium skillet over medium-high. Add the chicken and let sit for about 2 minutes. Flip the chunks and keep searing until you get some color and the chicken is cooked through, about 4 minutes. Add the cumin and chili powder and a pinch of salt and pepper.
Add the corn, black beans and sweet potatoes. Toss, toss. Let it all warm through a few minutes. Add the cilantro and a little water if it starts to dry out. Taste it. Little salt? Lime juice? Oh yeah.
Pile the mix up some warmed tortillas and garnish with lettuce, cheese, avocado, more cilantro and hot sauce! And more lime juice.
Simple and done and done and simple.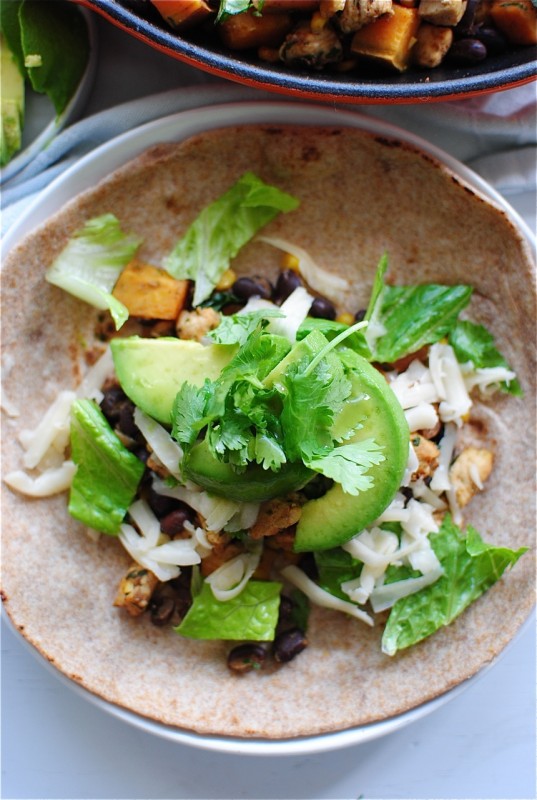 Hurts meh.