A few thoughts bouncing around in my brain hole today:
* I really love Sophie B. Hawkins.
* I really miss 90210.
* I really hate bumble bees.
* Why are they so BIG?
* Why is the entire population of eastern Kansas pollinating my lil' ole garden?
* Speaking of my garden, YOWZA, it's gettin' big. And I'm gettin' nervous.
* Sun Kil Moon still totally rules.
* I can't wait to hug my parents' necks in t-minus 2 days.
* I semi-enjoy using the phrase "t-minus."
* Vitamins are expensive!
* When purchasing vitamins, make sure you read the right price label before getting to the cash register and fainting when you realize your error.
* I've not worn makeup since our vacation.
* I'm a-okay with that.
* Not quite sure the people I run past in the morning are.
* WHY IS THERE A BEE IN MY HOUSE?
* Oh, right. The door is open.
* I sort of miss playing in a band.
* Did you know I'm the voice for the new Rainbow Brite theme song?
* It's true.
* Send me a comment and I'll send you the link.
* You'll laugh for days.
* Then drag out your old vintage RB doll and play the new theme song for your daughter.
* If you dare.
* It's the longest day of the year!
* I need to wash my hair.
* Master Chef is on tonight!
* The end.
Warm Quinoa Salad with Roasted Beets and Carrots: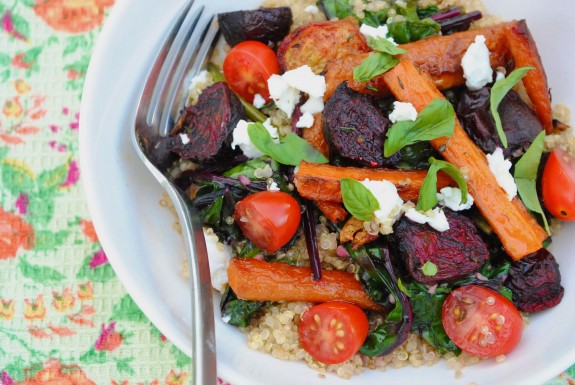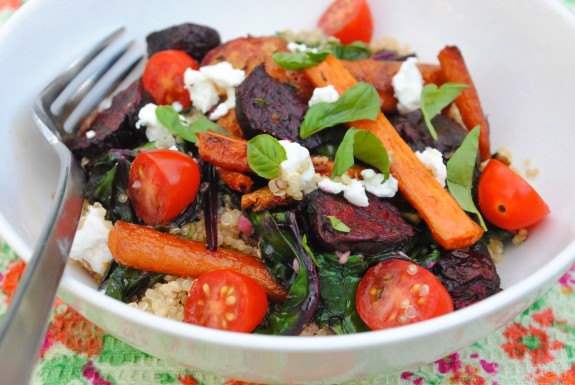 What it took for 2:
* 1 pound small beets, multi-colored if you can find
* 3 carrots, sliced into 1/4-inch sticks
* 4 Tbs. extra-virgin olive oil, divided
* 4 garlic cloves, (2 sliced, 2 minced)
* 3 sprigs fresh thyme
* 2 cups cooked quinoa
* 2 cups beet greens (separated from beets and rinsed)
* 1/2 cup cherry tomatoes, halved
* 2 Tbs. goat cheese
* 1/4 cup orange juice
* coarse salt and freshly ground pepper
Preheat oven to 400.
On a rimmed baking sheet, toss the beets and carrots with the garlic slices, thyme and oil. Season with salt and pepper. Roast for 45 minutes. Check to see if they can be pierced with a fork.
Right at the end of the roasting process, heat the remaining oil in a medium skillet over medium-high. Add the garlic and bloom for 30 seconds. Add the beet greens and saute until they wilt, 2 minutes. Season with a pinch of salt and pepper.
In a small bowl, combine the orange juice with a Tbs. of olive oil. Season with salt and pepper.
Toss the roasted veggies with the quinoa, cherry tomatoes and greens. Drizzle with the dressing and dollop with goat cheese!