We haven't slurped in a while, have we.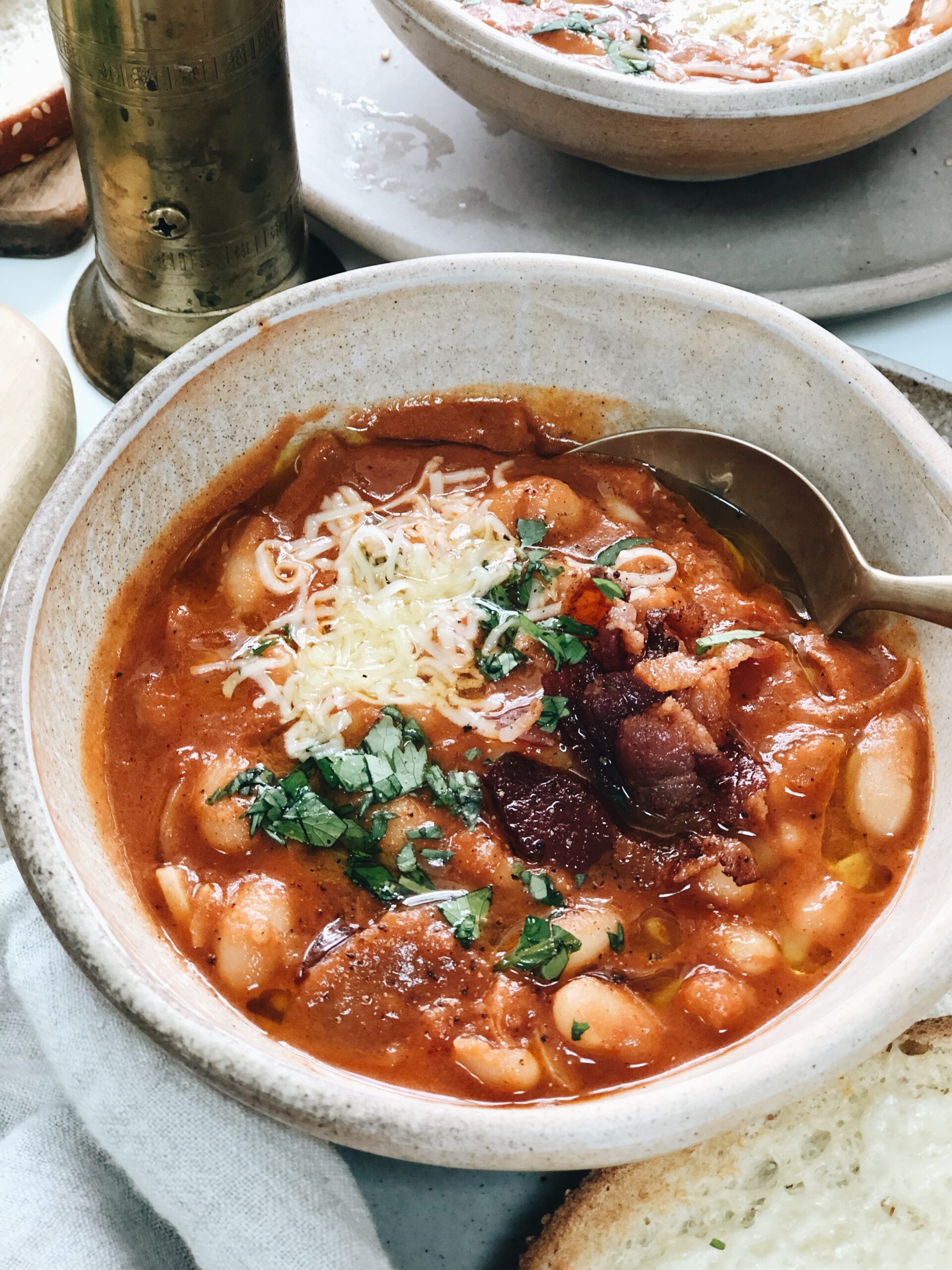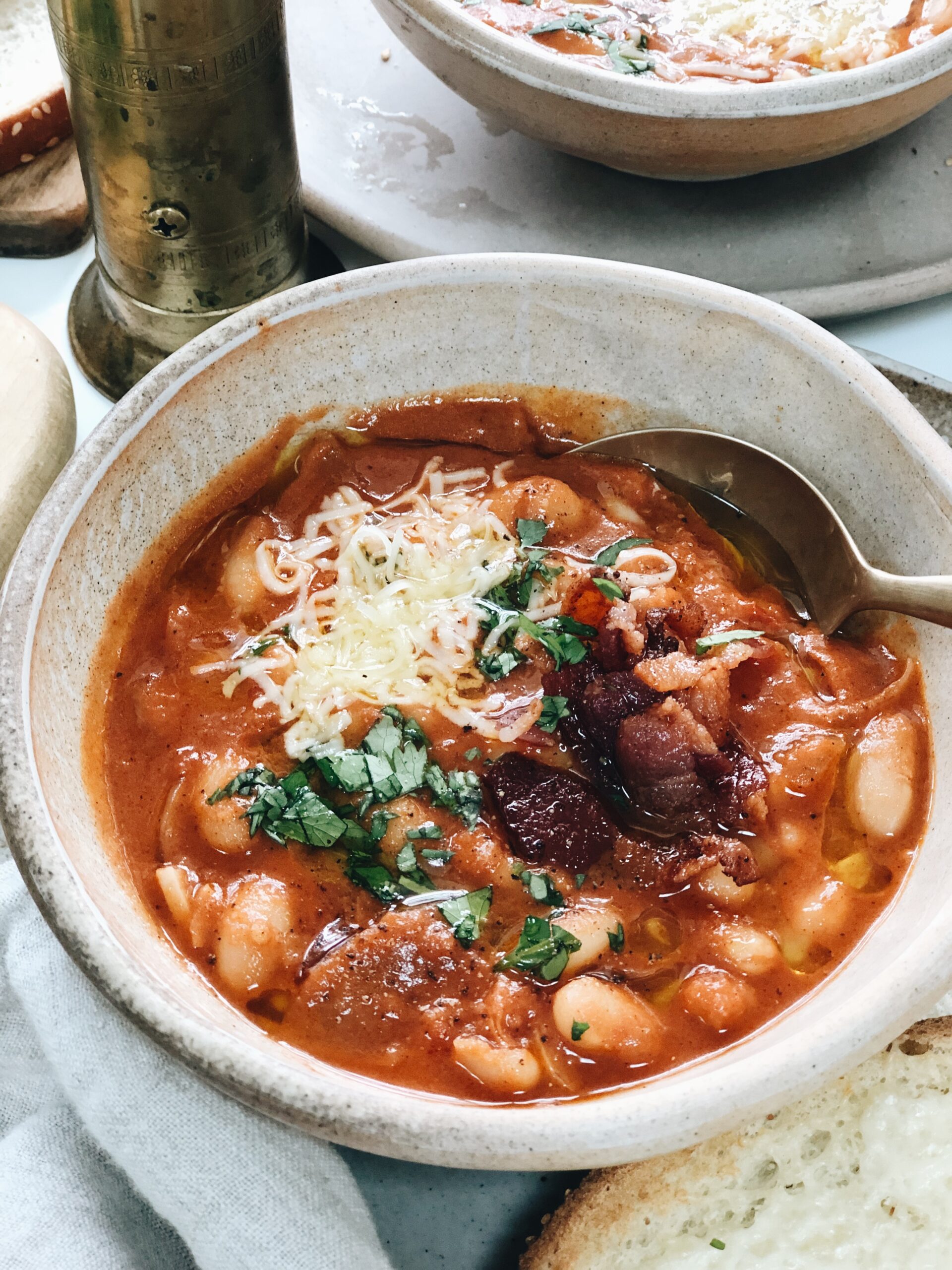 This soup.
THIS SOUP is weep worthy. It's smoky. It's bean-y. It's bacon-y. It's tomato-y. It's like, all the rustic in one pot.
One pot! See how I take care of you?
Never mind.
Let us peepeth.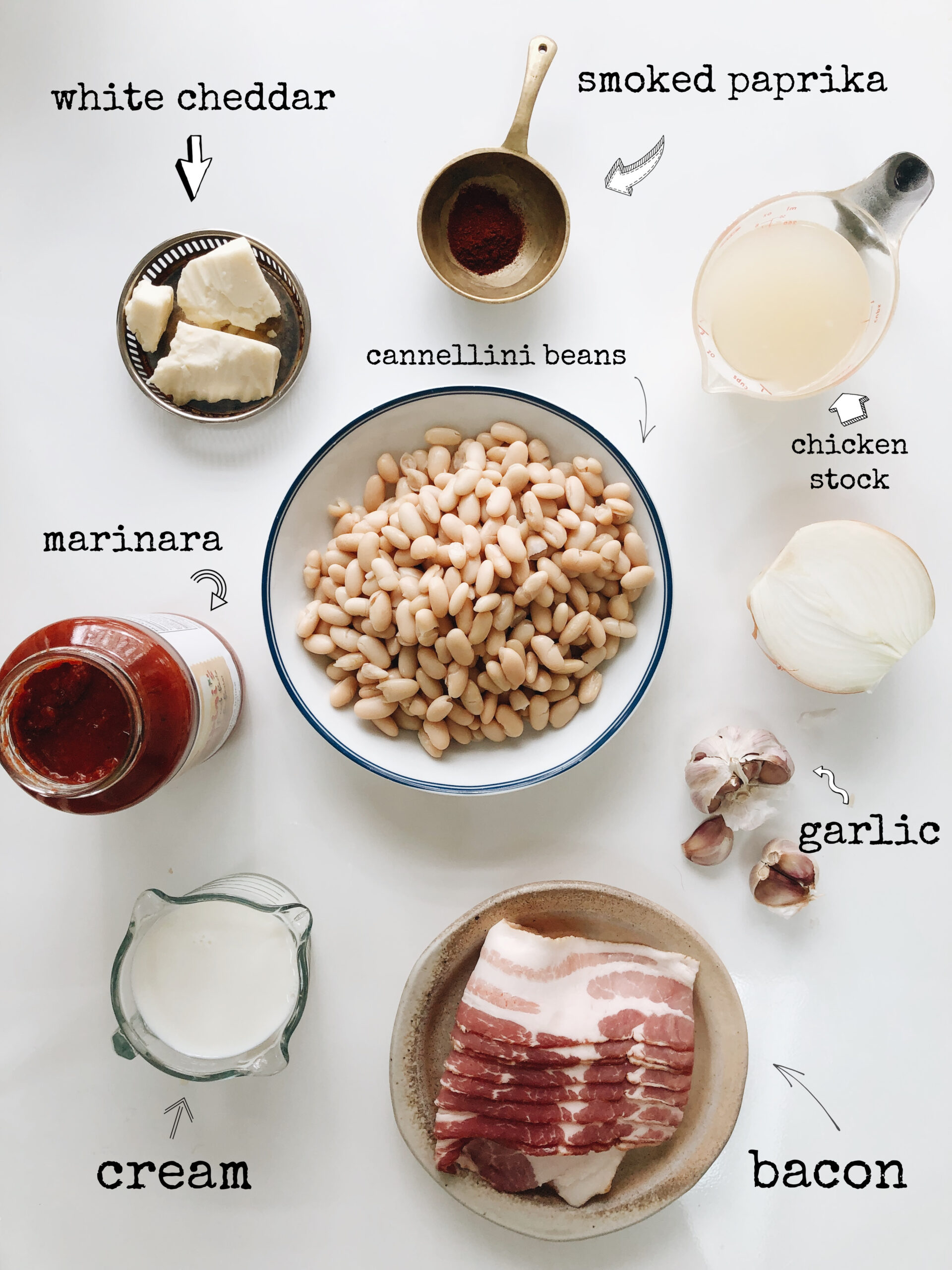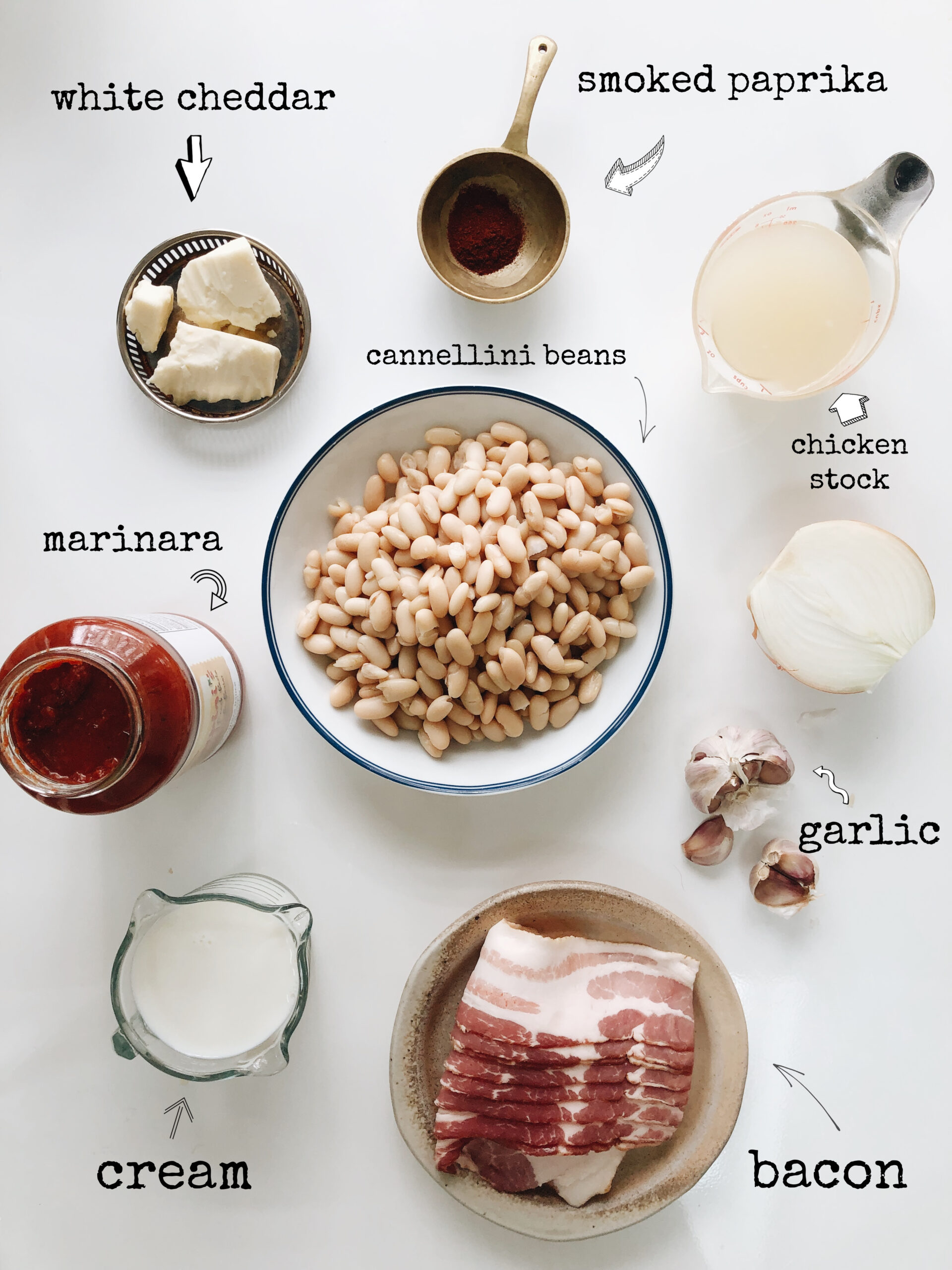 Okay, two things:
I forgot to label the onion in that photo. I'm still a good person. But there is half a white onion and it will get violently sliced.
Also, I typed cream on the photo, but it was in fact milk. Either works though. Milk or cream. Cream or milk. I'll let you decide how to live your life.
The rest is super simple! You see the bacon, right? Let's start with that.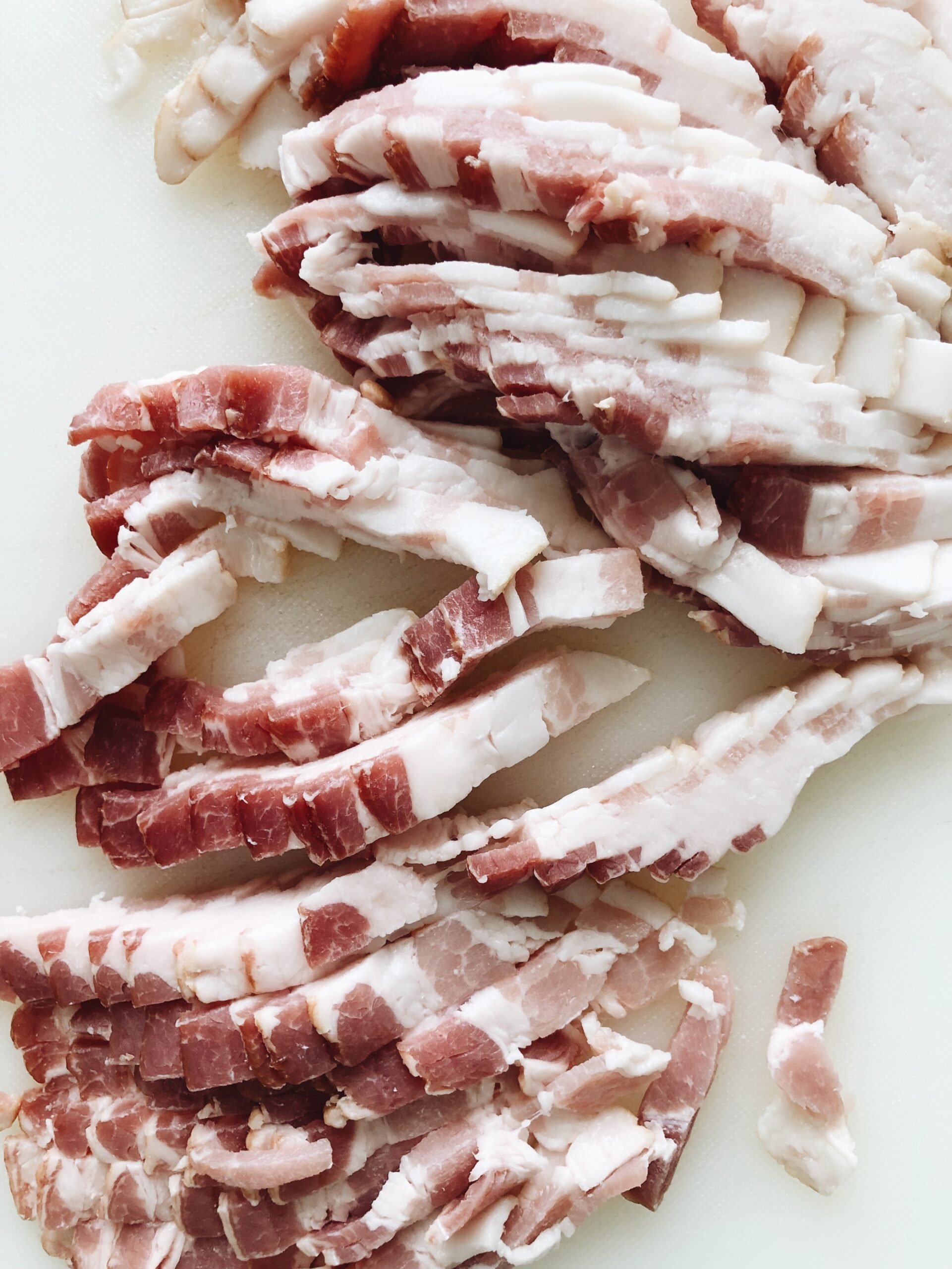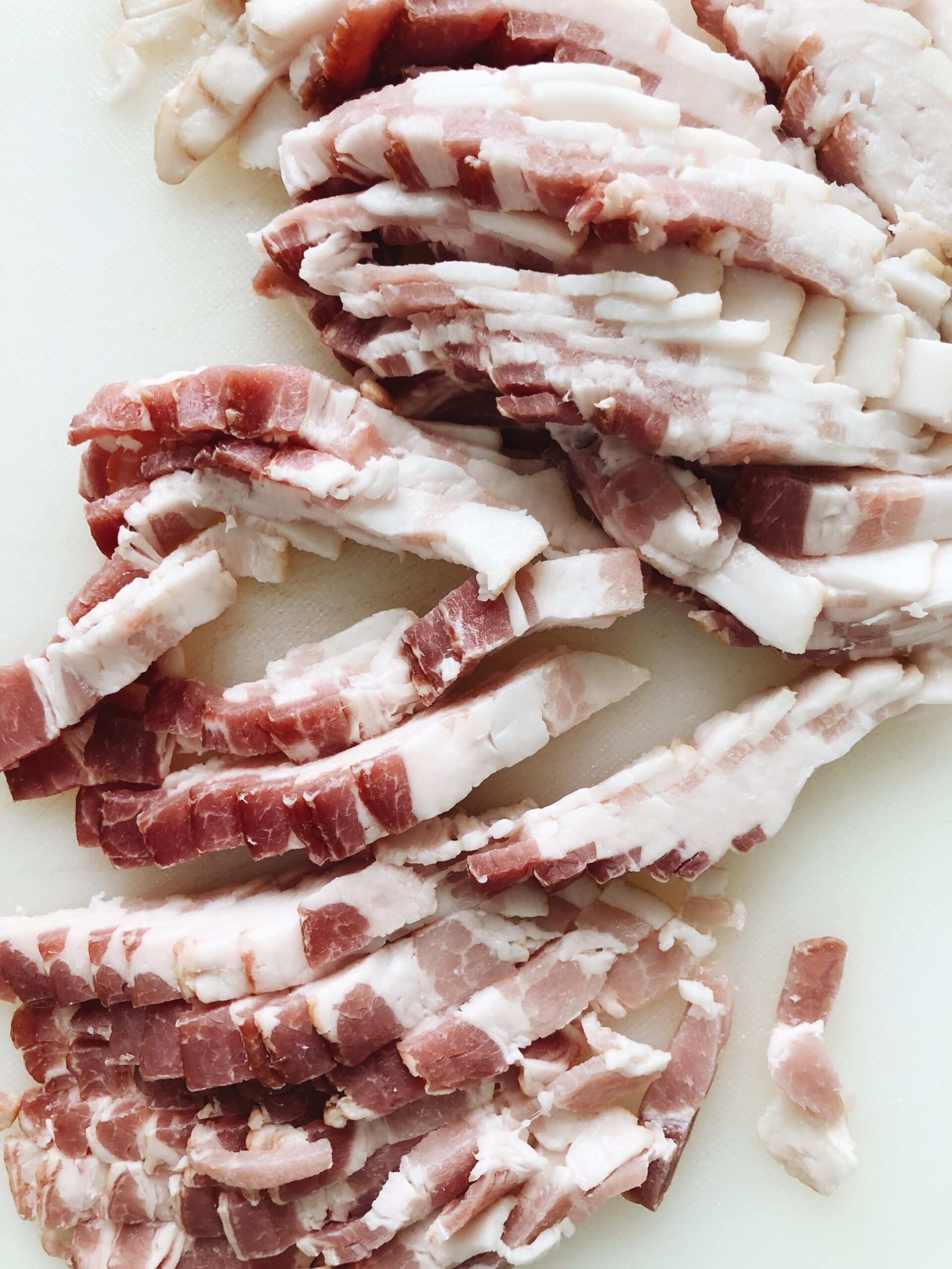 I sort of cut the bacon into slices. Matchsticks. Kind of like the shape of lardons! Do that.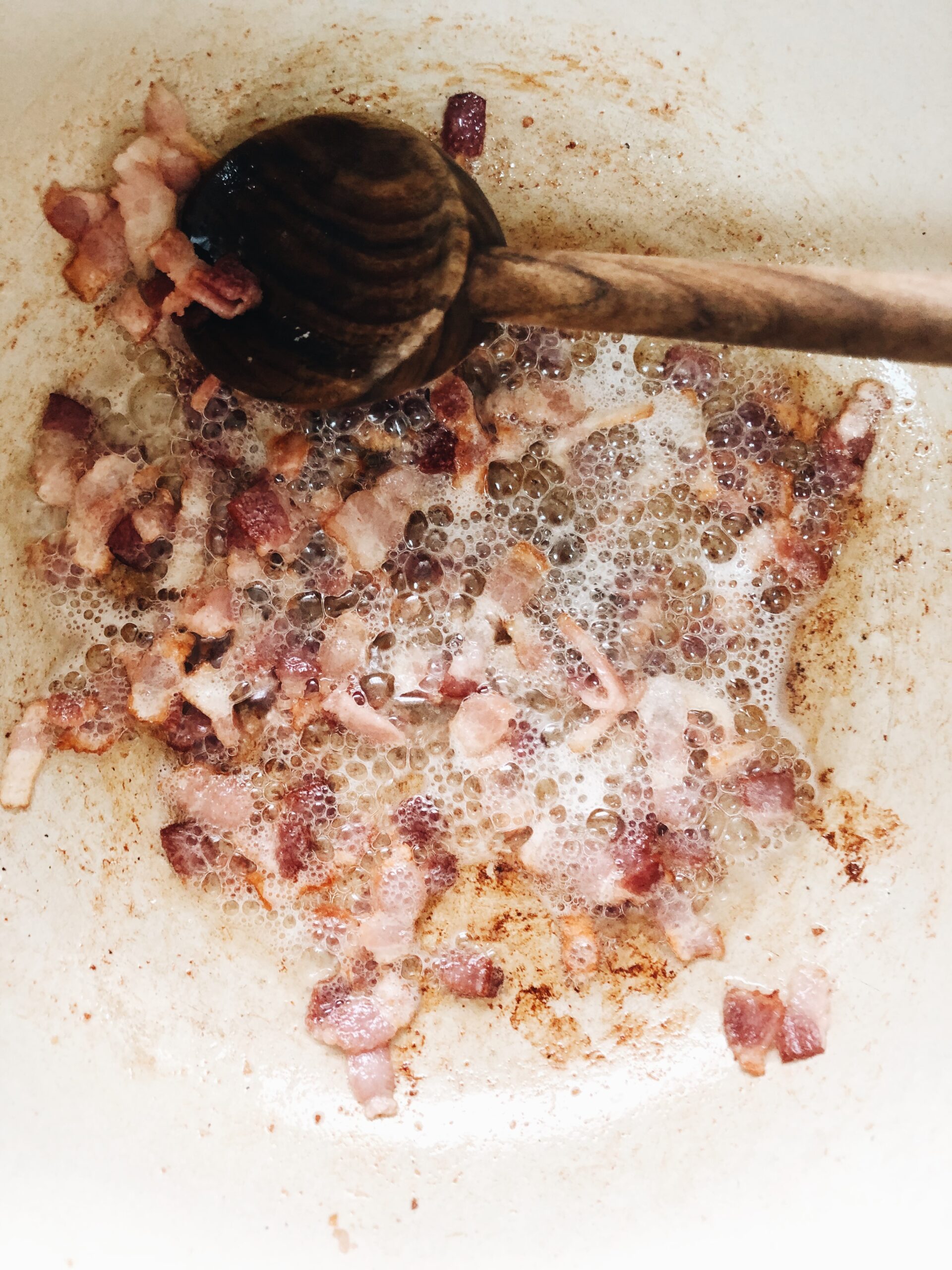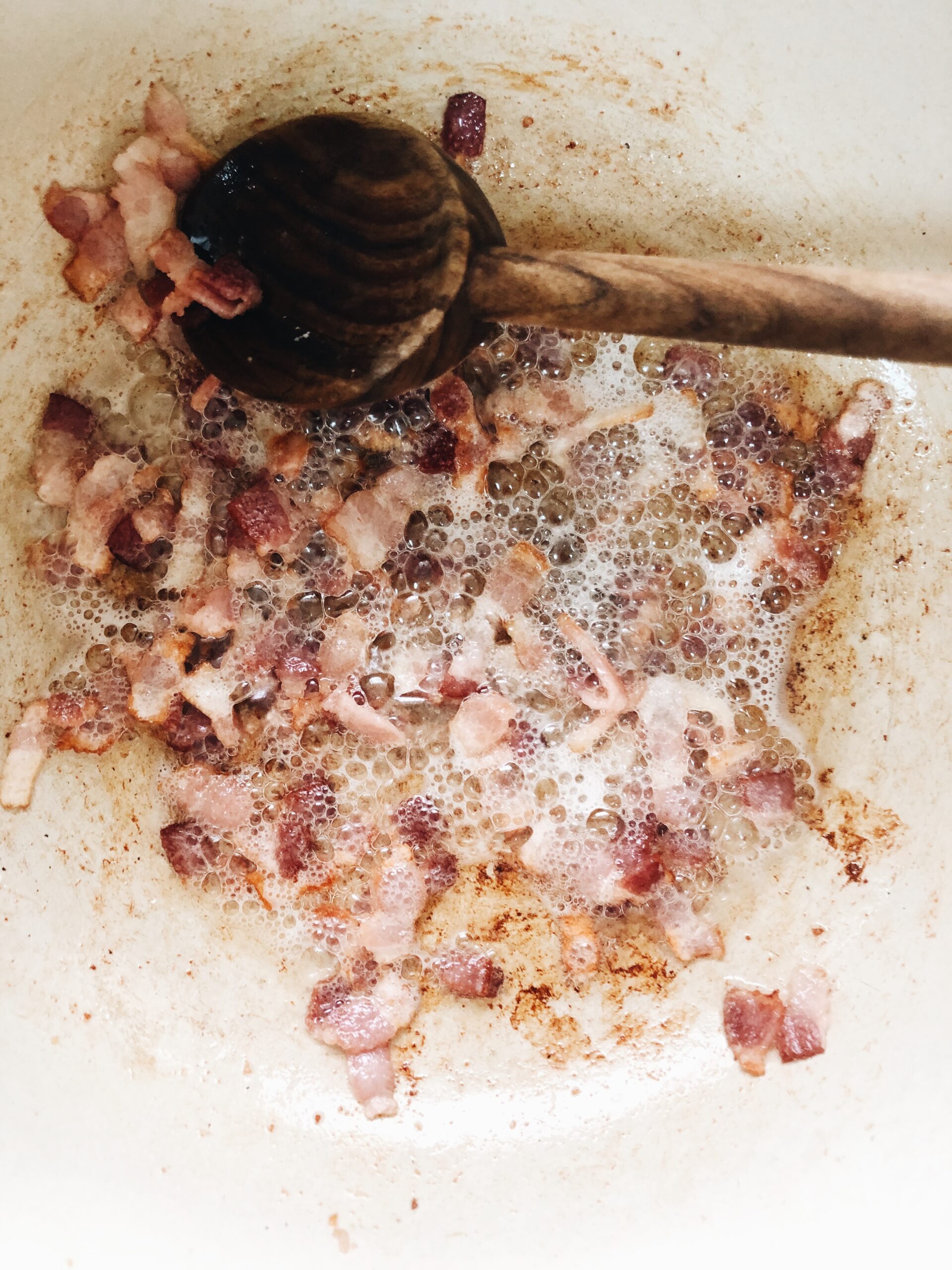 Then we'll get them nice and crispy in a soup pot.
Transfer them out with a slotted spoon onto a plate with paper towels, but for the actual love do not throw out the bacon fat. That's our flavor foundation, man. Now we build.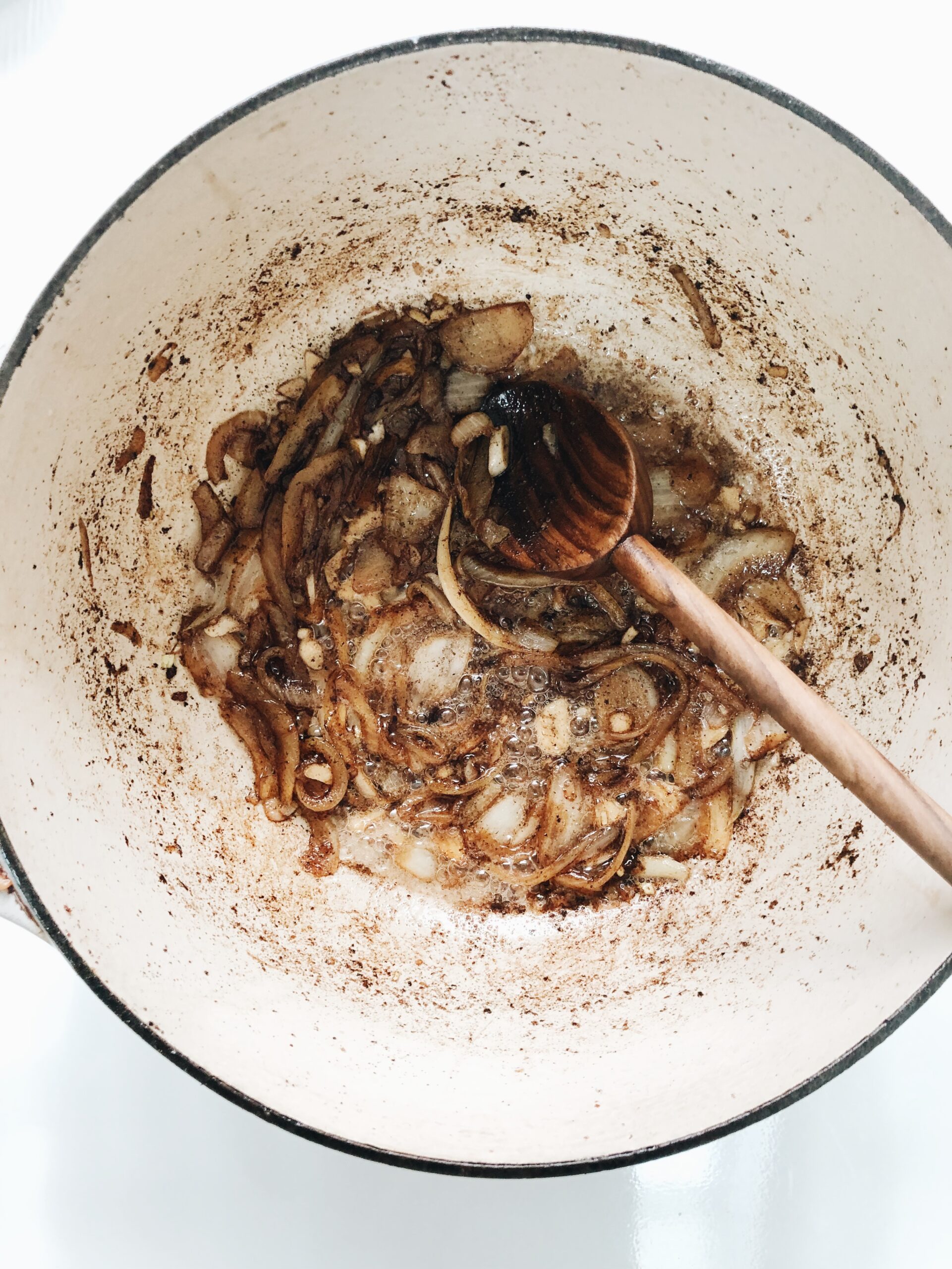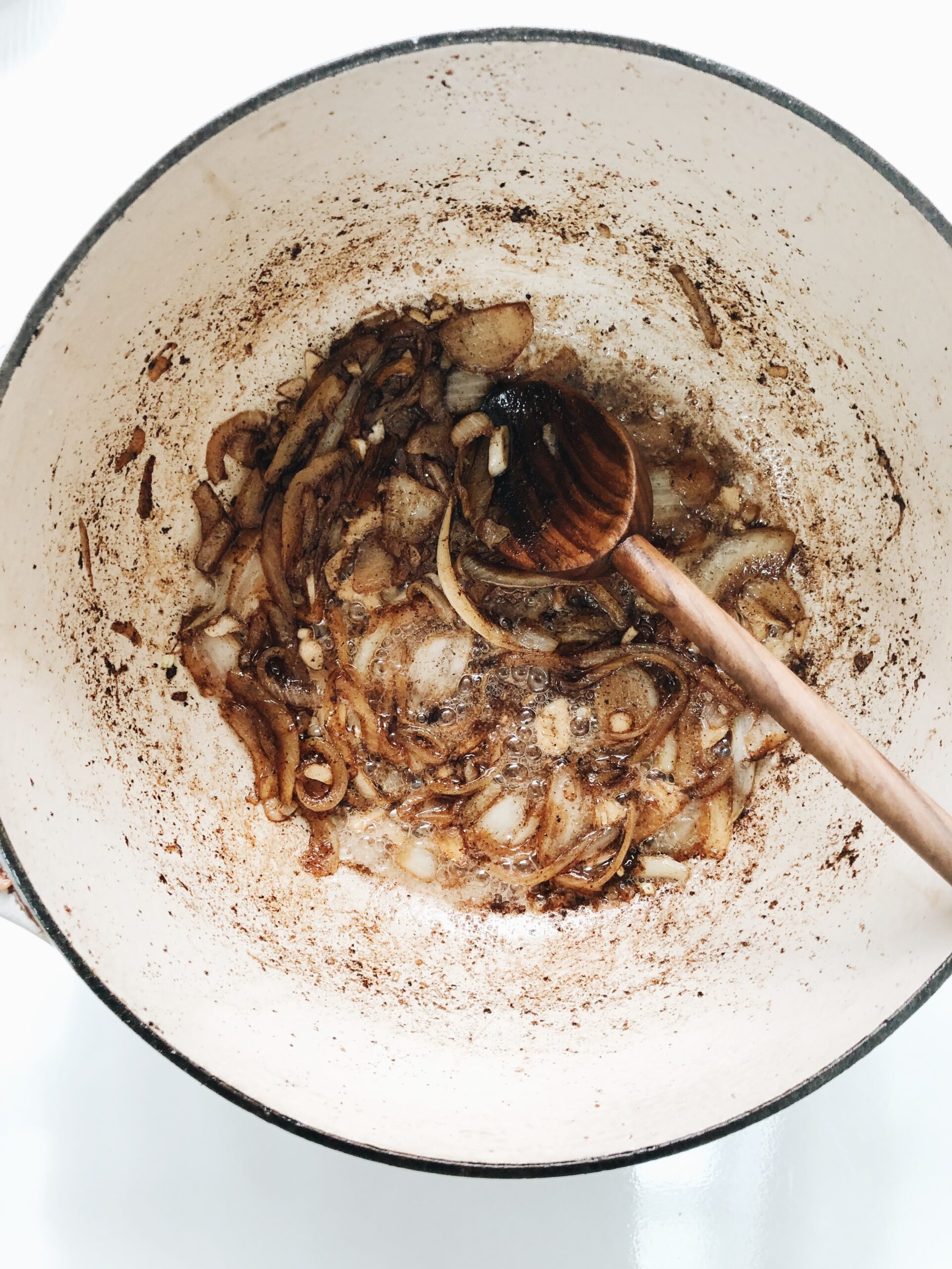 Sliced onions, in we go! They'll get a lot of beautiful color from the browned bits, which is nothing but heaven. Add in the garlic and let that fragrance slap you square in the face.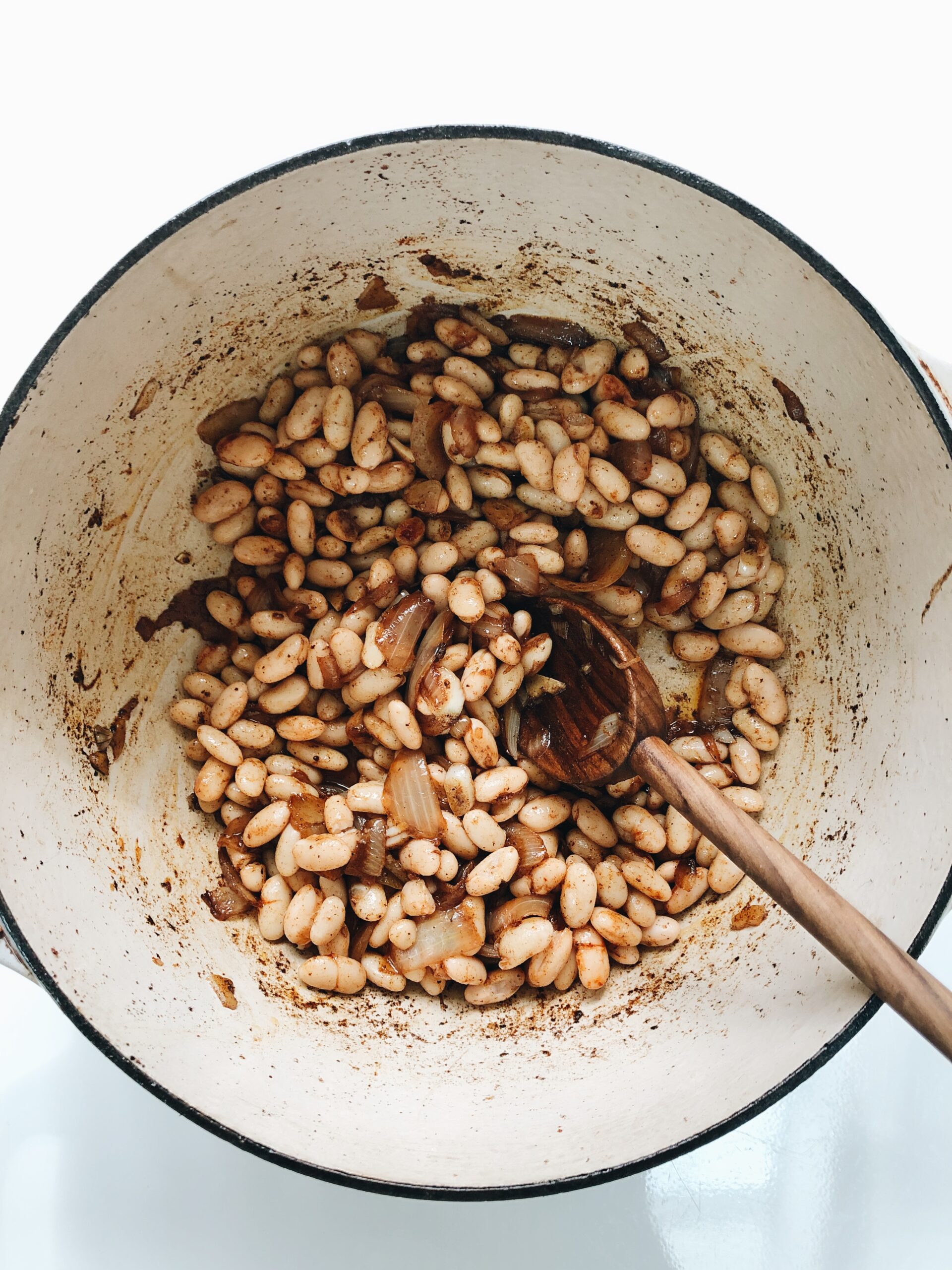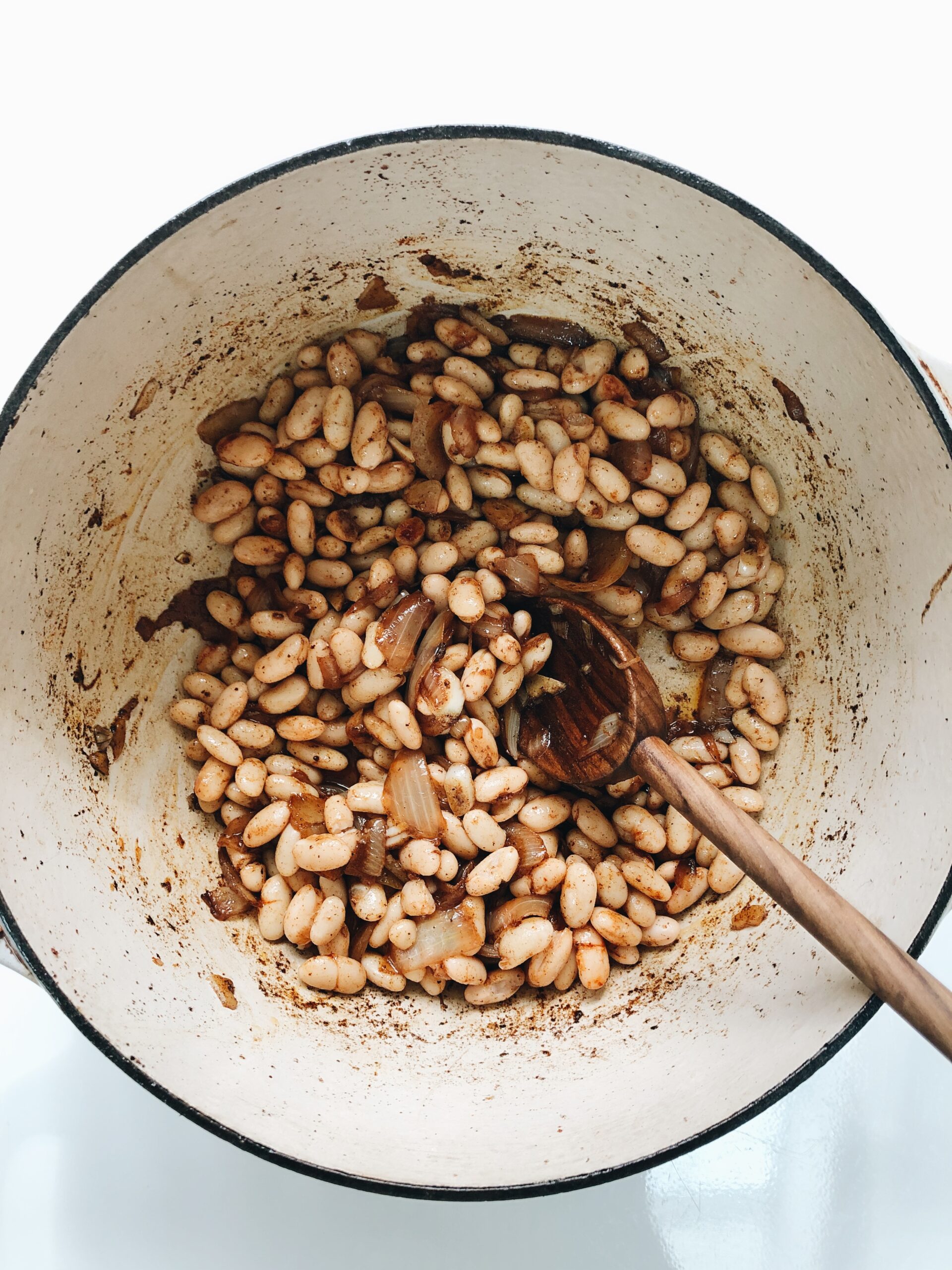 Next up, beans and smoked paprika!
And listen, when I made this I used a full teaspoon (NOT tablespoon), and it was still mega smoky. I decreased the amount in the recipe, but if you loooove a hearty smoky flavor, go with the full teaspoon. I just don't want any of you to freak out on me. I already have to take a shower today, so. . .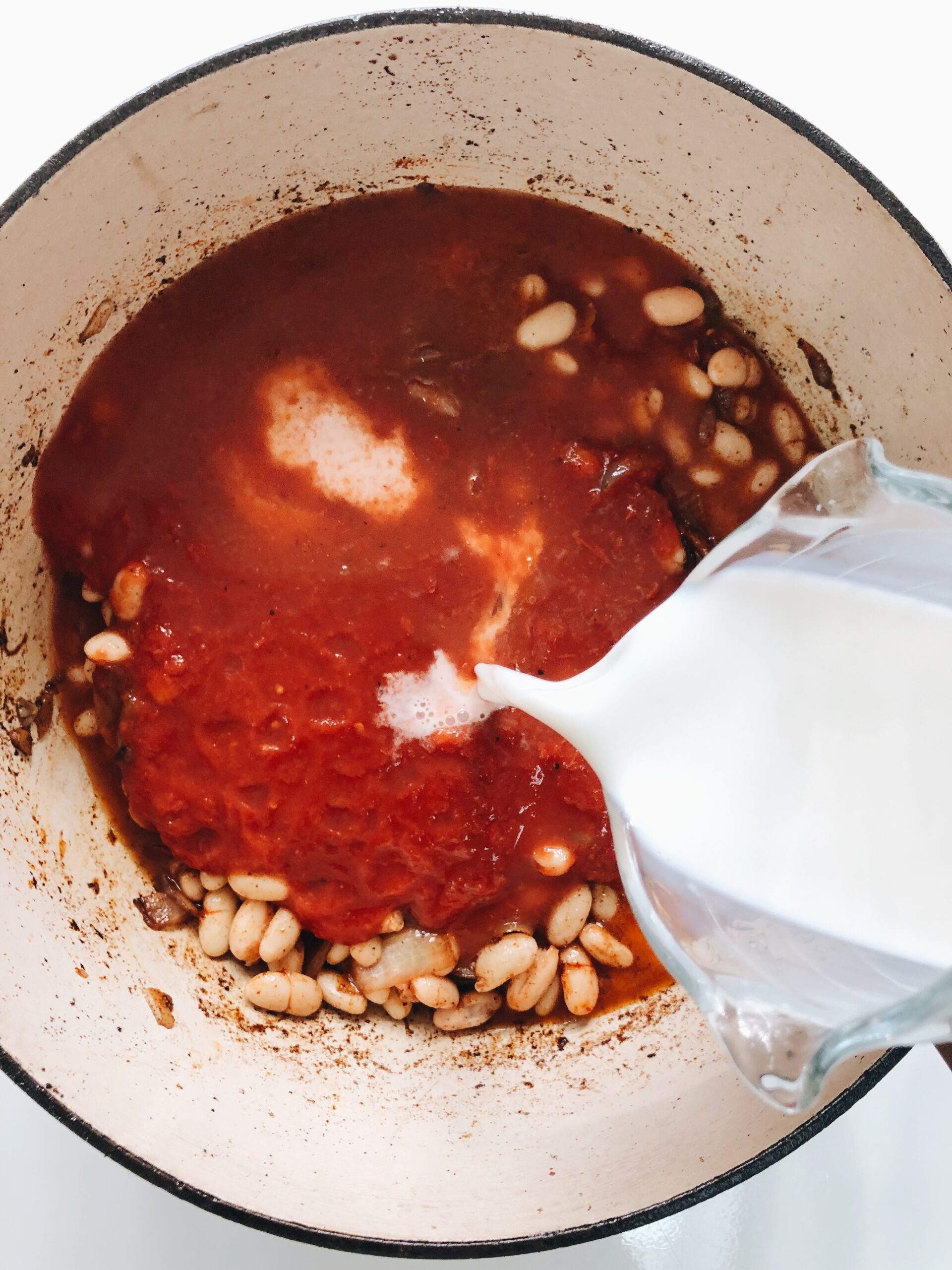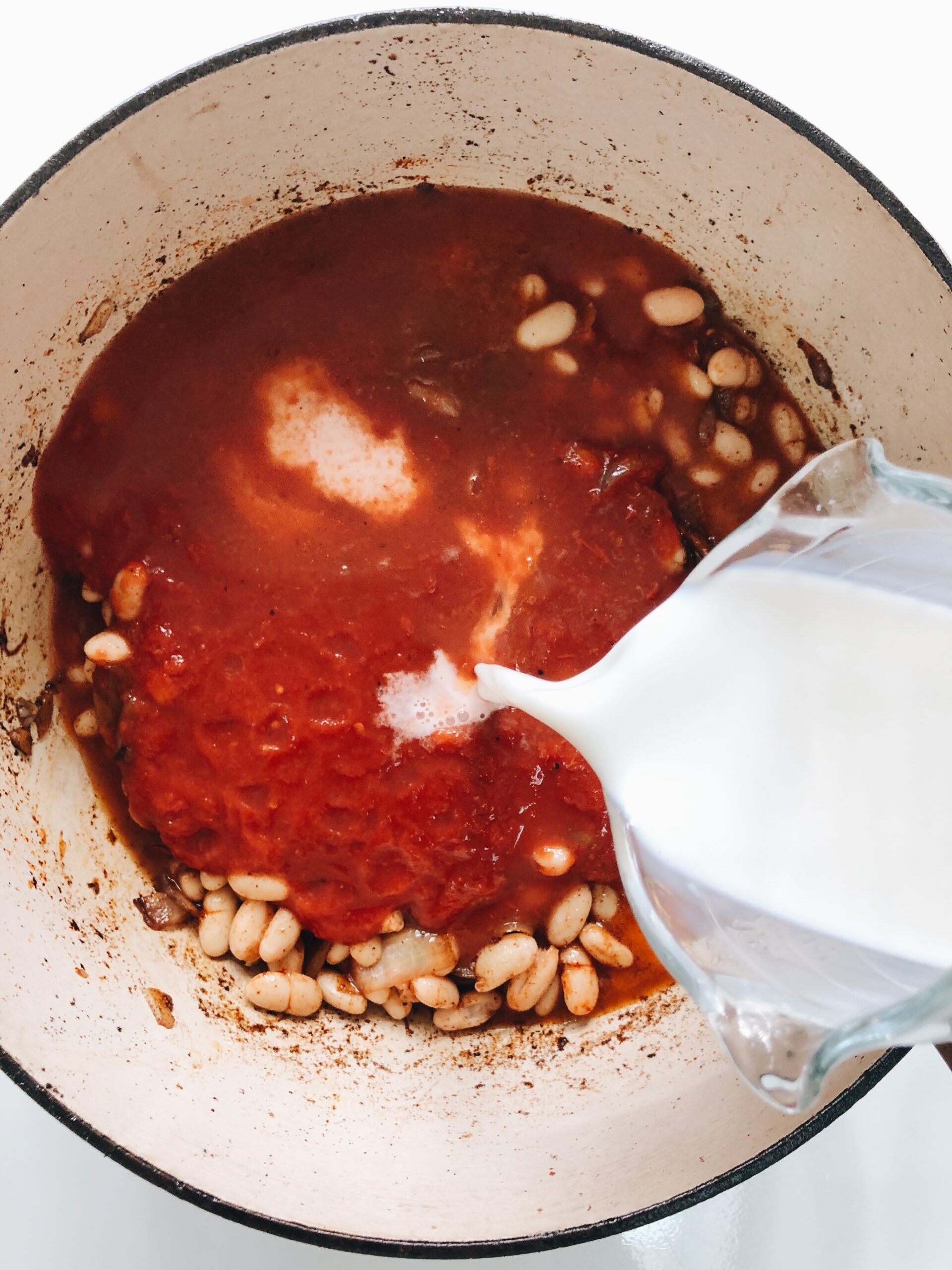 Marinara, check.
Chicken stock, check.
Milk, check.
Bring it to a simmer and honestly, that's it. Let the flavors meld and marry and honeymoon, then check on it. You'll need a pinch of salt for sure, so season it just right. This hangs out on the stove about ten minutes on low. Fifteen if you need to mark some things off your list.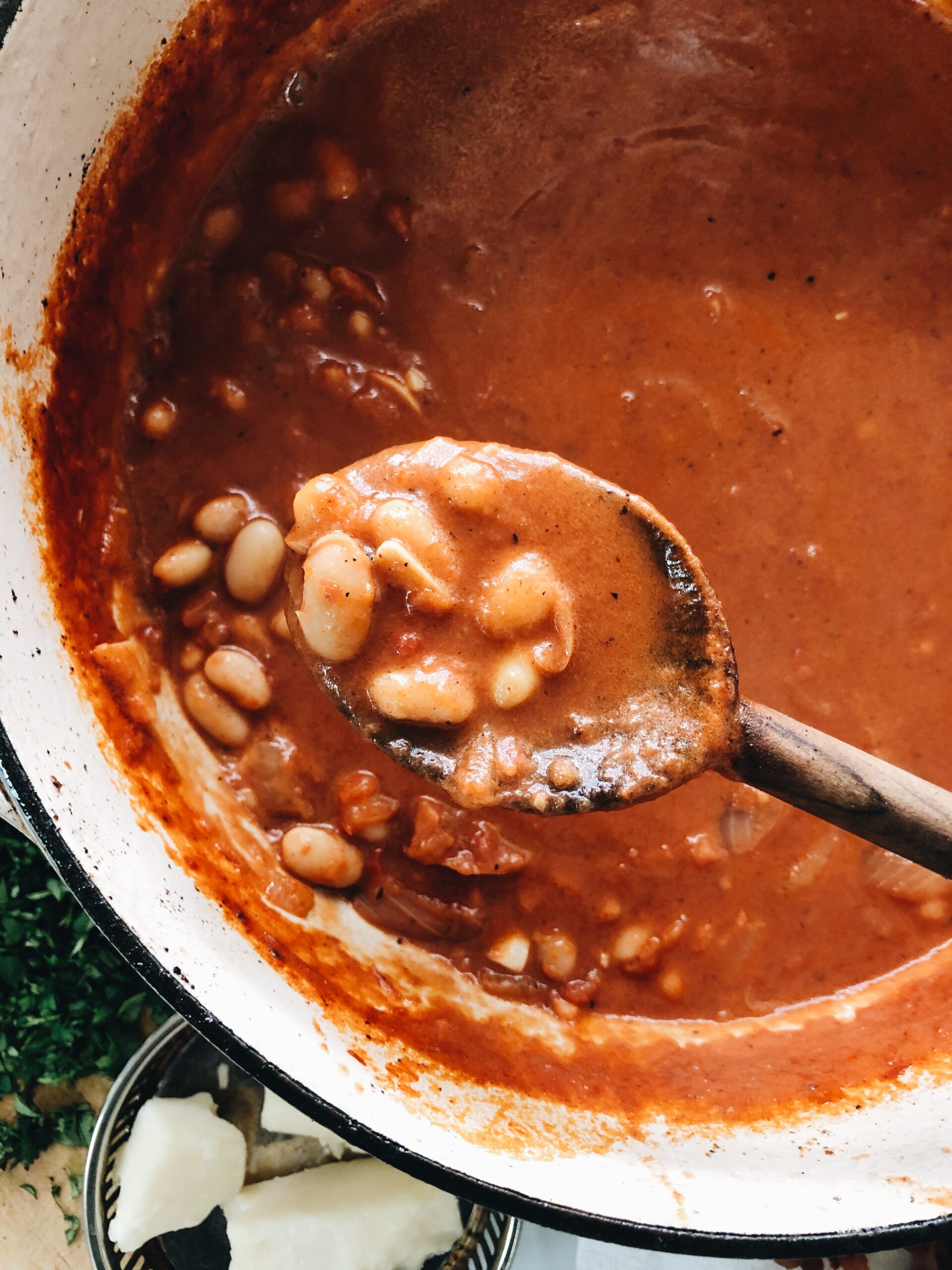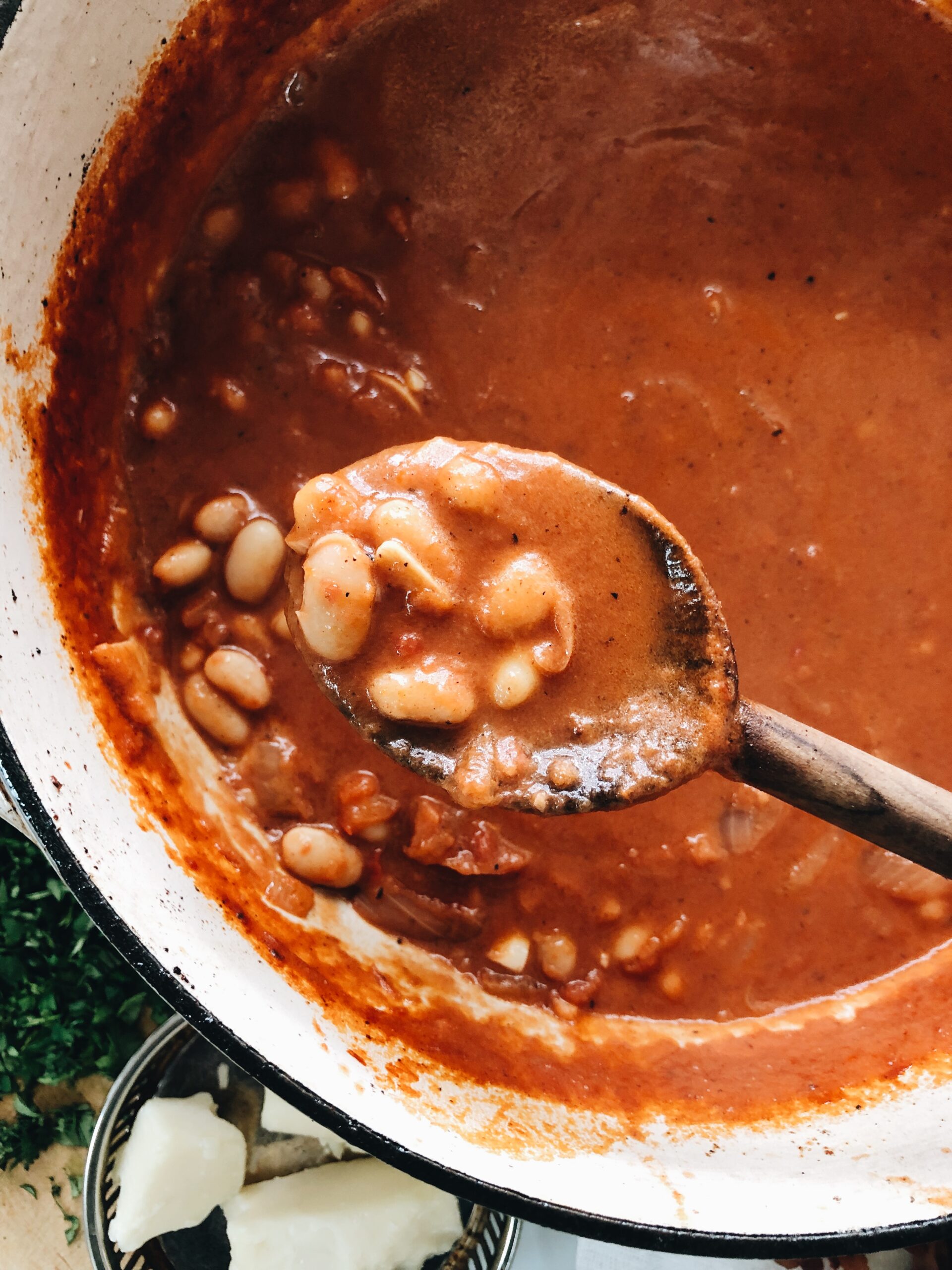 You can like, see that flavor.
Now we'll ladle and garnish and that's where the final magic happens.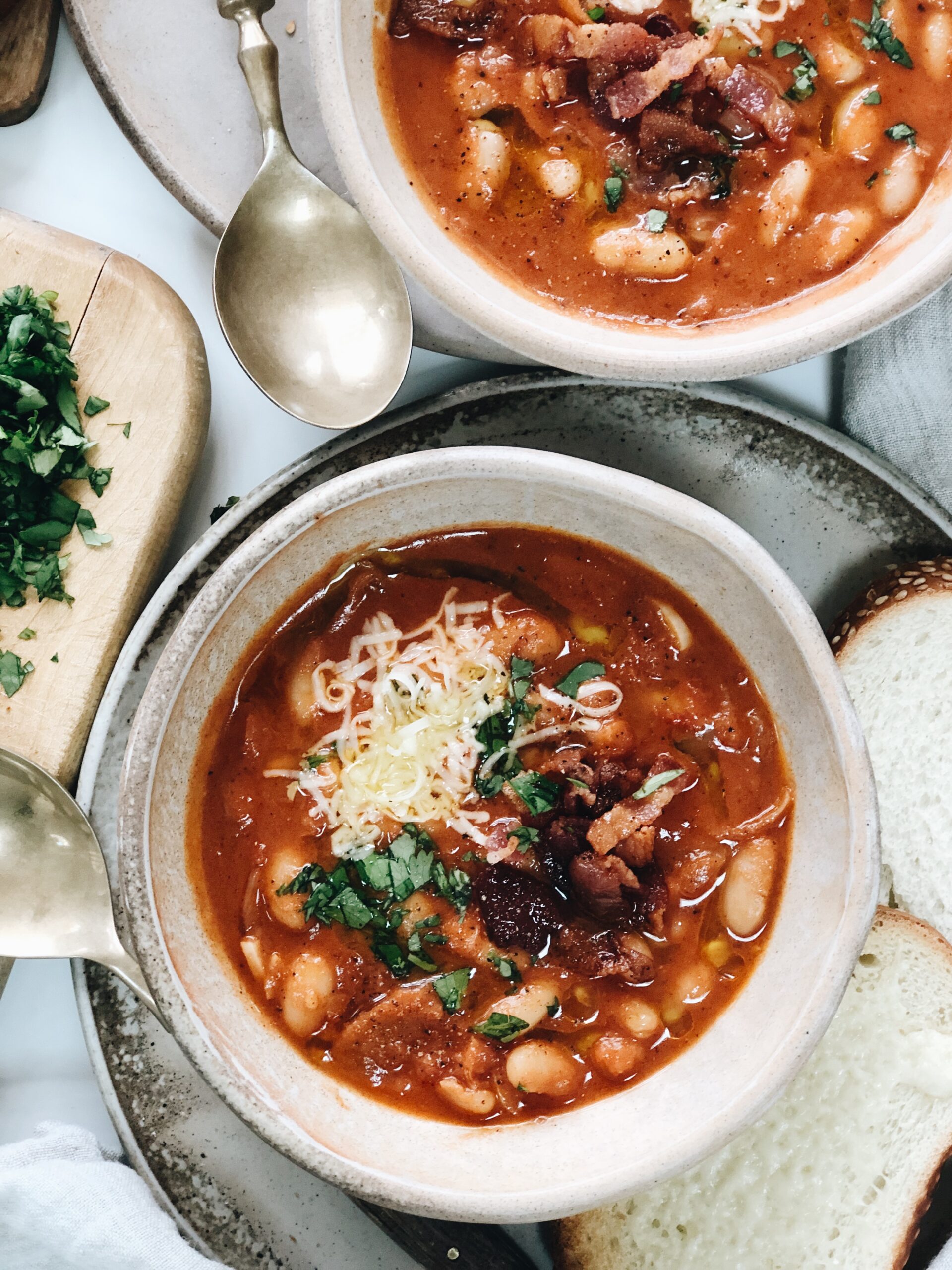 Grated or shredded aged white cheddar. Something sharp and flavorful.
Get some chopped fresh parsley on top, too!
And the bacon – remember the bacon? Or did you SNACK ON IT ALL? I know how you people are.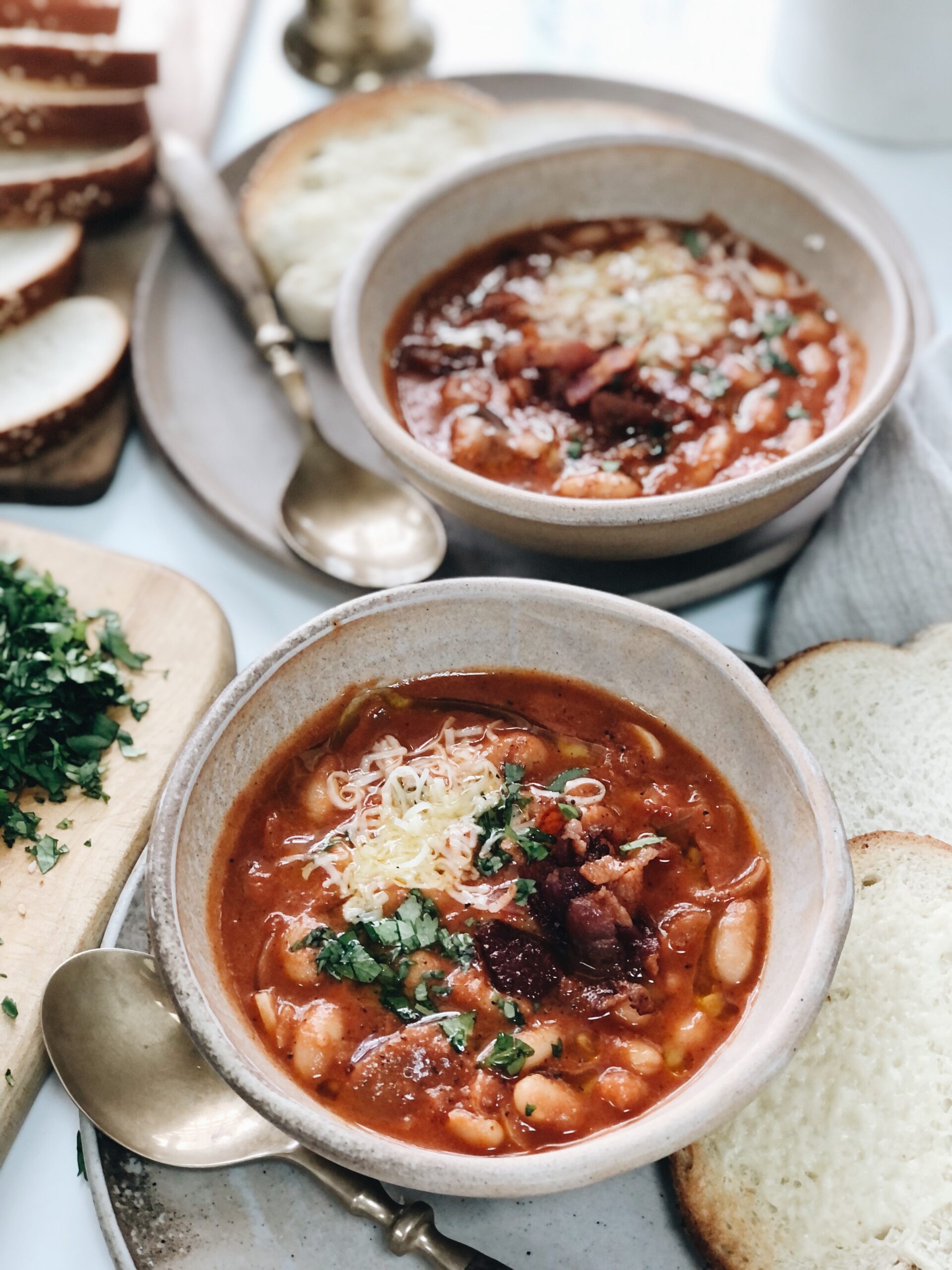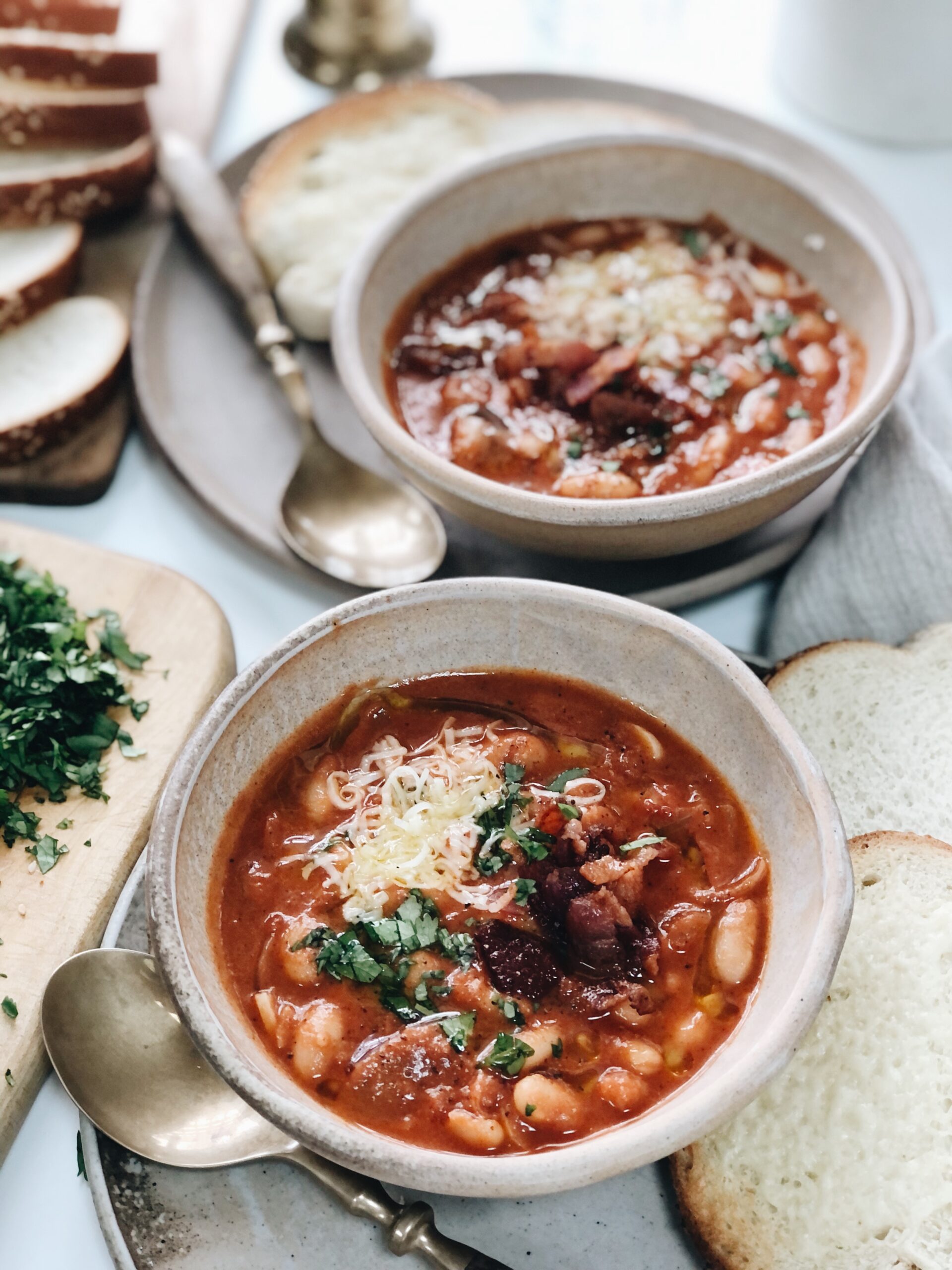 Also, a drizzle of your best olive oil and a crack of black pepper – boom. Divine. You will sob.
If this isn't winter in a soup for you, you've gone insane.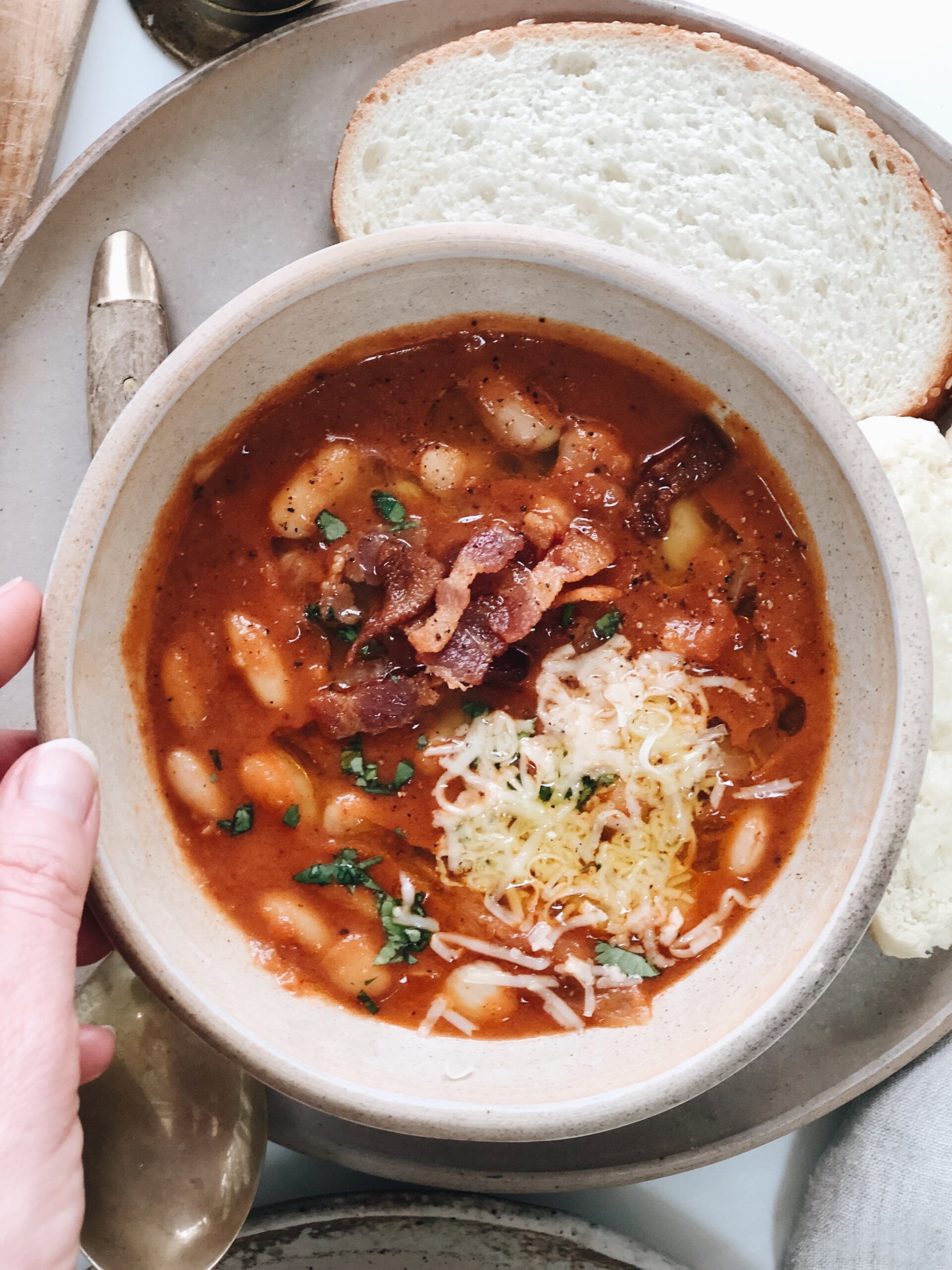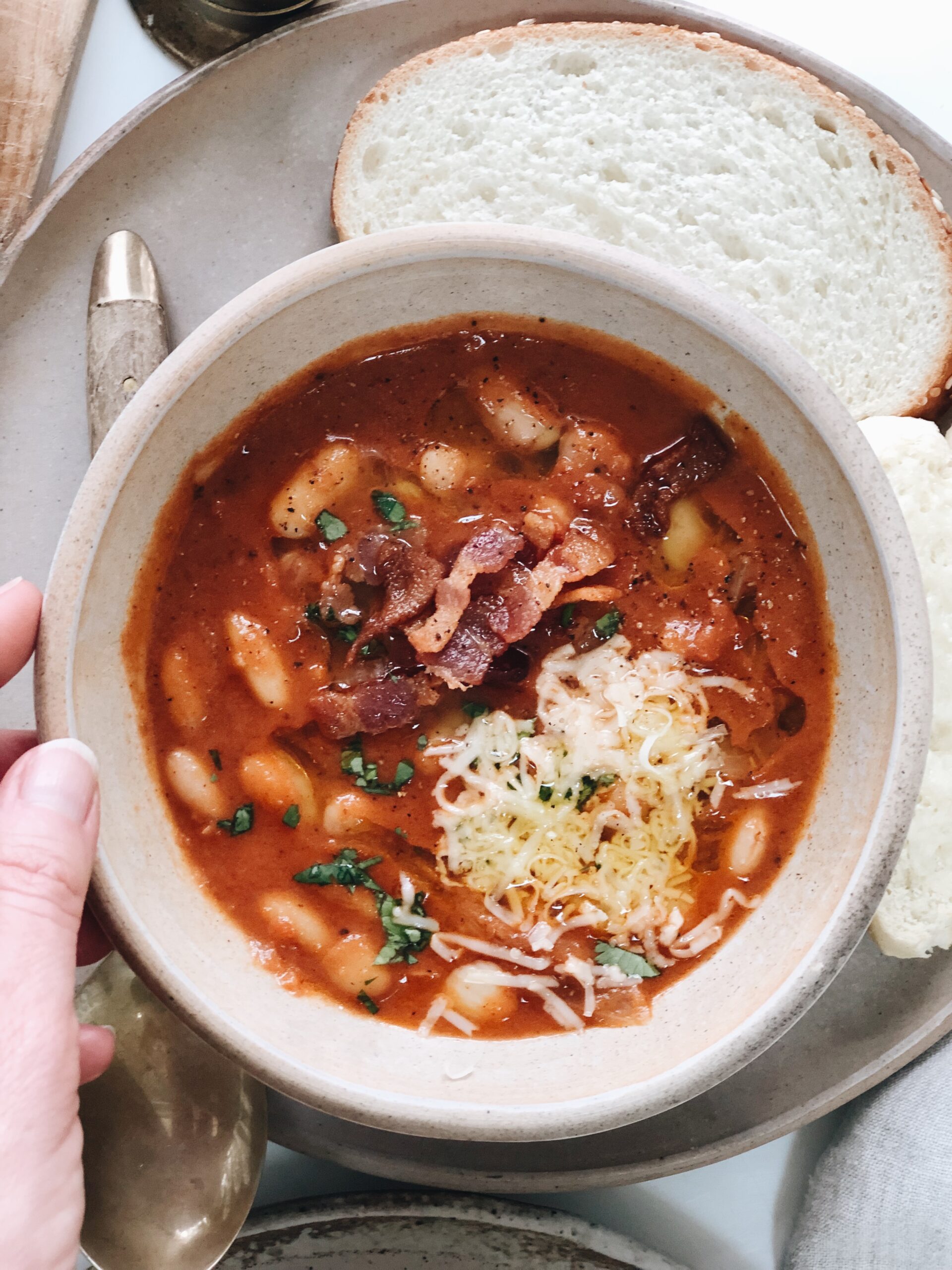 Did the kids eat it? They SNARFED. I was sort of shocked, actually. They asked for another helping which nearly sent me to the moon.
Make this! Simple to whip up, one-pot wonder, and soooo comforting and flavorful you'll need to reflect on life immediately after.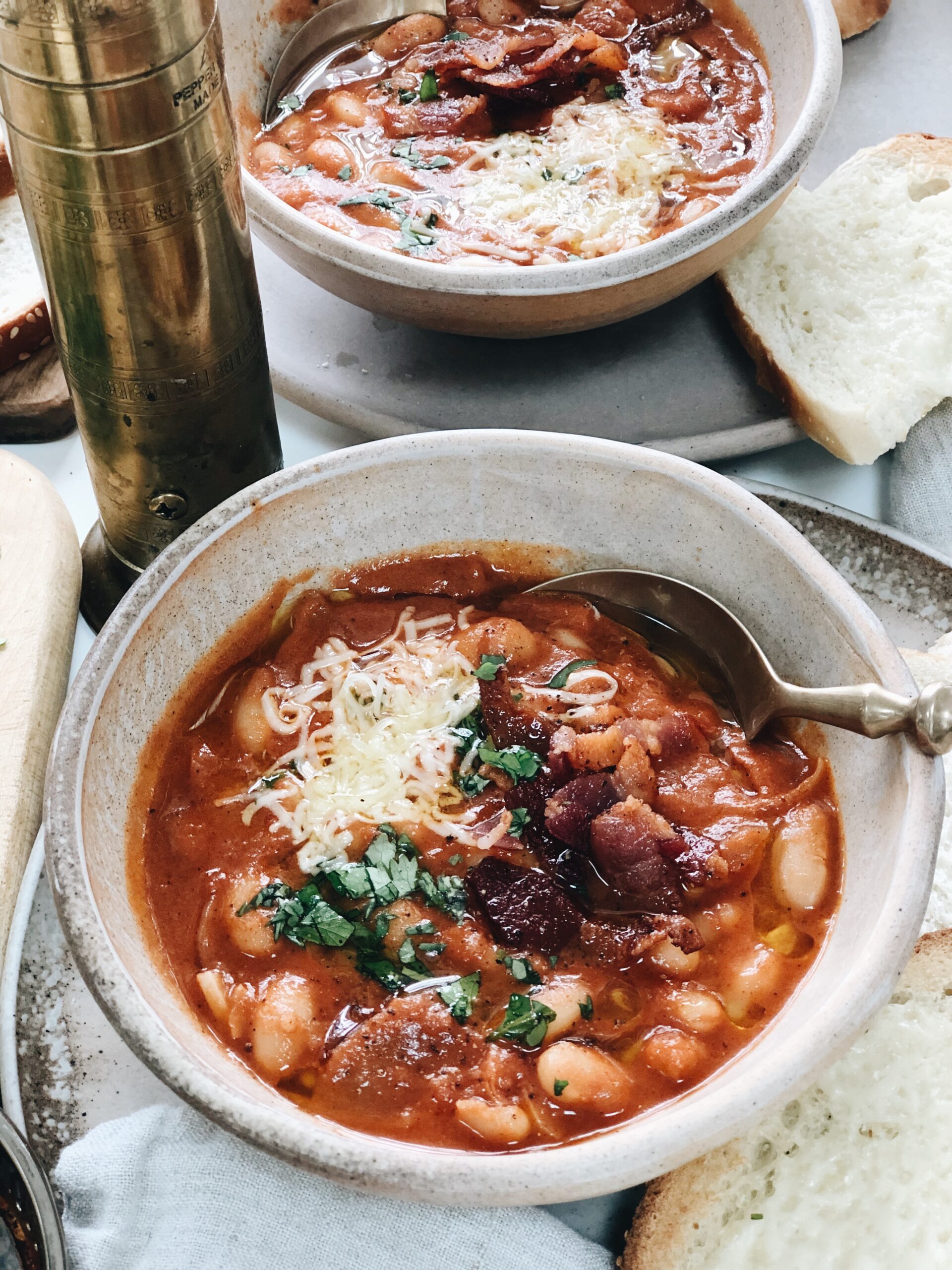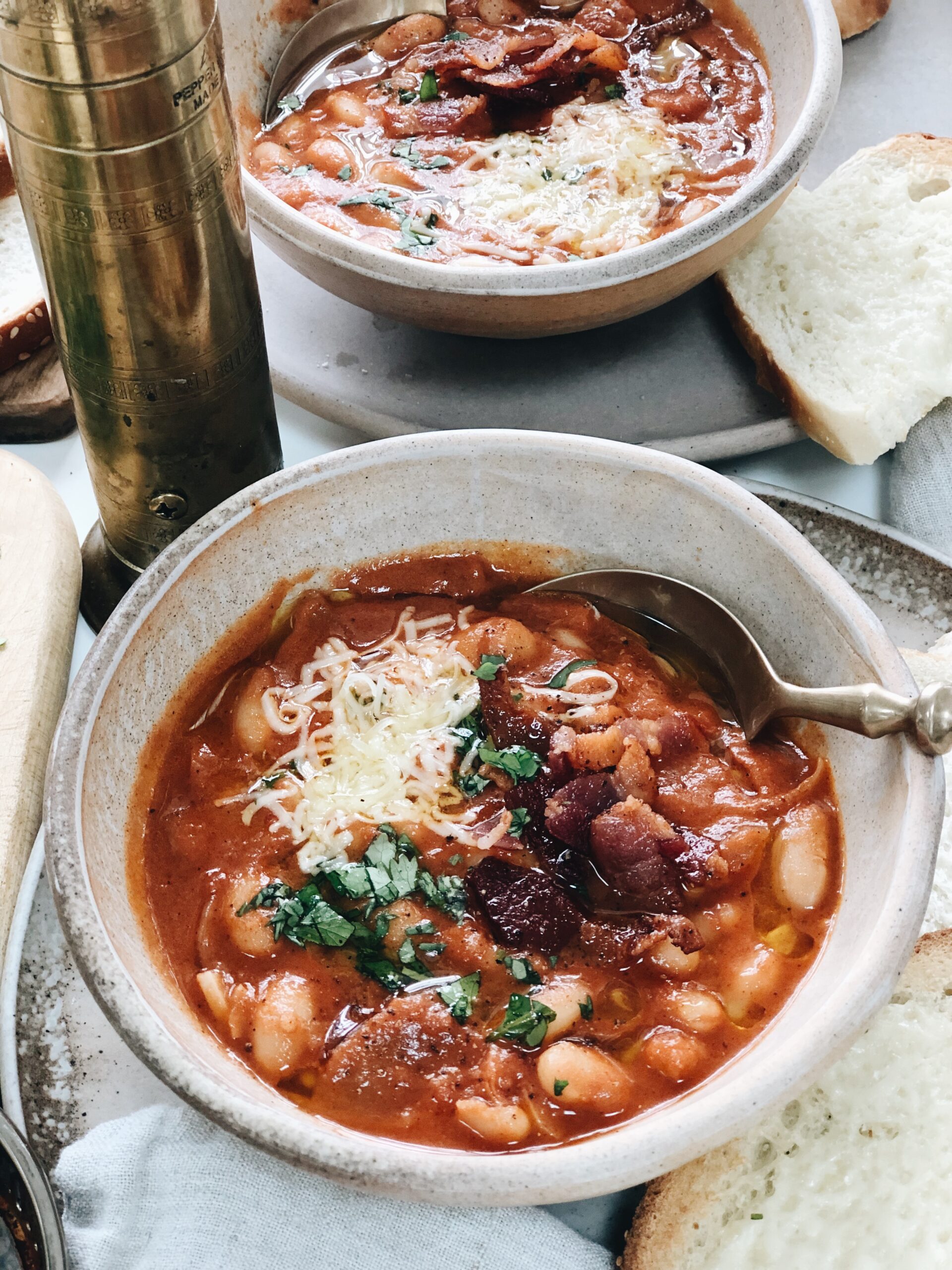 This soup was made for February. And your face.
Smoky White Bean and Tomato Soup with Bacon
Ingredients
12 oz thick-cut bacon, chopped
1/2 white onion, thinly sliced
5-6 cloves garlic, minced
2 (15.5 oz) cans cannellini beans, drained and rinsed
1/2 tsp smoked paprika
26 oz jar favorite marinara
1 cup milk or cream
1 cup chicken stock
Coarse salt
Grated or shredded aged white cheddar, for garnish
Parsley, for garnish
Instructions
Heat a soup pot or dutch oven over medium. Add the chopped bacon and render until crispy, just about five minutes. Using a slotted spoon, transfer the bacon to a plate with paper towels to drain, leaving the bacon grease in the pot. Add the sliced onions to the pot and sauté for three minutes, until they soften and take on a little color from the reserved fat/browned bits. If you need to deglaze with a splash of water that's totally fine. Add the minced garlic and sauté another minute or two, until wildly fragrant.
Add the white beans and smoked paprika. Give this a stir to let everything coat. Now add the marinara, milk and chicken stock. Bring to a simmer and let this cook really only about ten minutes. Give it a pinch of salt for flavor. Taste it. Perfect? Perfect.
Ladle into soup bowls and garnish with grated cheese, some freshly chopped parsley and the reserved crumbled bacon! That's the important part. Don't forget the bacon.
A nice drizzle of your best oil and a crack of black pepper and you're completely set.
Serve immediately!
Serves 6.
7.8.1.2
552
https://bevcooks.com/smoky-white-bean-and-tomato-soup-with-bacon/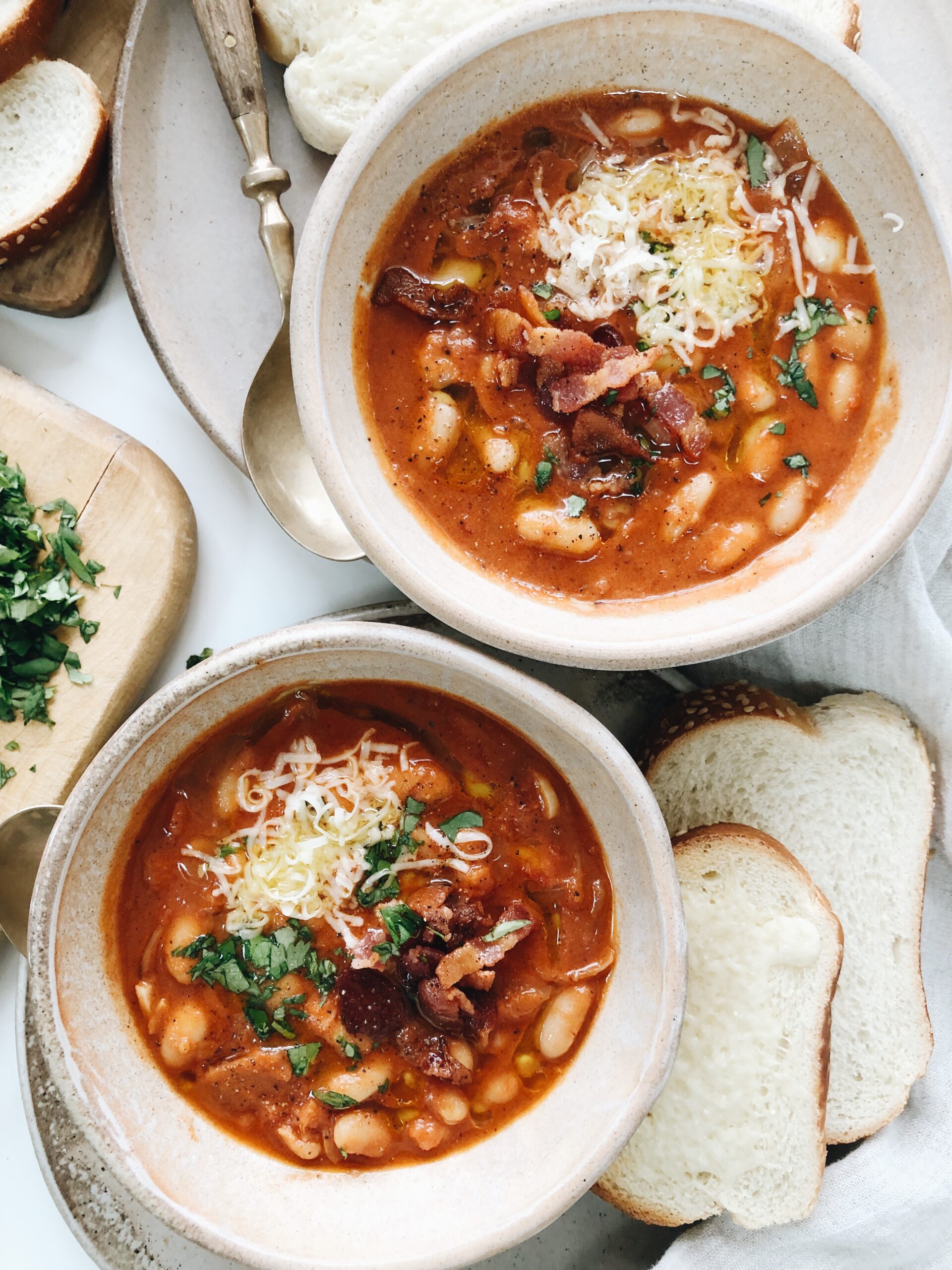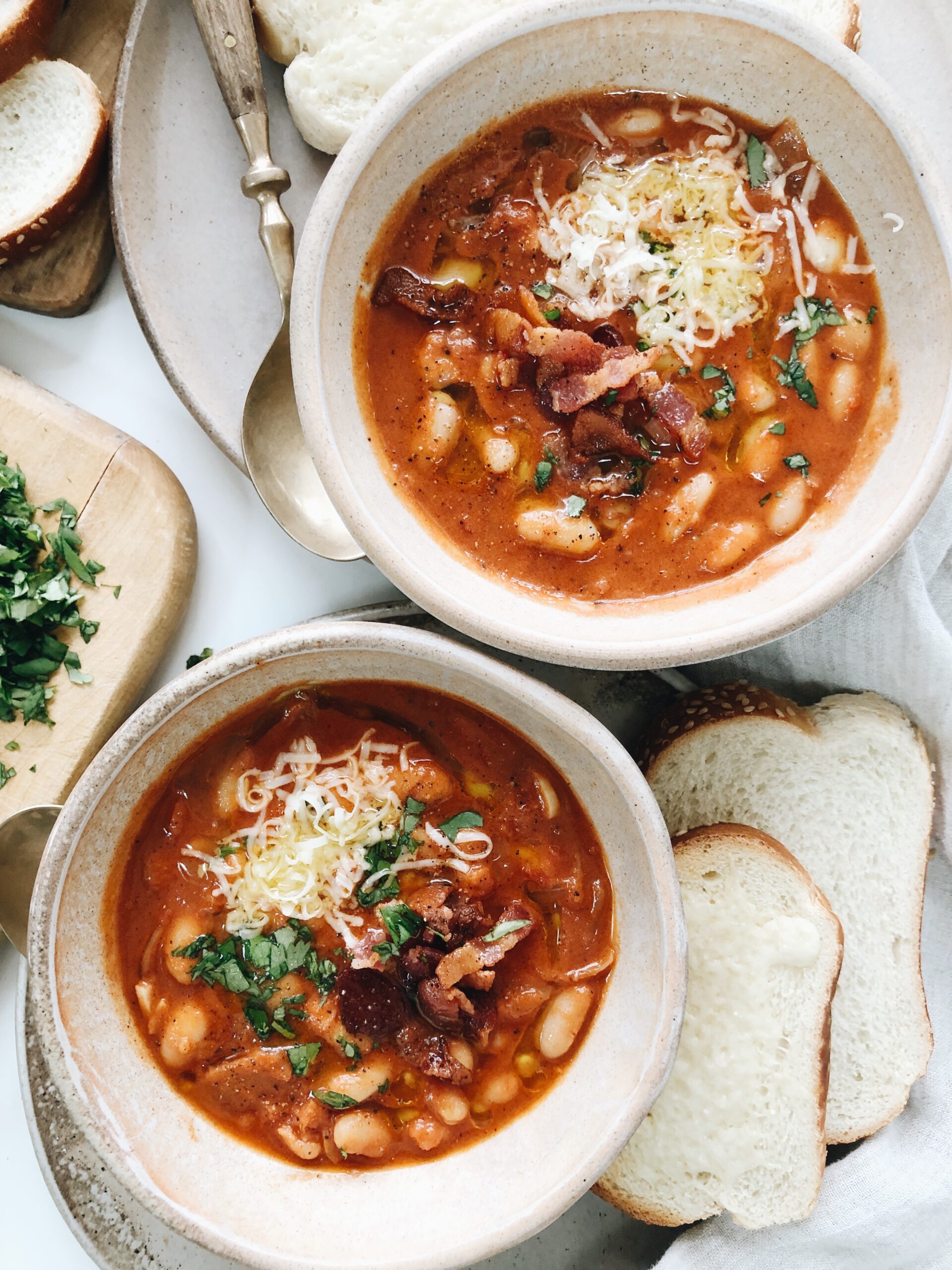 Slurp slurp!