The Smoked Cajun Soup! Oh, I've been embarrassingly excited to show you this.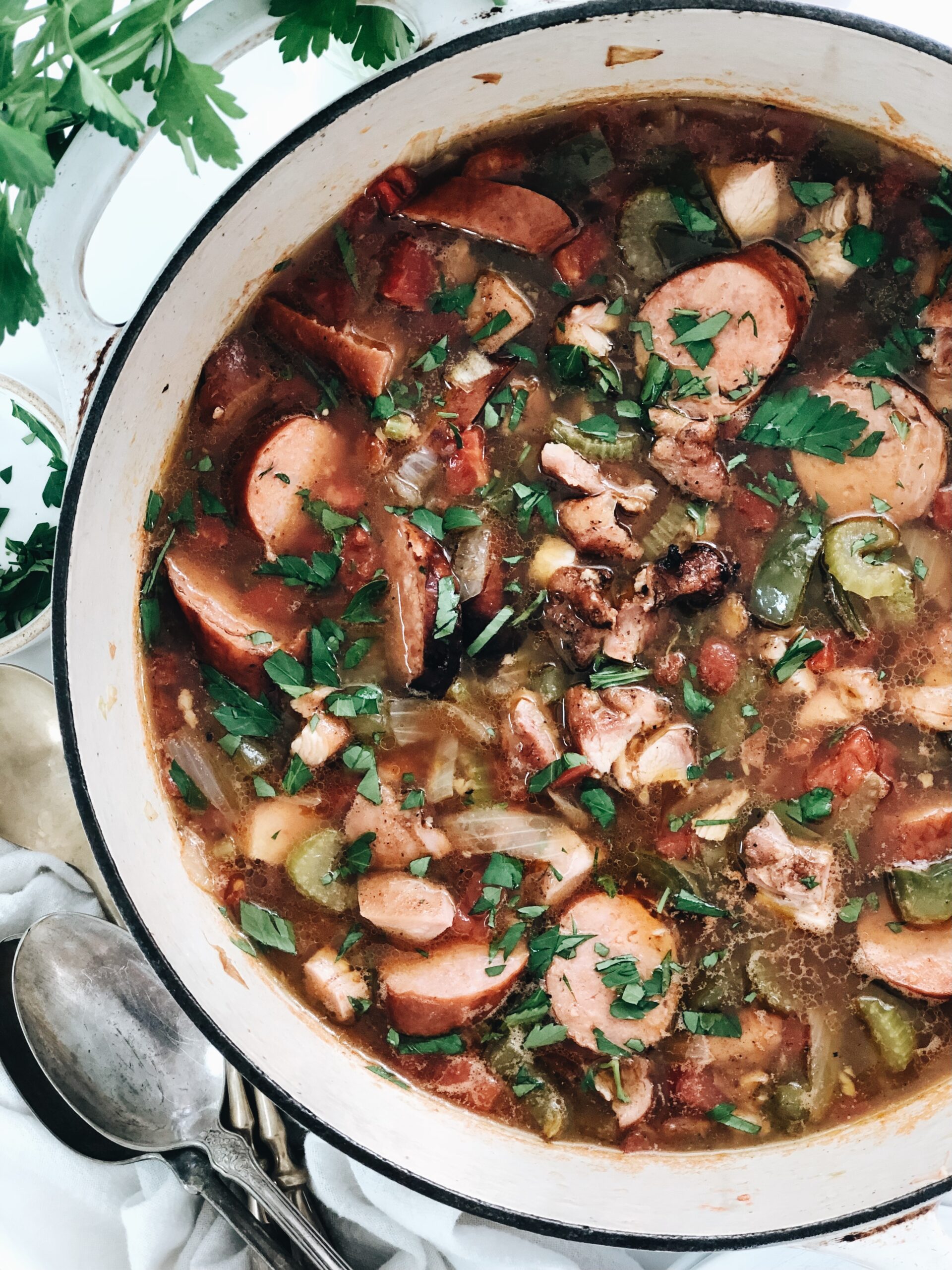 PHENOM. Stupid flavorful. And you can make it work without a smoker, so don't get murdery just yet.
Let us peepeth.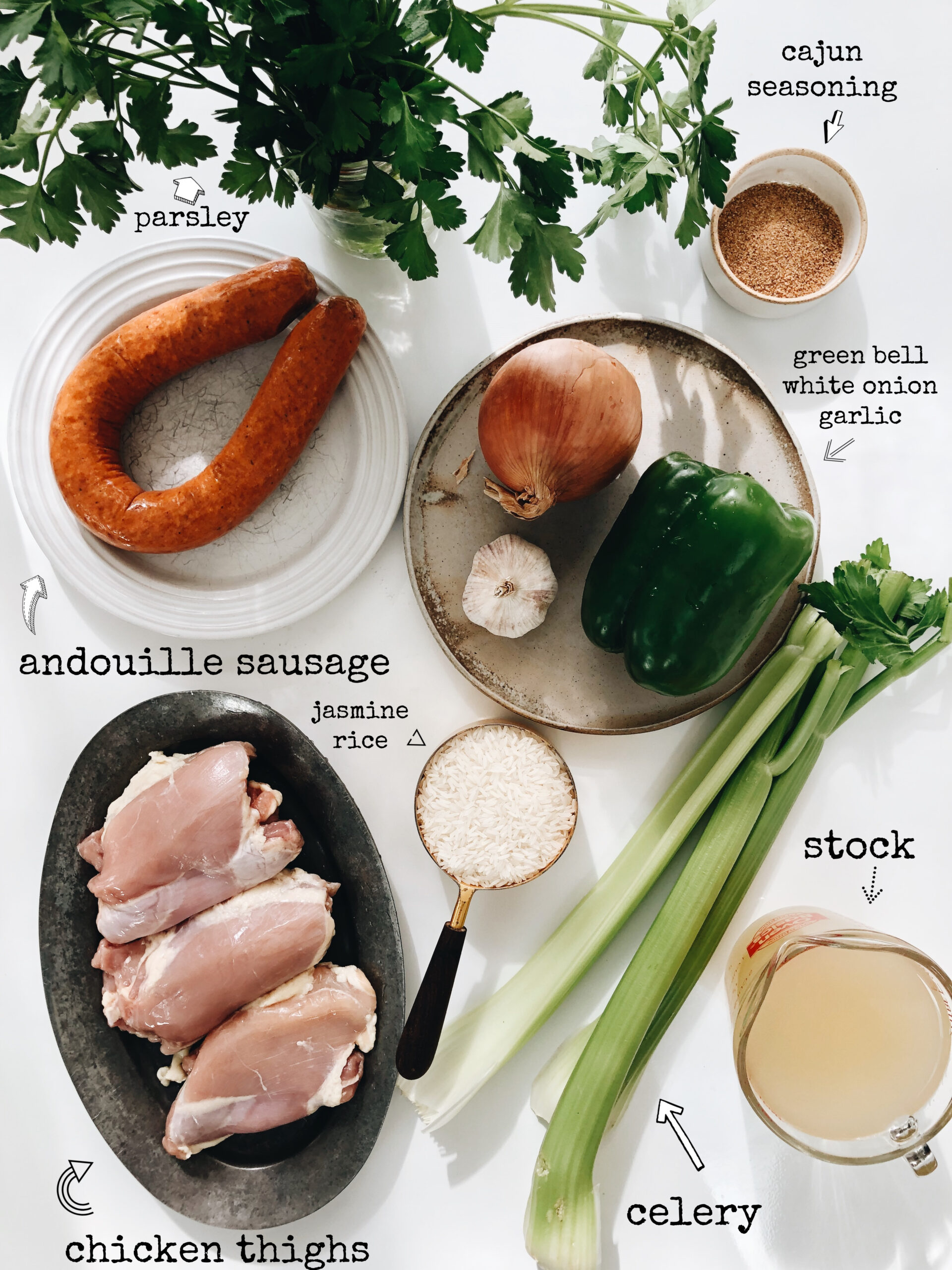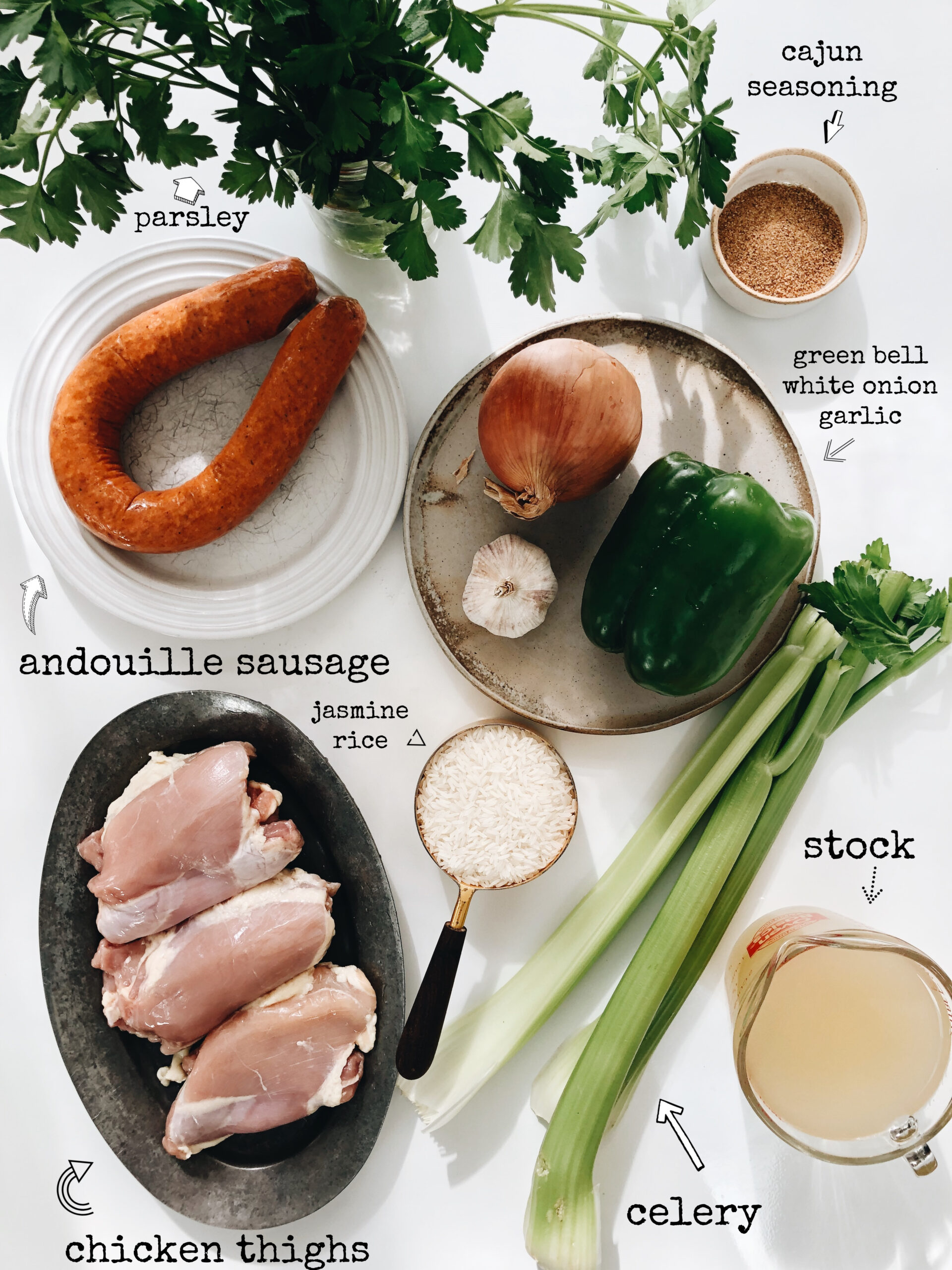 The one thing missing from this photo because I'm a ding-dong is a can of diced tomatoes. Get one!
And these thighs are monstrous. Usually when I buy chicken thighs they come five or six to a pack, but my store was out so I bought at the counter and they gave me thunder thighs. Ha! Oh.
Everything else is simple. I used Tony's for the Cajun seasoning, but honestly whatever you have Cajun related is perfect.
Oh, and the rice? Cook it! One cup dried will make you about two cups cooked. Stove-top or rice cooker, you fly.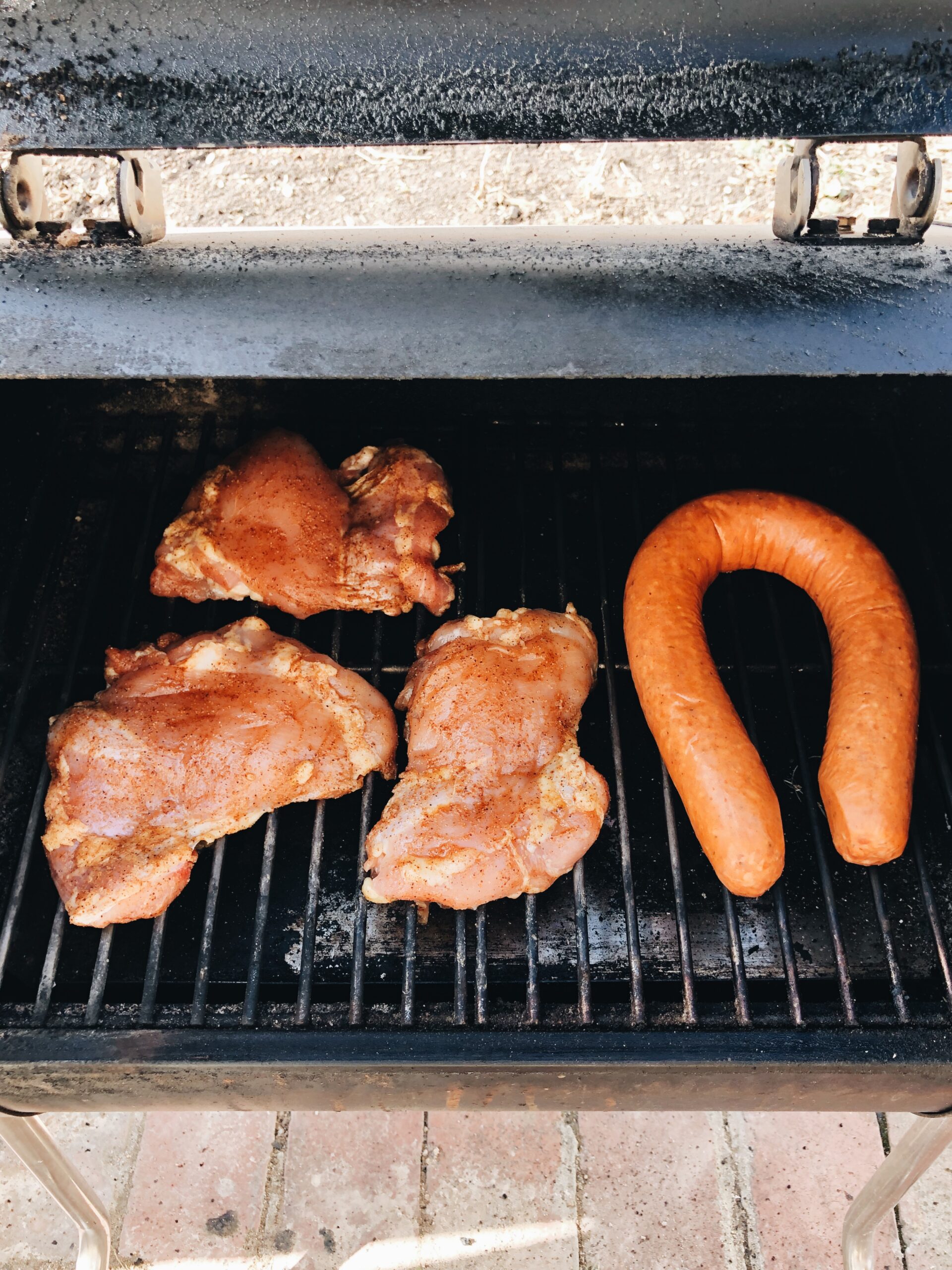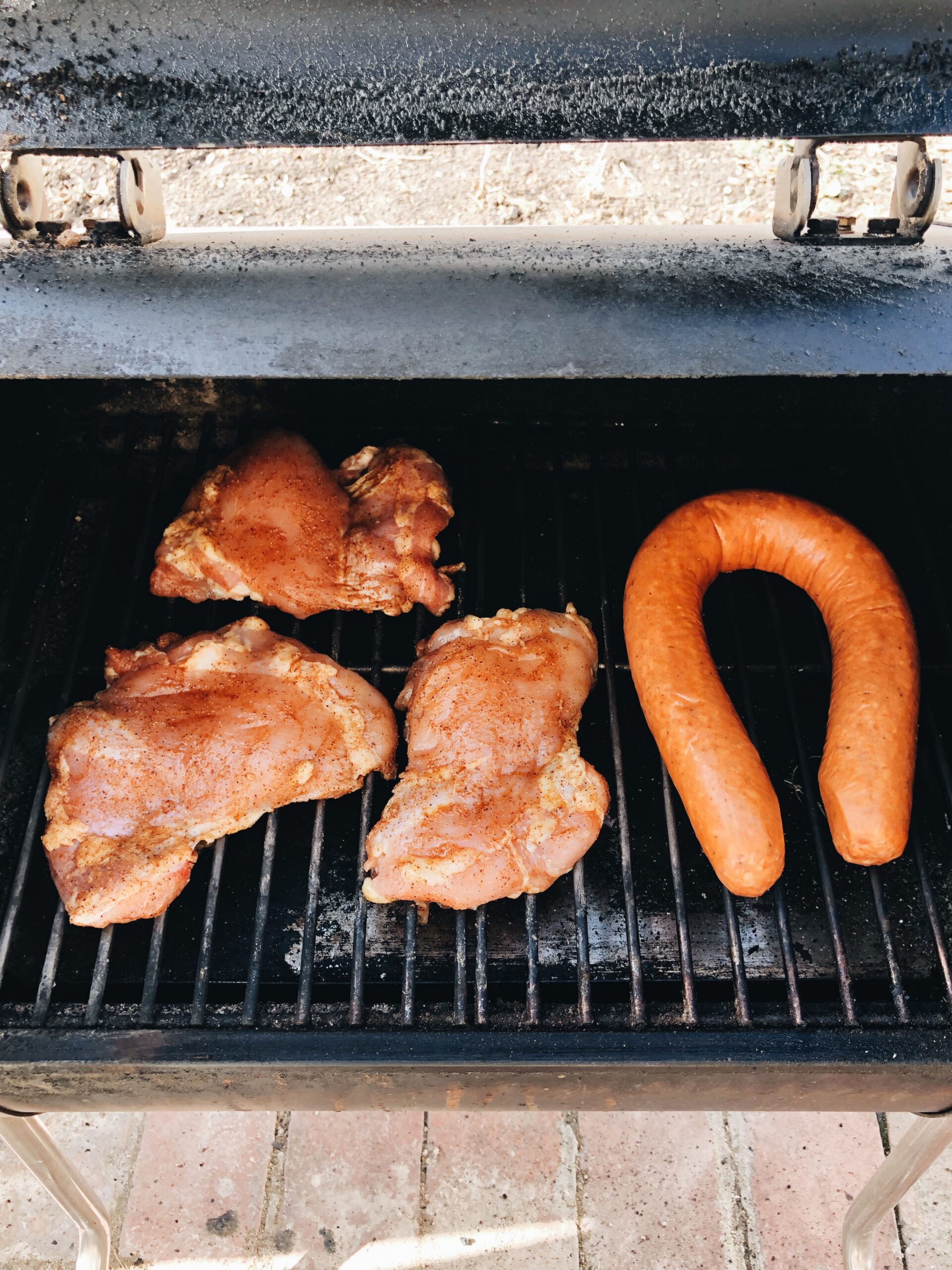 So, we have a pellet smoker. And it's perfect to use for this, since it IS smoked Cajun soup after all. But, if all you have is a grill, indoor or out, it gets the job done. Just grill it the way you grill things on your grill, and you're good. Girl. Ha! Oh.
But if you have a smoker, heat it to 200. Season the thighs (the chicken, not yours) with the Cajun seasoning, and violently slap it all on the smoker for 45 minutes. Then crank the heat up to 400 and let it go ten more, just to get that good charring like we like.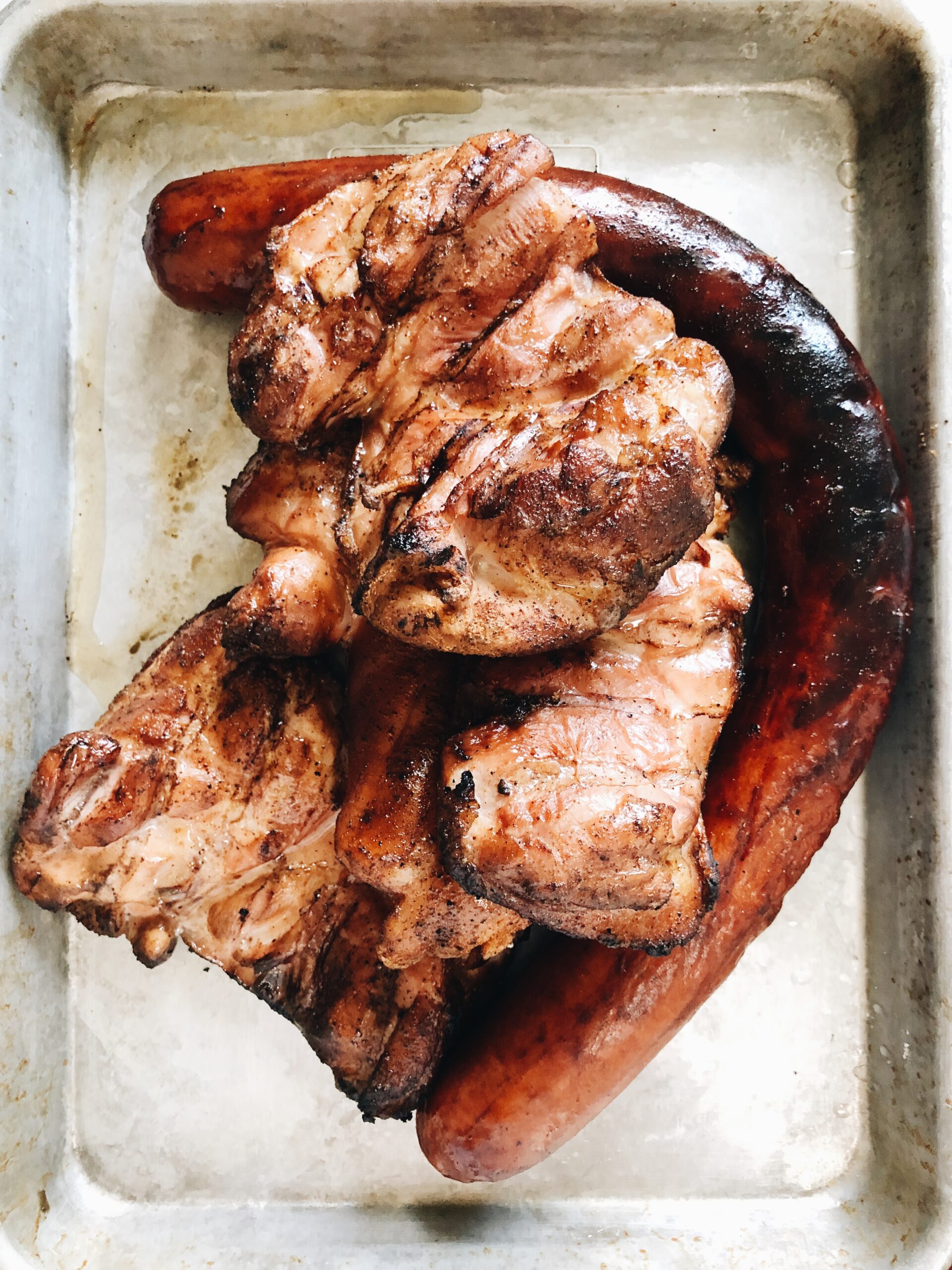 Yes, please.
Let this rest for ten minutes, then slice the sausage and chop up the chicken into little chunks. Soup chunk size. Ya know.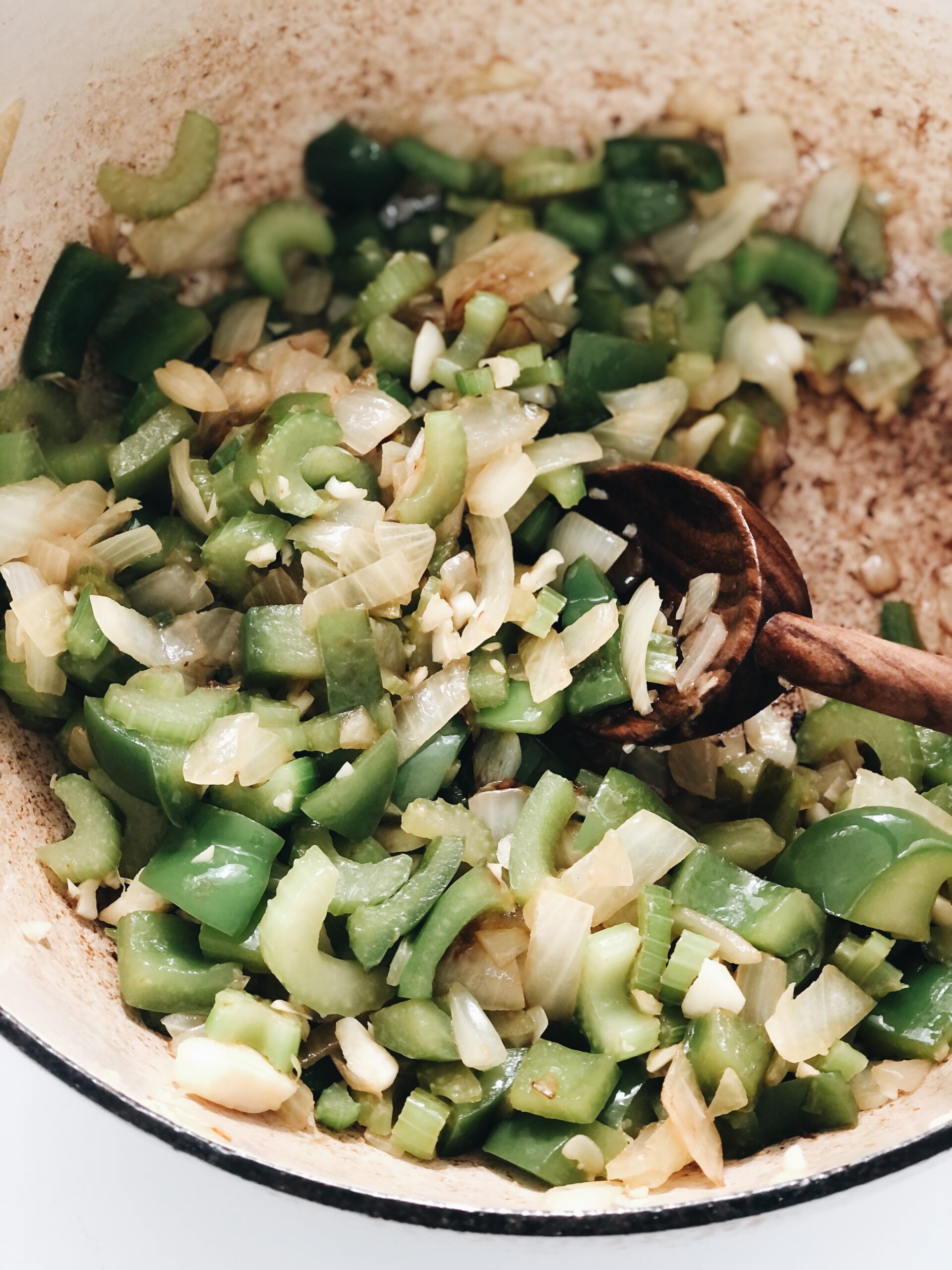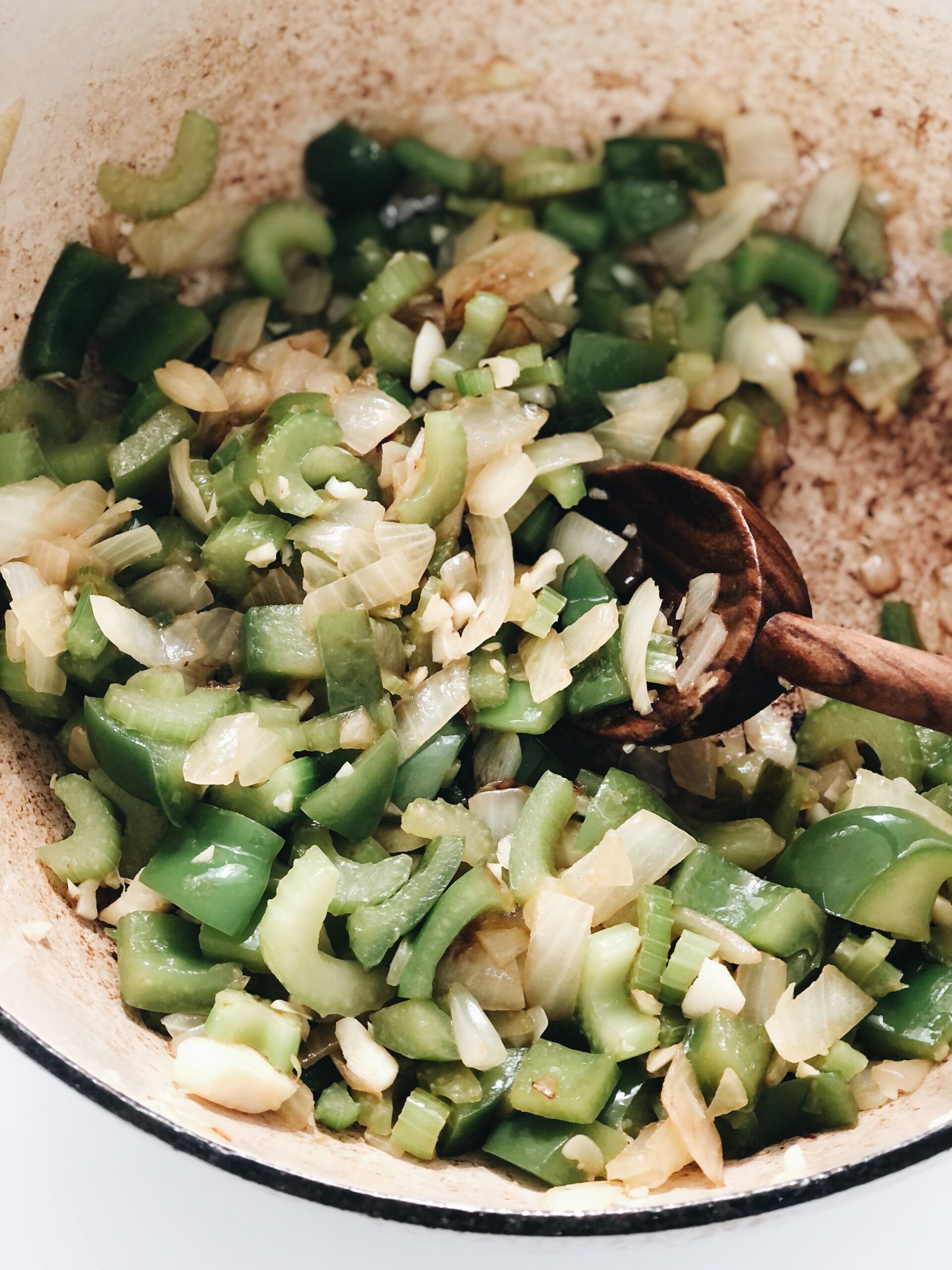 In the meantime, we'll start our soup. Get the green bells and chopped onion in a pot with a little oil. Sauté this for about five minutes, until it all starts to sweat and get a little color. Then we'll add minced garlic and go another few minutes, until the fragrance slays your face. Pinch of salt in this, too, like we do.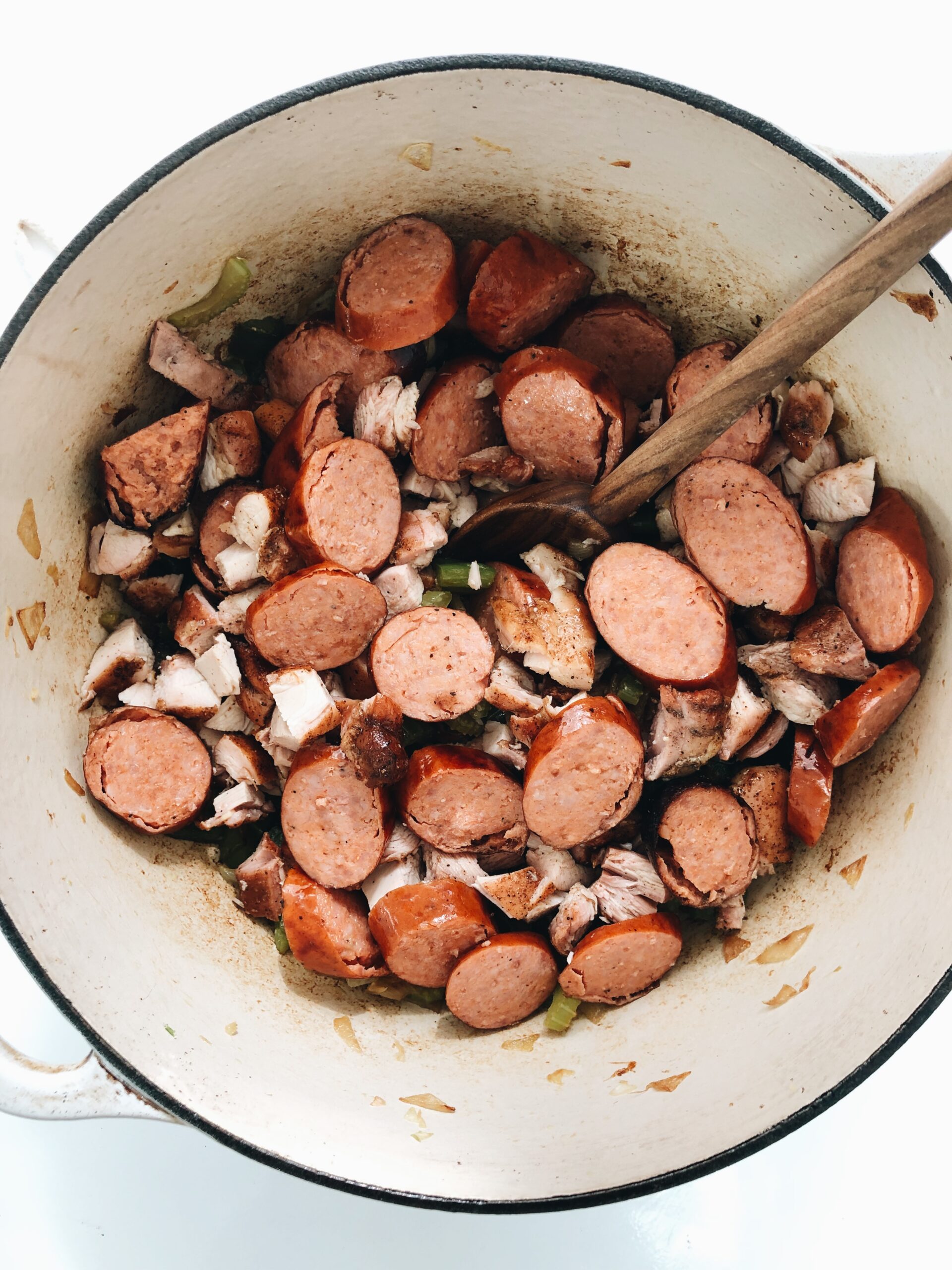 Let's add the meat! Give it a quick stir and let it marry up for a hot minute.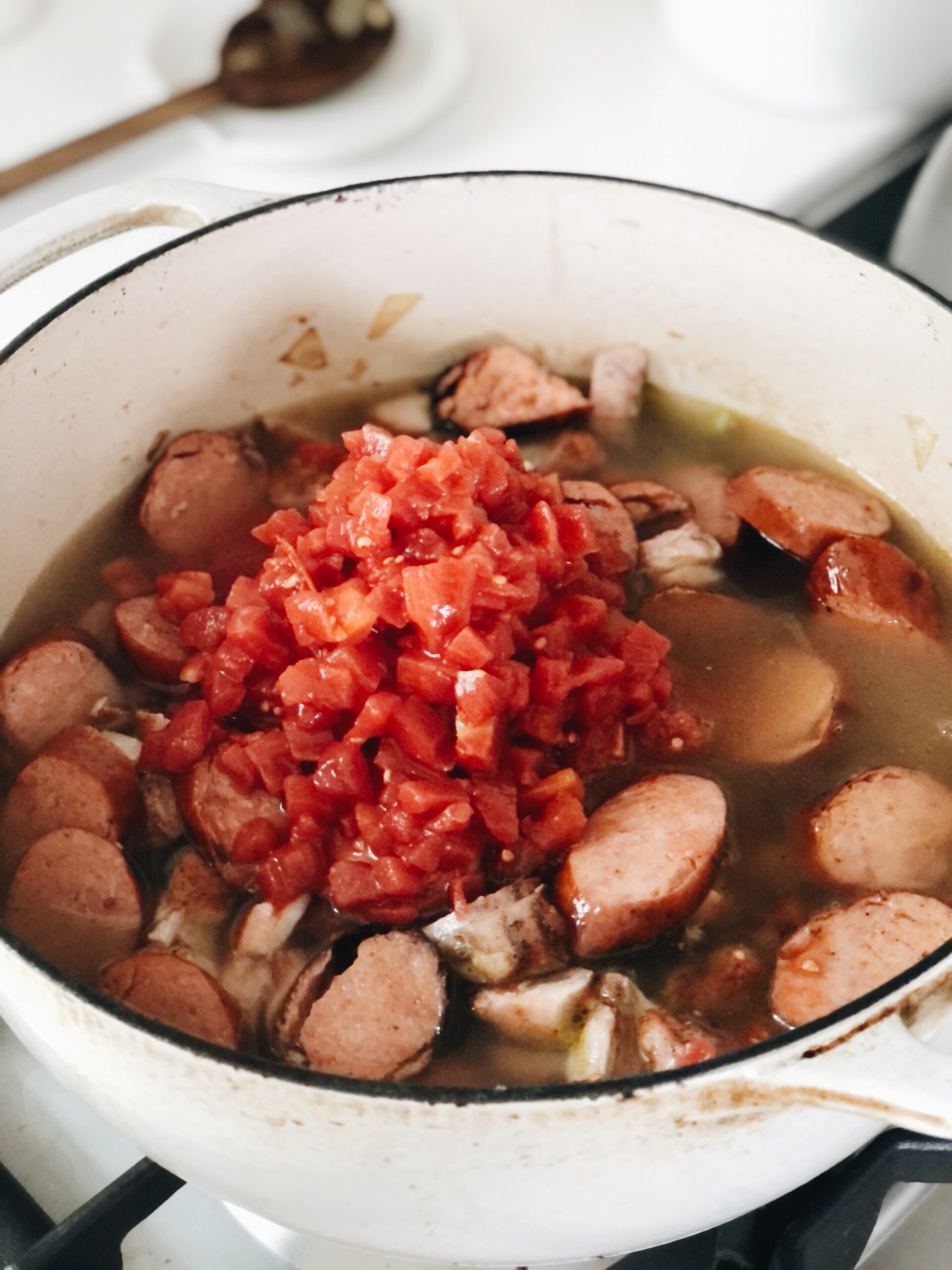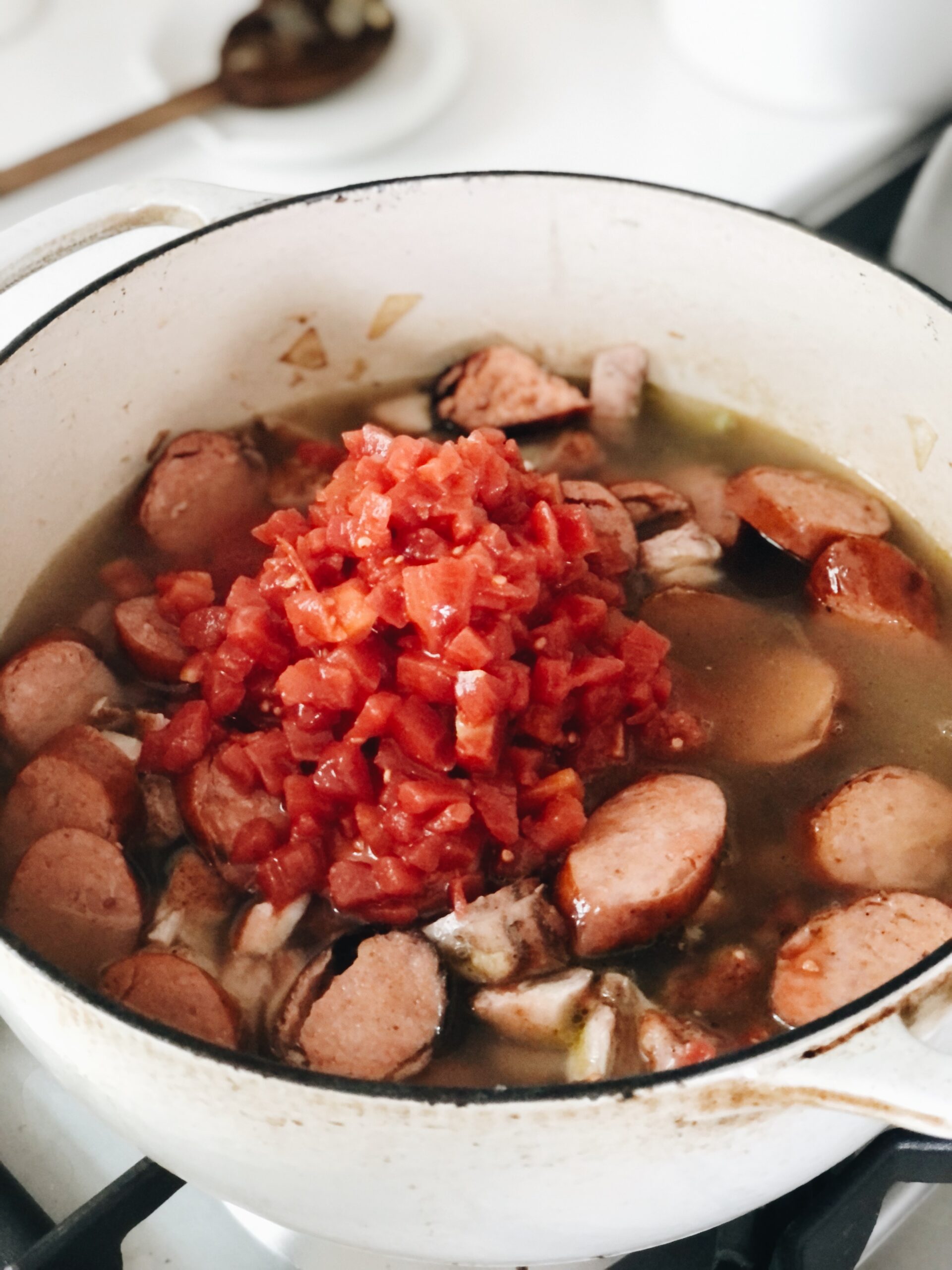 Then we'll add the diced tomatoes and chicken stock. And really this is IT. Bring it to a simmer and let it go for ten minutes, just long enough for flavor melding and deepening. Taste it for salt. Need a pinch? The chicken and sausage have plenty of salt, but you can tweak it right here if needed.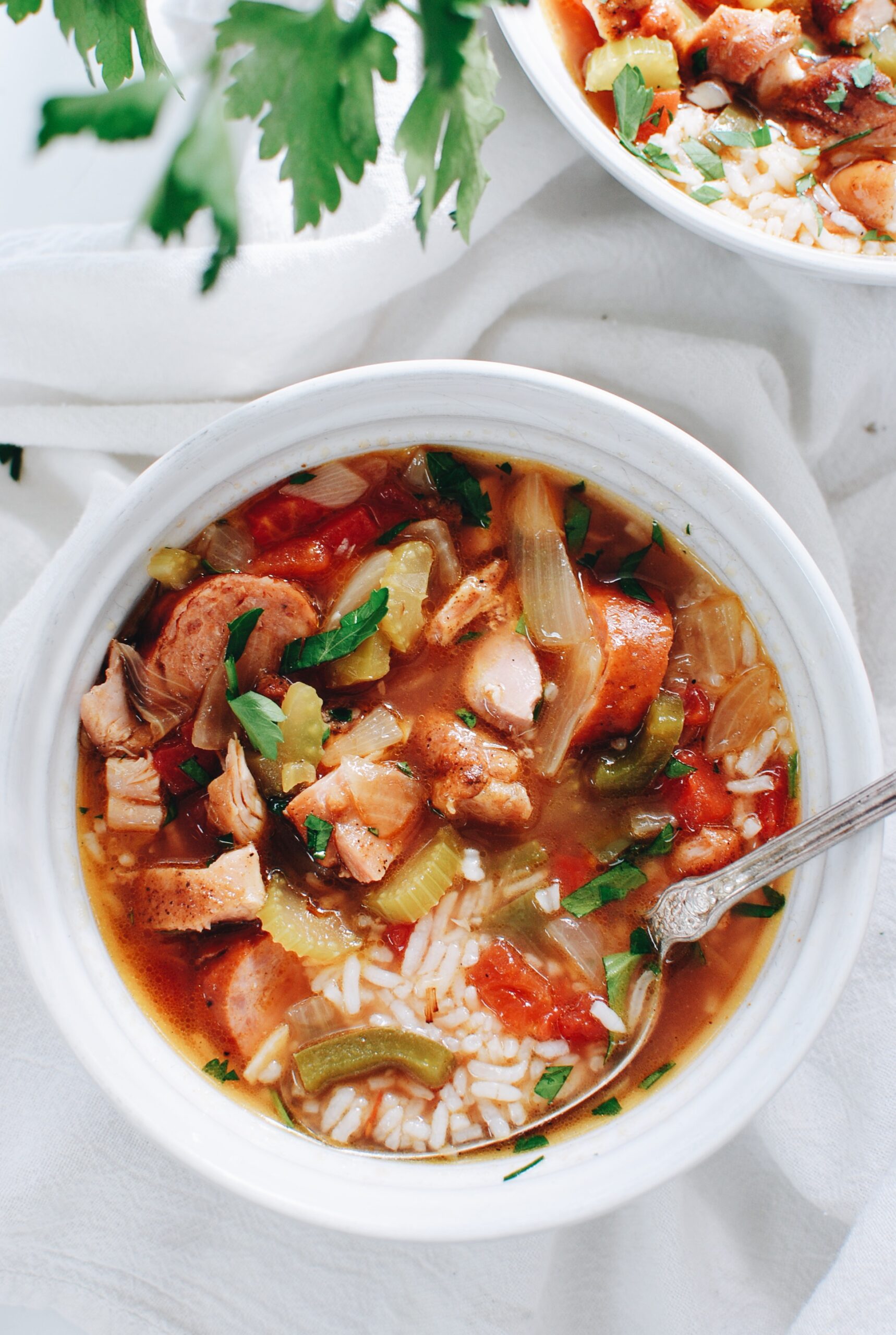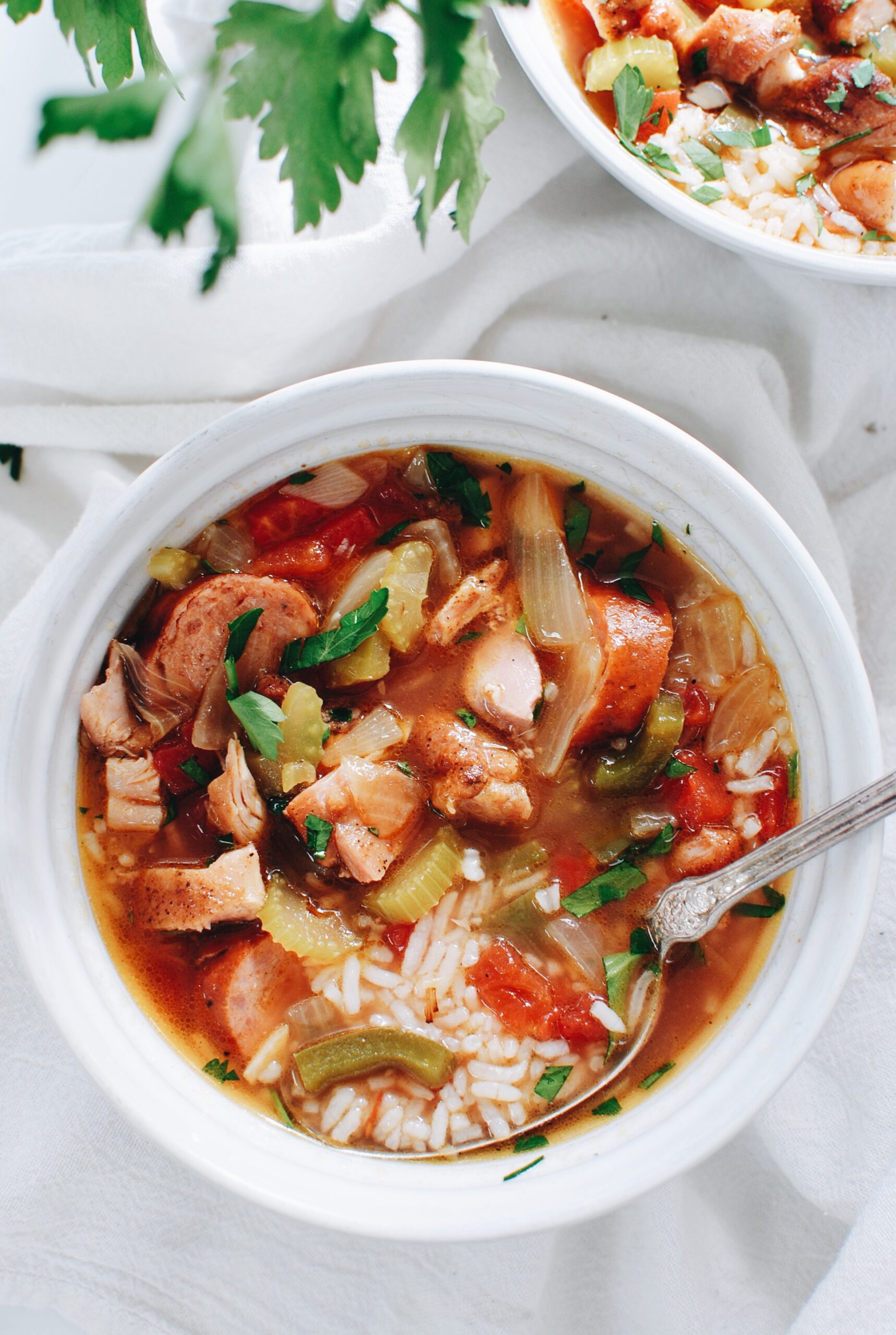 Boom.
This is what makes it so good. You've cooked the rice ahead of time, so you'll just add a small mound to a bowl and ladle the soup right over it. And that keeps the soup from getting gummy or starchy or too thick. It's perfect.
Chop up some parsley for good measure. Maybe a lemon wedge? Of course.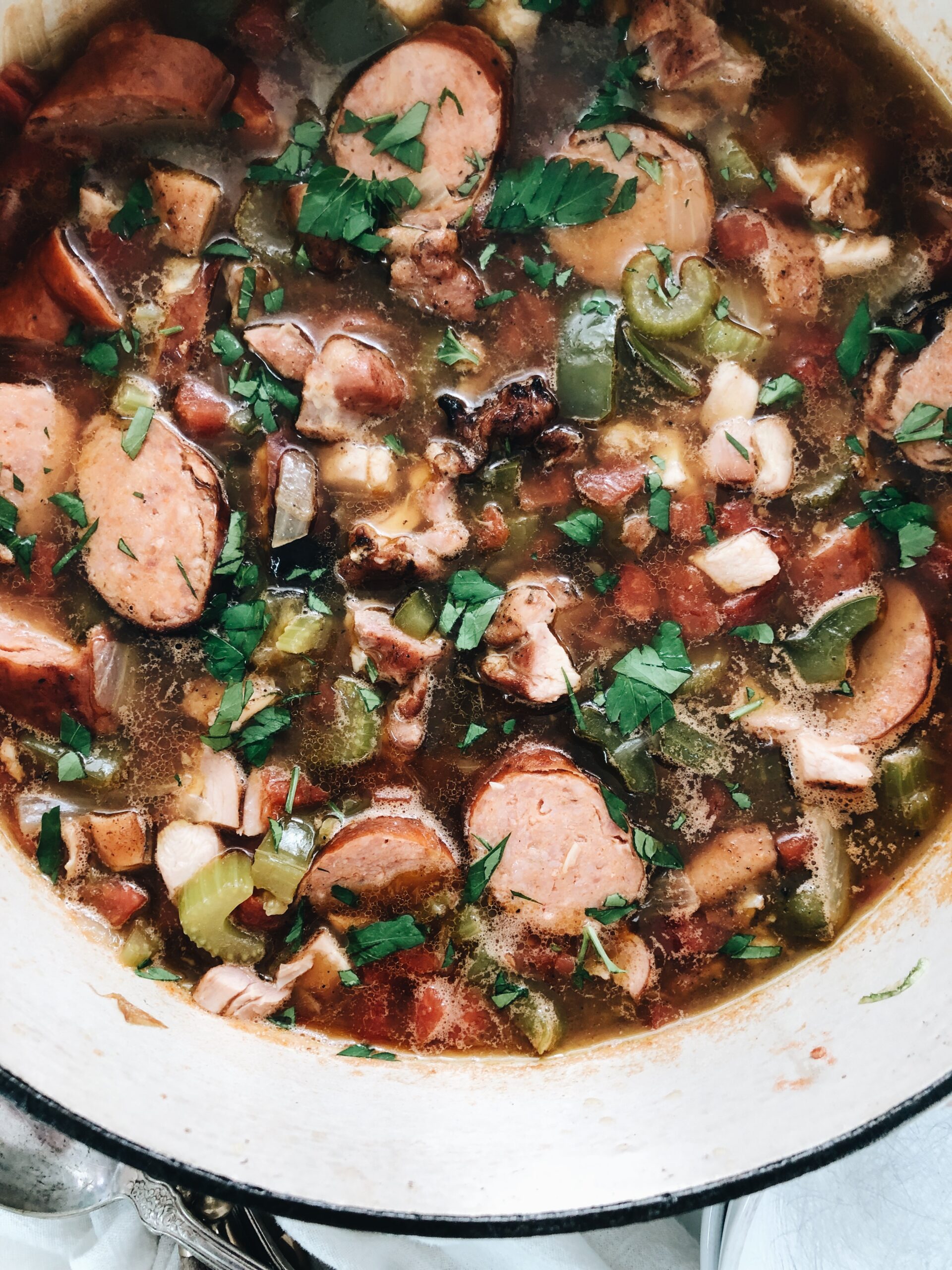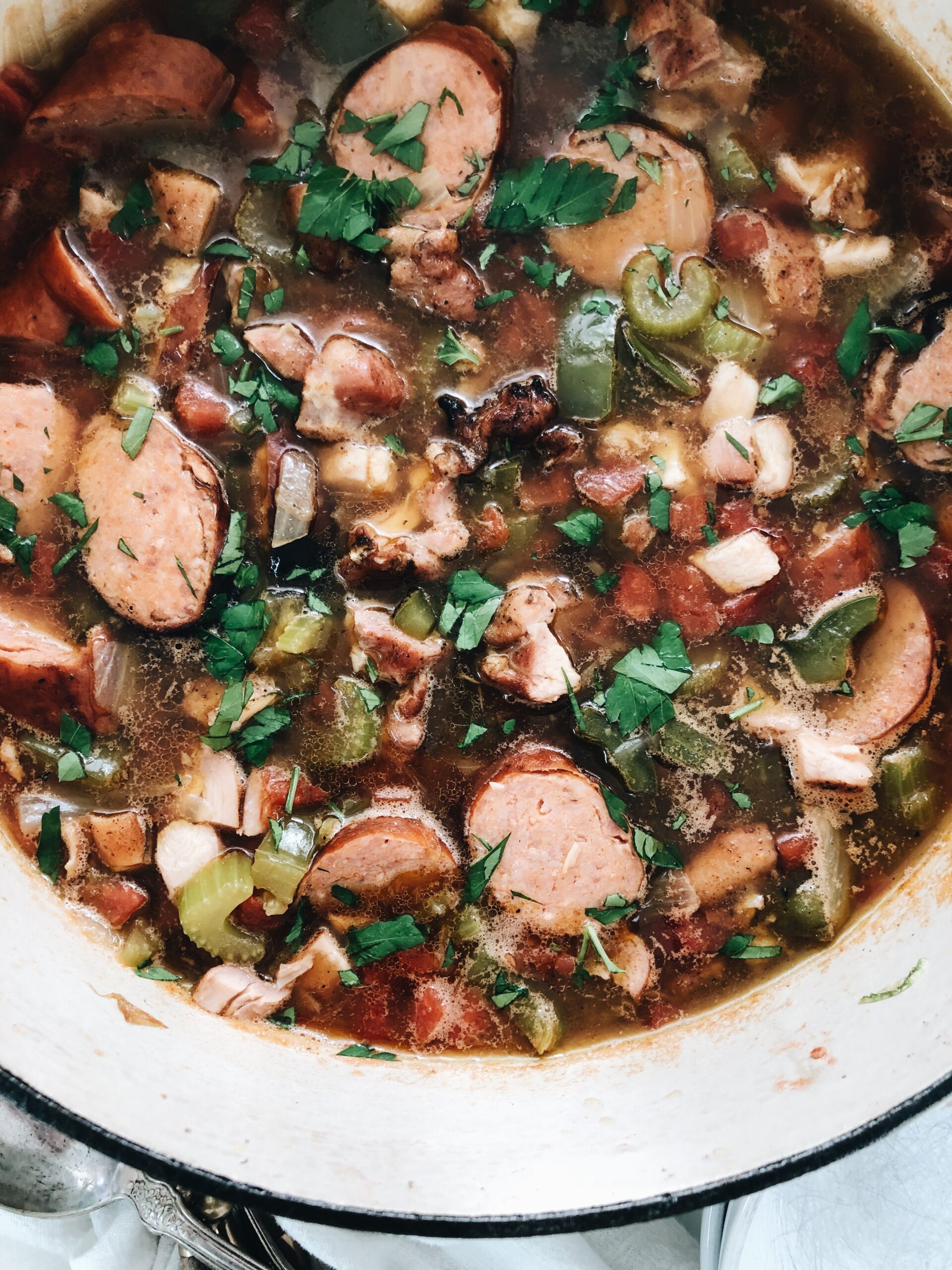 I'm going be confusing real quick and go back and forth from iphone pot shots to big girl camera bowl shots. I like to keep you on your toes.
Doesn't that look gorgeously smokey and rustically incredible?
I know.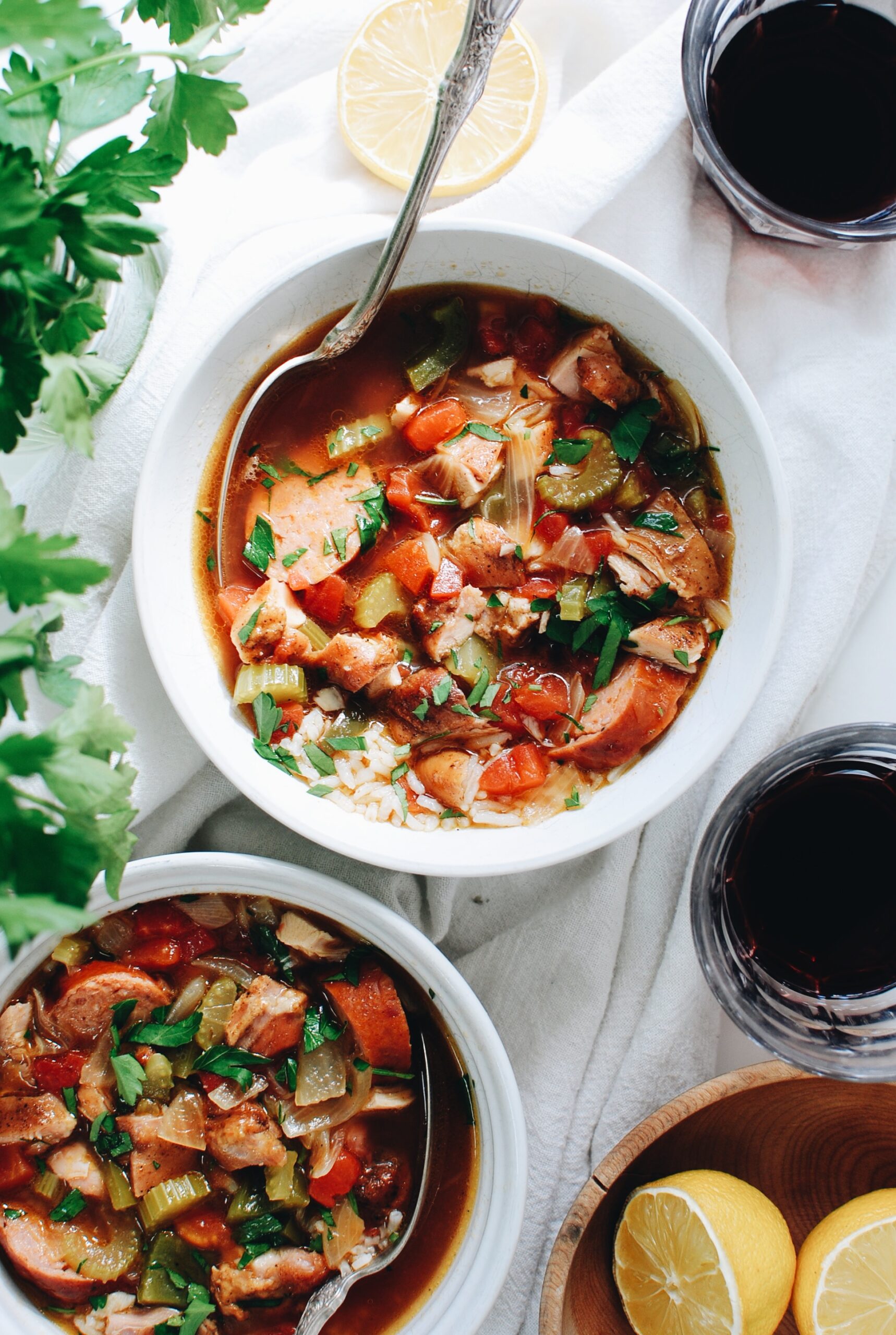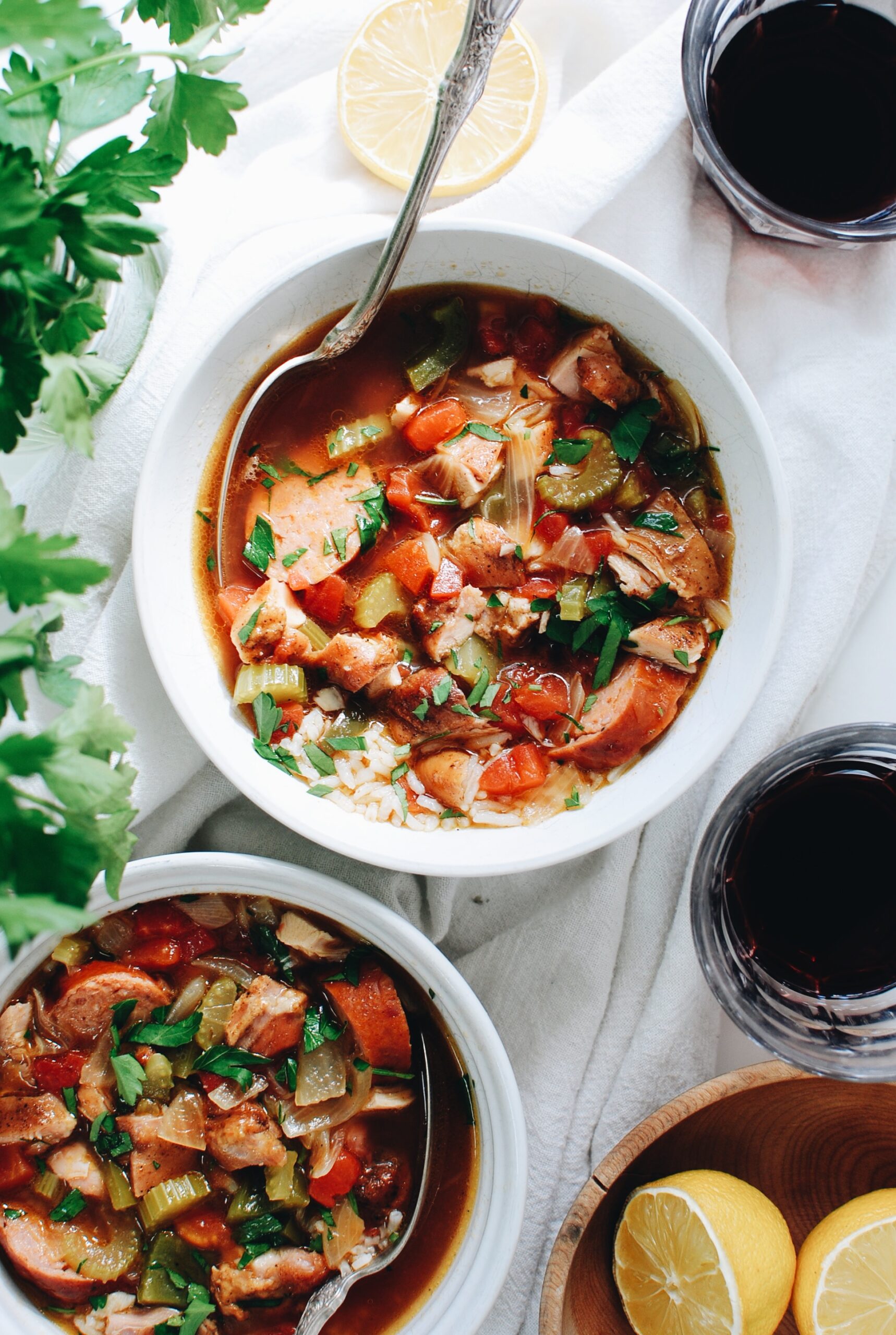 This has such flavor for such minimal work, it's criminal.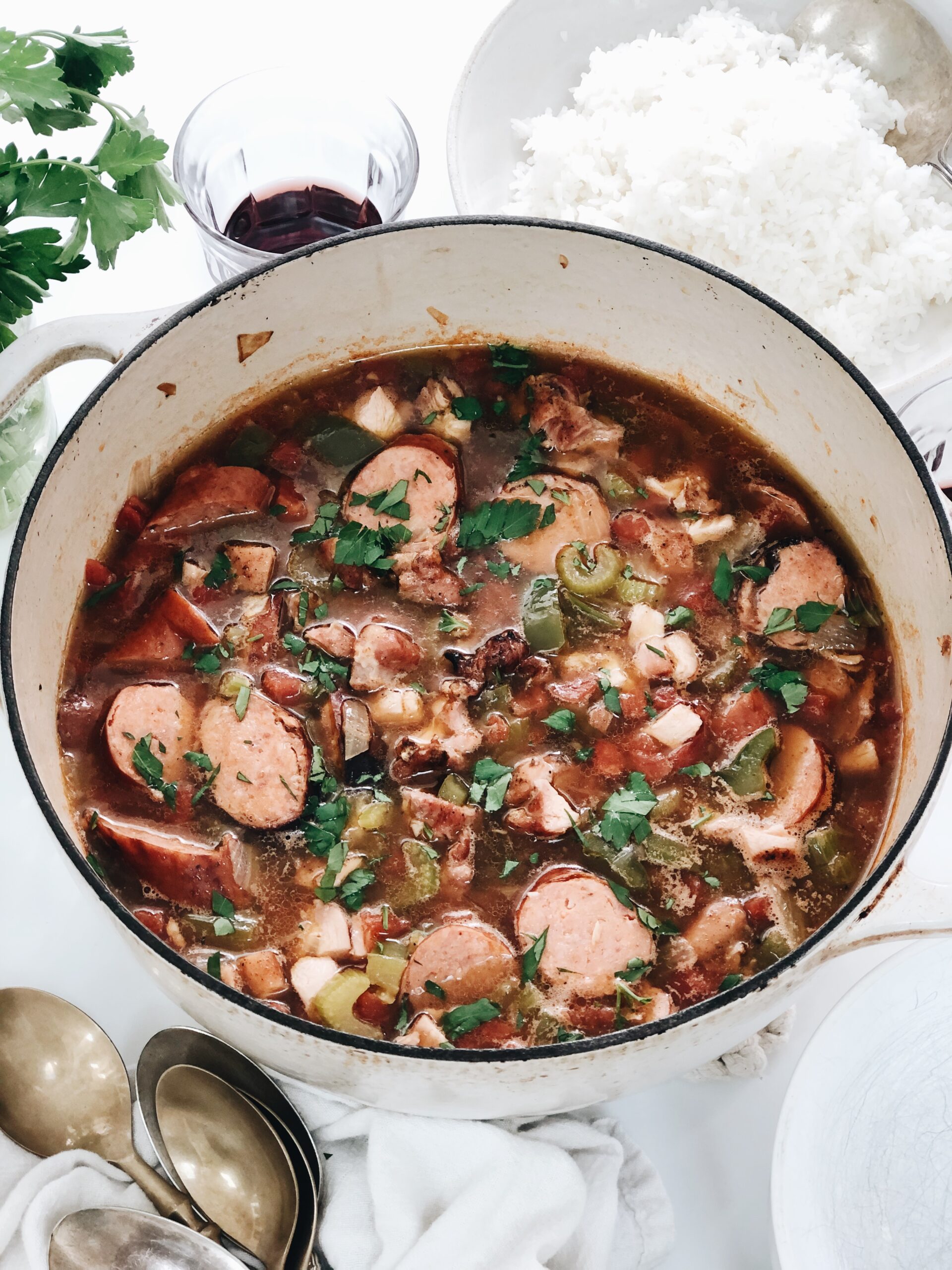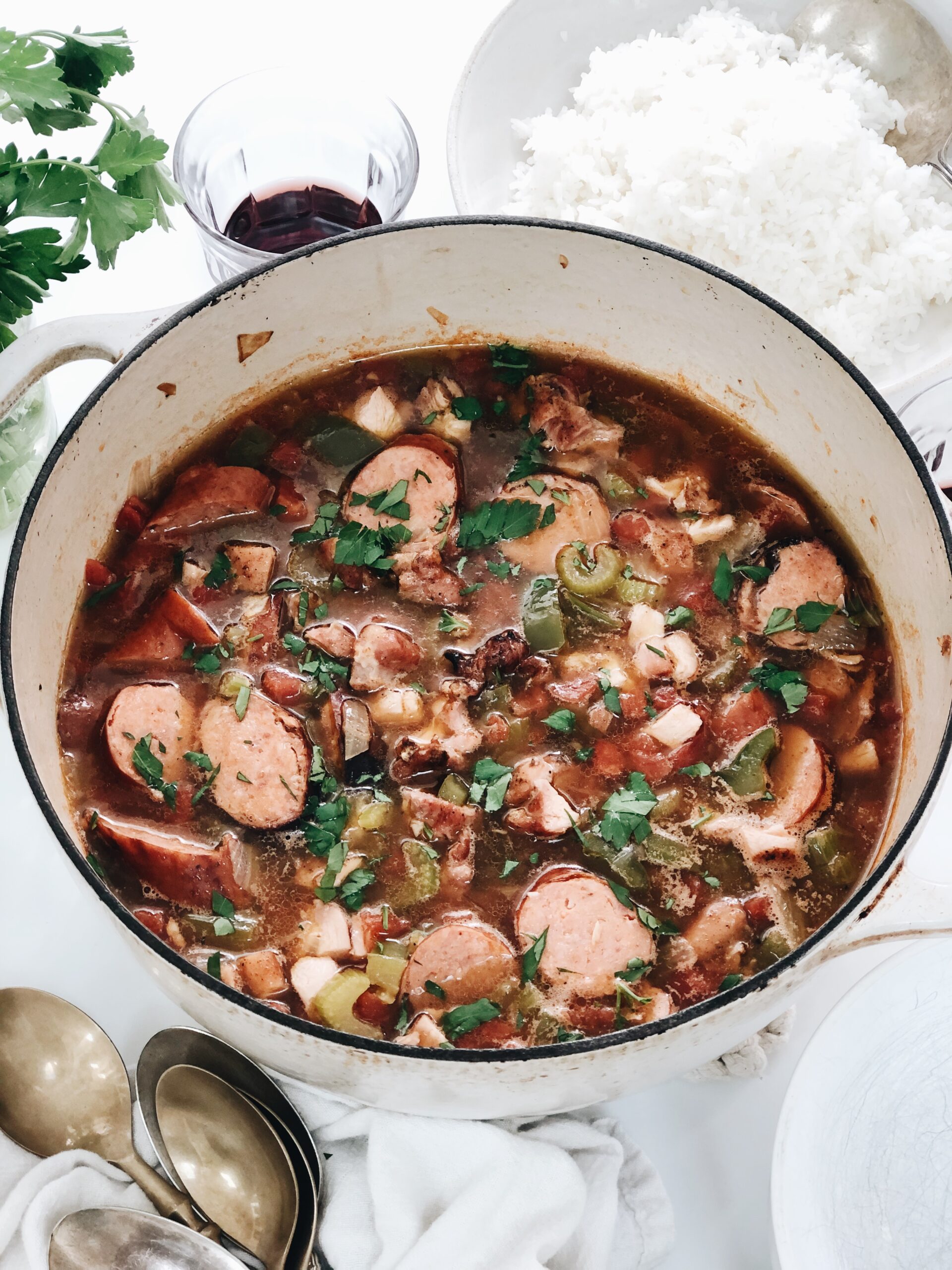 We served this when friends were over in late January and every single kid snarfed it. It's that good. Not overly spicy, just smokey and rich enough to slap ya down and call ya Sally.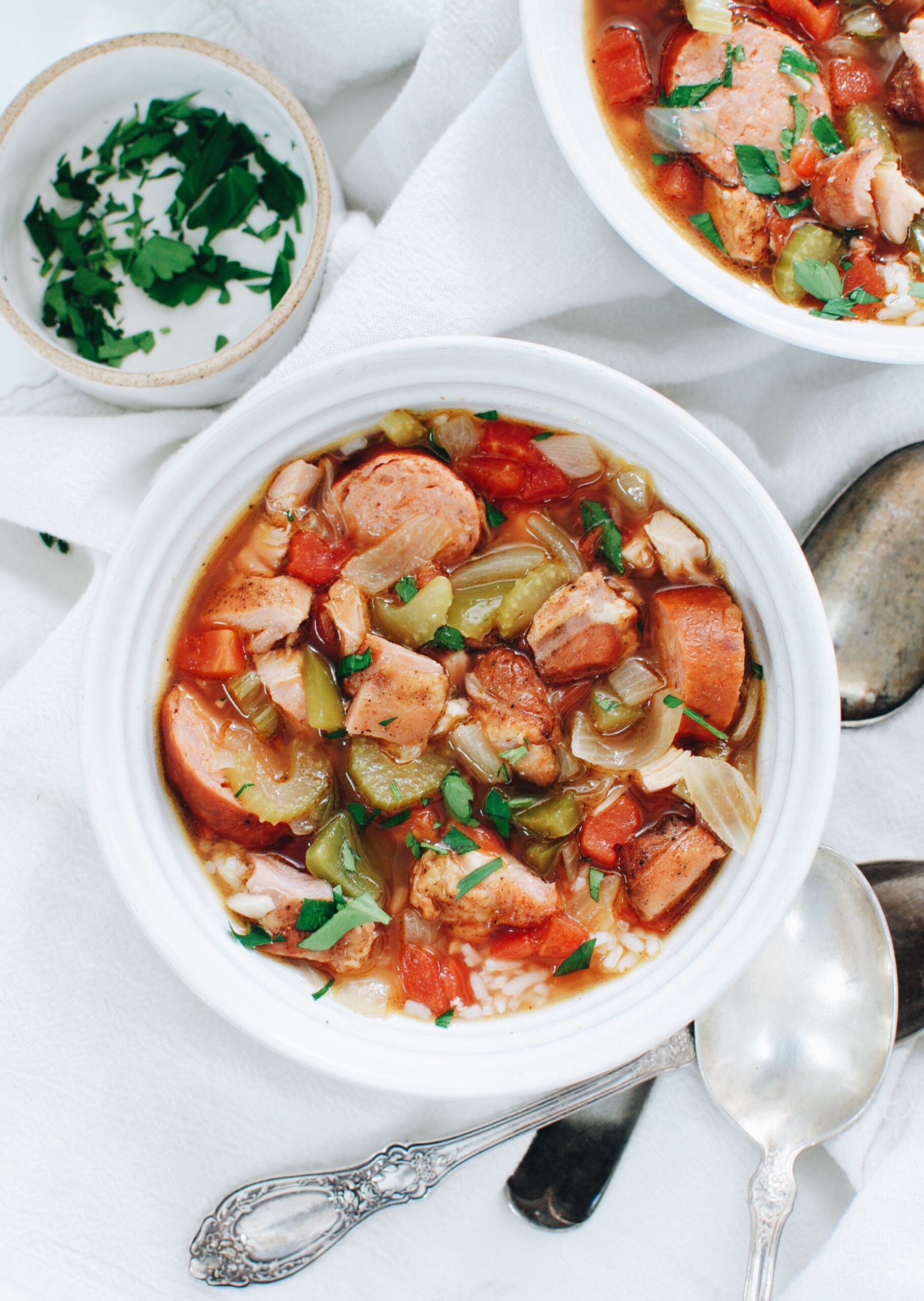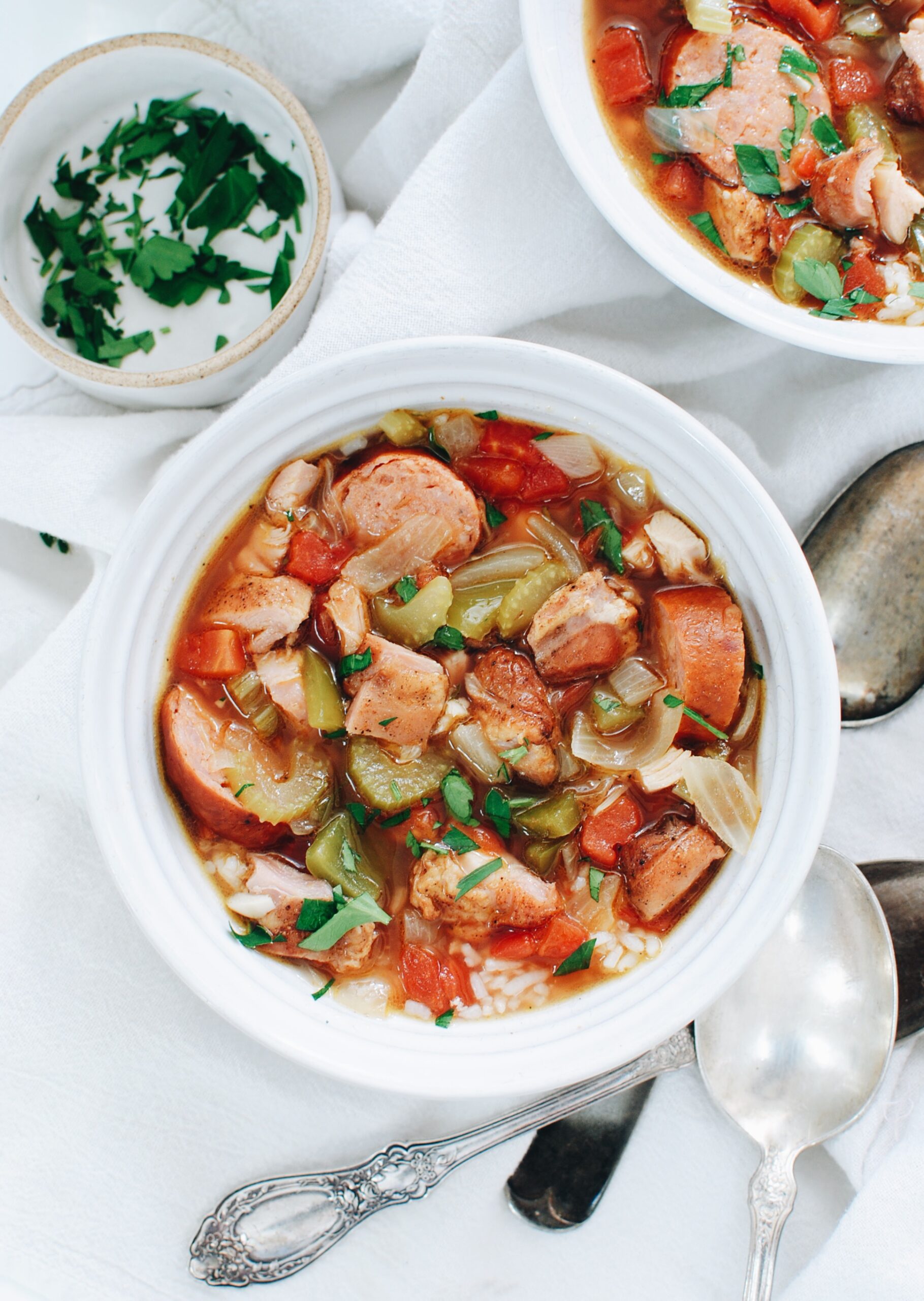 Make it happen!
Smoked Cajun Chicken and Sausage Soup
Ingredients
13.5 oz andouille sausage
1.5 lbs chicken thighs
2 Tbs. cajun seasoning (I used Tony's)
3 celery stalks, sliced
1/2 white onion, diced
5 cloves garlic, minced
15 oz can diced tomatoes
4-5 cups chicken stock
Chopped parsley and lemon wedges for garnish
Coarse salt
2 cups cooked Jasmine rice (1 cup uncooked), for serving
Instructions
Heat your grill or smoker to 200.
Season the chicken thighs with the cajun seasoning, and arrange both the sausage and chicken on the grates. Smoke for 45 minutes, then raise the temperature to 400 and go ten more, just to get the meat nice and charred. (If doing this on a standard grill, just grill it the way you normally grill chicken. Grill grill grill.)
Let the meat rest for ten minutes, then slice the sausage and chop the chicken into small chunks.
In the meantime, bring a Tbs. of extra virgin olive oil to a medium high heat. Add the onions and celery and sauté for five minutes, until they start to sweat and get a little bit of browning on them. Add the garlic and sauté another minute, until illegally fragrant. Pinch of salt right here as well.
Now add the chopped and sliced meat to the pot and give it a stir. Add the tomatoes and stock, and let this come to a bubble. Taste it. Maybe another pinch of salt! Let this simmer ten or so minutes. Doesn't take long at all.
Add a little bit of cooked rice to bowls, followed by good ladles of soup. Garnish with parsley and serve with lemon wedges! Absolutely perfect.
Serves six.
7.8.1.2
557
https://bevcooks.com/smoked-cajun-chicken-and-sausage-soup/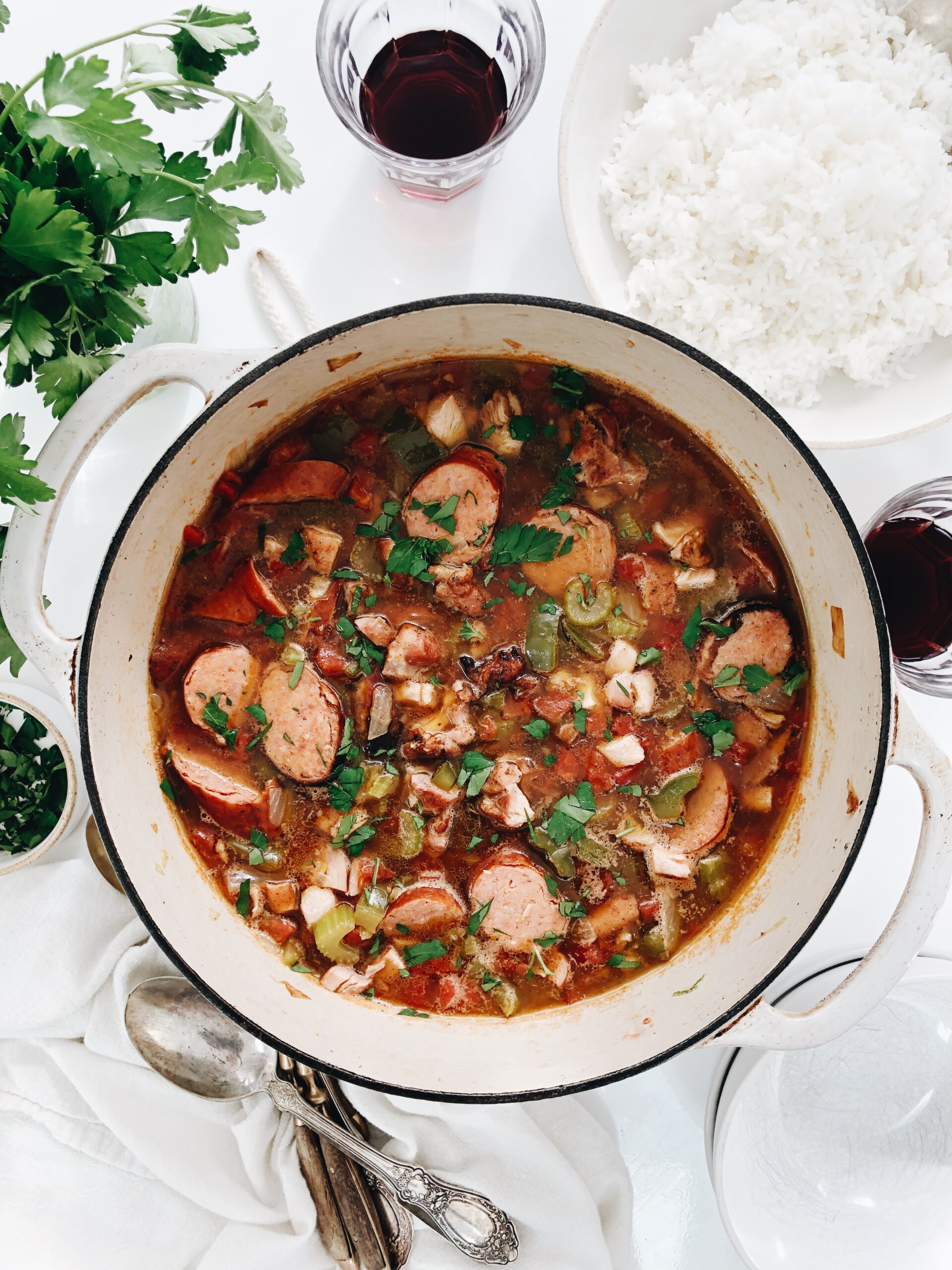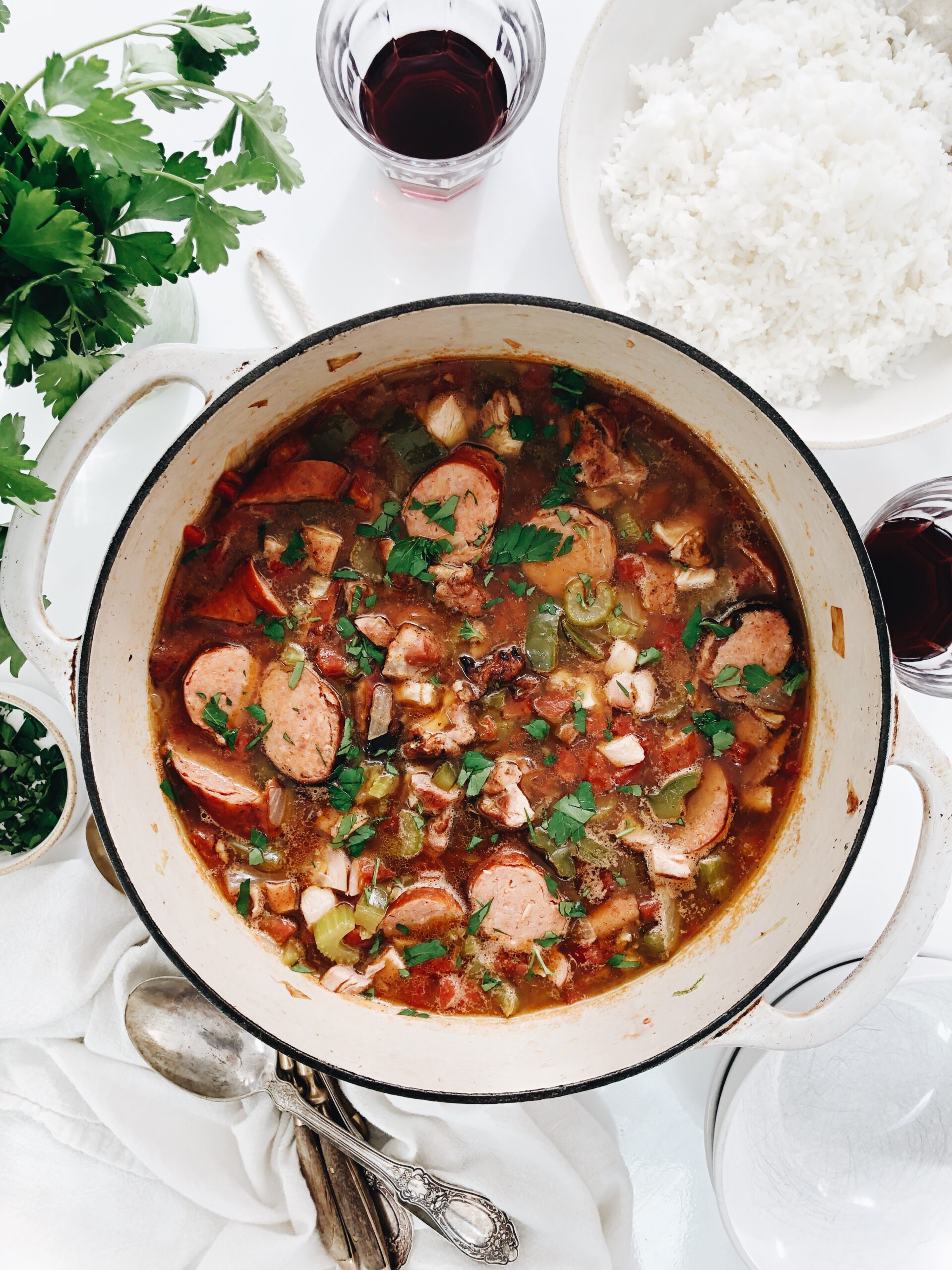 Wouldn't this work perfectly for Mardis Gras party? Me thinks so.