But with ranch. Ranch! Ranch dressing and seasoning. Yes.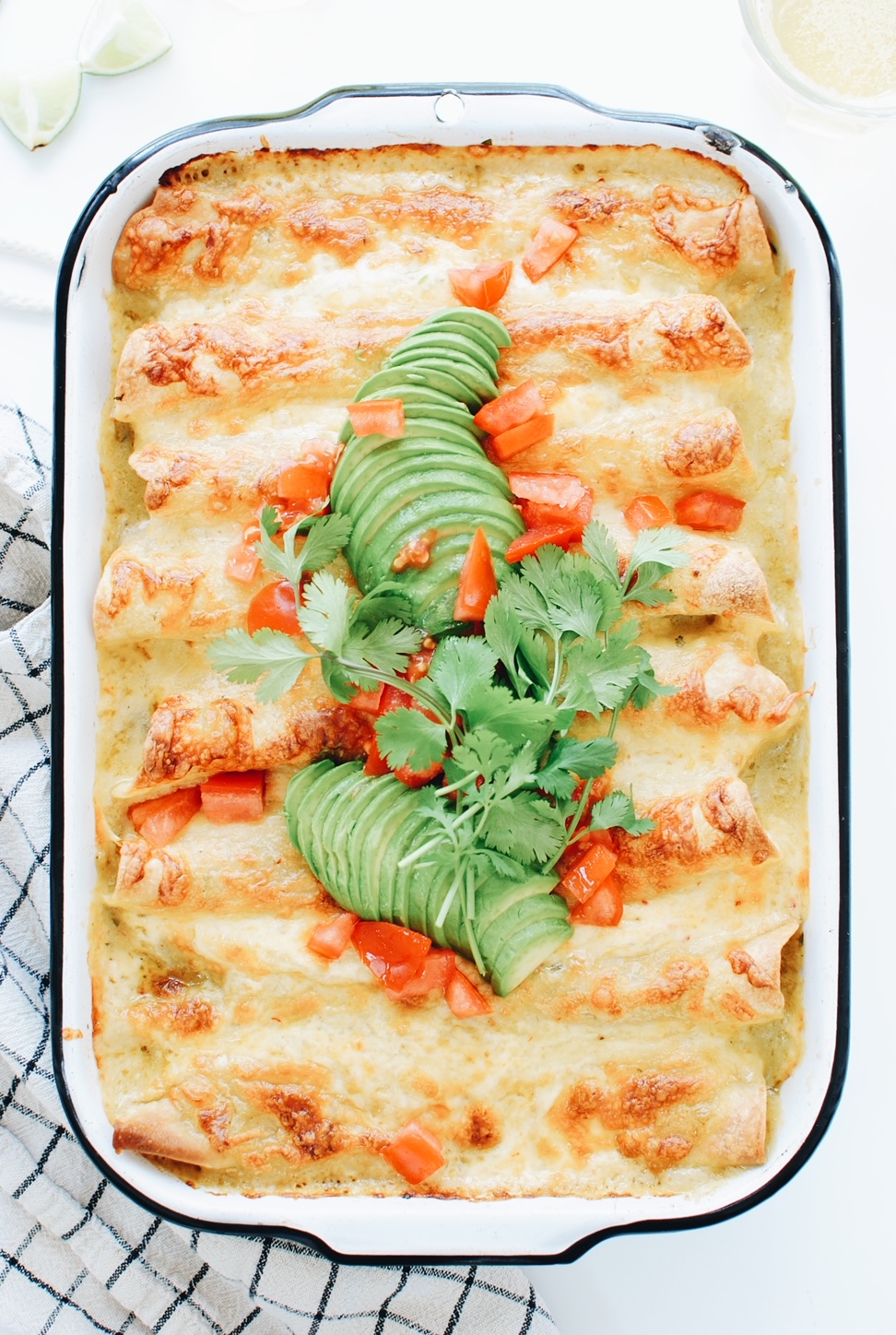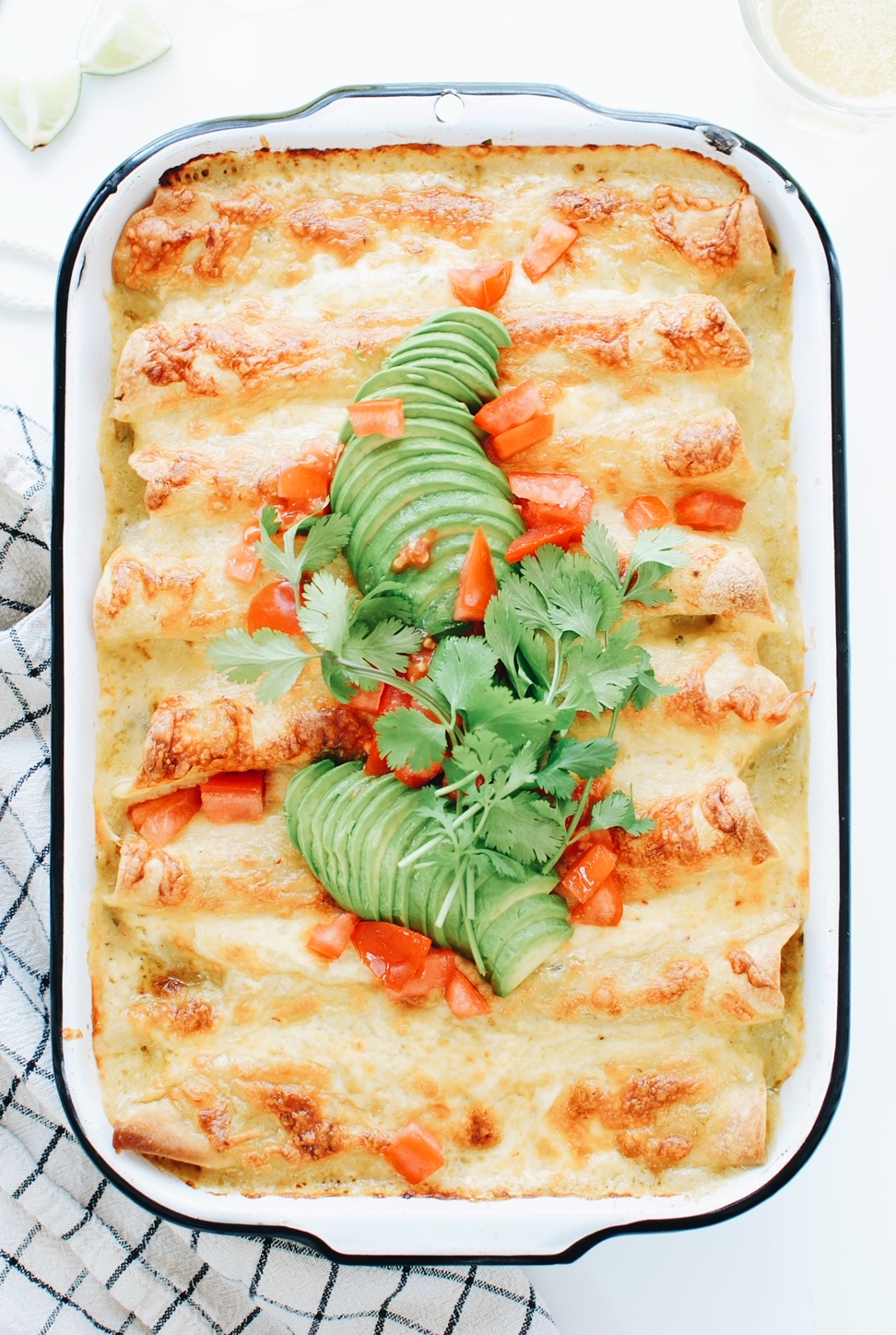 And it's slow cooker. Which you might be thinking, "Why the wonk is she using a slow cooker in MAY?" Because hi, it emits no heat. It's a secret weapon for me when it comes to warmer-weather grub. However, I use it year round and need zero excuses to do so. But if you need one, there it is.
Let's peep this chicken biz before I show you the rest, okay?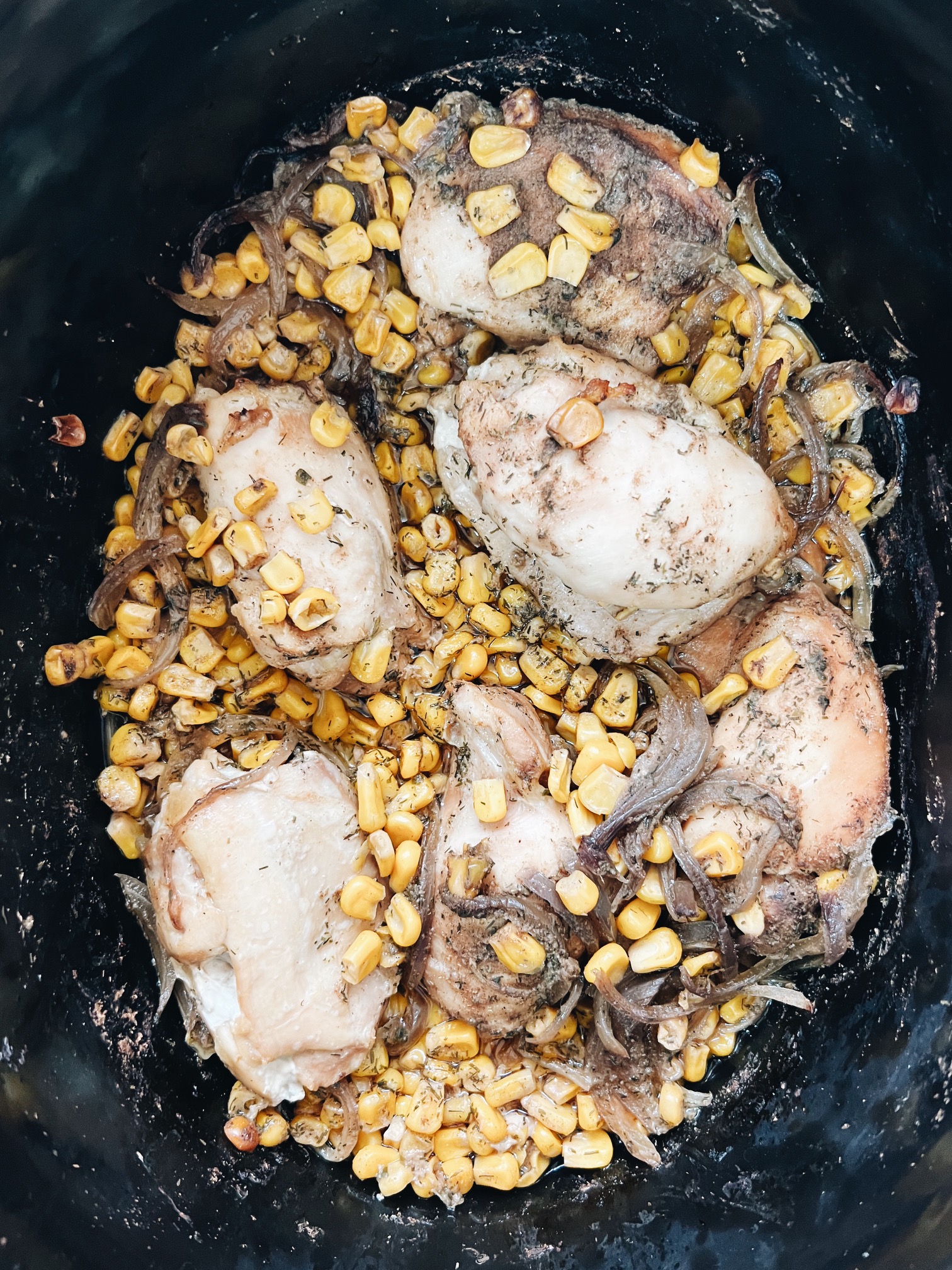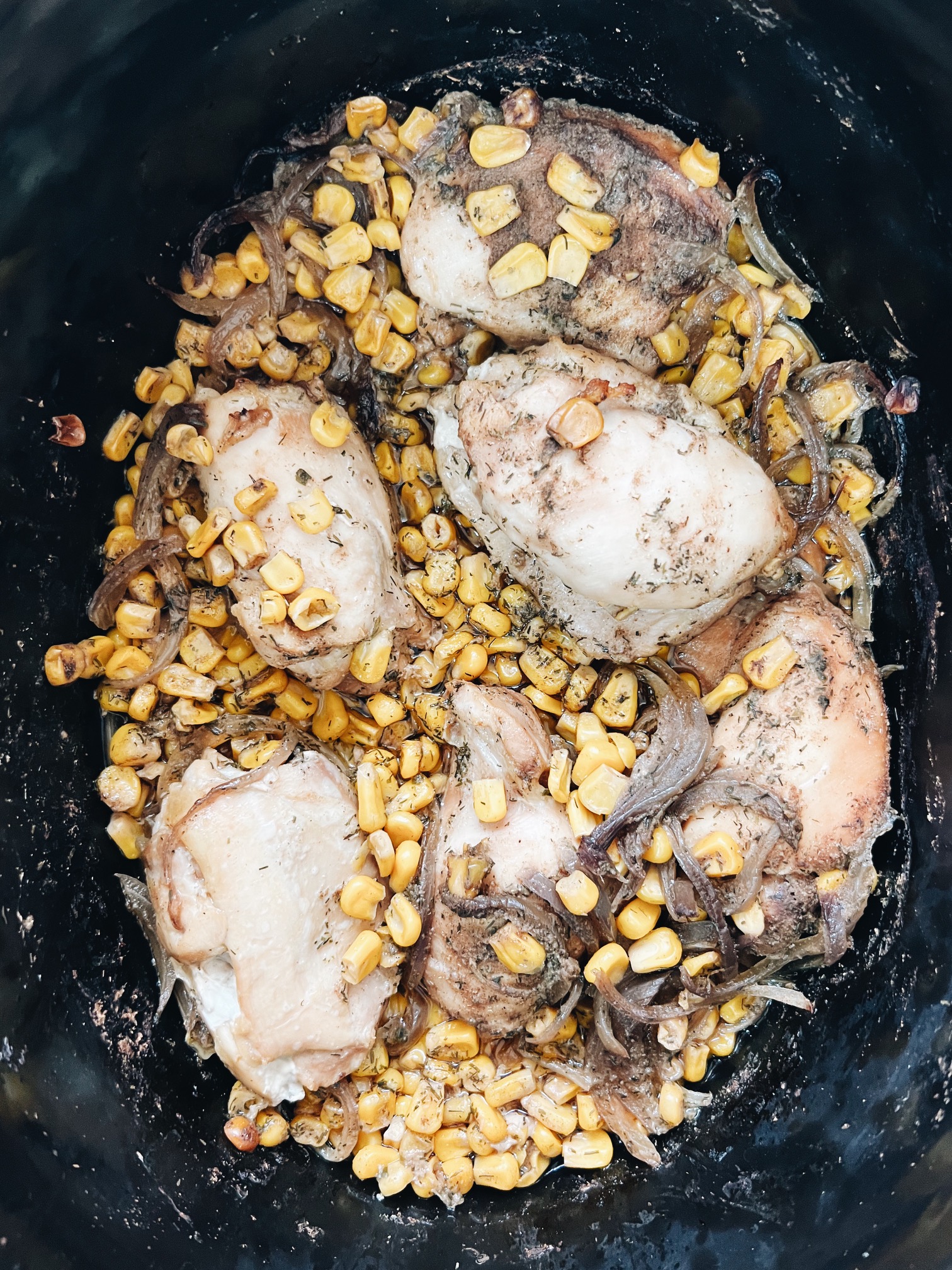 We're going with thighs, some corn, red onion, a little ranch seasoning and cumin. And salt. And your blistered soul. I didn't put any liquid in this because the chicken releases a little and really, that's all you need. Sound like a plan? Low for eight hours, or high for four. It's your game!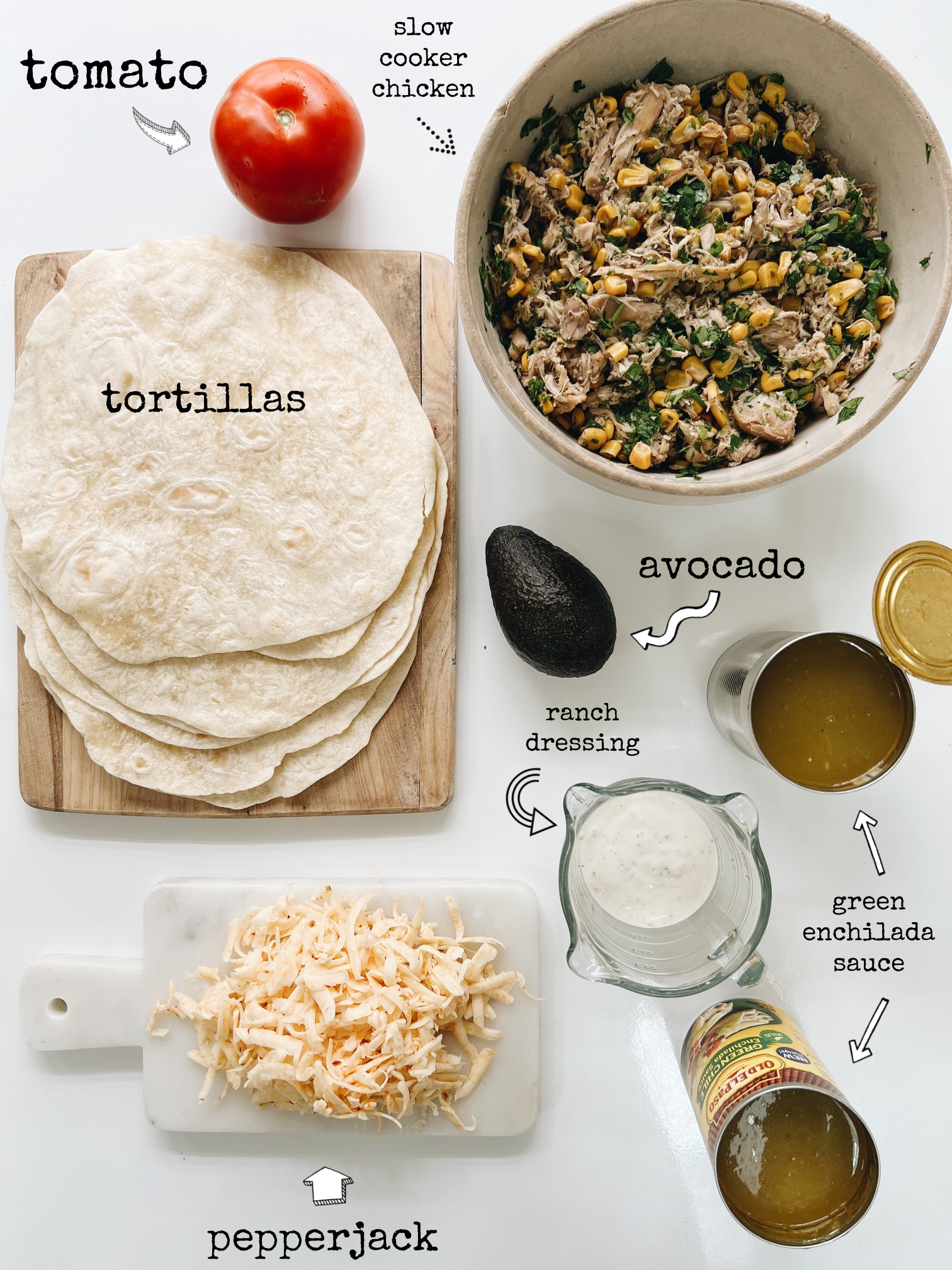 Then it's enchilada time.
Oh! To that shredded chicken mix I added chopped cilantro and a good squeeze of fresh lime juice. Nooooow we're talking.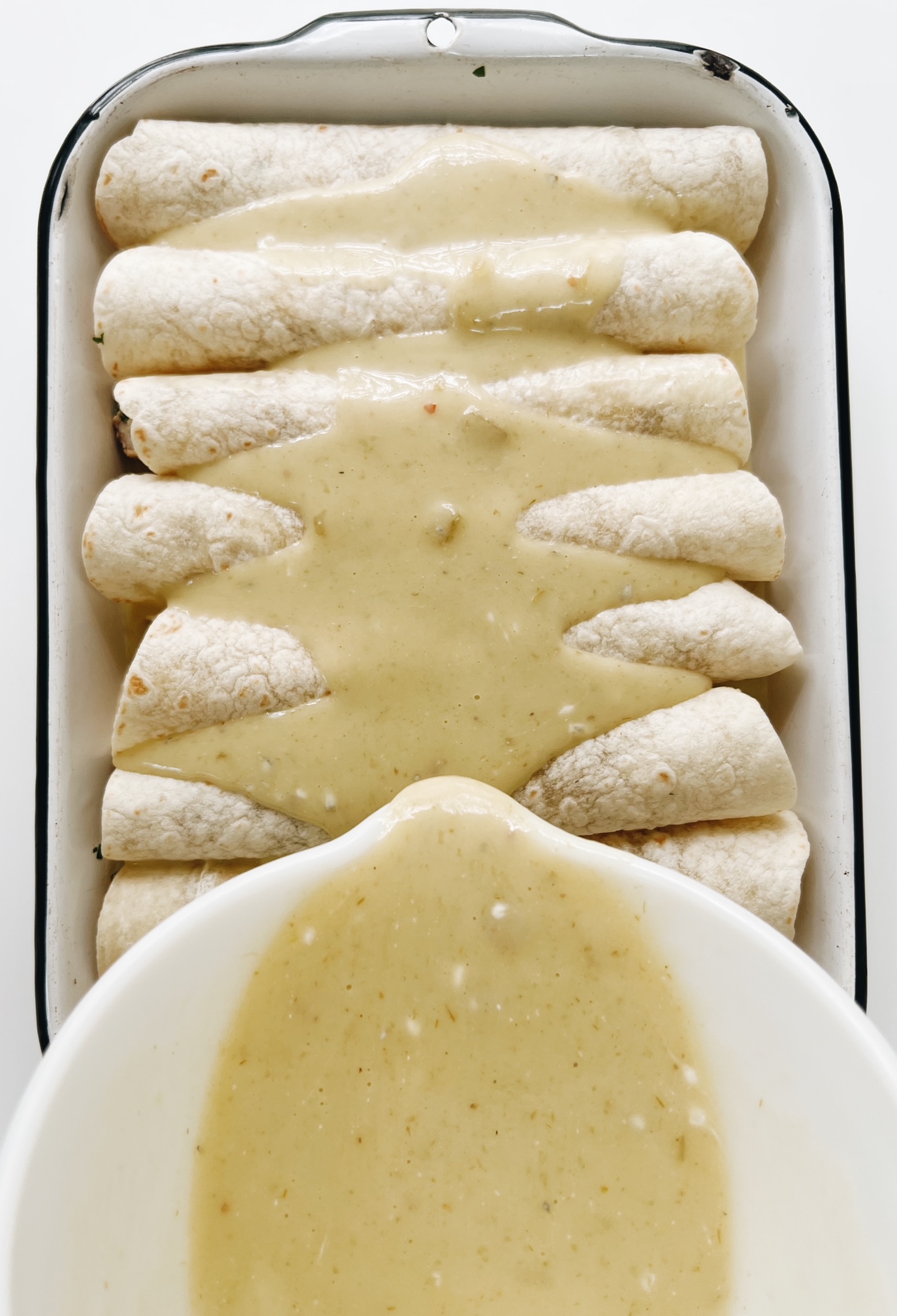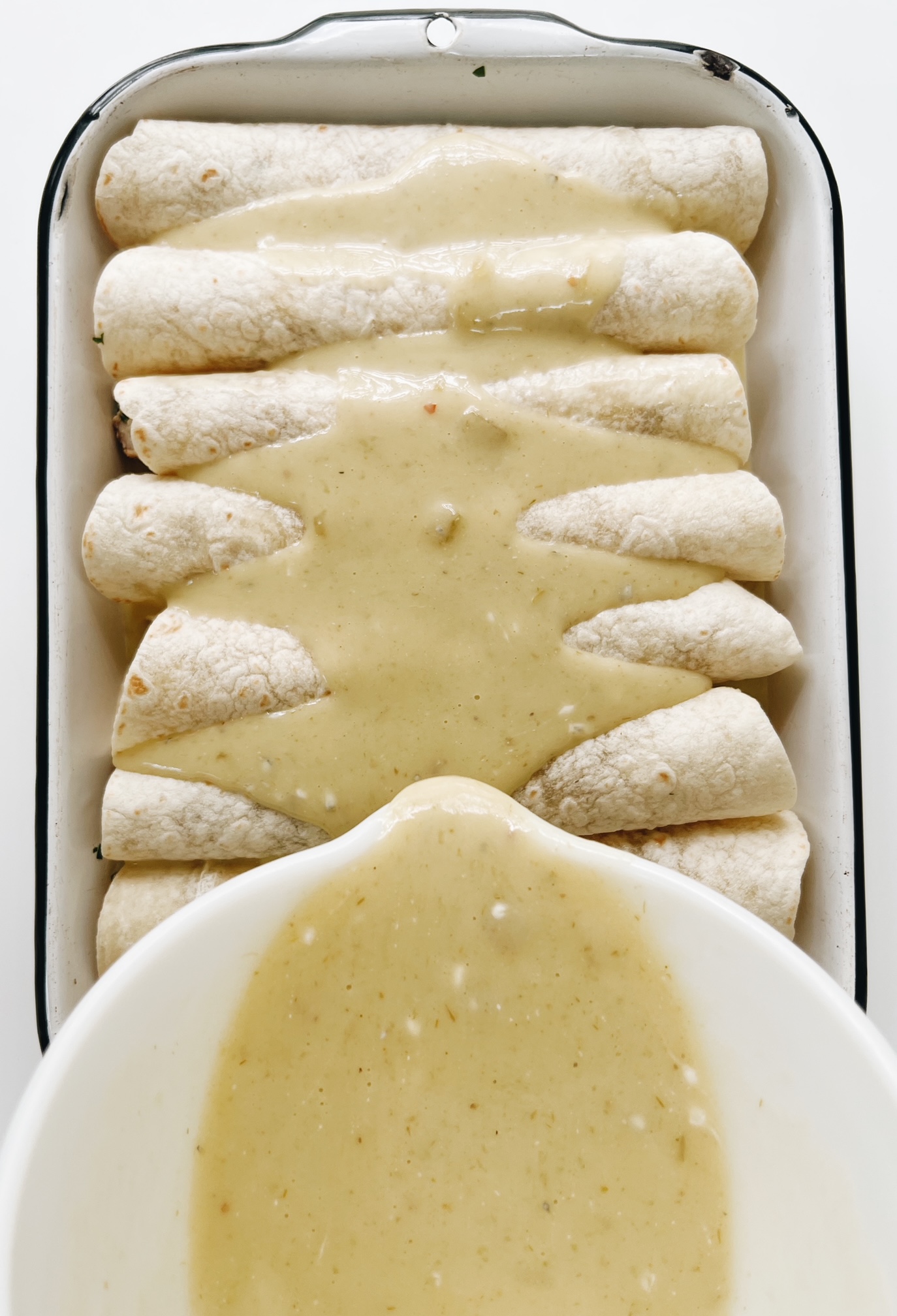 You've all made enchiladas before so I'll spare you the hand holding. Chicken mix goes in the tortillas and face down in the pan. But here's where it gets saucy! (ha! oh.) Take those two cans of green enchilada sauce and mix in 1/3 cup of ranch dressing. Your favorite kind. Some good stuff. (I used Litehouse and have always digged it. Dug it? Dugged it?) Now pour a little along the bottom of that casserole dish before you snuggle in the enchis. 'Atta goil.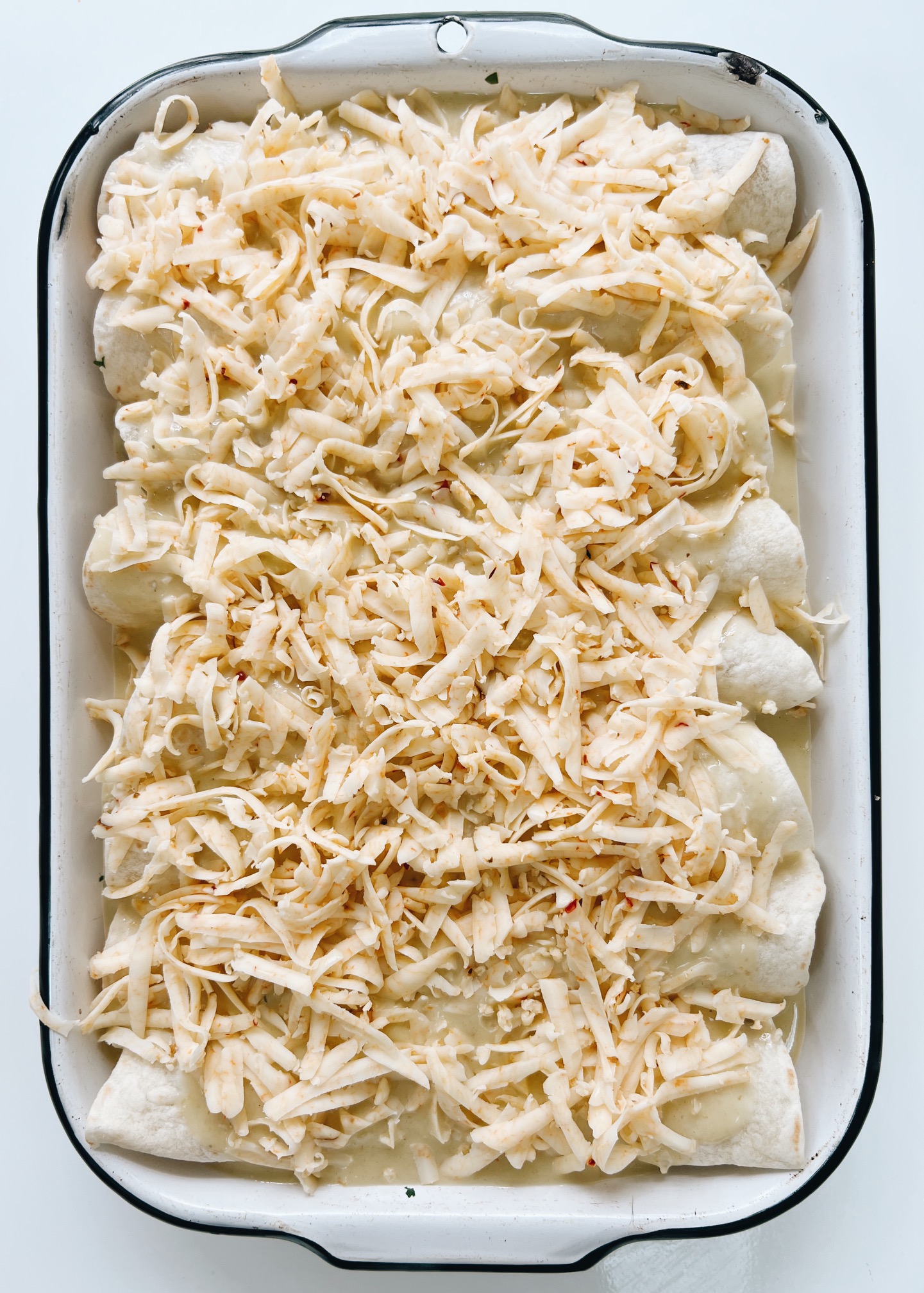 Grated Pepperjack goes on top. Lots of it. These are the good things in life.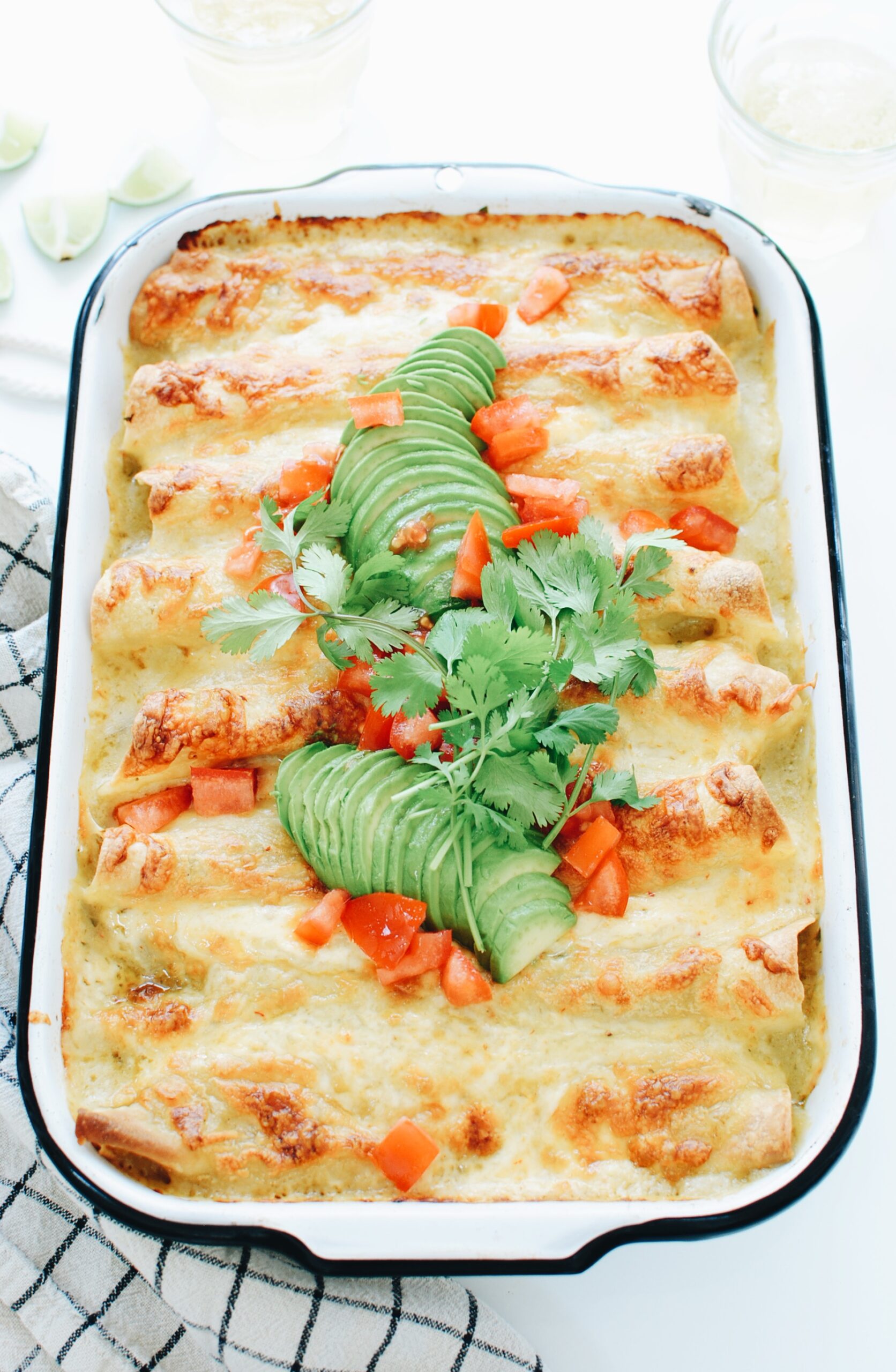 Heeeeello, lovah.
How you garnish is up to you. I chopped some fresh tomato because I'm obsessed. Some pretty fanned out avocado? Well yes, perfect. Torn cilantro to finish? Absolutely. One more hit of lime over the top to ZING IT UP? You know the answer to this.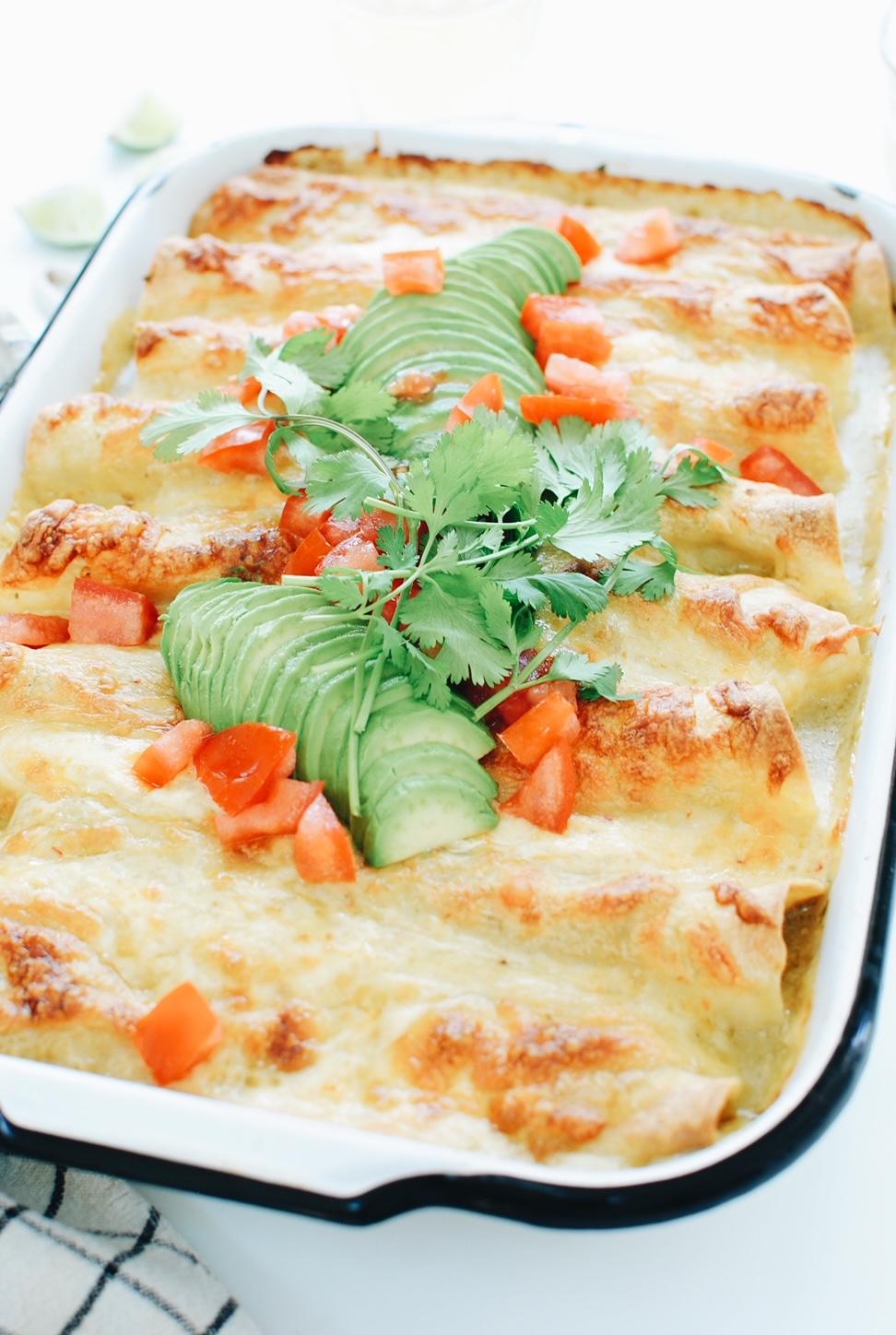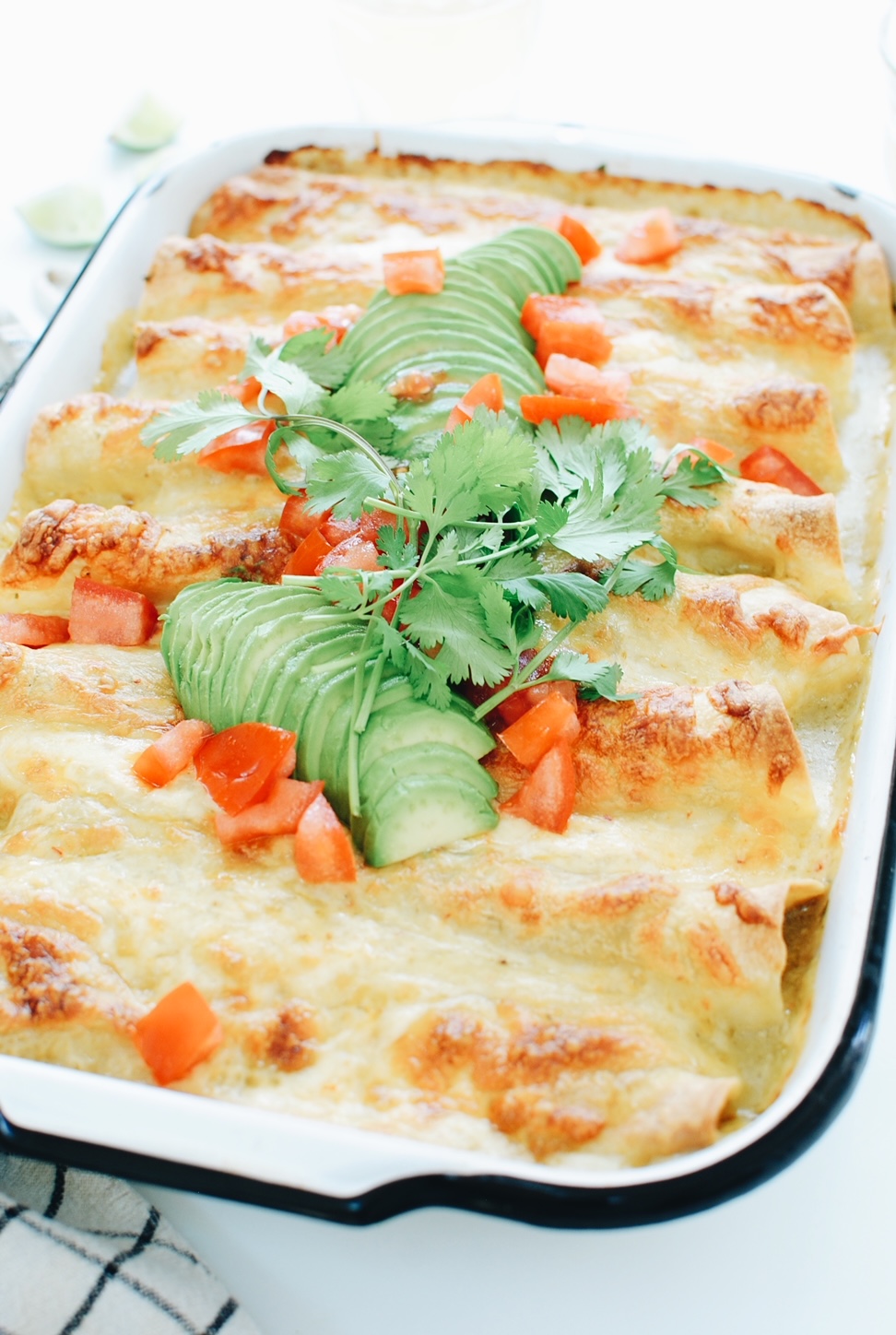 The ranch seasoning and dressing won't wildly change this whole thing. So don't worry about it being too ranchy. Your inner sorority girl shall remain tamed.
But! It truly does give it all a slight tang that's just . . . what do the kids say these days? Chef's slobber? Kiss? Chef's kiss? Chef's kiss!
Really though.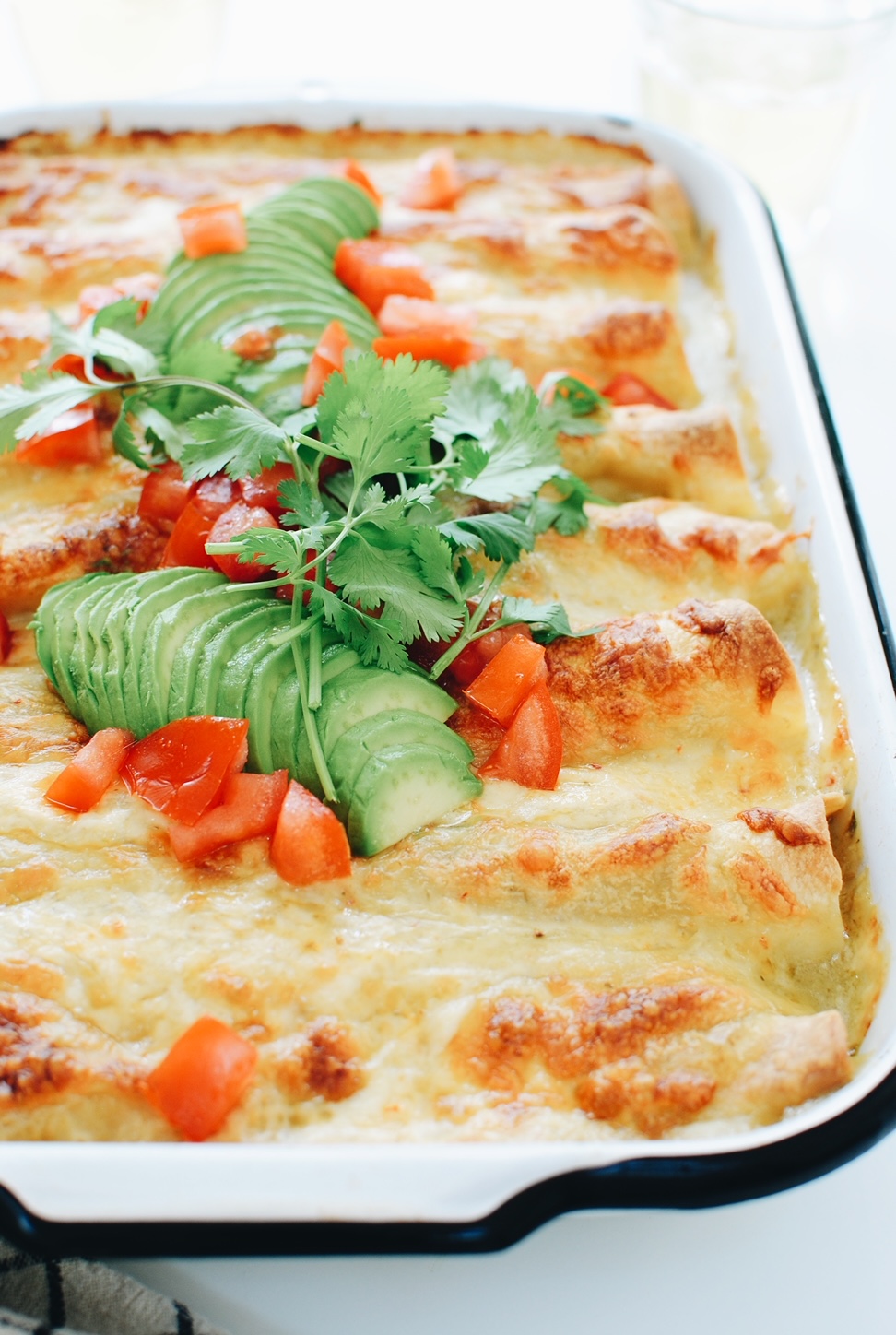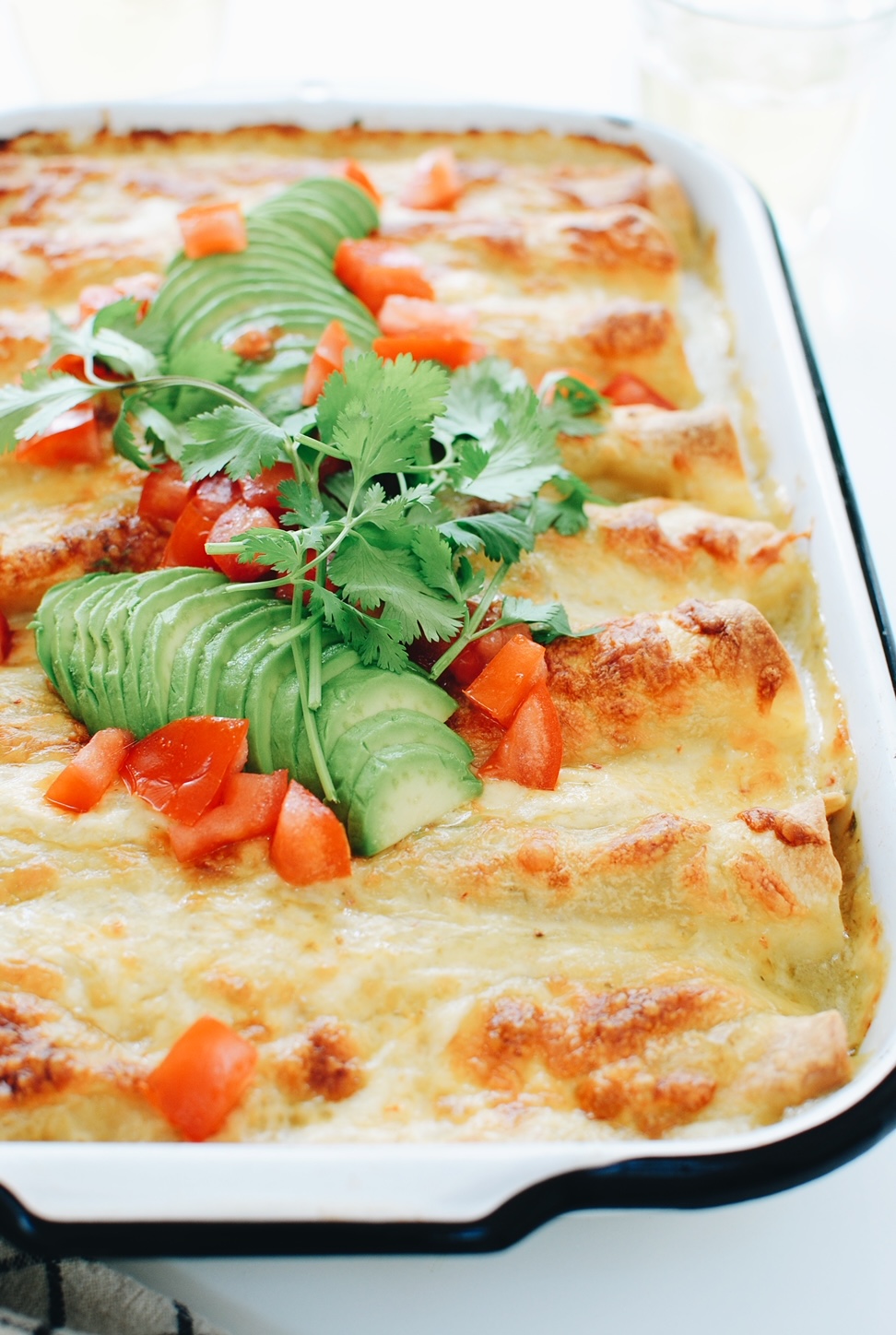 You can add some cheese to the innards of the enchiladas of course. Or just top! Either way. Fly, little bird.
Deliciously simple, absurdly tasty, and comforting with a hit of fresh. Just like we like it.
Tell me the last time you had enchiladas. I dare you.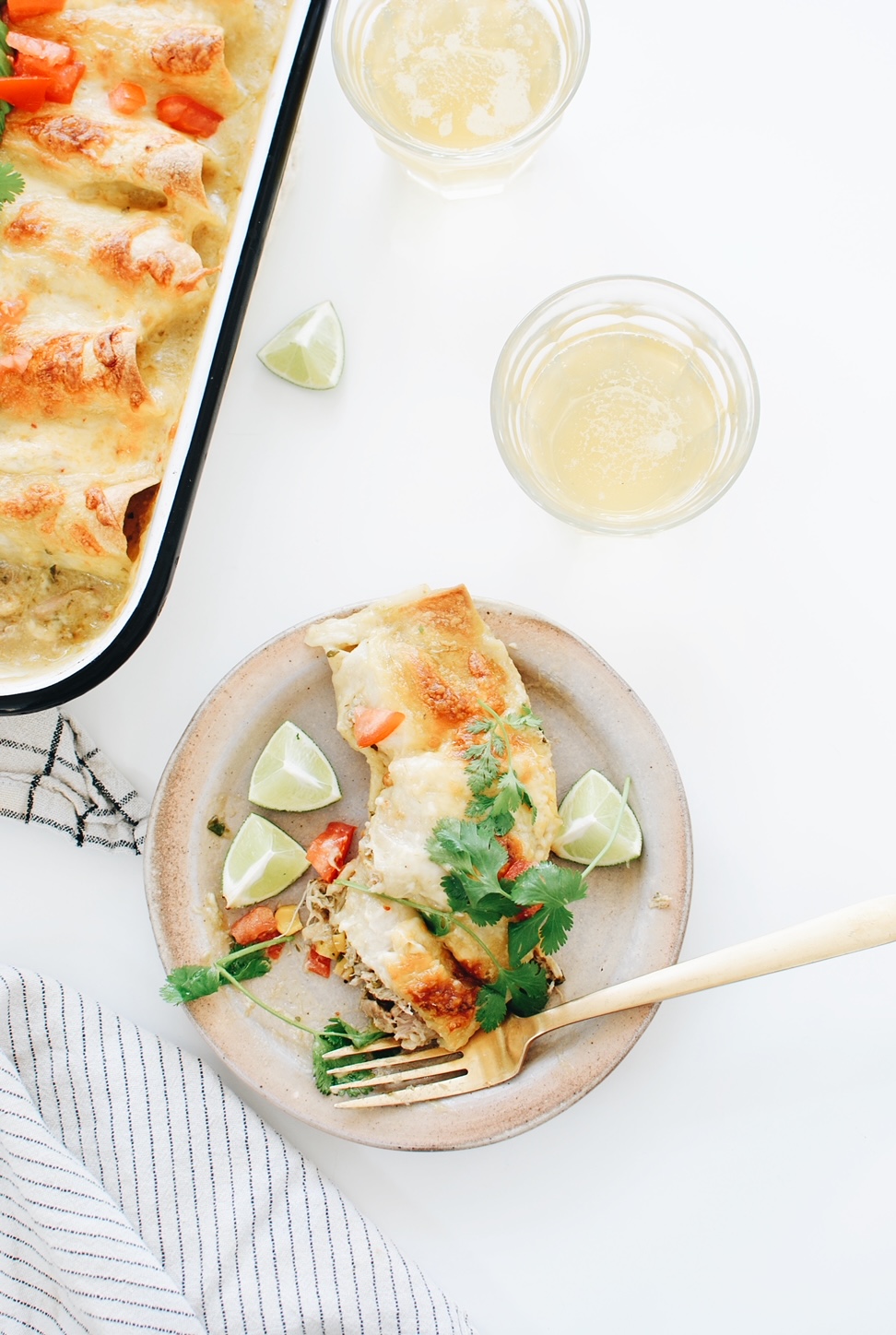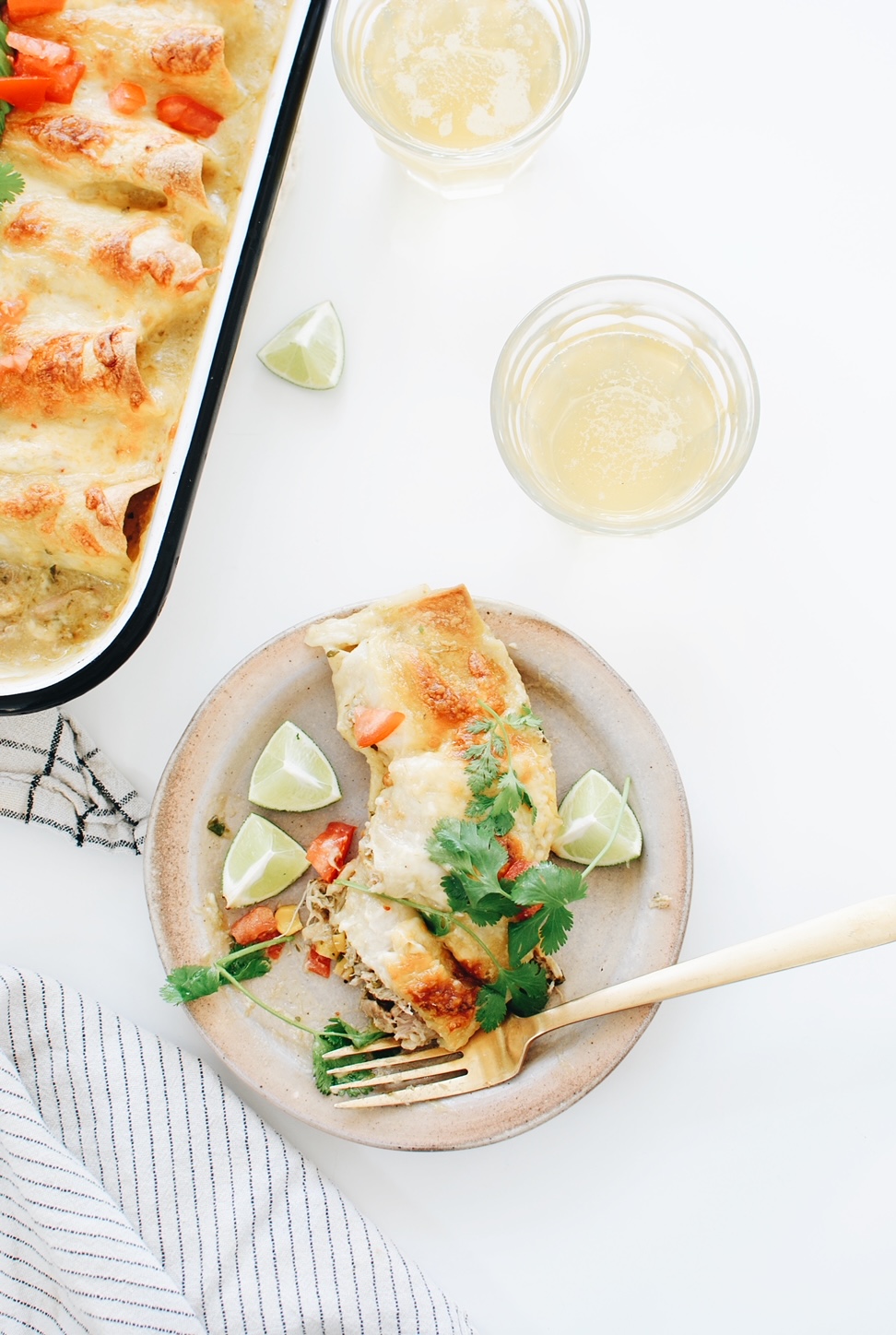 This weeeeek! It's a must.
Slow Cooker Green Chicken Enchiladas
Ingredients
2 pounds chicken thighs
1/3 cup sliced red onion
15 oz canned corn, drained and rinsed
1 tsp cumin
1 tsp ranch dressing seasoning
Pinch of salt
1/4 cup chopped cilantro, plus more for garnish
1 lime
8 (6-inch) flour tortillas
2 (10 oz) cans green enchilada sauce
1/3 cup ranch dressing
8 oz grated pepperjack cheese
Chopped tomato, for garnish
Avocado slices, for garnish
Instructions
In a slow cooker, combine the chicken, red onion, corn, cumin, ranch seasoning and a pinch of salt. Flip this on high for four hours, or low for eight. Whatever the day looks like for you. You won't need liquid (although if adding a splash of chicken stock helps your anxiety, go for it.) as the chicken will release juices. Once it's cooked, shred it with two forks and add the chopped cilantro and a good squeeze of lime juice. Taste it. Need anything? If you need to add a pinch of salt, totally okay.
Preheat your oven to 375.
Mix the green enchilada sauce with the ranch dressing and pour about a half cup along the bottom of an 8x13 casserole dish. Evenly divide the chicken mix among the tortillas and place them in the pan seam side down. Pour the remaining sauce over the enchiladas and top with grated pepperjack cheese. Slide this into the oven for 25 to 30 minutes, or until the cheese and starting to brown and bubble.
Garnish with chopped tomato, avocado, cilantro and extra lime!
Serve immediately. So, so good.
Serves four. (Makes eight enchiladas)
7.8.1.2
574
https://bevcooks.com/slow-cooker-green-chicken-enchiladas/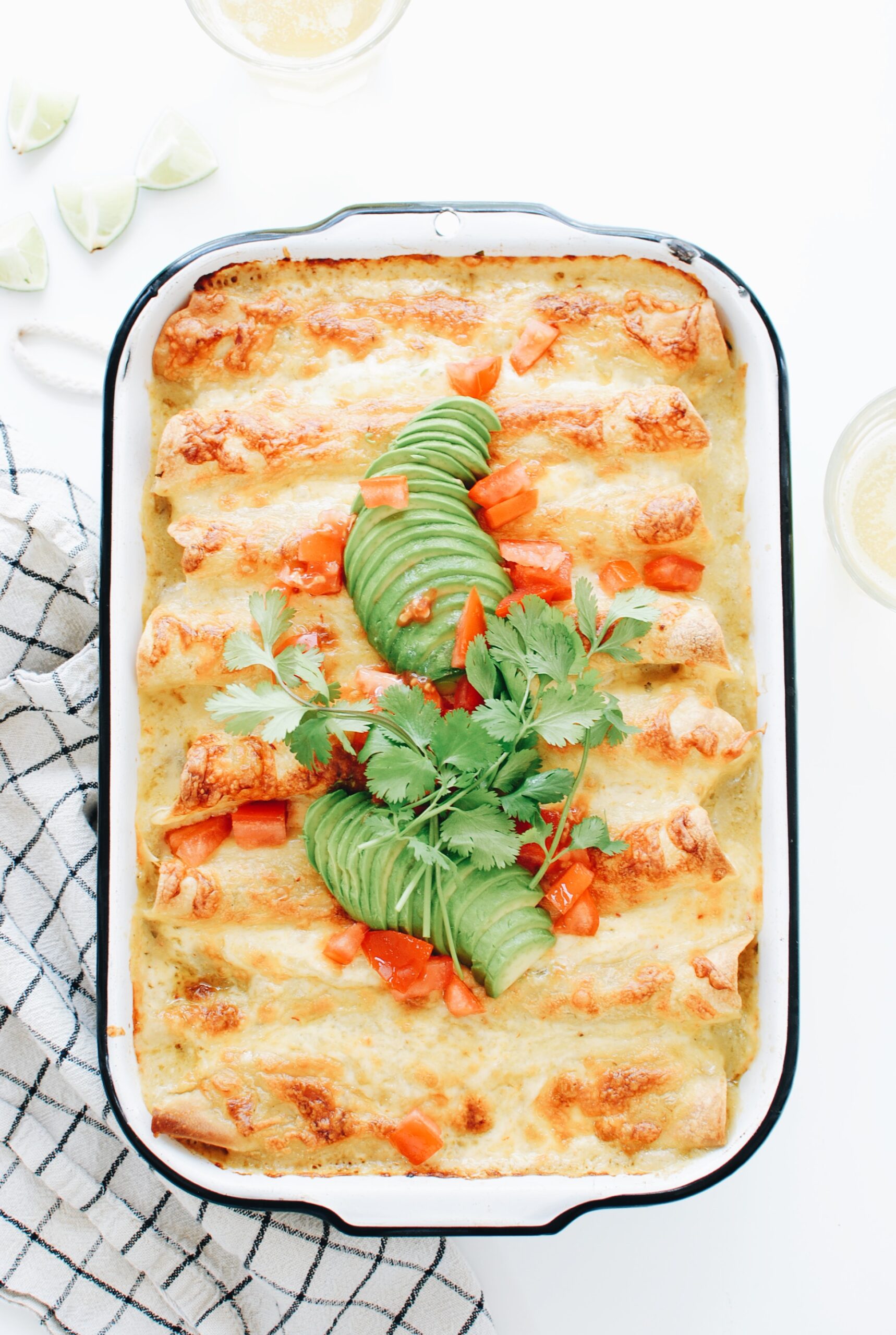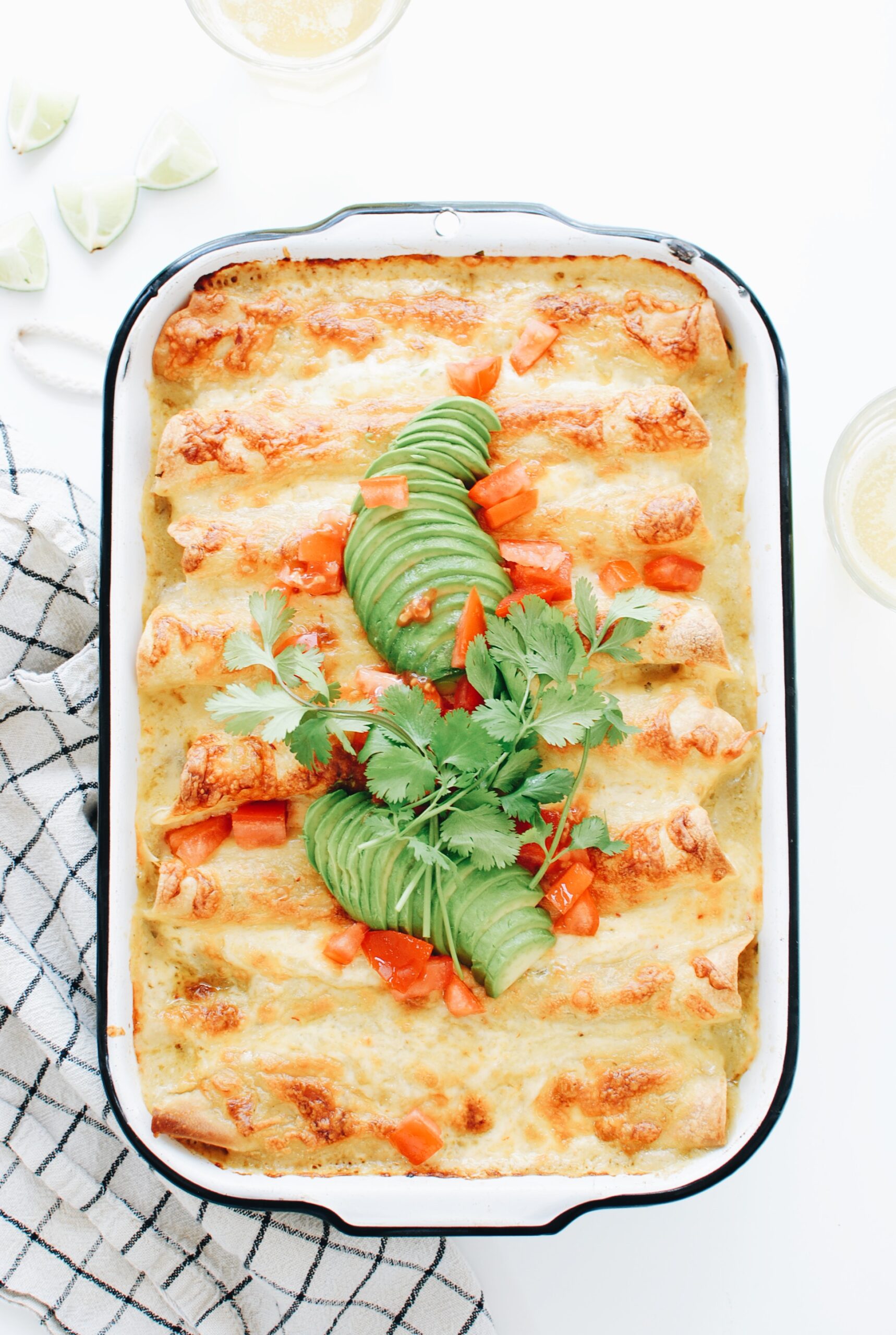 I mean yum.