Two sheet pan dinners coming your way this week! Starting with this one. Which is probably obvious. Never mind.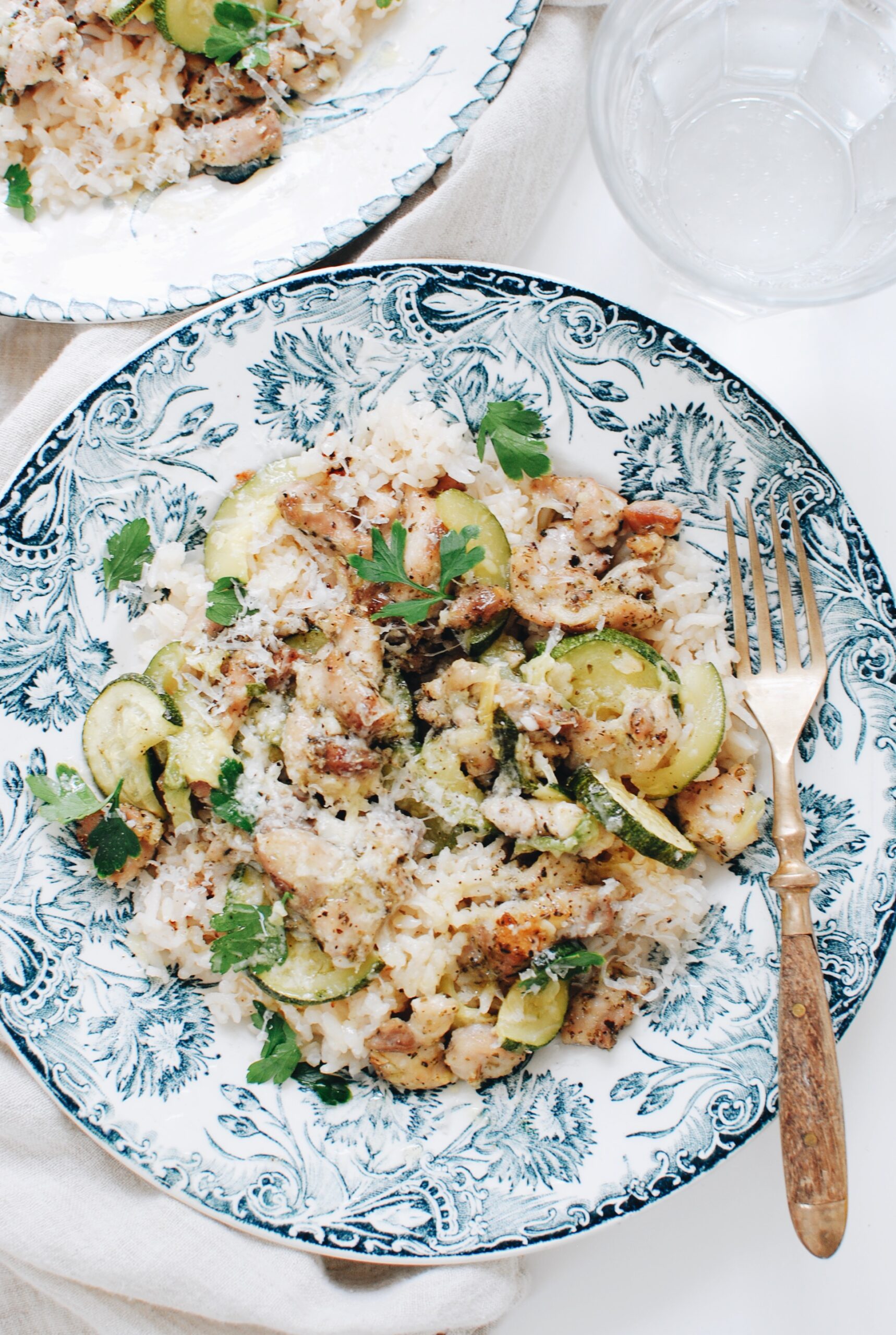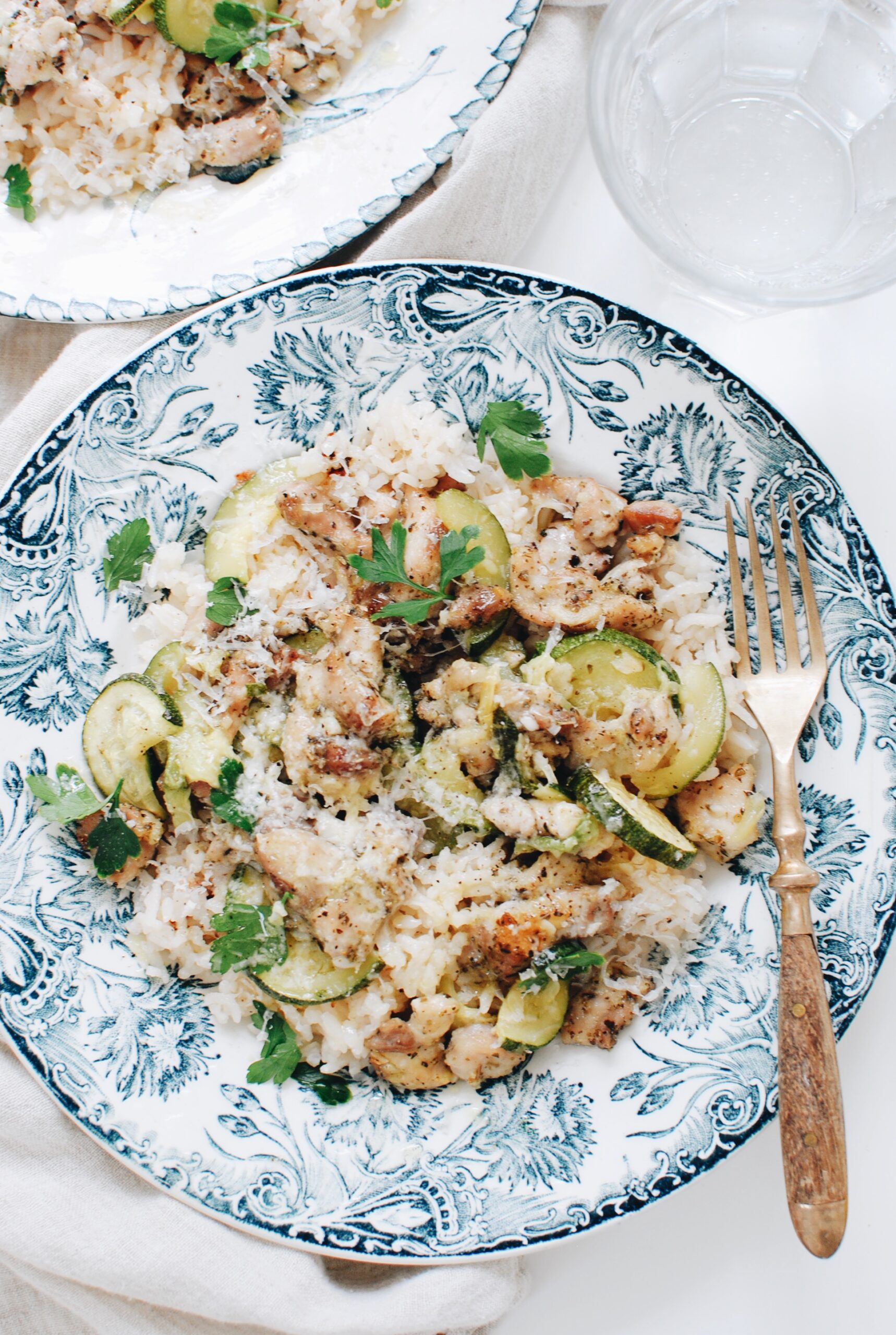 This type of dinner is ideal for weeknights because you have the rice cooker working for you (or stovetop, if that's your thing), and the oven working for you. The only real legwork up front is the chopping of the chicken thighs. That part takes like ten minutes, but don't get stabby on me. It's only Tuesday.
Let us peeeeepeth.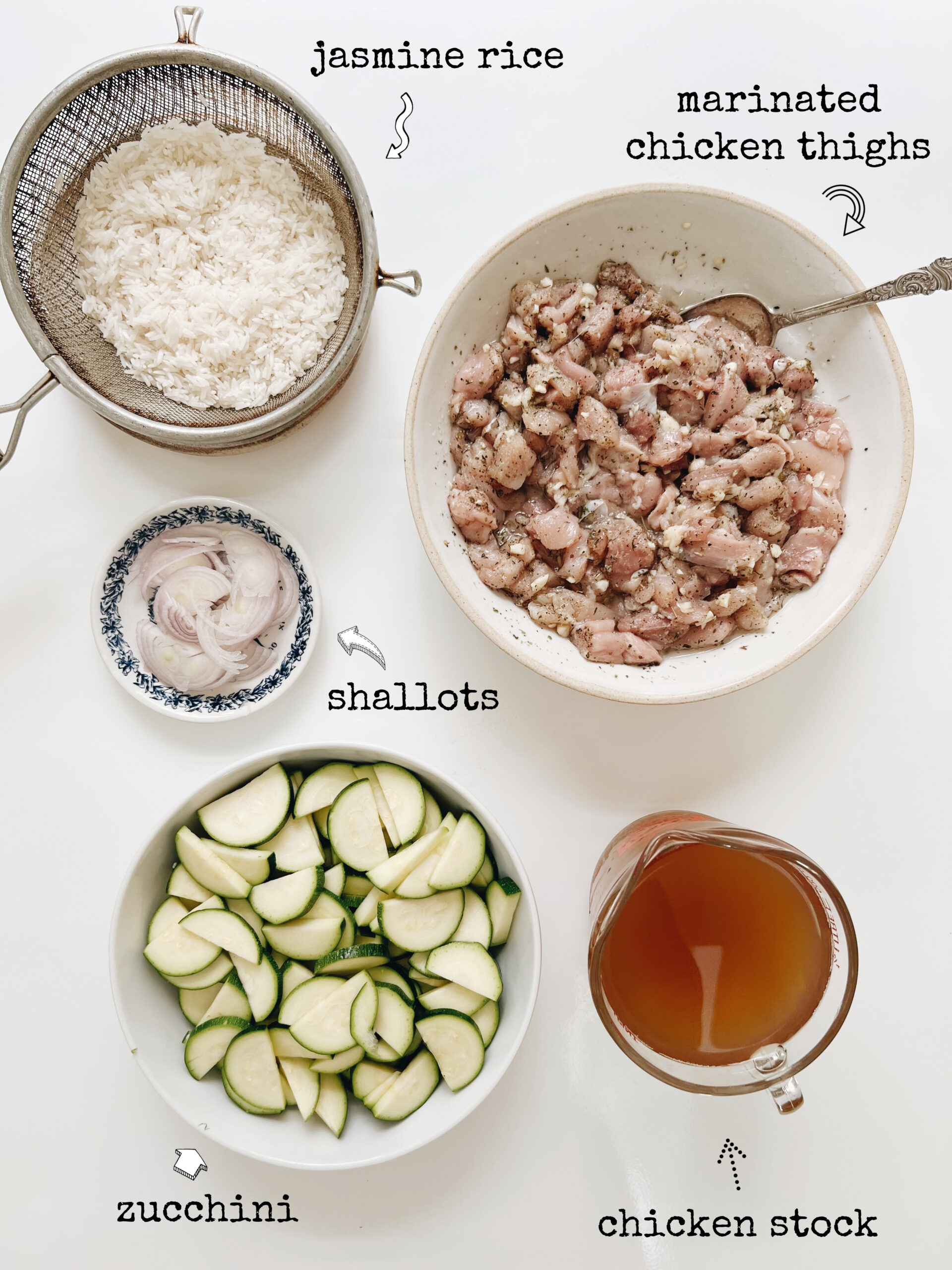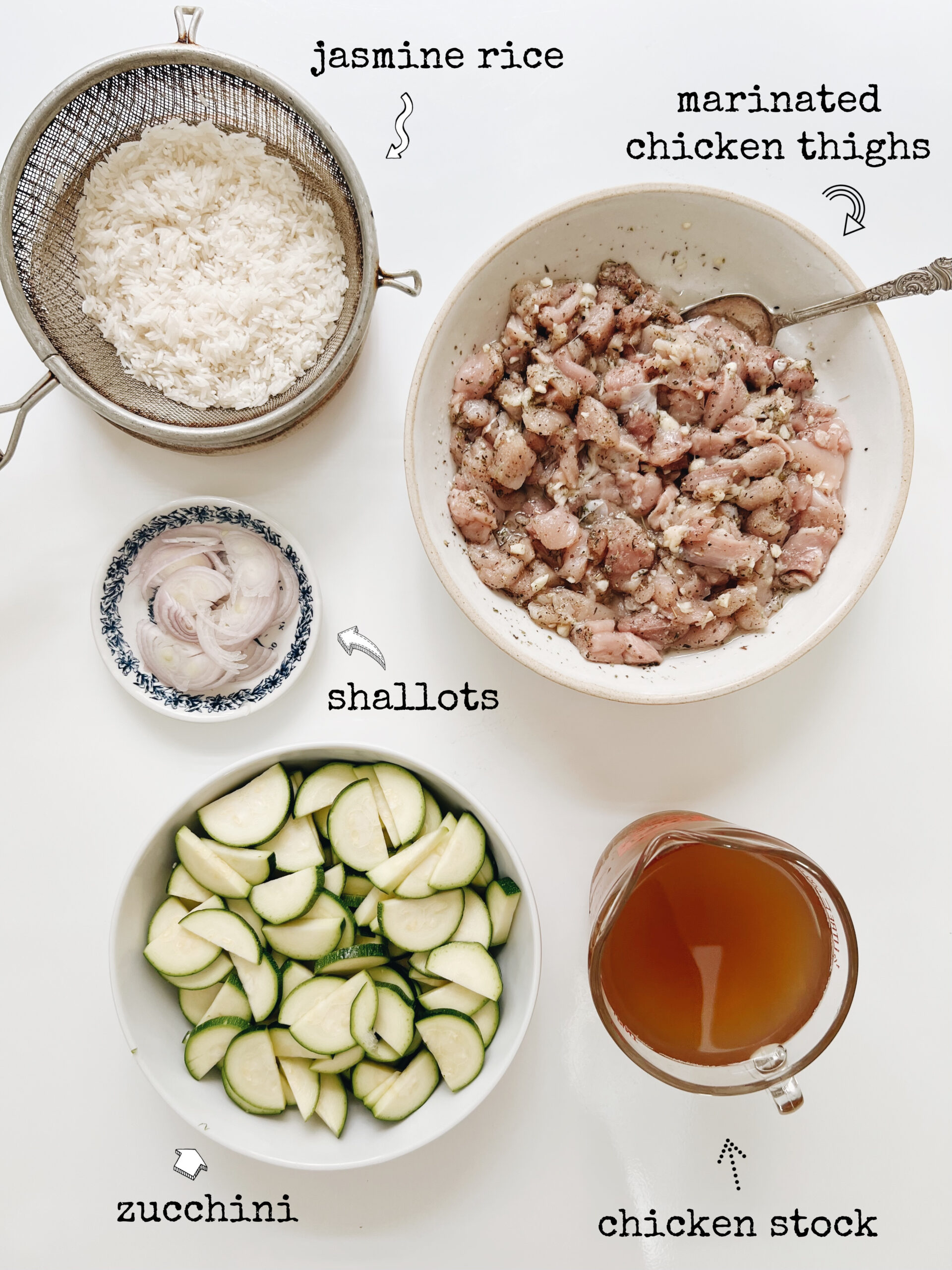 Simple operation here. We're going to marinate the chicken in oil, minced garlic, some seasoning and that's it.
And I'll TELL YOU WHAT SOrry to scream, but you could even do this part in the morning or on your lunch break to shorten the work at dinner time. See how I take care of you?
Don't answer that.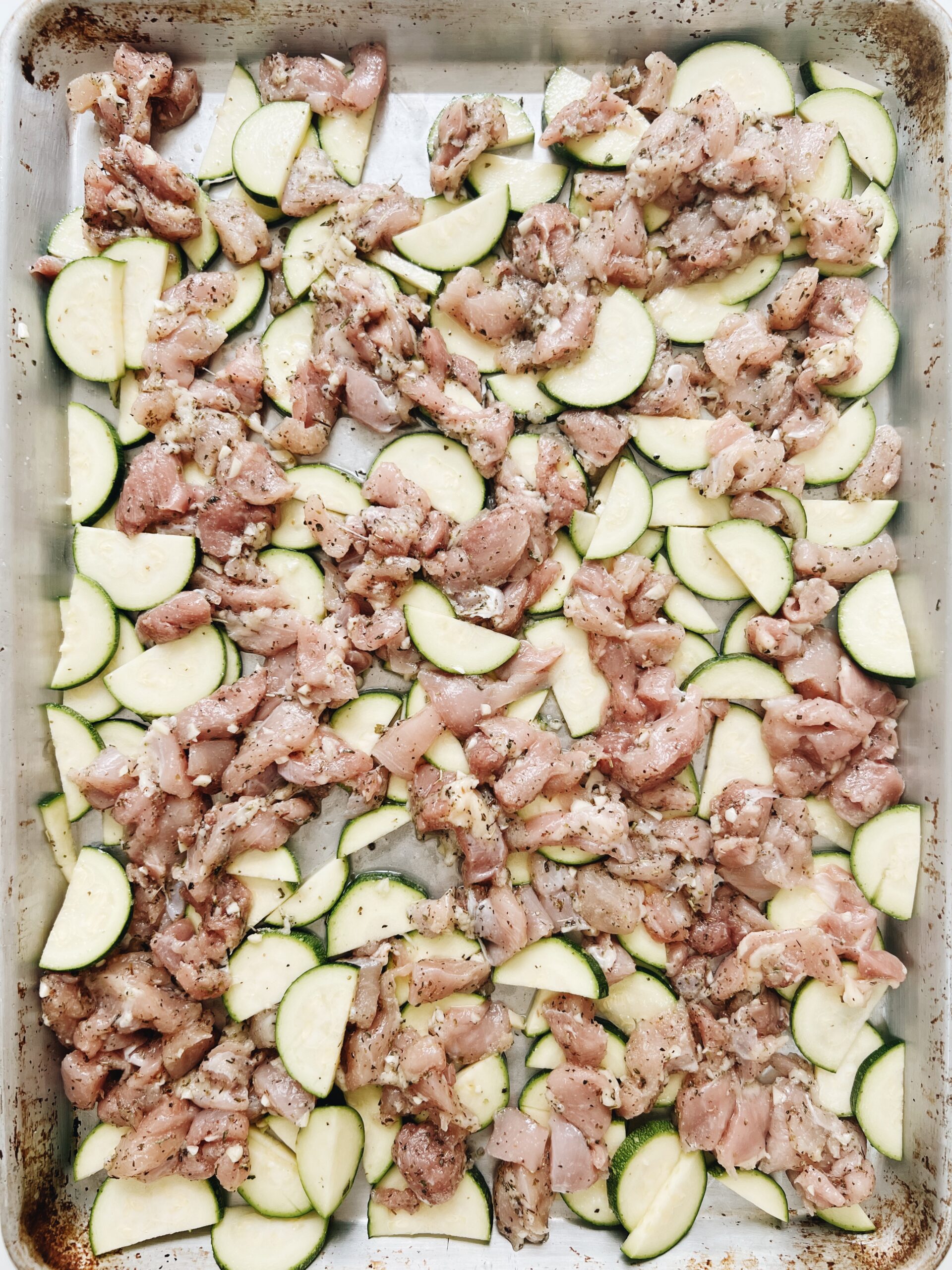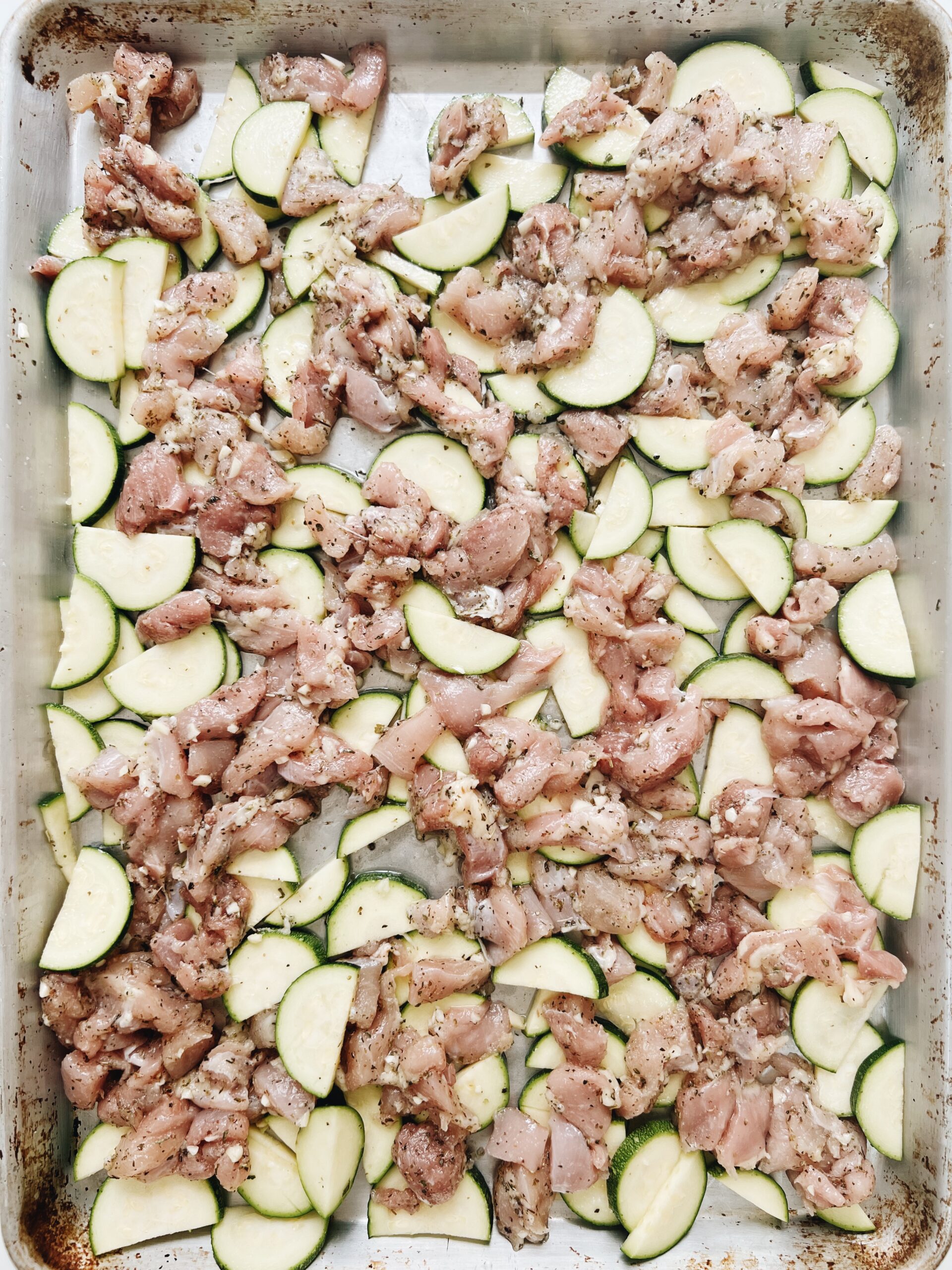 So the chicken mix is like this: you'll trim the excess fat off some chicken thighs, then chop the chicken. Then we'll mix it a little vegetable oil, minced garlic, onion powder and Italian seasoning. Pinch of salt. You know how this goes.
Then we'll arrange it on a rimmed baking sheet with sliced zucchini. Why not roast it! Let's roast it. Roast it good.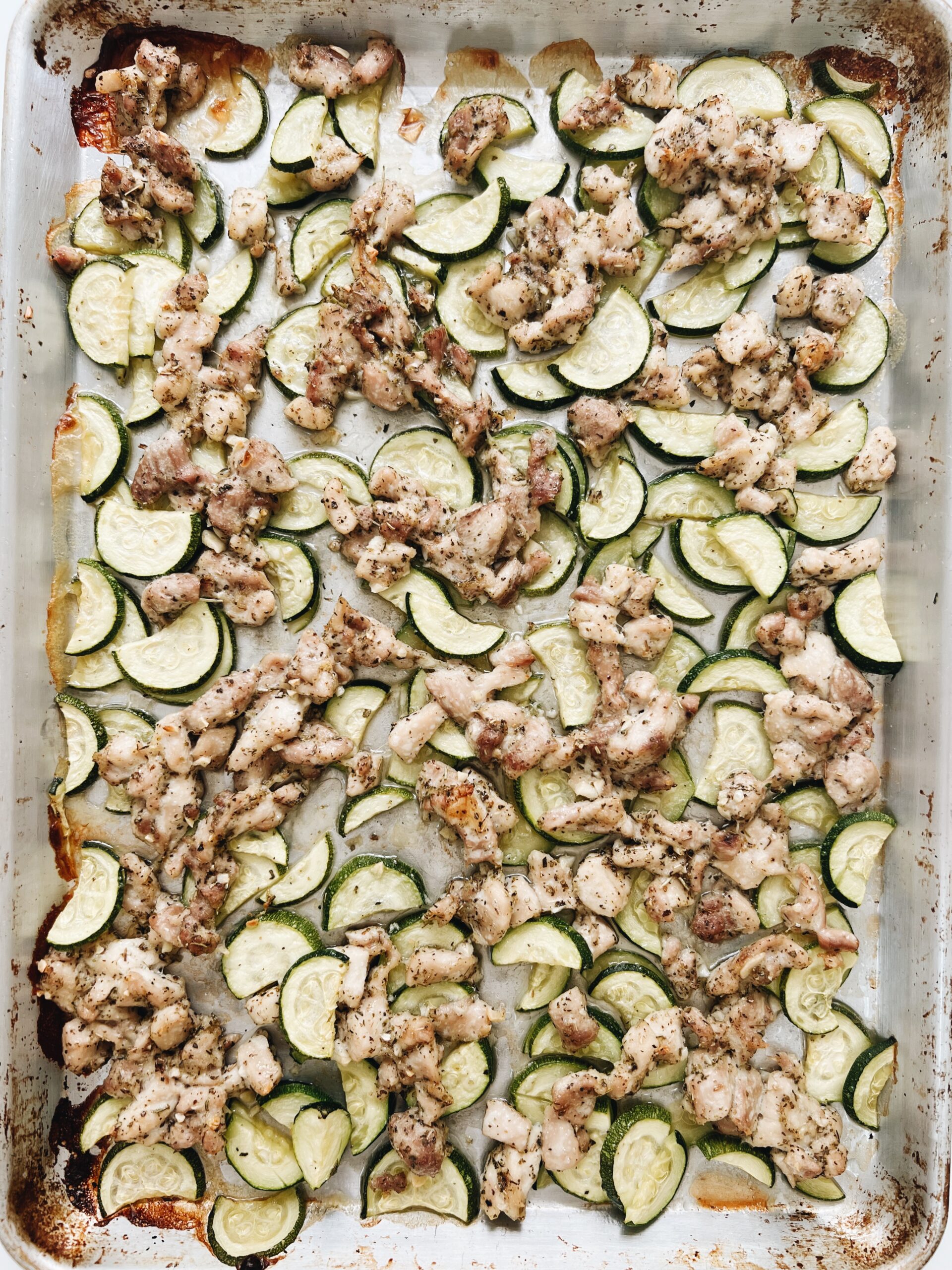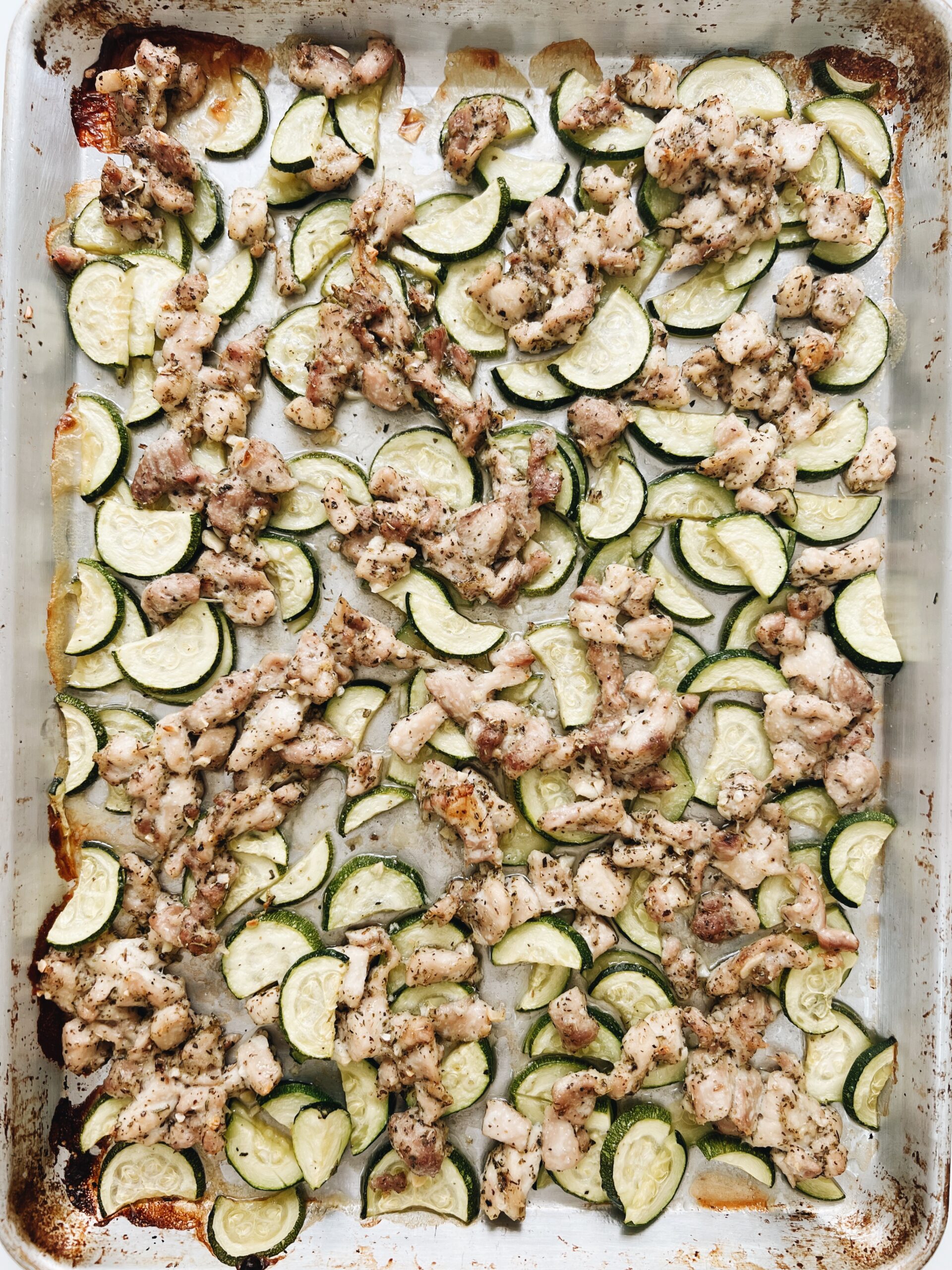 Look how amazing that is. The chicken is browned and slightly charred. The zucchini is tender and wilted. And you barely did a thing.
BUT – at the same time you'll cook the Jasmine rice. Which is just rinsed rice + chicken stock instead of water (ultimate flavor hack of all time), + sliced shallot. Shallot rice is a love language, so I suggest you get LEARNT.
But I'm not bossy about it or anything.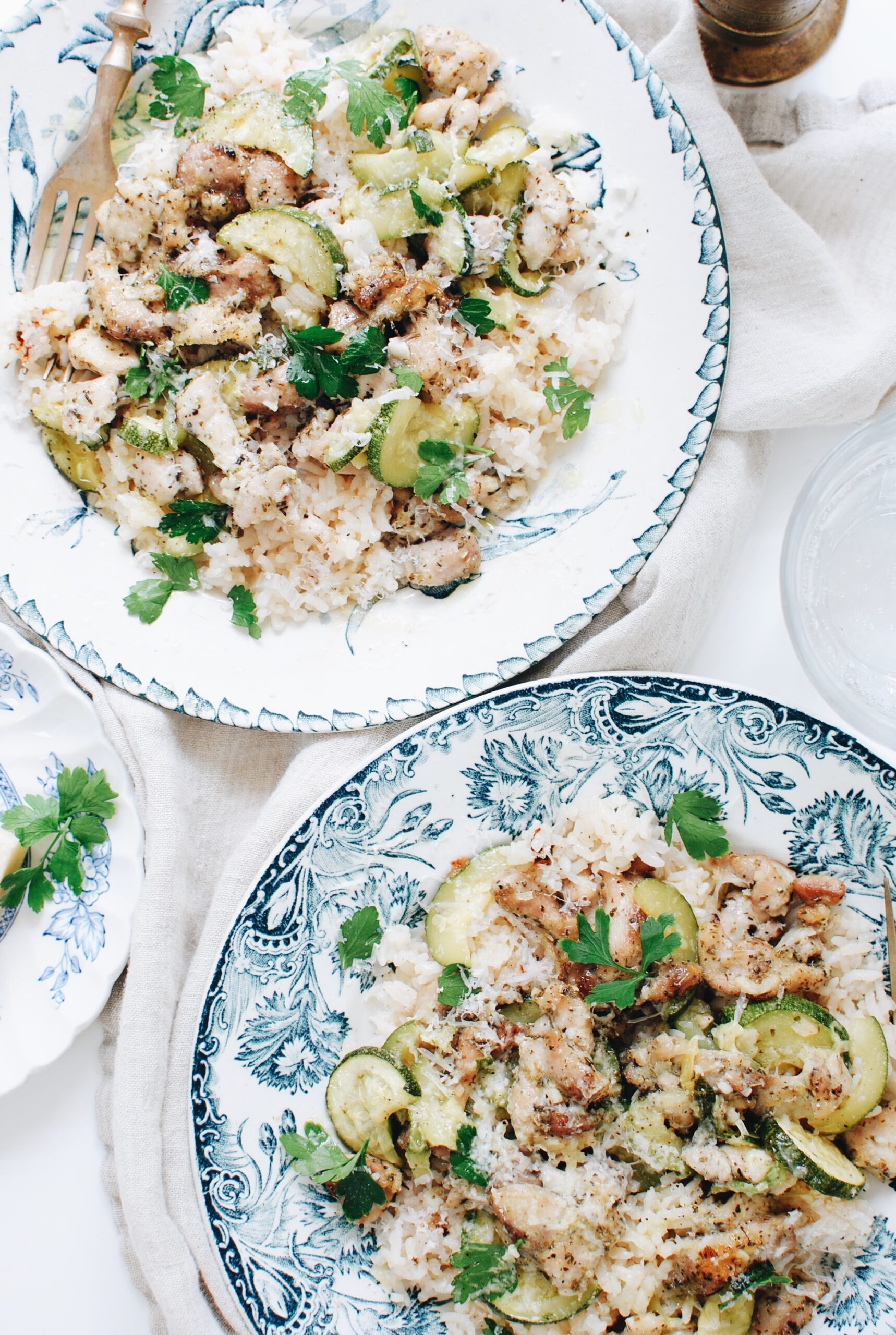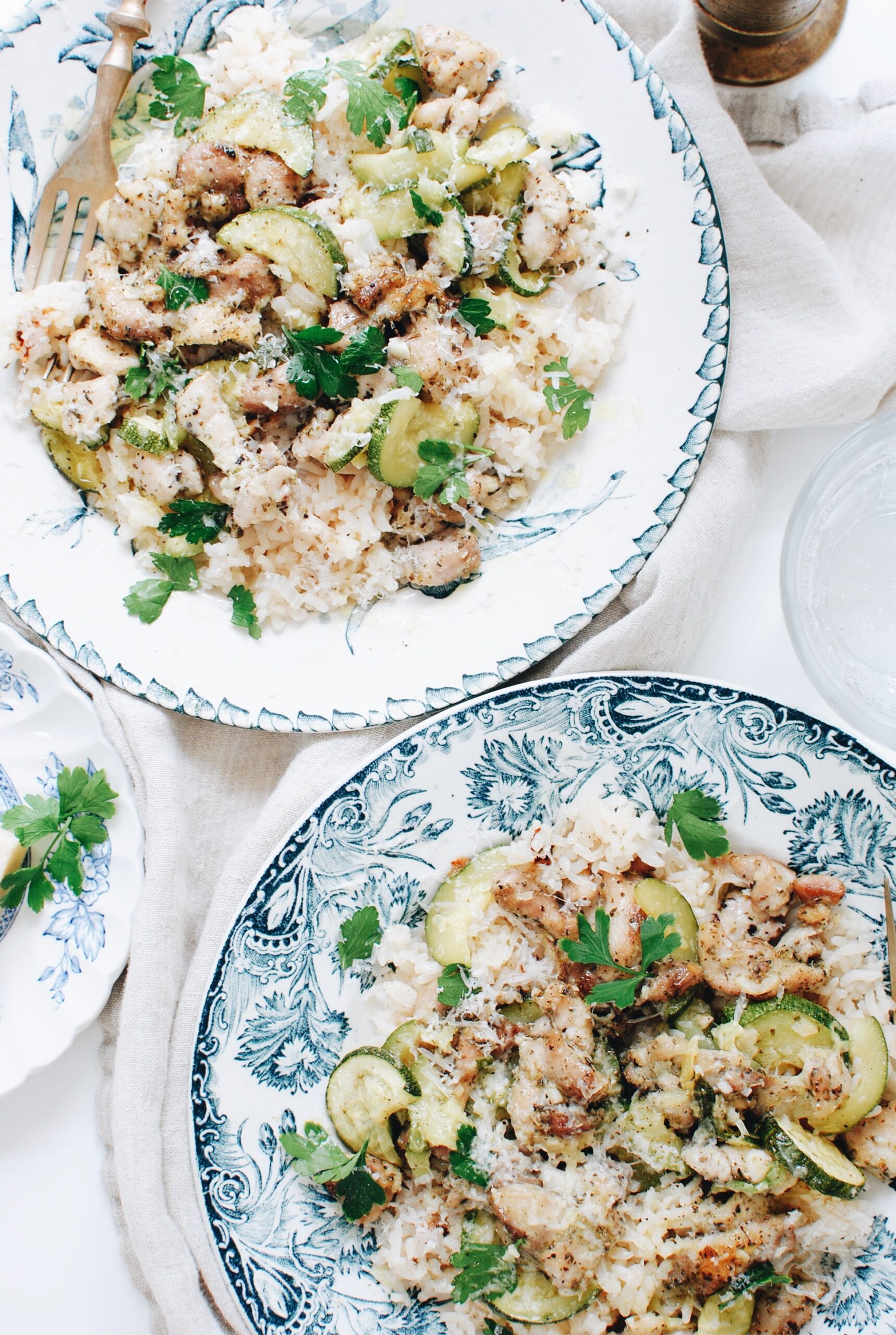 And there we have it. The fluffed rice topped with the sheet pan chicken and zucchini. We'll garnish with fresh parsley, freshly grated parmesan, a good squeeze of lemon to wake it up, and a nice drizzle of your best extra-virgin olive oil. UGH. This is good. This is so, so good.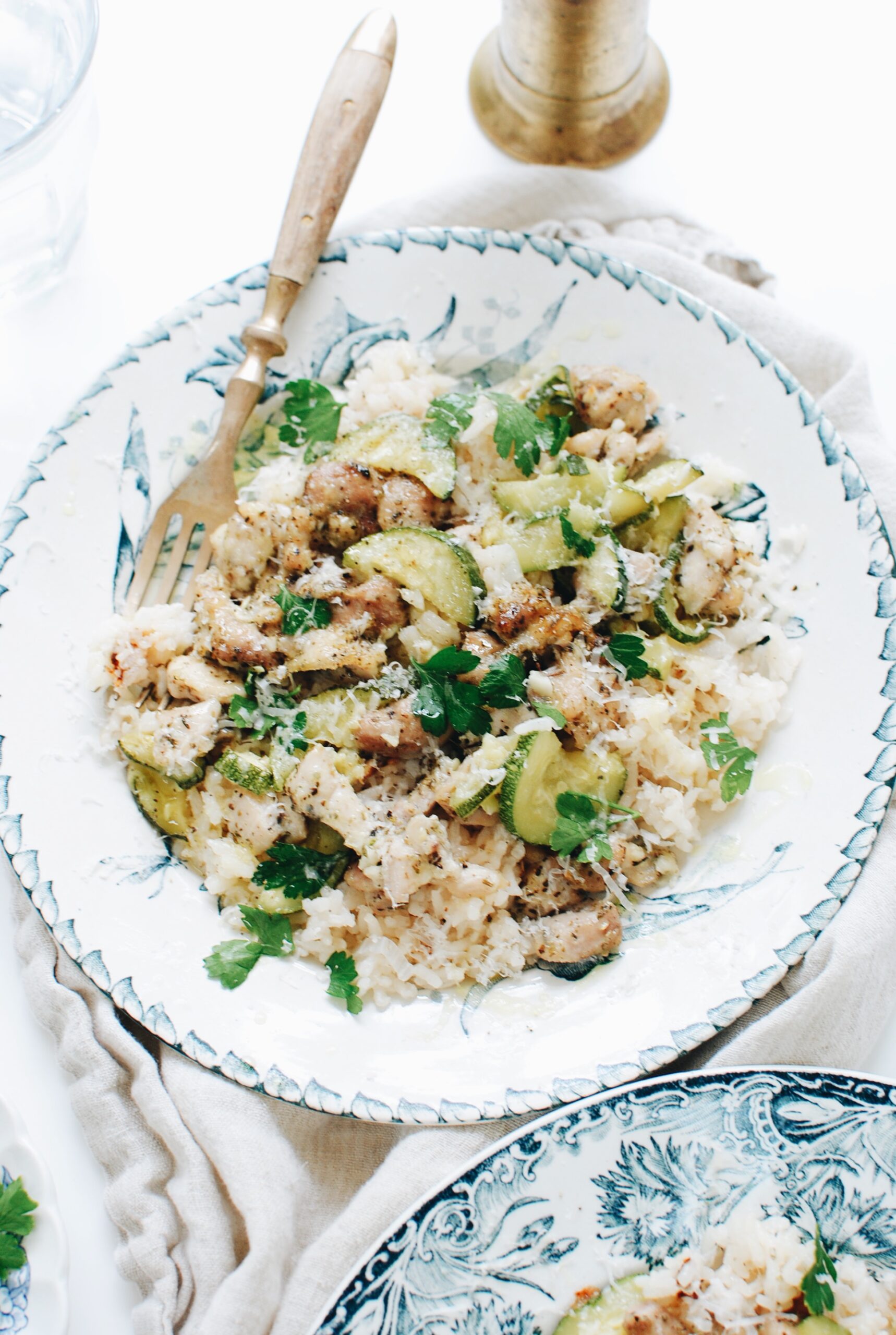 The kids will snarf it, too. There's so flavor but nothing is weird about it, ya know? Delicious homey flavors, rustic but refined, simple but elegant. It's a total weeknight win.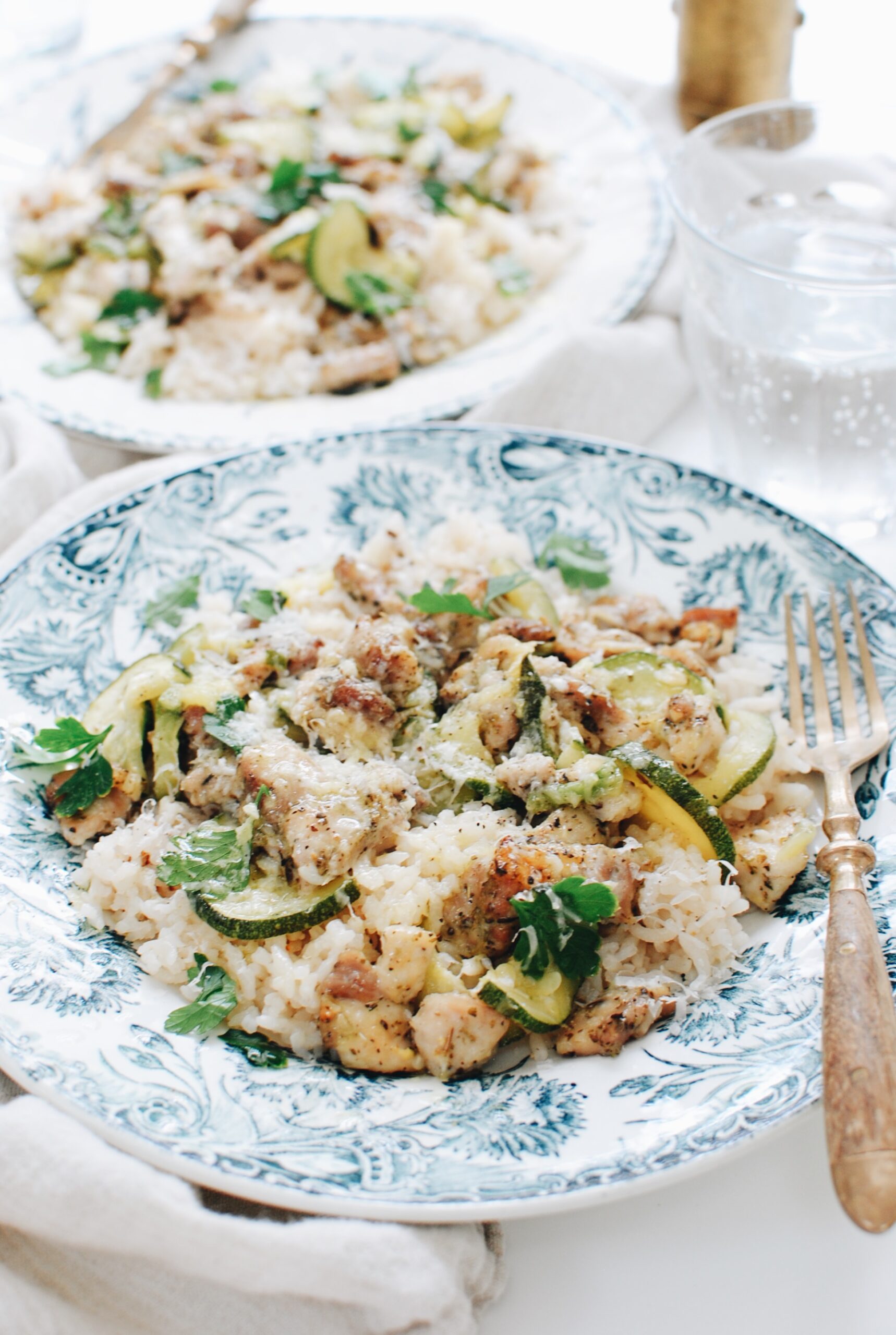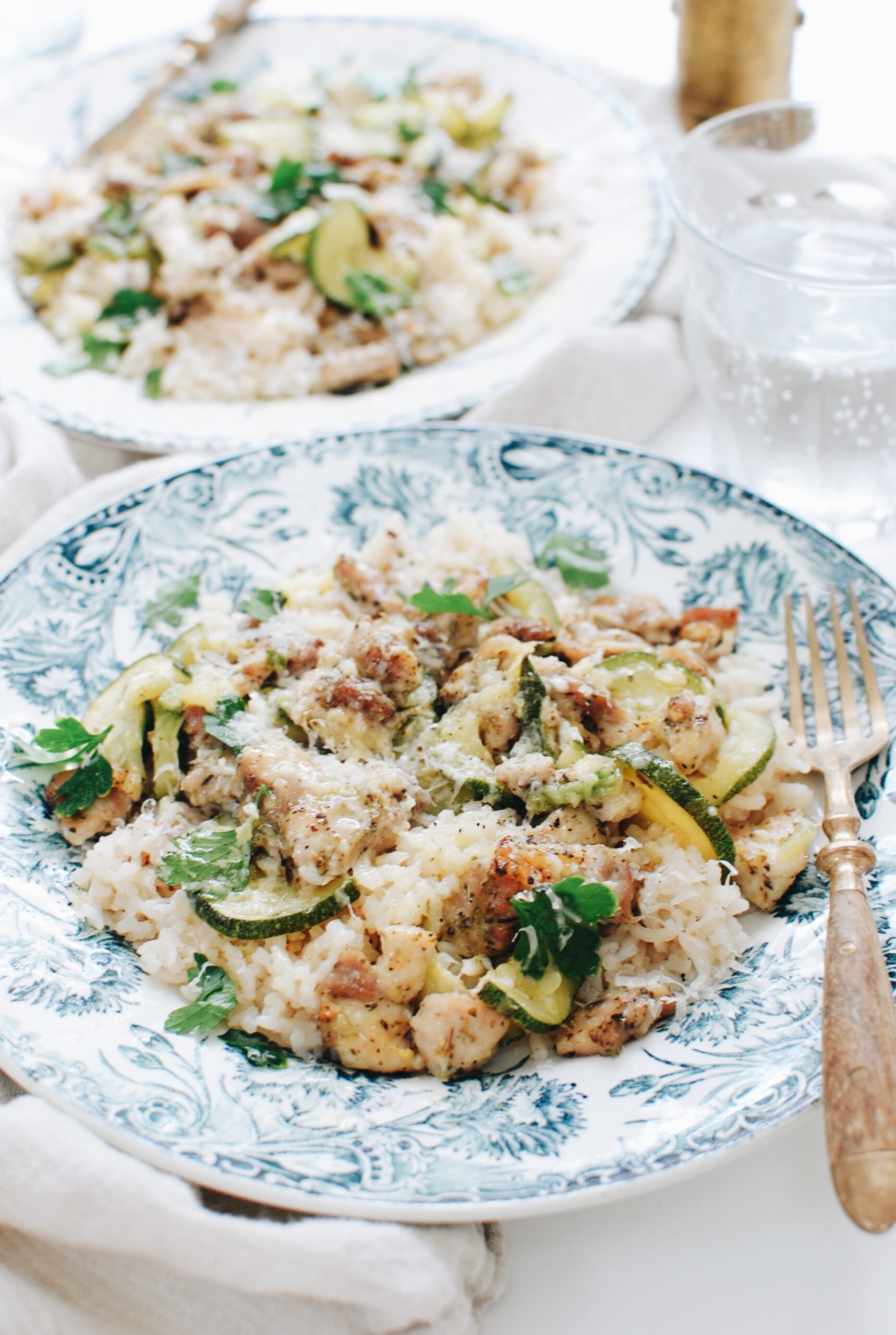 Please for the love get in that.
Sheet Pan Chicken and Zucchini with Shallot Rice
Ingredients
1.75 pound chicken thighs (excess fat trimmed and discarded), cut into small pieces
5 cloves garlic, minced
2 tsp onion powder
1 Tbs. dried Italian seasoning
1/3 cup vegetable oil
Coarse salt
2 medium zucchini, cut into half moons
1 cup jasmine rice, rinsed
2 cups chicken stock
1/2 medium shallot, thinly sliced
Fresh parsley, for garnish
Freshly grated parmesan cheese, for garnish
A good olive oil, to drizzle
Lemon wedges, for squeezing
Instructions
Preheat your oven to 400.
In a medium bowl, combine the chopped chicken, minced garlic, onion powder, Italian seasoning and a pinch of salt. Add the oil and use your hands to coat and incorporate. Arrange the chicken and zucchini on a large rimmed baking sheet. Use your fingers to coat the zucchini with the seasoned oil as well. Get it all glossy. (<—sorry) Roast for 30 minutes, until the chicken is nicely browned and the zucchini is tender.
In the meantime, place the rice, stock and shallots in a rice cooker. Stir to combine and break up the shallots. (Stovetop is fine, too) Set it and forget it. Once cooked, fluff the rice with a fork.
Evenly spoon the shallot rice on dinner plates and top with the sheet pan chicken and zucchini. Garnish with fresh parsley, freshly grated parmesan cheese, a squeeze of lemon, and a little drizzle of your best extra-virgin olive oil. Serve immediately!
Serves four.
7.8.1.2
597
https://bevcooks.com/sheet-pan-chicken-and-zucchini-with-shallot-rice/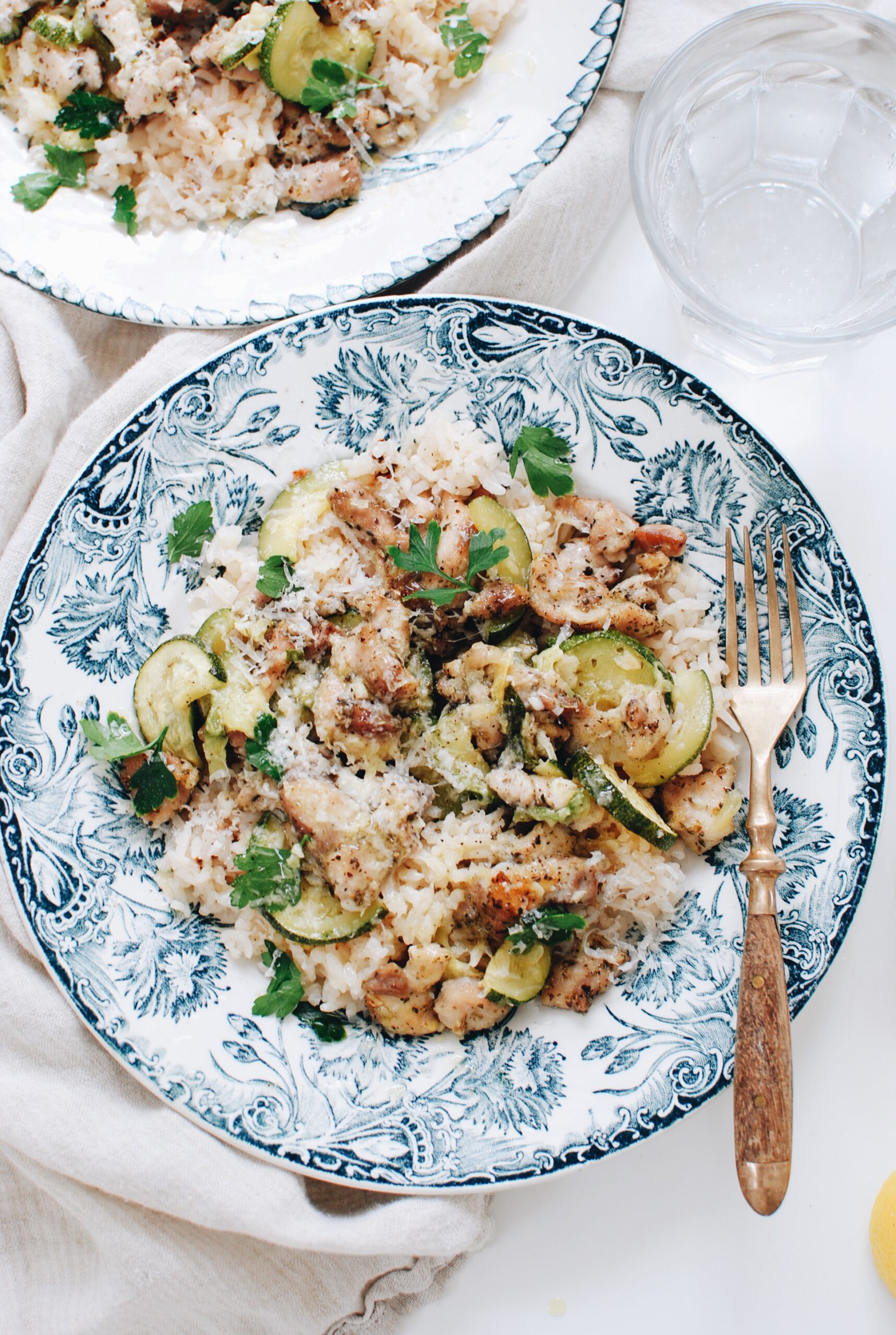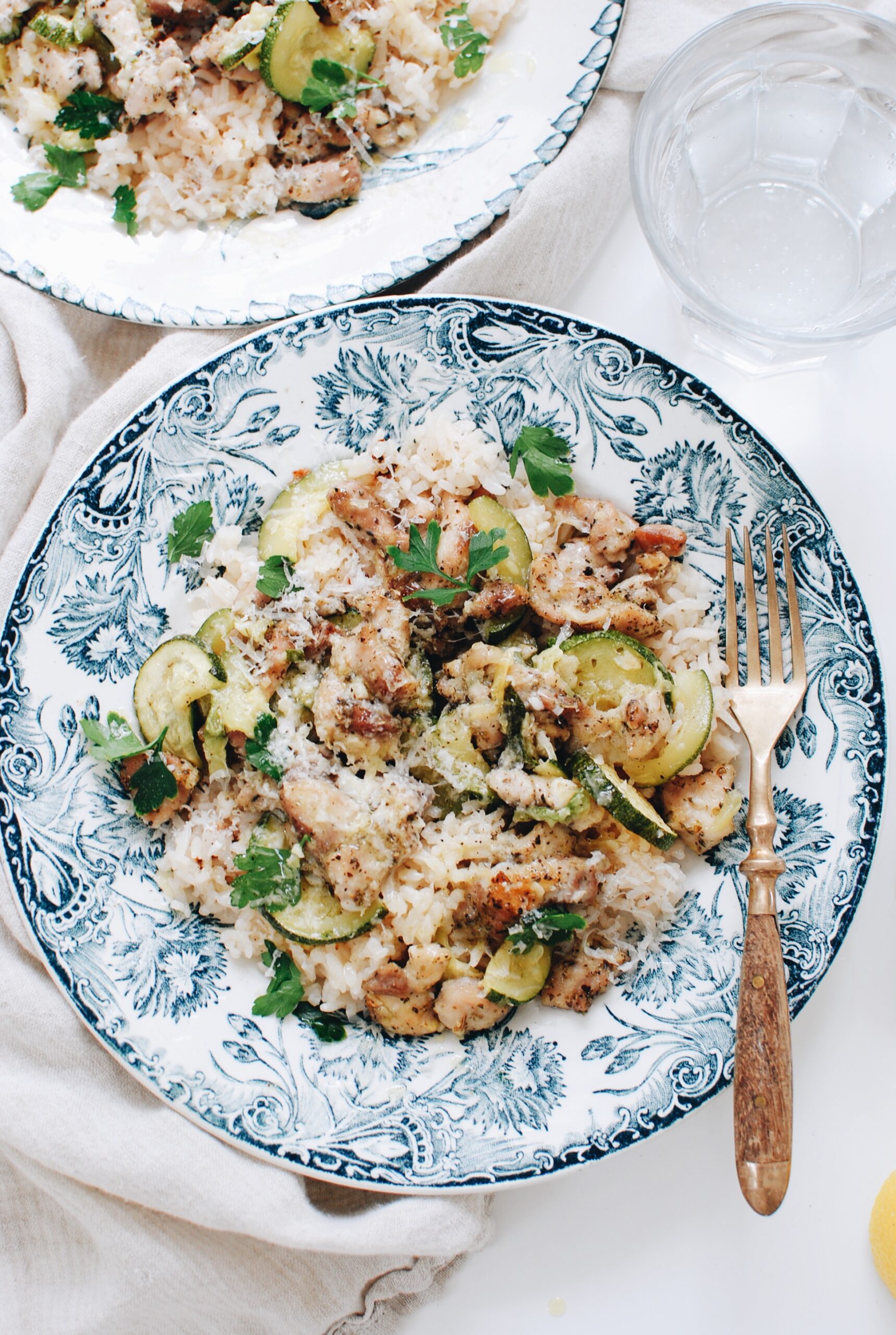 Make it this week! I dare ya.