With prosciutto crisps! Don't punch me in the pancreas, vegetarians.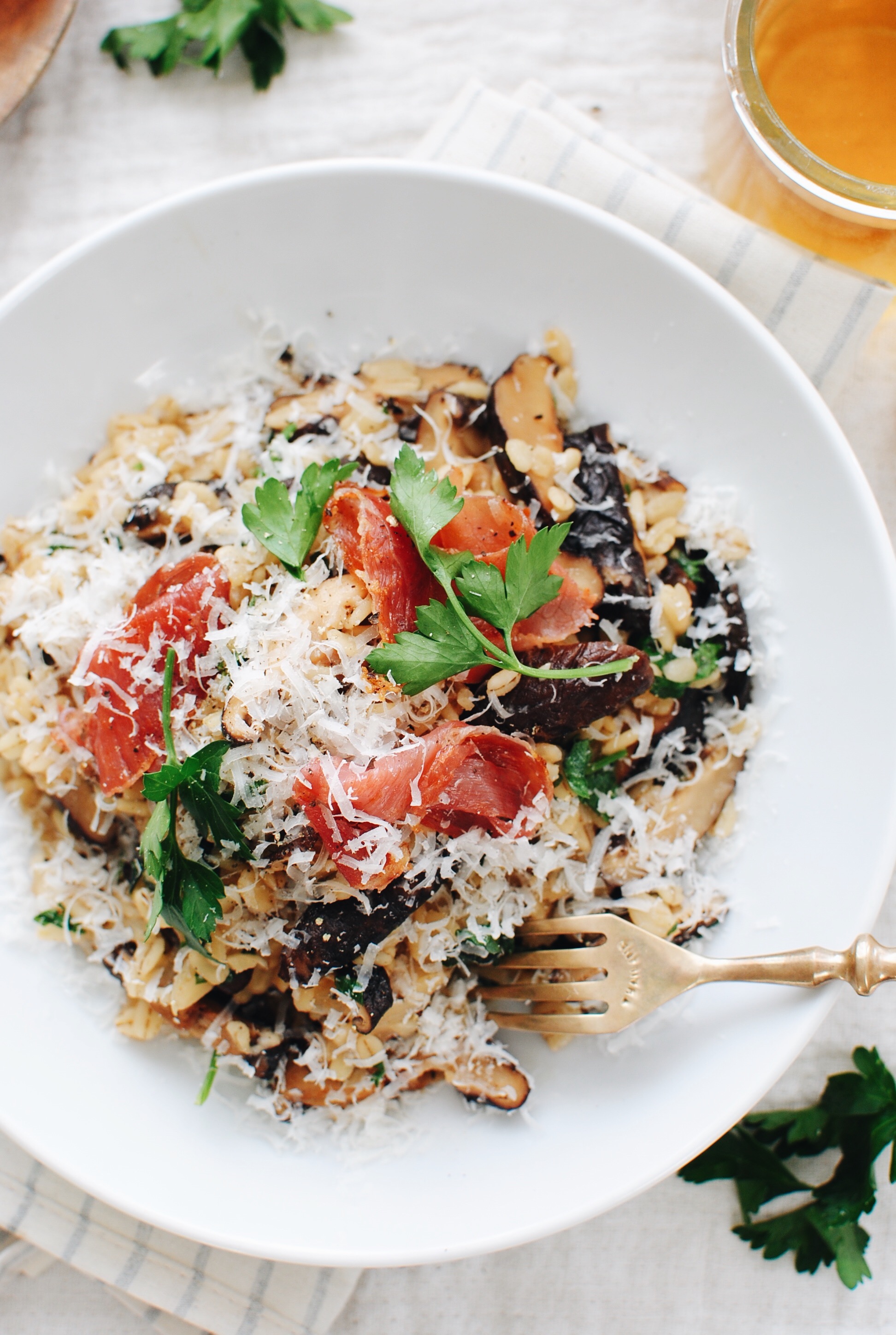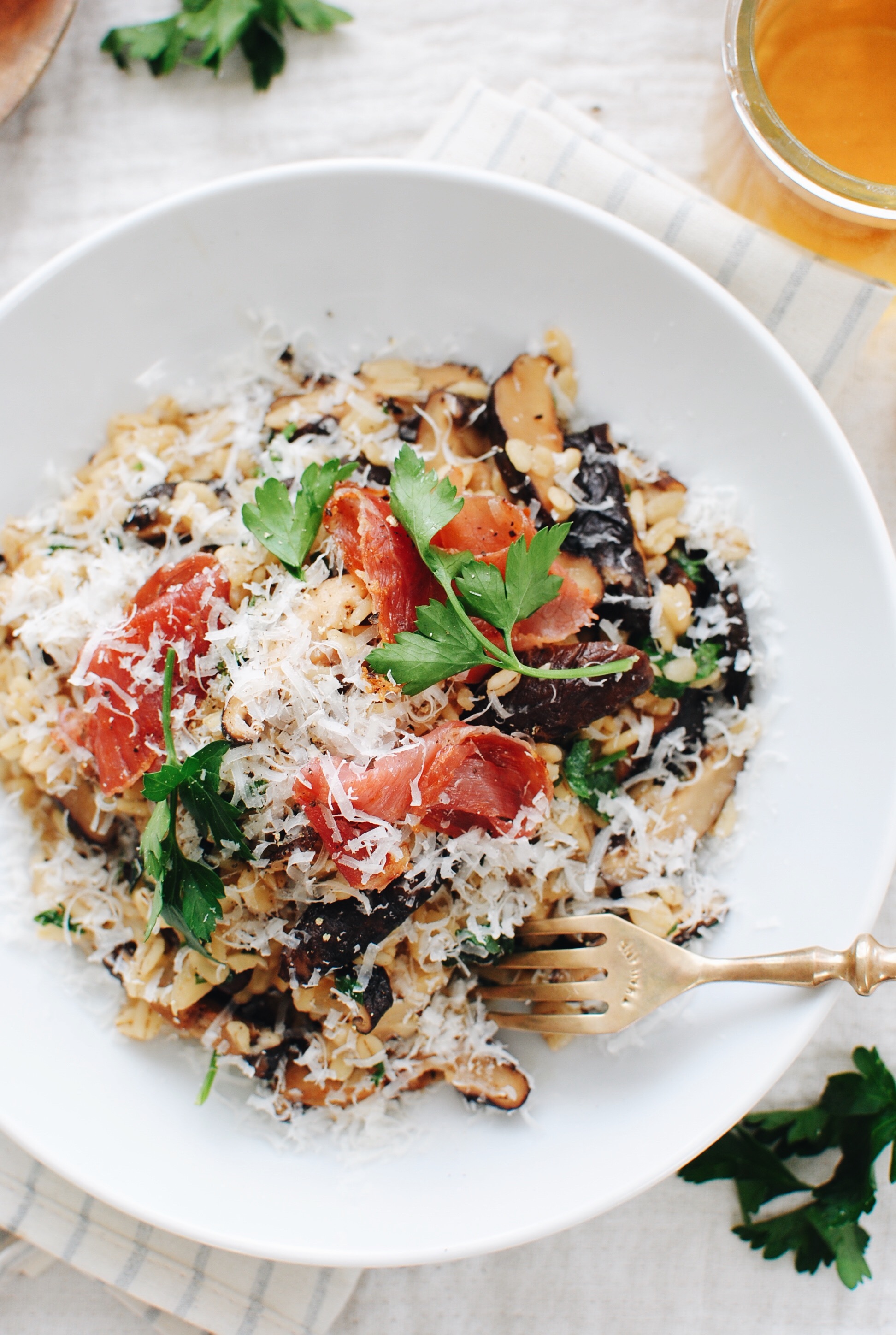 Have you ever swapped in barley in place of arborio rice? Oh man you should. It's crazy. Totally new take on risotto.
I'm not new to barley risotto, I just hardly ever make it or think about it. Which isn't rightly selling this, is it.
But look: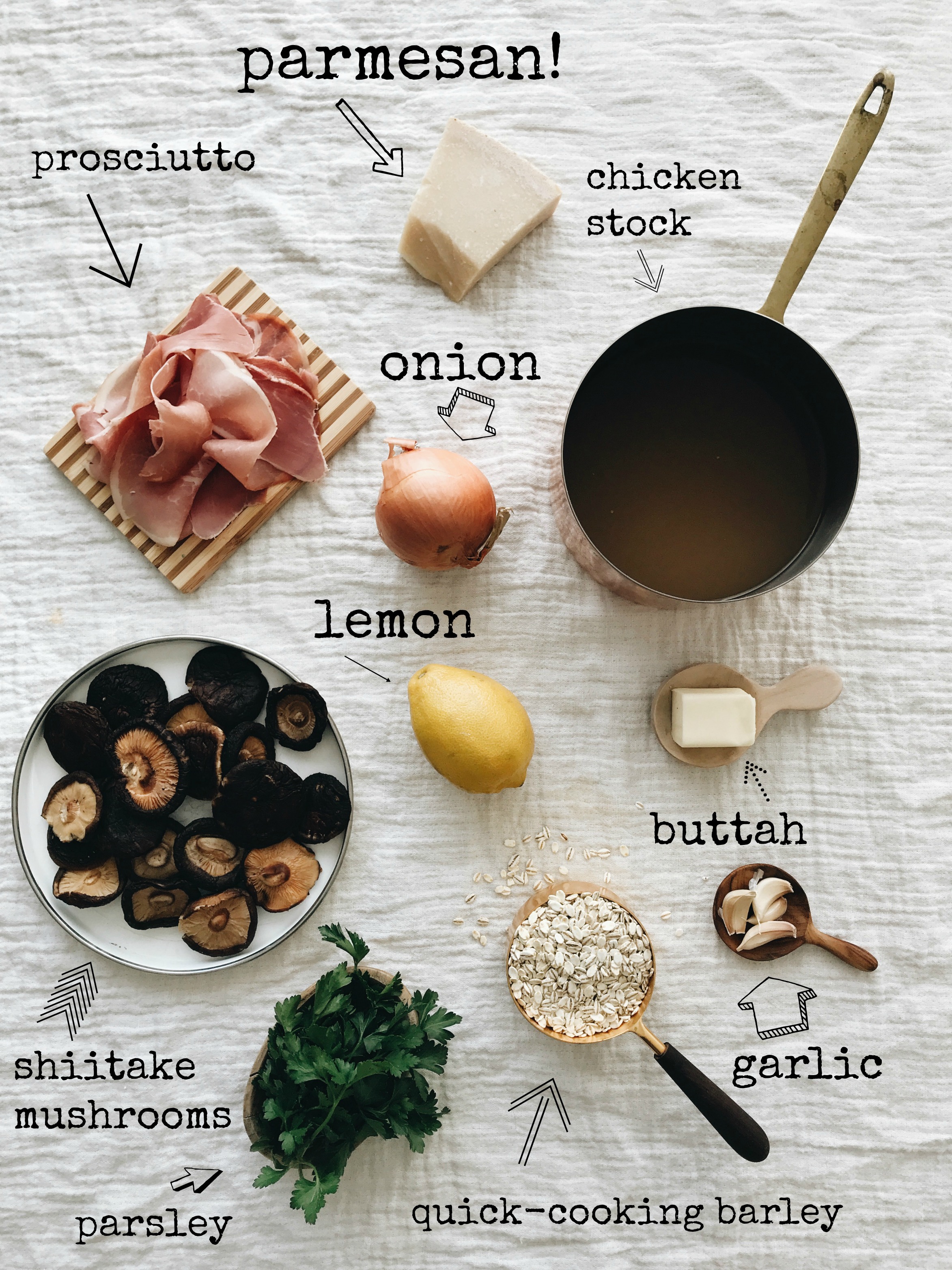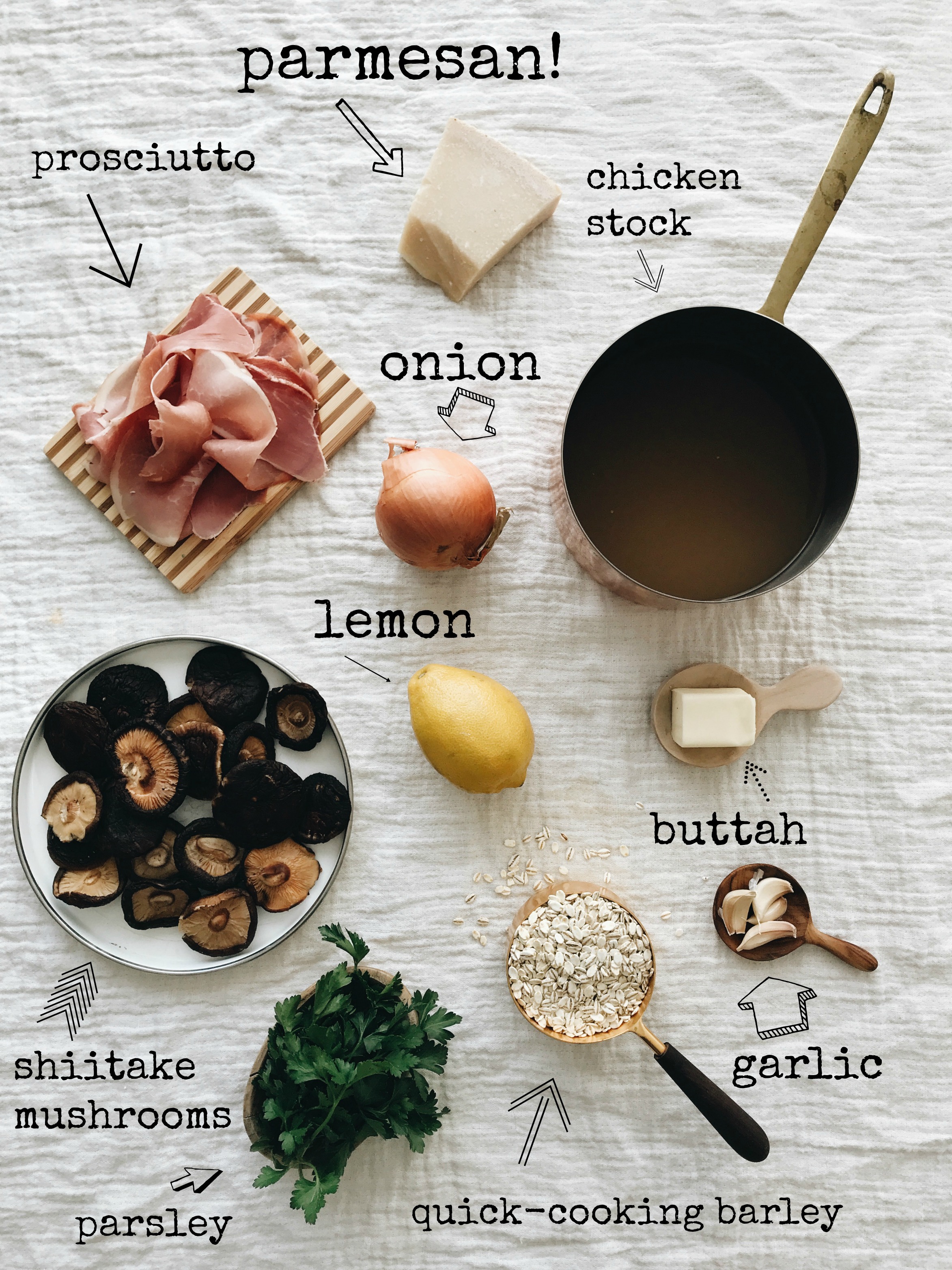 Basically the exact same as risotto, but with barley! AND you can get quick-cooking barley and it'll zip this thing together in a snap and a half.
But we need to discuss the mushroom situation.
Because I'm (too?) honest and need to tell you what went down.
I wanted shiitake mushrooms. I love shiitake mushrooms. Pungent but mild. Earthy but mellow. But my store only had DRIED shiitake mushrooms. So I said to no one, "Okay, this will be great. I'll rehydrate them and they'll be magically complex!" (I didn't say magically complex. Except I did.)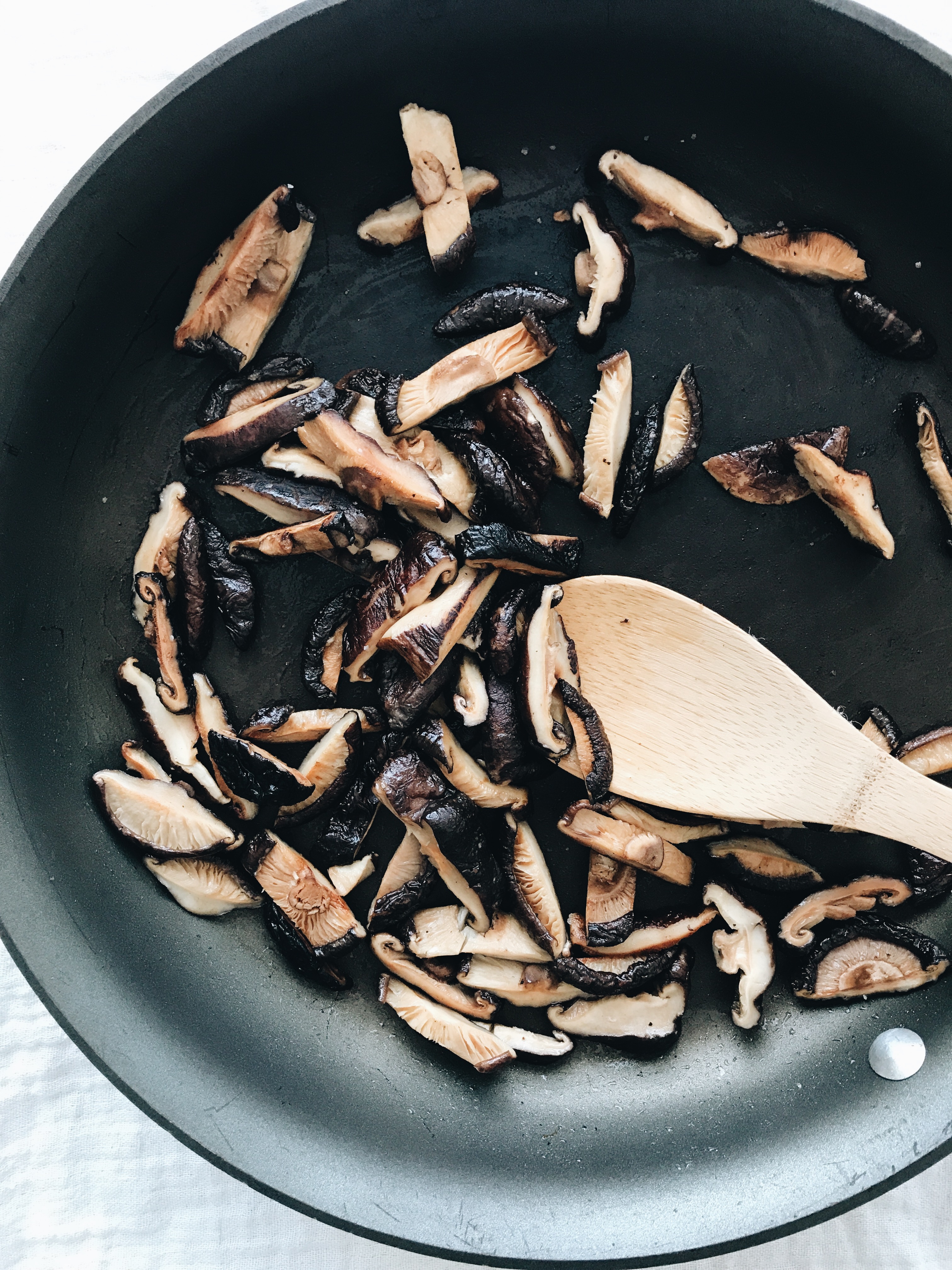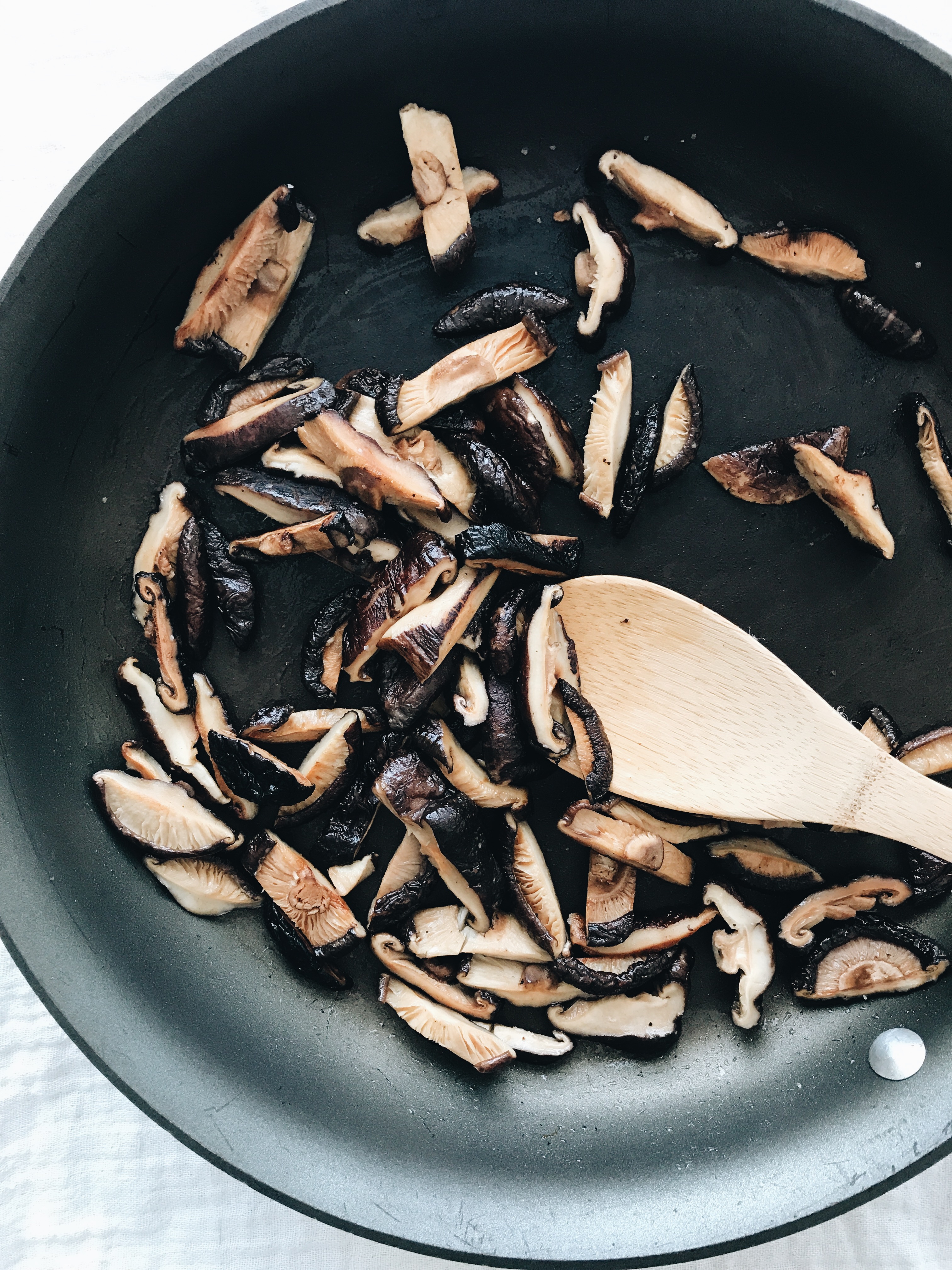 . . . . I don't like rehydrated mushrooms. Do I get kicked out of the blogosphere because of this? I can't do it. I cannot do rehydrated mushrooms. AND WHY AM I GETTING A SQUIGGLY LINE UNDER REHYDRATED.
Now, before you start eyeing the giant X in your upper right hand corner, hear me out. You're still a good person if you like rehydrated mushrooms. And you can use rehydrated mushrooms in this risotto. You can! I want you to be happy in life!
But they were too intense for me. You're like, "You're too intense for me."
Regular shiitakes would be the way to go here. I made this long ago WITH regular shiitakes and souls exploded. Frickin' heart chamber confetti. So go with regular shiitakes.
Unless you love rehydrated mushrooms! I've said rehydrated way too much today.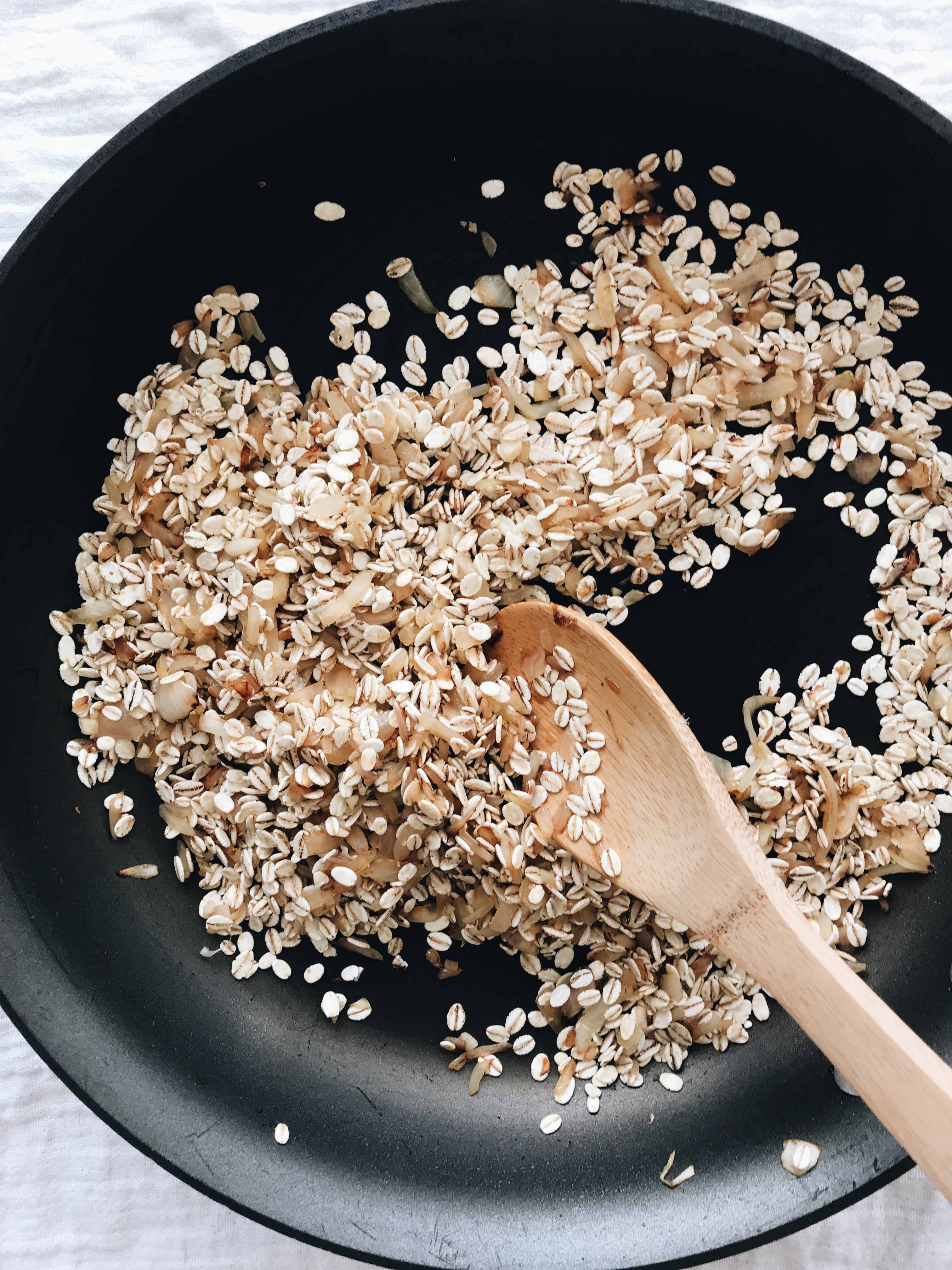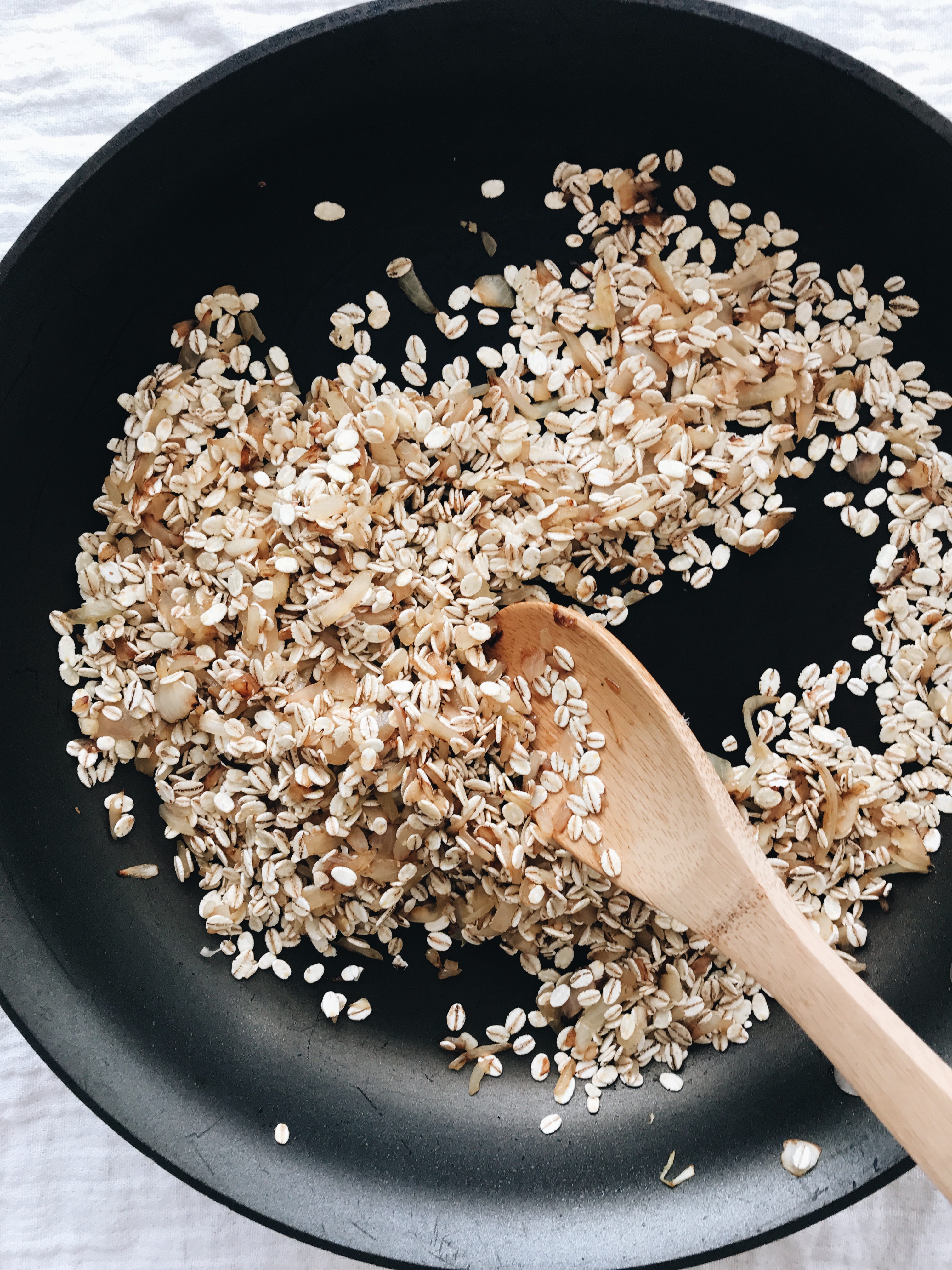 So like regular risotto, sauté some onions and garlic in some buttah. Then add in a cup of barley and just toss it around, letting it toast up a bit.
You can add a splash of white wine at this point to start the liquids, or just dive into chicken stock.
We should start a band called Diving Into Chicken Stock.
Wait, are you already gone?
After about 20 minutes of ladling in the chicken stock a half cup at a time, the barley will cook and plump and absorb all the liquid. Then you'll stir the shiitakes back in, turn off the heat and add in another pat of butter and a heavy hand of freshly grated parmesan, lemon juice and parsley. (<—aka: your secret weapons.)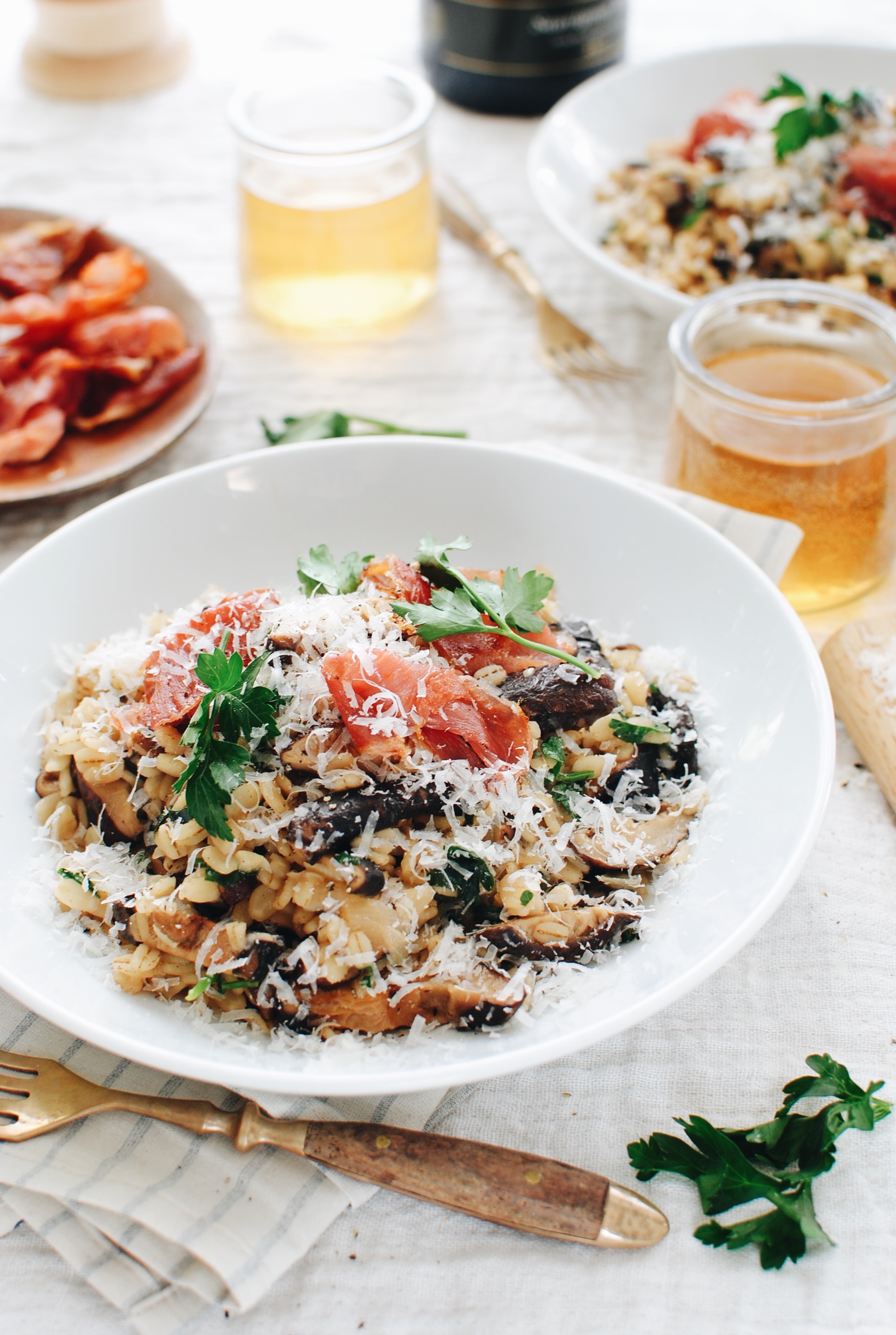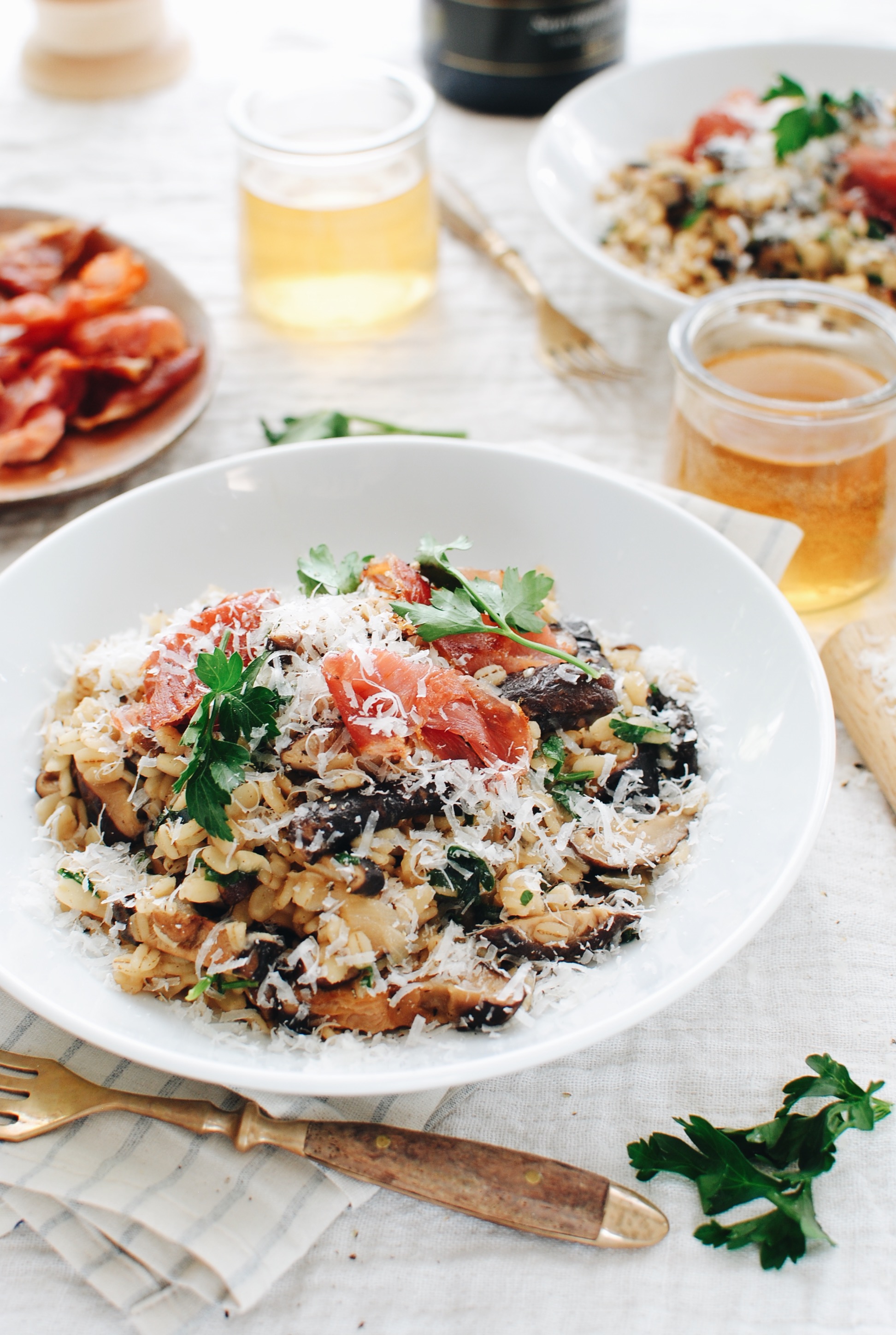 Goodness gracious sakes alive.
Look at that! Those prosciutto crisps all nestled on top like baby birds with a blanket of parmesan earth worms. (<–ignore all that.)
This is DELICIOUS. I can't even tell you. And of course once it was all together with the lemon and the cheese and the prosciutto crisps I was like, "OKAY THE REHYDRATED MUSHROOMS WORK." But I still would have preferred fresh. So you heard it hear first, folks. Fresh over dried. The end.
Unless you prefer dried! You do you. The end.
But go with fresh! The end.
(Only if you want!)
(The end.)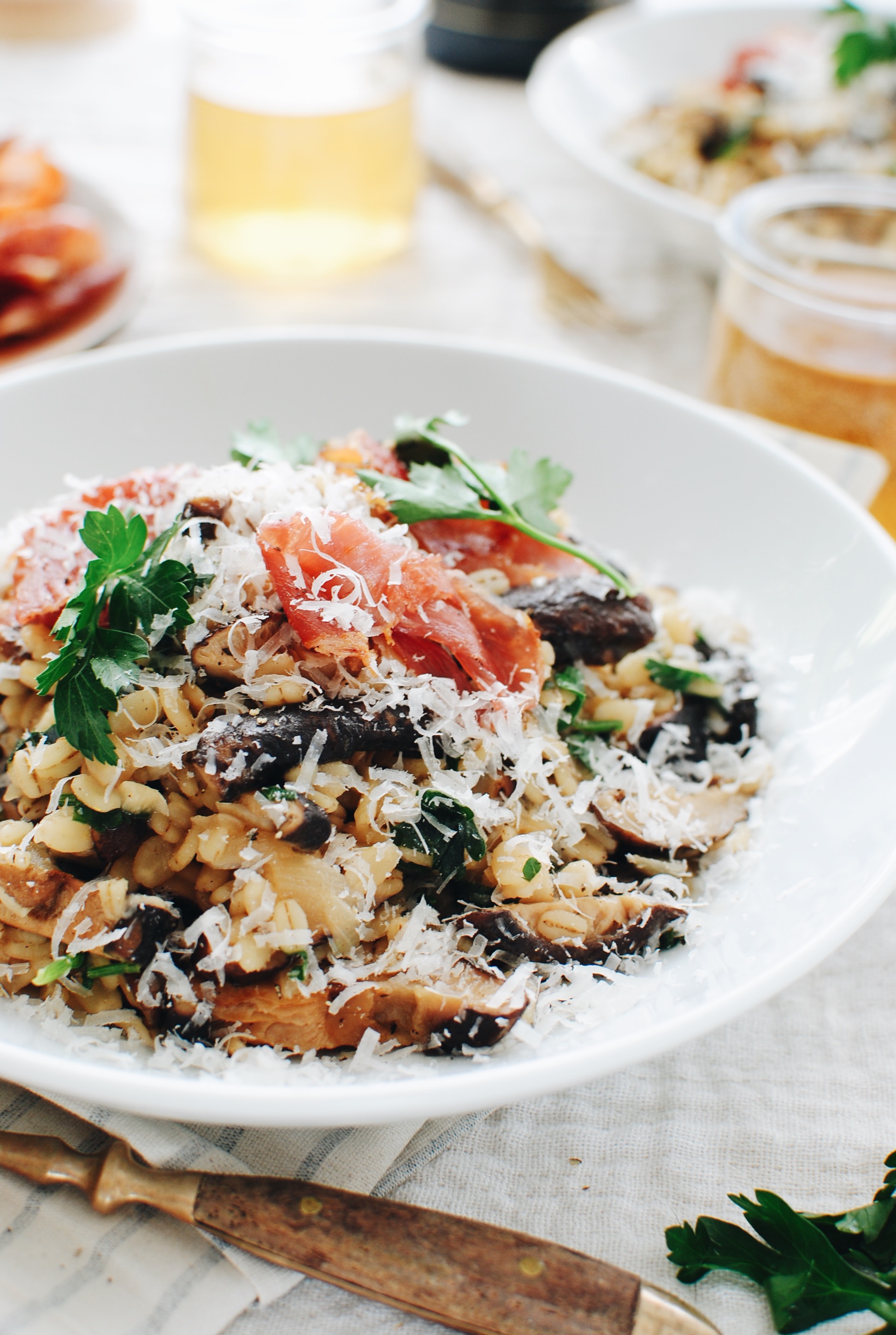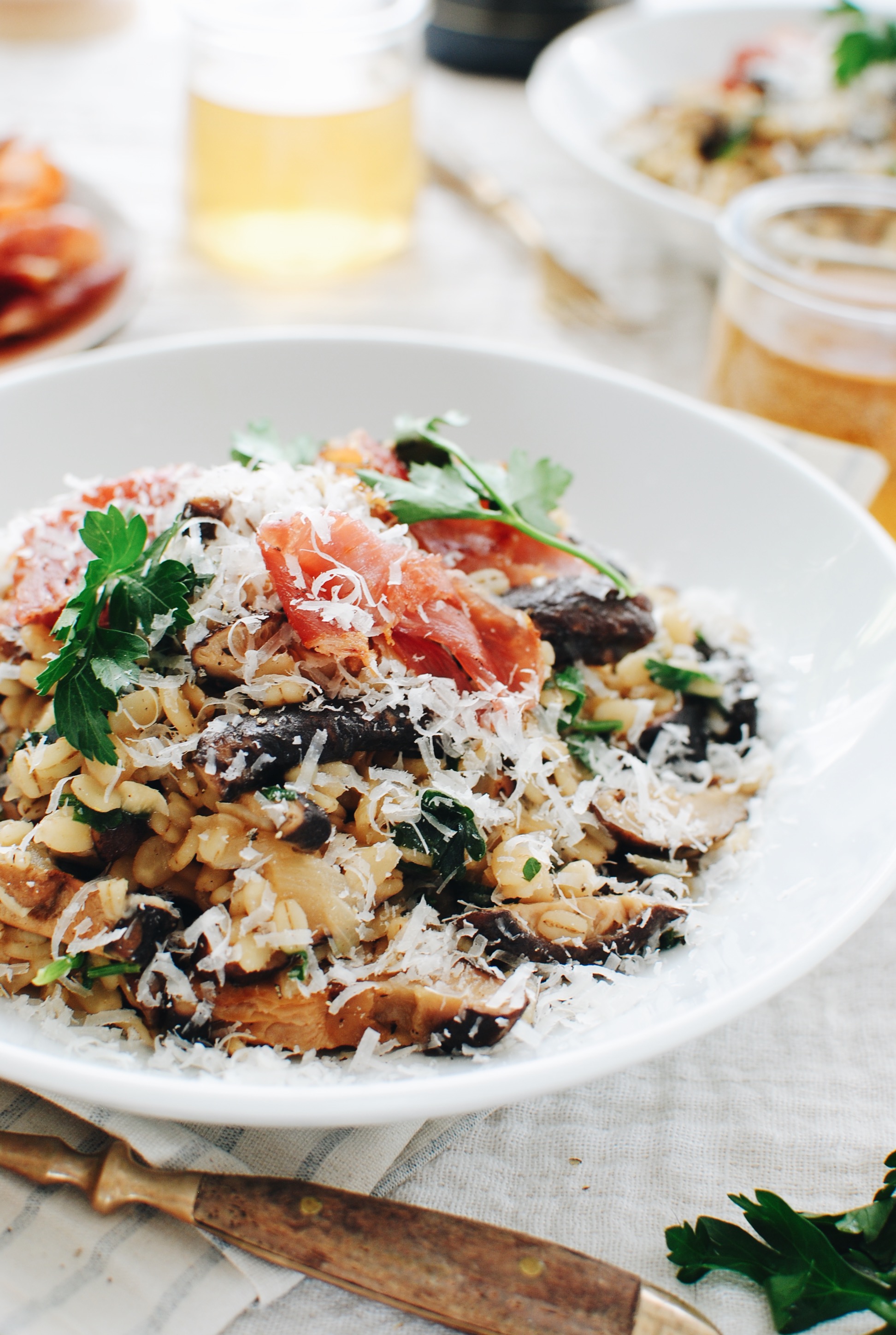 You need to get in that.
Mushroom and Barley Risotto
Ingredients
3 Tbs. butter, divided
1 Tbs. extra-virgin olive oil
1 medium yellow onion, diced
4 cloves garlic, minced
1 cup quick-cooking barley
4 cups chicken stock
8 oz fresh shiitake mushrooms, sliced (stems removed)
1/3 cup freshly grated parmesan cheese, plus more more garnish
1 lemon, halved
1/2 cup chopped parsley leaves
8 slices prosciutto, torn into small slices and crisped in a pan
Instructions
Bring the chicken stock to a simmer in a small sauce pot.
Heat a Tbs of butter over medium high heat. Sauté the mushrooms until tender and darkened, just a few minutes. Season with a pinch of salt and remove from the pan to rest.
To the pan, melt another Tbs. of butter and the oil. Add the diced onions and sauté until they begin to sweat, five minutes. Add the garlic and sauté another 30 seconds, or until fragrant. Add the barley to the pan and toss with the garlic and onions, toasting it for about a minute. For the next 20 or so minutes, over medium heat, ladle a half cup of the stock at a time into the pan, letting the barley absorb the liquid. Once you've added all the stock, and the barley has plumped and absorbed the liquid, turn off the heat.
Add the mushrooms back to the dish, along with the remaining Tbs. of butter, parmesan, juice from half the lemon, parsley, and a good pinch of salt. Stir this all together, letting the butter and cheese melt. Now taste it. More salt? More lemon? Adjust the flavors until it's like UM YES.
Garnish with the prosciutto crisps, more cheese, extra lemon and a few sprigs of parsley. Heaven awaits you.
Serves two large dinner servings, or four smaller servings. You do you.
7.8.1.2
133
https://bevcooks.com/mushroom-barley-risotto/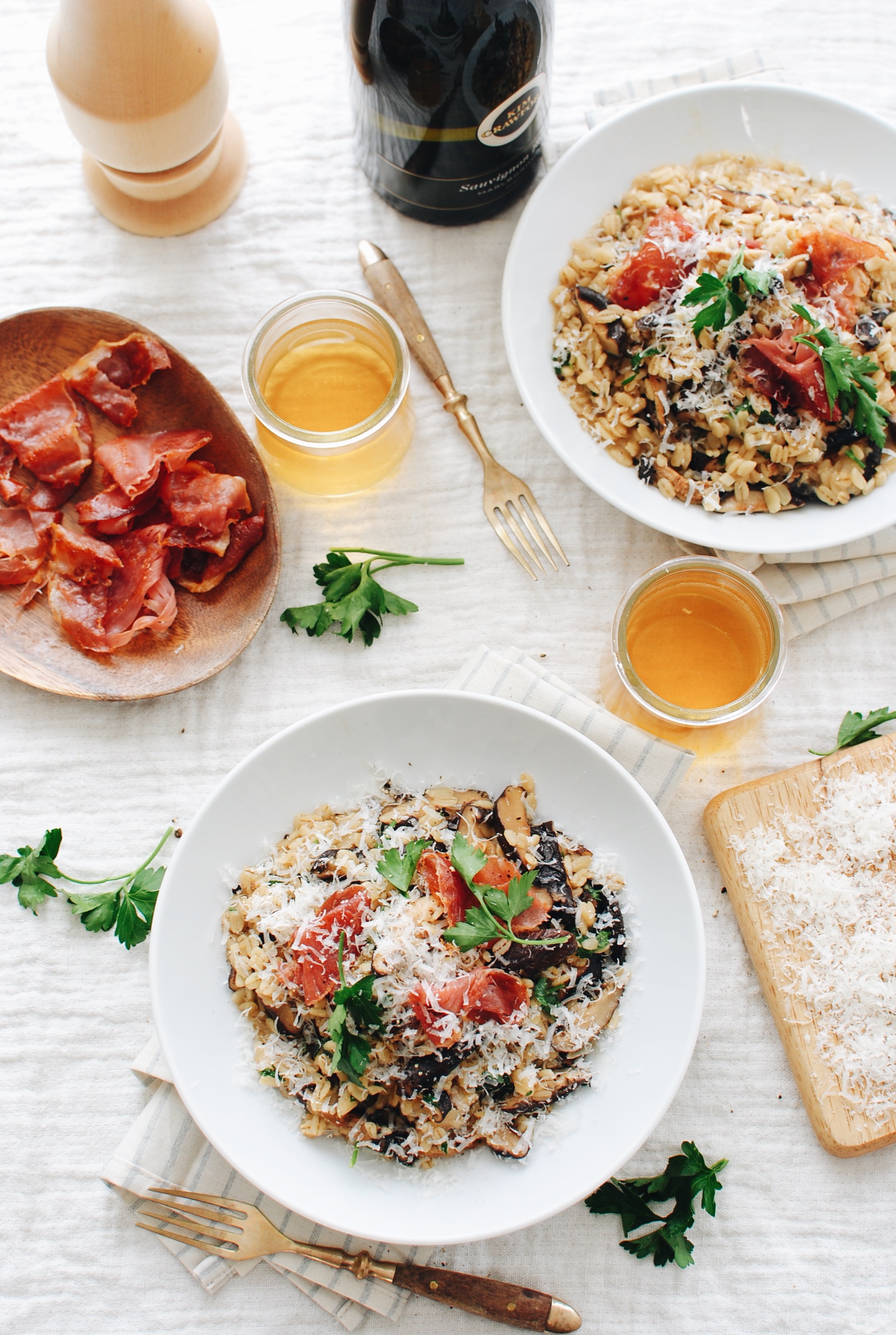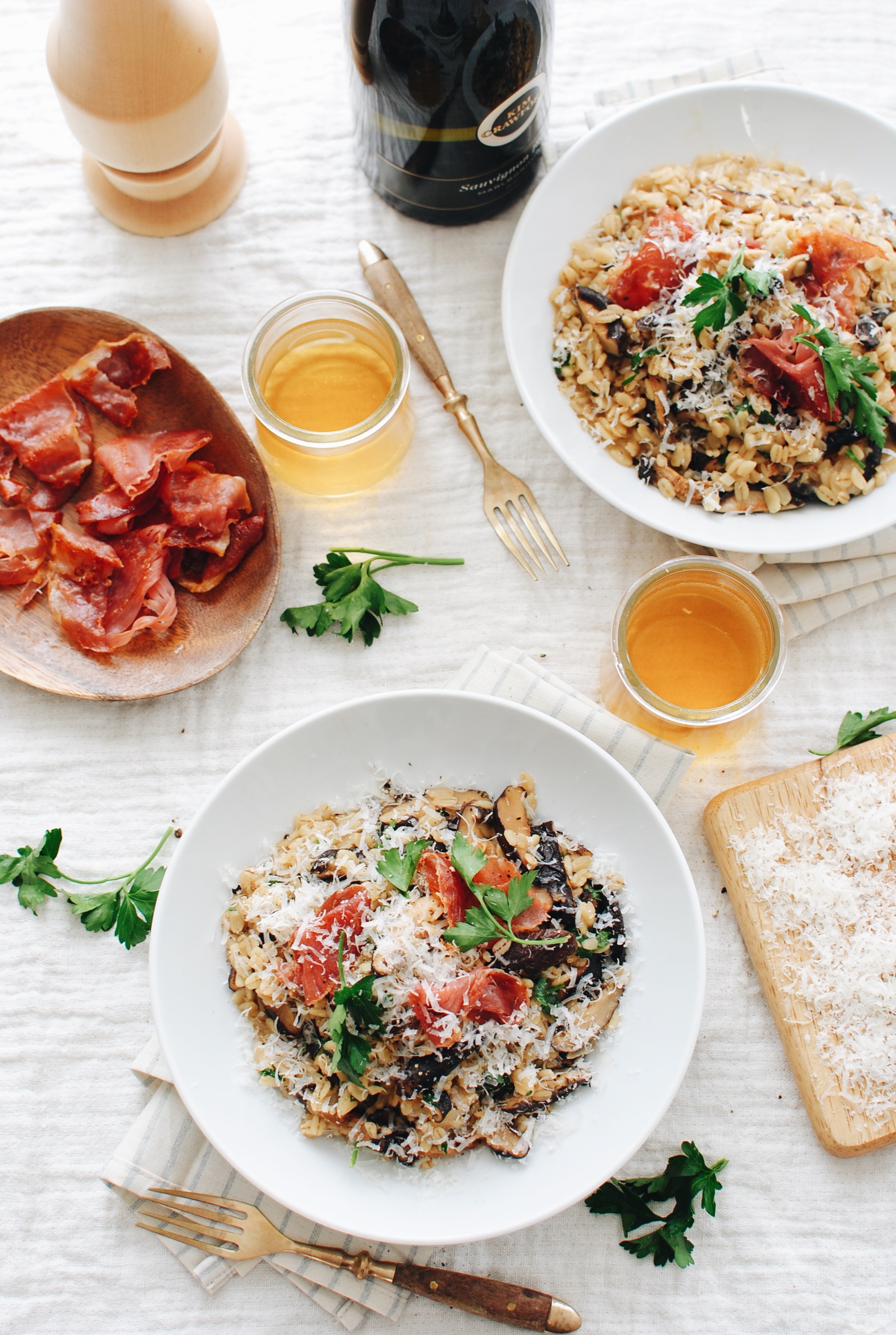 Are we okay?