And I do mean garlic. Like, garlic garlic.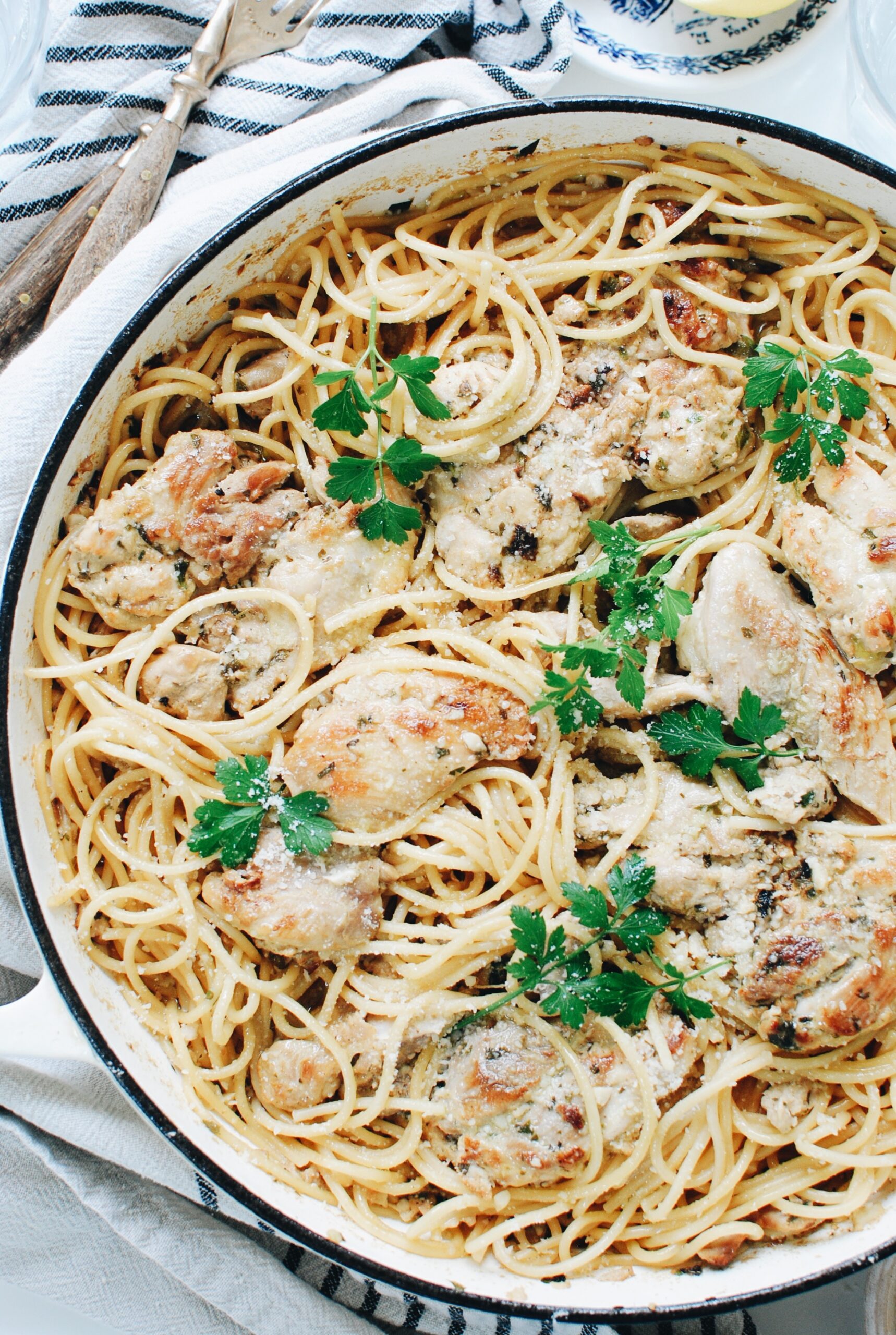 Also, who doesn't love chicken spaghetti? My grandmother used to make it with cream of mushroom soup all mixed in and grated cheddar on top and it was a dream. I think I have a version
of that on the blog actually! Let me look, hold on.
One sec.
Here it is! Basically you should make both. Except it's sliced American cheese and real mushrooms.
ANYWAY. Here's a garlicky skillet version.
Let us peepeth.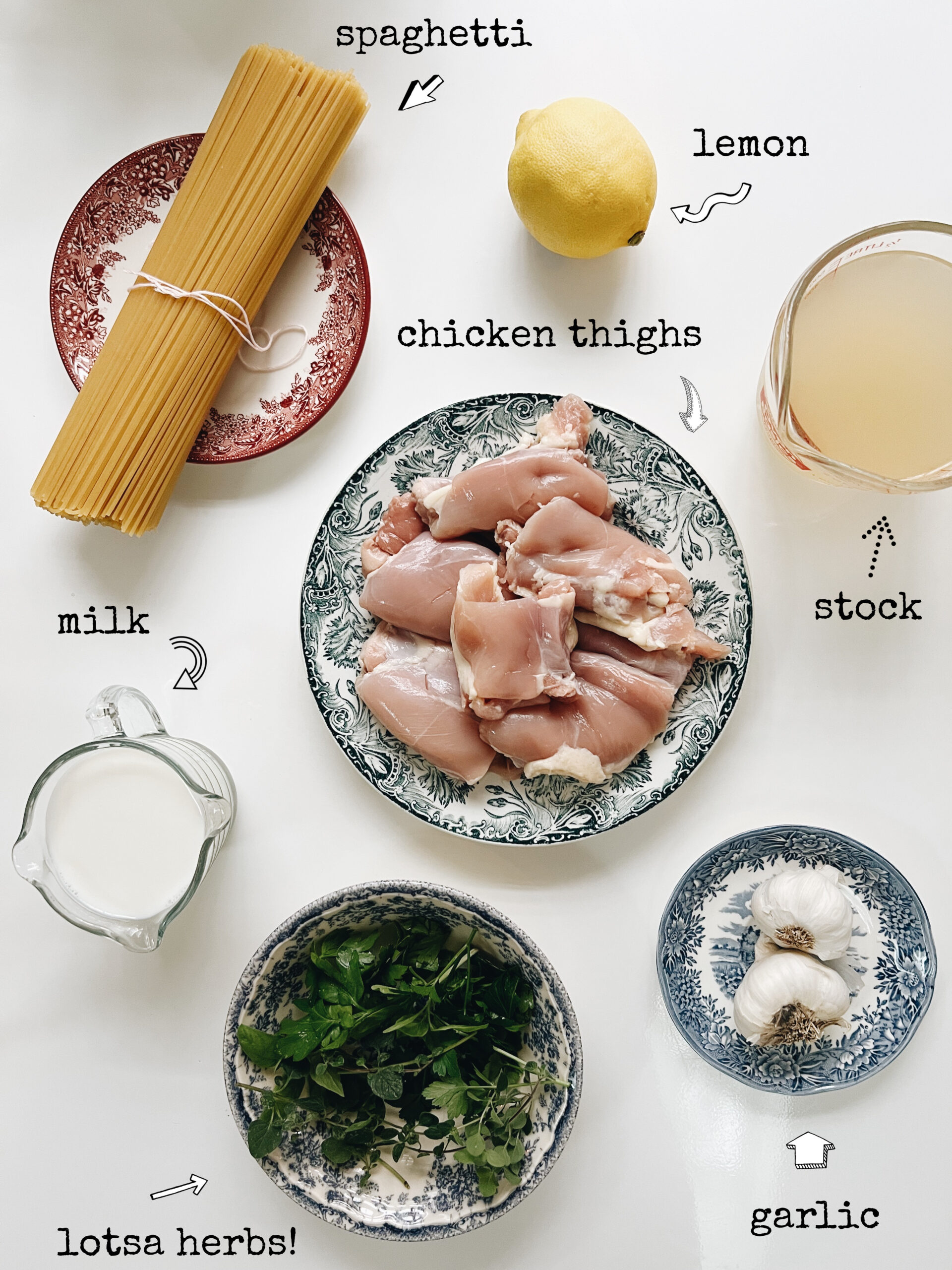 A few things: Yes, you can use breasts, but thighs are superior. Don't argue with this.
I used dairy-free milk for this (Aaron's a sissy), but go with cream if you can!
I only ended up using one head of garlic. Edward Cullen, you can stay.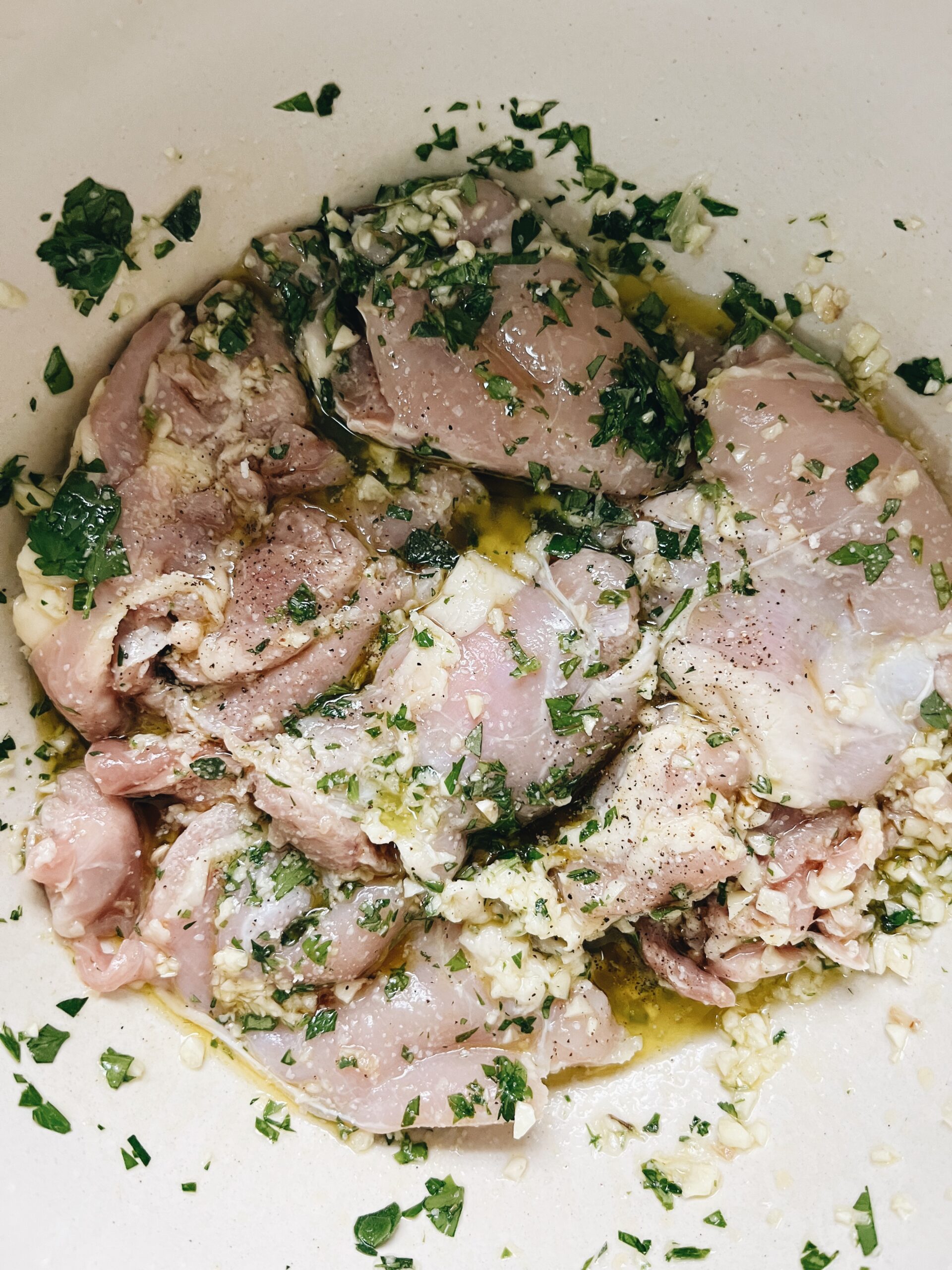 Let's marinate! The chicken, olive oil, an entire head of minced garlic, a billion herbs and some
lemon. Perfection.
Now, if you can let this sit for a good while, amazing. If not, you're still a good person. Whatever
kind of time you have is all good.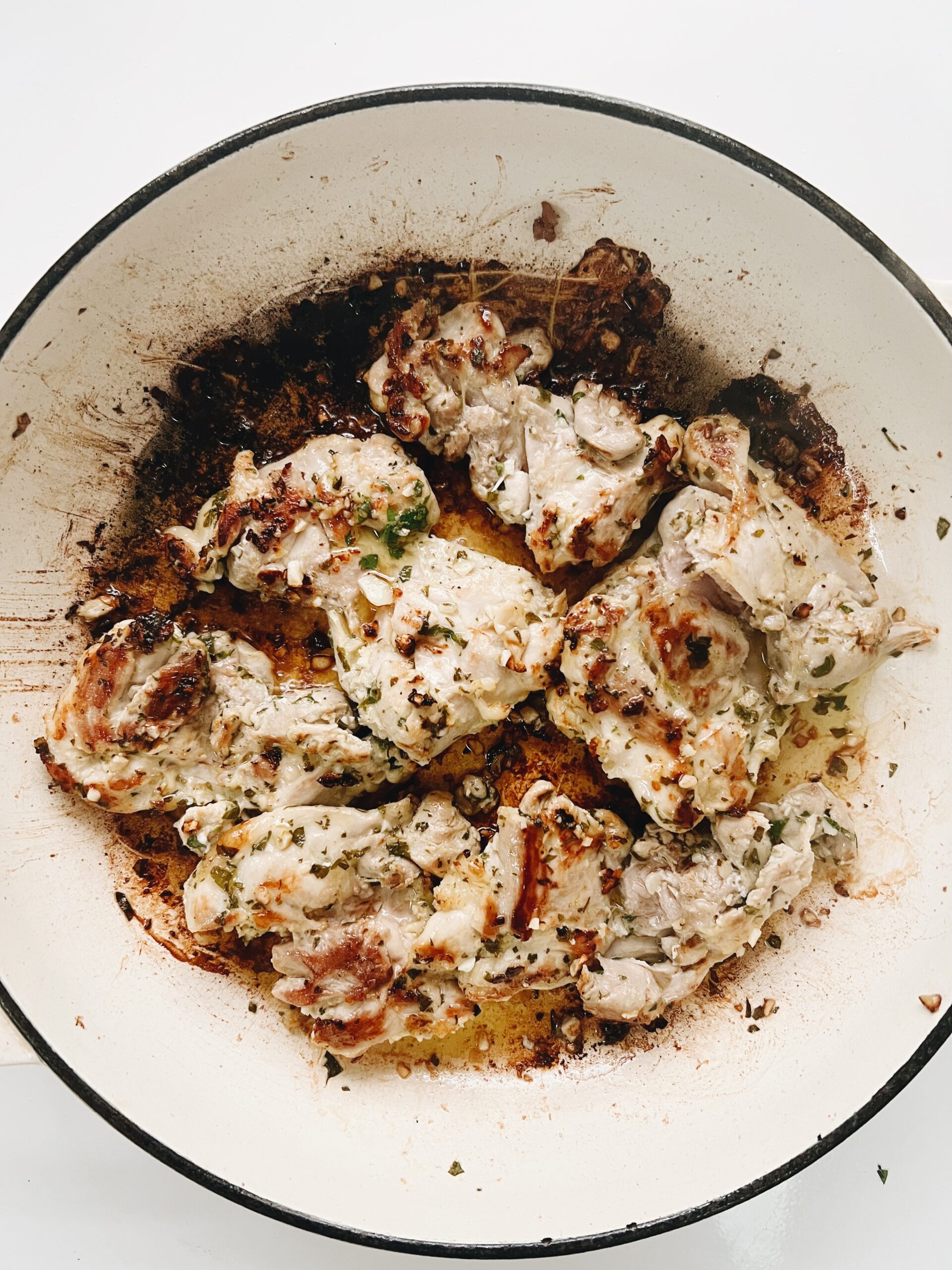 We'Il sear it!
THIS IS THE THING sorry to scream – you have quite a bit of oil and garlic in this marinade. When
you tong the chicken out, lots of the marinade will stay in the bowl, which is great. We'll add it to
the chicken in a bit! I forgot to get photos of the cream and stock, but you'll add both in with the
remaining marinade and cook the spaghetti while it's all simmering. Then you'll add the spaghetti to
the sauce and let it absorb a few minutes and soak up all the rustic flavor. It's tantalizing, truly.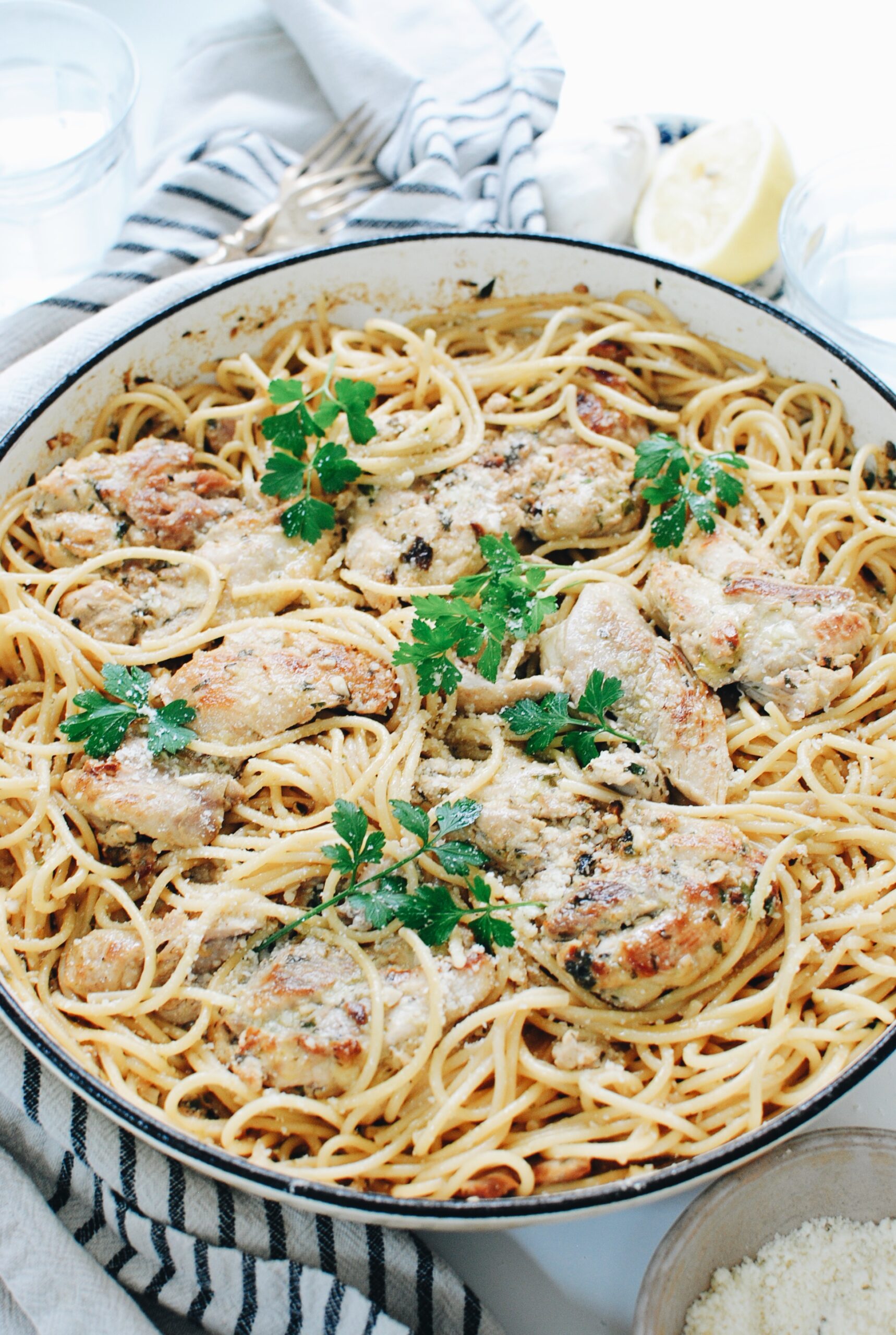 And here you have it! The spaghetti is silky and herby and GARLICKY. Whoa, baby. It's the absolute
best. The chicken is tender and succulent and earthy. I implore you to go with thighs. It's just that
much better.
Besides the marinating, this comes together fairly quickly, so it's superb for a weeknight meal.
Listen, photos don't do the SILKINESS justice. Once you get in and stir all of that together, your
soul will crumble over the lusciousness of the sauce. Get ready.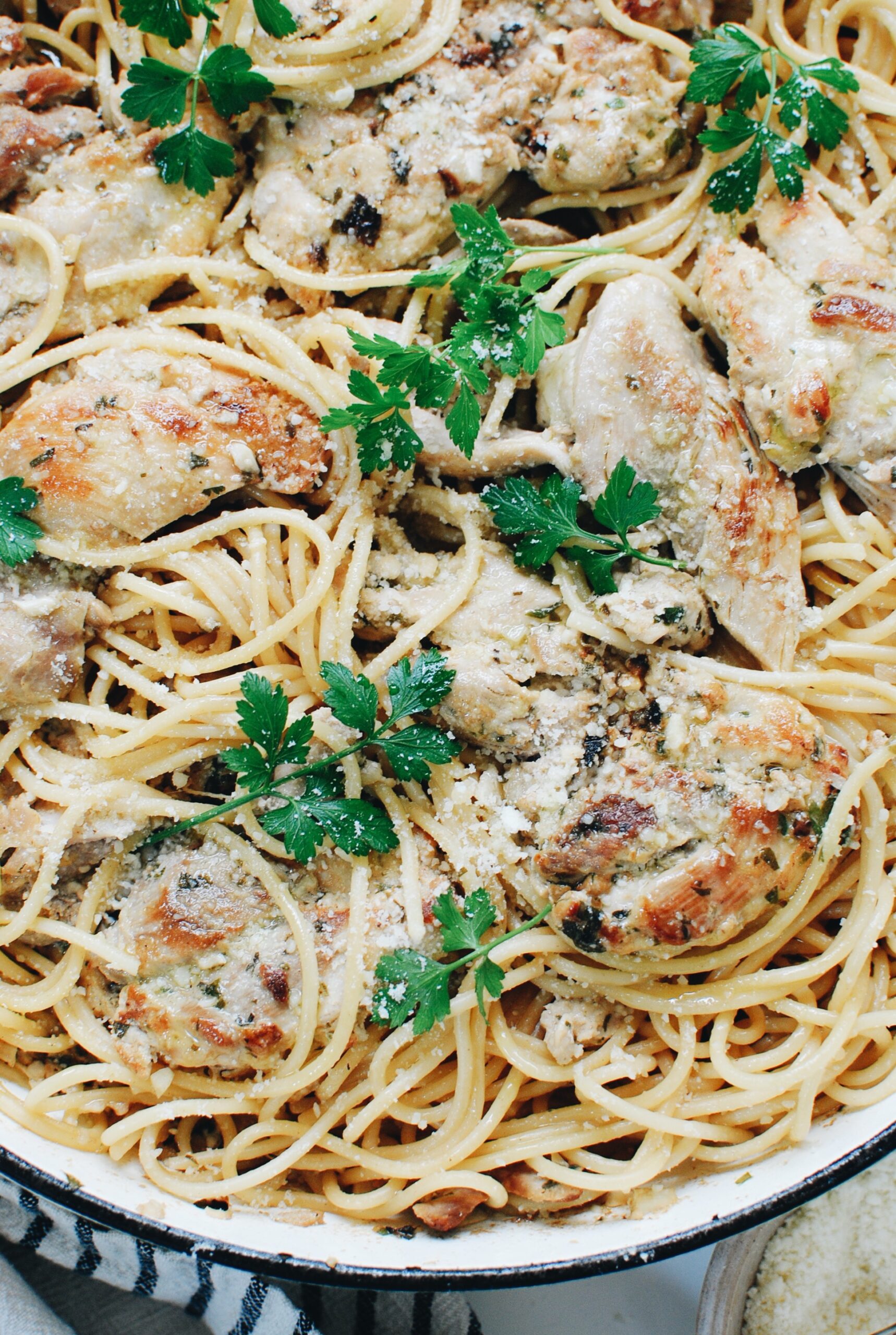 And the kids snarfed it! Natch.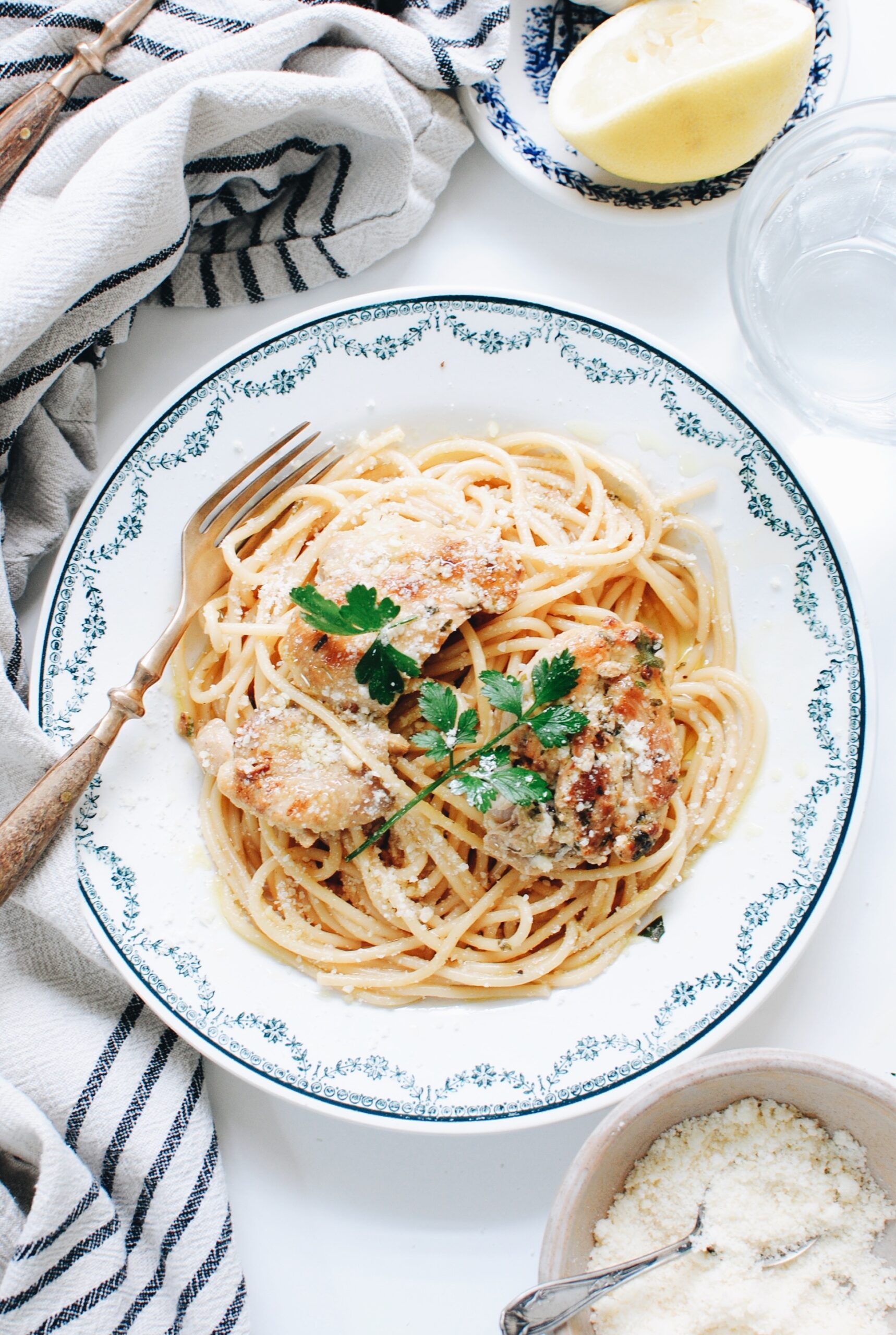 Hello, gawgeous.
Ingredients
1 1/2 pound chicken thighs
1 head garlic (the entire thing), all the cloves minced
1/2 cup mixed herbs, chopped (parsley, oregano, thyme)
6 Tbs. Extra-virgin olive oil
1 lemon
1 pound spaghetti
2 cups chicken stock
1 cup milk (or cream!)
Coarse salt
Freshly grated parmesan, for garnish
Instructions
In a medium bowl, combine the chicken, oil, minced garlic, juice from half the lemon and chopped herbs. Give it a pinch of salt and stir to coat. Let this marinate at least an hour, if you can. Shoot, it can go all day if you can squeeze it!
Heat a wide skillet over medium high. Using tongs, arrange the chicken thighs in the pan. You won't use all the garlicky marinade YET, but we will in a little bit. Sear the chicken on one side for six minutes. Flip and sear another six minutes. Then flip again and go another two minutes. You just want nice browning all over. Then add the milk, stock and remaining garlicky marinade to the skillet. Stir it all together and simmer on a low heat.
In the meantime, bring a large pot of salted water to a boil. Add the spaghetti and cook until it reaches just shy of al dente, according to package directions. Tong the spaghetti over to the sauce and let it finish cooking in the skillet. The longer the pasta sits, the more it absorbs the sauce.
Off the heat, garnish with extra lemon juice and parmesan cheese! And parsley. Add parsley.
Serves four!
7.8.1.2
605
https://bevcooks.com/garlic-chicken-spaghetti/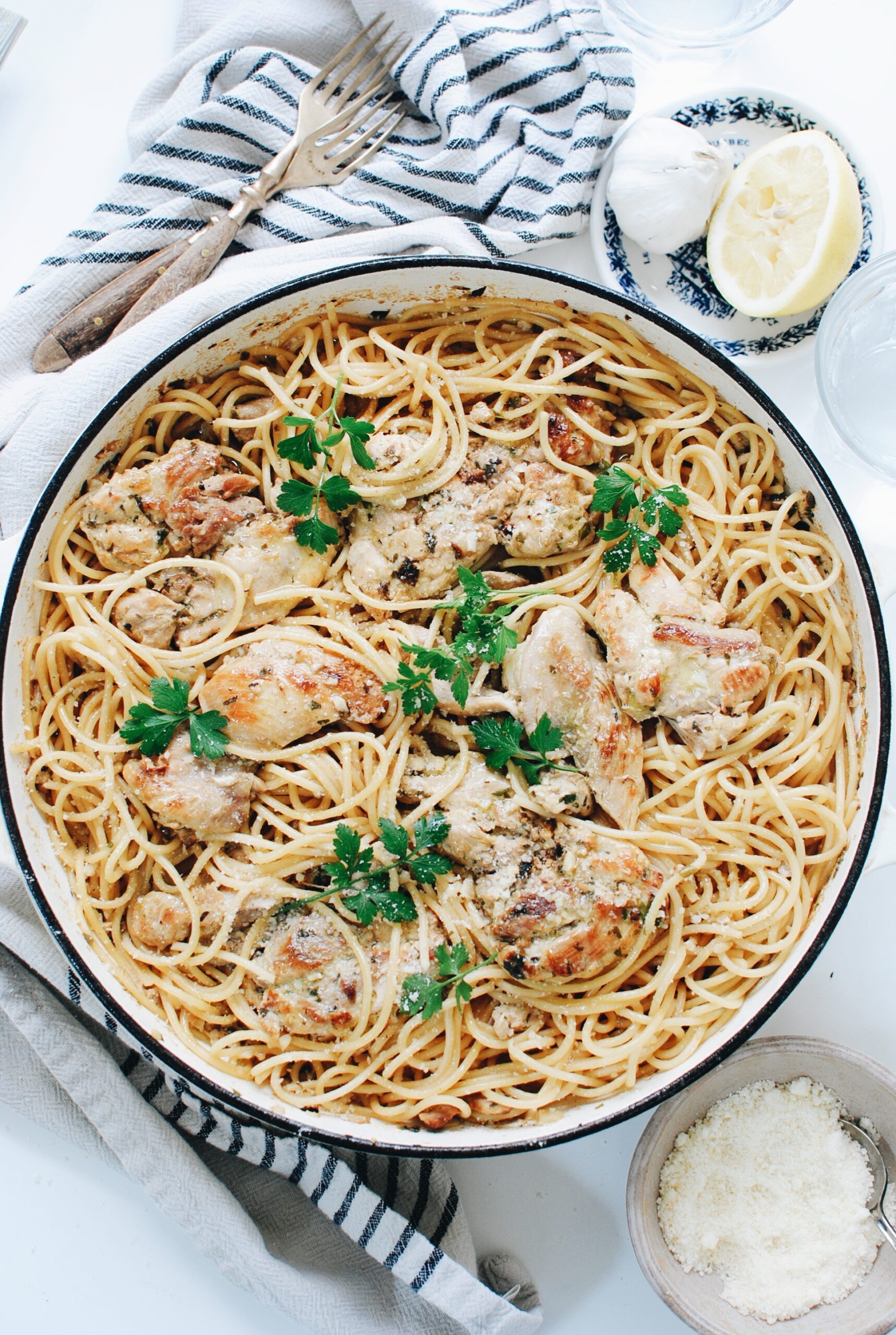 Tonight!