Another soup! You're not upset, are you?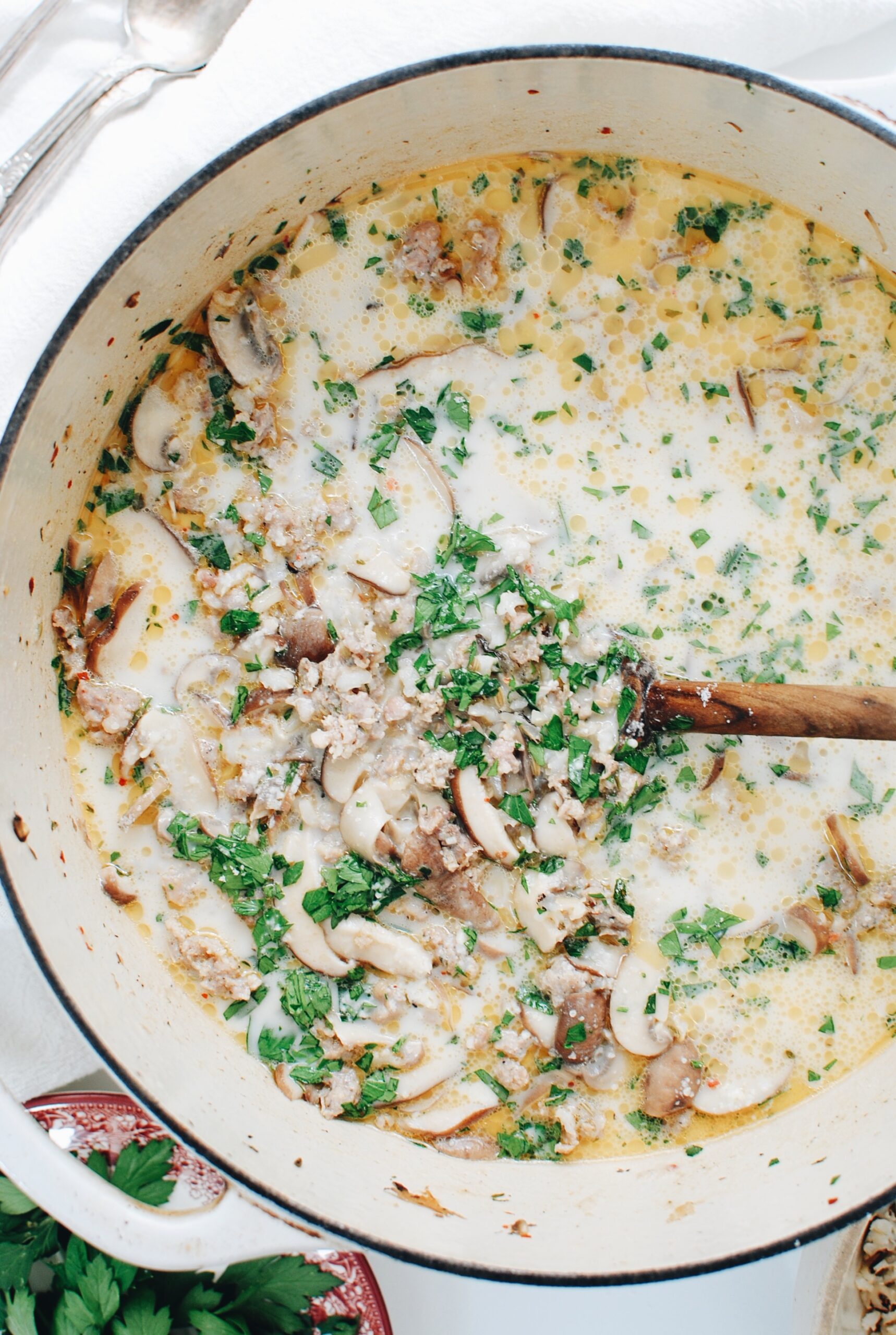 This time, we're going a little more creamy. With Italian sausage. And two mushrooms. And wild rice! It's a dream, in other words.
Let us peepeth.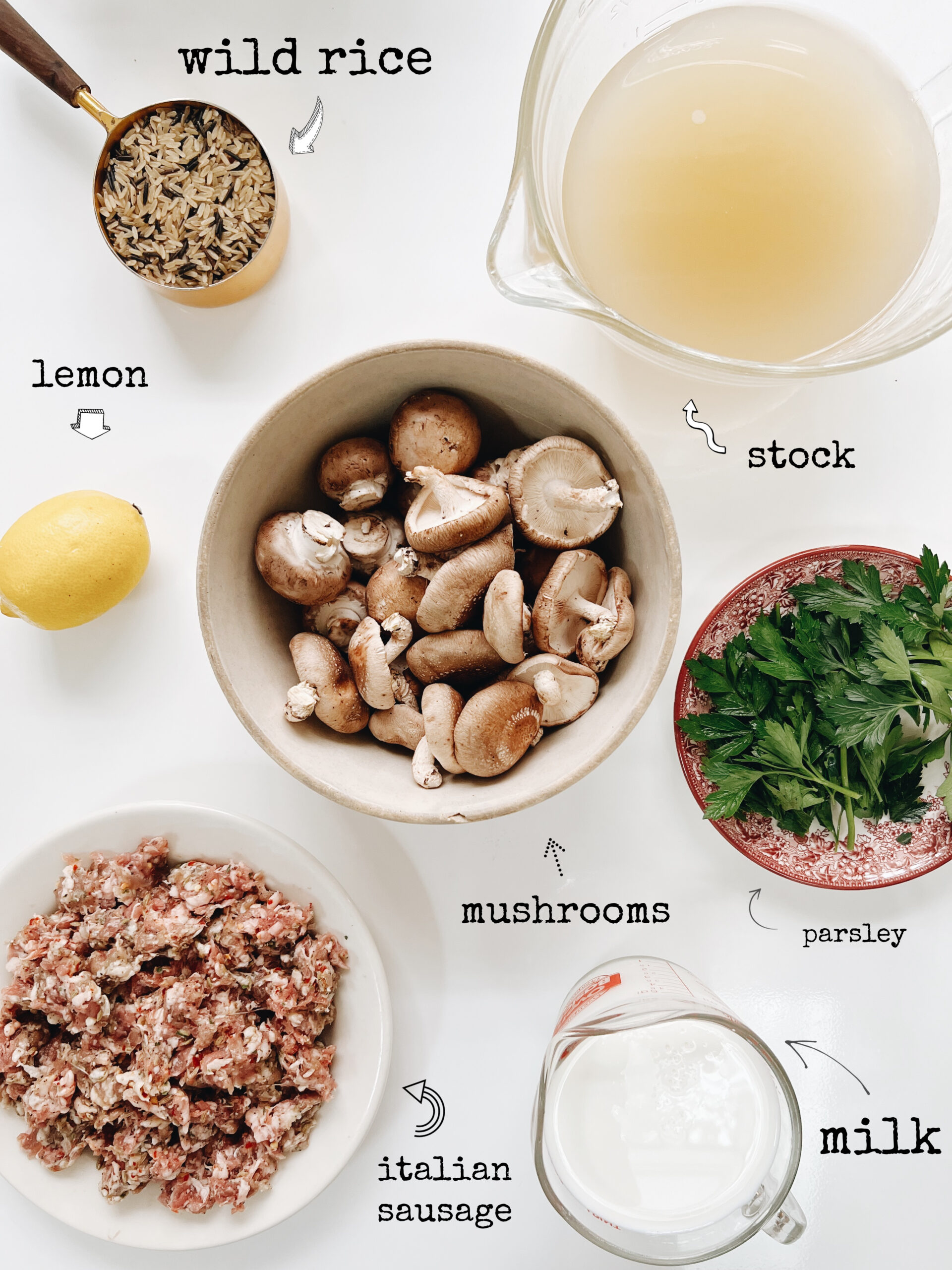 Okay, so the wild rice we'll violently throw in a rice cooker. This way you can start it early (I feel like it takes forever and a day. <–remember that phrase!? not that it's not still said. but it is mildly vintage. never mind.), and it's ready once the soup finishes, and nothing gets mushy. We like the rice on the side, like Sally Allbright. Yes, again. Just wrap your life around it.
The Italian sausage: go mild, medium or SPAH-CAY if you like. (<–said like SNL's Stefon.)
The milk: I used dairy free only because I live with lactose freaks, but use cream or regular milk if you want!
The 'shrooms: we'll use two kinds: baby bellas and shiitakes. Look at how fancy we are today. And on a Thursday!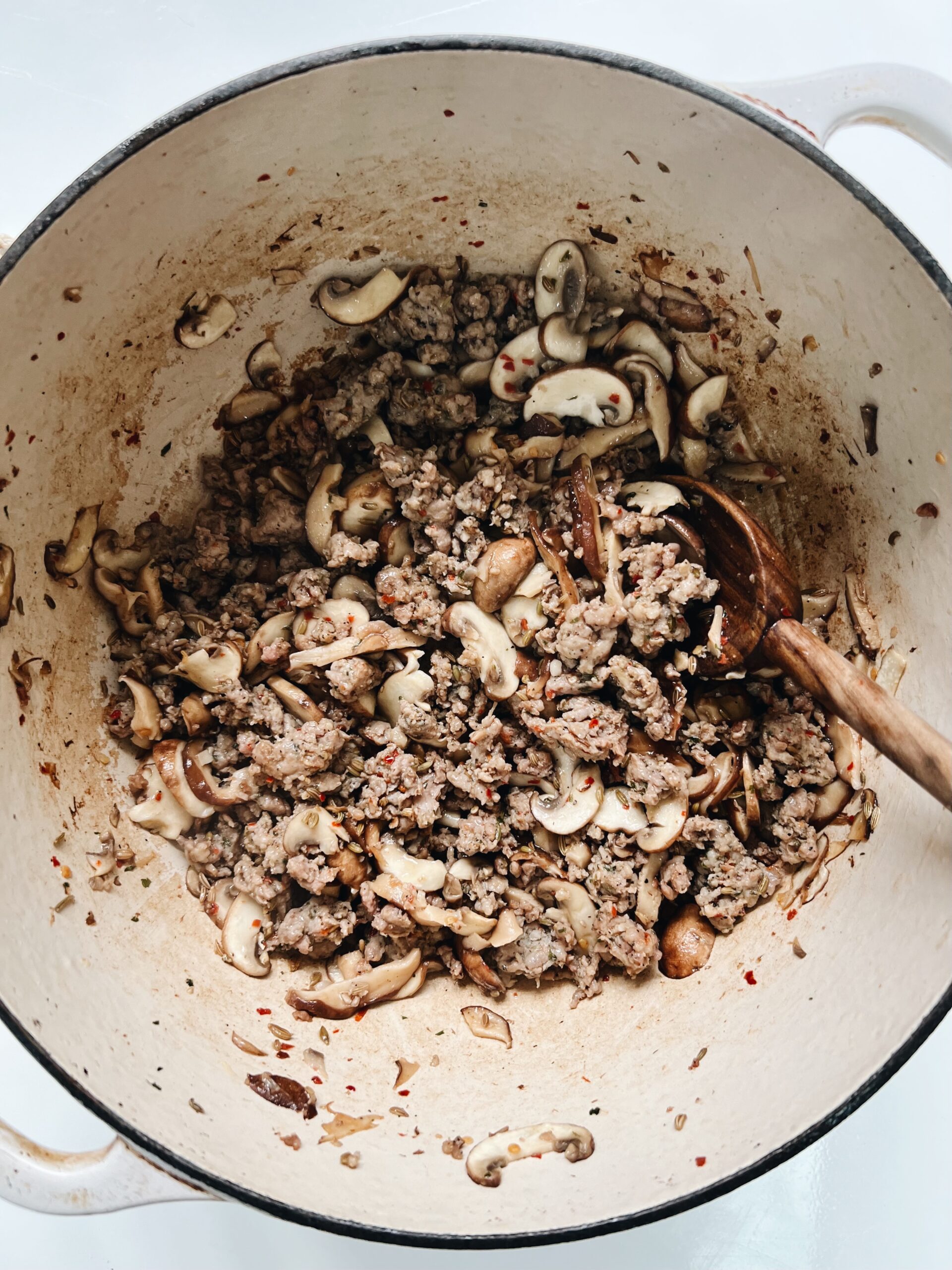 This is as straightforward as ever – brown the sausage (if you buy links just rip the casings off), and add the sliced mushrooms. I gave them a little rinse under some water and discarded the stems. Easy as pie! Mushroom pie . . . ?
Which actually sounds delicious and now I'm wildly curious about a savory mushroom pie.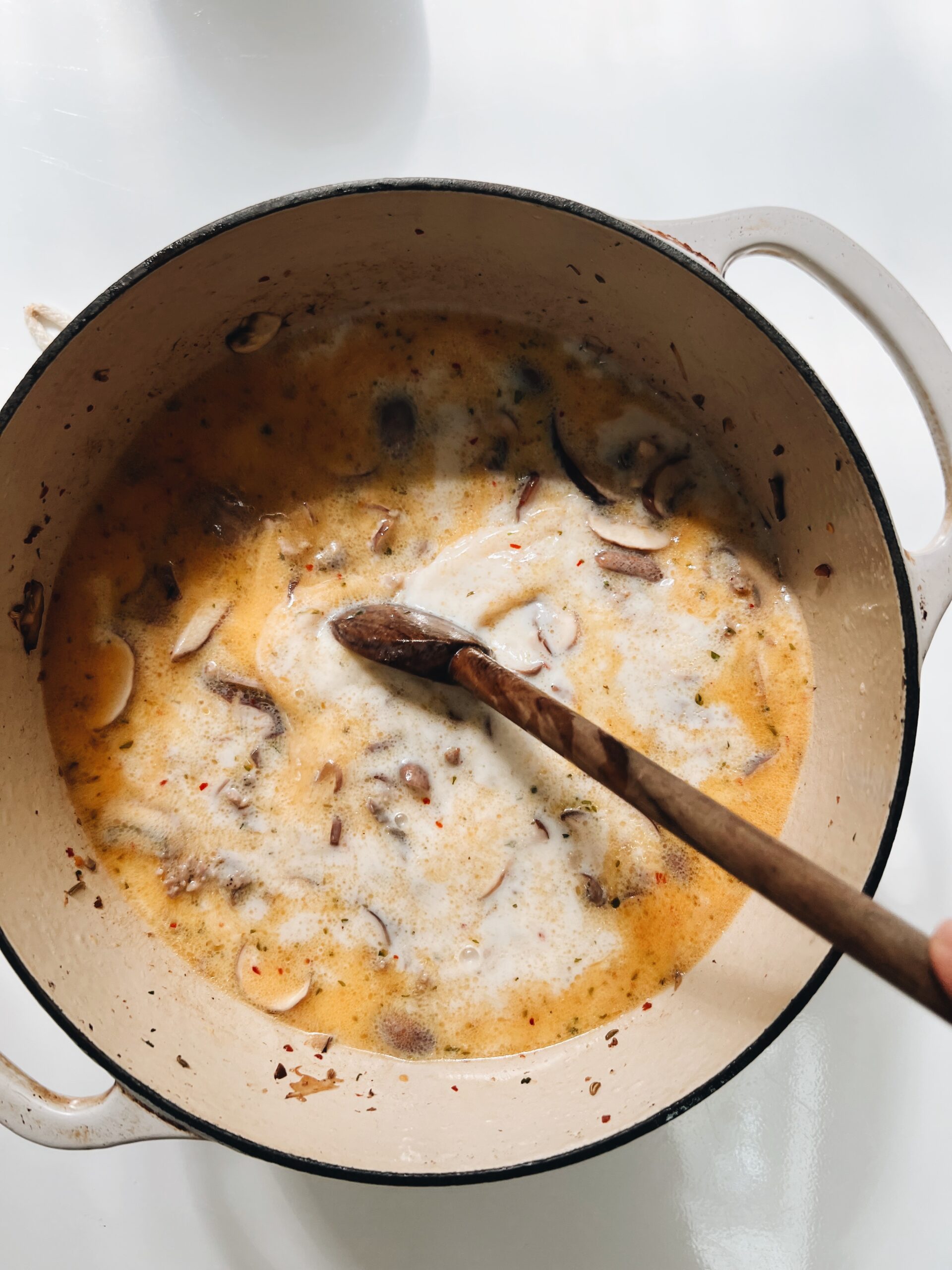 Right, so you'll brown everything, and then add stock and milk. Bring this to a little boil, then reduce the heat and simmer on a low until the rice is ready. Go ahead and taste it now. Add some salt. And some fresh lemon juice! You might think it's way too much liquid, but remember we're about to add all that cooked rice. And nothing is mushy! See how I take care of you?
Don't answer that.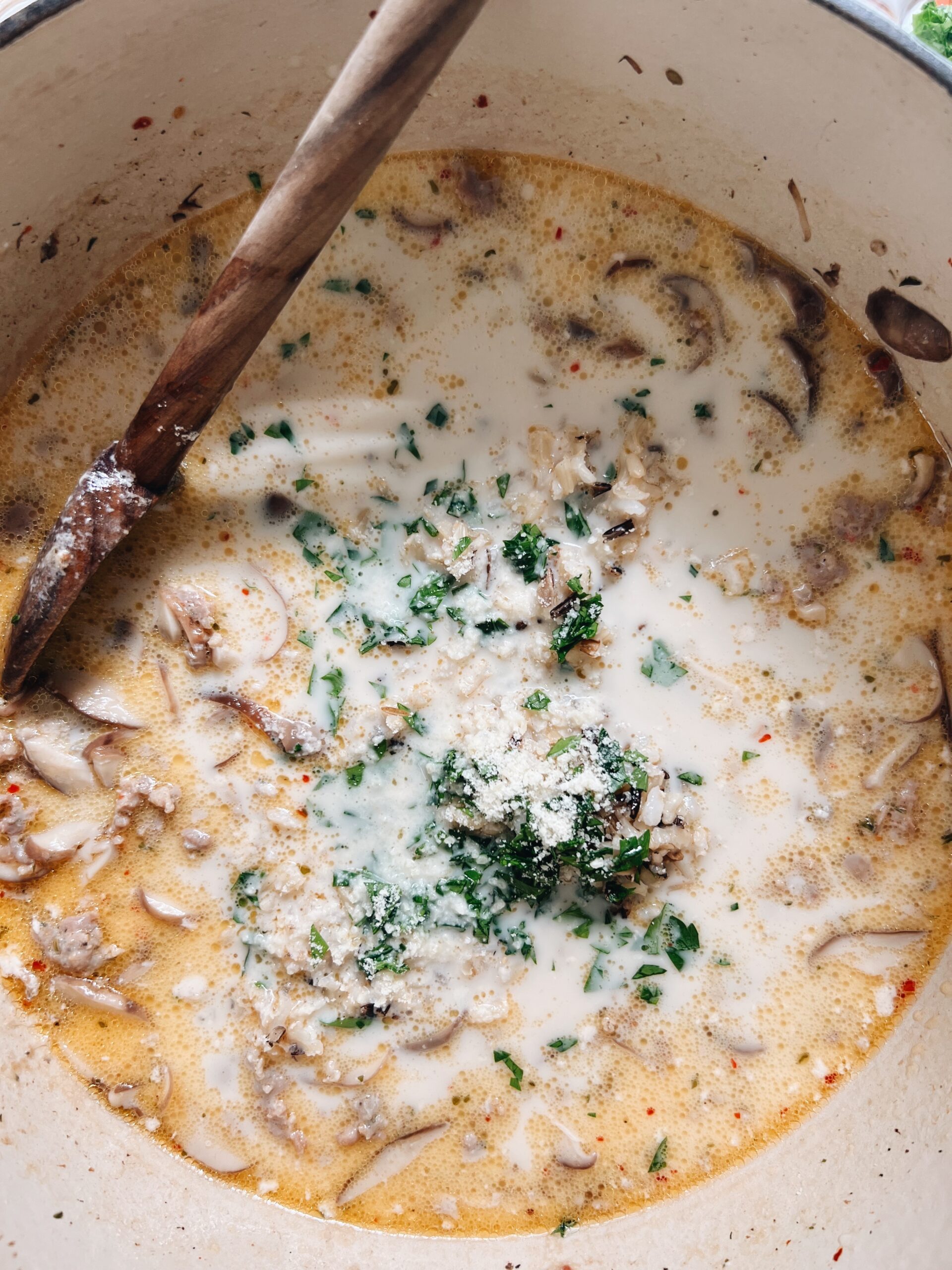 Oooooo yeah, girl. Lots of wild rice, parsley, and parmesan cheese. These are the good things in life.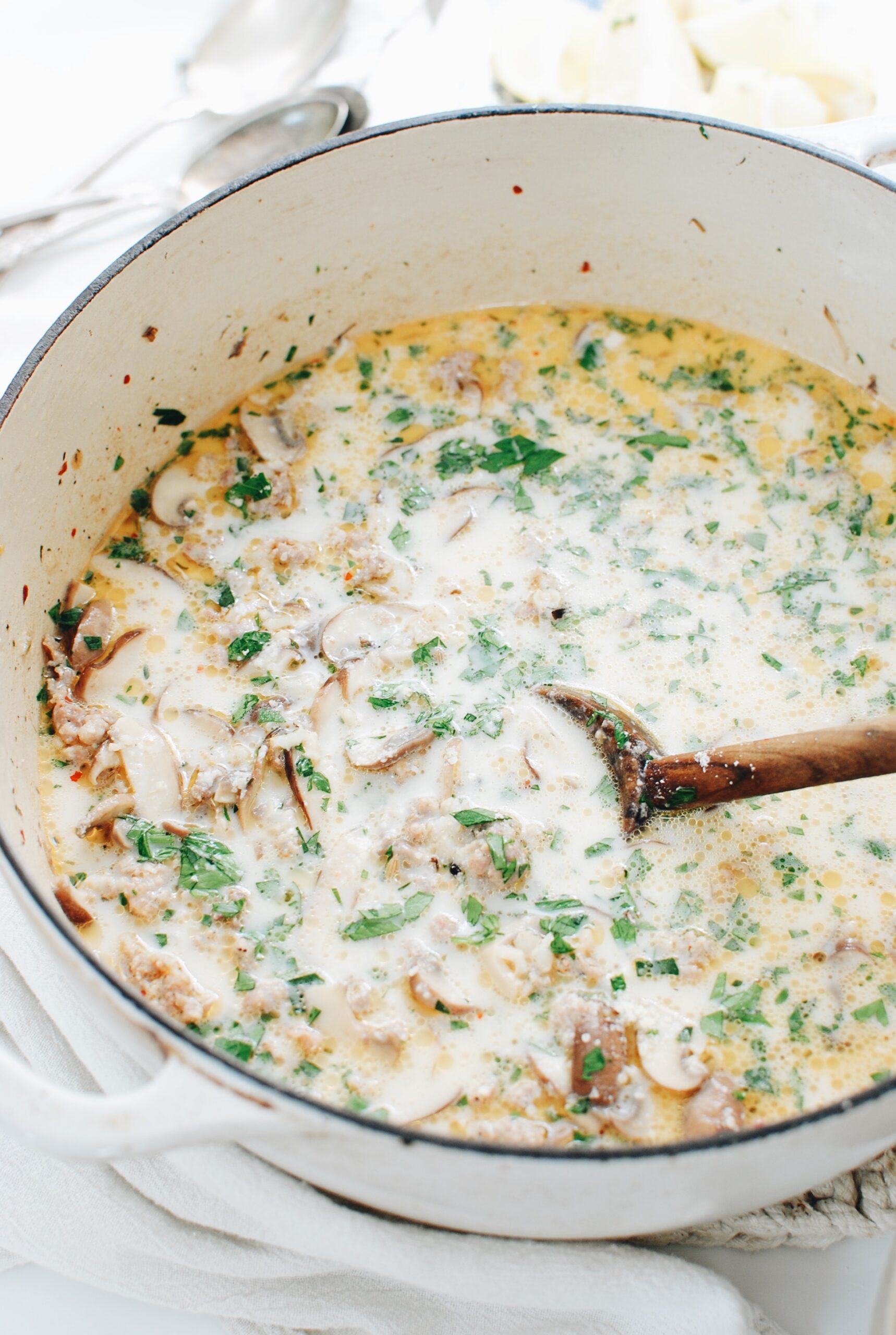 And you're finished! It's really just getting the flavors right. That sausage has a lot going on obviously, but you'll still need to tweak with salt and lemon. Like we do. This is one of those ultimate-fall soups, in my opinion. Creamy, meaty, mushroomy, it's just everything.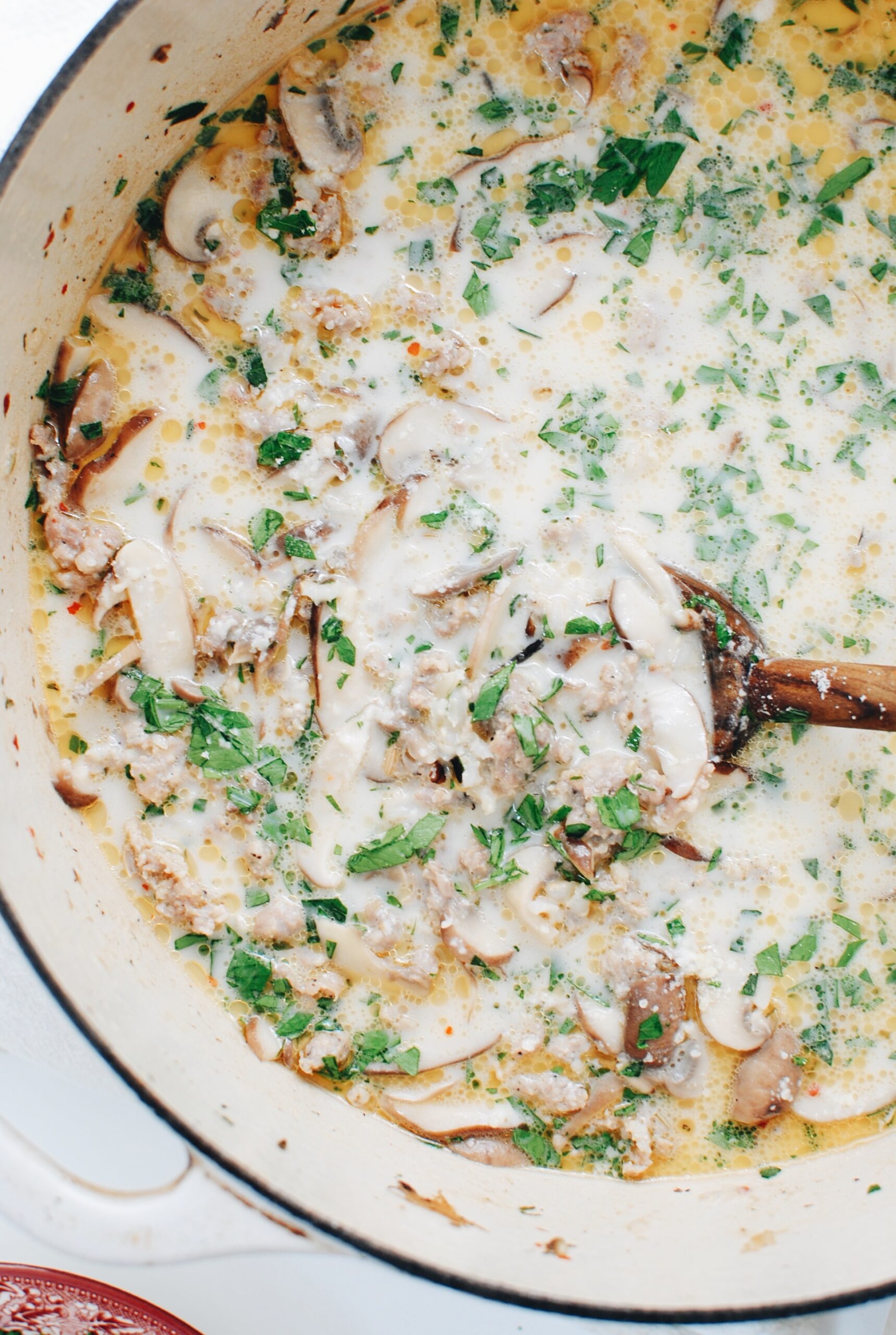 And you can leave out the sausages and reduce the liquid if you're going veg these days. Easy enough.
This is wonderful. Simple enough for any night of the week (just plan ahead with the rice!), but nice enough to feed a dinner party crowd. Get out a good crusty bread and a crisp white wine. You're set. We're all set. Invite me over.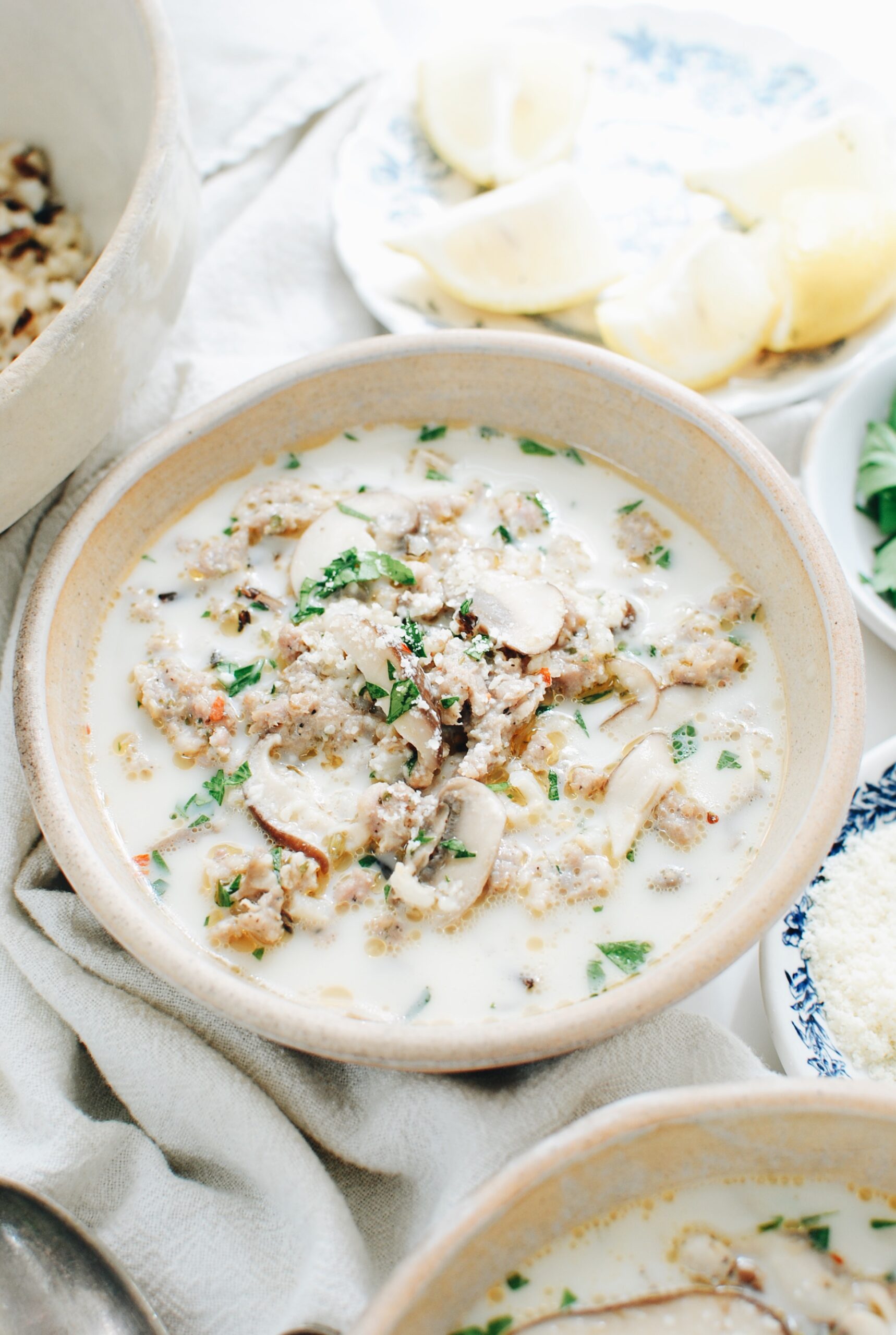 Little extra parm and parsley never hurt.
Creamy Sausage, Mushroom and Wild Rice Soup
Ingredients
1 cup wild rice
1 pound (roughly) medium Italian sausage
8 oz baby Bella mushrooms, rinsed, capped and sliced
3.2 oz shiitake mushrooms, rinsed, capped and sliced
4 cups chicken stock
2 cups milk
1 lemon
Parsley, to garnish
Parmesan cheese, to garnish
Coarse salt
Instructions
Place the wild rice plus two cups water in a rice cooker. Set it on the brown rice setting and let it go. (Brown takes longer than the white rice setting, so be sure and plan ahead! Sorry to get all mom on you.)
Heat a large soup pot over medium. Add the sausage and cook all over, breaking up with a wooden spoon, until no longer pink. Add the sliced mushrooms to the pot and cook about five minutes, until they have shriveled and darkened in color. Add a pinch of salt and give it a stir. Now add the the stock and milk and bring to a boil. Reduce the heat and simmer on low until the rice is ready.
Add some of the rice to the soup if you like and give it a good stir. Squeeze the lemon in and serve immediately! (You can also place the rice in soup bowls and ladle the soup over. I just prefer the rice on the side so it doesn't absorb too much of the liquid and get mushy.)
Garnish with chopped parsley and parmesan!
Serves 6.
7.8.1.2
608
https://bevcooks.com/creamy-sausage-mushroom-and-wild-rice-soup/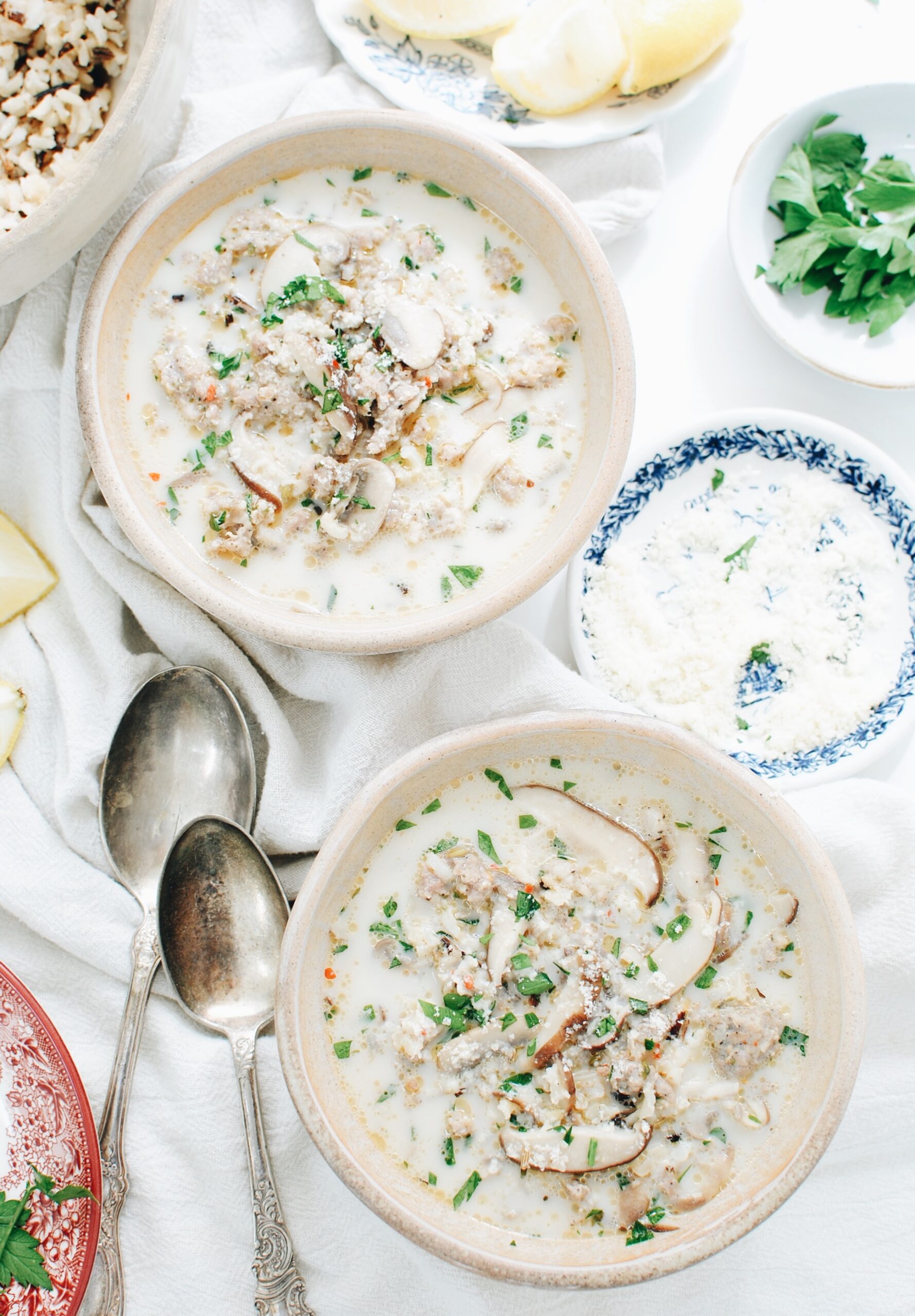 It is a rustic slurpy wonderland for your face. Don't try and argue this.