We haven't slurped in a while. Have we?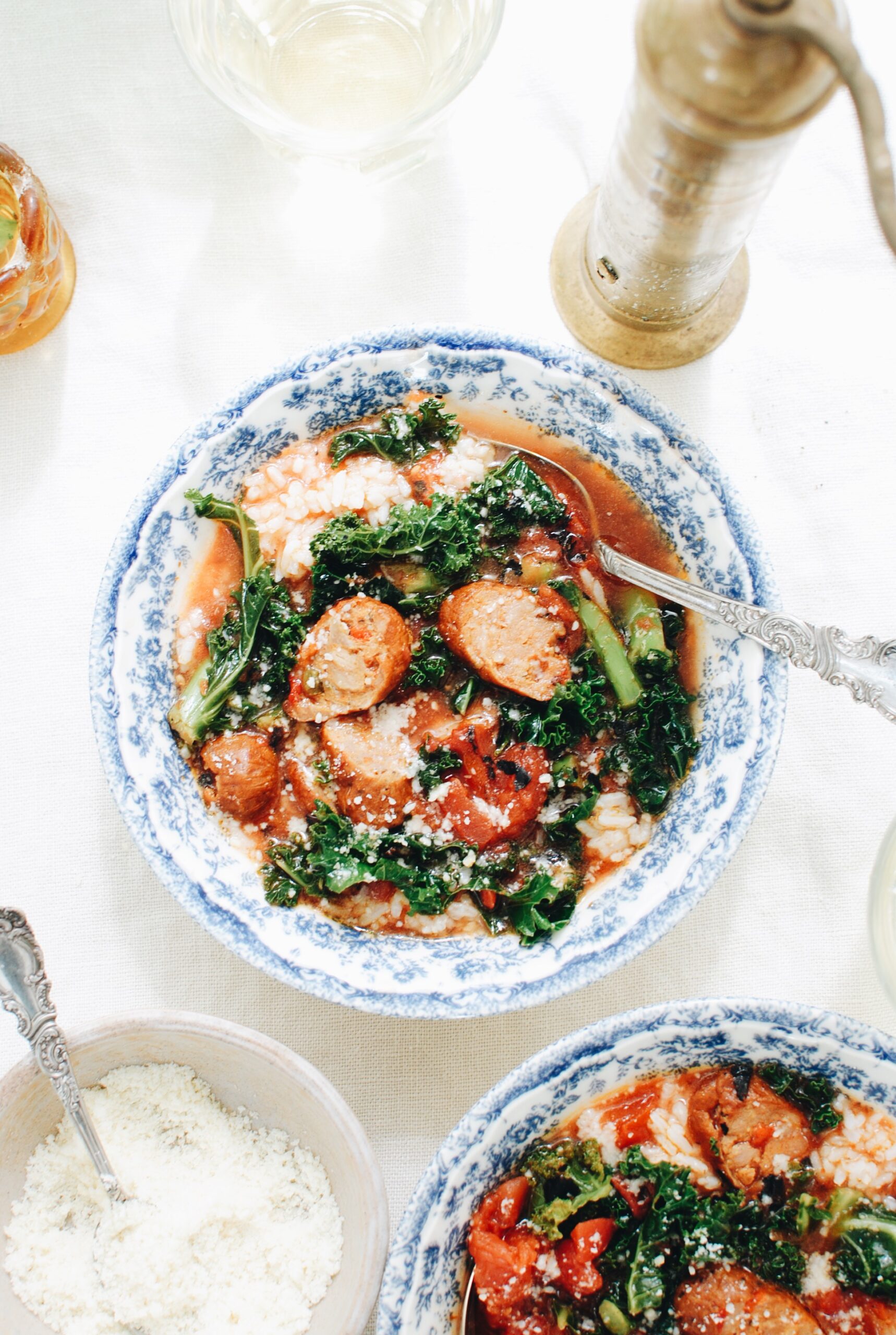 I don't even want to tell you how many ingredients are in this recipe because you will laugh. Or maybe you'll sob tears of unadulterated joy. This is what being middle-aged feels like, you guys. Soup tears.
Never mind.
Let us peepeth.
I find chicken sausages to be not only a weeknight saver, but also a sanity slash life saver. I love the texture (no seriously, I do), the variety of flavors (so many!), and the fact that I do nothing but slice on the diag, bruh. They're a bf. I used some roasted red pepper-flavored from Applegate this go, but anything works.
As far as diced tomatoes go, fire-roasted all the way for me. Use what you love, but these have an extra layer of flavor that works for my soul.
Kale, because I love it. And jasmine rice that we'll cook in a rice cooker because I DO have a Sally Allbright streak and need the rice cooked on the side. That way it doesn't get mushy and soak up too much of the soup liquid and you can control how much you add. Trust me on this, once you cook the rice on the side, your world will flip upside down. And you cook them at the same time so it's a time saver. BA-HOOM.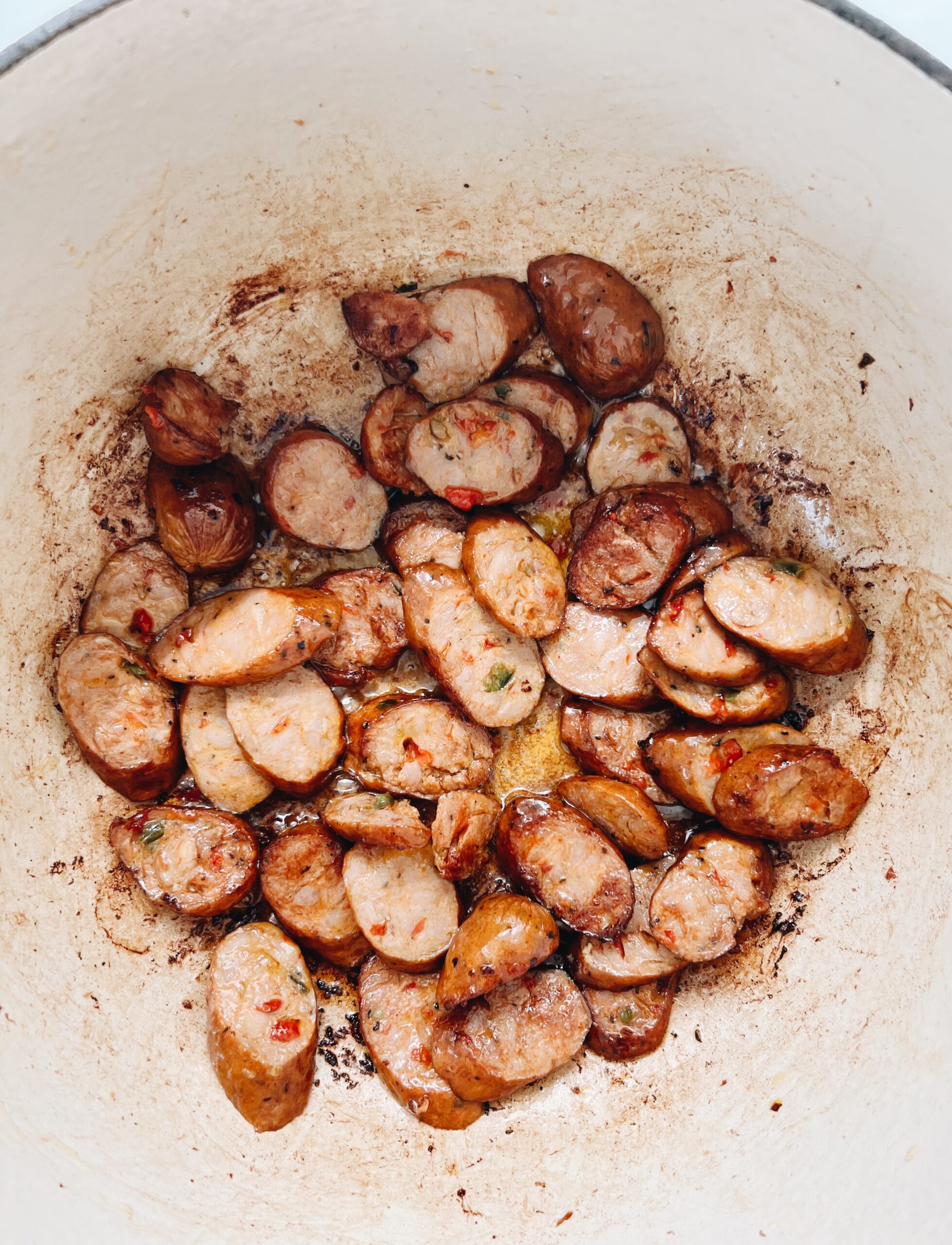 Okie doke, let's sear the sausages! A bit of color on both sides, like we do.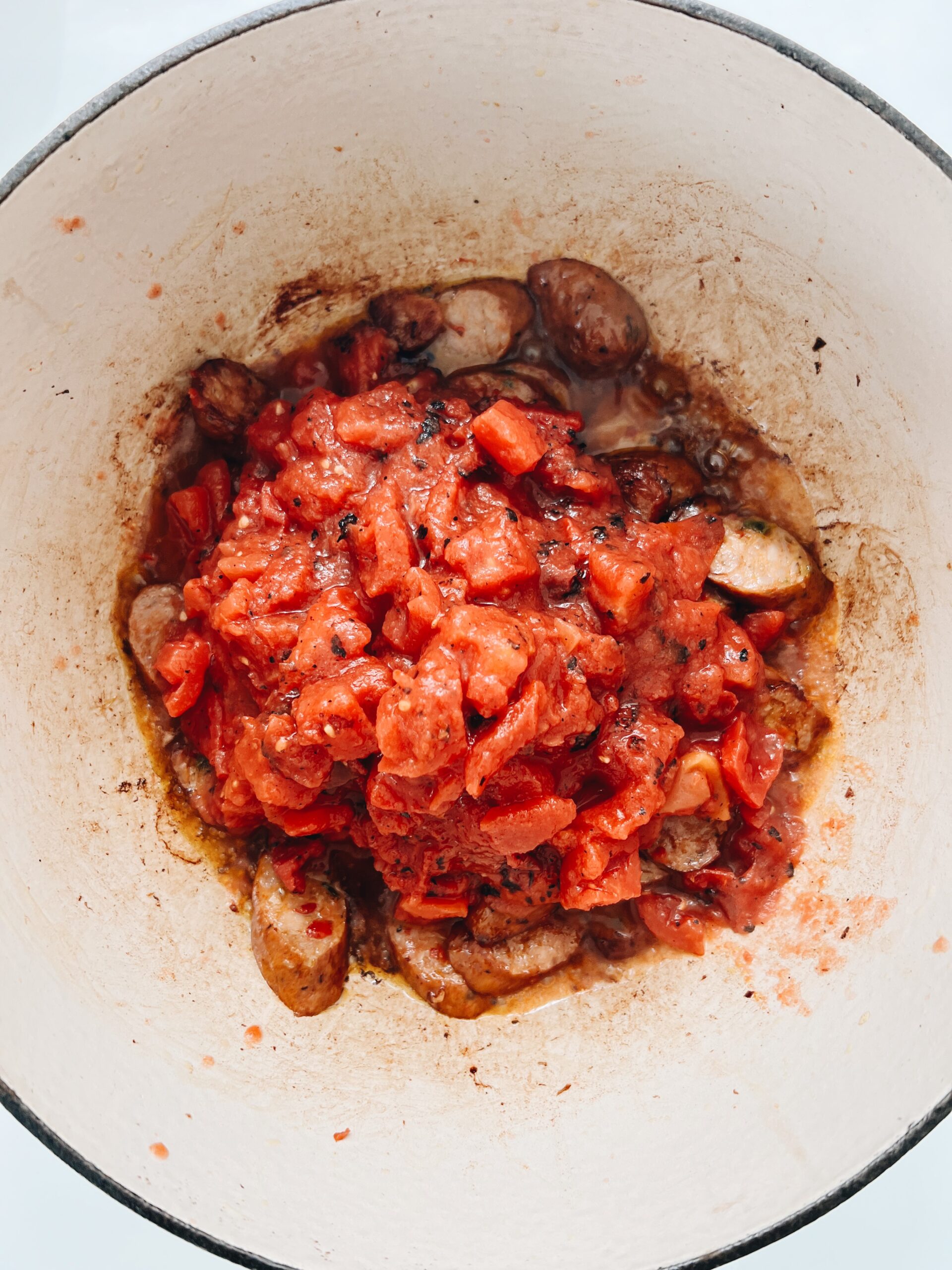 Then we'll add the fire-roasted tomatoes. Hi, depth.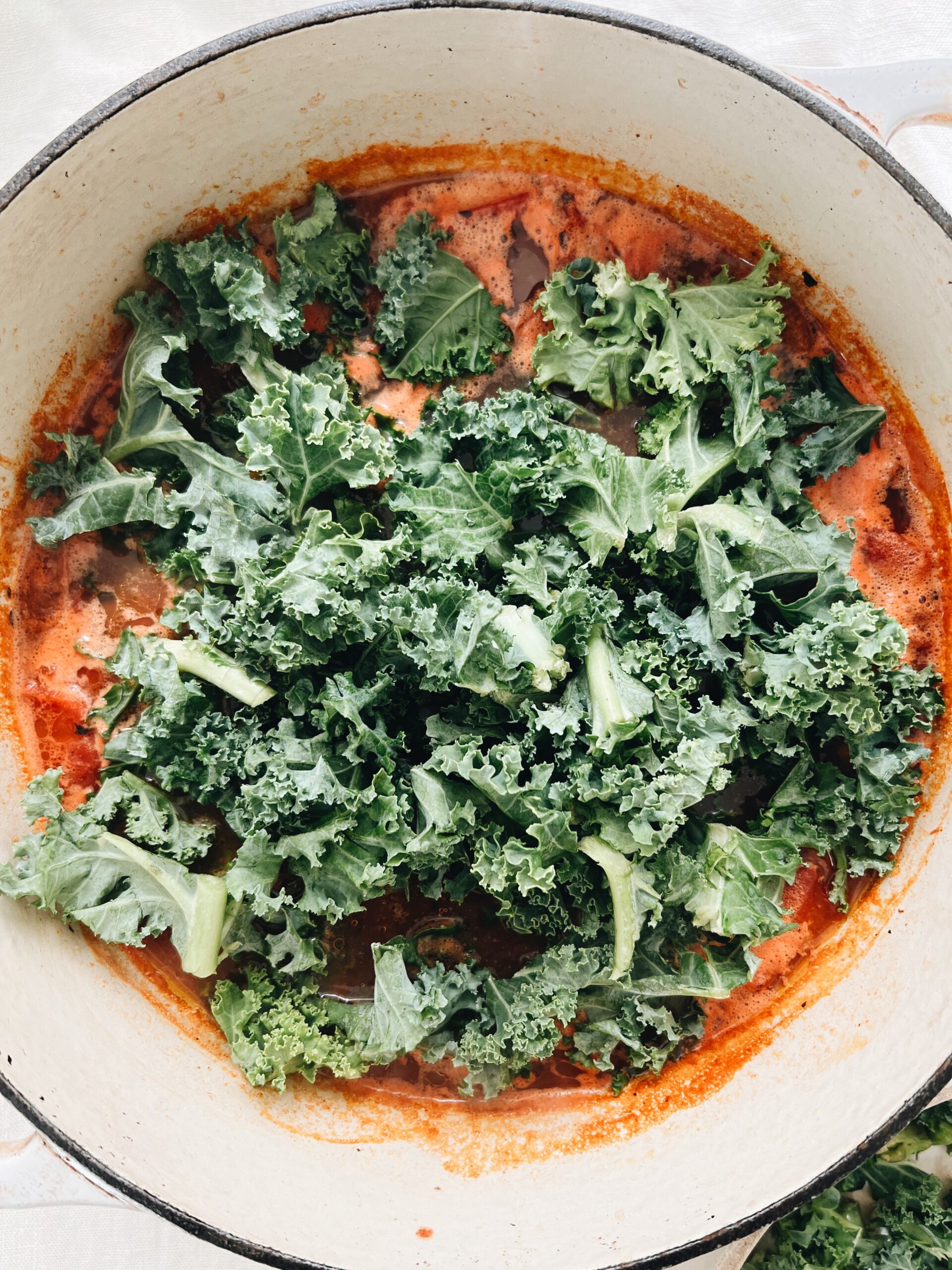 Then we add the stock (only four cups! it's fine.) and let this come to a slight boil. Let's reduce the heat and let it simmer a few minutes. Really doesn't need much time. We'll add the kale and stir it to wilt. Honestly, when the kale wilts, it's ready. Give it a hefty pinch of salt to taste, and a squirt of lemon if you have it. No big deal if you don't. I just like that extra hit of acidity right at the end. (not to be confused with hit of acid. relax, mom.)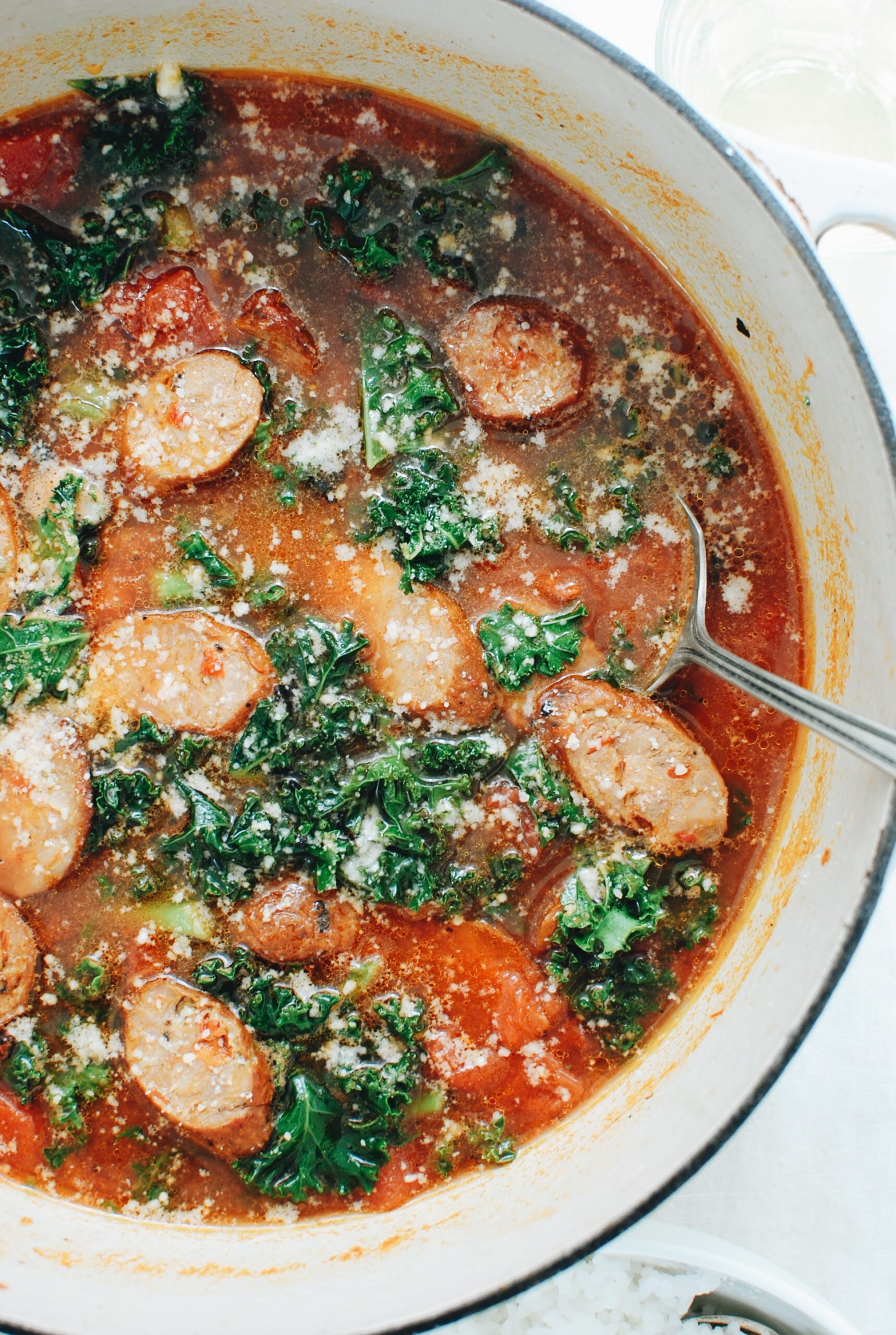 There we go! The rice cooker has just beeped and we're ready to ladle up, soldier.
Grab your parmesan cheese because that's where the magic happens.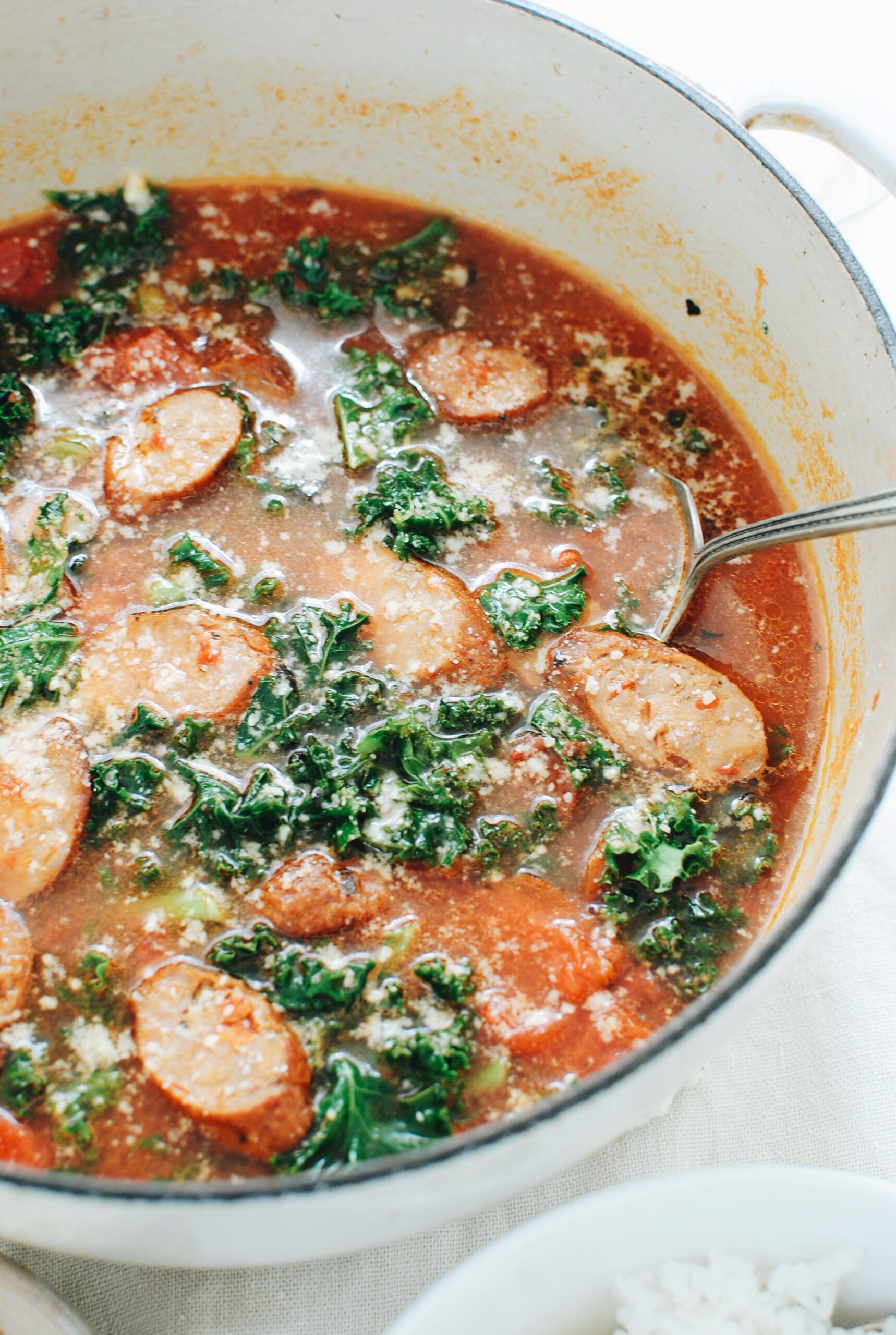 Look at how gorgeous that is. Very rustic and homey. The fragrance in your kitchen right now will have the neighborhood kids knocking if you have your windows open, so go ahead and close them because we only added four cups of stock!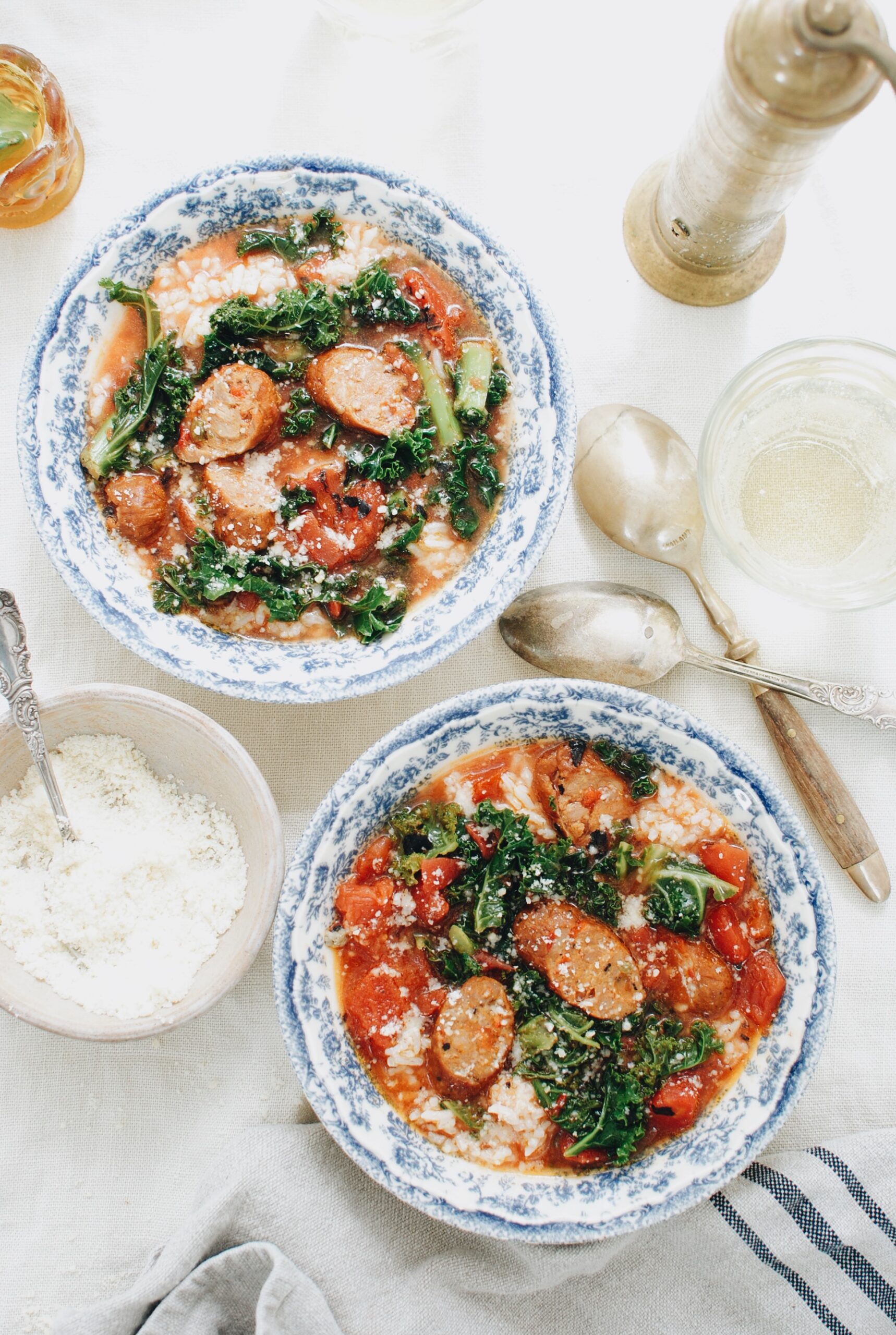 Rice goes into soup bowls, the soup on top. It's divine. You can add some rice to the pot if you want, but like the controlled nature of this. No mush, all attitude.
This comes together in under thirty minutes, so it's super ideal for these chilly fall evenings after whatever extra-curricular biz you have going on. I implore you, get in this soup.
See you never.
Chicken Sausage Soup with Fire-Roasted Tomatoes, Rice and Kale
Ingredients
12 oz chicken sausage, (any flavor! I used fire-roasted red pepper), sliced diagonally
2 (14.5 oz) cans fire-roasted tomatoes
4 cups chicken stock
3 cups chopped kale
1 cup jasmine rice, rinsed
Coarse salt
Parmesan to garnish
Instructions
Add the rice and two cups water to a rice cooker. Set it and forget it.
Heat a Tbs. of extra-virgin olive oil in a large soup pot over medium high. Add the sliced chicken sausages and sear all over, until you get some good color on both sides, about six minutes. Add the two cans of fire-roasted tomatoes and the stock. Bring this to a boil, then reduce the heat and simmer about ten minutes, just long enough for the flavors to marry. Now add the kale and stir it into the soup as it wilts. This takes no time at all.
Taste it. Salt? Yes, add a good pinch of salt. Get it just the way you like it. If you have lemon on hand, a squid never hurt. Oh, that rhymed.
Add the cooked rice to soup bowls and ladle the soup right over. I like the rice and soup separate so that the rice doesn't get mushy and soak up too much of the liquid. It's perfect this way.
Garnish with plenty of parmesan and you're set!
Serves 4-6.
7.8.1.2
606
https://bevcooks.com/chicken-sausage-soup-with-fire-roasted-tomatoes-rice-and-kale/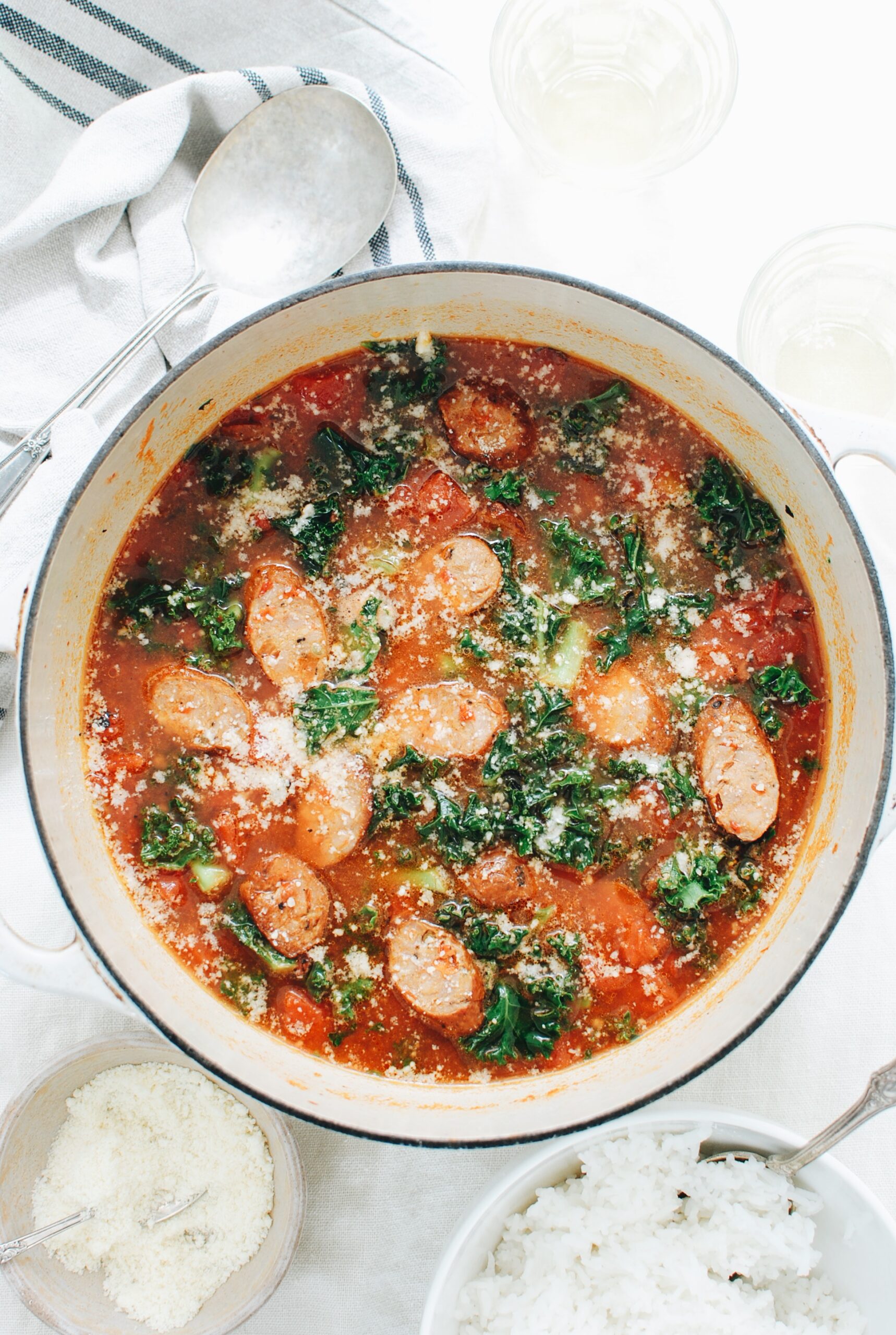 Fine, this weekend works, too.