SA-LURP.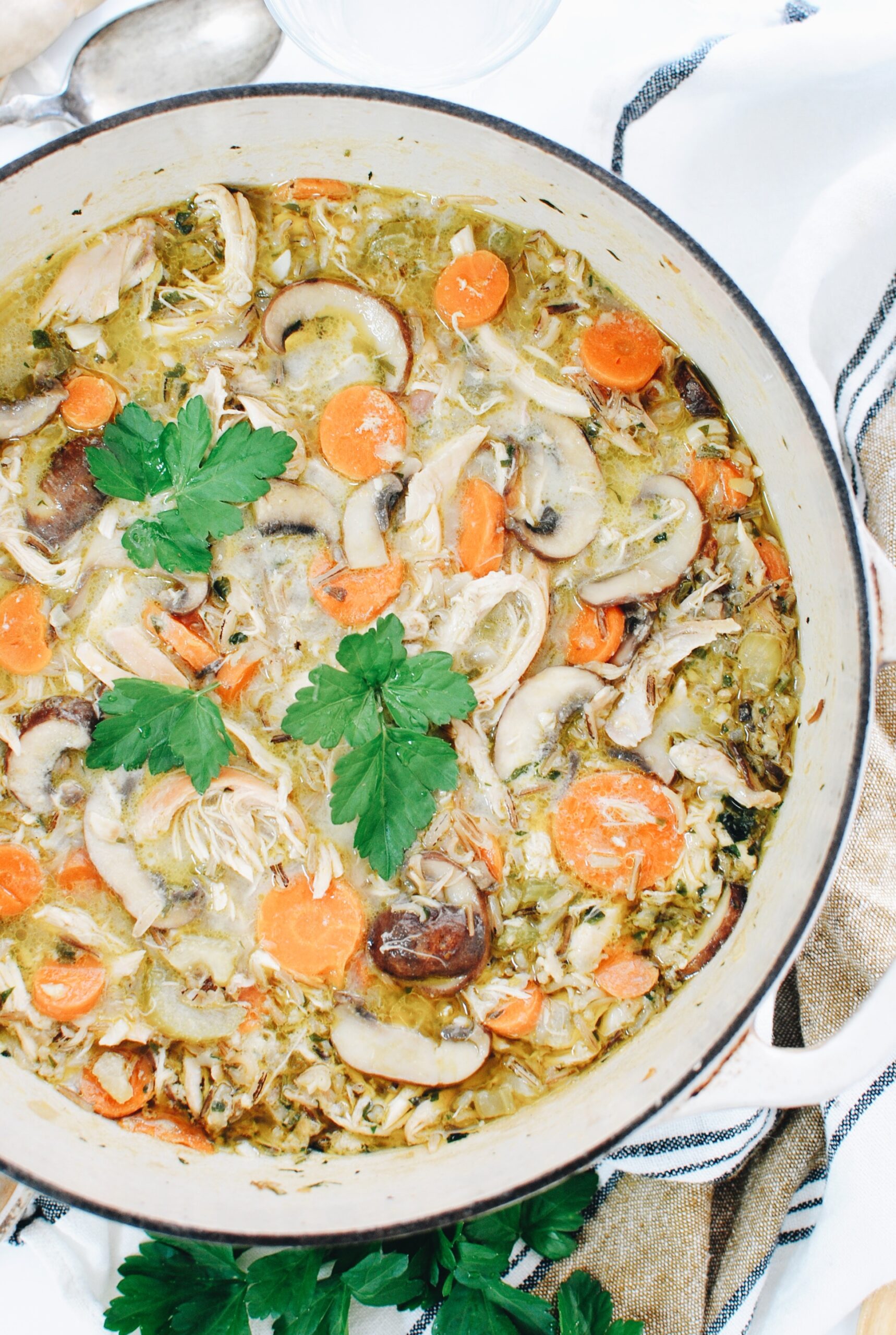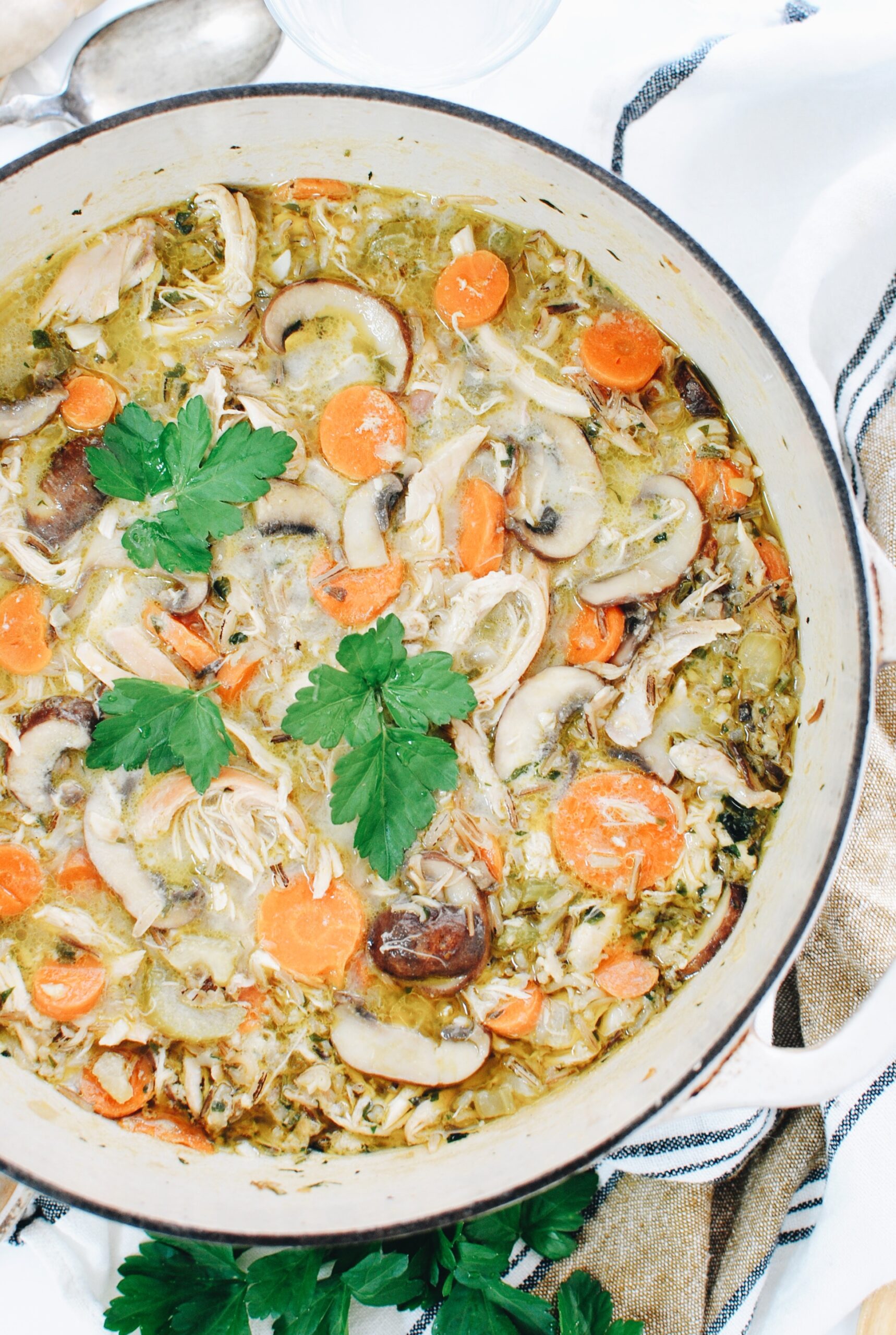 I'm going to get through this blog post as quickly as I can, as I've started my official clear liquid diet in prep for my colonoscopy tomorrow, and looking at food is T O R T U R E.
But we're okay. I'm okay. You're more than okay.
Let's peep this already.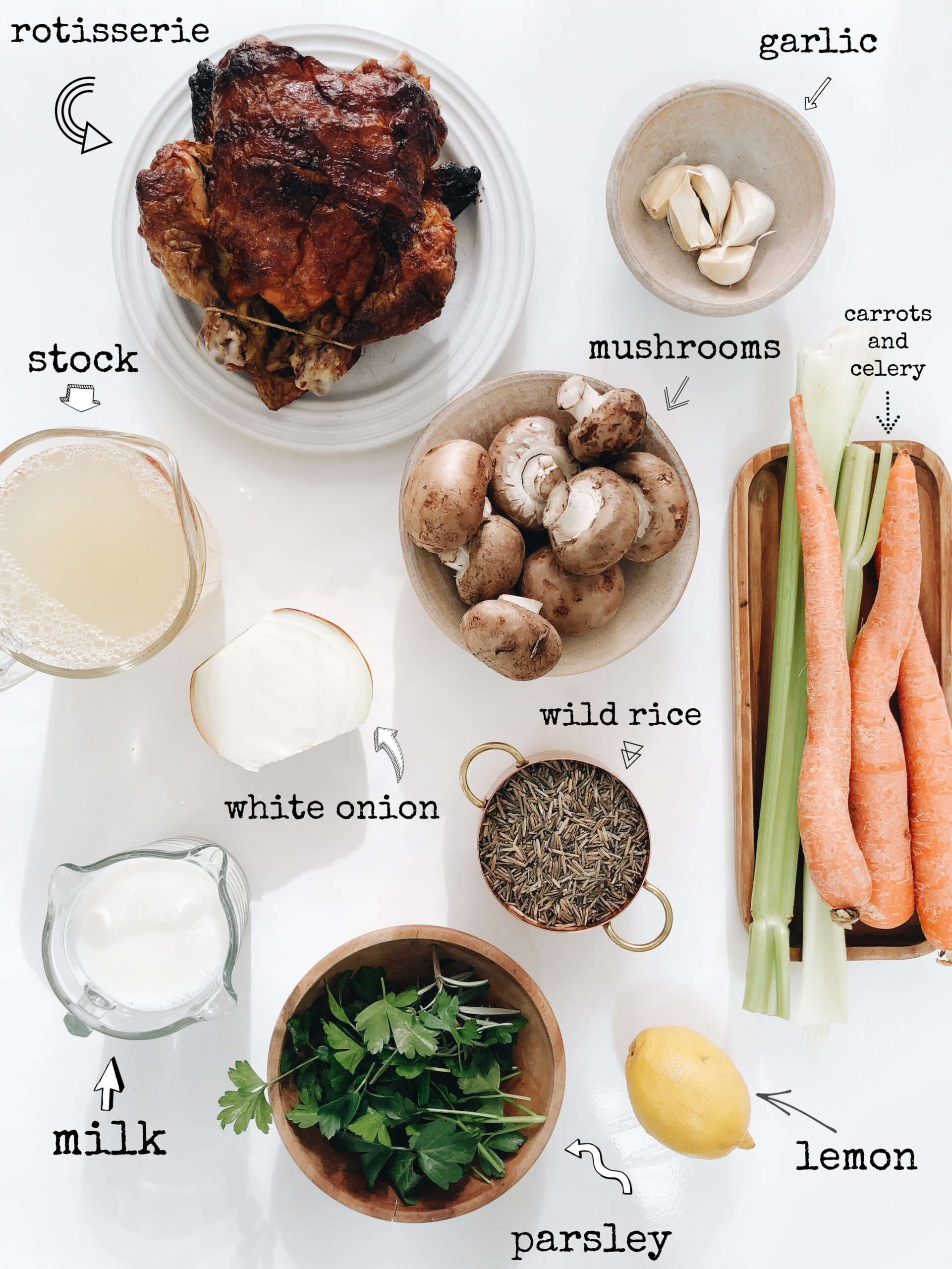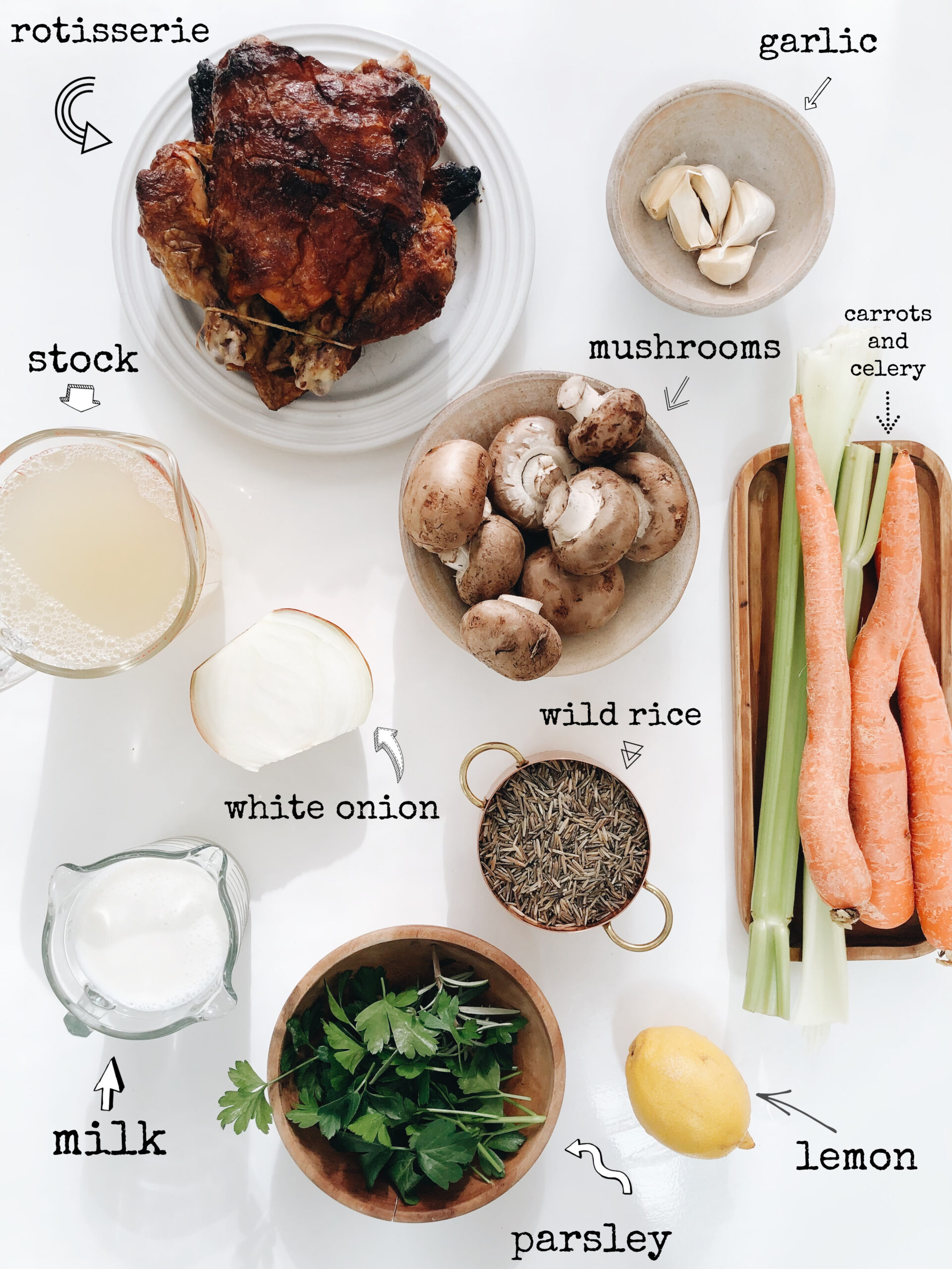 I added a cup of milk to this just to give it style. But if you'd prefer to leave it stock only, you're still a good person.
Everything else is pretty much standard though – carrots and celery, onions and garlic, mushrooms because I feel like that's mandatory in a wild rice soup, right? Don't you? I knew we understood each other.
Also, in that herb bowl there's rosemary, because it's winter and this is how we do it.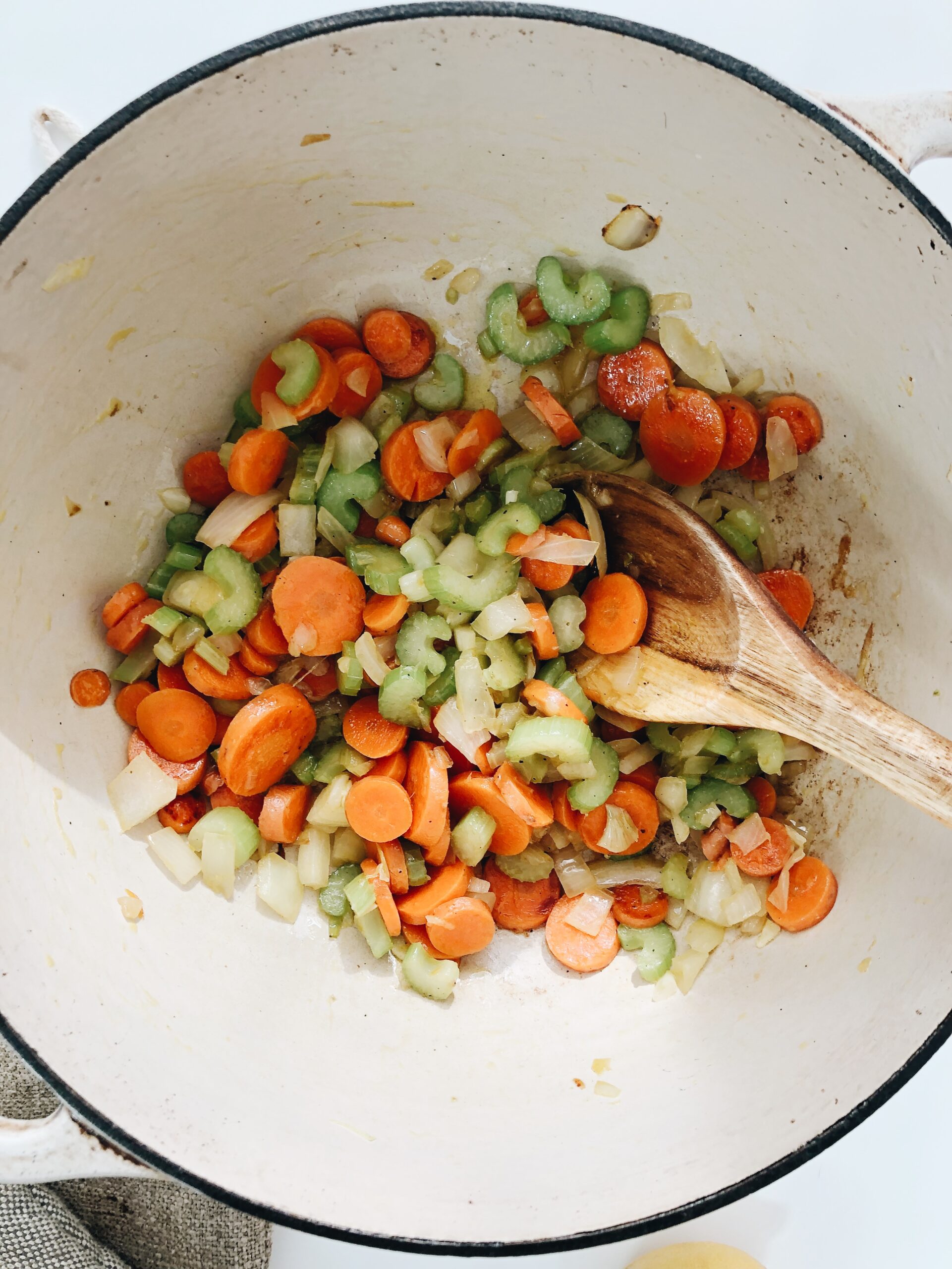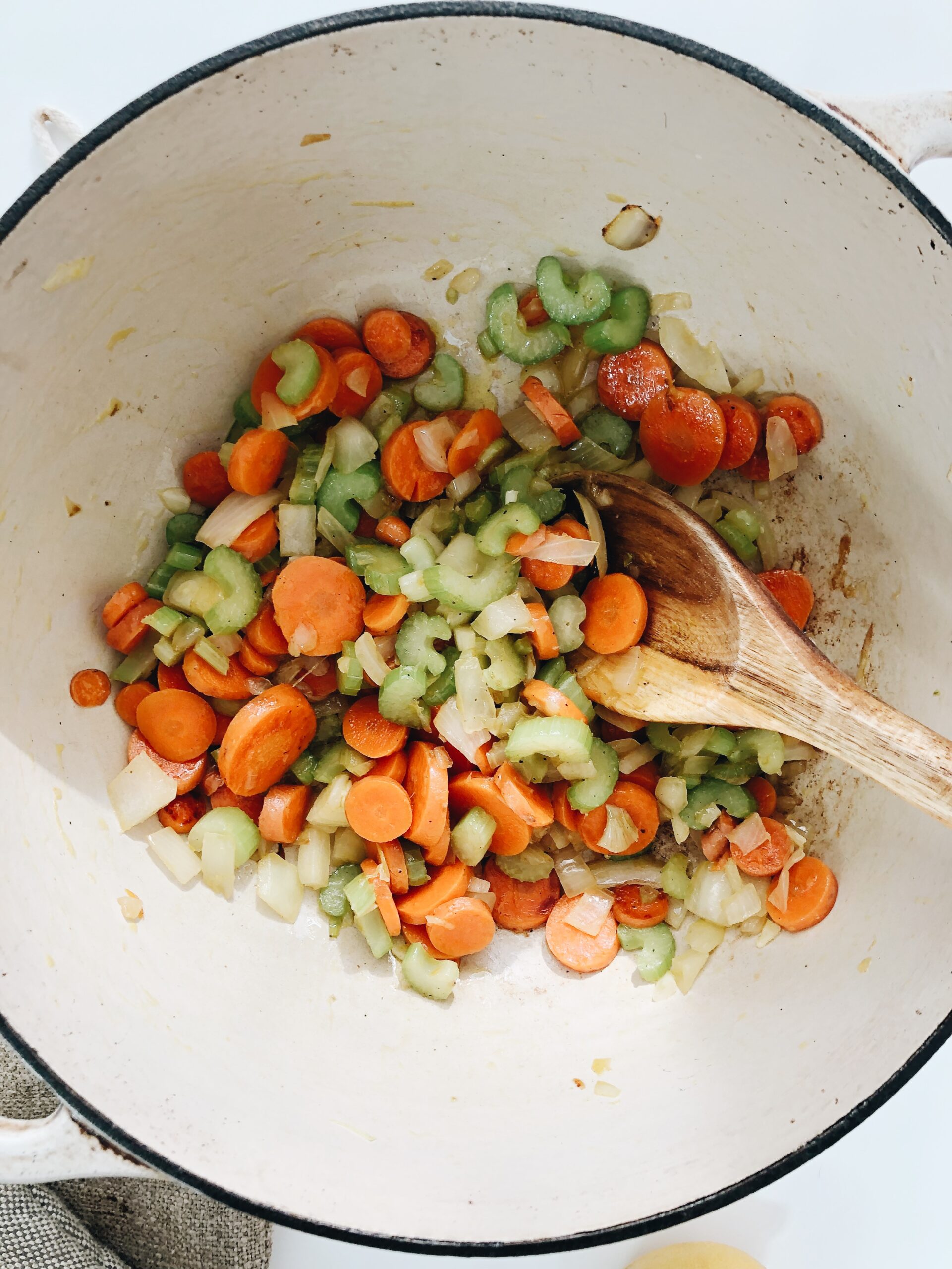 Just get those carrots, celery and onions going in some oil for a bit. Let 'em soften, let 'em brown a little. Then add your garlic and go another minute until the fragrance punches you in the face. That's the way we like it.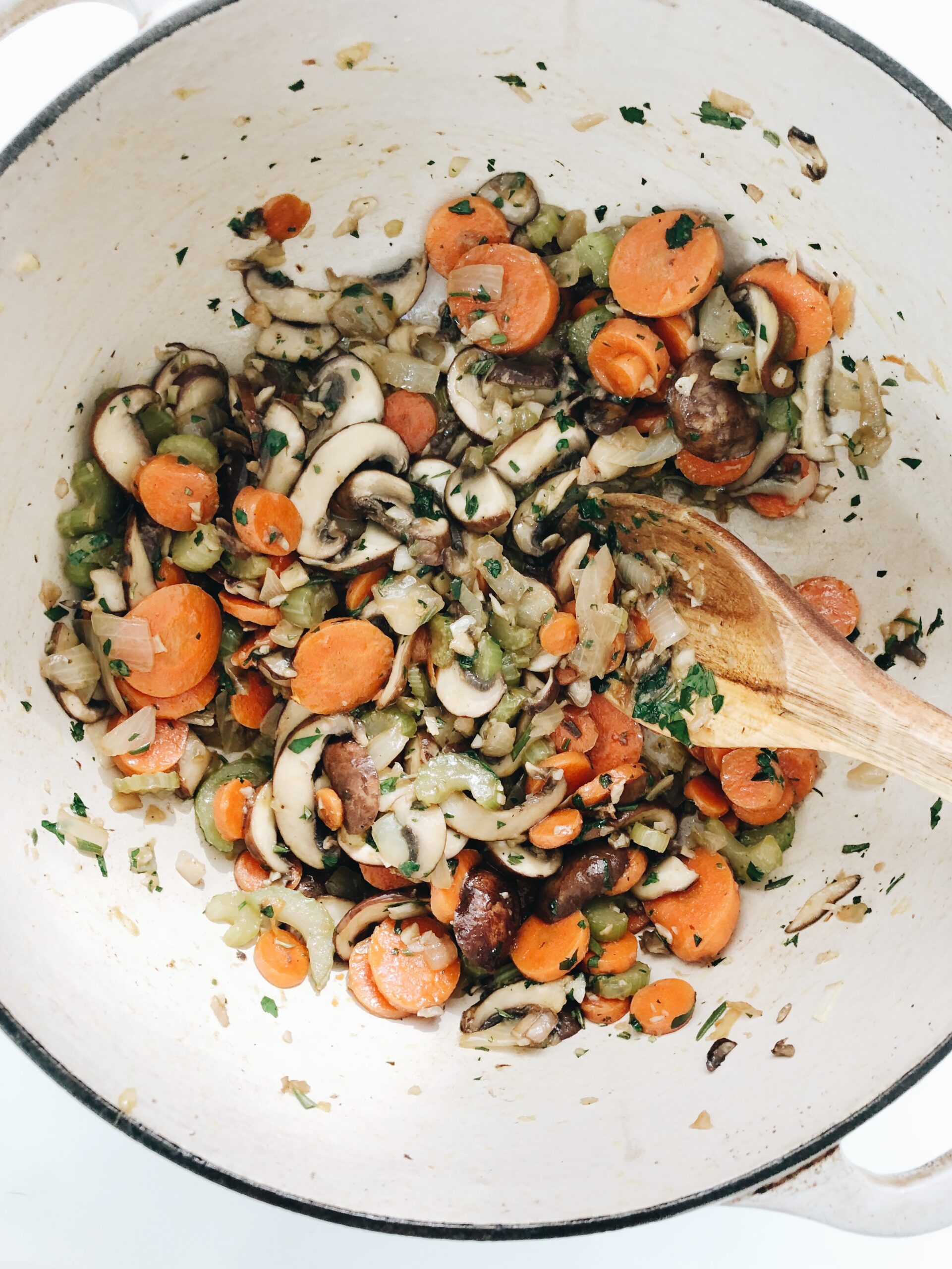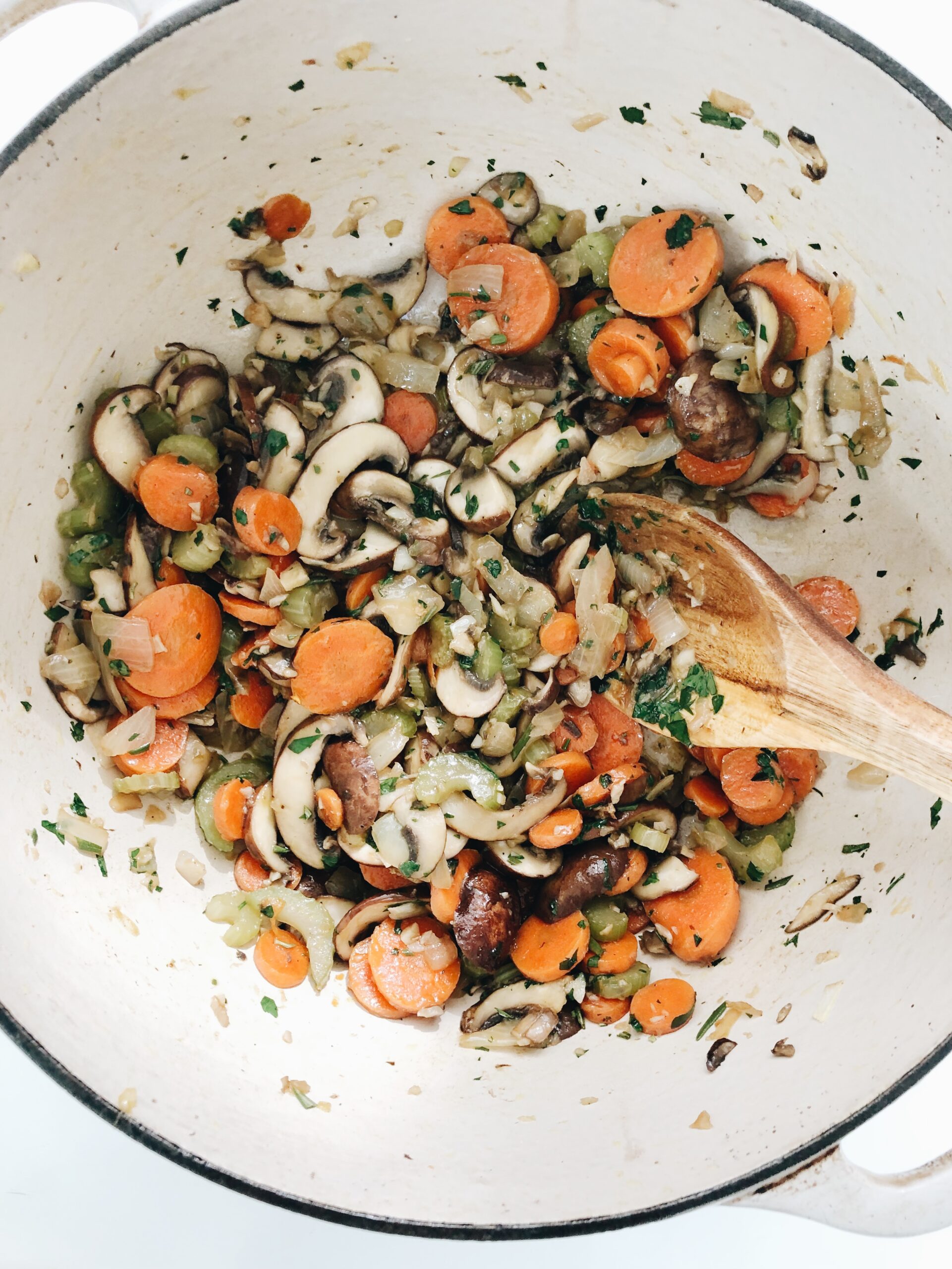 Then violently throw in the sliced mushrooms, chopped rosemary and parsley. Another pinch of salt, while you're at it. 'Atta goil. Let that go another five or so minutes.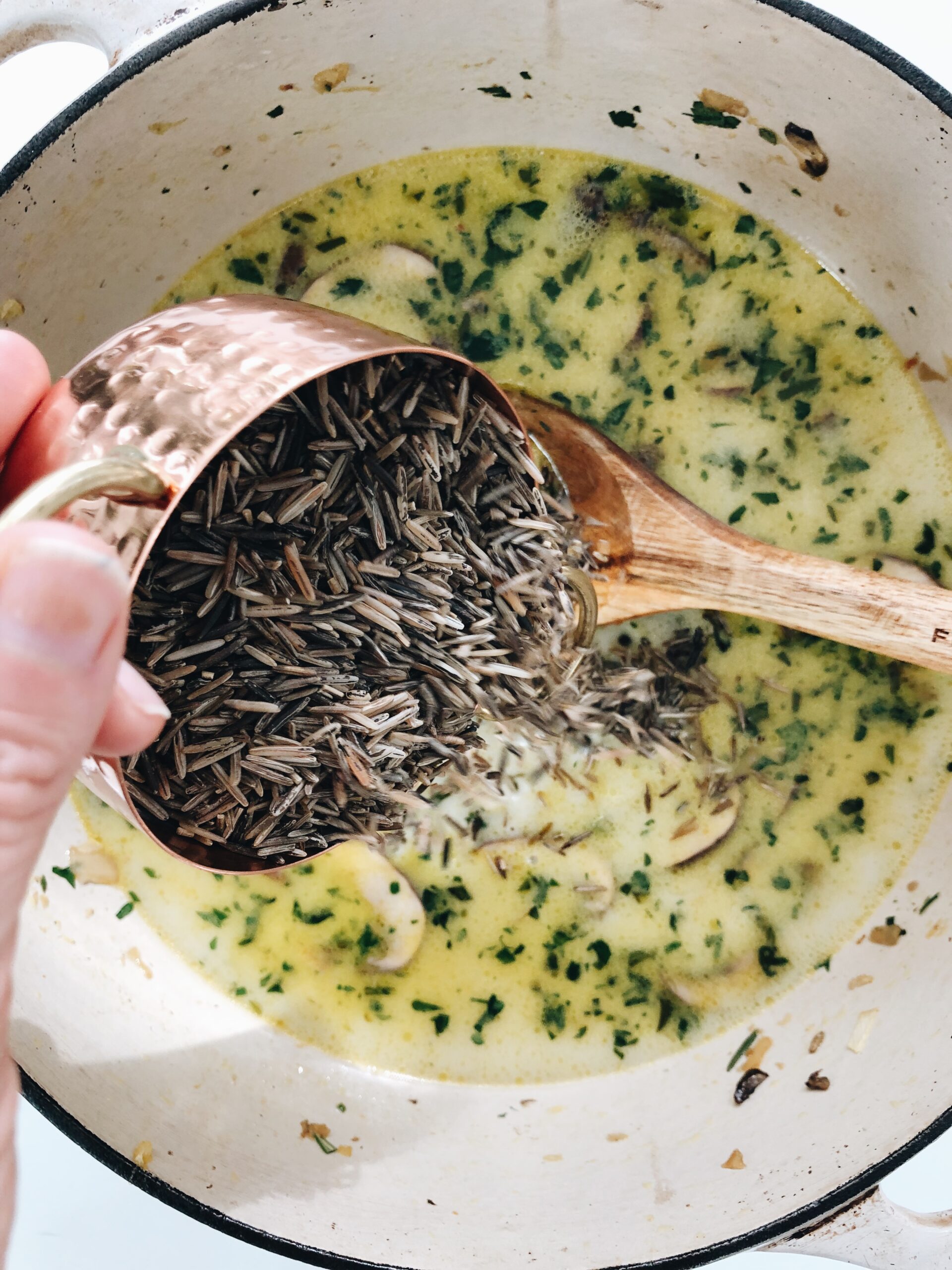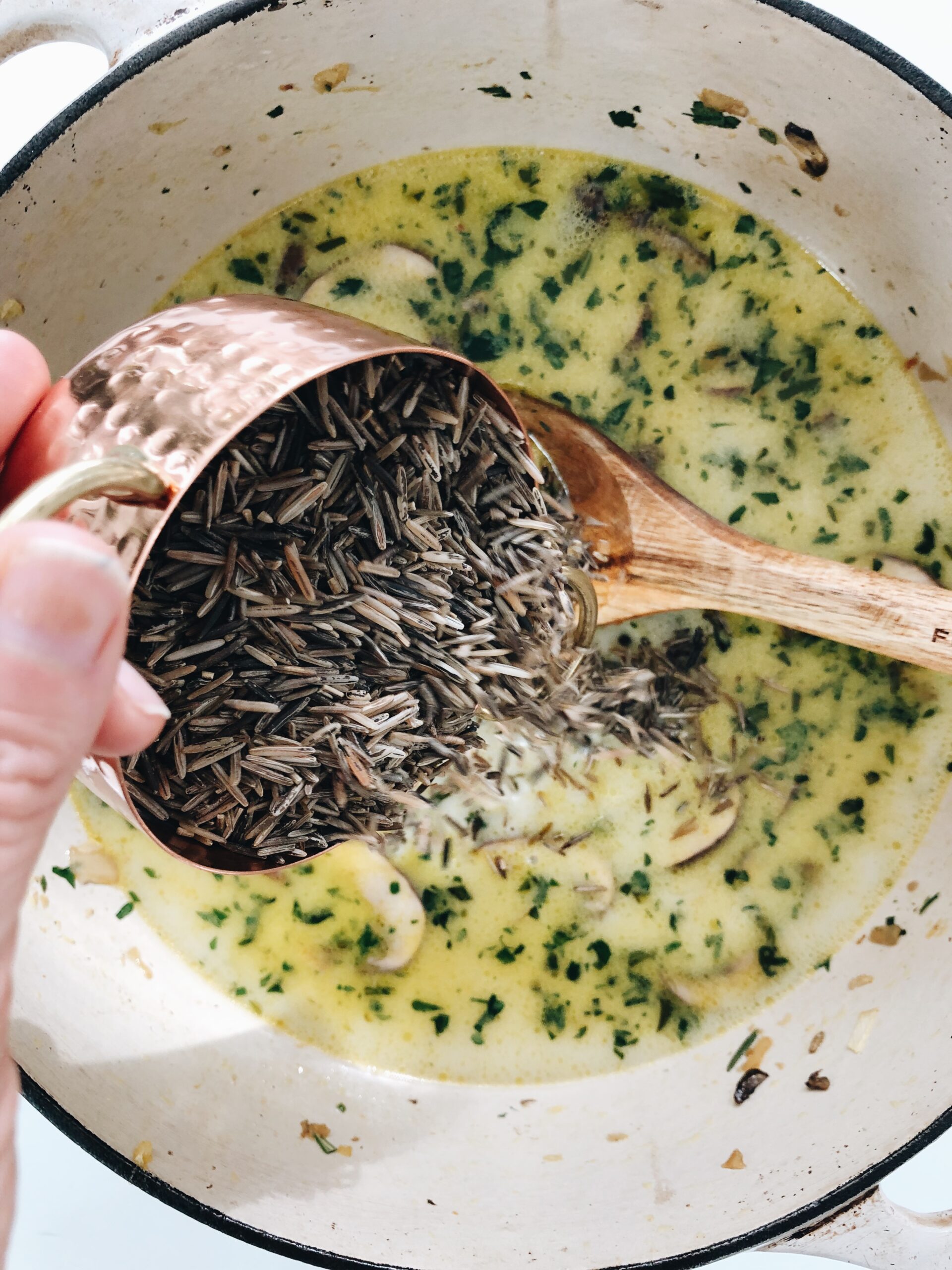 Then we add the liquids and the wild rice. Aaron ordered this fancy kind off the interwebz from an Indigenous company, but any wild rice will do.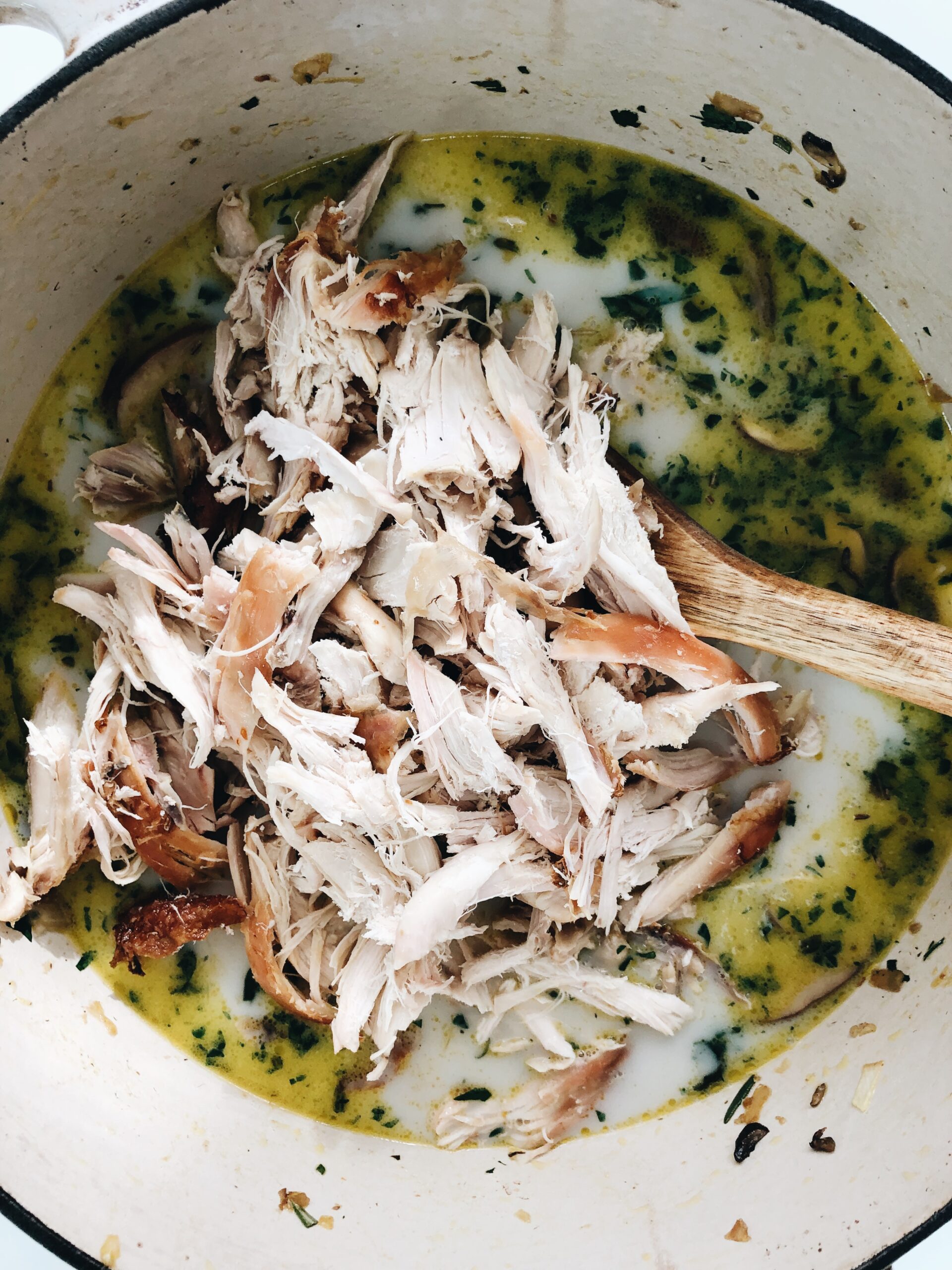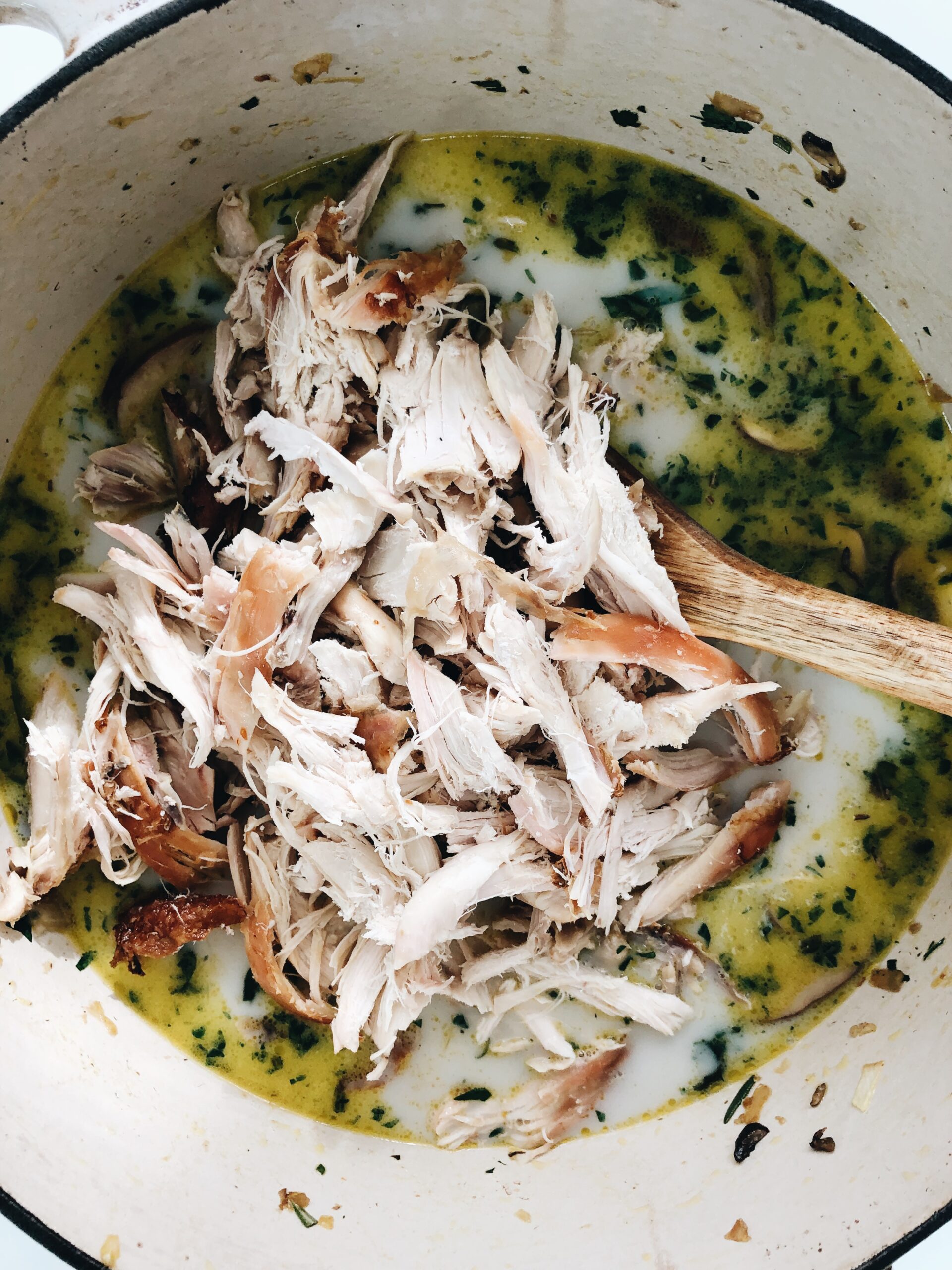 Then we'll add the shredded rotis! It's a shortcut and I'm all about it. Let this go about ten minutes, just until the flavors marry and the rice has plumped and gotten toothy and tender. Perfect.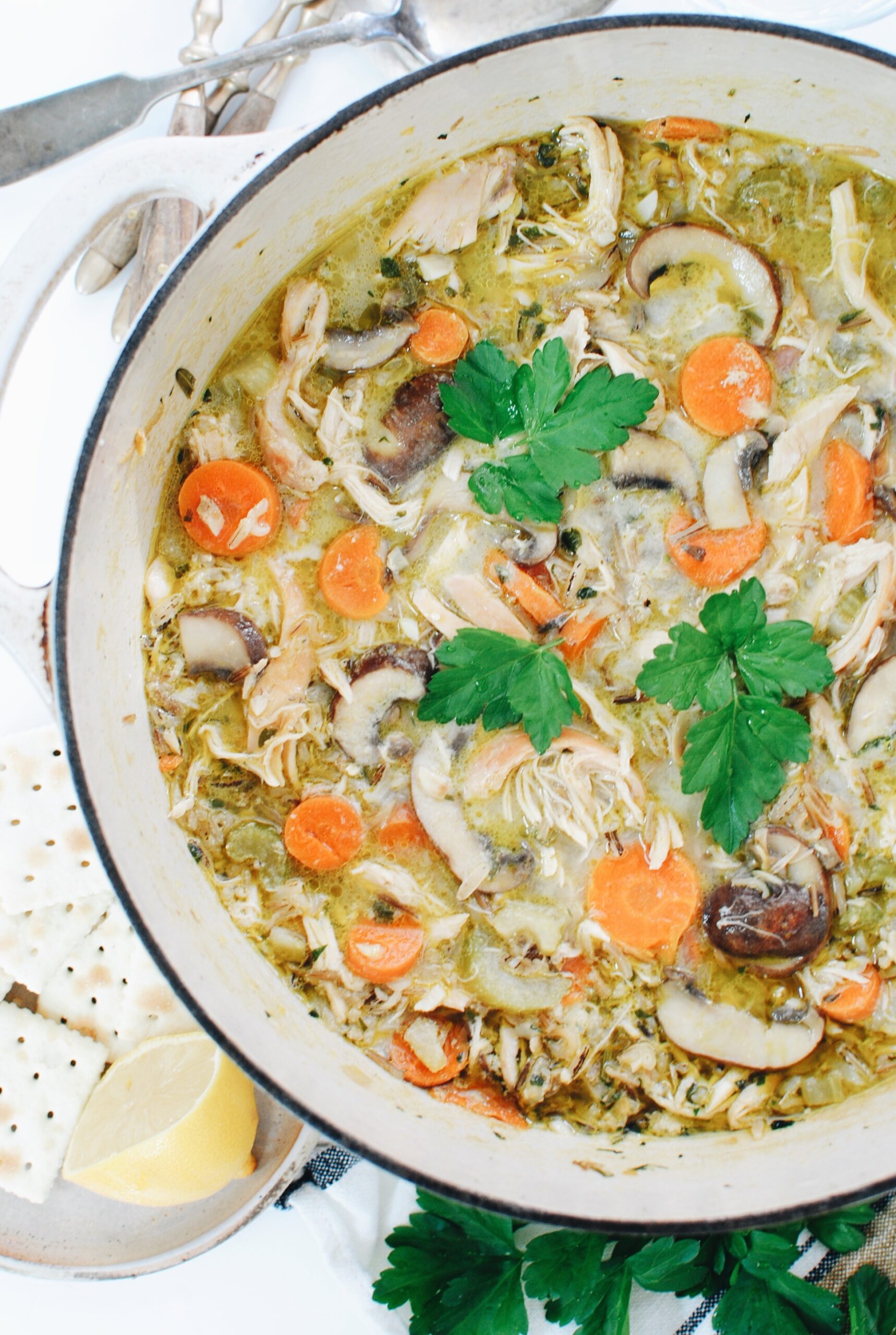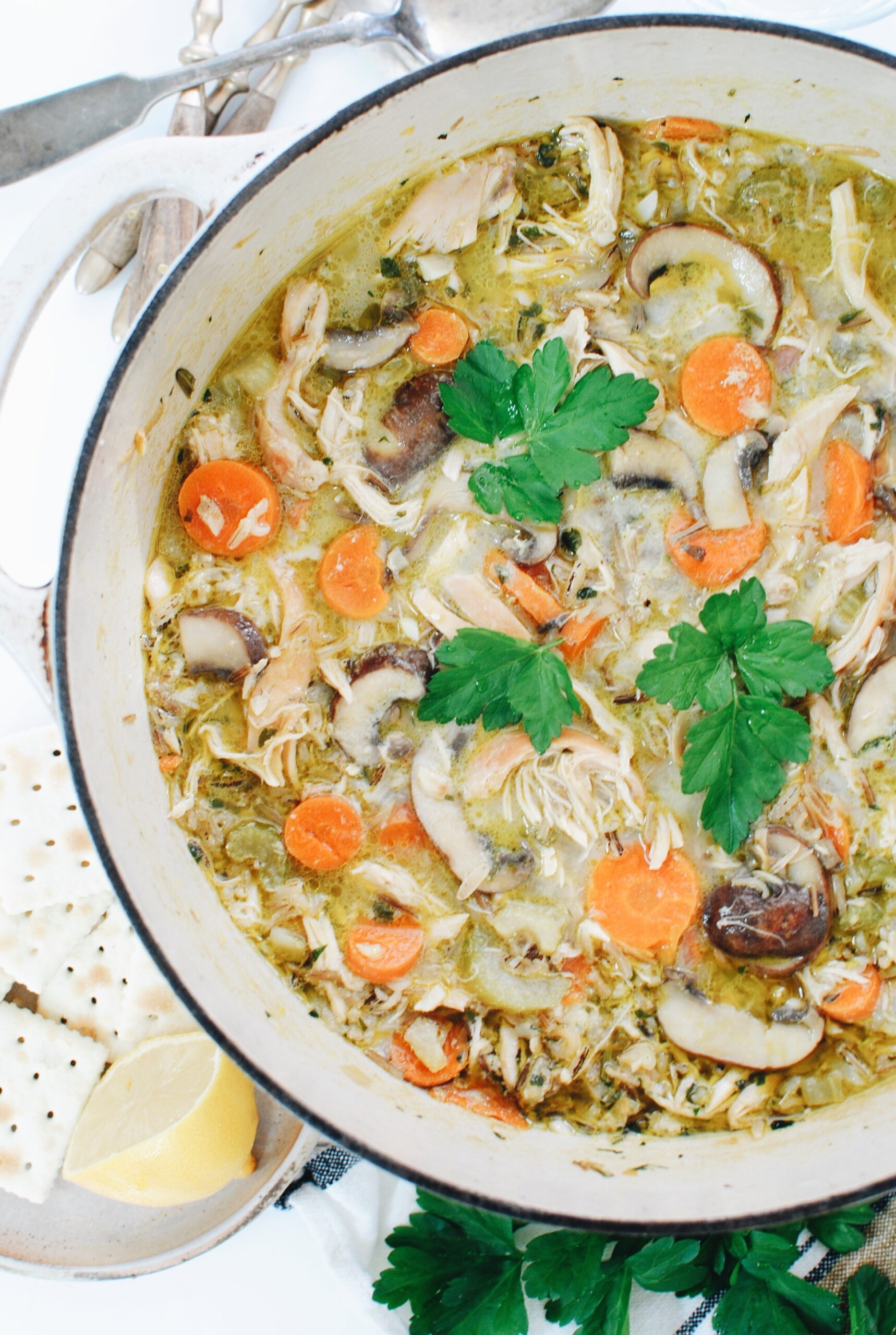 Once you taste it, you'll know it needs lemon juice. So have it locked and loaded. And another pinch of salt most likely. You know the soup drill. Citrus and salt. There we go.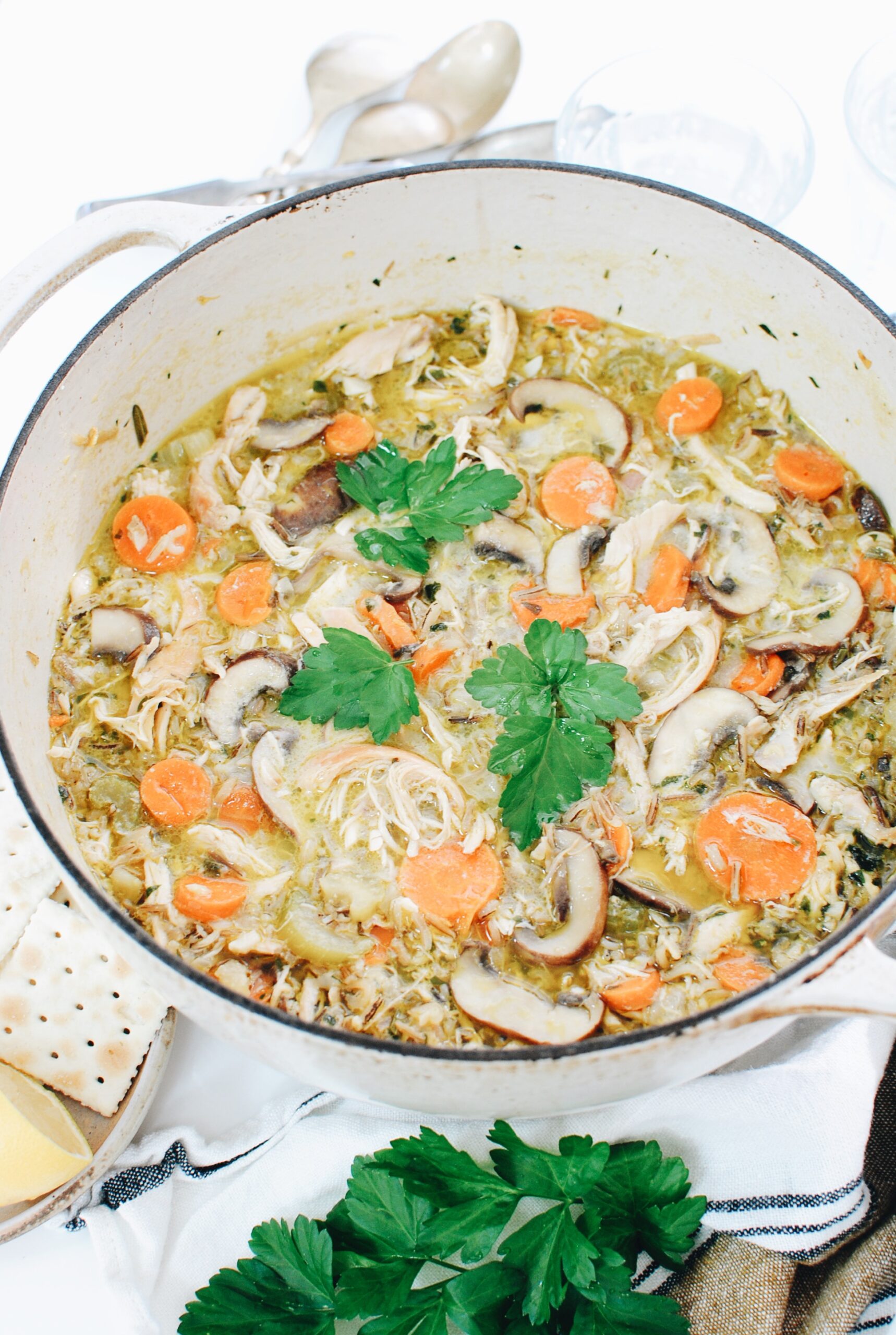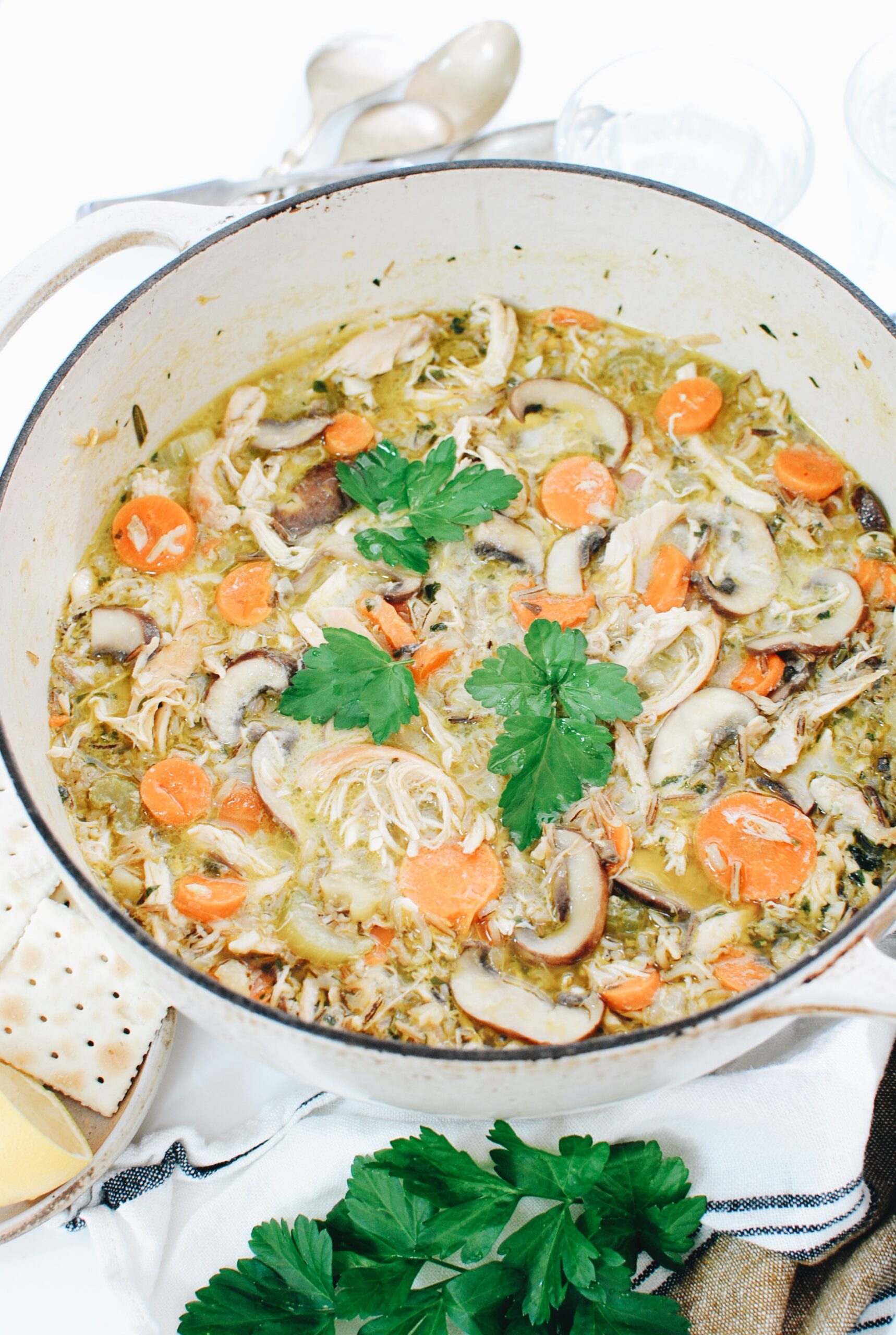 You THINK seven cups of liquid is a lot, but look what happens when that rice cooks! It absorbs so much and really, you could add another cup of stock if needed in the end. Just feel it out and get it just right. Delicious.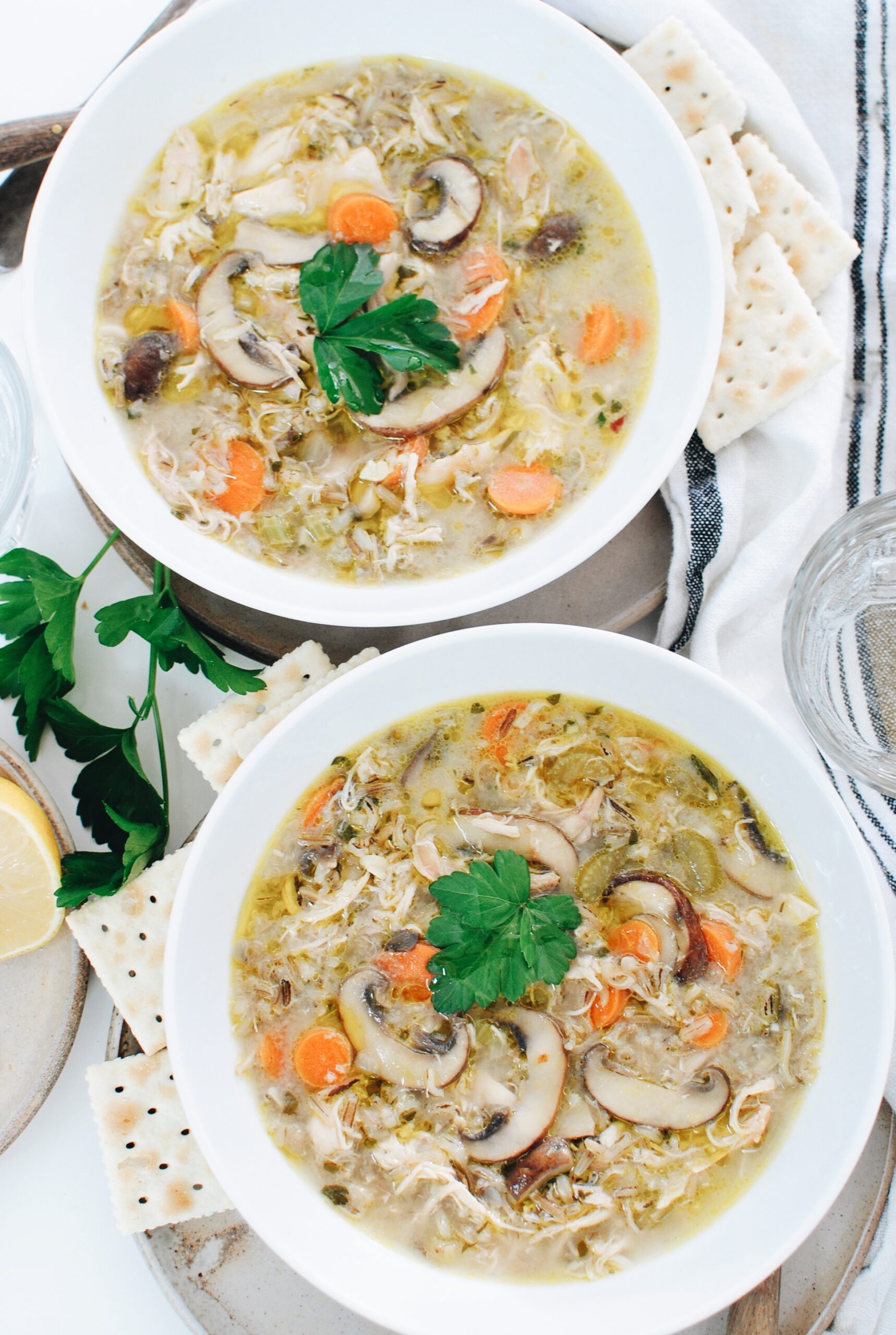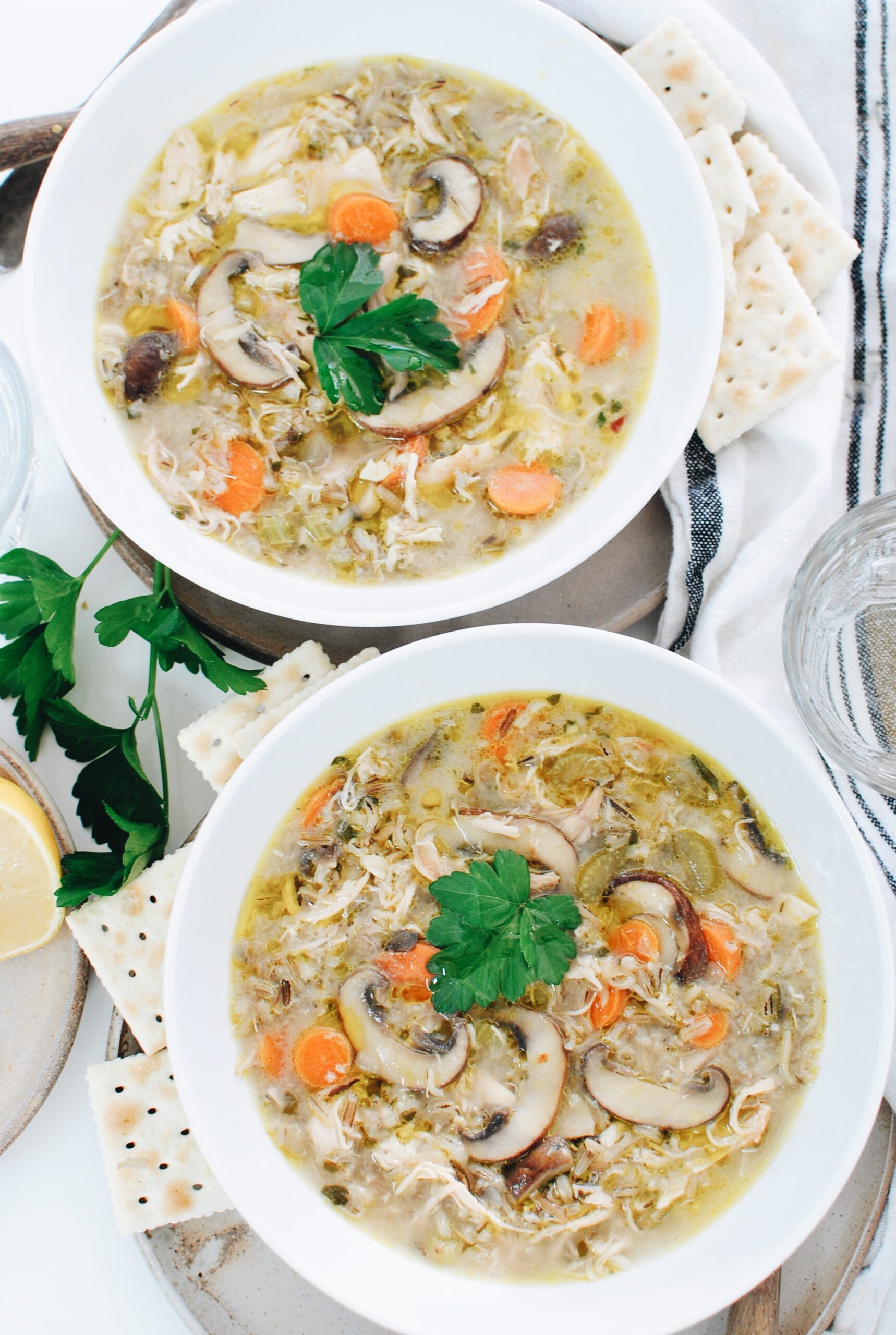 What you'll really want to do now is garnish with more parsley, and drizzle your best olive oil over the top. Something earthy and robust. Just get it on there.
Comforting, slurpy, nostalgic, it's the soup of your dreams. And you noticed how simple that was, right? Right.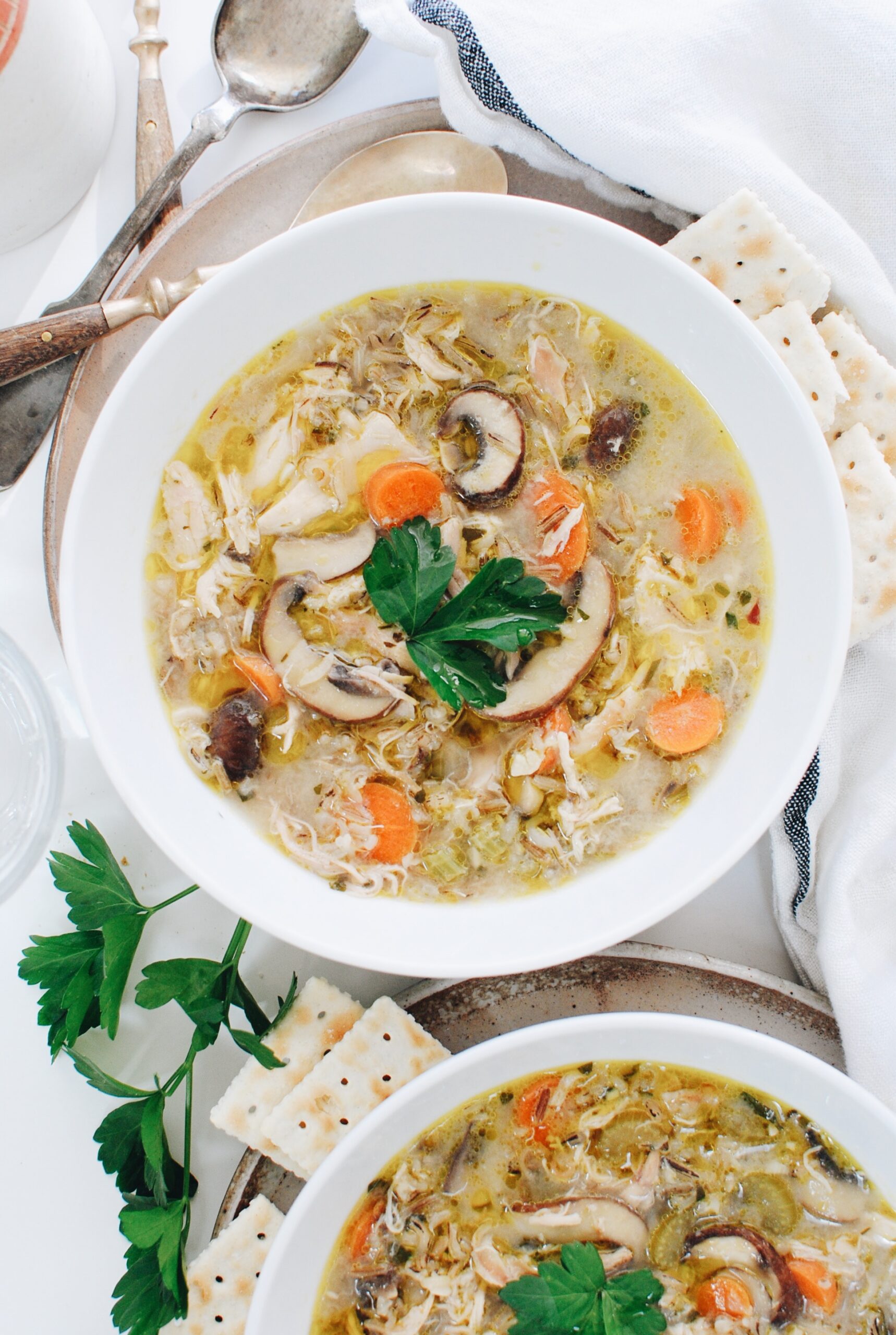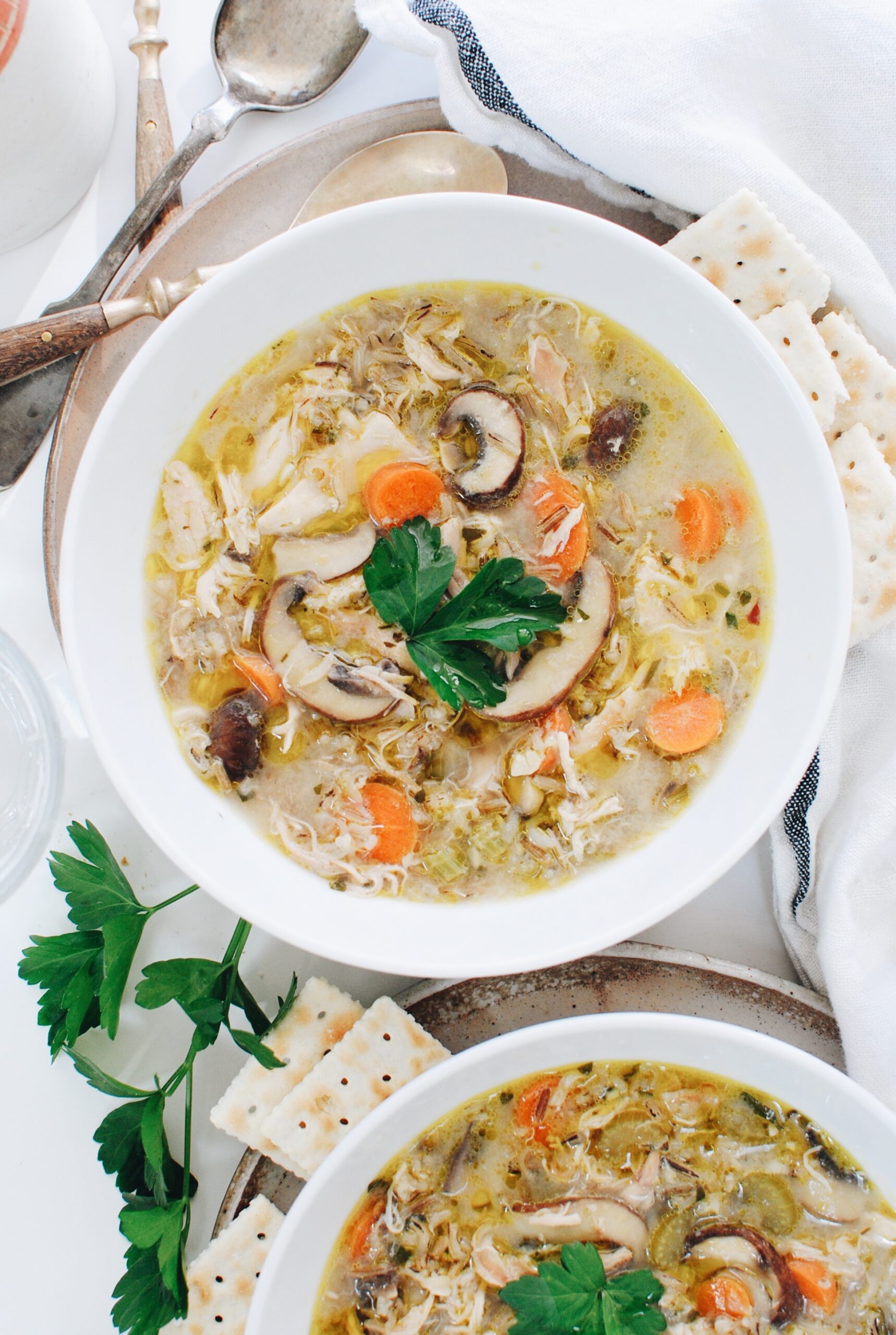 You're probably expecting snow this weekend, so get this on the menu s-t-a-t!
Chicken and Wild Rice Soup
Ingredients
1 rotisserie chicken, shredded
3 carrots, sliced
2 celery stalks, sliced
1/2 white onion, thinly sliced or diced
5 cloves of garlic, minced
8 oz baby Bella mushrooms, capped and sliced
3 Tbs. chopped fresh rosemary and parsley
6 cups chicken stock
1 cup milk
1 cup uncooked wild rice
1 lemon
Coarse salt
Instructions
In a large pot, heat a couple Tbs. of extra-virgin olive oil over medium. Add the carrots, celery and onion, along with a pinch of salt. Sauté for about five minutes, until they begin to soften and every so slightly caramelize. Add the garlic and go another minute, until fragrant.
To the pot, add the sliced mushrooms, chopped herbs and another pinch of salt. Sauté a couple of minutes, letting the mushrooms soften. Add the stock, milk, wild rice and shredded chicken. Bring to a boil, reduce the heat and let this simmer on medium roughly ten minutes, or until the wild rice has plumped and softened. Taste it. Let's add the lemon juice! Half a lemon, the whole thing. Get it the way you want it. Might need to add another pinch of salt, too.
Ladle the soup into bowls and garnish with fresh parsley. And a good drizzle of your best oil! Parmesan never hurts, either. There we go.
Serves six-eight.
7.8.1.2
547
https://bevcooks.com/chicken-and-wild-rice-soup/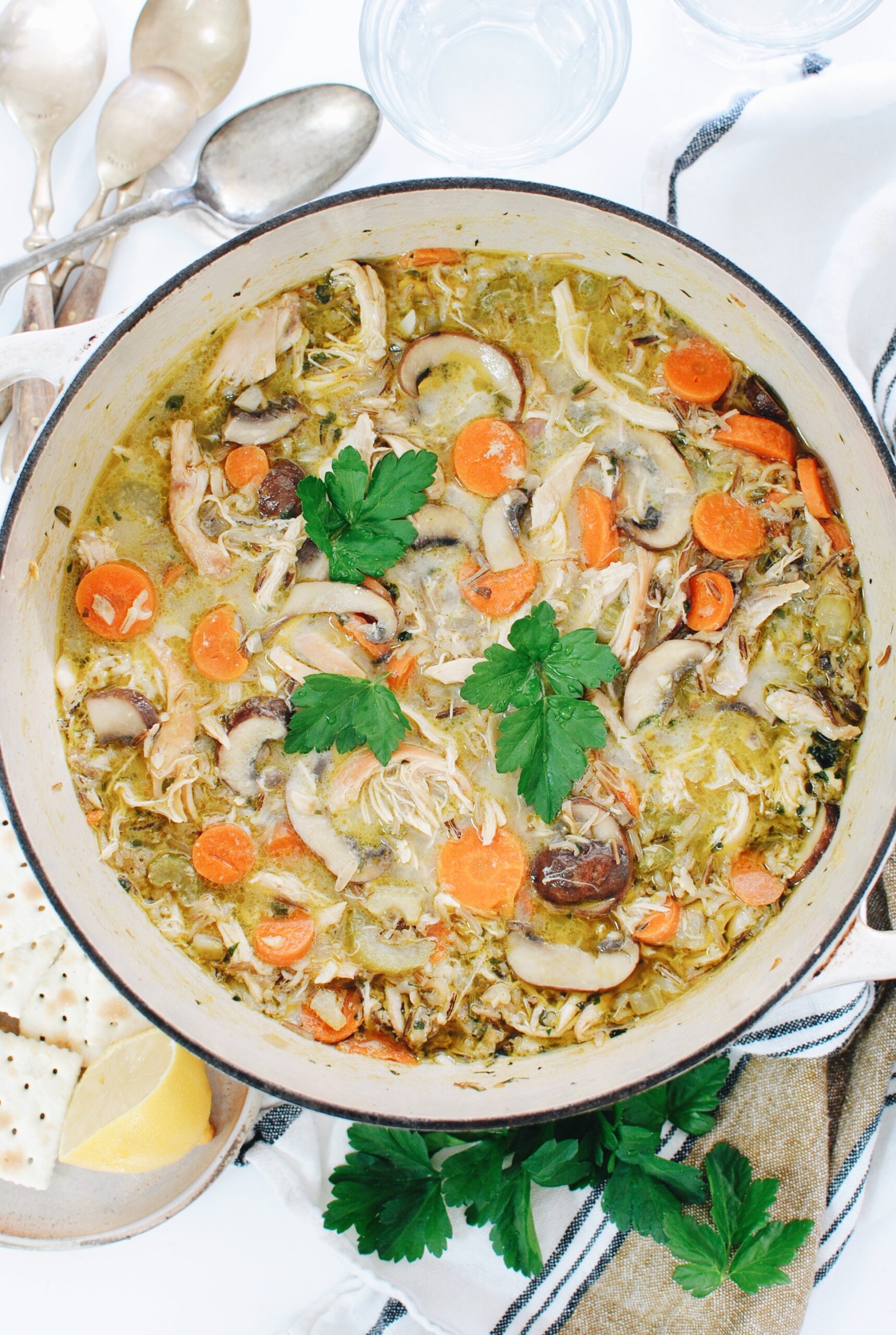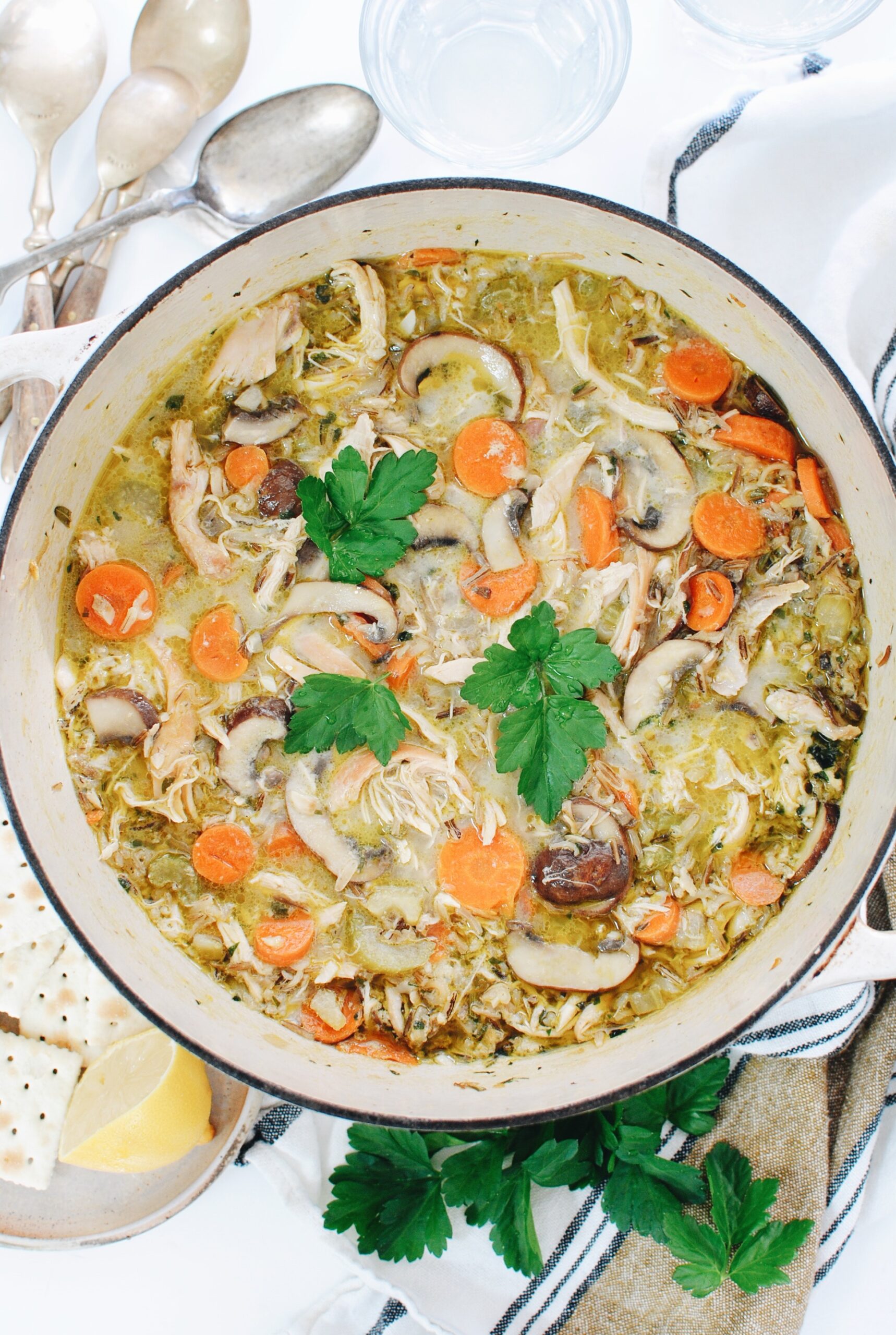 See you at the bottom of that.