Still losing my mind over this and it's been 15 hours.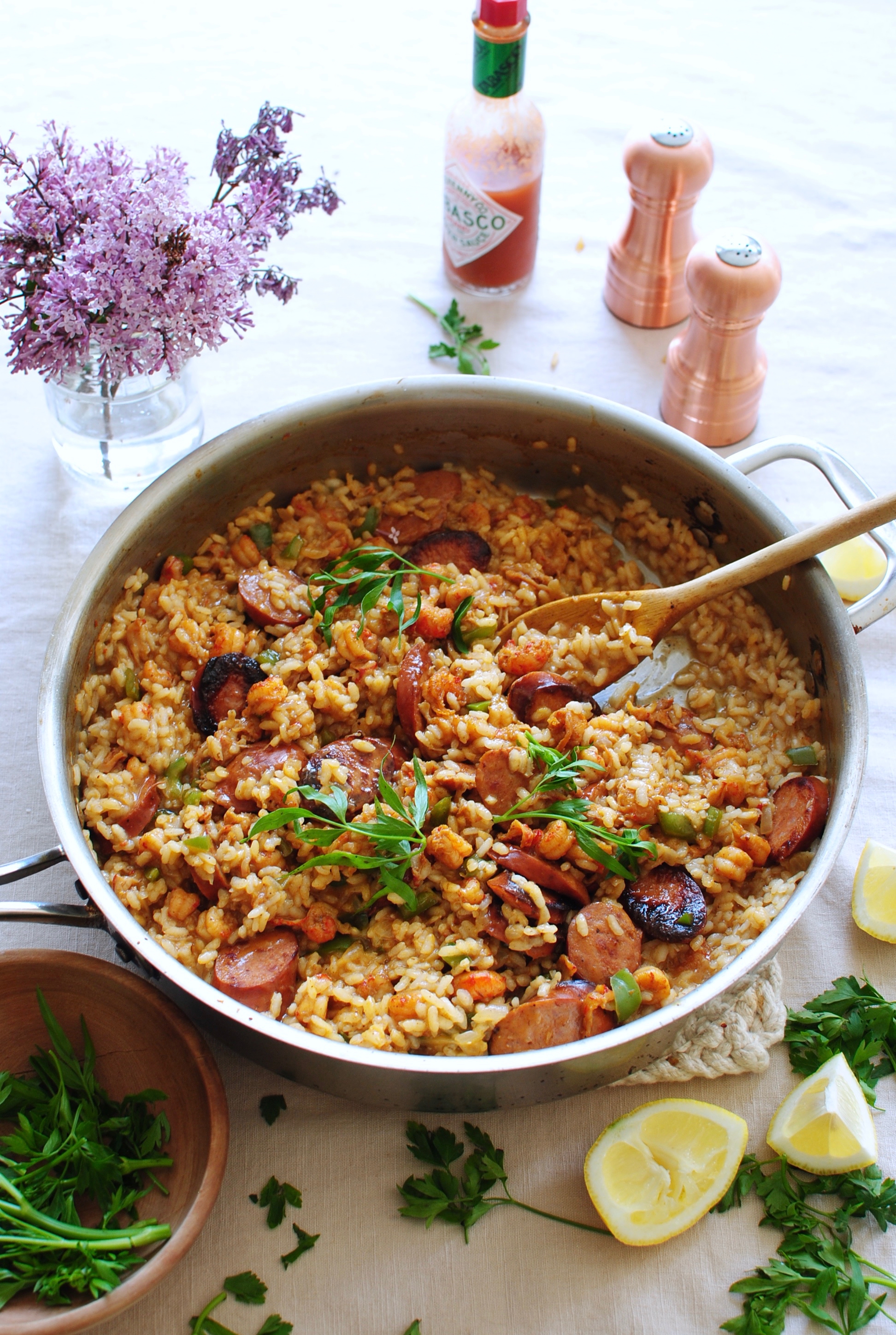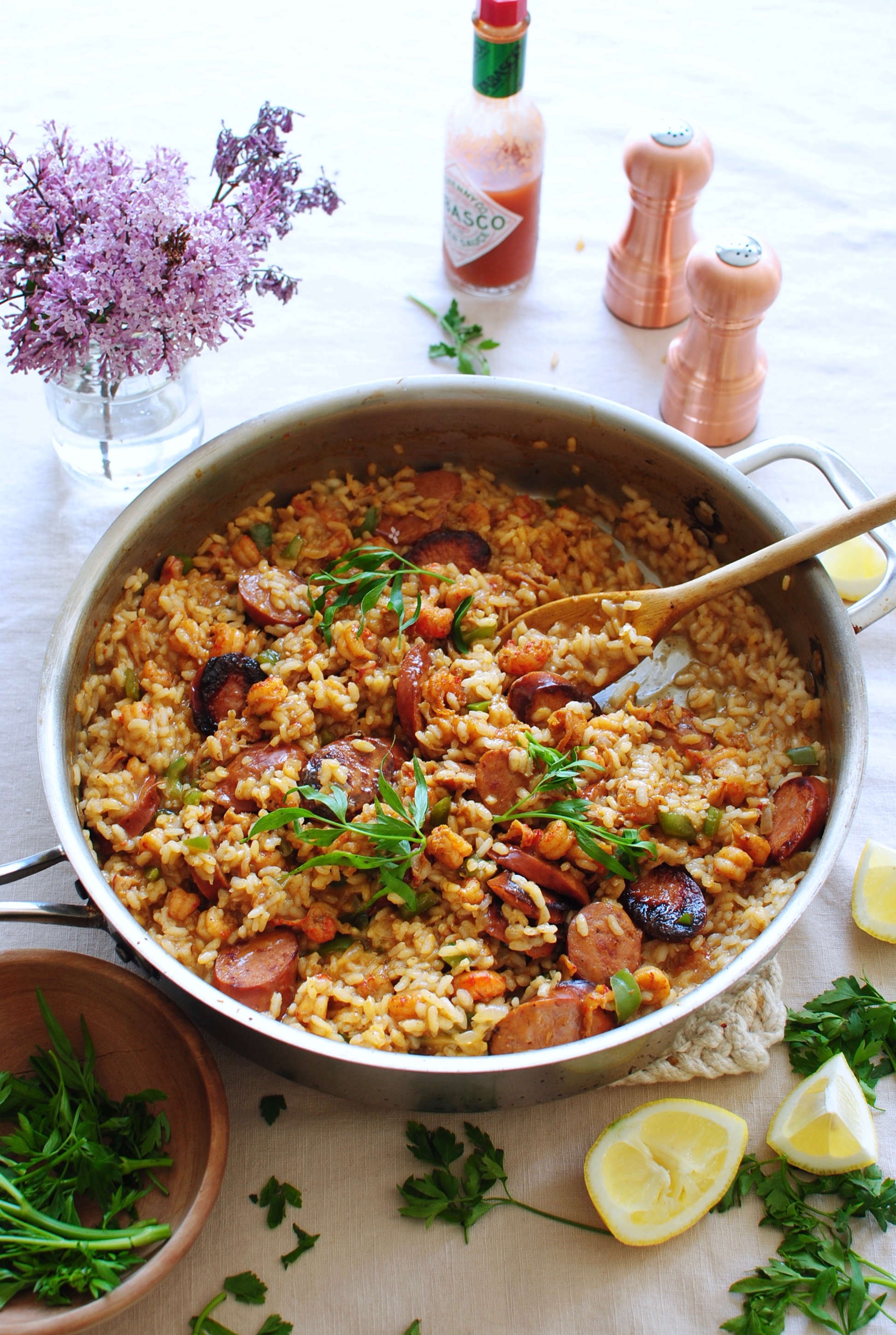 Because listen – CAJUN. RISOTTO.
Not etouffee!
Not jambalaya!
Good old fashioned risotto, but crazy infused with cajun (creole, cajun, creole, cajun – let's call the whole thing off) flavors. And on top of that, I used crawfish tails.
But we need to discuss this.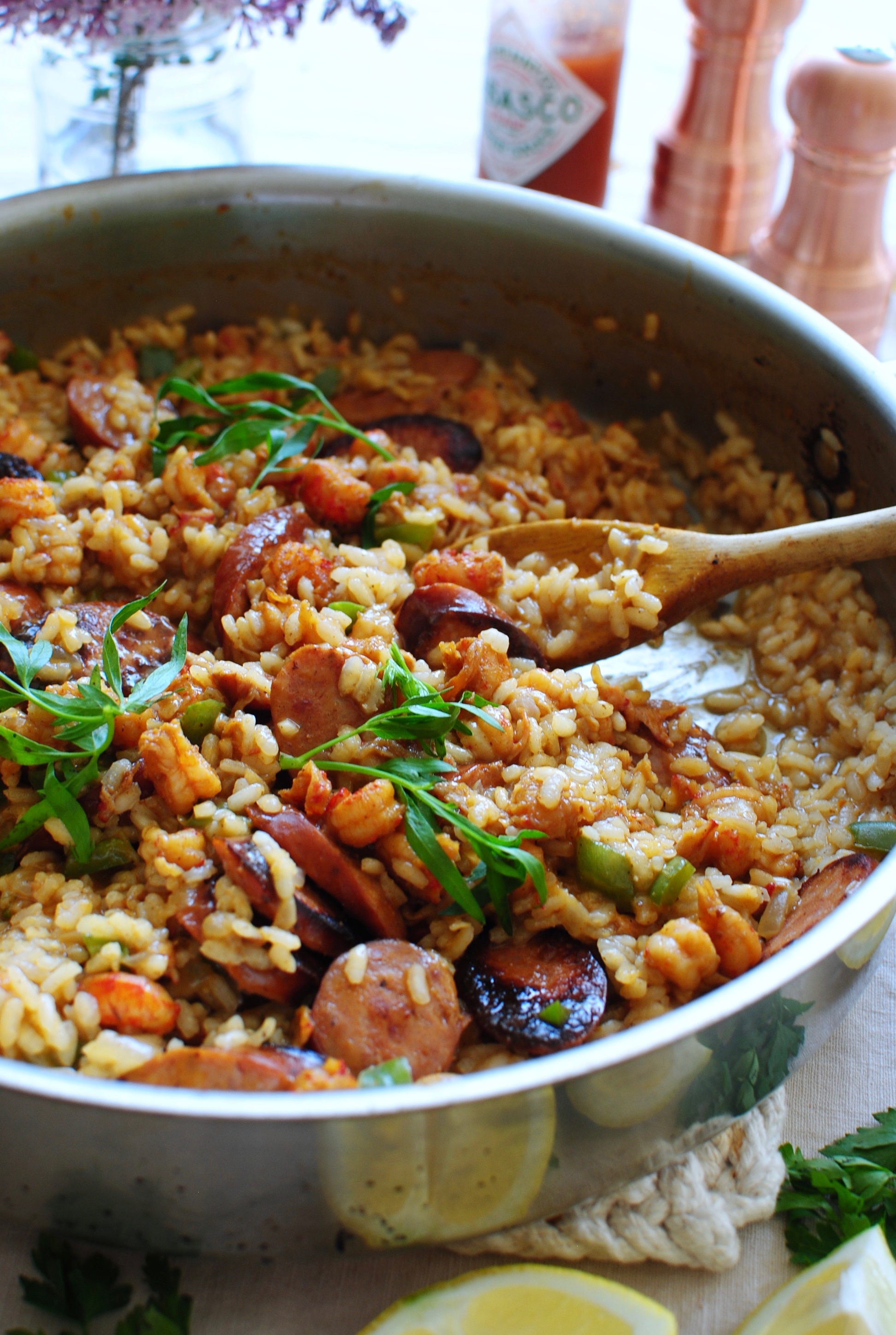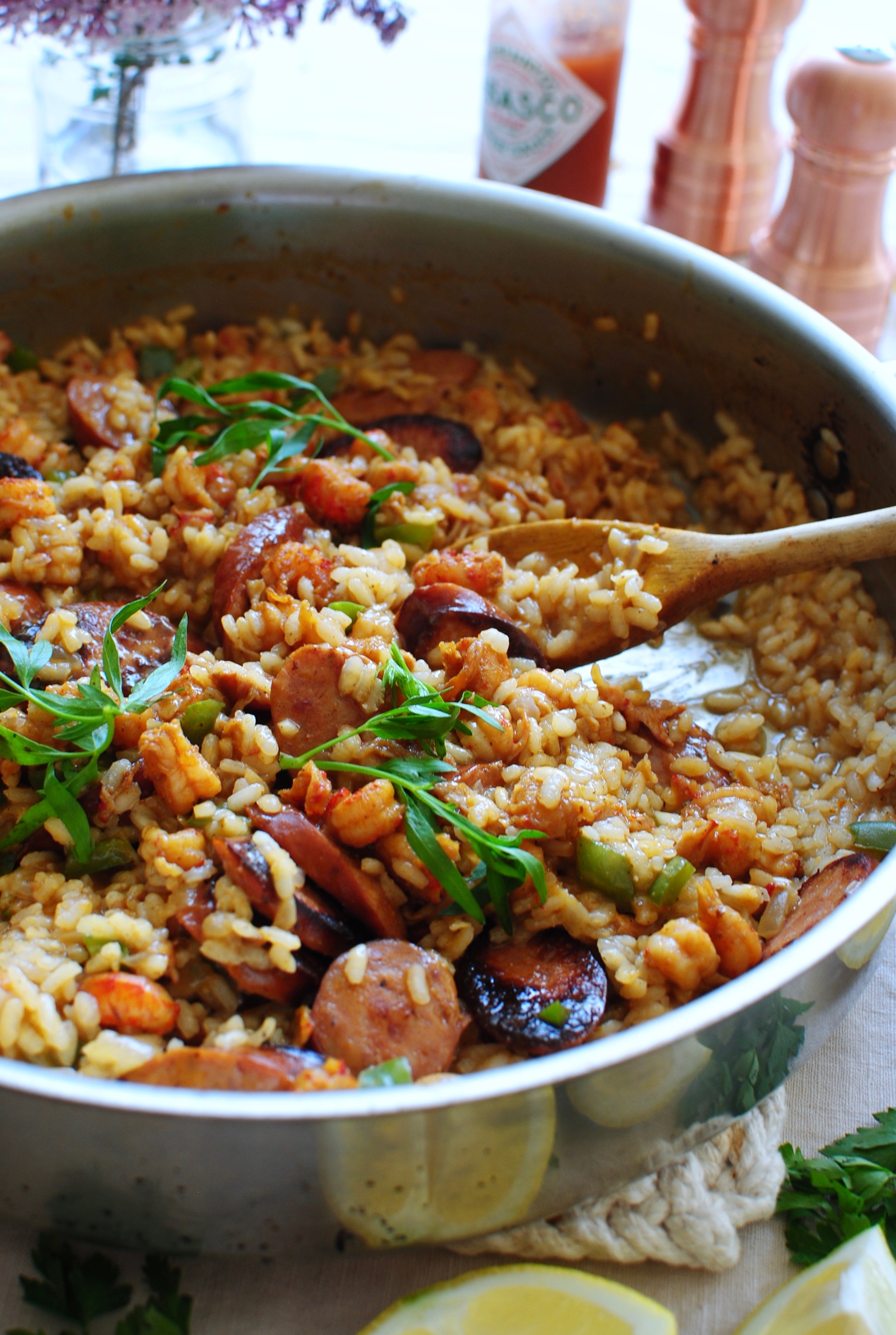 I've never had crawfish tails. Ever. Wait, maybe I did when I was a kid in Southern Arkansas. Hold on, those were crawdads. Wait, what are crawdads? Are they the same as crawfish? Hold on, I'm going to look. Hold on.
Okay, they're the same as crawfish! And CRAYfish. Personally, I'd prefer to call them crayfish because it gives me the guilty pleasure opportunity to say cray. OH DAS CRAYfish. YOU BE CRAY, FISH.
Sorry.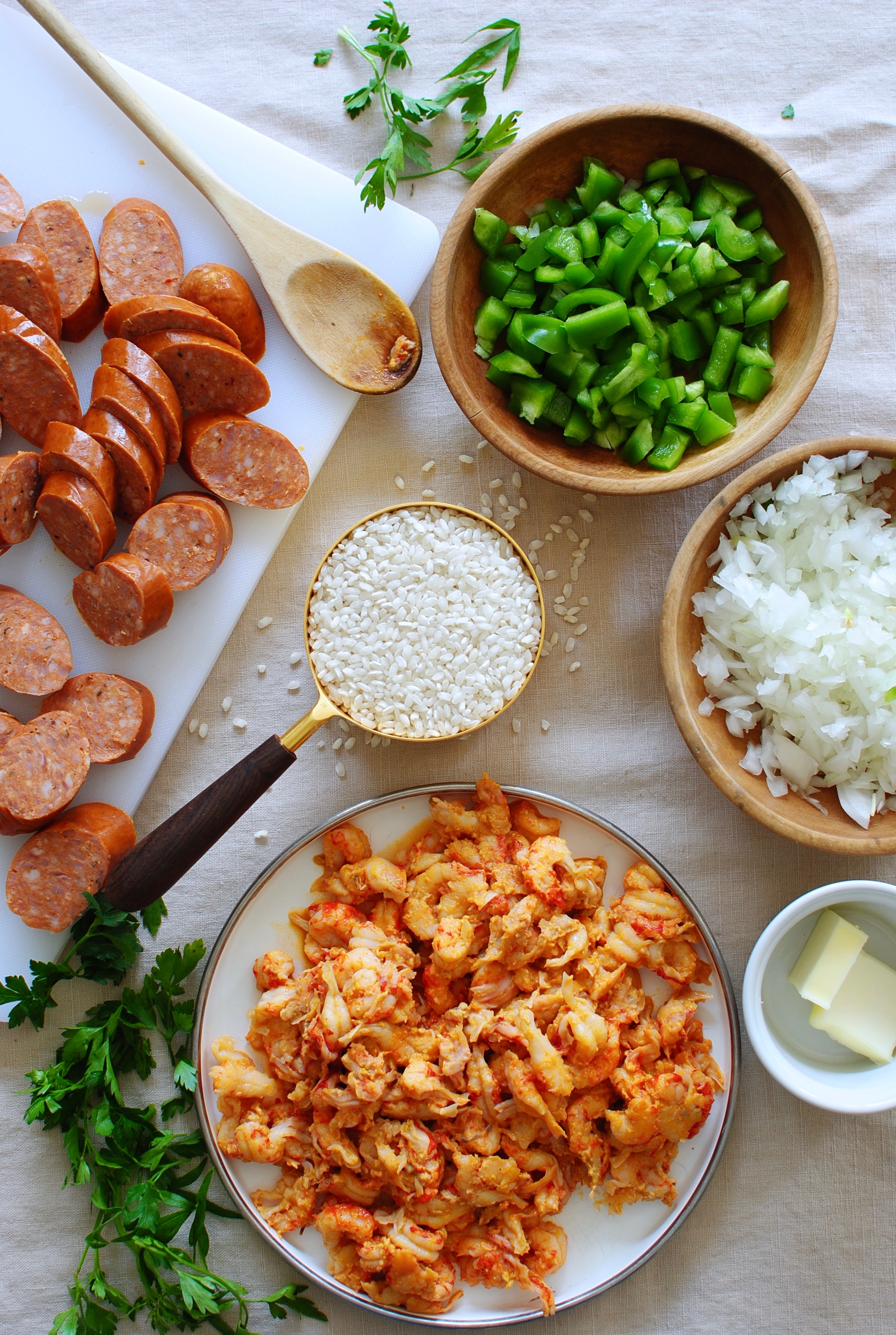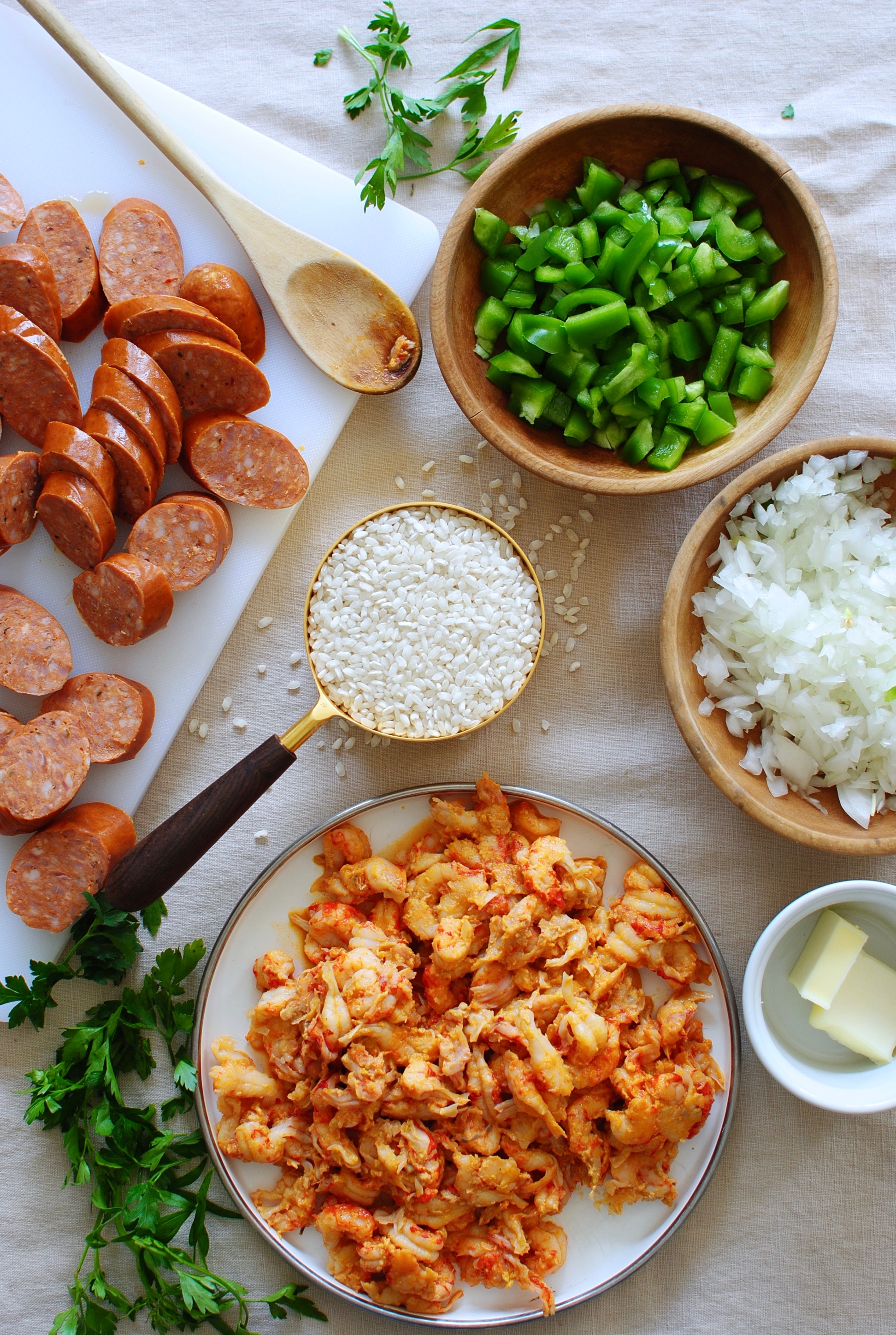 Once I decided to include this alien sea creature in my risotto, I excitedly made a round of calls to my neighborhood grocery stores and landed a bag of frozen, cleaned crawfish tails. The bag is flat and thin, with a huge drawing of Louisiana on the front, and a tiny star over the city Eunice. The tails come in a thin red sauce. I'm not entirely sure what the sauce IS, because the bag only said, "CLEANED CRAWFISH TAILS." Maybe blood?
Just kidding.
But listen to the price – $19 PER POUND. I almost fainted. That's lobster price territory! But I went ahead with it, because I'm obnoxiously stubborn and DESPERATELY NEEDED THESE TAILS IN MY RISOTTO.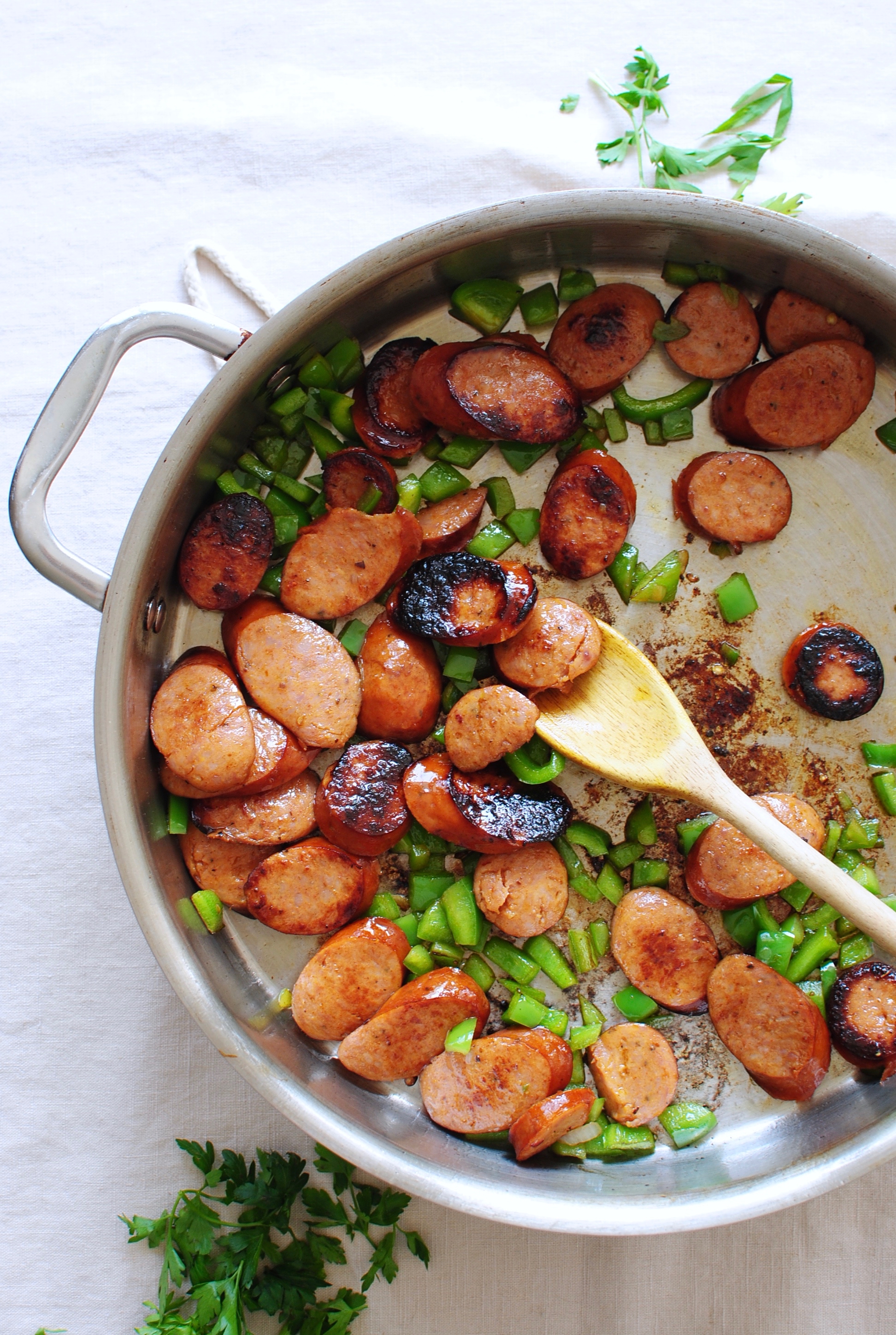 The flavor is incredible, though. Succulent little bites of cray tail bliss. However! Swap in shrimp if the price tag makes you want to hurl. It will still be fab, either way.
To get the risotto going, start by sautéing some sliced andouille sausage and green bell pepper. Easy easy.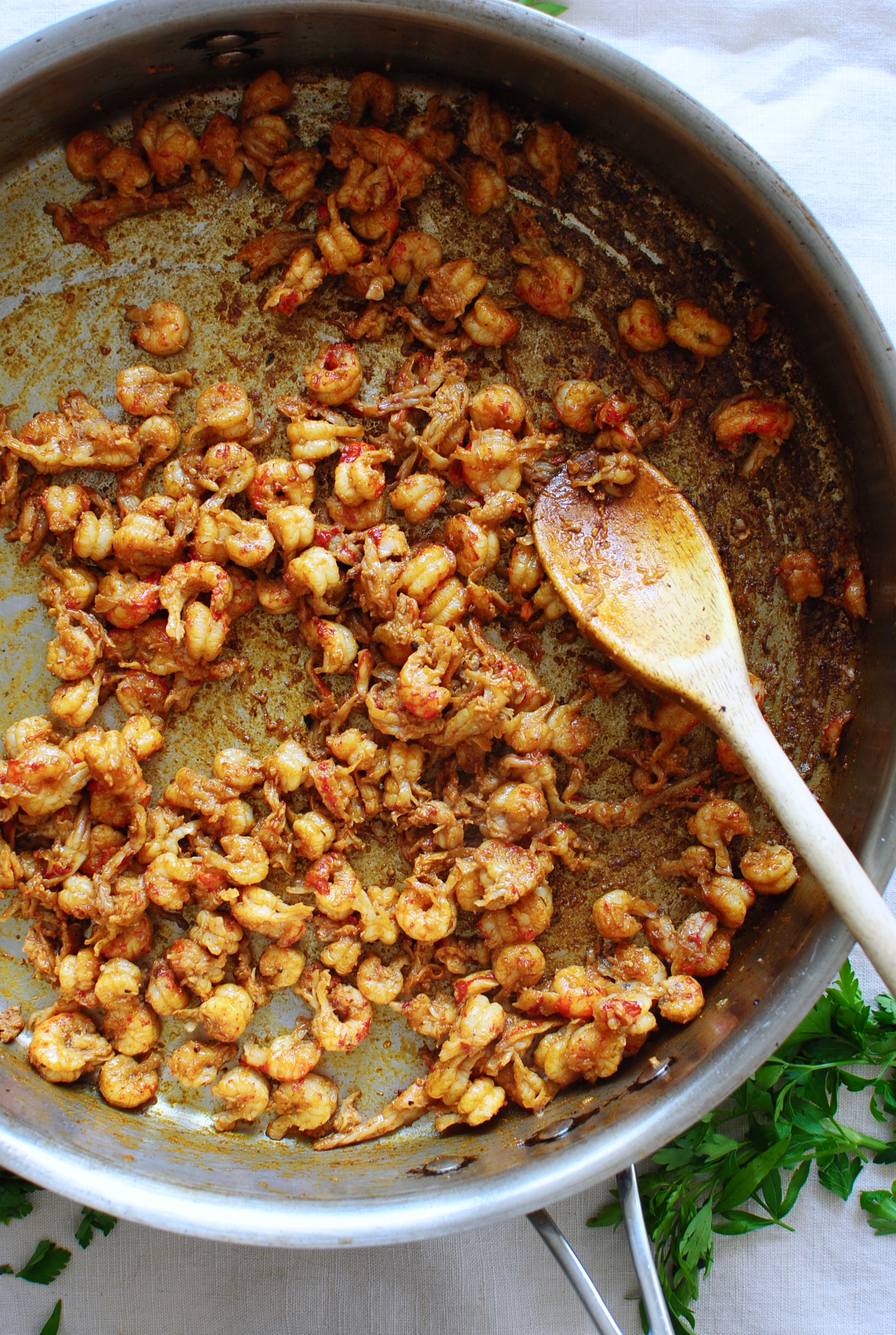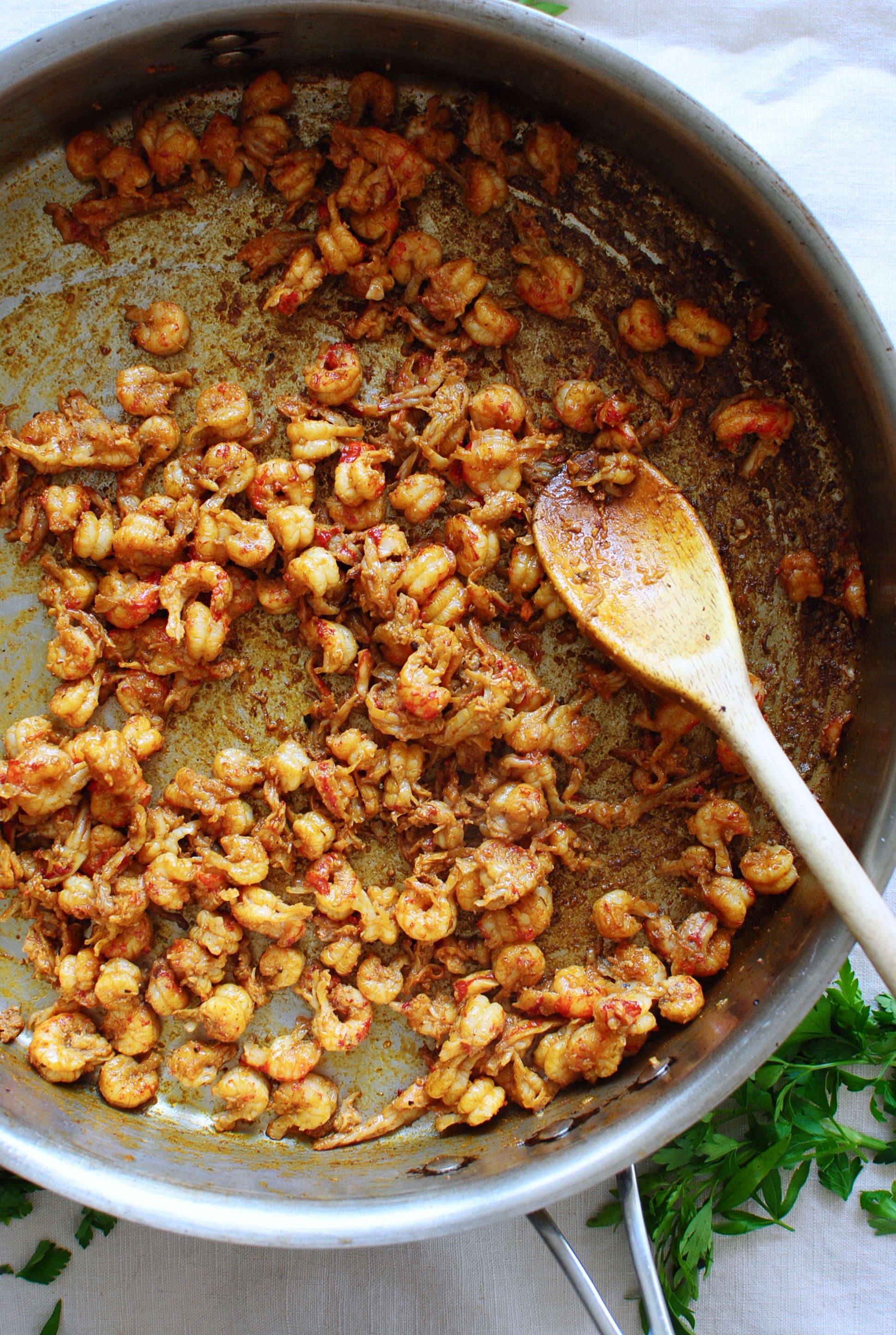 Then get those tails in. I sautéed them in a little bit of butter because CAJUN FOOD. I'll never regret it.
(side note – some of the little tails looked like seahorses. which was odd, but strangely appealing.)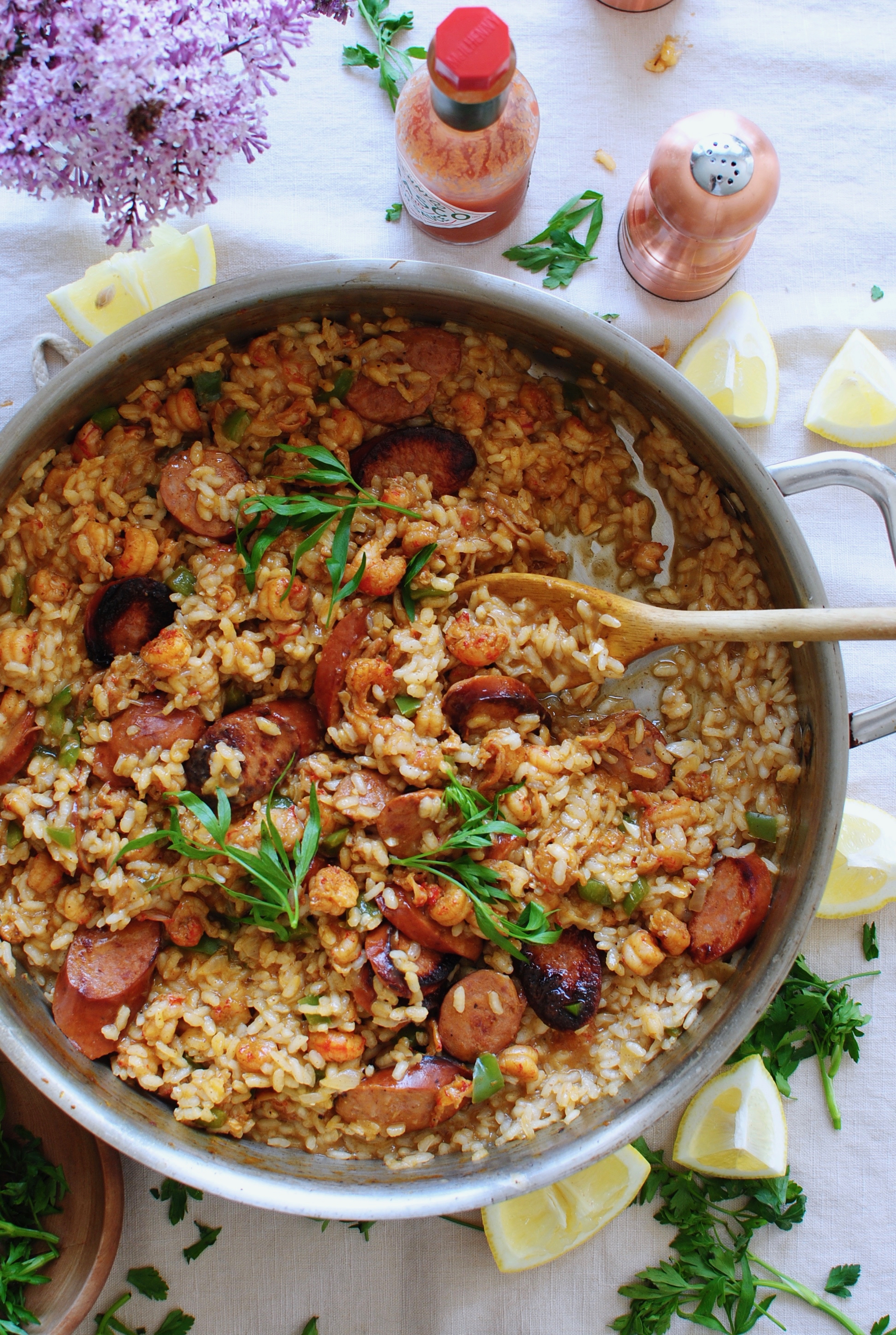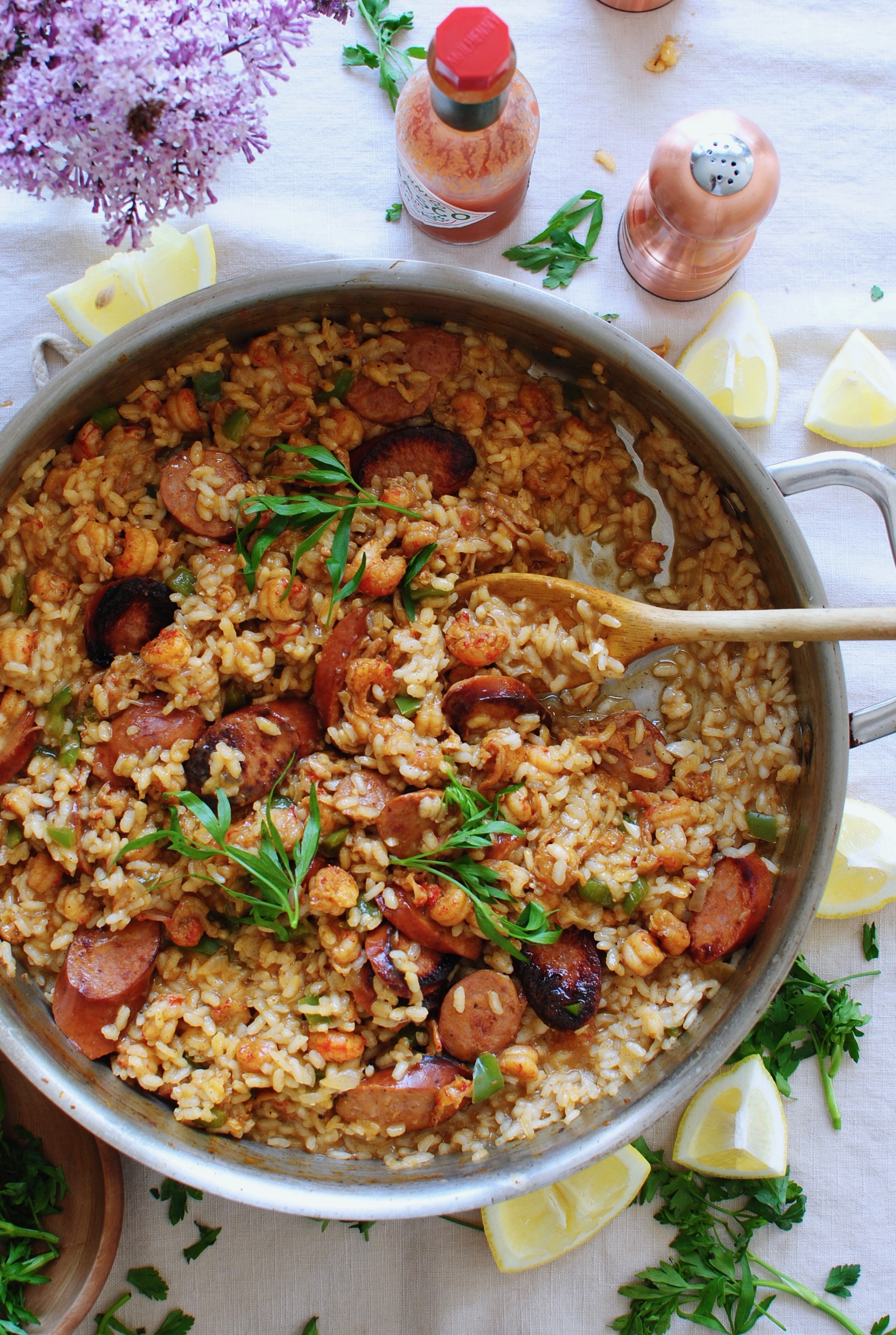 Then it's the traditional risotto technique, with onions, garlic and butter, toasted arborio rice, wine, stock, stock, stock and stock. Simmer it on low and continue to stir until all the rice has absorbed most of the liquids.
One thing though! Add a tsp of creole seasoning at the beginning of the simmering. You will see STARS, I tell you.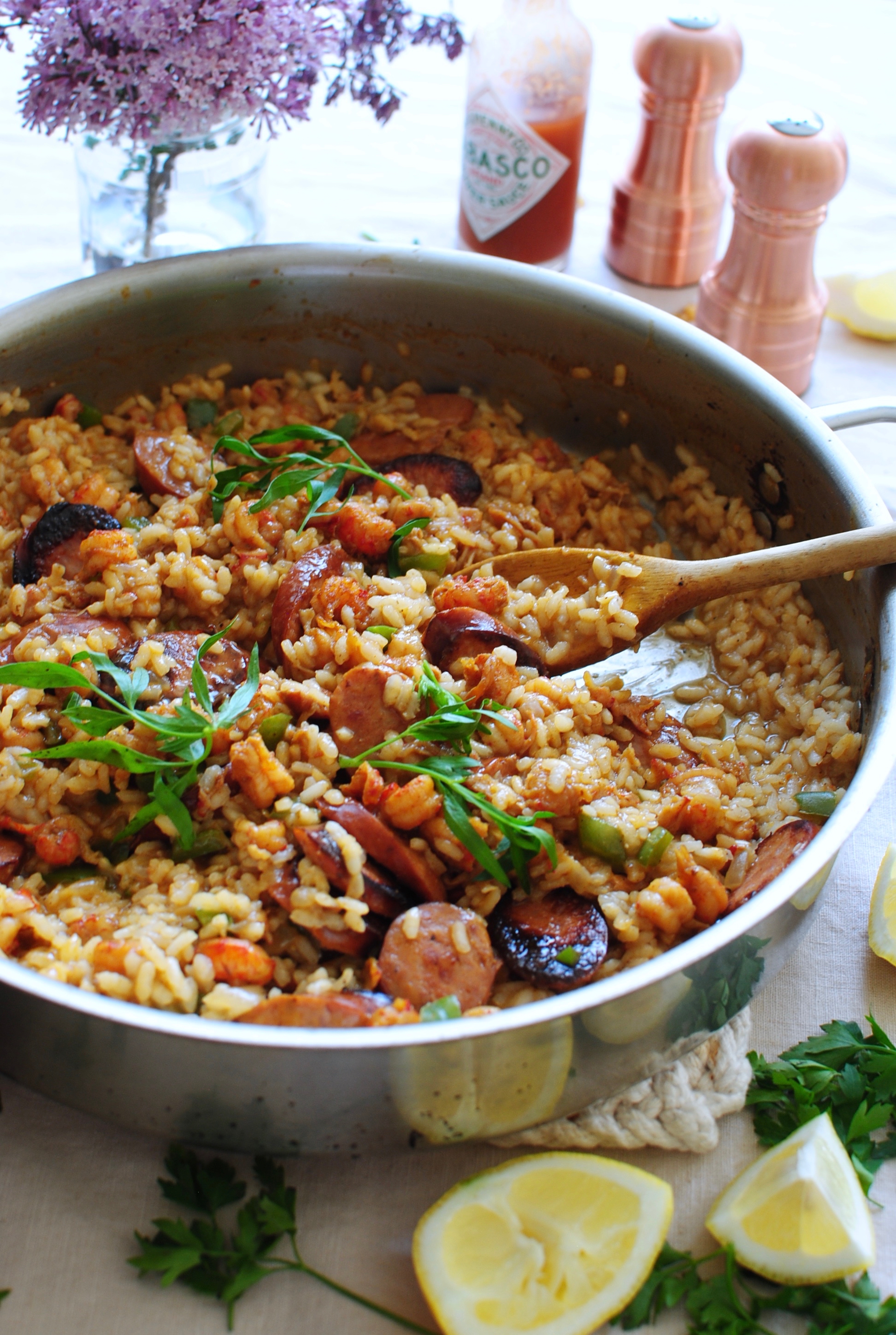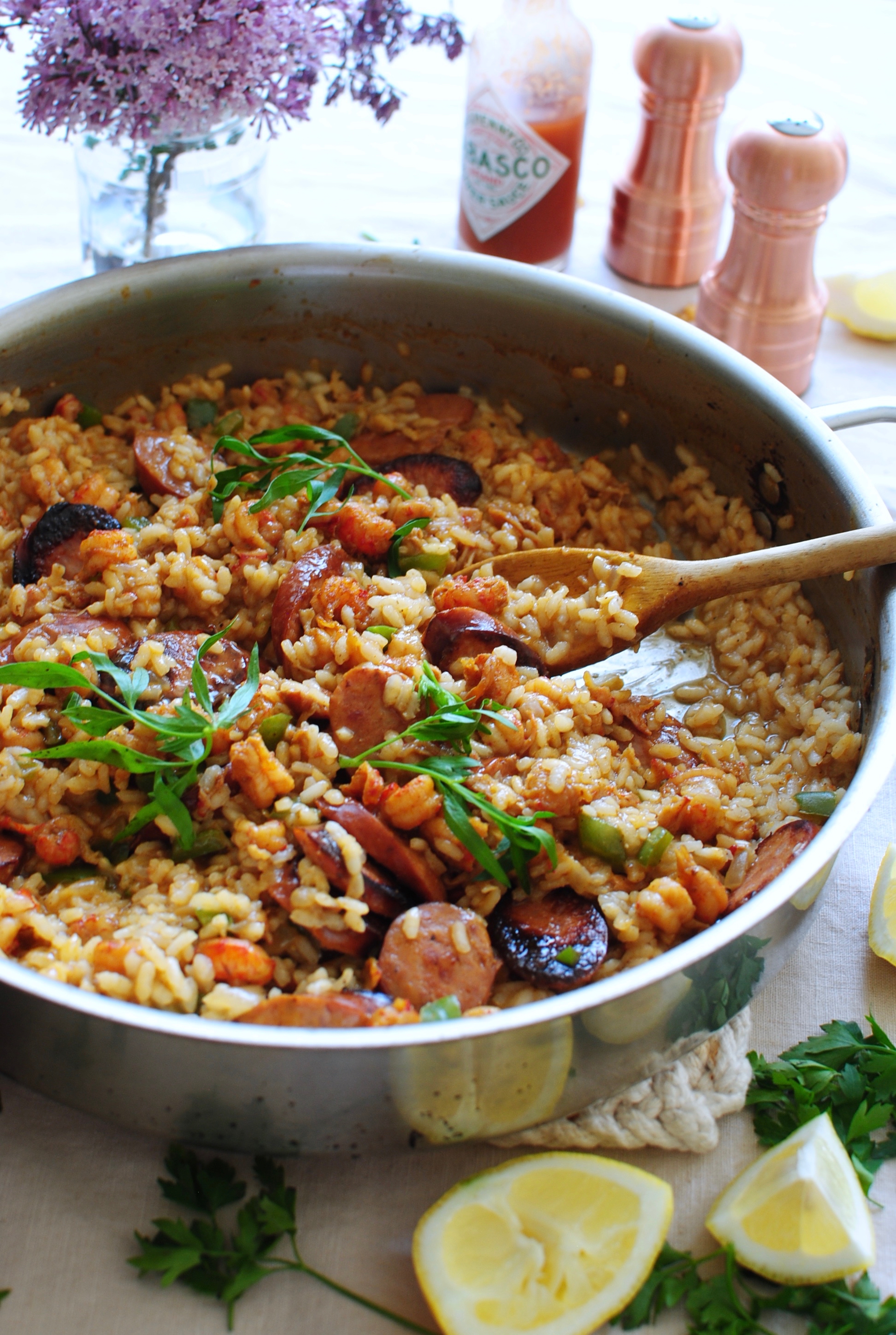 Off the heat, stir in a little more butter, about 1/4 cup of parmesan cheese, and fresh lemon juice. This will take it from here (my hand is at my waist) to HERE (my hand is at my topknot.)
Then, then, then! Hot sauce. Put a few dashes on your plate, along with some fresh parsley and D U D E S.
Ish be cray.
And by that I mean fish be cray. Hahaha!
Sorry.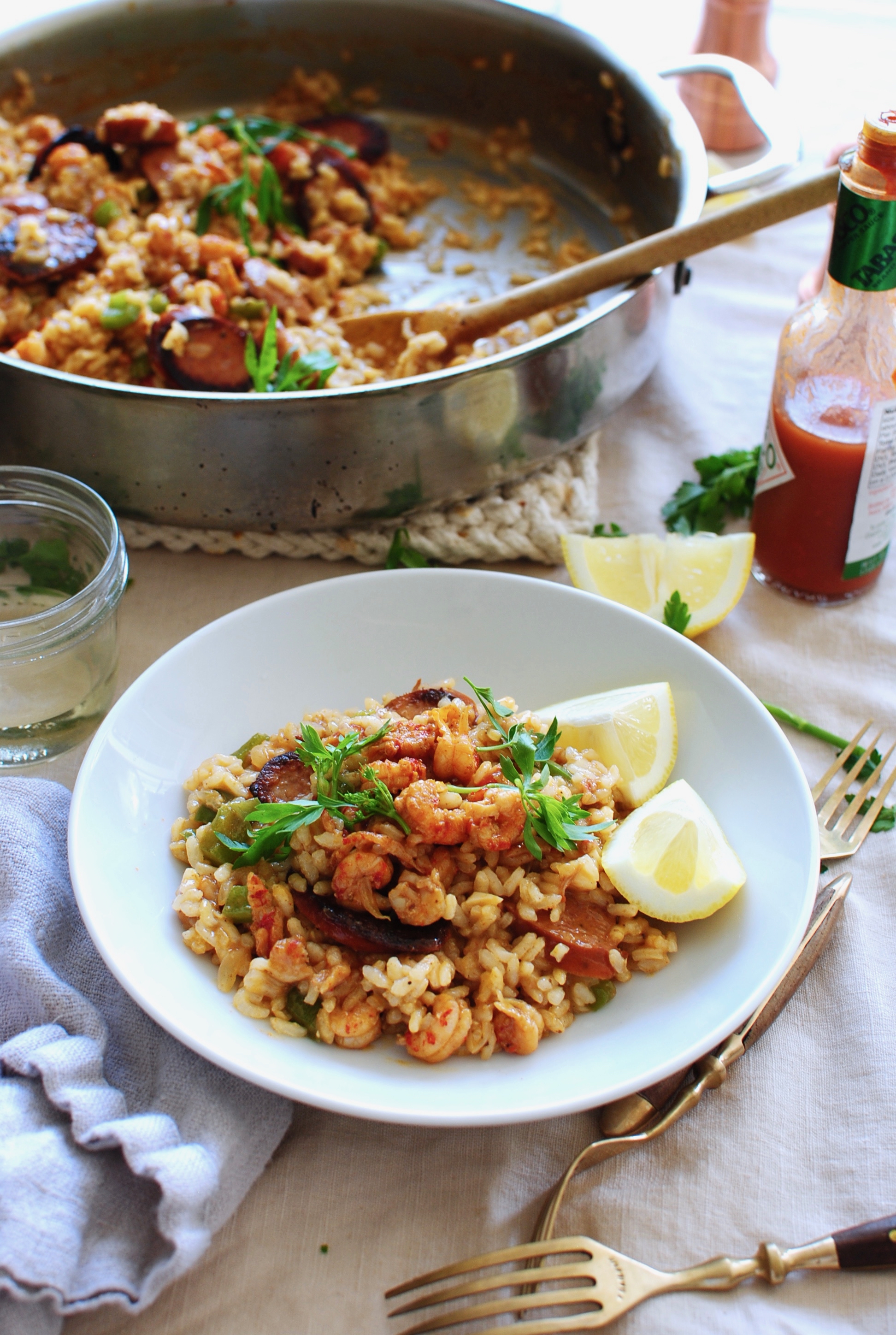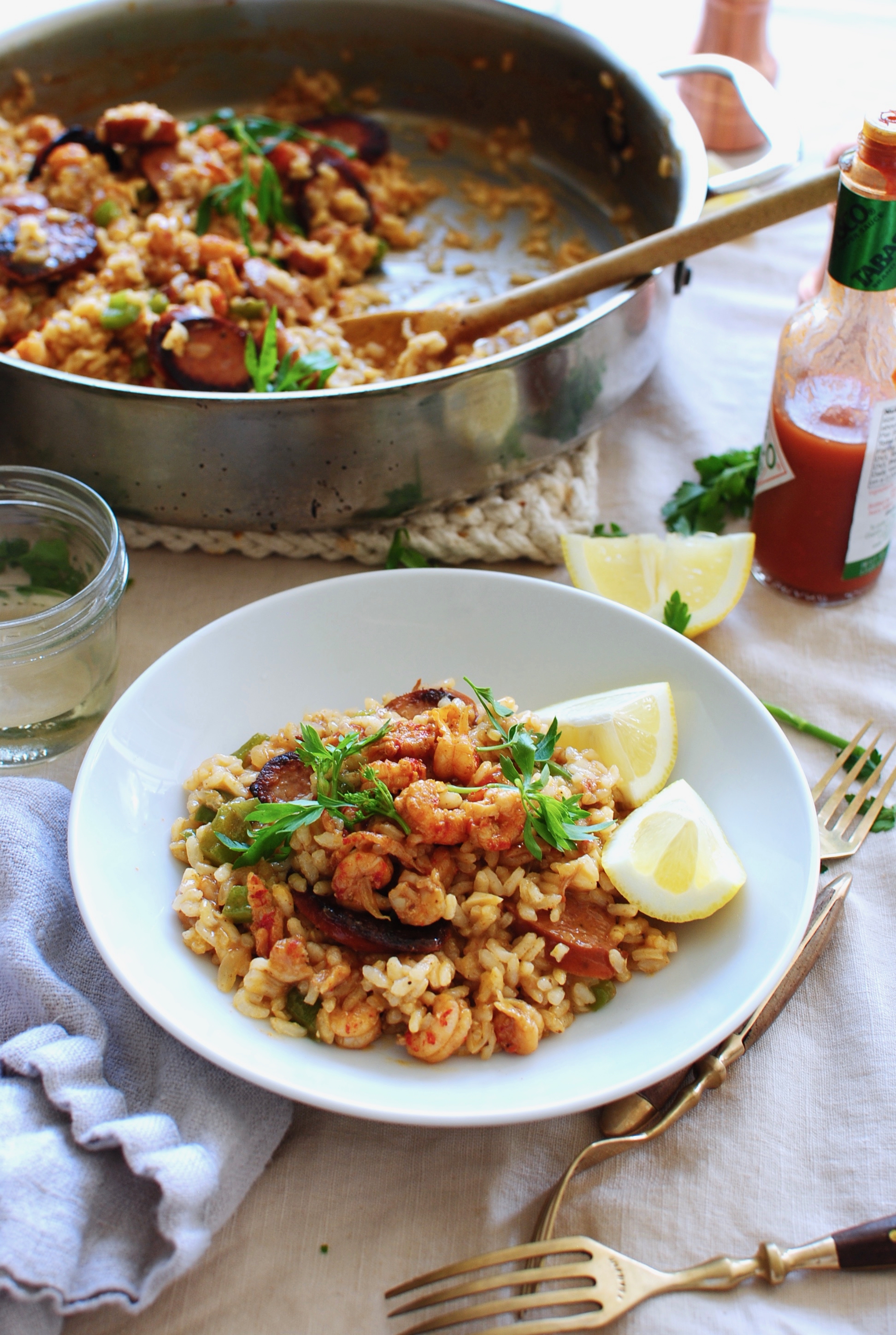 This is your new beginning.
Cajun Risotto with Crawfish Tails and Andouille Sausage
Ingredients
2 Tbs. extra-virgin olive oil
13 oz andouille sausage, thinly sliced on the diagonal
1 green bell pepper, seeded and chopped
1 pound cleaned crawfish tails (shrimp is fine, too)
3 Tbs. butter, divided
1 medium white onion, finely chopped
2 cloves garlic, minced
1 cup arborio rice
1/3 cup dry white wine
4 cups chicken stock
1 tsp creole seasoning
Juice from half a lemon, plus wedges for serving
1/4 cup freshly grated parmesan cheese
Hot sauce and fresh parsley leaves for garnish
Instructions
Heat a Tbs. of oil in a large, deep-sided skillet. Add the andouille sausage and sear on one side for two minutes. Flip each sausage, then add the green bell pepper. Sear another minute, then toss the peppers and sausage together for another minute. Transfer to a bowl.
Back in the skillet, add a Tbs. of butter and the crawfish tails. Sauté about two minutes, until the tails curl up. Transfer them to another bowl.
Back in the skillet, add another Tbs. of butter and the remaining Tbs. of oil. Add the onion and sauté a few minutes, until you get a little browning. Add the garlic and sauté for 30 seconds, or until fragrant. Season with a small pinch of salt. Add the rice and toss with the onion mixture for about a minute, toasting the rice.
Then add the wine. Once the wine bubbles off, add the tsp of creole seasoning. On a medium heat, slowly add the stock, one cup at a time. Slowly stir and simmer, adding stock every few minutes, until the rice has absorbed most of the liquid, making a creamy sauce.
Off the heat, stir in the reserved sausage, peppers and crawfish tails. Add the last Tbs. of butter, parmesan, and juice from half a lemon. Taste it at this point. What does it need? Maybe a little more salt? Maybe not! Get the flavors exactly where you want them.
Serve with extra parmesan, lemon wedges, parsley and hot sauce!
This is just CRAY-zy. (sorry.)
Serves 4.
7.8.1.2
83
https://bevcooks.com/cajun-risotto-crawfish-tails-andouille-sausage/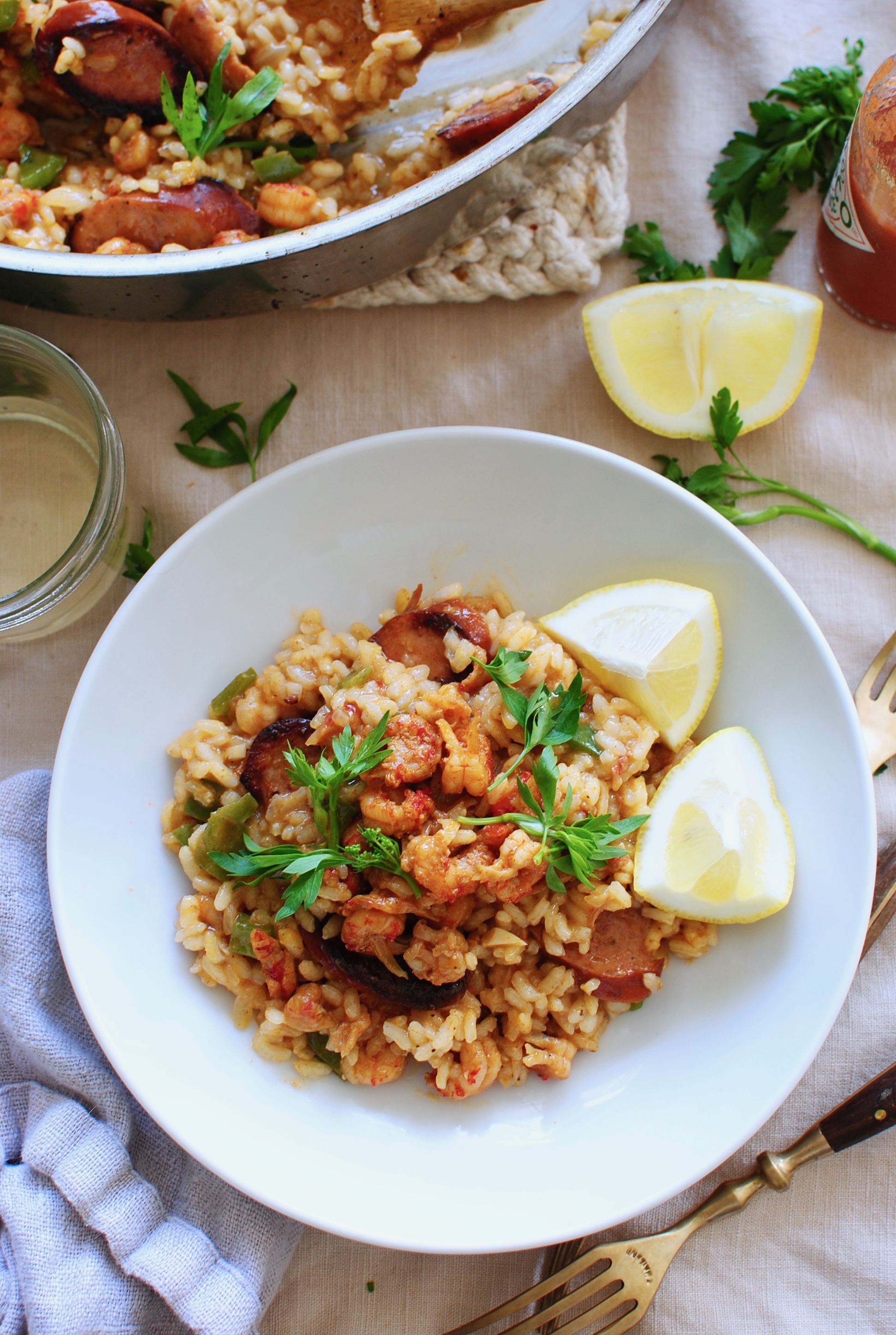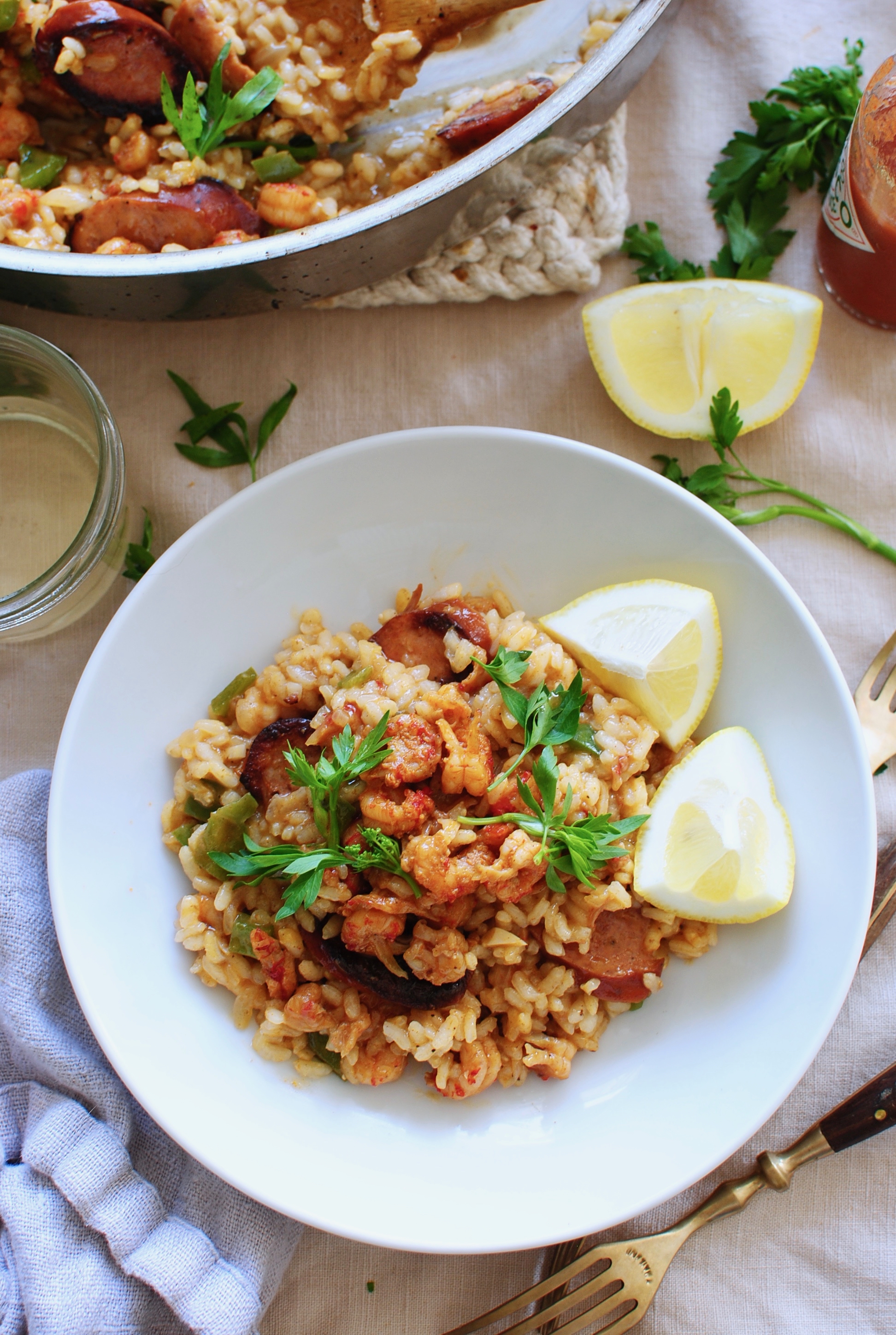 Give the tails a go! (I've never said those words in my life.)